For 2013, Eagle Cap has made mold changes, debuted new bumper systems, updated their interiors and exteriors, added bunks, reduced weight, and more.

Listening to Greg Tucknies, General Manager for Adventurer Manufacturing, we got the distinct impression that it's no longer good enough to build Eagle Cap truck campers better than before.  With the re-introduction of six Eagle Cap models and a successful launch into the marketplace over the past two years, Greg is confident that goal has been met.
The 2013 Eagle Cap truck camper line is designed to signal a new beginning.  No longer will Eagle Cap be measured against where it was in the past.  No longer will it be good enough to be better.  For 2013, Greg and his team are focused on taking Eagle Cap forward and refining every design element, material, appliance, and feature.
Never happy without the details, we contacted Greg and interviewed him on the changes for 2013, and the renewed vision for Eagle Cap truck campers.
TCM: The Eagle Cap truck camper line remains unchanged with the 850, 950, 995, 1050, 1160, and 1165.  Will there be a new Eagle Cap floor plan in 2013?
Greg: We are not going to be adding new floor plans to our Eagle Cap line-up this year.  With Eagle Cap sales up 226% in 2012, increasing production is our primary focus.  We are selling more than we can build.  James Epp, Owner of ALP, has recently approved an expanded budget to purchase additional equipment to help us increase our Eagle Cap production.
In 2011 we modified the 1160 and then re-designed the 1165.  We are rocking and rolling with the models we now offer.  Down the road we will look into new floor plans for Eagle Cap.  Maybe we will introduce some non-slide models in the future, but the 1160 and 1165 are 70% of the Eagle Cap line right now.
Above left to right: Cedar, Silver Leaf, and Amaretto decor for 2013 Eagle Cap campers

TCM: Eagle Cap is introducing some new interior fabric choices for 2013.  Tell us about these new fabric choices and how you selected them.
Greg: Two new Eagle Cap fabrics are being announced for 2013; Amaretto (gold/tan) and Silver Leaf (silver/grey tone).  Cedar will continue to be available for 2013.
The first half of the process of choosing interior fabrics begins with an interior designer.  In the past, she has sent us eight to ten fabric samples and we discuss what we like and don't like.
We are a bunch of guys, and Dave and Dave think everything should be camo.  I've learned that my choice has usually been the worst color, so I'm probably not the right one to be choosing them.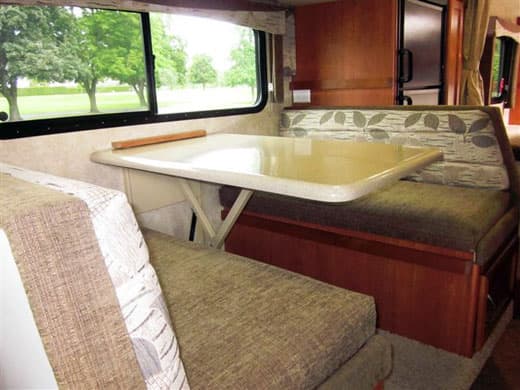 Above: Dream Dinette with the Silver Leaf decor
Greg: This year we brought in the ladies from our office to choose the fabrics.  They wrote down their top three choices.  Cedar was the most popular fabric last year, so we kept that.  It also blends well with our cherry interior.  The ladies of the office chose the other two fabrics for 2013.  The Amaretto and the Silver Leaf came up 80% of the time with the gals.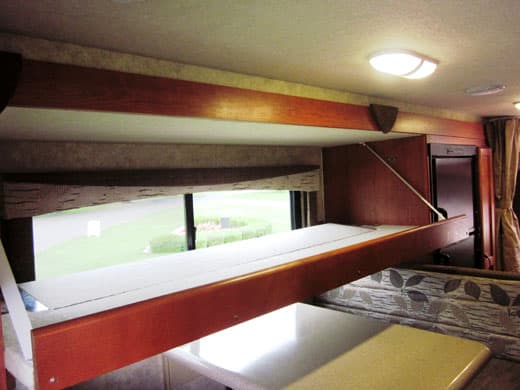 TCM: A new fold-down bunk is being announced for the 2013 Eagle Cap 1160 and 1165 models.  The new bunk replaces overhead cabinets in the dinette, which are also being removed in the rear sofa slide.  What brought this change?
Greg: We have had fold down bunk option for every Eagle Cap model except for the 1160 and 1165.  In 2012, we put a rear wardrobe closet and cabinets overhead in both models, but we kept getting requests for fold down bunks in our double slide and triple slide.  People want more space for sleeping.  In response, we pulled the overhead cabinets out and installed a bunk.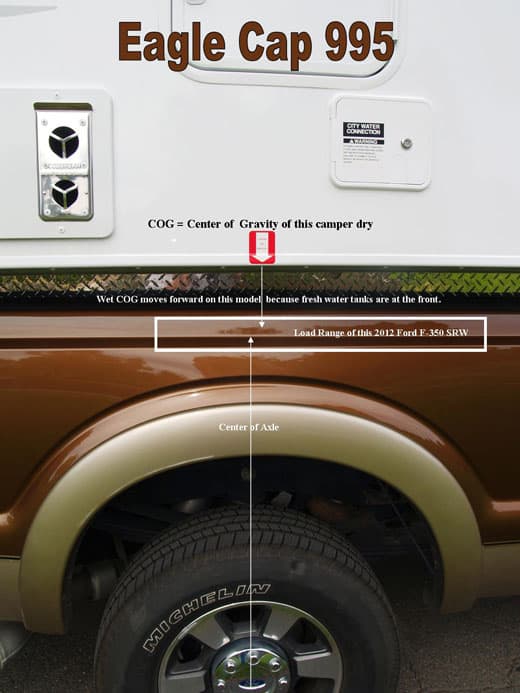 Above: Eagle Cap demonstrates how center of gravity should be forward of the rear axle