For 2013, Eagle Cap has made mold changes, debuted new bumper systems, updated their interiors and exteriors, added bunks, reduced weight, and more.

Listening to Greg Tucknies, General Manager for Adventurer Manufacturing, we got the distinct impression that it's no longer good enough to build Eagle Cap truck campers better than before.  With the re-introduction of six Eagle Cap models and a successful launch into the marketplace over the past two years, Greg is confident that goal has been met.
The 2013 Eagle Cap truck camper line is designed to signal a new beginning.  No longer will Eagle Cap be measured against where it was in the past.  No longer will it be good enough to be better.  For 2013, Greg and his team are focused on taking Eagle Cap forward and refining every design element, material, appliance, and feature.
Never happy without the details, we contacted Greg and interviewed him on the changes for 2013, and the renewed vision for Eagle Cap truck campers.
TCM: The Eagle Cap truck camper line remains unchanged with the 850, 950, 995, 1050, 1160, and 1165.  Will there be a new Eagle Cap floor plan in 2013?
Greg: We are not going to be adding new floor plans to our Eagle Cap line-up this year.  With Eagle Cap sales up 226% in 2012, increasing production is our primary focus.  We are selling more than we can build.  James Epp, Owner of ALP, has recently approved an expanded budget to purchase additional equipment to help us increase our Eagle Cap production.
In 2011 we modified the 1160 and then re-designed the 1165.  We are rocking and rolling with the models we now offer.  Down the road we will look into new floor plans for Eagle Cap.  Maybe we will introduce some non-slide models in the future, but the 1160 and 1165 are 70% of the Eagle Cap line right now.
Above left to right: Cedar, Silver Leaf, and Amaretto decor for 2013 Eagle Cap campers

TCM: Eagle Cap is introducing some new interior fabric choices for 2013.  Tell us about these new fabric choices and how you selected them.
Greg: Two new Eagle Cap fabrics are being announced for 2013; Amaretto (gold/tan) and Silver Leaf (silver/grey tone).  Cedar will continue to be available for 2013.
The first half of the process of choosing interior fabrics begins with an interior designer.  In the past, she has sent us eight to ten fabric samples and we discuss what we like and don't like.
We are a bunch of guys, and Dave and Dave think everything should be camo.  I've learned that my choice has usually been the worst color, so I'm probably not the right one to be choosing them.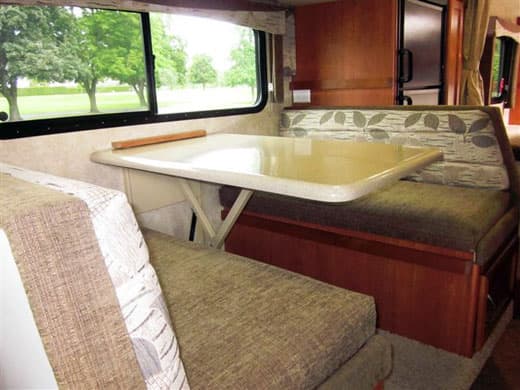 Above: Dream Dinette with the Silver Leaf decor
Greg: This year we brought in the ladies from our office to choose the fabrics.  They wrote down their top three choices.  Cedar was the most popular fabric last year, so we kept that.  It also blends well with our cherry interior.  The ladies of the office chose the other two fabrics for 2013.  The Amaretto and the Silver Leaf came up 80% of the time with the gals.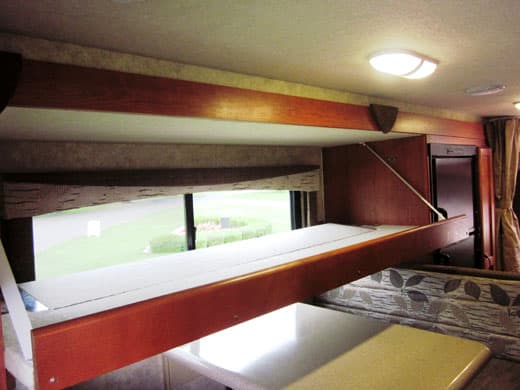 TCM: A new fold-down bunk is being announced for the 2013 Eagle Cap 1160 and 1165 models.  The new bunk replaces overhead cabinets in the dinette, which are also being removed in the rear sofa slide.  What brought this change?
Greg: We have had fold down bunk option for every Eagle Cap model except for the 1160 and 1165.  In 2012, we put a rear wardrobe closet and cabinets overhead in both models, but we kept getting requests for fold down bunks in our double slide and triple slide.  People want more space for sleeping.  In response, we pulled the overhead cabinets out and installed a bunk.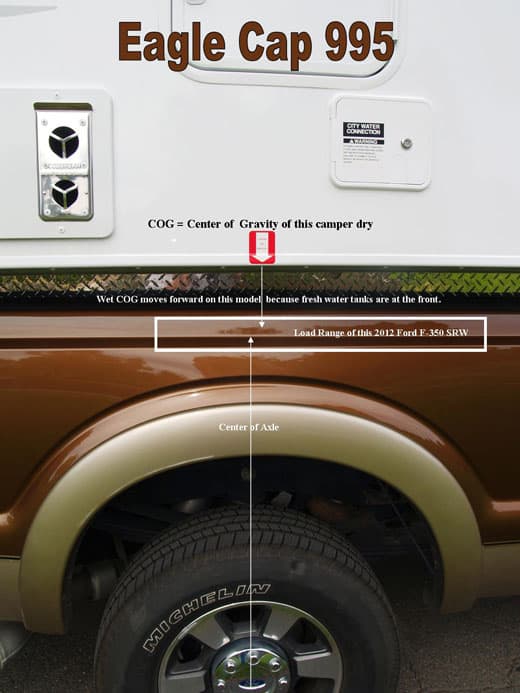 Above: Eagle Cap demonstrates how center of gravity should be forward of the rear axle
Greg: By taking out the overhead dinette and rear sofa cabinets we also significantly reduced the weight of these models and moved the center of gravity forward.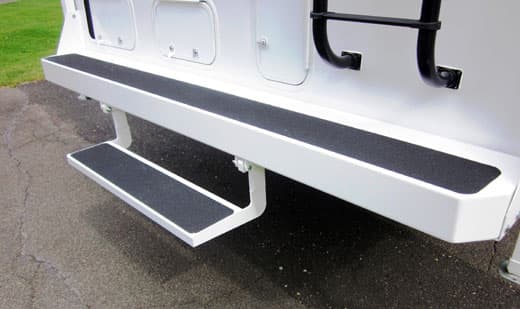 Above: The Super Step bumper on an Eagle Cap 995
TCM: Another important change for the 2013 Eagle Cap line are new rear fiberglass caps that can accommodate the new standard Super Step and the new optional  Comfort Step bumpers.  Did you create a new set of rear cap fiberglass molds, or adapt the existing molds?
Greg: We were able to take our existing rear cap mold, copy it, and rebuild a new mold.  We actually made the mold a hair wider because the older mold was a little snug.  Now it slips on like a glove, which is easier for production.  With the new mold, the Super Step and Comfort Step fit right on.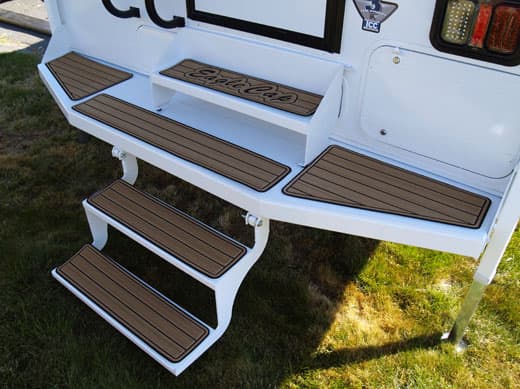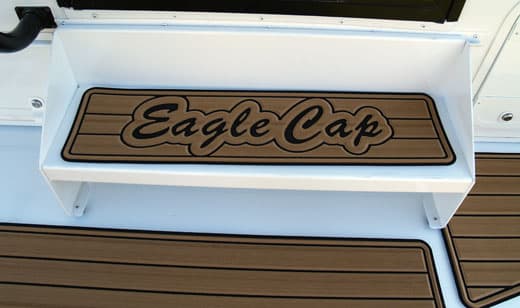 Above: The new Comfort Step bumper with the Teak wood look for Eagle Cap Campers
Greg: Previously, Eagle Cap campers had a fiberglass cap on the back, including the bumper. For 2013, we changed the rear mold to get away from fiberglass bumper.  People have requested the Comfort Step bumper for Eagle Cap campers and now they can have one.  The change gives us easier access and stepping room on the Eagle Caps.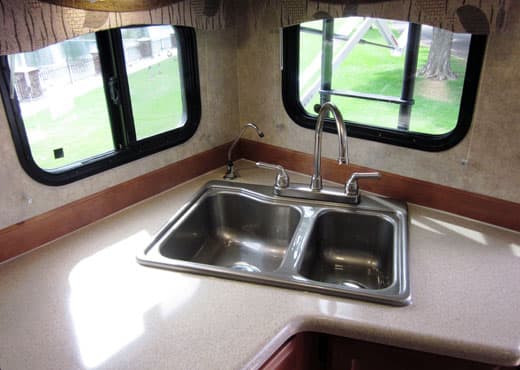 Above: The galley in an Eagle Cap 995 with the new sink color
TCM: Eagle Cap is introducing a new sink color and is deleting the hardwood refrigerator panel for 2013.  Tell us about these changes.
Greg: The only reason we deleted the hardwood refrigerator panels, even though it was ordered 80% of the time, is to bring some weight out of the campers.  Removing the panels took out twenty-eight pounds.  We went with the standard black laminate insert, which matches the black microwave and stove.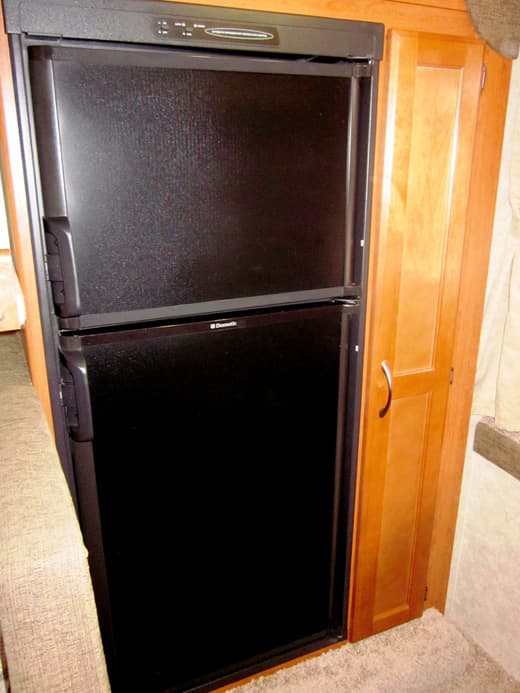 Above: Refrigerator in a Eagle Cap 995
Greg: With full fiberglass front and rear caps and wide bodies, Eagle Caps are heavier than most multi-slides in the marketplace.  We build with two inch walls all the way around, others do not.  The front fiberglass cap alone is 180 pounds.
An Eagle Cap camper is heavier because it is built like none other.  That said, weight is always an issue.  Every year we look at where can we take weight out.  This year we took out the dinette and sofa overhead cabinets and removed the hardwood refrigerator panel.  These changes brought a considerable amount of weight out of the camper and moved the center of gravity forward.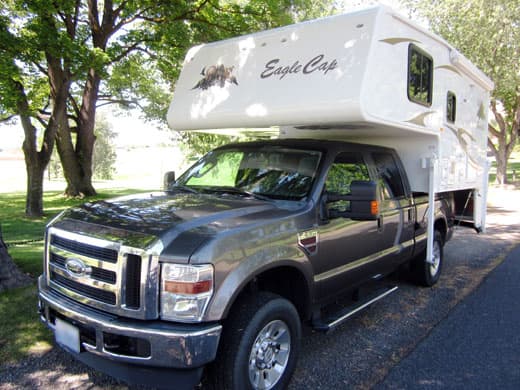 Above: Eagle Cap 850 with the new exterior graphics package
TCM: How did you go about designing the new 2013 Eagle Cap exterior graphics package and enhanced logo treatment?
Greg: When we started building Eagle Cap, we really focused on the interior and essentially made the exterior a perfect copy of older Eagle Caps.  For 2013, we really wanted to upgrade the look of the exterior.  We have updated the graphics with a more three-dimensional look and upgraded the Eagle Cap logo.  We also incorporated more colors into the exterior graphics to go with different color trucks.  Overall, we gave the campers a brighter and richer look.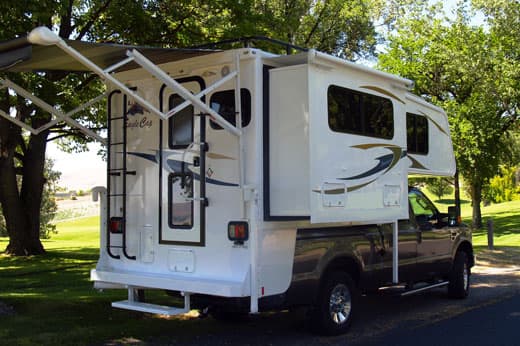 Above: The new electric awning on an Eagle Cap 850
TCM: Finally, Eagle Cap is getting a new electric push-button rear awning for 2013.  Is this new awning standard?
Greg: People kept asking us, "How come you don't have electric awnings on the Eagle Caps?".  There is a metal manufacturing place next door to our factory so, for 2013, we designed special brackets for an electric awning.  Where the generic brackets were an odd fit, the one we designed is sleek.  It looks great.  The electric awning option is only $144 dollars more than a manual awning, and the ease of use is a dream.  We have found the people actually use their electric awnings.  They are a heavily requested option.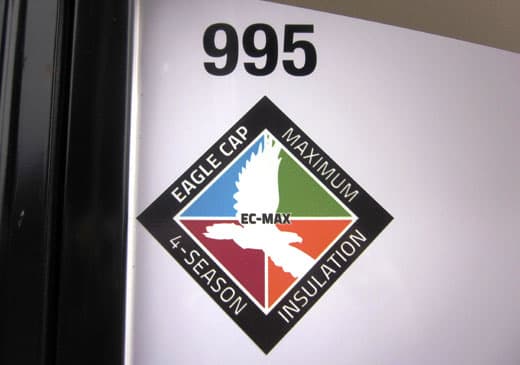 TCM: There are several upgrades that are similar in the 2013 Adventurer and Eagle Cap lines.  Why use the same upgrades when Eagle Cap and Adventurer are very different camper brands?
Greg: The great thing about having two separate lines at ALP is the fact that we can order more products, and therefore get reduced rates because we are ordering more at a time.  Both lines we are using the New Generation upgraded Happijac jacks, the new friction hinged rear door, the new porcelain style toilets, and new bathroom door handle.  You can read about those items in the 2013 Adventurer article; TCM EXCLUSIVE: 2013 Adventurer Announcements.
As I said earlier, Eagle Cap is built like none other.  We do many things that no other manufacturer does.  It's a premium quality, high end truck camper.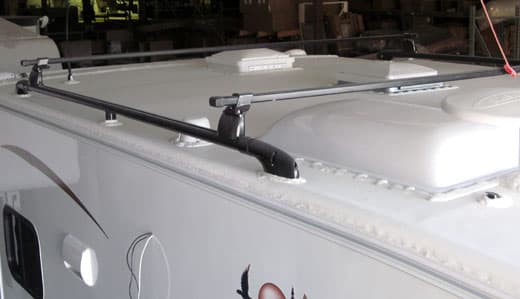 TCM: Is there anything we didn't mention that's changing for Eagle Cap?
Greg: We got new Maggie roof racks with cross bars.  People want to take along canoes and kayaks and the Maggie racks are excellent for that purpose.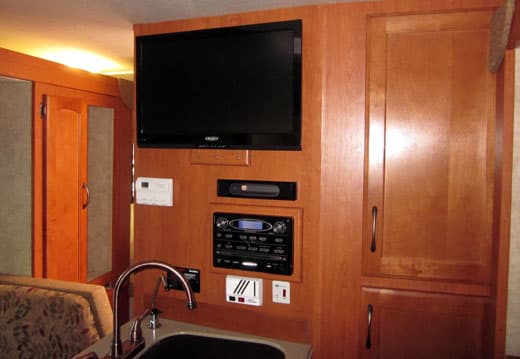 Greg: We have also had requests on the Eagle Cap 1160 and 1165 for a bigger television, so we have a twenty-four inch television in the living areas.  All Eagle Cap camper televisions are 12-volt and run without a generator.