Adventurer is announcing the Super Step, 100% all-LED lighting inside and out, new Happijac camper jacks, a new door, new graphics, and new interiors.

Deep in the recesses of Adventurer Manufacturing's top-secret truck camper design laboratory, Dave Frampton, Product Development Manager, and Dave Catron, Engineer, have been hard at work conjuring up the 2013 future of Adventurer truck campers, and making it happen.
Unable to pry the devoted Dave and Dave design duo from their desks, Greg Tucknies, National Sales Manager for Adventurer Manufacturing, has volunteered to announce the 2013 Adventurer changes.  It all starts with one Super Step.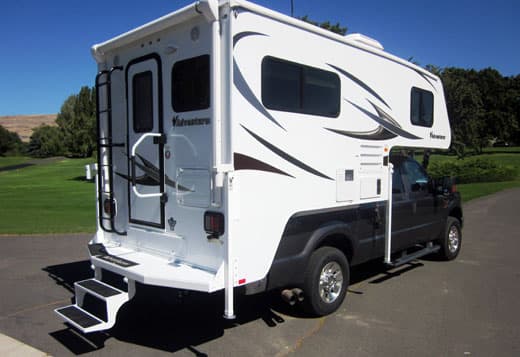 Above: A 2013 Adventurer 86FB with the new exterior graphics package

TCM: We absolutely loved the Adventurer Comfort Step bumper system on our 2010 Adventurer camper and are eager to hear about your new Super Step.
Greg: The standard step bumper on Adventurer truck campers has been a six-inch bumper with a single fold-down step built with an antiquated diamond plate bumper.  The new 2013 Super Step bumper is a deeper eleven inch aluminum bumper platform with a thirty-six inch wide fold-down single step.  Customers are going to immediately notice the deeper and wider step and bumper.  It's a much better bumper platform for safety and aesthetics.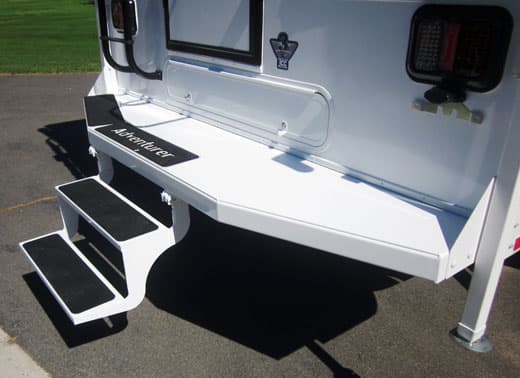 Above: The Adventurer Comfort Step
TCM: What differentiates the Super Step from the Comfort Step?
Greg: The Comfort Step is a different design with an even larger platform and taller two-step system.  The video you did with your 2010 Adventurer 90FWS does a good job of showing the Comfort Step.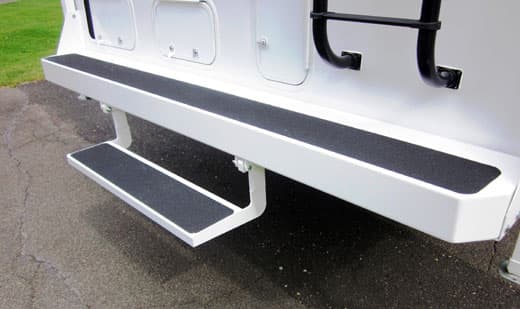 Above: The Super Step bumper for 2013
Greg: Some Adventurer consumers were concerned that the Comfort Step would make towing more difficult because it required a longer extension.  The new Super Step addresses this concern.  The Comfort Step is still our premium step system and makes an excellent platform for grills, portable generators, ice chests, and for strapping on lawn chairs.  The Comfort Step is essentially a rear porch for your Adventurer truck camper.
TCM: The Comfort Step definitely stole the show when we had the 2010 Adventurer.  Almost everyone we met had a positive comment about it.  What does the Comfort Step option cost on a 2013 Adventurer?
Greg: The price of the optional Comfort Step varies depending on the model.  If there is already a standard Super Step bumper on the unit, the Comfort Step option has a retail upgrade price of $413.  If it does not have a bumper, like on our 86FB  model, it would be $1,113.
TCM: Can someone with an older Adventurer upgrade to the new Super Step?
Greg: Yes, you can go to an Adventurer dealer and upgrade to the new Super Step.  It may require some modifications depending on the model, but yes it can be done.
TCM: For 2013, the Adventurer truck camper line remains unchanged with the 80SK, 80GS, 80W, 810WS, 86FB, 86SBS, 910FBS, 950B, 980RDS, and 106DBS.  Will there be a new Adventurer floor plan in 2013?