Adventurer is announcing the Super Step, 100% all-LED lighting inside and out, new Happijac camper jacks, a new door, new graphics, and new interiors.

Deep in the recesses of Adventurer Manufacturing's top-secret truck camper design laboratory, Dave Frampton, Product Development Manager, and Dave Catron, Engineer, have been hard at work conjuring up the 2013 future of Adventurer truck campers, and making it happen.
Unable to pry the devoted Dave and Dave design duo from their desks, Greg Tucknies, National Sales Manager for Adventurer Manufacturing, has volunteered to announce the 2013 Adventurer changes.  It all starts with one Super Step.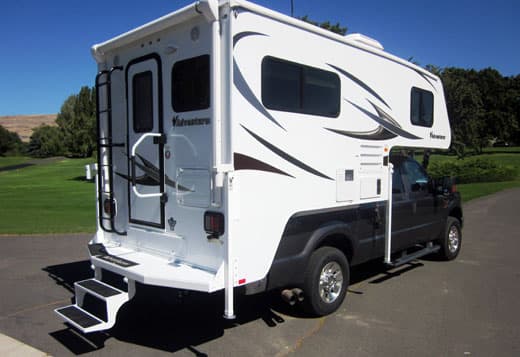 Above: A 2013 Adventurer 86FB with the new exterior graphics package

TCM: We absolutely loved the Adventurer Comfort Step bumper system on our 2010 Adventurer camper and are eager to hear about your new Super Step.
Greg: The standard step bumper on Adventurer truck campers has been a six-inch bumper with a single fold-down step built with an antiquated diamond plate bumper.  The new 2013 Super Step bumper is a deeper eleven inch aluminum bumper platform with a thirty-six inch wide fold-down single step.  Customers are going to immediately notice the deeper and wider step and bumper.  It's a much better bumper platform for safety and aesthetics.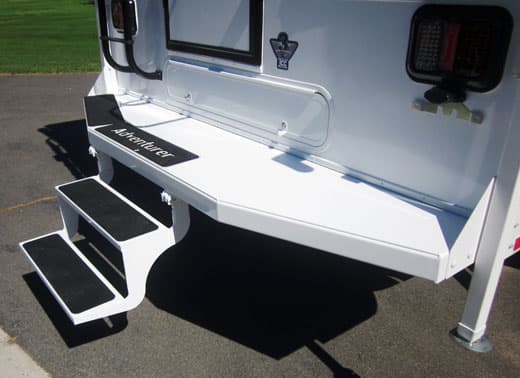 Above: The Adventurer Comfort Step
TCM: What differentiates the Super Step from the Comfort Step?
Greg: The Comfort Step is a different design with an even larger platform and taller two-step system.  The video you did with your 2010 Adventurer 90FWS does a good job of showing the Comfort Step.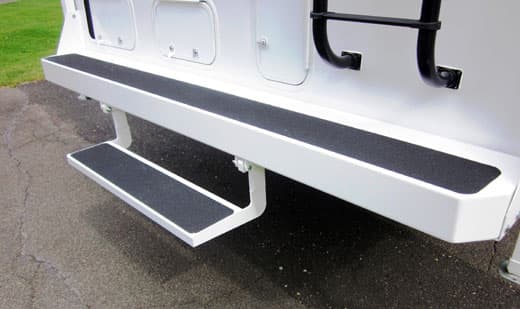 Above: The Super Step bumper for 2013
Greg: Some Adventurer consumers were concerned that the Comfort Step would make towing more difficult because it required a longer extension.  The new Super Step addresses this concern.  The Comfort Step is still our premium step system and makes an excellent platform for grills, portable generators, ice chests, and for strapping on lawn chairs.  The Comfort Step is essentially a rear porch for your Adventurer truck camper.
TCM: The Comfort Step definitely stole the show when we had the 2010 Adventurer.  Almost everyone we met had a positive comment about it.  What does the Comfort Step option cost on a 2013 Adventurer?
Greg: The price of the optional Comfort Step varies depending on the model.  If there is already a standard Super Step bumper on the unit, the Comfort Step option has a retail upgrade price of $413.  If it does not have a bumper, like on our 86FB  model, it would be $1,113.
TCM: Can someone with an older Adventurer upgrade to the new Super Step?
Greg: Yes, you can go to an Adventurer dealer and upgrade to the new Super Step.  It may require some modifications depending on the model, but yes it can be done.
TCM: For 2013, the Adventurer truck camper line remains unchanged with the 80SK, 80GS, 80W, 810WS, 86FB, 86SBS, 910FBS, 950B, 980RDS, and 106DBS.  Will there be a new Adventurer floor plan in 2013?
Greg: Yes, there are three new floor plans in the works.  We will have the announcements in the coming months in Truck Camper Magazine.
TCM: Are there any plans to drop a model in 2013?
Greg: Not at this time, but we do expect some of our new models to outshine some of the older floor plans and lead to some models being discontinued next year.
Above left to right: Timberline, Granite, and Camel decors for 2013 Adventurer campers

TCM: Tell is about the interior decor changes for 2013.
Greg: For 2013, we made sure the Adventurer interiors pop.  We darkened the Adventurer cabinetry and updated the fabrics to address consumer and dealer concerns that the interiors were too light in color, and too bland.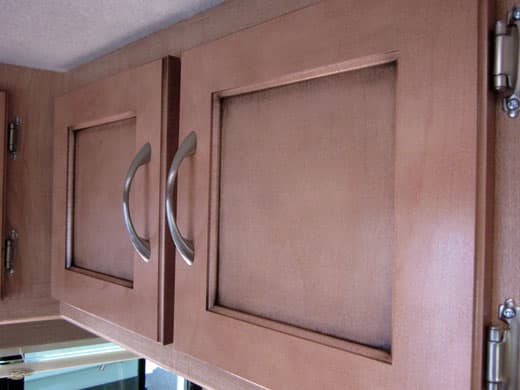 Above: The Melrose Maple cabinetry
Greg: The new cabinetry is glazed Melrose Maple.  The different cabinetry style and the glazing on the trim edges gives the campers more depth and pop we were looking for.  Dealers who have seen the new cabinetry have all complemented the change.
Two new Adventurer fabrics are being announced for 2013; Timberline (green/natural tone) and Granite (grey tone).  Camel will continue to be available for 2013.  All three fabric choices work well with the Melrose Maple cabinetry and we are very excited to show the new 2013 Adventurer interiors to the public.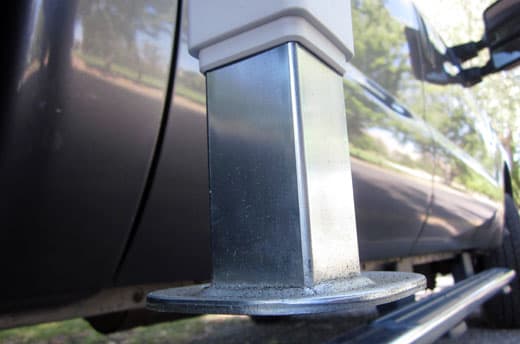 Above: Happijac's new next-generation camper jack
TCM: Happijac just announced their new next-generation Happijac jacks, in the article, "Happijac Announces Next Generation Jacks".  Will the new Happijac jacks be standard on 2013 Adventurer truck campers?
Greg: Yes they will.  All 2013 Adventurer truck campers feature the next generation Happijac camper jacks.  The new jacks are a lot quieter.  The galvanized legs are much better, and there's now a new seal on the bottom.  With everything they've done, we feel Happijac has hit the mark.
Happijac sent us a sample demo set about three to four months ago.  We put them on a unit and tested them.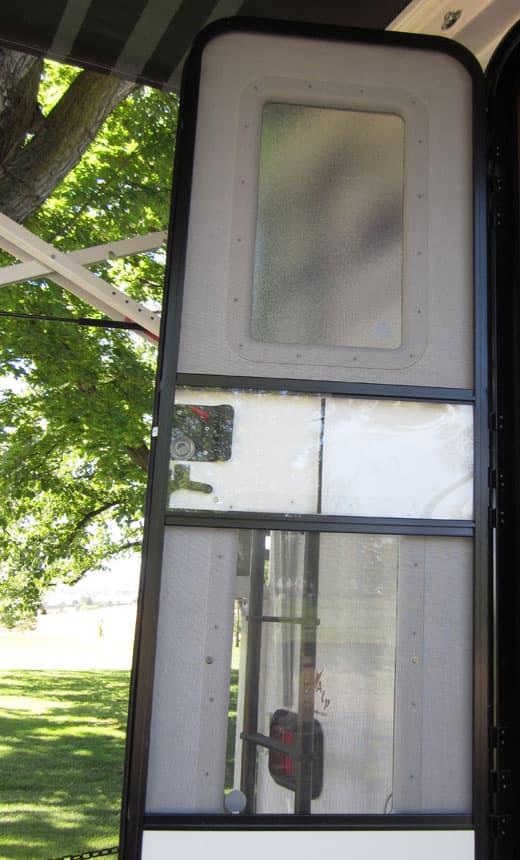 Above: The new friction hinged rear door
TCM: Another important 2013 Adventurer change is a new friction hinged rear door.  Tell us about the new door and screen.
Greg: The new friction hinged rear doors are super cool!  When you open it, it is a little stiffer than you're used to, but you get used to it really quickly.  The benefit is that the friction hinged door can be adjusted to different open positions, like half or three quarters open.  The hinge has just enough friction to keep the rear door from blowing shut in the wind.  Whatever position you put the door in, it stays in that position.
Above: Door with thicker frame, screen, and clear plastic slider
Greg: There's also a new screen that comes with it.  The framing is three times as thick as the previous screen door.  A dog can push against it and it's not going to break.  It also has a really nice clear plastic slider, which is a lot better than the cheaper ones.  You just slide it open and you can access the exterior door.  The screen door is framed better, which means it fits tighter and seals better.  There are a lot of benefits to the new door.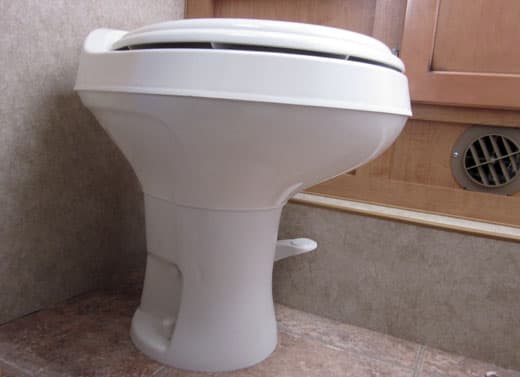 Above: Dometic's foot flush porcelain style toilet
TCM: Adventurer Campers are getting a new foot flush, porcelain style toilet for 2013.  What led to this change?
Greg: That's a new product by Dometic.  About three months ago they sent us a sample.  After careful testing and evaluation, we now install them on every unit.  The new toilet looks almost identical to a domestic porcelain toilet, but it's plastic so it doesn't add additional weight.  It also has a foot flush feature.
Above: New bathroom door handle in Adventurer truck campers with non-sliding doors
TCM: There's a new bathroom door handle that will be standard in all 2013 Adventurers with non-sliding doors.  Why is a new bathroom handle something the consumer should be interested in?
Greg: Our previous bathroom door handle was a push button style.  It worked well, but customers told us they would prefer a more traditional domestic-style door handle.  We researched several different door handles, and found a rounded door handle that's easier to grab and open.  It's a nice upgrade that customers will appreciate.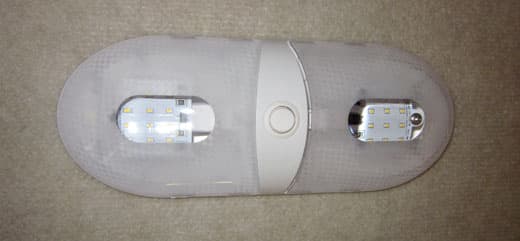 Above: New interior Kaper II LED lights
TCM: After changing all the exterior lights to Kaper II LED lights in 2012, Adventurer is going all LED for the interior lights in 2013.  Are these also Kaper II sourced lights?
Greg: For 2013, Adventurer truck campers are 100% LED, for the interior and exterior.  We use Kaper II LED products because the products provide good light, the Kaper II service has been great, and they are only 150 miles from us here in Yakima, Washington.  Using a local vendor helps us to keep our prices down.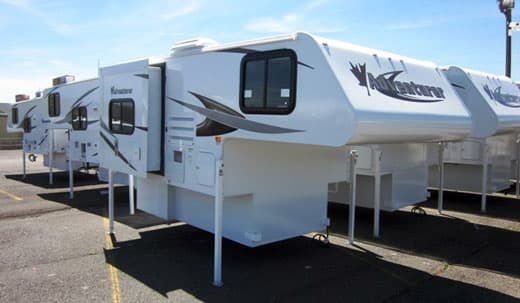 Above: 2013 Adventurer 80GS with black accents and new exterior graphics
TCM: For 2013, Adventurer windows are getting a black frame to better match the entry door and other black accents on the exterior.  A black Phat ladder is also being added.  Are the window frame and ladder changes mostly cosmetic?
Greg: Adventurer has always had white ladders and window frames leading some customers and dealers to comment that our exteriors were bland.  Just as we addressed our bland interiors for 2013, we have also addressed our exteriors.  The black window frames and rear Phat ladders really made the exterior pop.
The Phat ladders were added last year, but they were white.  They are sturdier ladders and are now are standard on many models.
Above: Adventurer's new solid hardwired seven-pin camper cord
TCM: Having used about a dozen truck campers with our truck, we are well aware that not every truck camper manufacturer uses the same truck to camper umbilical cord.  For 2013, Adventurer is debuting a seven-pin umbilical cord that hard wired to the camper.  How does this change help the dealer and consumer?
Greg: For years Adventurer had a seven-pin female connection for wiring, so you always had to have a double male cord to connect your camper to your truck so dealers had to make them special.  For 2013, Adventurer campers have a solid hardwired seven-pin camper cord.  It's a much better solution that will save our customers and dealers time and money.
TCM: Is there anything we didn't mention that's changing for Adventurer truck campers in 2013?
Greg: We noticed that our competitors have increased their 2013 truck camper prices 5-18%.  We want to maintain Adventurer's competitive value.  For Adventurer, our 2013 average increase is only 1.1%.
We are looking forward to announcing our new exciting models in Truck Camper Magazine for Adventurer in the next coming months.  Stay tuned.