Palomino RV applies Line-X spray-on bed liner to the roof, sides, and underbody of a Palomino SS-550 pop-up truck camper and teases a possible future of protective truck camper coatings.

As a magazine, we purchased our own truck camper last summer.  The camper is an eleven year old hard side non-slide manufactured by a company that is no longer in business.  As such, the camper is a politically neutral vessel, perfect for our ongoing personal use and published upgrades, modifications, and travel reports.
About a year ago, we caulked, sealed, and SealTech tested our used truck camper to make sure it was free of leaks.  Less than a year later, we noticed that a few visible seal breaks had appeared, and we inspected and repaired the seals once more.  It was a bit disheartening to see how much a few of the seals had deteriorated but, in all fairness, we had driven the camper coast-to-coast, into Canada, and back again.
As we completed the task of sealing the rig once more, I had an idea that's been burning in my mind ever since:
Why can't we do better than these ridiculous toothpaste-like sealants?  It's 2015 for goodness sake.  It's not like I have to caulk and seal my truck.  Why can't we use an advanced coating and seal this entire unit in 360 degrees?
In essence, I want to "bullet proof" our camper.  No, I don't mean make our rig impervious to Uzis and Winchesters.  I mean make it completely water proof – roof, sides, and underbody – with long-lasting coatings.  One of the coatings I had in mind for this idea was a bed liner.
About that time we found out that Palomino was preparing a Line-X treated camper to display at the annual industry open house in Elkhart, Indiana.  According to the initial reports, the camper was literally Line-X treated on the roof, sides, and underbody.
Obviously I was very excited that they had taken this concept and run with it, and a little freaked out that they might be listening to my thoughts.  Hey Palomino, how many monkeys am I thinking of?
All monkeys aside (it was five), we called Pat Hines, Director of Truck Camper Marketing at Palomino RV to ask about the new Line-X treated Body Armor Editions.  Naturally, he knew I was calling before I did.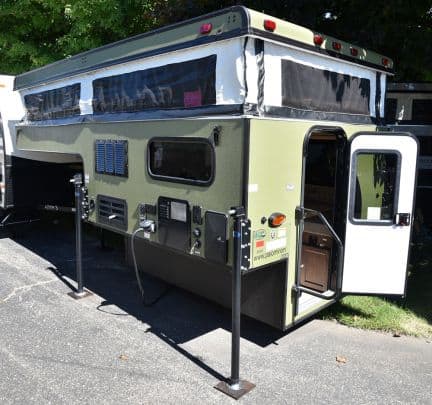 Above: The new Line-X treated Body Armor Edition SS-550 – click to enlarge
TCM: What is the concept behind the Line-X treated Body Armor Editions?
Pat: As an exterior coating, Line-X is extremely durable.  For that reason, we have been Line-X coating the front caps of our Solaire travel trailer line and the undercarriage of our hard side Palomino Max Elite truck campers for the past four years.
Both applications have been exceptionally popular with our dealers and customers.  More importantly, we have had virtually no warranty issues with Line-X coated front caps.  It's almost rock proof.

Above: The Line-X treated Body Armor Edition SS-550 at the Elkhart show – click to enlarge
No group would better appreciate the off-road durability of Line-X more than pop-up truck camper owners.  That is why we are launching a new Body Armor Edition on one of our most successful pop-up truck camper models, the SS-550.
To test the interest in the Line-X treated Body Armor Edition SS-550, we brought a prototype to the RV industry open-house in Elkhart, Indiana.  Dealers had a lot of positive feedback, both on the concept and the final result, and placed a number of orders at the event.  The real proof will be in the customer reactions, and sales.

Above: The underbody is coated with black Line-X – click to enlarge
TCM: Why Line-X?  Why not use another brand of bed liner?