TCM talks to Gary Conley, National Sales Manger for Lance Campers, about the Lance 855S.  As he explains, the 855S is much more than just an 855 with a slide.

With some new campers, one look at the floor plan and you can see exactly why that camper is different, or exciting.  Other campers take a much closer look.  Some even require a feature for feature study or comparison of their capacities, storage, and weight.
The new 2012 Lance 855S fits this latter description.  At first blush, it appears like a minor revision of the Lance 861 it replaces.  The floor plan is nearly identical with a few changes to the wet bath design, sink and counter area, and over cab storage.  No big deal.
Why would Lance bother to redesign a successful camper like the Lance 861 and make such seemingly small refinements?  The answer, as you're about to read, is two fold.  First, those small refinements are not as small as they seem.  Some are down right weighty.  And second, all those small changes add up to some important distinctions between the 861 and 855S.  Here's a hint; one camper is longer than the other.
We also get off-topic a bit with Gary and dive into the latest on Lance's continuing implementation of CNC technologies as well as their new Four Season Certification.  Does he tease us about a new camper for Louisville?  We can't really tell, but we sure hope so!
Thank you to Lance Campers for supplying the photography for this article. In 2013 Truck Camper Magazine did a video with their Chevy 3500 and Lance 855S camper.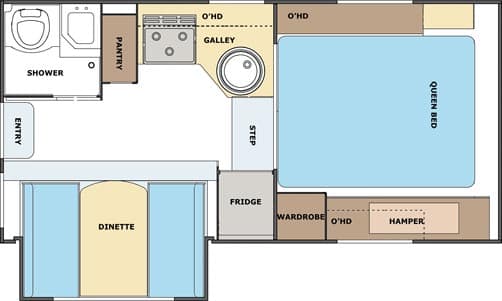 2012 Lance 855S Specifications:
The 2012 Lance 855S is a hard-side, wet bath, single-slide truck camper.  The interior floor length of the 2012 Lance 855S is 8'11" and the interior height is 81".  Lance is reporting the dry weight of the 2012 Lance 855S at 2,620 pounds with standard features.  The tanks in the 2012 Lance 855S are 30 gallons fresh, 20 gallons gray, and 25 gallons black.  The camper accommodates two batteries and two twenty-pound propane tanks.  The MSRP for the 2012 Lance 855S is $24,787.
The following is an interview with Gary Conley, National Sales Manager for Lance Camper, about the 2012 Lance 855S.
TCM: Does the 855S replace any existing models in the Lance line-up?
Gary: It replaces our Lance 861.  We reduced the weight of the 855S while actually increasing the length of the camper by three inches.  The 855S is 8'11′ versus the 861 which was 8'8".  Lengthening the camper while reducing the weight and not moving the center of gravity was a huge benefit.  Plus, we lengthened the dinette/bed from 64" to 72".
TCM: How much lighter is the 855S than the 861 it replaces?
Gary: We were able reduce the dry weight of the 855S by 450 pounds from the dry weight of the 861.  Reducing the weight of our campers has been our number one goal for close to three years.  Equipment for equipment, feature for feature, we believe the 855S is the lightest short bed slide-out model on the market.
TCM: 450 pounds is a dramatic amount of weight to pull out of a camper.  Exactly how did you get the 855S to be 450 pounds less than the 861?
Gary: Every cabinet and partition wall in the 855S has been built with our Lite ply.  Lite ply is more expensive than conventional RV construction materials, but the weight reduction can be as much as a third.  The cabinet doors in the 855S are the same, but the cabinet material and construction has changed to remove a lot of weight.
Some of our Lance Lock extrusions have also been redesigned to reduce weight.  Additionally, we are using Azdel sub-straight in our exterior walls which saves up to forty pounds per wall, based on the length of camper.  As a thermoplastic composite, Azdel eliminates wood, adds R-value of R-2, will not rot or mold, uses no Formaldehyde, and is made in the USA.
TCM: How is Lance compensating for additional material costs?
Gary: Our margins are less to produce a product that is both lighter weight and price competitive.  To save more weight, we are importing some key components, like Norcold refrigerators, which increases our costs again.  Saving weight is not cheap.  With the increased volume from our travel trailer line, some of our material and component prices should eventually come down.
TCM: Is the 855S just an 855 with a slide, or was there more to the development of this camper?
Gary: The 855S is actually three inches taller than a 855.  When you look at the weight difference between the slide and non-slide model, it's only 200 pounds.  The center of gravity is only one inch different.  For adding a slide and three inches of overall height, 200 pounds is not a lot, so that shows that the camper structure is not that heavy.
TCM: It seems like Lance is beginning to hit the limit as to what you can do to reduce weight in your campers before going to materials that are too expensive, such as carbon fiber, or eliminating important features, such as a refrigerator or oven.  Do you believe you will be able to further reduce the weight of your campers?
Gary: We are looking at some other components to save a little weight, but it's not going to be a significant reduction.  We have reduced some of our component weights already, like the Norcold refrigerator we import from Europe.  We are paying a premium for that refrigerator, but we are losing thirty pounds of weight.  That's significant.
We just produced a twenty foot trailer from coupler to bumper with a dry weight of 2,480 pounds.  The trailer has a full slide, queen bed, double door refrigerator, and the 1050S dry bath.  We built the trailer using state-of-the-art materials and components, many of which will carry over into the camper line once they have been field tested.
TCM: Why is Lance testing new materials and components on the travel trailer line first?
Gary: With the trailers, we are structurally building onto a chassis.  There not as much flex with a travel trailer, so we can prove new materials and components out on the trailer line before moving it to the camper line.  Campers are used in a variety of areas, so you don't want to risk construction, material, or component changes without extensive testing.
TCM: Are there different standards and options for the 855S over the 861?
Gary: The options are the same on both campers, we just reduced the weight.
TCM: With the 1050 and 1050S, 950 and 950S, and now the 855 and 855S, it appears that Lance is moving towards building two versions of their mid-line campers and essentially making slides an option (855 or 855S), rather than a model (861).
Gary: Correct.  From a marketing standpoint, we have one model, the 855.  With the 855 and 855S, Lance dealers can ask the customer, "Do you want it with a slide, or without?".  The reason why we don't make slide-out an option is customer perception.  Many customers will approach us and ask, "Where are your slide-out campers?" or they'll ask, "Where are your non-slide campers?"  By adding the letter S at the end of the model numbers, we are accommodating our customers while we're keeping the camper names uniform.
TCM: From the similarities of the floor plans between the Lance mid-line (855/855S, 950/950S, 1050/1050S), it seems as if Lance wants it's customers to shop for campers based on their truck's bed size and payload, and then look at floor plan and options.  Is that correct?
Gary: As you know, based on your readership, how to match a truck and camper is the number one question you hear.  Our dealers are trained to tell people which Lance camper fits their truck.  We even color coded our brochure to show which campers fit half-ton trucks, three-quarter ton trucks, and one-ton trucks.
If you have a short bed truck, in the 250/2500 series, you could choose from our 825, 865, 830, 855, and 855S.  If your 250/2500 series truck offers sufficient payload, there are five Lance campers to choose from.
From a consumer standpoint, the five Lance models may look alike, but there are many things that are different.  One of the most important differences is storage.  My advice to consumers is to think about their camping lifestyle.  What are you bringing and where they are you going to put it?  Do you fold or hang your clothes?  Do you need a pantry?  Are you pulling motorcycles and do you need a place for helmets?  Do you need a place to put long items?
We also maximize storage.  In the 855S, we have overhead shelves.  You can hang things from our overhead shelves and store things on the top rather than cram your stuff into a small cabinet.  We provide more storage versatility with that type of feature.
If you don't have a truck, the world is your oyster.  You can break it down to exactly what you want to do, how much storage space you need, and what your preferences are.  For the consumer, it actually helps to simplify the camper selection process by having the models look similar.
Our goal is to create a customer for life.  We want our customers to think about real life use and experiences and apply it to the product they are buying.  When they begin to envision how they're going to use and experience the camper, a majority of time the consumer is going to choose our product.
TCM: What is the dry weight and MSRP for the 2012 Lance 855S?
Gary: The dry weight is 2,620 pounds.  The MSRP is $24,787.
TCM: What's new (models, materials, processes, CNC machine additions) for the Lance Camper line for 2012?
Gary: We have more new CNC machines coming.  We are expanding.  As of right now, our capacity is limited by the speed of the CNC machines.  There are CNC machines three times as fast as the ones we are currently using, so we are investing in new CNC machines.  There is a new cabinet CNC that we are looking at purchasing.
TCM: Do you risk quality when you increase quantity with the CNC machines?
Gary: No.  With the CNC, when we increase speed it doesn't impact quality at all.  With humans, when we increase speed, there is a potential problem with quality.
We have also seen more work flow improvements as a result of the CNC process.  For example, our whole wall lamination line is now a two step process.  First, we laminate one side and CNC rout the wall.  Second, we laminate the other side and CNC rout out again for a completed wall.  The lamination process goes quickly.  Gaining the speed there is the next thing.
TCM: Are there any changes to the interior materials or aesthetics for 2012?
Gary: We have a new interior color theme called rainforest.  It's a classy and traditional fabric.  It's been well received in the marketplace and looks awesome in the campers.
TCM: Will there be any new Lance Campers at Louisville in November?
Gary: There's the potential for something new.  We were talking about some things here at Lance last week.  We are talking about expanding the camper line into stuff we're not presently doing.  It may not happen before Louisville.
TCM: On the new Lance website, there's a new logo touting Lance Campers as, "Four Season Certified".  Can you tell us about this certification?
Gary: Our truck camper product has been in the field for years and we have done a multitude of four season tests with our customers.  We have received extensive feedback on what works and doesn't work to make a true four season truck camper.
A four season camper should have heated basement tanks, dual pane windows, extra insulation under the bed, insulation on the inside of vented exterior compartments, two-stage 15/22 BTU furnace, and roof vent covers.  When we add these options to a Lance Camper, we achieved the highest R rating and usability possible.  There is not much else we can do to improve the insulation quality unless we eliminate vents and windows.
TCM: So the Four Season Certification is an options package?
Gary: Yes.  Only units that have all of those features are four season certified.  It is a package and it can be ordered on any Lance Camper.  Just order the All-Weather package plus dual pane windows.  All Lance Camper models can be ordered with the All-Weather package and thermal pane windows.  Only campers shipped with the All-Weather package and dual pane windows will have the four season sticker on the camper.  If you want maximum protection and usability in all weather conditions, that's where certification comes in.
TCM: Is there anything we didn't ask you that you'd like to add to your interview?
Gary: The 855S has already been well received.  Sales have exceeded expectations.
Based on the articles you've done, we see that weight has been the number one issue with all products in the industry.  We are a company that will be around as fuel economy becomes more of an issue and the requirements for 10,000 GVW trucks change.  As the efficiencies on motors goes up, the weight of our campers has to come down, so we're positioning ourselves there.
TCM: Thanks Gary.
Check out the Lance Camper Buyers Guide to see all models.  For more information on Lance Campers, visit the Lance website at lancecamper.com.  Click here to request a free Lance brochure.