ABC World News contacted Truck Camper Magazine for a Made In America segment featuring our 2013 Lance Camper and Chevy Silverado 3500.  Here's the story behind the scenes.

The ABC World News segment is scheduled to broadcast tonight, Monday, June 3rd, at 6:30pm EST, 5:30pm CST, 5:30pm MST, 6:30pm PST, 5:30pm Alaska, 3:30pm Hawaii.

As is the nature of news, the segment could be preempted (including our appearance) by breaking news, and rescheduled.
Click here to see the Made In America video.
In May, the Go RVing campaign posted a message on their Facebook page that caught Angela's attention.  To paraphrase, it said, "ABC News is looking for RVing families for a story on the nightly news.  Reply if you're interested."
In one of those, "What the heck moments" Angela sent in our information.  "There's no way they'll contact us," I said.  After nearly a week of wind and rain in Utah's desert, I wasn't feeling too optimistic.
The very next day Angela got an email from an Associate Producer at ABC World News.
"They picked us!" she exclaimed.
"What are you talking about?" I replied, still typing an email.
"ABC News picked us to be in the segment!"
I thought she was kidding.  Then I looked up and saw her face.  Oh wow.
The Associate Producer asked if we could give her a call.  We quickly closed the camper door, turned off the Fantastic Fan, and called the number.
"Edit" she answered.  Evidently this is how they answer the phones at ABC World News.
"Hi, this is Gordon White from Truck Camper Magazine.  You contacted my wife, Angela, about us contributing to a segment for ABC World News."
She thanked us for contacting her and explained that we could be participating in an ABC World News, "Made In America" segment.  She added, "We need you to shoot the video and submit it to us by next Wednesday.  I'll email you a list of what we're looking for in the video."
If you could hear the repeating tape in my mind at that moment, it sounded a little something like this, "Five days to script and shoot a video worthy of the national news?  Are they nuts?  Am I nuts?  How are we going to do this?"
That afternoon, Angela and I assembled a rough shot list and script based on ABC's requirements.  Angela put together a time table and plotted our course.  We were focused.  To celebrate the ABC World News opportunity, we went to the quaint and wonderful Gem Movie Theater in downtown Panguitch, Utah, ate delicious home made ice cream on waffle cones, and saw Iron Man 3.  That was a great night.
Arriving at Zion National Park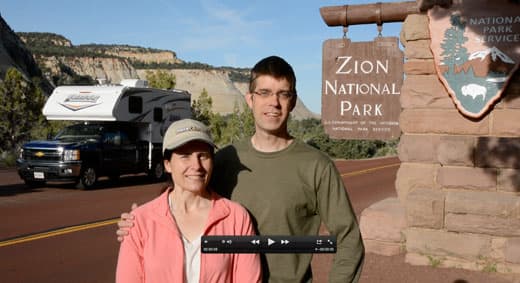 Above: Our introduction at the Zion National Park east entrance.