Greg Tucknies, Adventurer Manufacturing's National Sales Manager, debuts the redesigned 2012 Eagle Cap 1160.  We also get the inside scoop on the Eagle Cap 950, 995, 1050, 1160, and 1165.

Three months ago we published, "Eagle Cap is Back: On the Line and Out the Door".  That story detailed exactly how the new Eagle Cap truck campers are being redesigned and built, from wrap around fiberglass nose cap, to wrap around fiberglass end cap.  Since then, Adventurer Manufacturing's Eagle Cap production line has been busy completing model after model of redesigned 2012 Eagle Cap campers.
Today we turn yet another page on the new Eagle Cap with the debut of what has historically been one of Eagle Cap's most popular models, the 1160.  If our conversations at RV shows and rallies is any indication, there's a lot of interest in the 1160.  There's also a lot of concern over what this all-new redesigned 1160 will be.  What changes have been made?  What will it weigh?  What will it cost?  And when will it be available?
Once again we talk to Greg Tucknies, Adventurer Manufacturing's National Sales Manager, and ask the questions we've been asked to ask, and then some.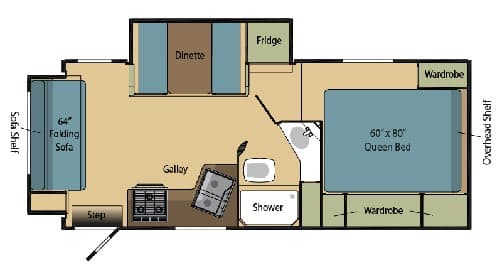 2012 Eagle Cap 1160 Specifications: 
The 2012 Eagle Cap 1160 is a hard-side, dry bath, double-slide truck camper with a side entry that is made for long bed trucks.  The interior floor length of the 2012 Eagle Cap 1160 is 11'6" and the interior height is 76".  Adventurer LP is reporting the dry weight of the Eagle Cap 1160 at 4,298 pounds with standard features.  The tanks in the 2012 Eagle Cap 1160 are 75 gallons fresh, 32 gallons gray, and 28 gallons black.  The camper accommodates two batteries and two thirty-pound propane tanks.  The MSRP for the Eagle Cap 1160 is $36,295.
The following is an interview with Greg Tucknies, Adventurer Manufacturing's National Sales Manager, about the 2012 Eagle Cap 1160.
TCM: What's been going on at Eagle Cap since our last story three months ago?
Greg: Business has been growing rapidly.   We had a meeting last week where we discussed our need to ramp up Eagle Cap production to two units per day.  Our original plan was two campers per week.  As of now, we are running three and a half to four campers a week.
TCM: That's fantastic.  Which models are you redesigning now?
Greg: We are currently looking at revisions to the Eagle Cap 1050.  There will be upgrades on the interior storage and cabinets.  We are also going to go from the bulky television cabinet to a more modern LCD television with a swing out arm.
TCM: Today we're debuting the new 2012 Eagle Cap 1160, but you've also been building the 2012 Eagle Cap 995, 950, and the 1050.  What changes were made to the 2012 Eagle Cap line?
Greg: There are now six floor plans that we're building or will be building; the 850, 950, 995, 1050, 1160, and 1165.  So far we've had several runs of the 850, a couple of runs of the 950, four runs of the 995, and two runs of the 1160.  All of those campers have been produced and delivered to dealers.  The 1050 and 1165 haven't been built yet.
The changes we've made to the 950 and 995 are essentially the same changes that we discussed for the 850 three months ago.  For example, all Eagle Cap products now have the dream dinette with an optional U-shaped dinette.  All Eagle Cap products also feature the cherry cabinets, the steel roller guides on the drawers, and LED lighting.
We have continued to allow the marketplace to tell us what models to build.  For example, we haven't received any orders for the Eagle Cap 855 or 1150, so those models have been discontinued.  For the models that have been ordered, we have made enhancements during the refresh, but why change a popular model?
TCM: Let's talk about the 2012 Eagle Cap 1160.  Three months ago you reported that you were going to change the basement style of the 1160 to be over the truck rails.  Have you made that change?
Greg: Yes.  When you're building double and triple-slide truck campers, building over the rails allows for more floor space and design opportunities.  Our experience is that double and triple-slide camper buyers want more of everything.  They want more floor space, so we now have a 102" wide body.  That's half a foot wider than a typical truck camper body width and, when you add the above the rails floor design, you are adding as much as 40" to 50" of additional floor width.  The 1160 and 1165 will also offer large holding tanks and huge cargo storage bays similar to what Class A motorhomes have.
TCM: Other than building over the bed rails, what else have you changed about the 1160?
Greg: That's the biggest difference.  The new 1160 is the same floor plan as the old 1160.  It's just wider and bigger.  It still has the large dry bath, only it's bigger.  There's about ten to twelve inches of the bath area that goes into the sleeper area, which gives you a much larger bathroom.
TCM: Will existing 1160 owners notice a difference?
Greg: Someone who already owns an 1160 would notice a difference.  One customer in Canada bought it sight unseen.  He sat down with our engineering team a couple of times and once for one and a half hours and went over his wish list.  He took a lot of time with us and was very helpful in the development of the unit.  The dealer he bought it from said that he absolutely loves it.  He wasn't as excited about the old 1160, but he is really enjoying his new 1160.
TCM: Are you using the same front and rear end cap molds from the old Eagle Cap 1160?  With the new camper being wider, I would think you needed new molds.
Greg: The 1165 front cap that the old Eagle Cap built the mold for worked perfectly.  The 1160 and 1165 do not have a rear cap because there are too many openings, but it does have a front cap.
TCM: What slide mechanisms are you using on the 2012 Eagle Cap 1160?
Greg: We are using the time-tested Lippert Happijac slide mechanism throughout our product line.  We already use them and they have work well, so we're continuing to use them.
ABOVE: The all-season triple-exterior sealing process.
TCM: Reading through the Eagle Cap website, the 1160 is listed as having an all-season triple-exterior sealing process.  Can you tell us about this process?
Greg: Our Eagle Cap exclusive all-season triple-exterior sealing process has three layers.  First, we use our TCC constructed lamination process with gel coated fiberglass that is completely sealed at all seams with Bostick Liquid Rivet 1152 polyurethane adhesive.  Second, the full complete fiberglass cap gives you a second sealing process wrapping up over all corners of the first seal/seam so it is completely enclosed and isn't exposed to the elements.  The third sealing process is our butyl tape trim pieces used to secure the cap to the side walls.  That's the Eagle Cap exclusive all-season triple exterior sealing process.
TCM: The Eagle Cap website also reports the 1160 as having two-inch laminated walls and floors with a R11 and R22 insulation factor respectively.  The 3" crown and trussed roof is reported as having a R17 insulation factor.  How did you design the walls, floors, and ceiling to have those values and how do you calculate those values?
Greg: The closed cell block insulation we use has an R value of five per inch.  Three inches of block foam has an R value of R15.  We also have interior and exterior finishing panel and TPO on the roof, so that gives you about two more R values.  We are being conservative with a R17 value for our roof.
We have two inch laminated and insulated floors for the main floor and basement floor.  You have a R22 value floor from those two floors themselves.  You actually get more insulation than that because of dead air space in the basement, so your tested R value is probably closer to R30.  It's all calculated with industry standards.
TCM: How did you build the floor to handle weight of an over the rails double-slide camper?
Greg: Anytime you go above the bed rails, there are two key components.  One is the floor.  It has to be solid, rigid, and built from very strong structure to support the weight of the camper.  More important is the second key, which is the foundation in the truck bed to support that floor.  It has to be a strong structure.  All the weight is laying across the basement wall design.
To make the floor and basement strong, we use Adventurer's TCC lamination system with 2×2 and 2×4 welded aluminum box framing.  We also use wood inserts where we need anchor points.  The floors are also fully laminated with 2×2 box aluminum cross braces.  The whole camper structure is made with aircraft grade aluminum and lamination to support the weight of the camper.
TCM: Tell us about Eagle Cap's "residential style" ducted heat.
Greg: Residential heat ducts go through the floor of the 1160.  With the 1160 we lifted the floor above the bed rails so we don't have to run the coiled ducting like most other campers.  We also placed the vents and ducting system to the driver's side sidewalls rather than the floor avoiding the possibility of debris falling into the system.  This also allows for a more open and smooth floor area.
TCM: We don't usually ask about toilet height, but Eagle Cap describes a raised toilet base as a feature of the 1160.  What is this about a raised toilet?
Greg: We use a taller toilet for the 1160 so that it's easier to sit up on.  It's closer to a residential height and feel.
TCM: Another statement on the Eagle Cap website describes how the enclosed, insulated, and heated holding tanks were engineered for improved weight distribution and center of gravity.  How were the basement and tanks engineered for these improvements?
Greg: The old 1160 was a more traditional design with a full length basement in between the wheel wells.  With the floor now higher, we can move the tanks further forward.  We also have taller and shorter tanks, so the weight is in front of the wheels.  Most of the tanks are up to the front of the truck bed itself.  We were surprised after building the unit to find just how much further forward the center of gravity was
TCM: Speaking of center of gravity, where is the center of gravity on the 1160?
Greg: It is at 57" inches from the front of the camper.  Every camper gets it marked on the side of the camper.  You want the center of gravity fall within your trucks "CG" load range, ideally dead center of your rear axle or forward.
TCM: The interior height of the 1160 is actually two inches less than the other Eagle Cap models.  Is that because you built the floor over the bed rails?
Greg: Yes, we shortened the ceiling height by two inches to keep the exterior height and center of gravity lower.
TCM: What is the exterior height of the Eagle Cap 1160?
Greg: To the air conditioner, the 1160 exterior height is 9'9.75".  When mounted on a truck, it should be between 11'9" for a 4×2 truck and 12'10" feet for a 4×4 truck, depending on truck bed height.
TCM: Are all lights on the 1160 LED?
Greg: All of our lights are LED, inside and out.  It's standard for all Eagle Cap models this year.  The LEDs require approximately eight times less power.  The LED lights also create significantly less heat.
TCM: Adventurer LP (ALP) is to be commended for weighing each and every truck camper as it leaves the factory to give the customer an honest dry with options weight.  What did the 2012 Eagle Cap 1160s weigh with options as they left the factory?
Greg: We weigh all Eagle Cap and Adventurer truck campers before they leave the factory.  The 2012 Eagle Cap 1160 camper pictured in this article was 4,642 pounds as it left the factory and that includes all options including a generator and an air conditioner.  90% of the 1160s going to dealers will have those two options.  The 850 and 950 will go fifty-fifty with generators and air conditioners.
The key thing with any truck camper, and I stress this with dealer trainings, is that you have to know as much about trucks as you do about the truck campers.  You have to put the right truck under the truck campers.  And you need to include the weight of your camper with dogs, kids, cats, and gear for your calculations.
TCM: Especially cats.  With a 75 gallon fresh tank (625.5 lbs fresh), plus options, and owner's belongings, this camper will likely be pushing 6,000 pounds wet and loaded.  That's the upper limit of the available payload in a 2011 Ford F-350 or Chevrolet Silverado 3500 dually.  For a safe and legal truck and camper match, what truck do you recommend for the Eagle Cap 1160?
Greg: I'm telling people to plan on at least 5,500 pounds as a wet weight, possibly more.  Some new 2011 Ford F-350 payloads are in the range of 6,200 to 7,110 pounds depending on the truck configuration.  If you opt for 4×2, then you can get into that higher payload range.  As with all truck campers, you have to put the right truck under the 1160.  Some older one ton dual rear wheel trucks only have 3,000 pounds of payload even though they're a one ton dually.  It's really important to pay attention to the stated payload capacity of your truck.
TCM: The photograph you sent us of the 1160 shows the camper on a single rear wheel truck.  That was just for the photograph, correct?
Greg: That's our factory truck.  The 1160 should go on a one ton dual rear wheel truck or larger with enough payload to handle 5,500 pounds or more.  Follow the guidelines stated in Truck Camper Magazine's article, "Matching a Truck and Camper" and you'll be in good shape.  Just be sure to also pay attention to center of gravity.
TCM: What is the MSRP for the 1160?
Greg: $36,295 with standard features.  That does not include freight or options.  The Eagle Cap 1160 we were talking about before as equipped including  generator and air conditioner had an MSRP of $43,871, minus freight.
TCM: When will the 1160 be available?
Greg: They are currently available at dealers on the West Coast and western Canada.  Two loads have gone out already
TCM: Is there anything about Eagle Cap, the 1160, or the other models that you would like to add to your interview?
Greg: The exciting thing is that Eagle Cap is growing like crazy.  We have been hiring a lot of employees.  We're on a constant interview process.  Eagle Cap is back and stronger than ever.  The product is doing well and dealers are calling us wanting the product.  James Epp, owner of Adventurer LP, totally supports us, and takes care of our customers.  It's been a breath of fresh air to deal with a man with his level of integrity.
TCM: Thanks Greg.  We're looking forward to actually seeing an Eagle Cap 1165 in the next few months.  I hope we can debut that camper here in Truck Camper Magazine.
Greg: Absolutely.  Thanks for the interview.