Greg Tucknies, Adventurer Manufacturing's National Sales Manager, debuts the redesigned 2012 Eagle Cap 1160.  We also get the inside scoop on the Eagle Cap 950, 995, 1050, 1160, and 1165.

Three months ago we published, "Eagle Cap is Back: On the Line and Out the Door".  That story detailed exactly how the new Eagle Cap truck campers are being redesigned and built, from wrap around fiberglass nose cap, to wrap around fiberglass end cap.  Since then, Adventurer Manufacturing's Eagle Cap production line has been busy completing model after model of redesigned 2012 Eagle Cap campers.
Today we turn yet another page on the new Eagle Cap with the debut of what has historically been one of Eagle Cap's most popular models, the 1160.  If our conversations at RV shows and rallies is any indication, there's a lot of interest in the 1160.  There's also a lot of concern over what this all-new redesigned 1160 will be.  What changes have been made?  What will it weigh?  What will it cost?  And when will it be available?
Once again we talk to Greg Tucknies, Adventurer Manufacturing's National Sales Manager, and ask the questions we've been asked to ask, and then some.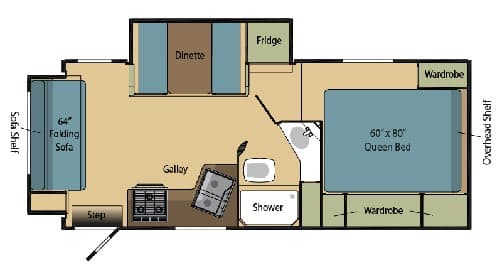 2012 Eagle Cap 1160 Specifications: 
The 2012 Eagle Cap 1160 is a hard-side, dry bath, double-slide truck camper with a side entry that is made for long bed trucks.  The interior floor length of the 2012 Eagle Cap 1160 is 11'6" and the interior height is 76".  Adventurer LP is reporting the dry weight of the Eagle Cap 1160 at 4,298 pounds with standard features.  The tanks in the 2012 Eagle Cap 1160 are 75 gallons fresh, 32 gallons gray, and 28 gallons black.  The camper accommodates two batteries and two thirty-pound propane tanks.  The MSRP for the Eagle Cap 1160 is $36,295.
The following is an interview with Greg Tucknies, Adventurer Manufacturing's National Sales Manager, about the 2012 Eagle Cap 1160.
TCM: What's been going on at Eagle Cap since our last story three months ago?
Greg: Business has been growing rapidly.   We had a meeting last week where we discussed our need to ramp up Eagle Cap production to two units per day.  Our original plan was two campers per week.  As of now, we are running three and a half to four campers a week.
TCM: That's fantastic.  Which models are you redesigning now?
Greg: We are currently looking at revisions to the Eagle Cap 1050.  There will be upgrades on the interior storage and cabinets.  We are also going to go from the bulky television cabinet to a more modern LCD television with a swing out arm.
TCM: Today we're debuting the new 2012 Eagle Cap 1160, but you've also been building the 2012 Eagle Cap 995, 950, and the 1050.  What changes were made to the 2012 Eagle Cap line?
Greg: There are now six floor plans that we're building or will be building; the 850, 950, 995, 1050, 1160, and 1165.  So far we've had several runs of the 850, a couple of runs of the 950, four runs of the 995, and two runs of the 1160.  All of those campers have been produced and delivered to dealers.  The 1050 and 1165 haven't been built yet.
The changes we've made to the 950 and 995 are essentially the same changes that we discussed for the 850 three months ago.  For example, all Eagle Cap products now have the dream dinette with an optional U-shaped dinette.  All Eagle Cap products also feature the cherry cabinets, the steel roller guides on the drawers, and LED lighting.
We have continued to allow the marketplace to tell us what models to build.  For example, we haven't received any orders for the Eagle Cap 855 or 1150, so those models have been discontinued.  For the models that have been ordered, we have made enhancements during the refresh, but why change a popular model?
TCM: Let's talk about the 2012 Eagle Cap 1160.  Three months ago you reported that you were going to change the basement style of the 1160 to be over the truck rails.  Have you made that change?
Greg: Yes.  When you're building double and triple-slide truck campers, building over the rails allows for more floor space and design opportunities.  Our experience is that double and triple-slide camper buyers want more of everything.  They want more floor space, so we now have a 102" wide body.  That's half a foot wider than a typical truck camper body width and, when you add the above the rails floor design, you are adding as much as 40" to 50" of additional floor width.  The 1160 and 1165 will also offer large holding tanks and huge cargo storage bays similar to what Class A motorhomes have.
TCM: Other than building over the bed rails, what else have you changed about the 1160?