Greg Tucknies, Adventurer Manufacturing's Sales and Marketing Manager, and Dave Frampton, Adventurer's Product Development Manager, reveal Eagle Cap's new nest and the first 2012 hatchlings.

Knowing the importance this story would have for Eagle Cap campers, we started our research by scouring EagleCapOwners.com, NATCOA.com, and RV.net in search of the questions and concerns the public had about the new Eagle Cap.  We also directly contacted a number of Eagle Cap owners and talked to them at length about what they needed to know about the new Eagle Cap.  From the forums, emails, and conversations, a core list of questions emerged.
Then we looked back at our own notes, photography, and experiences at the old Eagle Cap manufacturing facility in 2007 and 2010 and added a few questions of our own.  Our goal was simple; a comprehensive re-launch story for Eagle Cap campers that would address all of the looming questions and concerns about the new Eagle Cap.  Let no stone or fiberglass mold be unturned.  Let's nail it.
In the days leading up to the interview, we warned Greg Tucknies, Adventurer Manufacturing's new Sales and Marketing Manager, "This will be a tough interview, but we have the questions people need answered".  Greg was actually very excited about this approach and welcomed the tough questions.
A few minutes into the interview we knew why.  Greg and the Adventurer team had also done their homework, and then some.  They had been reading the forums too.  They've been listening to Eagle Cap owners closely.  They understood the Eagle Cap product from the inside out.  In short, they were ready.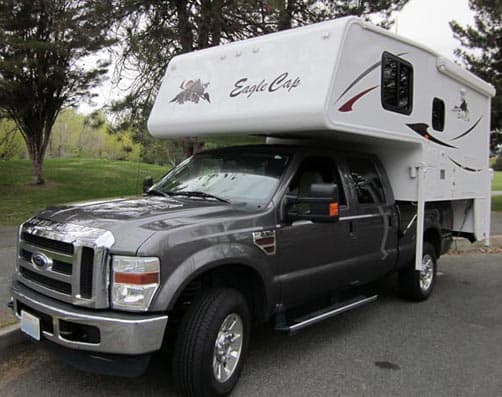 ABOVE: One of the first campers down the line, an Eagle Cap 850
The following is an interview with Greg Tucknies, Adventurer Manufacturing's Sales and Marketing Manager, and Dave Frampton, Adventurer's Product Development Manager, on the new Eagle Cap.
TCM: Congratulations on your new position as National Sales Manager at Adventurer and Eagle Cap.  Tell us about your history in the RV industry and how you came to work for Adventurer and Eagle Cap.
Greg: I started as an inside sales representative for Western RV/Alpenlite in October of 2000.  Shortly there after, I was an outside sales representative under Burk Morgan, who hired me originally.  I was with Western RV for seven years.
I left Western RV to work for Host RV as a sales representative for their truck campers and motorhomes.  After two years with Host RV, I went to work at a local Yakima, Washington RV dealership in sales.  Late last Fall, Burk gave me a call looking for someone to come help after the possible acquisition of Eagle Cap's assets.  When that acquisition came through, I was brought on board in mid-December.
TCM: We have a lot of questions for you about Eagle Cap, but can you first tell us about your RVing experience?
Greg: My whole life has had ties with RVing.  I started tenting and then moved onto tent trailers, truck campers in my early married life, and then motorhomes.  I've had a full regiment of RVs over the years.  Of course nothing is better than truck campers.
ABOVE: Eagle Cap campers coming down the new assembly line

TCM: That could not be a more true statement.  Let's talk about Eagle Cap.  Adventurer has always been a price point, value oriented truck camper brand.  Eagle Cap, on the other hand, has always been a high-end, premium oriented truck camper brand.  This means the two company cultures have very different focuses and priorities.  What are you doing to ensure that the brand, focus, and priority of Eagle Cap remains on the high-end premium market that made Eagle Cap a success?
Greg: Even before the Eagle Cap asset acquisition took place, the Adventurer management team understood that the Eagle Cap products were totally different than Adventurer products.  Eagle Cap represents a totally different level of product with a totally different consumer following.  If Eagle Cap had been the same as Adventurer, we would not have been interested in purchasing Eagle Cap's assets.
With that understanding, our first goal for Eagle Cap was to create a separate and dedicated team and production line for Eagle Cap.  Employees who work on the Adventurer production line do not work on the Eagle Cap production line, and vice versa.  This will help to ensure that the two lines remain distinct.
There's literally nothing else like Eagle Cap in the marketplace.  You can't just re-brand and re-badge a camper and make it an Eagle Cap.