LOKI Box has engineered mobile entertainment structures for Fortune 500 clients including Best Buy, Porsche, and Anheuser-Busch.  Now they're launching a new vision for the truck camper marketplace.  Introducing the LOKI Basecamp Falcon 8.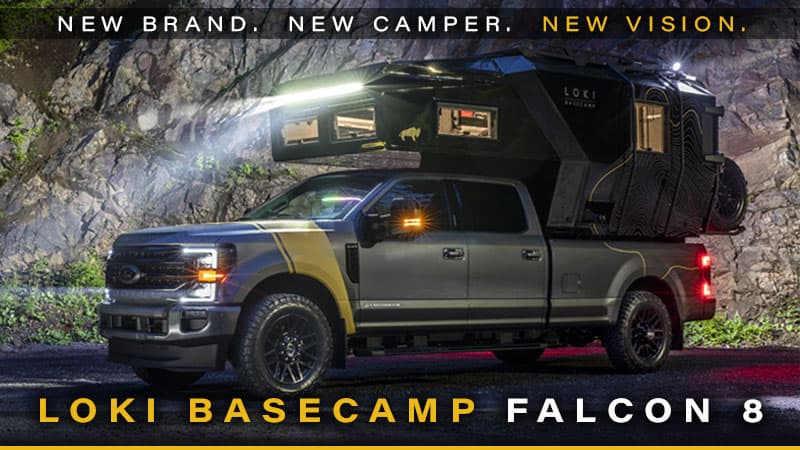 LOKI Box Design specializes in transforming maritime shipping containers into attention-grabbing portable entertainment structures for Fortune 500 brands including Best Buy, Virgin Mobile, Estee Lauder, Porsche, TJ Maxx, Harley-Davidson, Cirque De Soleil, Anheuser Busch, and Ford Motor Company.
LOKI Box's mobile pop-up stores, bars, cafes, coffee shops, displays, exhibits, stages, and restaurants are fully featured with indoor and outdoor multi-media, touchscreens, plumbing, heating, ventilation and air conditioning.
Why is this elite team of designers, engineers, and custom builders getting into the truck camper business?  The answer, as you're about to discover, is equal parts circumstance, opportunity, and the company's deep passion for the outdoors.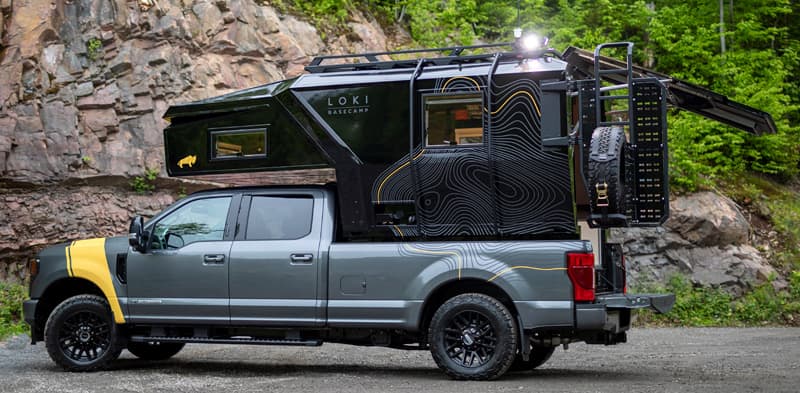 Above: The 2021 LOKI Basecamp Falcon 8, all photography courtesy of LOKI Basecamp
Introducing The LOKI Basecamp Falcon 8
The very first truck camper completed by LOKI Basecamp is the full-size, hard side, non-slide, long bed Falcon 8.  From the complex multi-faceted exterior to the aluminum construction approach, it's clear that LOKI Basecamp isn't following anyone.  That point becomes even more obvious when you absorb the unique feature and options list of the Falcon 8.
To get to the heart of what LOKI Basecamp is all about, and dig deep into every aspect of the Falcon 8 concept and design, we talked to the President and Creative Director of Loki Box Design and LOKI Basecamp, Pierre-Mathieu Roy.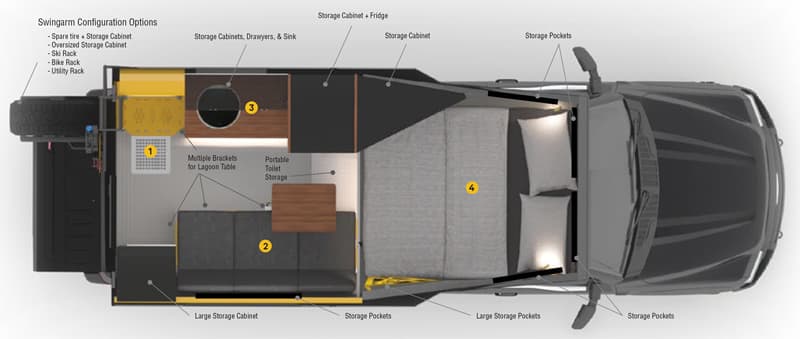 LOKI Basecamp Falcon 8 Specifications
The LOKI Basecamp Falcon 8 is a hard side, non-slide truck camper for short or long bed trucks.  The interior floor length of the Falcon 8 is 64-inches and the interior height is 76-inches.  LOKI is reporting the base dry weight of the Falcon 8 at approximately 3,000-pounds.
It has a 30-gallon fresh water tank and a 20-gallon grey tank.  The camper accommodates up to 600 amp hours of batteries.  The base price MSRP for the Falcon 8 is $135,000.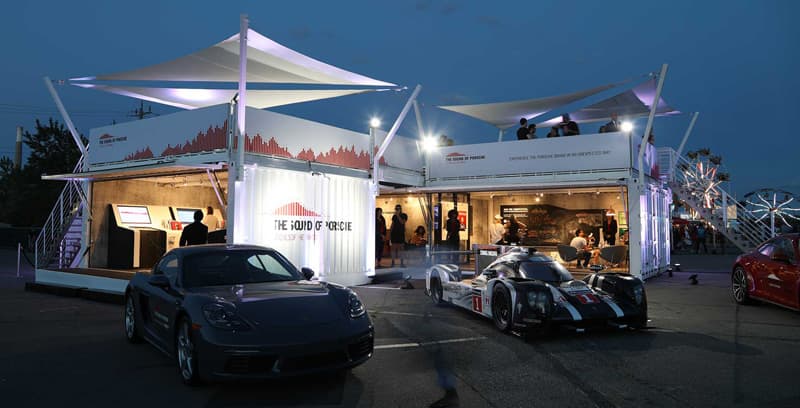 Above: A LOKI Box installation for Porsche
Before we talk about LOKI Basecamp, tell us about LOKI Box Design. What's the story behind your company?
LOKI Box takes shipping containers and designs remote offices, kiosks, restaurants, and displays for major brands.  The restaurants feature electricity.  The remote offices have solar panels.  The displays are sometimes four stories high.  Turning shipping containers into brand solutions has been our life for 15-years.  Our team consists of engineers, technical designers, builders, and welders.  All of those ecosystems exist within our company.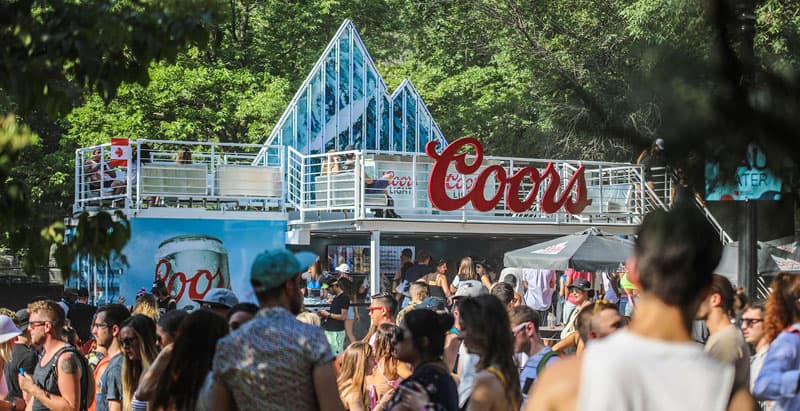 Above: A LOKI Box installation for Coors
On a personal level, I have been involved with another local Quebec-based company, NOR'VA.  NOR'VA converts Mercedes-Benz Sprinter vans into high-end Class B motorhomes.  NOR'VA was the inspiration for LOKI Basecamp.
Converting maritime containers into remote offices, kiosks, restaurants, and displays is not exactly related to the RV market.  What brought LOKI to form a new division dedicated to truck campers?
LOKI Box went from hero to zero when Covid struck.  At the time we had a full book of projects including a Final Four project for Coke and AT&T.  When public events were canceled, all of our projects were also canceled.  LOKI Box ended up being shut down for two to three months.
At that same moment, NOR'VA was booked with van orders for over a year.  As the pandemic intensified, they became booked two and then three years out.  They could not convert vans fast enough.
I previously owned a CampLite truck camper and fell in love with the concept.  After the CampLite, I bought a NOR'VA Sprinter van.  I am an active skier, runner, and mountain biker.  My family is also very active outdoors. With two children and two dogs, we need a four-season RV for our outdoor pursuits.
Since purchasing the NOR'VA van, it's been a daily driver.  I was using it a lot for commuting, camping, attending races with our dogs, and just getting around.  We're using it a lot and putting a lot of wear and tear on the van.  The desire to replace the vehicle without replacing the camper got me thinking about building a truck camper.  I pitched the idea to NOR'VA, but they wanted to stay focused on the van conversion market.
Our LOKI team members are also outdoor enthusiasts.  That's when I thought, "We already have a design firm. We're interested in camping, outdoor activities, and four-season travel.  Why not team up with NOR'VA and put a truck camper project together?"  With our extensive knowledge of modular design, we launched LOKI Basecamp.
"With our extensive knowledge of modular design, we launched LOKI Basecamp."
Is it fair to state that LOKI Basecamp is aiming for the high end of the overland truck camper market?
I'm not sure if you will believe me, but I did not look at other truck camper brands or their pricing prior to developing the LOKI Basecamp.  I did discover a few during the process, but we did not want to compromise the concept with comparisons.
LOKI Basecamp is our no-compromise vision for the future of truck campers.  We actually see our direct competition as the high-end adventure van market.  The difference with LOKI Basecamp is that you can change trucks while the camper itself can last a lifetime.  The truck camper approach is also more eco-friendly.  In comparison, vans wear out quickly.
Above: LOKI Basecamp in Quebec City, Canada
Is the LOKI Basecamp factory in Quebec City up and running?
Yes.  Prior to the pandemic, we had a LOKI Box factory in Las Vegas and another in Quebec City.  The pandemic shut down our Las Vegas factory.  As of now, our Quebec City facility is about 70-percent dedicated to LOKI Basecamp production.  In the near future, we will be opening a second LOKI Basecamp factory in Colorado.  That US location best reflects who we are.
Are you still producing LOKI Box projects?
Yes, but it's now about 10 to 15 percent of our business.  The LOKI Box part of our business was the first to go out, and will likely be the last to come back.  As of now, all of our efforts are into LOKI Basecamp.  We already have a well-stacked production calendar, mostly from local word-of-mouth.
That's fantastic. Is the plan to build custom campers factory direct?
Yes.  There are many custom aspects of the LOKI Basecamp for our customers to choose from.  Each unit will be built for the specific needs of the customer.  As an example, if you're a skier we will accommodate your boots and can build in ski racks.
We're not looking for dealers at this time.  Long term, I am not discounting the possibility of working with partners who have a similar vision to us.  For example, Redtail Overland is launching a hard shell rooftop tent.  I can see them offering our products, and vice-versa.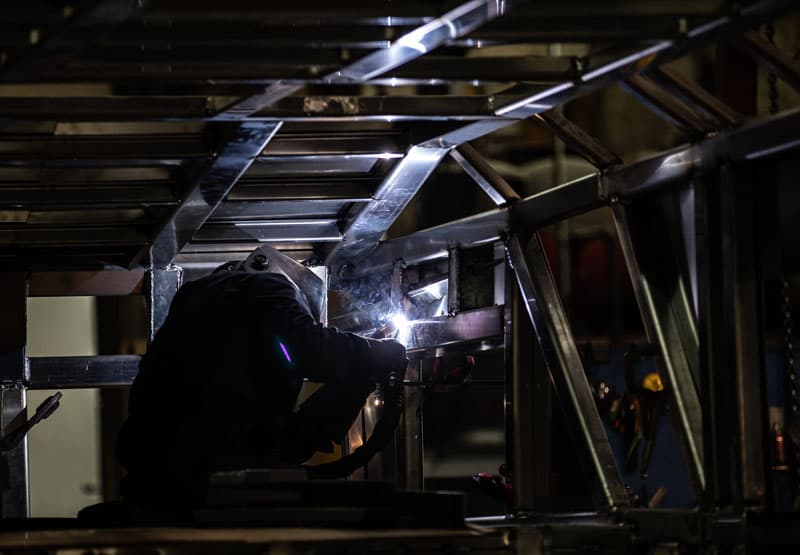 Above: LOKI Basecamp models are framed and skinned in aluminum
Tell us about the construction approach of LOKI truck campers.
When we started the design process, we asked ourselves, "Fiberglass or aluminum?"  We chose aluminum because we wanted the design flexibility, durability, and square-edge aesthetic that an aluminum shell would provide.  Aluminum shells can be adjusted where fiberglass shells cannot.  We didn't want to invest in fiberglass molds and be stuck with the same shell for years.
If the above video does not play, click here to watch it on YouTube
We use aluminum C-channel framing for optimum insulation qualities to reduce weight.  The C-channel is open to the inside allowing us to insulate every area.  No area of our LOKI Basecamp is not insulated.  Our campers also have an air gap between the exterior aluminum skin and the insulation.  That decision was inspired by NOR'VA Engineering and Canada's tough winters.  Our goal is to achieve R-16 insulation.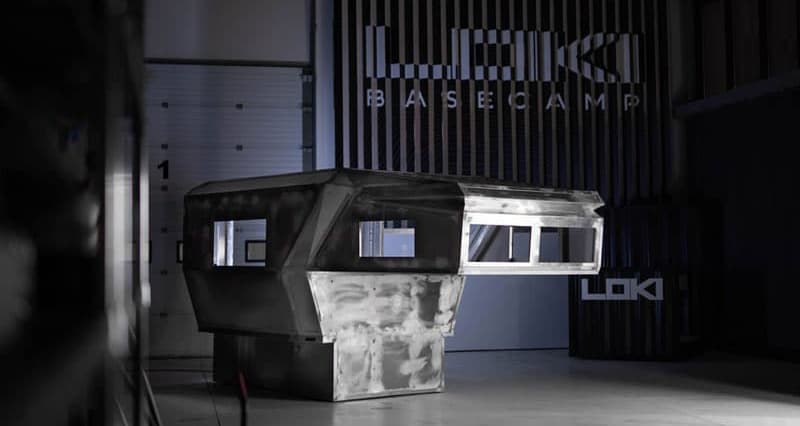 Is there any wood in the construction of a LOKI Basecamp?
The inside wall is luan and wood is incorporated into the cabinetry and interior.  In the future, we may look into building wood-free units, but I am not afraid to use wood given the high quality of our build and insulation.  If the quality of the shell and insulation is high, working with wood is totally fine.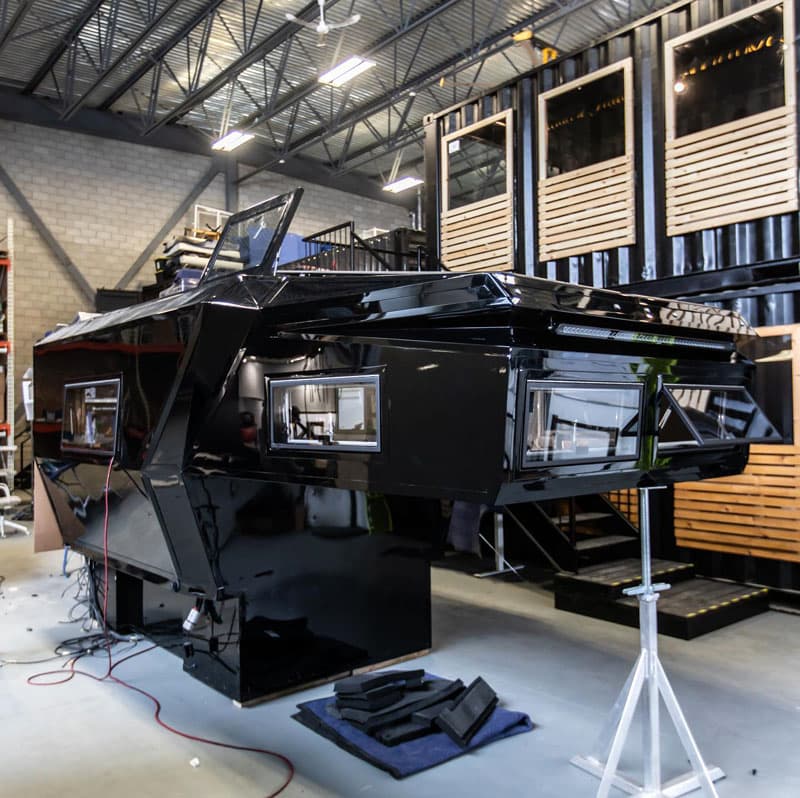 What's the thinking behind the multi-faceted exterior design?
There's a lot of thinking behind the exterior design.  First, we focused on aerodynamics.  We want driving your pickup truck to feel like the unit isn't there.  It's all about how you manage airflow.
Second, we didn't want the LOKI Basecamp to look like the shape every other camper company is producing.  We want to be different and showcase a spark and design that reflects who we are.  Finally, we want our design to evolve.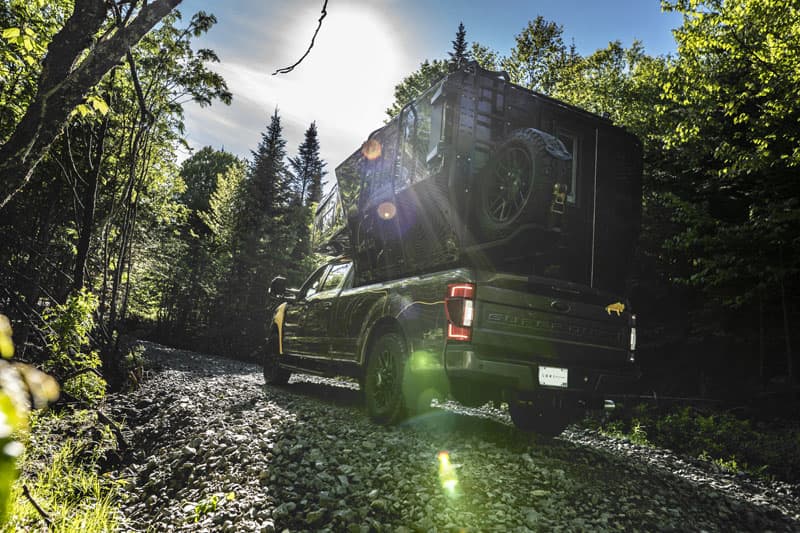 In some of the photography, the LOKI fits inside the closed tailgate of a Ford F-series truck.  Is that a design priority for LOKI Basecamp?
For the Falcon series, we wanted to stay inside the truck bed without an overhang.  We also wanted to retain the full functionality of modern tailgates including rearview cameras, tailgate locks, and the integrated step systems available from Ford and GM.  Why get rid of the tailgate when it offers so much function?
Another reason is weight and the center of gravity.  By keeping the LOKI Basecamp within the bed, we reduce the weight of the overall unit and keep the center of gravity well forward of the rear axle.
We have another series in development, the Icarus, which will feature two rear doors and require the removal of the rear tailgate.  That design is closer to a Sprinter van conversion.
Will we ever see a LOKI truck camper with a slide-out?
We want to keep the LOKI Basecamp as simple as possible for now.  We are open to a slide-out in the future, but we want our campers to stay within the weight restrictions of the truck manufacturers.  We may look into composites if we pursue slide-outs.
How about a pop-up camper?
Since we're focused on true four-season compatibility, I don't see us getting into soft-walls or pop-up campers.  However, we are interested in a hard-side rooftop tent like what Redtail Overland is developing.  I'm also focused on fast set-up.  When you arrive at your campsite for the night, a LOKI Basecamp is ready the moment you want to use it.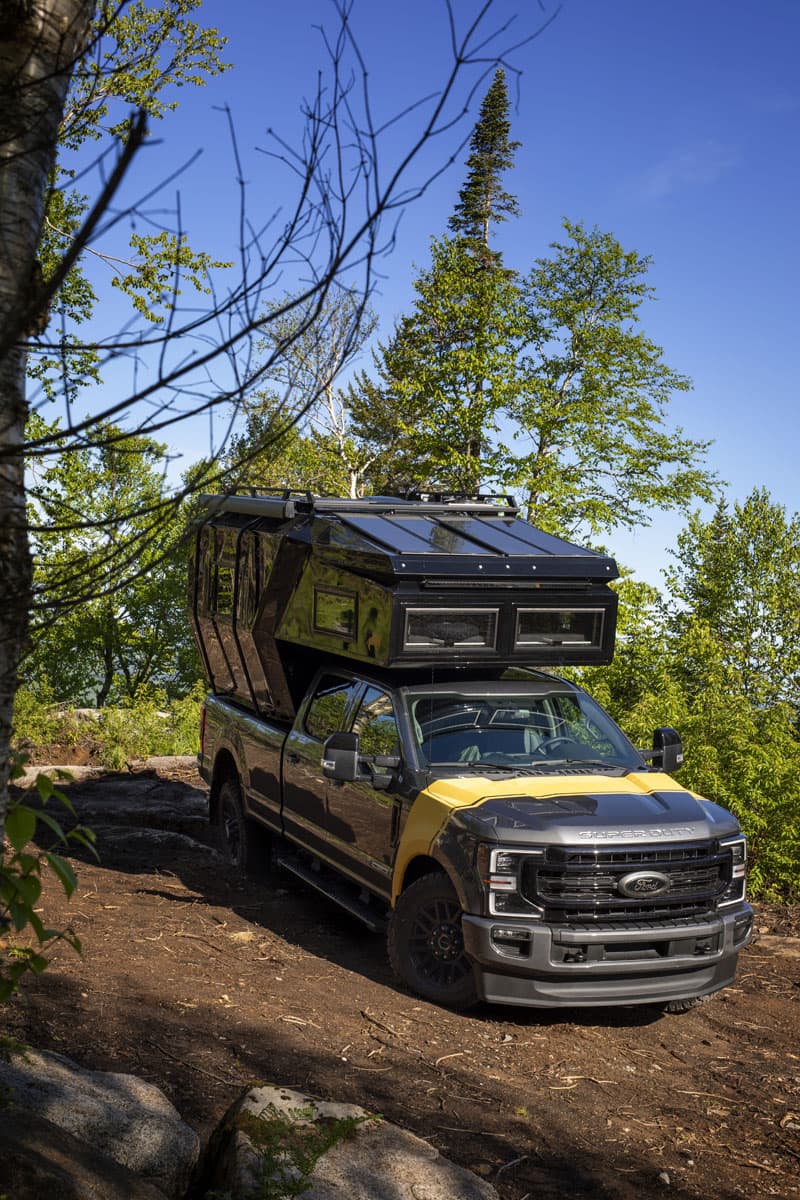 In the photos, there are no camper jacks.  How does a LOKI Basecamp load and unload?
We have actually used Rieco-Titan electric jacks with about 500 LOKI Box units over the past 15-years.  The jacks were employed to level and lift the units.  We know the Rieco-Titan product well and are using them for LOKI Basecamp as well.
I updated my CampLite truck camper with Rieco-Titan electric jacks.  The jacks were exceptional, but I didn't want them on every trip.  Once I loaded the camper, it was on the truck for weeks or even months.
For LOKI Basecamp, we believe customers will load their campers for extended periods of time.  For this reason, the jacks are removable.  LOKI Basecamp customers can leave them attached, store them in the drawers at the back of the unit, or leave them home.
How about tie-downs and turnbuckles?  How is the unit secured?
LOKI Basecamps are attached from inside the bed.  We designed a strong aluminum grid that fits inside the truck's bed, attaches to the truck's frame, and connects and secures to the LOKI Basecamp and truck.  We are not using straps or turnbuckles.  We wanted an internal system that would not be seen.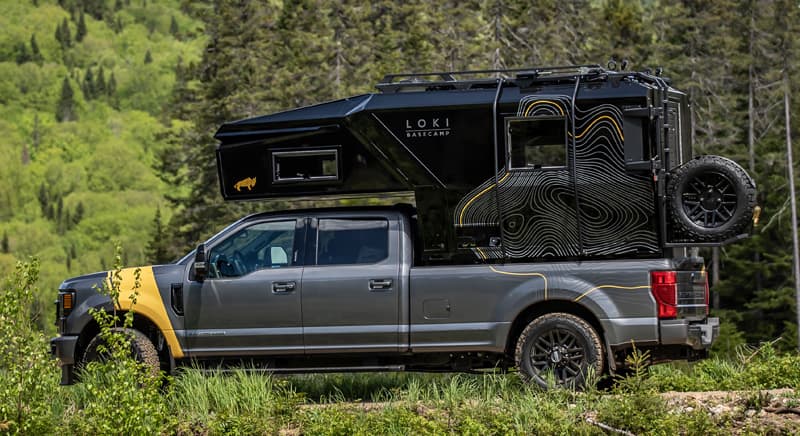 Are the LOKI graphics shown on the production unit (black with grey topographic design and yellow details) standard?
A customer can opt for that look, but LOKI Basecamp customers will have the opportunity to choose their exterior paint color and graphics.  If the customer has a red RAM truck, we can match that exact color for their LOKI Basecamp.  With your guidance, we'll design your camper.  That's what we do.  Since our campers are not mass-produced, there is no limitation.

What's the story behind the yellow buffalo?
The yellow buffalo is our signature.  Yellow is also the color of our brand.  This unit will be traveling to Overland Expo West, SEMA, and other events.  We wanted the look to reflect who we are.
You said you're not mass producing LOKI Basecamp units.  How many are you projecting to produce per year?
Our current goal is 100-units per year.
The rear hatch of the Falcon 8 is incredible.  What's the thinking behind that feature?
It's a large opening that creates an amazing rear panoramic view of your location.  Inside the hatch is a regular door.  You get the hatch and the door standard with the Falcon 8.  The rear hatch isn't something that will be open all the time, but it's a fantastic option whenever your camping location allows for it.
Is there a way to keep out bugs with the hatch open?
Yes.  If there are bugs, the rear hatch area has a rollable mosquito net.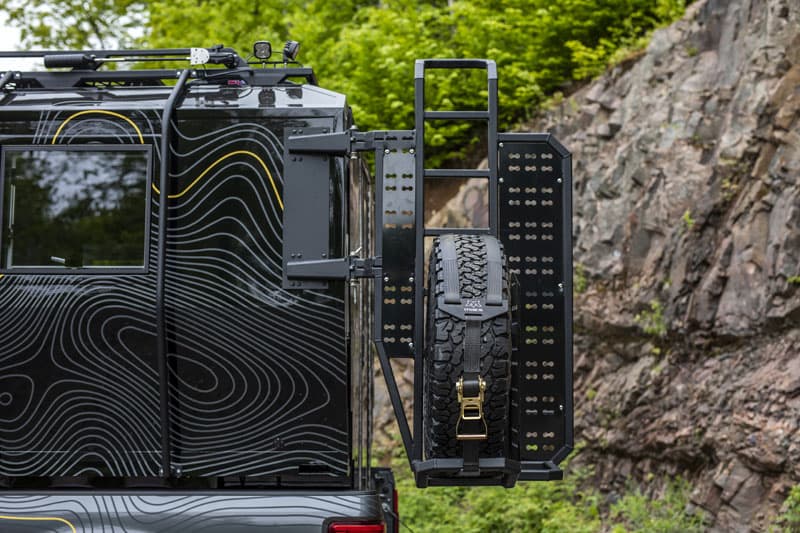 The rear swing-arm tire rack is also impressive. Is that also standard?
The rear swing-arm itself is standard, including the ladder.  Whatever attaches to the swing-out arm is optional.  That could include a spare tire mount, storage box, barbecue, Rotopax, ski rack or bike rack. The swing-arm is the beginning of what you can do.  And it's incredibly strong.  I can literally do pull-ups from that arm.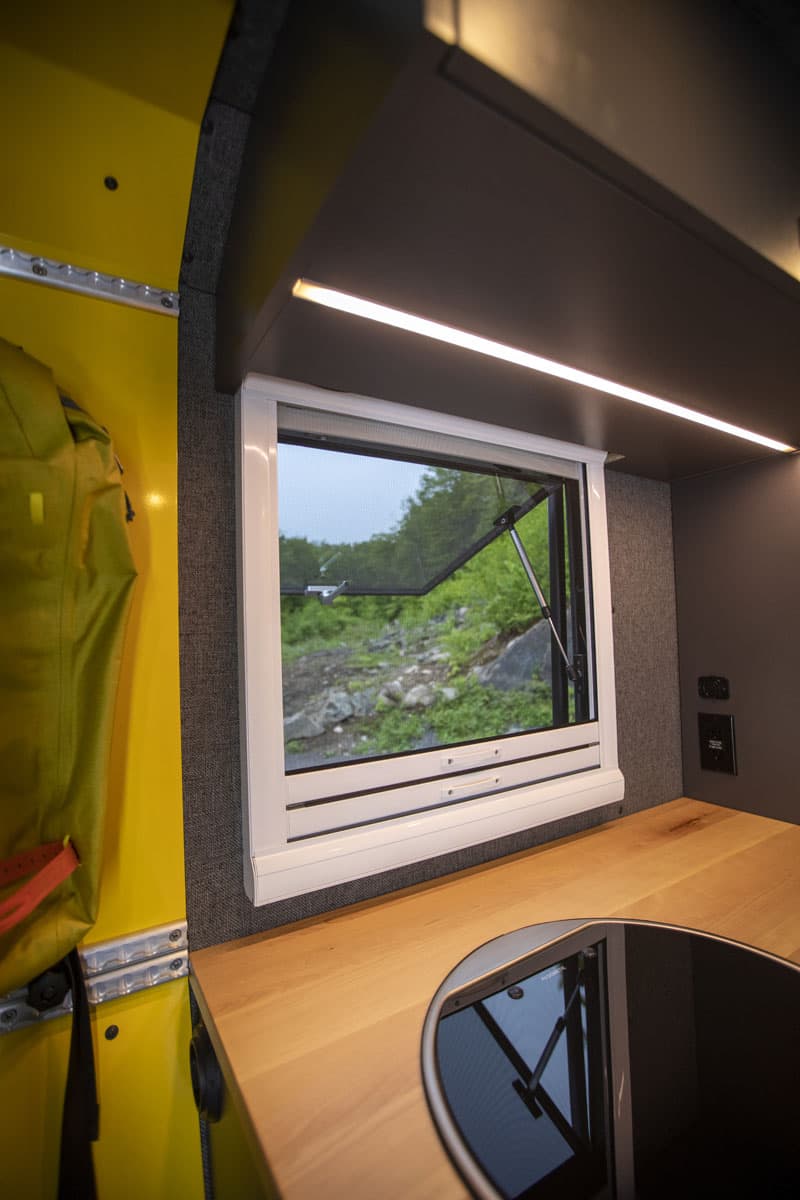 Another stand-out on the exterior of the LOKI Basecamp Falcon 8 are the glass windows.  Why did you select that window type?
The windows we are using are European sourced expedition-rated glass windows.  We were inspired by European expedition trucks and the Earthroamer series.  The windows are expedition-rated and glass.  They are simple, sealed, tested in extreme weather, and reflect the quality of what LOKI Basecamp is all about.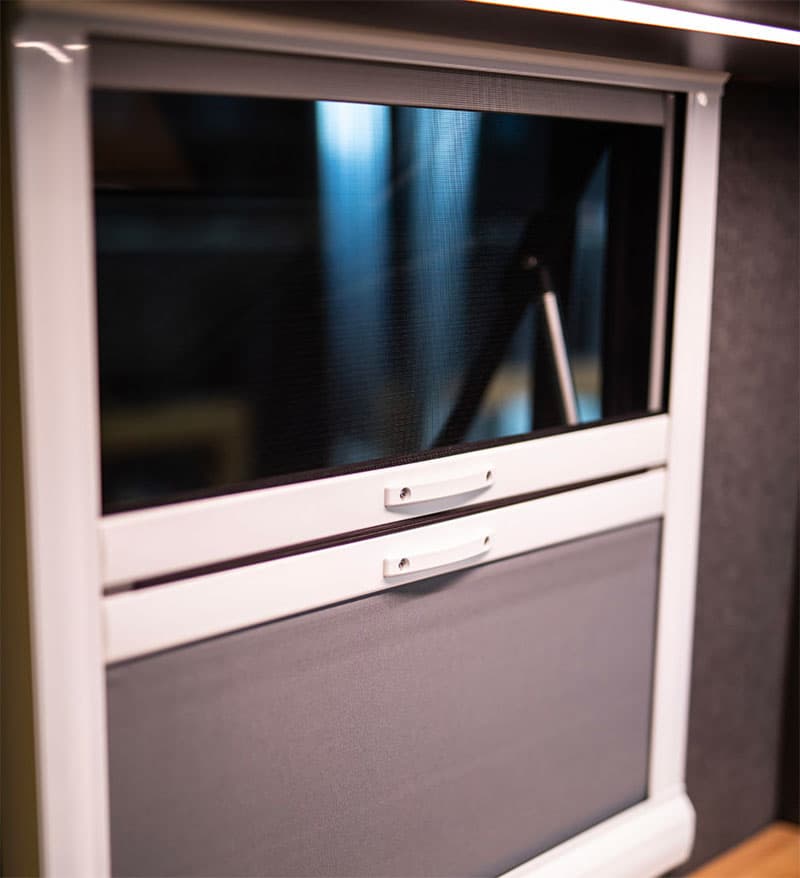 At this point, the glass windows are only available in Europe.  Nobody is making glass windows like this in North America.  I don't know why.  They are truly next-level quality and I hope we see windows like this made in America soon.  In the meantime, they are crazy expensive with duties and shipping.  That's why they're an option.  We have been surprised that all the orders to date have opted for the glass windows.
What windows are standard on the LOKI Basecamp Falcon series?
We are employing Arctic Tern windows from Tern Overland in Colorado.  They are the highest-quality Lexan windows available and are lighter and cheaper than European glass windows.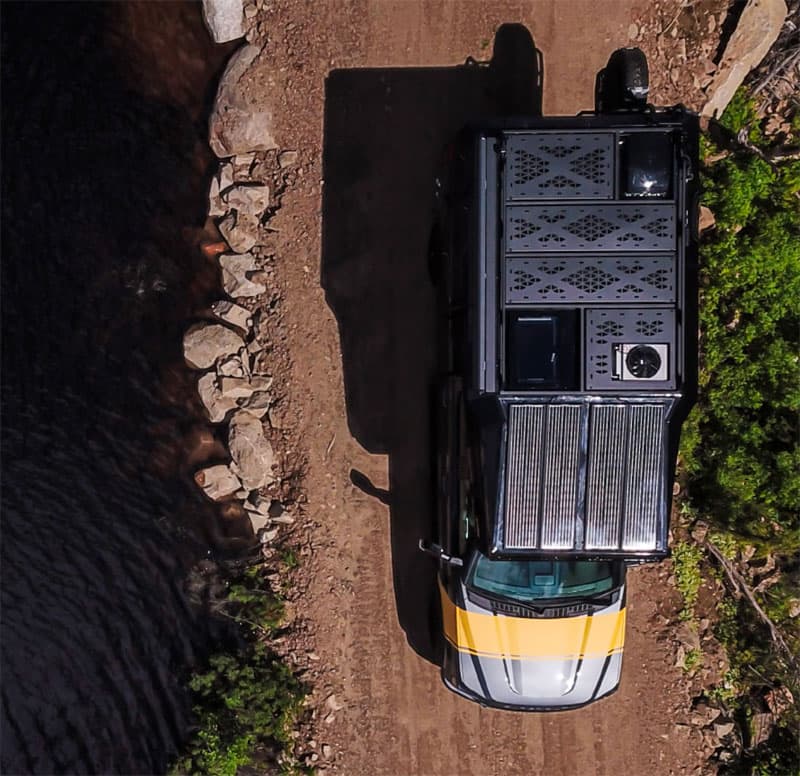 Another unique feature is the roof rack. What are the rectangular sections?
Again, the LOKI Basecamp has been inspired by the van and overland market.  We want the roof to be fully accessible via a ladder or roof hatch.  We want the roof to be strong and durable enough to hang out on and carry kayaks, storage boxes, multiple solar panels, or whatever you need that space for.
We designed the roof rack and roof panels specifically for LOKI Basecamp.  It's similar to what some of the adventure van companies are already doing.
The LOKI Basecamp comes standard with the roof rack, but the recessed aluminum panels are optional.  Not everyone will need the panels.  For those who do, they click into place, have Line-X style coating, and are super rugged for walking and storage.  The possible configurations are nearly endless.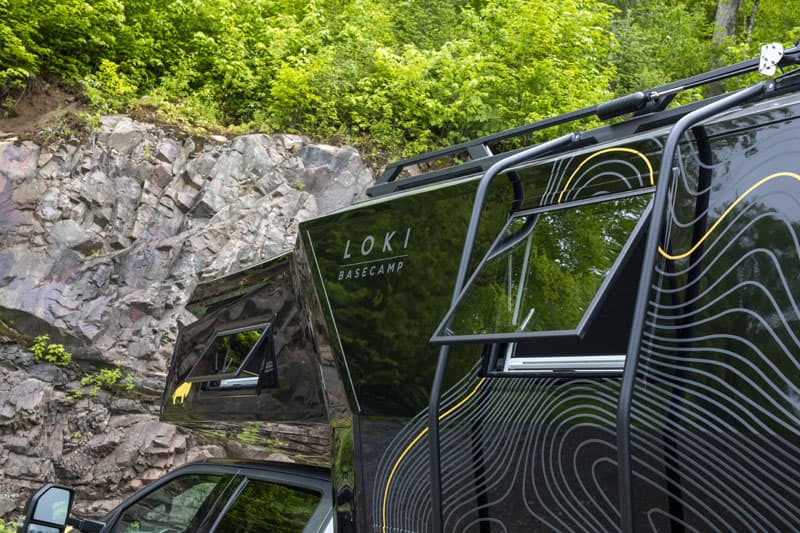 What are the metal bars that curve around the exterior sides of the unit?
Those are optional side-racks designed to carry surfboards, skis, small kayaks, and other accessories.  Similar side racks are becoming common on Sprinter vans, but they can only have side racks on one side because of the van's entry door.  We can have them on both sides.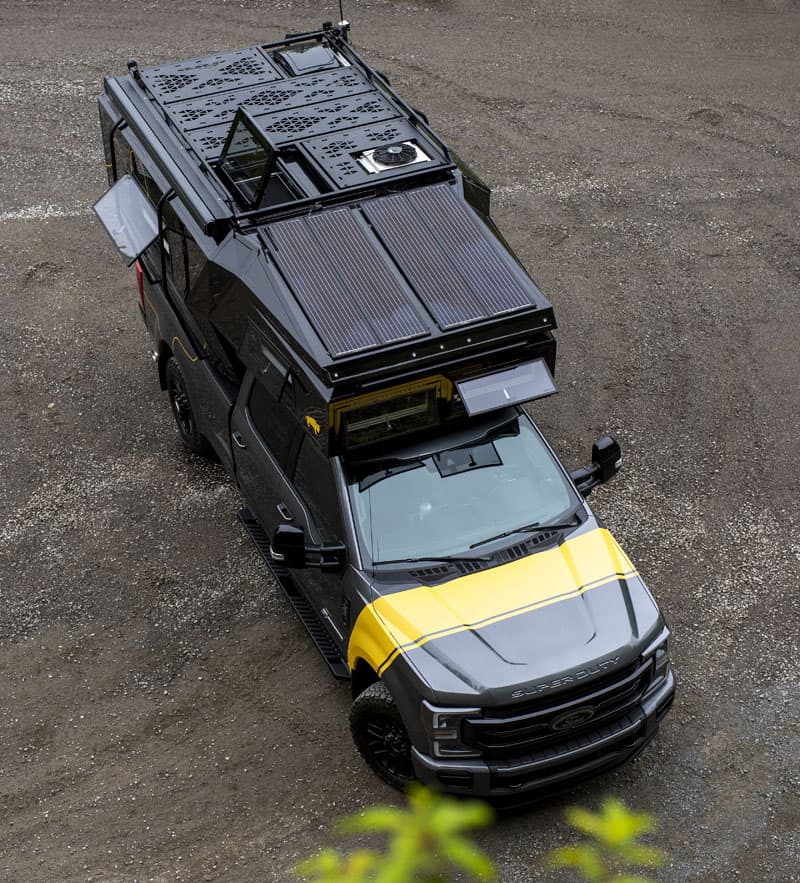 That's a neat idea.  Tell us about the thin solar panels on the front cabover nose.
Those are 360-watts of Zamp Obsidian panels.  They are exceptionally slim and low profile.  You can barely see them from the ground, and they have a size that fits well into our design.  Since the front nose is angled down, it's reserved for panels.
Are the Zamp Obsidian panels standard?
The solar panels shown on the Falcon 8 are standard, but solar panel systems will be custom developed for each unit depending on the needs of the customer.
The same goes for the battery bank.  We will evaluate each unit for what the customer needs and design a solar panel, battery bank, and overall electrical system based on those needs.  Not everyone will require 360-watts of solar.  Some may need more.
Another important detail to the electrical system is the truck.  Many new trucks have dual alternators that push up to 400-amps.  If your truck has dual alternators, you can simply start your truck to recharge your house batteries.
In the immediate future, all-electric (EV) trucks will supply even more power.  On that front, we are closely following the Tesla Cybertruck, Rivian R1T, and Ford Lighting.  Our research and development team is looking for ways to take advantage of these upcoming trucks.  They are part of the future plan for LOKI Basecamp.
What is the entry step system for the LOKI Basecamp Falcon series?
Earlier I mentioned that the Falcon series is designed to fit inside the tailgate.  That allows Ford and GM truck owners to use the rearview camera, lock, and integrated steps built into their tailgates.
For RAM truck owners or anyone who has an older truck, there are aftermarket solutions.  Our next LOKI Basecamp customer has a RAM truck and we're working with him on a step system.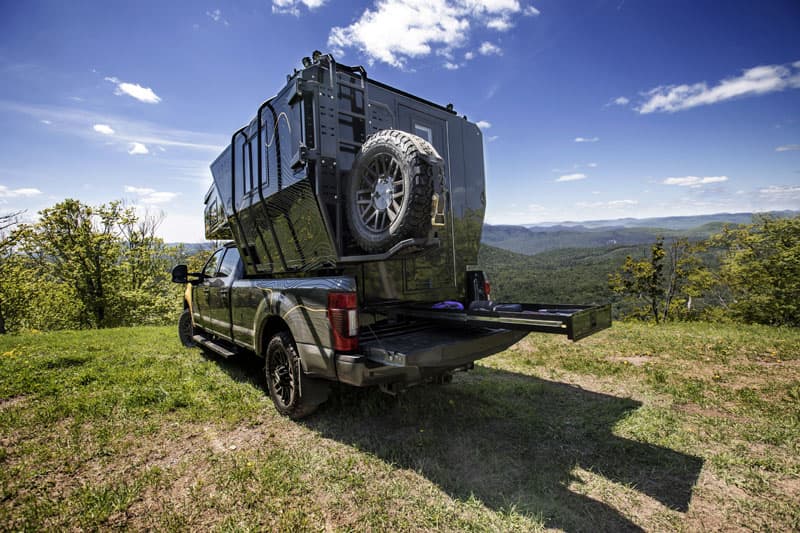 What's the intention for the rear exterior drawers?
There are so many uses for the rear drawers.  They are 5-feet deep and 24-inches wide.  We have modeled many different applications including a retractable kitchen, fishing equipment, outside dirty stuff storage, or a wine cellar.  There's even a trap door inside the unit to access this space.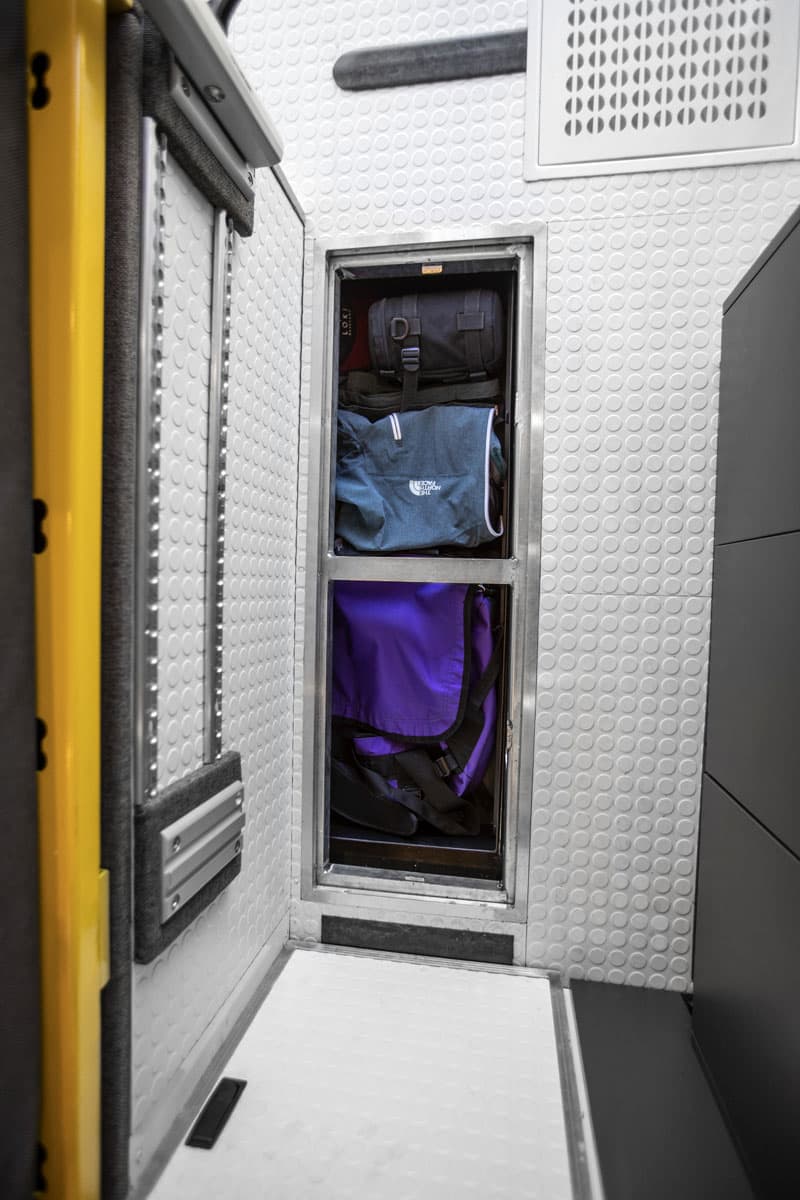 With the trap door, you don't have to go outside if it's raining or snowing in the middle of winter.
Will the removable Rieco-Titan camper jacks fit in those drawers?
Yes.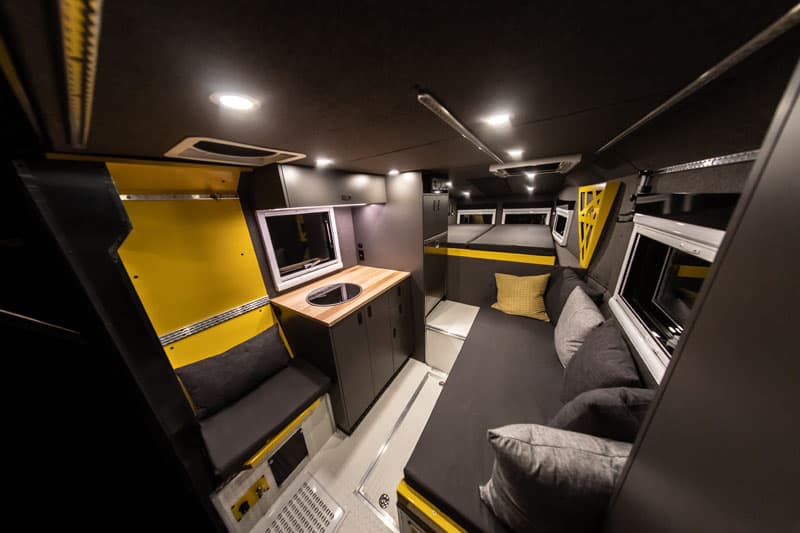 Tell us about the interior cabinetry and countertop materials, fabrics, and decor. How was that designed?
A lot of the interior design inspiration came from NOR'VA.  We were looking for a purposeful interior that still looks good.  The first two feet of the unit is the mudroom.  There is a tub and grid where you can put snowy or dirty boots.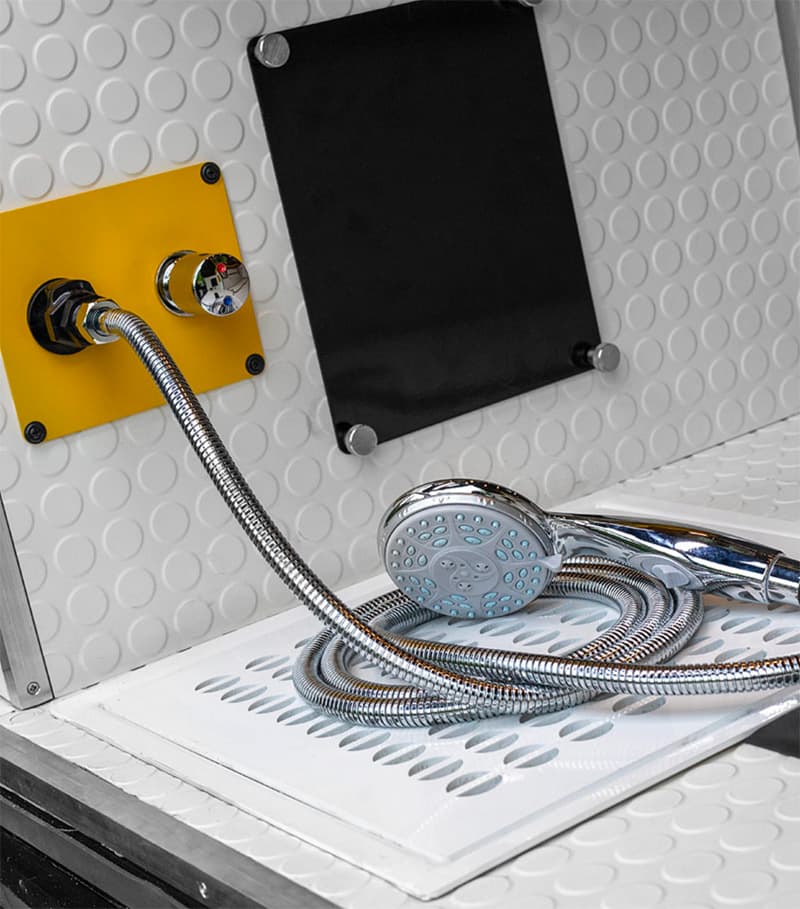 There's also a connection for a shower in that location.  It's really functional, but also aesthetically unique and attractive.  Of course, we can customize this area for what the customer needs.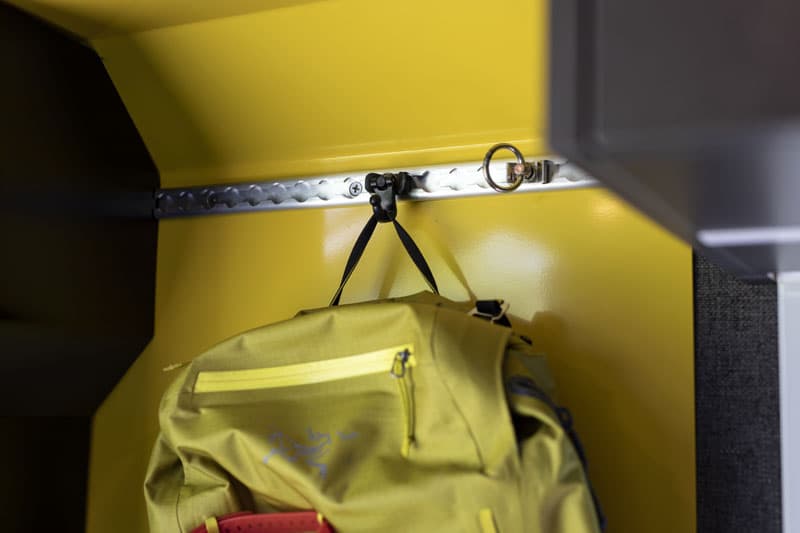 What's the integrated rail system?
It's an important part of the modular thinking behind the LOKI Basecamp.  The integrated rail system consists of L-tracks that accept hooks for a wide range of items.  These L-tracks are widely used in adventure vehicles and vans.  They are something of an industry standard.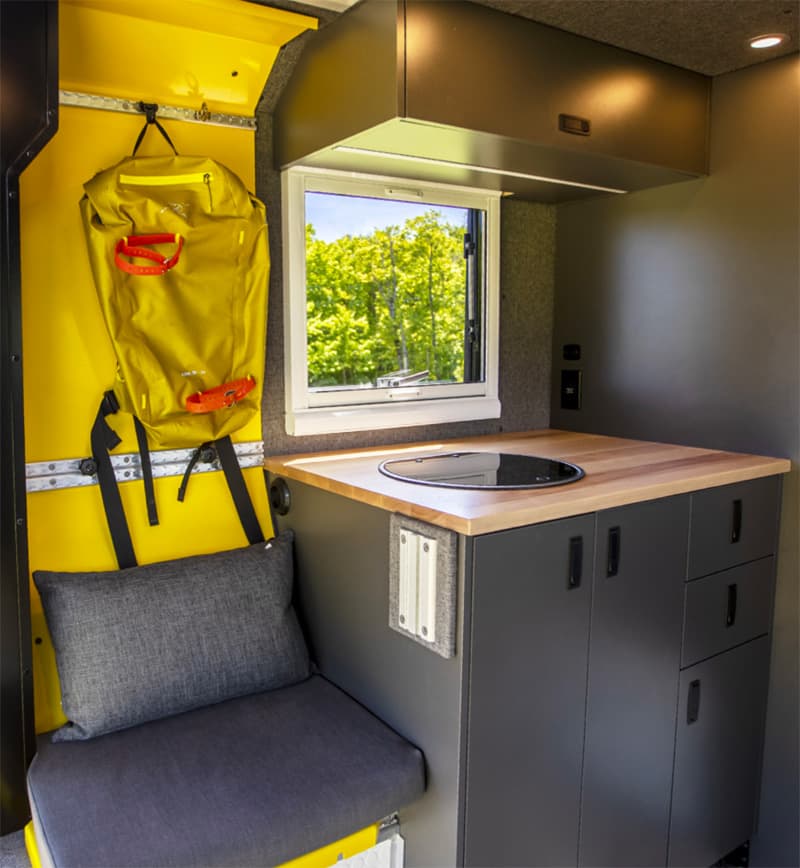 What could you use the rail system for inside the Basecamp?
You could hang wetsuits, the retractable shower, storage containers, you name it.  The options are truly limitless.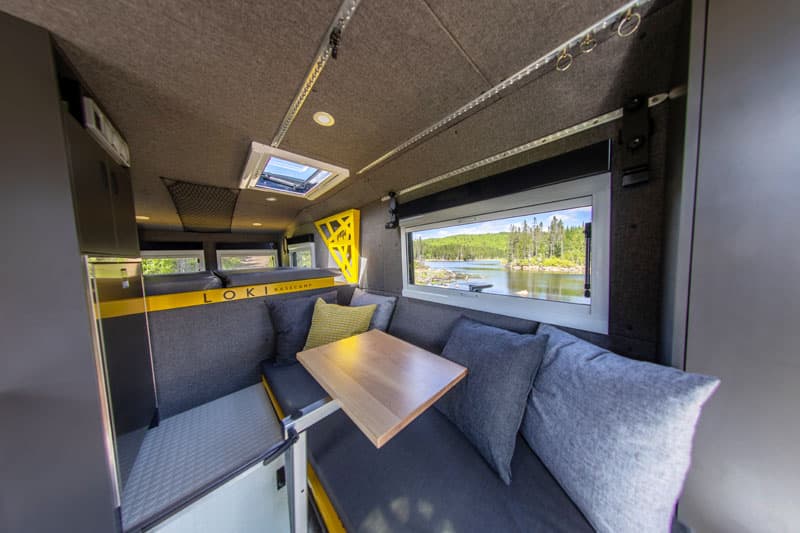 Is that a Lagun table leg system in the dinette?
Yes.  If you remove the Lagun you can turn the dinette sitting area into a regular bed.  Our goal is to expand that bed into a double bed on future units.
We're also looking into an extension above the dinette area for another bed.  If we partner with Redtail Overland and their hard-side roof-top tent, we could have another sleeping area on the roof.
Why did you decide not to include a bathroom?
A bathroom would take up too much space.  Since our priority is to not have slide-outs or an overhang off the back of the truck, we need to live with the space we have.  We also want the interior of our units to feel open.
The Falcon 8's design does feature an inside shower and a storage area for a Dometic porta-potty.  It's the modular approach our customers want.
This is the first camper to offer an induction cooktop. Why did you select induction?
The future is electric. Starting there, we focused the LOKI Basecamp systems on 12-volt power, lithium battery banks, and efficient solar panels.  There are no propane tanks or propane-fueled systems on the LOKI Basecamp.
Induction cooktops are modular, efficient, and portable.  You can use it on the kitchen countertop, or on the tailgate or picnic table.  It plugs into the LOKI Basecamp and cooks much faster than propane.  And when you're done, you can store the induction unit out of the way.
What's inside the storage space under the sink? Is that open, or used for systems?
It's open for storage.  When we were first designing the LOKI Basecamp, we were concerned about not having enough storage compared to other vans and campers.  There's actually a lot of storage.  And there's another cabinet that's not represented in the initial photography.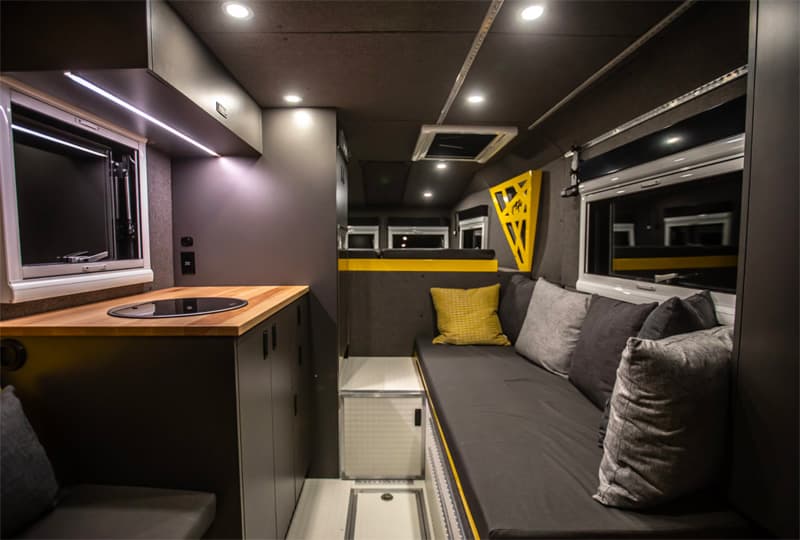 What's in the white box step-up to the cabover bedroom?
As you point out, that box is the step-up to the cabover bedroom, but it's also an extension for the sofa.  Inside that box is storage for a Dometic porta-potty.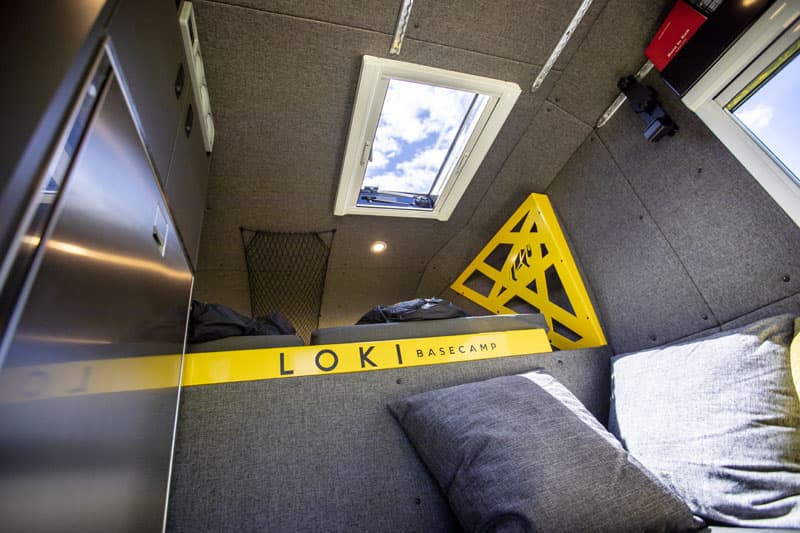 What is the triangular metal object in the cabover entry area?
We didn't want a cabinet that blocked the view, so we created a metal pocket.  It's a signature piece that represents our brand.  Customers can use it for jackets, sweaters, or whatever they want.  It's really useful.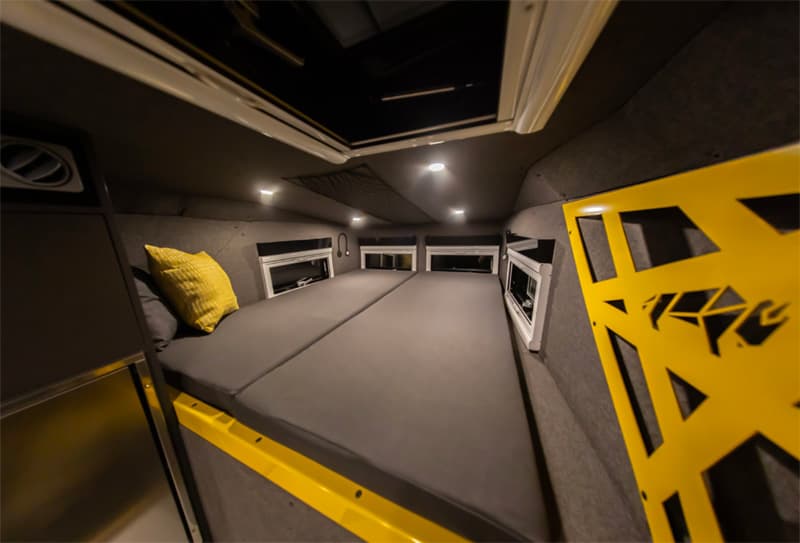 Is the LOKI Basecamp's cabover north-south, or east-west?
It's north-south.  We chose north-south because we did not want the cabover to be too wide.  It's a good size and keeps the exterior aerodynamic.
What refrigerator is used for the LOKI Basecamp Falcon 8?
We are using a 12-volt compressor refrigerator by Isotherm.  It's in the same family as Webasto and is easy to support in North America.
Customers can also request the specific make or model refrigerator they want, as long as it fits.  There are many to choose from.  One customer recently requested a NovaCool and we were able to adjust the cabinetry to that refrigerator.
What is the air conditioning system for the LOKI Basecamp Falcon 8?
The goal was to have an air conditioning system that could operate for an extended period on 12-volts.  The result of that search was the Autoclima Fresco 9000 Maxx.  It's the most popular air conditioning system for trucks in North America.  It's extremely efficient for an air conditioning system using only 40-amps an hour.
That could be groundbreaking. And the heating system?
The heating system is a diesel Webasto unit. Like the Autoclima, the Webasto heater is very popular with the trucking industry and can be sourced or serviced anywhere in North America.  Customers can either tap into their truck's diesel tank or use a standard 10-gallon diesel tank on the side of their truck's bed.  With 10-gallons, the Webasto can heat the unit for about a week on maximum.
In the near future, we are looking to introduce electric heated flooring.  The radiant heat warms the whole camper and feels great on your feet.  We actually tested the heated flooring about a month ago.  Twelve-volt consumption is low.  With a large lithium battery system, it's a really nice feature.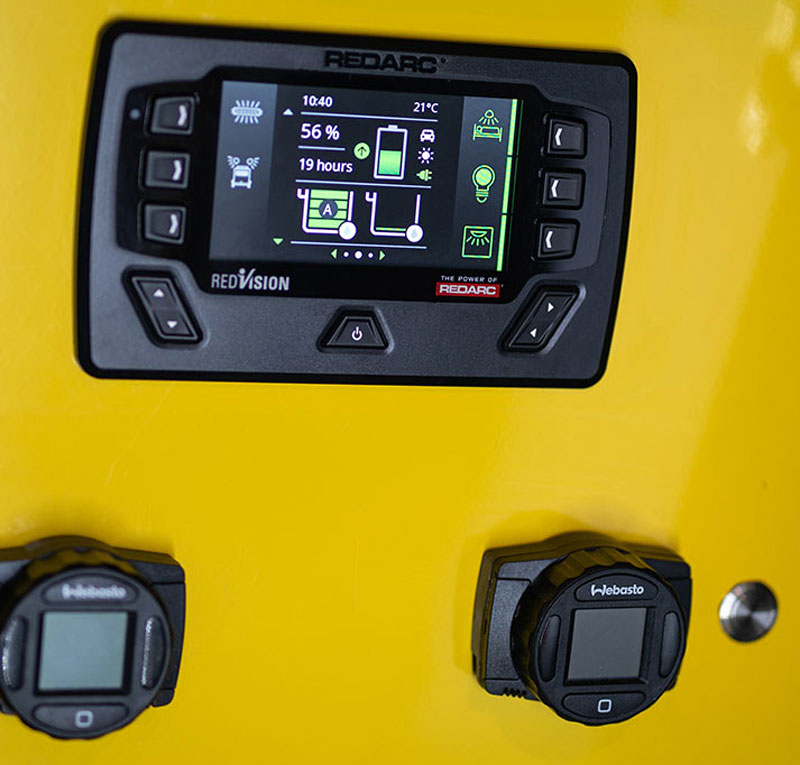 What water heater are you employing for the LOKI Basecamp Falcon series?
Again, we were looking for the highest quality and most efficient.  To accomplish that, we are using a combination of electric heaters and Webasto diesel systems for hot water.
The Webasto heaters are in nearly all semi-trucks in North America.  We didn't load the camper up with obscure items that are hard to source or service.
Is there a standard battery bank type and size for the Falcon 8?
We will adjust the battery and electrical systems to the needs of the customer.  As an example, we installed 360-watts of solar, 600-amps of Lithium batteries, and a 2,000-watt inverter on the Falcon 8 in the photos.  We believe that's enough for most customers, but some will need less and others will need more.
We are using different lithium batteries depending on where the customer plans to camp.  If the customer needs to camp in cold weather, we offer heated lithium batteries that don't lose the ability to charge in cold weather.  Otherwise, we offer standard lithium batteries, including Battle Born, which work exceptionally well.
"We are using different lithium batteries depending on where the customer plans to camp.  If the customer needs to camp in cold weather, we offer heated lithium batteries that don't lose the ability to charge in cold weather."
What size are the holding tanks on the LOKI Basecamp Falcon series?
The Falcon 8 has a 30-gallon fresh tank and a 20-gallon grey tank.
What is the warranty on a LOKI Basecamp Falcon?
LOKI Basecamp Falcon series comes with a three-year warranty.  The installed components have their own warranties, most of which are three years.
If someone has a warranty claim, where can they go for service?
You are going to get full-service from us.  As a LOKI customer, you are part of our family and will be supported where ever you are.  We build our units to last and install products that can be serviced from anywhere.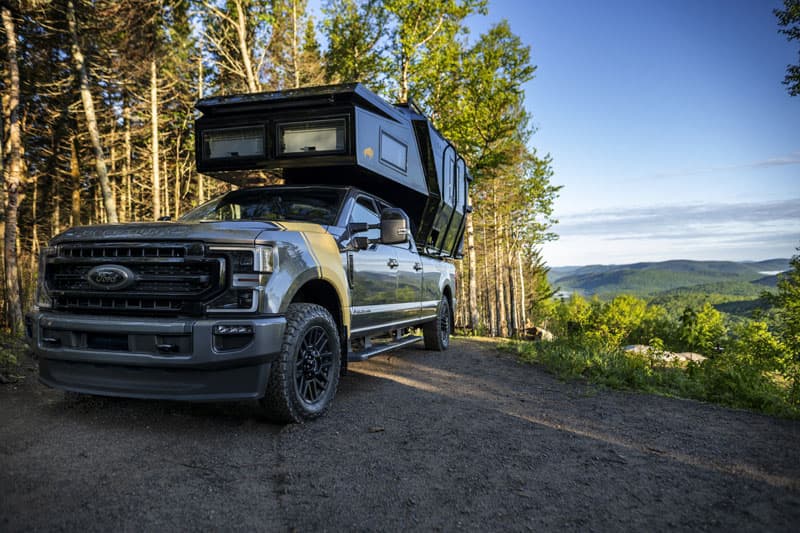 What is the base MSRP of the 2021 LOKI Basecamp Falcon 8?
The base price is $135,000.  That includes all the accessories of a fully functional LOKI Basecamp Falcon series unit.  It's fully loaded.  Additional options would include the roof panels and the spare tire rack.  Everything else shown is standard.
We will also deliver your unit anywhere in North America, except Hawaii.  The price includes delivering your unit, installing it on your truck, and training you on all the systems.  If, for example, you're in Phoenix, you don't have to worry about picking up the unit in Quebec.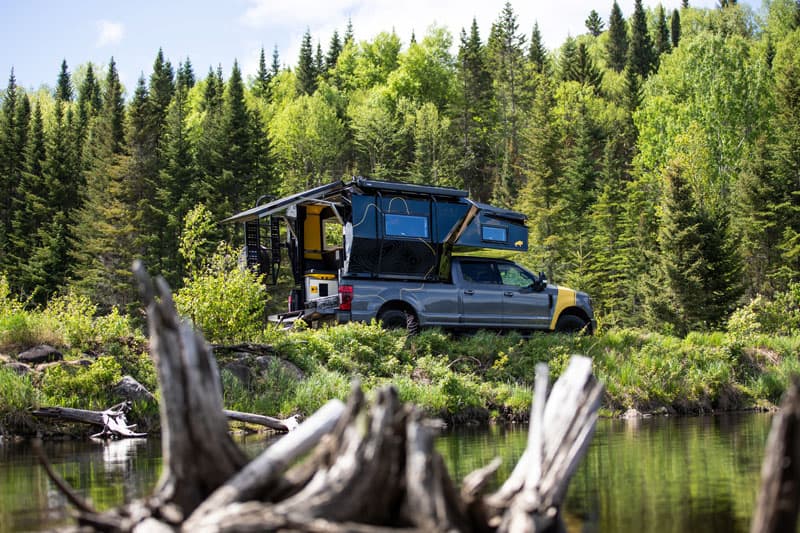 What would that fully-loaded 2021 LOKI Basecamp Falcon 8 weigh?
About 3,000-pounds.  We don't want to get too specific on the weight because each unit is custom.  We're also making changes that will bring the total camper weight down.
When will LOKI Basecamp Falcon truck campers become available?
They are available to order now.  We have already started producing units.  If you order it now, the next delivery dates are for the winter of 2022.
What's the process for ordering a LOKI Basecamp camper?
If you want to order a LOKI Basecamp, you need to reserve a production slot on our website.  The reservation system requires a $10,000 deposit.
From that point, we will work with you to plan your camper and accessories.  Once that process begins, it's about a three-month process.  A Production Manager will send you pictures as your camper is built and adjust the completion date as necessary.
We want the process to be a positive adventure.  If you have any questions along the way, your Production Manager will assist you.
"A Production Manager will send you pictures as your camper is built and adjust the completion date as necessary. We want the process to be a positive adventure."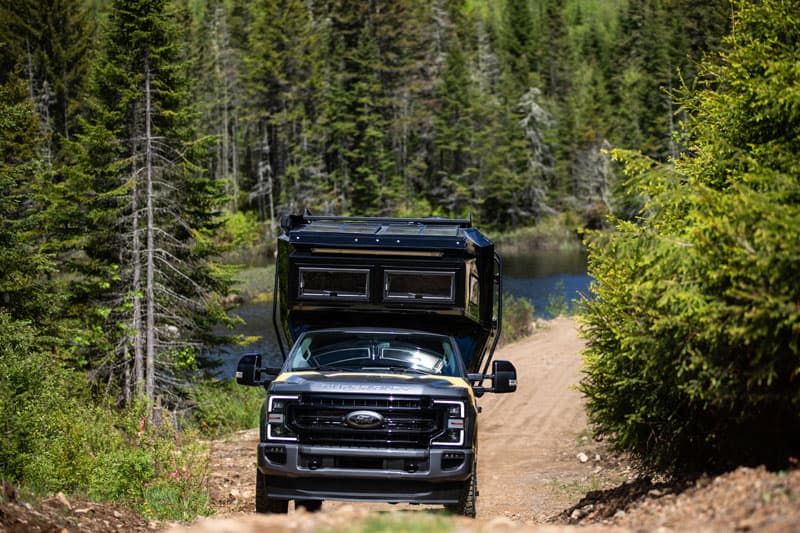 Will it be possible to see a LOKI Basecamp before placing an order?
We have the Falcon 8 in Quebec now, and this unit will be traveling to the Overland Expo West in September and SEMA in November.  The plan is to have two units on tour all the time.  We'll post the events and locations on our website as they are scheduled.
Is there anything else you want people to know about LOKI Basecamp?
We are already working on the LOKI Basecamp Icarus line and planning our EV (electric truck) line.  The Icarus line will likely make its debut later this summer.  We'll have some pre-release renderings and details in the coming weeks.