Truck Camper Magazine exclusively interviews Gary Conley, Lance Camper's new Vice President and General Manager, on his 40-plus years at Lance Camper, where he's leading the company, and his vision for the truck camper line.  For starters, he's putting the band back together.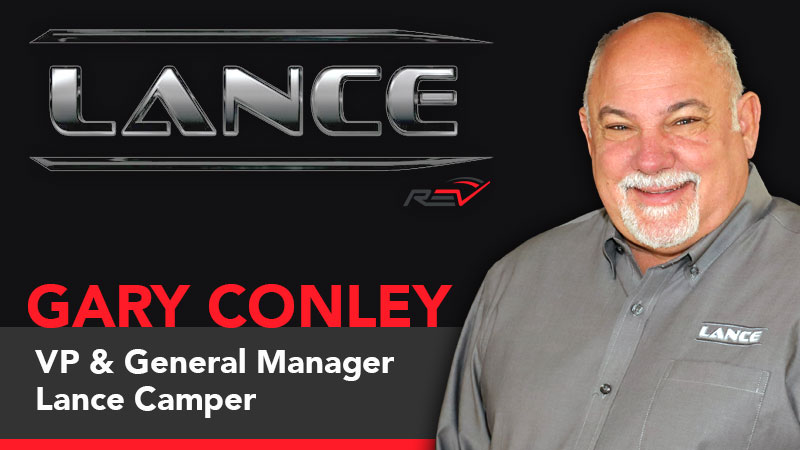 Last week we received a press release announcing Gary Conley as the new Vice President and General Manager of Lance Camper.  The release described his 40-years at the Lancaster, California company, highlighted his key accomplishments and listed his path from Purchasing to Director of Sales.
Impressive as these points are, they do not begin to reveal the magnitude of Gary's career at Lance Camper or his impact on the greater truck camper marketplace.  After four decades at one of the most influential RV manufacturers of all time, there isn't much in the world of truck campers that Gary hasn't had a hand in.  Many modern truck camper features originated at his desk.
"Hoping to score an interview with Lance's new Big Cheese," I texted Gary, following the press release.
Gary took the bait and called us on his drive into work the following morning.  The fact that Lance's newly minted VP and General Manager spent over a half-hour with us is both a sign of how bad the LA-area morning rush can be and Gary's sincere commitment to truck campers.  As he explains, camper is in the company name.
Since the REV Group Inc. acquisition of Lance Camper in 2018, there have been understandable concerns that the company might lose its culture, stray from its brand identity, and wander off to become just another RV manufacturer.  To those concerns, we can think of no better answer than REV Group's leadership appointment of Gary Conley.  If there's someone at Lance Camper who lives and breathes the company more, we don't know them.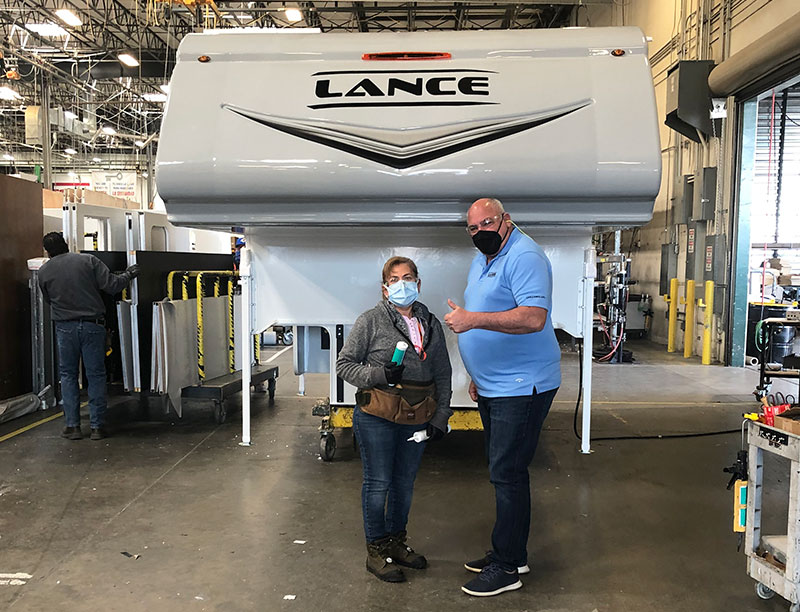 Above: Gary on production line with Consuelo Rebollar in Final Finishing
Tell us how you started at Lance Campers, and what roles you've had at the company up until now.
My parents were truck camper owners and we were avid water-skiers and boaters as a family.  We used to go to RV shows here in southern California.  Their dream was to own a Lance Camper.  I remember, as a kid, coming back from an RV show and filling out a Lance order sheet in the back seat of the car as dad was driving.  We were choosing what we wanted and adding up the pricing. It was fun.
My parents bought a 1978 Lance Camper.  That was my first exposure to actually using a Lance.  Dad later went to the opening of the Lance company store in North Hollywood and bought a lot of equipment to accessorize and modernize the camper.  Dad spent a lot of money and felt he wasn't treated fairly.  So, Larry Whaley, the Service Manager said, "If you have someone better, I'll hire them tomorrow."  Dad answered, "I do, and I'll send him in tomorrow."
I interviewed, got the job, and they made me the new manager of the parts store.  I didn't know a running light from a license plate light, but that's how I started with Lance Camper.  I was 21 years old.
That was a summer job as I was still in college as a Marketing Major and also working for Coors Beer.  My intent was to graduate and move into marketing for Coors.
Lance worked around my school schedule.  I would work every Sunday at Lance Camper.  I was there with Earl Cole, Jack Cole's dad who worked sales on the weekends, and his mom, Cookie.
Earl would tell me stories about Jack and the company.  He was a World War II veteran and a hard-working man.  Larry Whaley's dad also worked as a salesman, so there were a lot of families that worked within the company.  Those are the people who mentored me.
After college, I ran the Lance store, got into sales, and sold retail.  Then I was co-manager at the store and running the dealership.  Later I had the opportunity to move over to Lance manufacturing and became the Purchasing Manager for the company.
At the time, inventory was tracked on index cards, which didn't make sense to me.  In the mid-to-late 1980s, I transferred everything on paper into a computer.  That process digitized our inventory and modernized our bill of materials, parts ordering, and sales.  Everything evolved.  We still use a version of that system today.
Then our National Sales Manager went to work for a competing company.  I took on the National Sales Manager position and, over the last 29-years, built our dealer body from 36 dealers to up to the 160 that we have today.  I've been involved with every aspect of the company.  That's my story at Lance.
Your new title is Vice President and General Manager for Lance Camper.  How would you describe your responsibilities in this new position?
The announcement of my new appointment went out on Wednesday.  It was a humbling day.  I hadn't realized the impact.  The gestures were positive and sincere.  It was a good feeling.
I am now in charge of everything; all manufacturing, all transportation.  Anything inside the building is my responsibility.  Purchasing, safety, plant managers; there are people who report to other people, but ultimately those people report to me.
You've been National Sales Manager for Lance Campers for as long as we've known you.  Who has taken on that role for the company?
I'm still doing that as well.  Lance has a strong sales team.  They're very seasoned and self-sufficient.  If there is a problem, the VP would typically be involved anyway.  Rather than have another person as National Sales Manager that I need to talk to, I can get the information directly and take care of it.
What do you see as the biggest challenges in your new role as Vice President and General Manager of Lance Camper?
To create a stable manufacturing environment that builds a complete camper and meets the expectations of the customer.  We are creating a safe work environment that's quality-driven to deliver quality products.  That's our goal.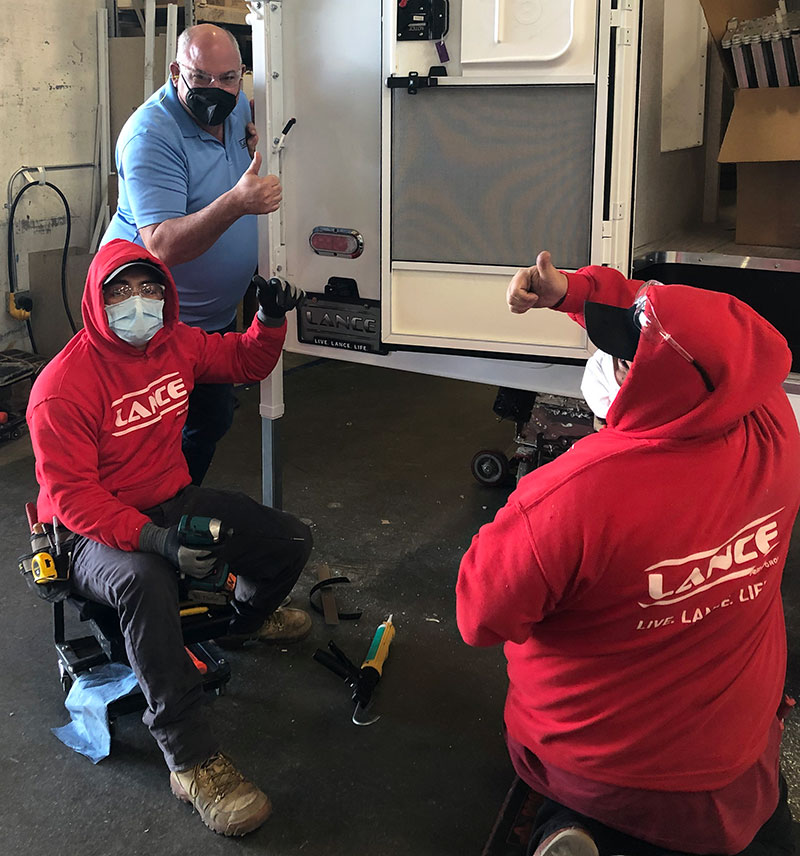 Above: Gary on the production line with Assemblers, Edgar Nerio and Antonio Amador
Are there any specific initiatives that you want to pursue now that you're the head of the company?
I have seven pages worth.  The list grows every day.
Quality is number one.  Quality is a big word and can be received in different ways.  You have to define quality and the standard, and that's what we're doing.
Specifically, I've brought back what I call, "The eyes of the customer."  We have two other teammates who have also been at Lance for 40-years.  One has me outpaced by three-and-a-half months.  So, I've taken these two individuals and put them in our QC (quality control) department.
When a unit comes off the line, and our QC department says, "Okay, it's finished and ready to ship", the two 40-year Lance veterans are in charge of inspecting the unit from the customer's perspective.  They make sure a Lance is what it should be, and what our customers expect it to be.  That's what I mean by, "The eyes of the customer."  That started last Monday.
In addition, LOA (Lance Owners of America) has a 17-page customer inspection list that's in the hands of our QC department.  They are dissecting that information now.
For the past two years, demand for RVs of all categories has been record-setting.  Do you see that continuing into 2022 and 2023?
We don't see a turn in demand until maybe 2023 unless the market falls out.  Right now we have more business than we know what to do with.
There will be a calming in the market.  That's the natural course, but our company has always been on an island.  What sometimes happens to other companies doesn't always happen to us.  We are in a unique place within the RV industry.
What's your vision for Lance's truck camper line over the next year or two?
We have had a secret project that started a couple of years ago.  Due to the changes in the market and the supply chain challenges, it's been delayed.  Why implement a new model when you have so much business for your existing products?  The secret project will be released, hopefully, sooner than later.
For now, we're focused on quality and fixing the supply chain.  Once those two things are where they need to be, and we have a trained workforce hitting our quality standard, we can focus on new truck camper models.
For the record, Lance is 100-percent committed to truck campers?
Truck campers are who we are.  It's in our name; Lance Camper.  We are a camper company.  We will always be a camper company.  We are focusing on the evolution of the camper product to the next stage.  We call it, "Gen X".
Will we ever see a triple-slide Lance truck camper?
Probably not.  We're safety-driven.  We're not going to go down that path.
Will we ever see a more modular overland-focused Lance Camper?
That's a concept we're working on.  We are developing a new build approach that's even more rugged and strong for multiple types of camping situations.  It's not just for overlanding.  This approach is for the entire line.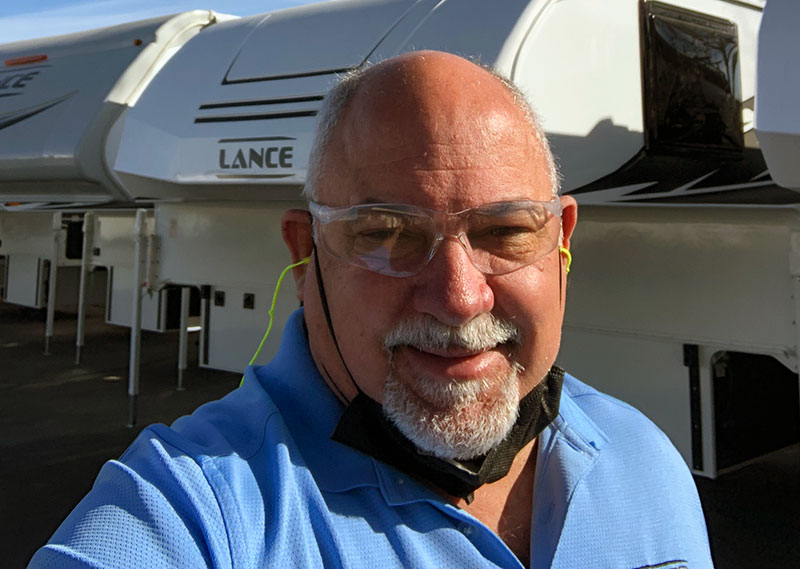 Above: Gary with completed units at Lance Camper
What is your favorite 2022 Lance truck camper model?
I like the Lance 960 a lot right now.  I think that's where I am in my life.  If I'm camping with a bigger group I'll take out a Lance 1172 double-slide.  Since its introduction, I have used that model the most.
To this day, I still own a 1989 Lance 900 as my personal Lance Camper.
Later this year we will be bringing back the industry dare to go truck camping.  Will you commit now to accepting our dare and take a Lance truck camper out for a camp-out and evaluation?
Oh yeah.  I accept your challenge.
I have these bins with camping goods.  I take those bins and unload them into a camper to make sure the items people take camping can fit.  It's an old-school approach, but that's how I've determined the needed cabinet and counter dimensions in our campers.  For example, I will bring along an electric toaster or a coffee maker to see if an outlet is in the right place.
Jack Cole, former President, and Jeff Souleles, former Vice President, both retired from Lance Campers in mid-January 2019.  You worked side-by-side with Jack and Jeff for decades.  Are they still keeping tabs on the company?
Yes.  After my appointment, I brought in Jeff Souleles, our past VP and Geoff Ford, our past production manager to do an assessment of the production line, which they did.  I have now hired Geoff Ford as a consultant to help with our processes.  He's been here almost two-weeks.
I've always said, "You can learn from the past, but you have to be forward-thinking."  I've reinstated a lot of things we have learned over the years.
I just talked to Jack Cole yesterday and I'm having conversations with other former Lance alumni.  We are all deeply invested in Lance and will do whatever it takes to move this company successfully into the future.
For more information about Lance Camper, visit lancecamper.com.  Click here to request a free 2022 Lance Camper brochure.