We interviewed Jack Cole, President of Lance Camper Manufacturing, in person last month in the dinette of a 2010 Lance 992. Here's Jack's story.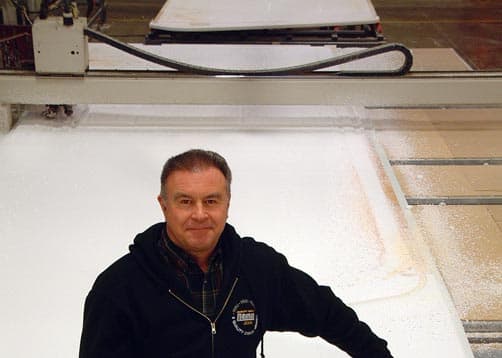 PHOTO: Jack Cole, President of Lance Camper Manufacturing Corporation, in front of one of several computer-guided routing machines in the Lance Camper factory.
The story of how we got this interview is almost as old as Truck Camper Magazine itself. During our first year, we interviewed many industry leaders. One of our first interview invitations went to Jack Cole, President of Lance Camper Manufacturing. While our Lance contacts appreciated the invitation, they nicely informed us that Jack was a very busy President.
As pushy journalists, we continued our requests until we came to a startling revelation. Could it be that Jack Cole didn't really exist? After that, we began teasing our Lance contacts that Jack was just a figment of their imaginations. While we had heard stories from other industry leaders who claimed to have met Jack, we were beginning to believe this was the industry equivalent of Elvis sightings.
Later that first year, we went on tour to every truck camper factory. Finally, in December of 2007, we arrived at Lance and met Jack Cole. We almost asked for a photo ID. At the end of the day, we sat down with Jack in his corner office and talked at length about our magazine and the industry. At that point, we were still newbies to the industry and we really enjoyed the insights and perspectives Jack shared with us.
Fast forward two years to this past December. We were on our way to the industry show in Louisville, Kentucky talking about what we wanted to accomplish at the show. That's when it hit us, we're going to interview Jack Cole. Much to our delight, he immediately accepted and we interviewed Jack in a 2010 Lance 992 on the last day of the show.
So today is a big day for us. Not only are we one interview closer to interviewing every industry President, but we now have Jack Cole's story to share with you. Here's Jack's interview, three years in the making.
TCM: Do you go truck camping?
Jack: Yes, I do. Truck campers are my favorite form of RV. I went camping in a travel trailer once, but I really prefer a truck camper.
A lot of my truck camping activities were geared around my two daughters' sports activities. They were very active in sports. My one daughter was into soccer and we would travel distances to go with the girls and their teammates. Both of the girls were also into horseback riding. We went to horse shows and towed a horse trailer. We also have had two boats and have done a lot of water skiing. I have an enclosed trailer for motorcycles and quads that we tow to the desert.

TCM: Do you have a truck and camper?
Jack: At this moment, no. I like our 1181 model and the 1191 is a great unit to camp in with the tent in the back. The 992 is also a really nice model and, even though it's a little bit shorter, there's a lot of room with double slides. I'd like to have a truck and camper package based around 2010 Lance 992 for myself.

TCM: What did you do before coming to work at Lance?
Jack: That was a long time ago. I've worked at Lance since I was seventeen. Before that I worked in a restaurant as a bus boy and I washed dishes. I also worked at a lath and plaster company for a friend's dad. I carried hod and I worked in a car wash. Working at Lance started as a summer time job that has lasted for the rest of my life.
TCM: What did you do when you first worked at Lance?
Jack: I was a gofer. I would sweep, clean up, and do weeding. I sanded and painted doors. I basically did ground level stuff. I started at the second facility that the company was at which was in North Hollywood. Lance started in 1965 and I started working there in 1966.
In 1966, Lance was a relatively small company. There were six or seven employees, most of which were family of Dick Murray and Ron Mertes. There wasn't an assembly line as such. It was a 500 square foot shop. Lance has made three moves since then. Over the years, Lance has been in five different locations.
TCM: So, how did you progress to become the president of Lance?
Jack: 1966 to 1973 were the educational years for me on the manufacturing side. I started at the ground level and learned how to make cabinets, side walls, plumbing, and electrical. There are a lot of different disciplines in making the product. During that time, I was getting the eduction of what it takes to engineer and build a truck camper.
In 1973, Richard Murray left the company and I bought his interest in the business. At that time, I became the Vice President of Lance. Ron Mertes and I ran the company together. From 1973 to 1980, I was involved in the manufacturing, delegating responsibilities, purchasing, and overseeing the manufacturing. In 1980, Ron Mertes decided to retire and I bought his interest and assumed the position as president. In 2010, it will be thirty years that I have been President of Lance.