We interviewed Jack Cole, President of Lance Camper Manufacturing, in person last month in the dinette of a 2010 Lance 992. Here's Jack's story.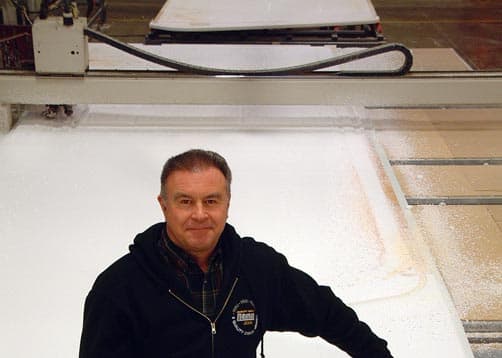 PHOTO: Jack Cole, President of Lance Camper Manufacturing Corporation, in front of one of several computer-guided routing machines in the Lance Camper factory.
The story of how we got this interview is almost as old as Truck Camper Magazine itself. During our first year, we interviewed many industry leaders. One of our first interview invitations went to Jack Cole, President of Lance Camper Manufacturing. While our Lance contacts appreciated the invitation, they nicely informed us that Jack was a very busy President.
As pushy journalists, we continued our requests until we came to a startling revelation. Could it be that Jack Cole didn't really exist? After that, we began teasing our Lance contacts that Jack was just a figment of their imaginations. While we had heard stories from other industry leaders who claimed to have met Jack, we were beginning to believe this was the industry equivalent of Elvis sightings.
Later that first year, we went on tour to every truck camper factory. Finally, in December of 2007, we arrived at Lance and met Jack Cole. We almost asked for a photo ID. At the end of the day, we sat down with Jack in his corner office and talked at length about our magazine and the industry. At that point, we were still newbies to the industry and we really enjoyed the insights and perspectives Jack shared with us.
Fast forward two years to this past December. We were on our way to the industry show in Louisville, Kentucky talking about what we wanted to accomplish at the show. That's when it hit us, we're going to interview Jack Cole. Much to our delight, he immediately accepted and we interviewed Jack in a 2010 Lance 992 on the last day of the show.
So today is a big day for us. Not only are we one interview closer to interviewing every industry President, but we now have Jack Cole's story to share with you. Here's Jack's interview, three years in the making.
TCM: Do you go truck camping?
Jack: Yes, I do. Truck campers are my favorite form of RV. I went camping in a travel trailer once, but I really prefer a truck camper.
A lot of my truck camping activities were geared around my two daughters' sports activities. They were very active in sports. My one daughter was into soccer and we would travel distances to go with the girls and their teammates. Both of the girls were also into horseback riding. We went to horse shows and towed a horse trailer. We also have had two boats and have done a lot of water skiing. I have an enclosed trailer for motorcycles and quads that we tow to the desert.

TCM: Do you have a truck and camper?
Jack: At this moment, no. I like our 1181 model and the 1191 is a great unit to camp in with the tent in the back. The 992 is also a really nice model and, even though it's a little bit shorter, there's a lot of room with double slides. I'd like to have a truck and camper package based around 2010 Lance 992 for myself.

TCM: What did you do before coming to work at Lance?
Jack: That was a long time ago. I've worked at Lance since I was seventeen. Before that I worked in a restaurant as a bus boy and I washed dishes. I also worked at a lath and plaster company for a friend's dad. I carried hod and I worked in a car wash. Working at Lance started as a summer time job that has lasted for the rest of my life.
TCM: What did you do when you first worked at Lance?
Jack: I was a gofer. I would sweep, clean up, and do weeding. I sanded and painted doors. I basically did ground level stuff. I started at the second facility that the company was at which was in North Hollywood. Lance started in 1965 and I started working there in 1966.
In 1966, Lance was a relatively small company. There were six or seven employees, most of which were family of Dick Murray and Ron Mertes. There wasn't an assembly line as such. It was a 500 square foot shop. Lance has made three moves since then. Over the years, Lance has been in five different locations.
TCM: So, how did you progress to become the president of Lance?
Jack: 1966 to 1973 were the educational years for me on the manufacturing side. I started at the ground level and learned how to make cabinets, side walls, plumbing, and electrical. There are a lot of different disciplines in making the product. During that time, I was getting the eduction of what it takes to engineer and build a truck camper.
In 1973, Richard Murray left the company and I bought his interest in the business. At that time, I became the Vice President of Lance. Ron Mertes and I ran the company together. From 1973 to 1980, I was involved in the manufacturing, delegating responsibilities, purchasing, and overseeing the manufacturing. In 1980, Ron Mertes decided to retire and I bought his interest and assumed the position as president. In 2010, it will be thirty years that I have been President of Lance.
TCM: Tell us about the day you became President of Lance. What was your vision for the company back then?
Jack: In 1980, it was survival. We had seen our business drop seventy percent from 1978 to 1980. My partner had had enough of the steep ups and downs of the RV industry and wanted out. My goal was to try to manage the company through an extremely difficult time. 1980 was a turnaround time for Lance and the industry.

TCM: Did your experience through the 1970s help you during this current recession?
Jack: Absolutely. When you come to a time of downturn, you have to make cuts and make them quickly. The goal is to make it to other side of the downturn. You don't know how difficult it's going to be and how long it's going to be before you return to the upside. I try to hold on to people we have invested time in and who have given service to the company.
We have started hiring people back. We have hired people on both the clerical side and the manufacturing side. Developing our travel trailer has given us additional business right now. We have two lines running, one with truck campers and one with travel trailers.
TCM: With 60,000+ truck campers in the field, you're bound to have a lot of units that require service and maintenance. How has that affected your perspective on customer service, warranty, and quality control?
Jack: We're committed to good customer service. We have a good quality product. We take care of our customers. We want to help them with their service needs.
We make sure that we are stocking parts for older products and providing support. We have a full time person that does nothing but work with our consumers. We also have a person who deals with dealers and answers their questions. It's imperative that our product is living up to its reputation.
TCM: If someone has a problem with a Lance camper, what is the correct procedure to get help, especially if the unit is out of warranty?
Jack: The consumer should go to their selling dealer. If they are a second owner, they should go to the dealer in their area. If it's something that will require repairs, they need to do that through the dealers. If you need parts, you can call the factory. Doug Means is the primary contact for the consumer. If not Doug, talk to Paul Harris. We are dedicated to our customers.
TCM: Why has Lance steered away from double slide and triple slide campers?
Jack: Over the last two years, we've seen the demand for the larger ten foot and eleven foot campers diminish and the demand for the smaller campers increase. This year we've completely redesigned our smaller product line.
We have our new 850 here at the show. We're focusing our engineering and design time on that area of the market. There's more demand. Plus, a triple slide has some interesting challenges to it. One thing is weight. We are weight conscious and always have been and will continue to be. A triple slide Lance is a possibility, but we have put our research and development into areas where we feel the demand is in the marketplace.
TCM: Why do you think truck campers represent a small portion of the overall RV market?
Jack: It's puzzling. I mentioned earlier that there's nothing else I'd rather camp in than a truck camper. I am not going to buy a forty foot behemoth. One problem is that there are too few companies building truck campers. The conundrum is, why would you want to build truck campers if there are so few being sold? I've spent a lifetime with this product. I know how versatile they are and I hear what our customers have to say about the lifestyle. People are romantically involved with truck camping.
Over past few years, creative guys have come into the market and have done things with truck campers that have never been done before. They have broadened and improved the livability of the truck camper. There was a period of time when companies like Fleetwood, Skyline, and Komfort would copy our product. The past ten years the opposite is true. The guys coming in have done different, creative things that we've even adopted and built into our products. It's for the overall betterment of the truck camper itself. They have made it interesting for us. We all have to be open minded. If they improve the product and it works, you need to get with it or you are going to lose the business.
TCM: What can we do to strengthen the truck camper industry?
Jack: We need to continue on. The consumer is going to tell us if the product is viable or not. The economy has changed with the downturn. We're in a whole new game now. Class As have been severely impacted. There's the big question mark if they are going to survive if gas returns to $5.00 a gallon. Gas prices have a big impact on the RV people choose.
In 2010, we are going forward. Truck campers have to look like a better choice than other forms of RVs to the consumer. You can tow a boat, a horse trailer, and your toys. You can only do that with a big motorhome or a truck camper. That's it. So, if motorhome sales subside, what are people going to use to tow toys? A toy hauler or a truck camper. That's kind of where the market has made a major turn. It's not clear at this point. The mind set of people is to economize a little bit. They don't need to spend so much to have a good time.
TCM: Tell us about your day-to-day activities at Lance. Are you hands-on in the factory?
Jack: You never really know what you're going to get hit with when you come into the office. Sometimes things weren't there the day before that take up a good part of my day. 30% of my time has nothing to do with the Lance Camper business, the manufacturing, or the product. It's taken up with outside things like state legislation, licensing, or taxes. Not fun stuff.
When I used to build product, that was a real fun time. Managing the clerical side isn't nearly as much fun. When you finish the day, you've moved a pile of paper instead of created something that people are going to enjoy.
The first person I speak to in the morning is Jeff Souleles the company's Vice President and we talk about what's going on, where we are at, and where we're going. I go out on the floor quite often and see the employees. I had a question the other day about a slide room and the tension setting on the slide room. I wanted to know how the slide room tension was adjusted. I wanted to see it for myself and had questions about how the mechanism was installed. I am hands-on. I want to see how things are built and I have comments and suggestions for engineering, production, and purchasing.
TCM: During your tenure as President of Lance, what has been your biggest challenge?
Jack: Trying to grow the business. We have about 100 independent dealers that we service. It's difficult to please all the people all the time. We have won the RV Dealer DSI award for about eight years. That's an award that they give out to a select few manufacturers each year for their high quality of business. We don't want to be just the best for our product, but also for our customers.
TCM: Why has Lance entered the travel trailer market?
Jack: Over the last few years, the travel trailer segment of the industry has continued to grow. In the 1970s, Lance built a towable similar in size to what we are doing now. It was under the brand name of Leisure Coach. In the 1980s we built a fifth wheel under the Lance brand. We did that for thirteen years. We've been manufacturing travel trailers for a year now and it's been very successful. There has been a tremendous acceptance of our product from the dealers and the consumers. They know our company name and the quality of Lance. It's doing well.
TCM: If you could speak directly to the entire truck camper industry, what would you say?
Jack: I would first like to thank them for being involved in the viability of truck campers in the industry. If no one takes an interest, then the product wouldn't be here. In my opinion, we have seen the worst of this recession. We saw it change about four months ago. From the Louisville show, we've had more people interested in truck campers. The dealers are looking for other forms of income, so they are looking at truck campers.
TCM: Is there anything we didn't ask that you want included in your interview?
Jack: I think Lance is really approachable company. We're dedicated to customer satisfaction and building a quality product. If a dealer, customer, or retail customer has any issues, we're here to help. We appreciate all of our customers and are looking forward to a terrific 2010!