Scout Campers debuts Go Fast Campers (GFC) roof top tents, Kammok Crosswing awnings, a wider Yoho floor, and a list of new standard features and options. Here's the inside Scout scoop for 2024.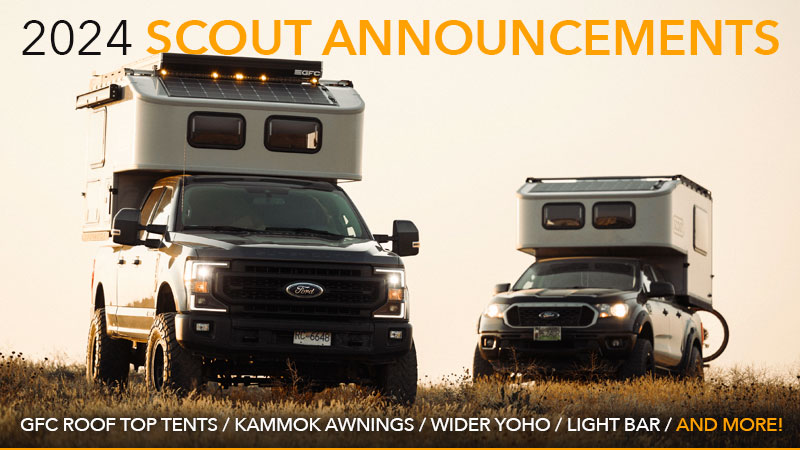 The forward-thinking, hard side, composite walled, modular concept of Scout Camper has made an enormous impact on the greater overland camper marketplace. We were aware of this fact before traveling west from our Florida winter hideout this past spring, but the scale of Scout's impact wasn't clear until we reached the Northwest.
On the more popular camping corridors of Oregon and Washington, we found ourselves counting a dozen Scout truck camper rigs (or more) during a given two or three hour drive. Believe it or not, no other truck camper brand was as prominent during our time in the Northwest. For a company only in its fourth year, we were astounded.
Scout's evident momentum only increased during our Adventurer Manufacturing factory tour this past June. The dedicated Scout production line was fully staffed and dialed-in. All RVs are ultimately assembled by hand, but the overall tolerances on display at Scout were first rate. If you haven't already, check out our Scout Factory Tour for a deeper dive.
By partnering with Go Fast Campers (GFC), Scout is definitely taking their roof top tent quality up a notch or two. Mounted on a Scout, the GFC roof top tent also further blends the inherent advantages of pop-up and hard side campers. Is a Scout with a GFC roof top tent a hard side or a pop-up camper? Depending on how you think about it, it's both.
To learn more about the 2024 Scout updates, we talked to Claus Schroeder, Director of Operations for Adventurer Manufacturing.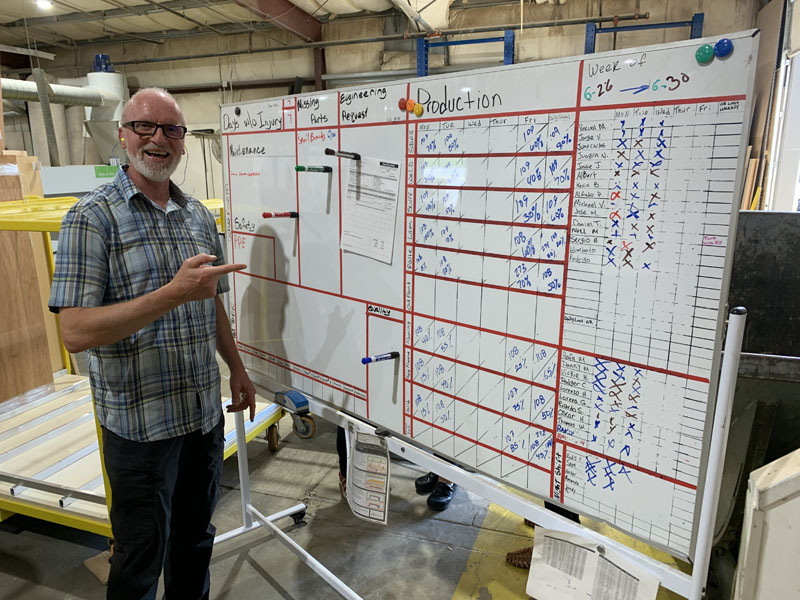 Above: Claus Schroeder, Director of Operations, Adventurer Manufacturing
Tell us about your professional background, and how you came to work for Adventurer Manufacturing.
Before coming to work at Adventurer Manufacturing as Director of Operations, I had over two decades of international operations, manufacturing, and supply chain experience with Graham Packaging, Karcher North America, and The Coca-Cola Company.
During my career, my wife and I have lived in several countries including Canada, Australia, and for the past 23 years here in the United States. That journey eventually brought us to a town north of Yakima, Washington where I was working as a plant manager in the plastics industry.
When I saw an ad for a position at Adventurer Manufacturing, I was compelled to reach out. Over the course of two months, David Epp, CEO of Adventurer Manufacturing, and I came to an alignment to work together. I joined the Adventurer team in April of 2022.
The Adventurer Manufacturing team already has an excellent culture of pride and quality in everything they do. My goal as Director of Operations is to incorporate automation, Lean manufacturing principles, Total Quality Management (TQM) strategies, and Enterprise Resource Planning (ERP) software to complete a digital transformation of the company and drive variation out of our manufacturing and products.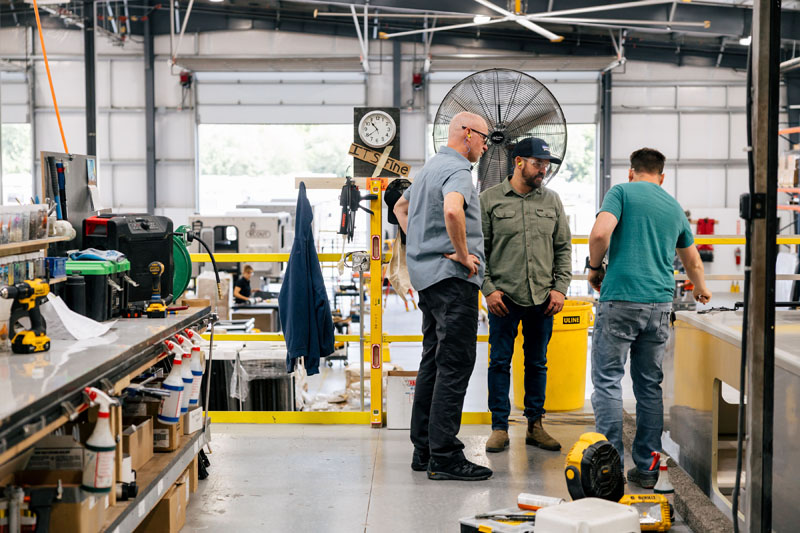 Can you give us an example of Total Quality Management (TQM) strategies in action at Adventurer Manufacturing?
Absolutely. Our CNC machines are Total Quality Management in action. CNC is a great example of the journey Adventurer Manufacturing is on to eliminate product variations and instill quality and longevity into our products. Combining technologies with the training and development of our team is the recipe for success. We continue to invest in our "standard work" processes to ensure a strong training baseline, repeatability, and quality.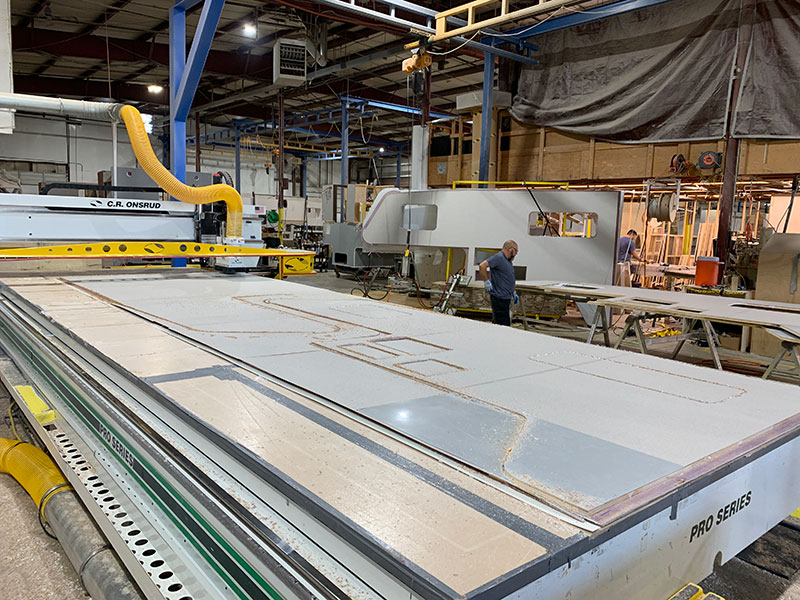 Above: One of the CNC machines cutting out an Adventurer camper wall
We were impressed when we saw not one but two CNC machines at Adventurer Manufacturing this summer. Are you into camping and/or truck camping?
Yes. This is all in alignment with my lifestyle. My wife and I are constantly outdoors and have used travel trailers and campers. We have selected to live in this area because of our outdoor lifestyle. It's important to be aligned with the end product. The team here is helping our customers build memories. It's exciting to be a part of it.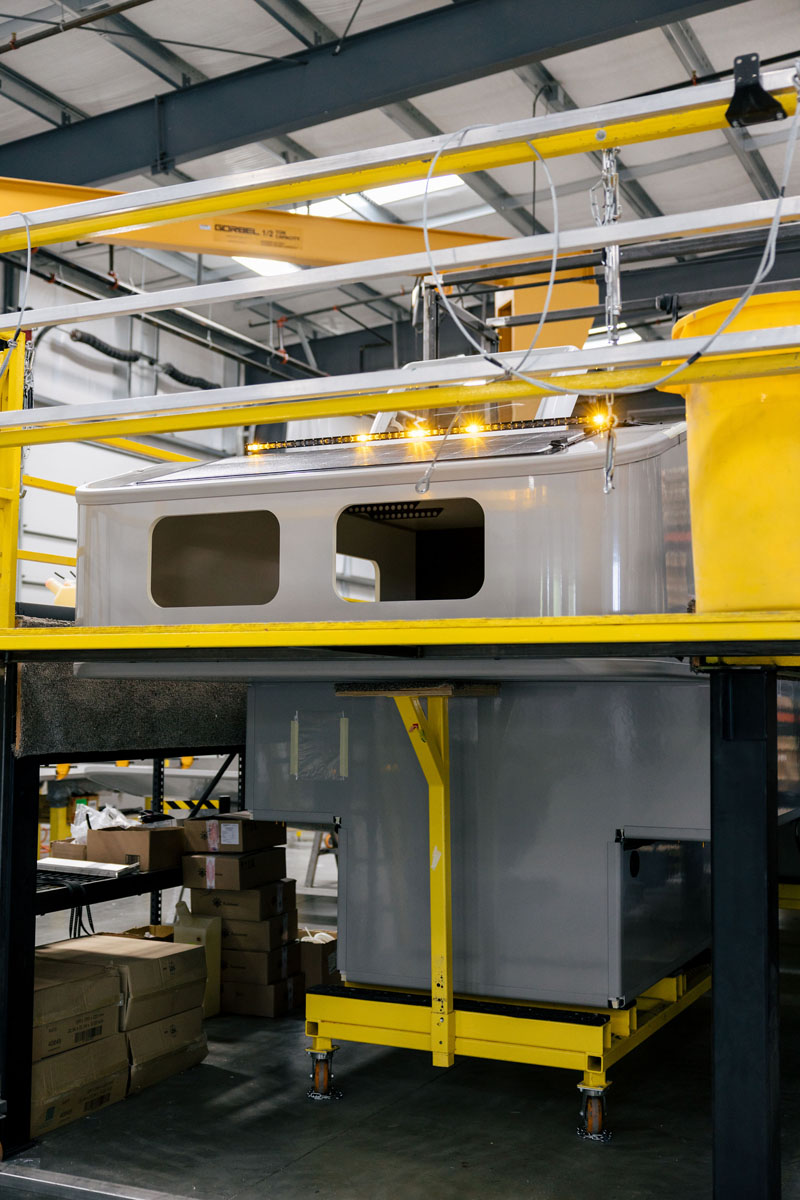 Before we get to the 2024 Scout updates, let's talk about the rolling changes from 2023. Specifically, the new polyurethane composite material Scout is using and why it's an improvement over the polyurethane composite Scout started with.
The two primary reasons for our change in composite panels were supply and quality. Our new composite supplier is based in Washington State. This allows for us to have a closer strategic partnership, support local business, and improve quality control.
Speaking of quality, the new panel company supplies the aerospace industry. In lamination, any variation in panel thickness can potentially cause a delamination. As a supplier to the aerospace industry, the new panel supplier has significantly higher tolerances ensuring that our laminations are flawless.
The new composite is also lighter than the previous panels. That benefits the final weight of the product and improves our team's ability to move the panels through our manufacturing process. Finally, the new company is able to supply us with different panel sizes eliminating our need to cut panels. If we need a 4×8 or 3×8 panel, they can supply us with those panels. That improves operational effectiveness and eliminates non-value-added work. That's a big win for us.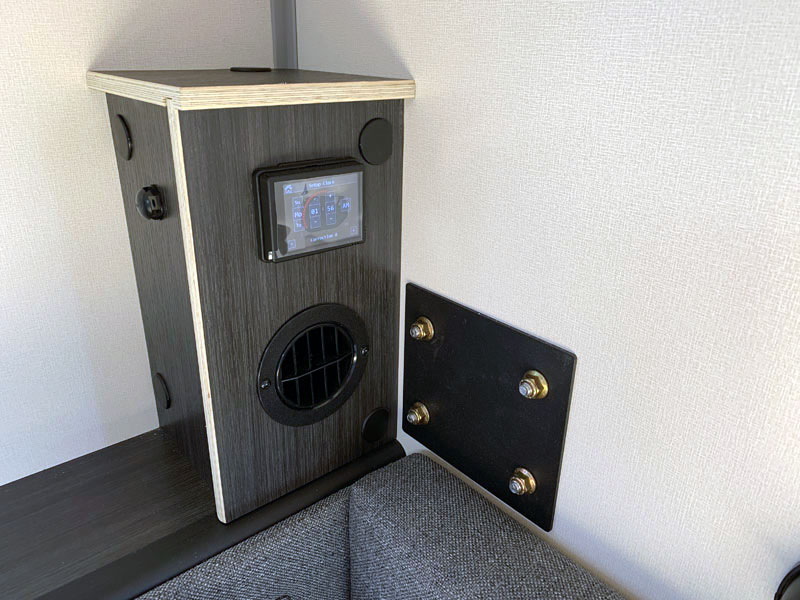 Above: An Autoterm Air 2D diesel heater Touch Screen installed in a 2024 Scout
Also in 2023, Scout introduced Autoterm Air 2D diesel heaters across the product line. This product is unique to Scout in the truck camper market. Why did you choose to offer Autoterm Air 2D diesel heaters with Scout campers?
That change came primarily from user feedback. We were getting Scout owner reports of moisture and condensation build up from using the Dickinson Marine Newport P9000 propane fireplace. We also heard about a lack of heat in the unit.
In contrast, Autoterm Air 2D diesel heaters provide a dry heat that's light years ahead of propane solutions. There are also suppliers on a global scale using this technology. The company and product check all the boxes.
The majority of Scout owners are four season campers. Last winter, my wife and I used a Scout with an Autoterm Air 2D diesel heater and were in T-shirts in ten minutes. The Autoterm Air 2D diesel heater creates a cozy environment, which is important to us.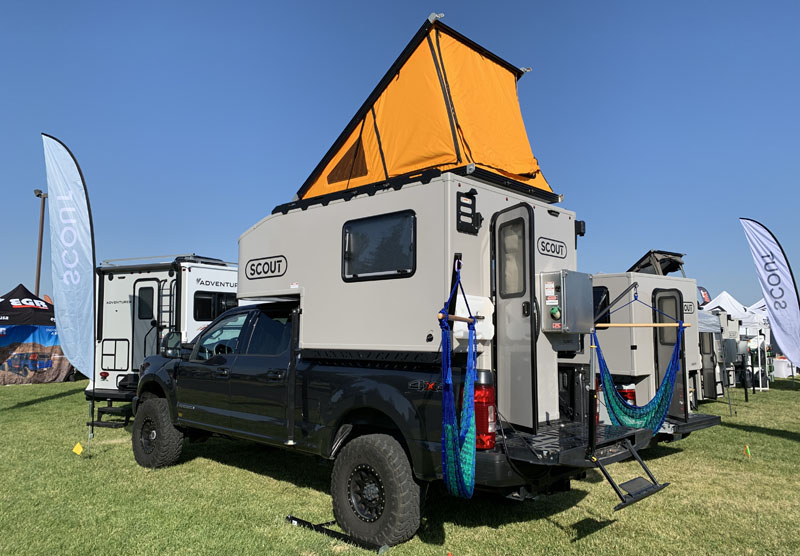 Above: 2024 Scout Campers on display at Overland Expo Pacific Northwest
The biggest update for 2024 is the change to Go Fast Campers (GFC) for Scout's trailblazing roof top tent option. Go Fast Campers is an overland-focused rooftop tent and platform topper company from Montana. How did Scout's GFC partnership come together?
Our CEO, David Epp, championed our partnership with Go Fast Campers and their team. Their company values are in alignment with what we want to do. Like us, GFC is focused on the customer experience. We were also looking for a supplier in North America. Go Fast Campers are made in Montana. That keeps jobs here.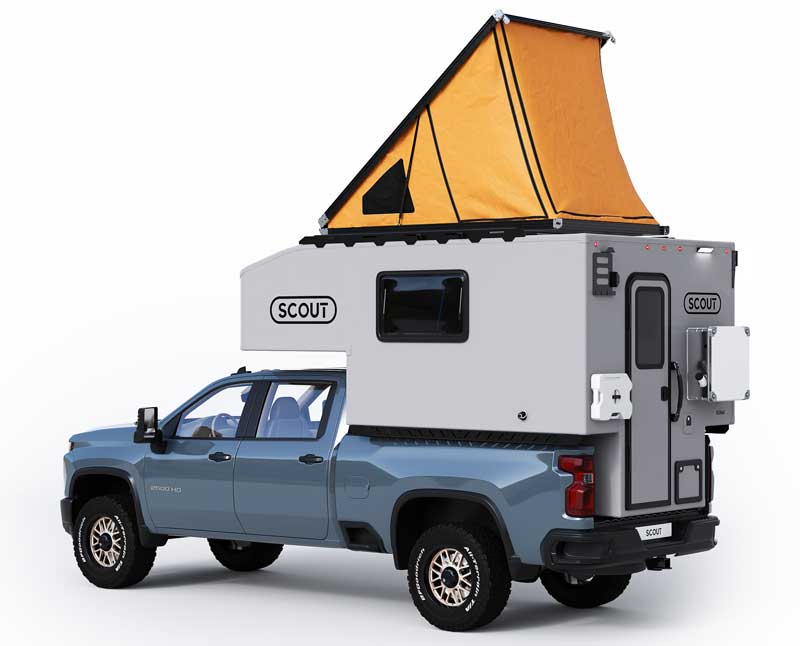 What makes the Go Fast Camper roof top tent better than the rooftop tent that Scout started with?
GFC's attention to detail, aluminum framing, aluminum latches, tent material, and tent functionality are all superior. Another thing we really like is how you can collapse a GFC tent without trapping tent material in the clamshell.
One of the challenges with the previous roof top tent was how long it took to put away. If a product takes 15 minutes to put away, I won't want to use it. GFC has videos showing how their tent works and how fast it is to deploy and put away. It's a better product.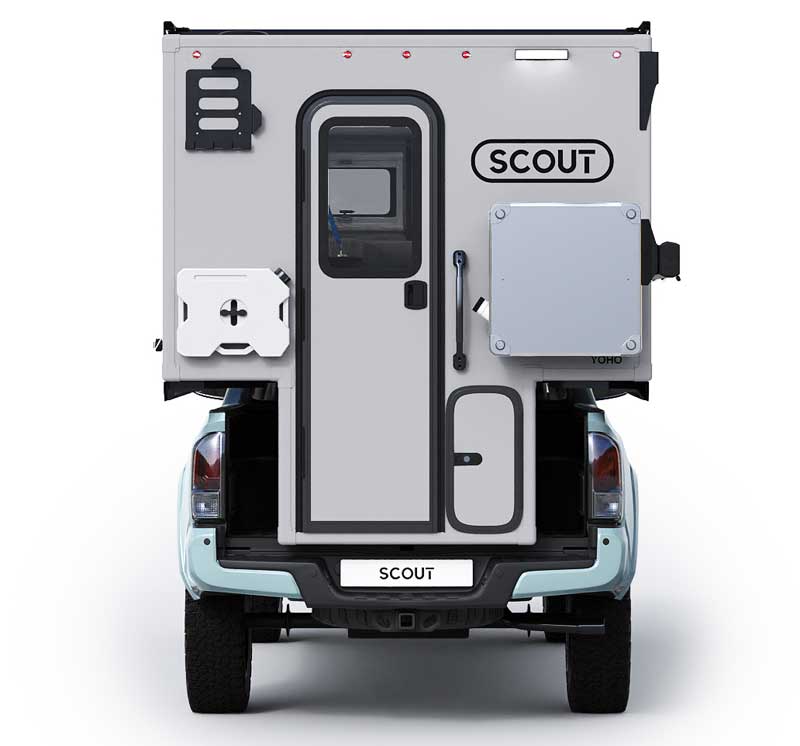 Above: The wider 2024 Scout Yoho
For 2024, the Scout Yoho floor has been widened by 2.5 inches. Every inch in a truck camper can make an important difference to the interior space, storage, and overall truck fitment. Why did you widen the Yoho?
That was a benefit of developing the Scout Tuktut. We had to redesign the jack brackets for the Tuktut to avoid limiting the width of the camper base. When we did that, we took the opportunity to use the new brackets and widen the Yoho. The redesign gives the 2024 Yoho a full 2.5 inches wider floor area. That's a huge win for the consumer and an advantage of the new design.
Is the Yoho exterior actually wider, or just the interior floor?
The lower box (below the T-wall) of the Yoho is wider, but the overall width is the same. The Yoho still fits the mid-size trucks it is intended for, but with more floor space.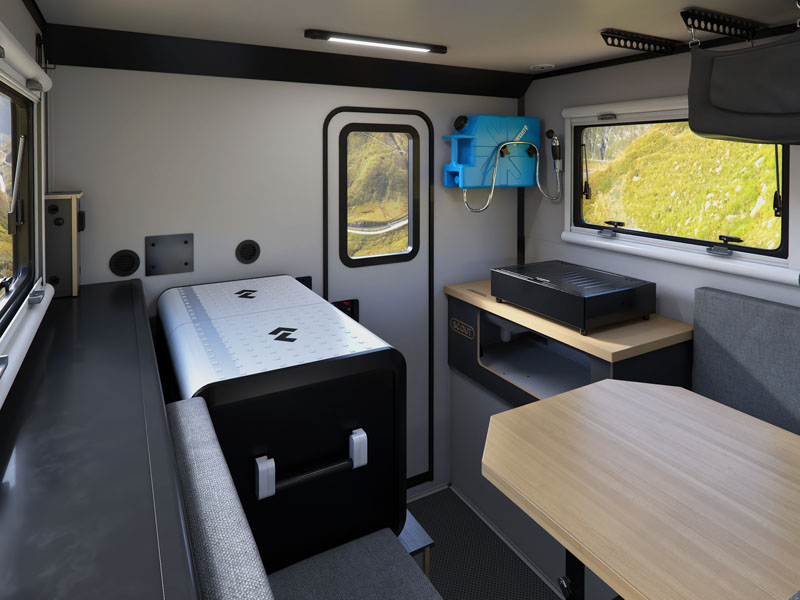 Above: The interior of a 2024 Scout Olympic
Will you be making any dimensional changes to the other Scout models?
No. The Yoho was the camper that had the opportunity.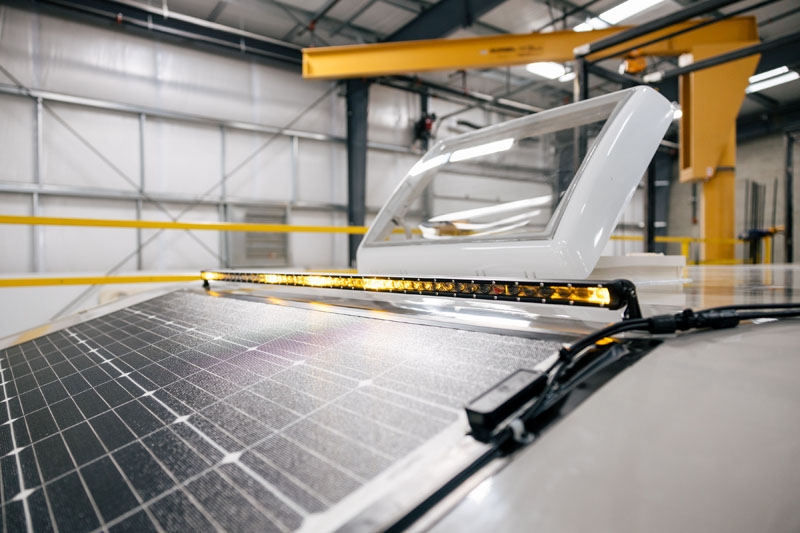 For 2024, Scout is removing the traditional clearance lights in favor of a single light bar. Tell us about the thinking behind this change, and why it's an improvement.
For all campers, any exterior penetration is a potential leak point. With this focus, we did a root cause analysis. Moving from clearance lights to a light bar reduced five holes in the roof, and the installation time was reduced. Included in this change was the addition of the ScanStrut cable gland. Although it may not seem like the biggest change this is a significant upgrade to quality. The end result is robust and easier to service.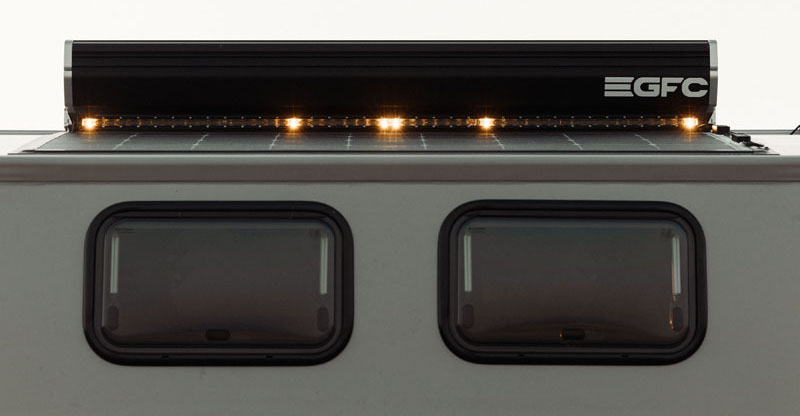 Does the light bar do more than function as clearance lights?
It's strictly clearance lights at this time.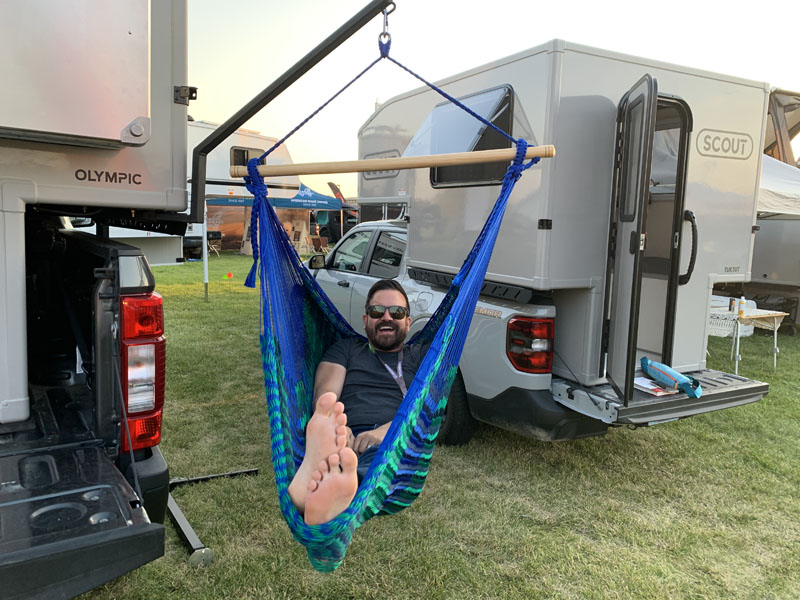 Above: David Epp, CEO of Adventurer Manufacturing, in a prototype jack hammock
At Overland Expo Pacific Northwest, Adventurer Manufacturing showcased a new hammock that attaches to the Scout jack inserts. Will you be bringing these hammocks to market?
That hasn't yet been determined. David and a friend of his came up with the hammock. The goal was to showcase the possibilities for Scout's multi-use jack bracket. A barbecue stand is another possibility. In the future, we hope to see upfitters coming up with more solutions and features for the jack brackets. We are staying focused on the design and quality of our campers.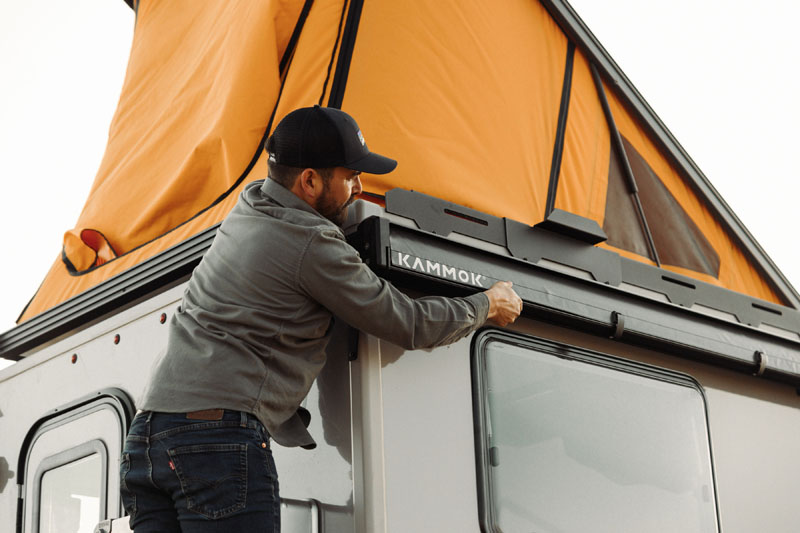 Another option bring added for 2024 is a 7-foot Kammok Crosswing awning. What led to the selection of the Kammok Crosswing?
We conducted an extensive weighted decision matrix analysis of awnings with nine different vendors. We evaluated each awning on eight specific criteria and determined the Kammok Crosswing awning was the best solution.
The Kammok Crosswing awning doesn't require stakes in the ground, is quick and easy to deploy, and withstood our 35 mile per hour drive test. It's also engineered in the United States.
We have relocated the Kammok Crosswing since you saw it at the Overland Expo. It's not located below the window to provide more shade and faster access and set-up. Again, we don't want to offer products that take too much time to deploy or are difficult to use.
We also offer universal brackets for people who want a 270 solution.
For 2024, Scout models will come standard with interior ceiling brackets and a hard-wired porch light switch. Why are you making these two features standard for 2024?
Nearly everyone who ordered a Scout Camper was opting for the ceiling brackets. When we saw that, and how functional they were for our customers, we decided to make it standard. Nearly every Scout customer uses them for various storage solutions.
The porch light decision was all about performance. The solar porch lights simply weren't lasting a whole night. That was a safety issue. Our customers camp off-grid and need a hard-wired porch light that works.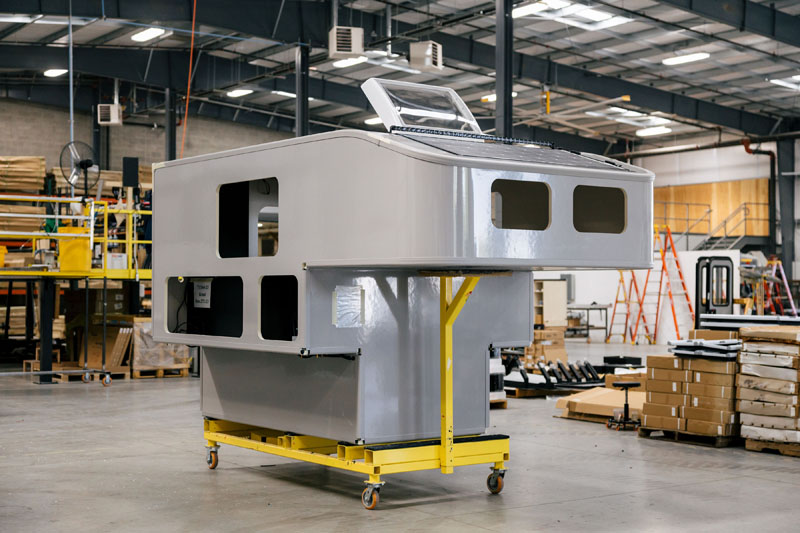 Adventurer Manufacturing has been awarded a patent on the Scout product. What can you tell us about what that patent means for Adventurer Manufacturing and Scout Campers?
Good ideas get copied. We've invested a considerable amount of time and energy into the Scout design. The patent is a strategic move that protects our efforts.
The patent also creates a foundation of options as we go into the future. We can build, innovate, and create the next evolution upon it. The marketplace has an appetite for the Scout product and concept.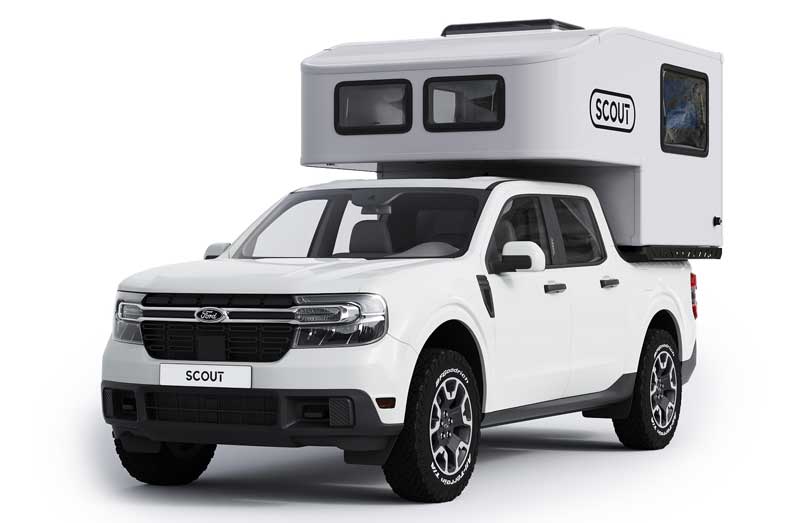 Will we see any new Scout models in 2024?
Our main new product focus remains on the 2024 Scout Tuktut for the mid-size, 5-foot bed truck market; Tacomas, Rangers, and Mavericks. Our other focus is on refinements to existing models. We are already starting to look at updates for the 2025 model year.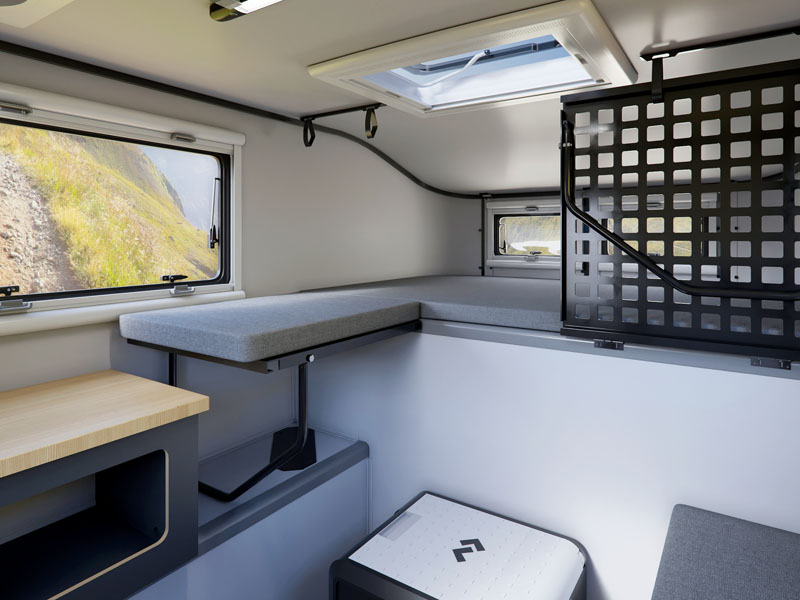 Above: The 2024 Scout Tuktut interior
The Tuktut debuted in May. How's that model doing?
We are producing the first run of Tuktut dealer units now. Our next Tuktut run is scheduled in six weeks. We are seeing a high level of interest and booking for the Tuktut, even without people seeing the actual model in person yet. We believe that interest will rise once people see them at our dealer locations. Personally, I want to see what I'm buying. The online process has been positive, but a lot of potential customers want to experience it.
Is there anything else you want our readers to know about Scout Campers and the Scout updates for 2024?
Yes, one thing we didn't touch on was a few changes we made to our power systems. This was influenced by community feedback. For 2024, we added a larger systems cabinet to allow for custom after-market options like Redarc or an alternative portable power system like Bluetti. With this change, we improved the wiring management to support the installs.
I also want people to know that we're really listening to our community and value their input. We are translating feedback into production solutions. Our dedication is to continuous improvement, not just words, but actions.
By having factory pickup, we have real-time customer feedback, which is important for our journey of continuous improvement. We extend an open invitation to visit us in Yakima, Washington. We'd love for you to see what we're doing.
To learn more about Scout campers, visit their website at scoutcampers.com.  Click here to request information about the Scout Kenai, Olympic, Yoho, and Tuktut.