Truck Camper Magazine gets behind the scenes access to the Scout Camper production line in Yakima, Washington. Station by station, we reveal how the hard side, fiber-reinforced composite panel truck campers are made and assembled. Well, not everything.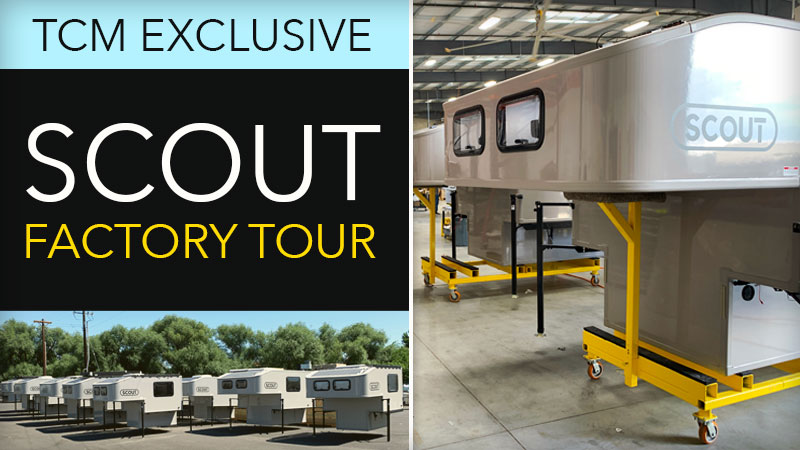 When we set out in late April, one of the production lines we were looking forward to seeing the most was Scout Campers. Since the brand launched in early 2020, the Adventurer Manufacturing leadership team had been tight-lipped about how the composite panel and aluminum extrusion units are built. When they agreed to allow us to see the Scout production line in person, we didn't miss a beat. Yes, please. We'll be right over.
Two months and roughly 5,000 wandering truck camping miles later, we arrived at the Yakima, Washington factory. It had been five years since our last visit and we immediately spotted two changes. First, the main building had the new 'double mountain' Adventurer Manufacturing logo prominently displayed. And second, Scout Campers were everywhere.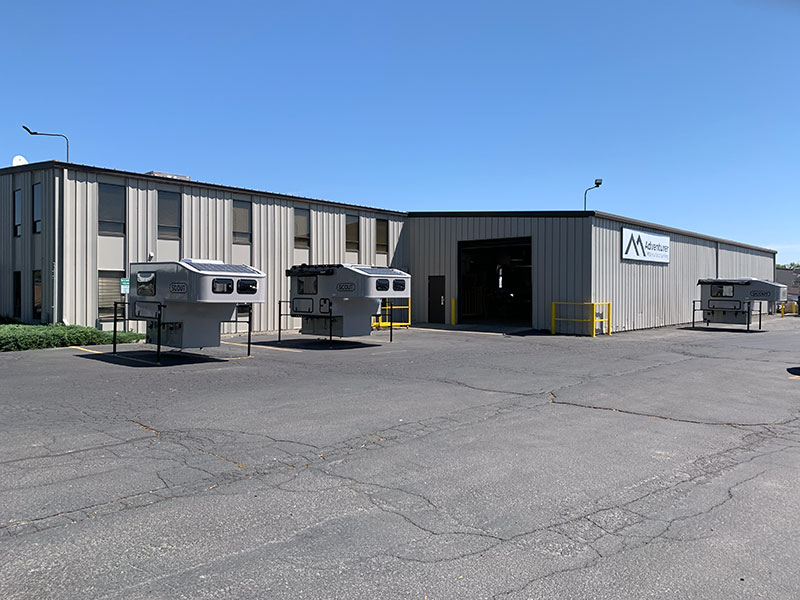 Out front were two Scout Campers prepped for customer delivery in designated lanes with a sign that read, "RESERVED PARKING, FUTURE CAMPER OWNER". Another Scout was under the Adventurer Manufacturing sign. One more was parked on the side of the building for service. And out back appeared to be a veritable ocean of Scout Campers.
Excited to learn how Scout Campers are made, we entered the building and met David Epp, CEO of Adventurer Manufacturing, and his leadership team. The first order of business was discussing what aspects of Scout production would be permissible for photography and publication, and what needed to be kept off the record. Very few media organizations have been granted access to the Scout production line, and none (that we're aware of) had been given the level of photography access we were about to enjoy.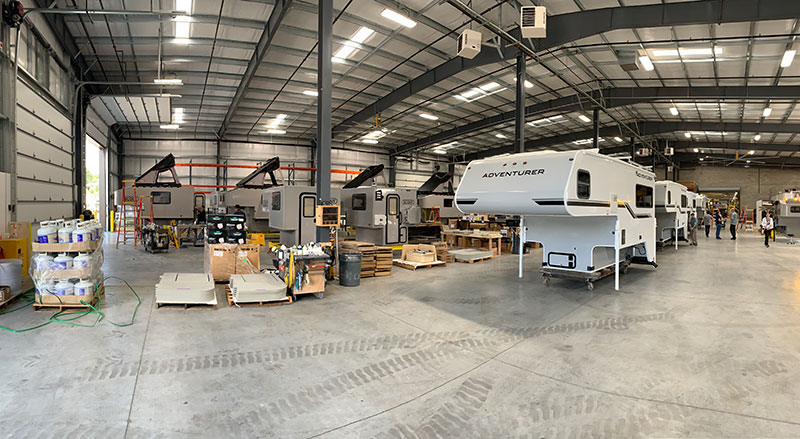 Above: The Adventurer and Scout production lines run side-by-side at Adventurer Manufacturing
Per David's direction, we started with a tour of the Adventurer production line. This included the updated lamination building and the new CNC machines that are critical to both the Adventurer and Scout manufacturing processes.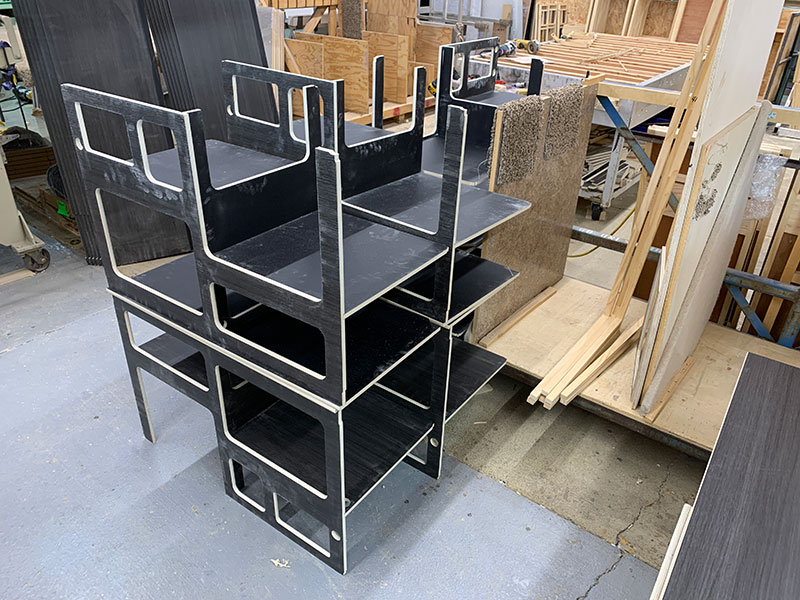 Above: Scout cabinetry is cut on one of two CNC machines at Adventurer Manufacturing
We published a detailed report on these manufacturing elements as part of our 2024 Adventurer Announcements article. In fact, the laminations shown in that article are actually Scout composite walls. If you want to see the lamination building and process, as well as the CNC machines in action, start with the 2024 Adventurer Announcements article (linked above).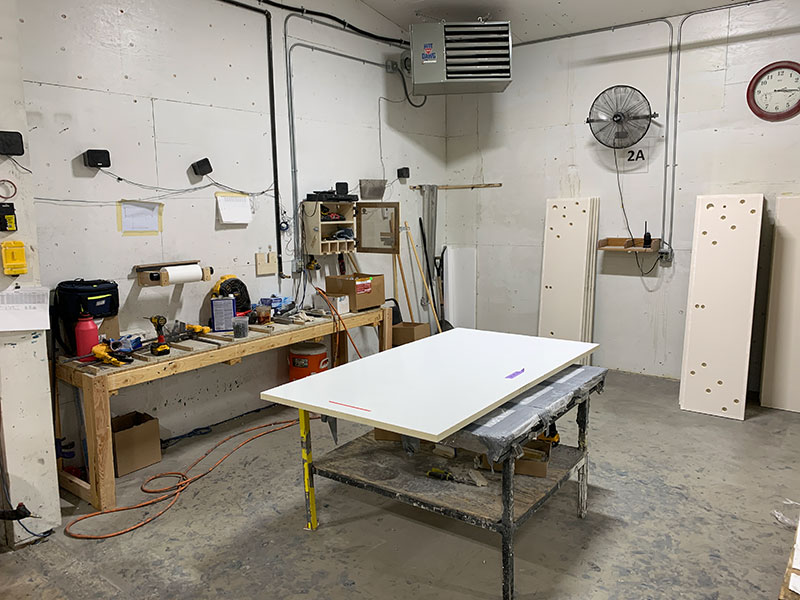 Above: A composite Scout Camper floor at station one
Like most truck camper production lines, the Scout line starts with the floor. Unlike most truck camper production lines, Scout begins with a fiber-reinforced composite panel. The photo above shows the first production station and the very beginnings of a brand-new Scout. Note the prepped wing walls on the back wall. The holes designate where the metal jack bracket supports will be installed.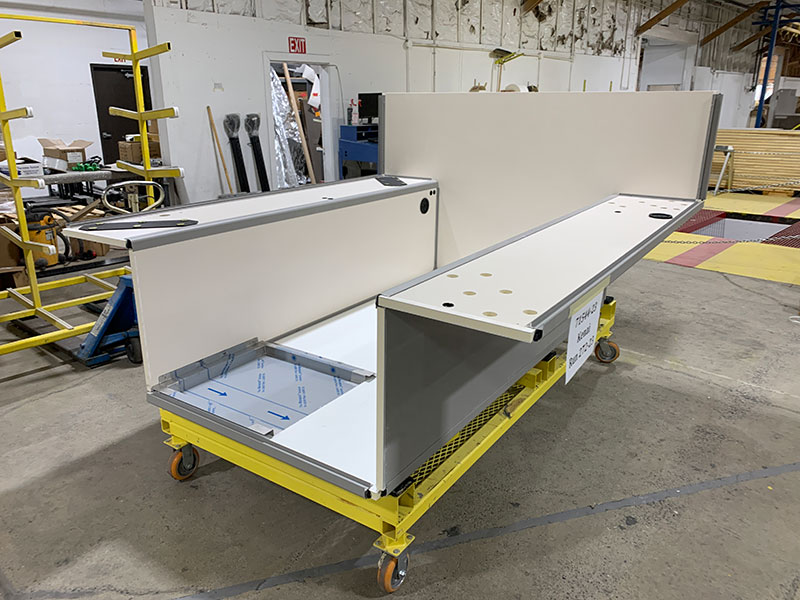 The lower portion of a Scout takes shape at station two. Using aluminum extrusions and adhesives, the composite floor is connected to the wing-up walls, wing-out walls, and front wall. Like the composite wall material, the aluminum extrusion patterns are proprietary and we were asked not to photograph them too close to avoid revealing their precise shape and other details.
The aforementioned jack bracket supports are also installed at station two. The particular unit shown above is a Scout Kenai with its signature aluminum mud room pan installed into the rear entryway floor.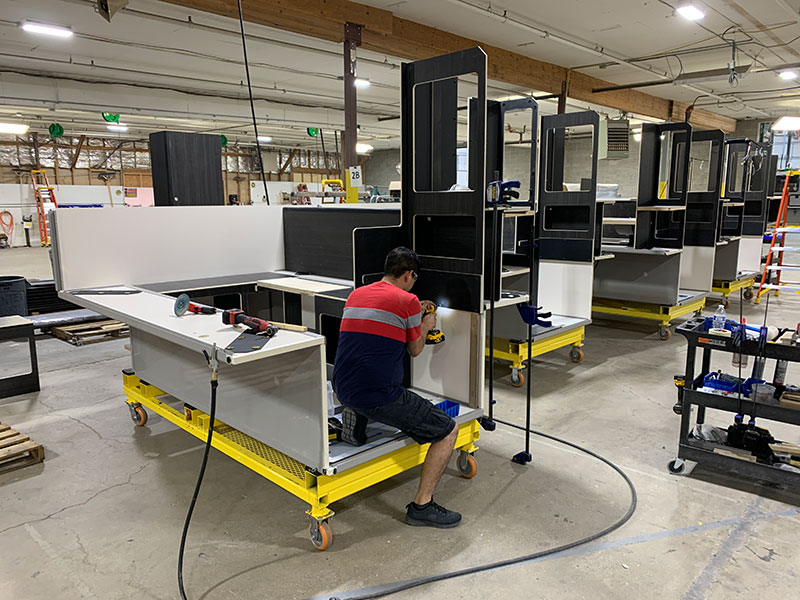 On yellow wheeled carts, Scout Campers are then turned sideways allowing more units to be on the production line. Here we see the CNC-cut cabinetry being installed.
What impressed us at this station was how the composite panels, aluminum extrusions, and CNC-cut cabinets fit together precisely turning the production line into an assembly line. This approach helps to eliminate potential defects and improves consistency and quality.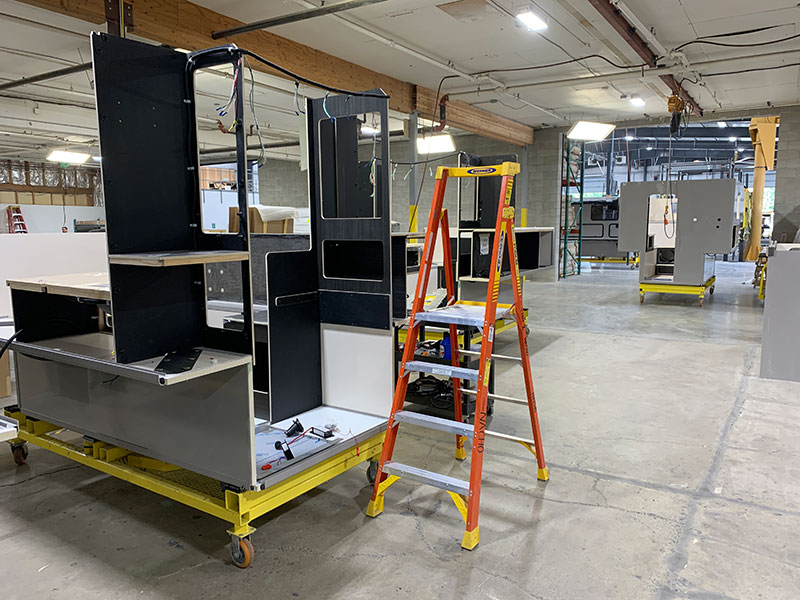 Above: The station between the units above was off-limits for our photography
We were asked not to photograph the crucial steps between stations four and five (note the empty station space above). This includes the composite wrap-around front nose and side wall, and how that intricate component is installed. Scout is in the process of getting a patent on their camper design and process, so it's understandable that they don't want this revealed.
What we can report is that the front wall arrives at the production line pre-formed and that the actual process of installing the front nose is far more advanced than we had assumed. When the patent is awarded, we hope to return to Scout and reveal more about this step. Until then, this is all we can show.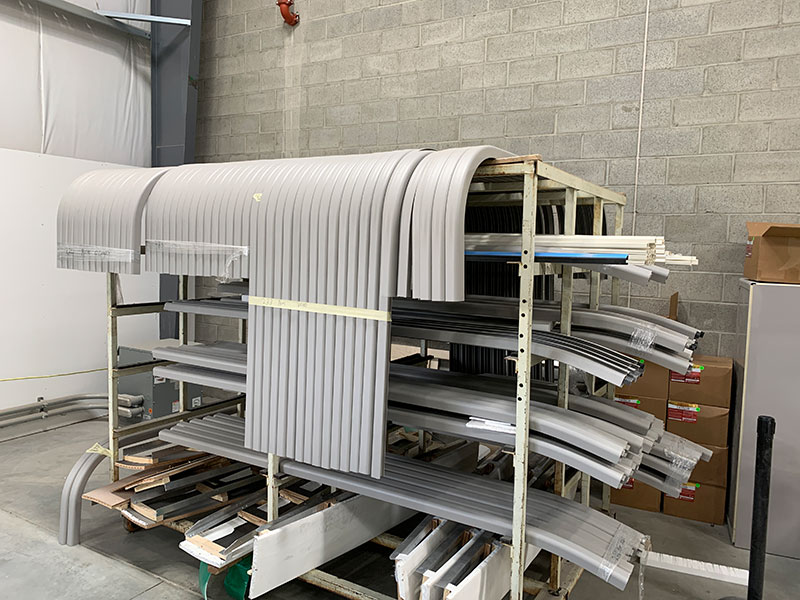 Claus Schroeder, Director of Operations for Adventurer Manufacturing, literally moved my camera aim when I took this photo. These are the carefully guarded Scout aluminum extrusions and Claus wanted me to be mindful of my camera angle. A lot of research and development went into every facet of Scout's design, and they are protective of that effort and investment.
These extrusions are located just inside the 20,000 square foot factory addition containing the final Adventurer and Scout production line stations.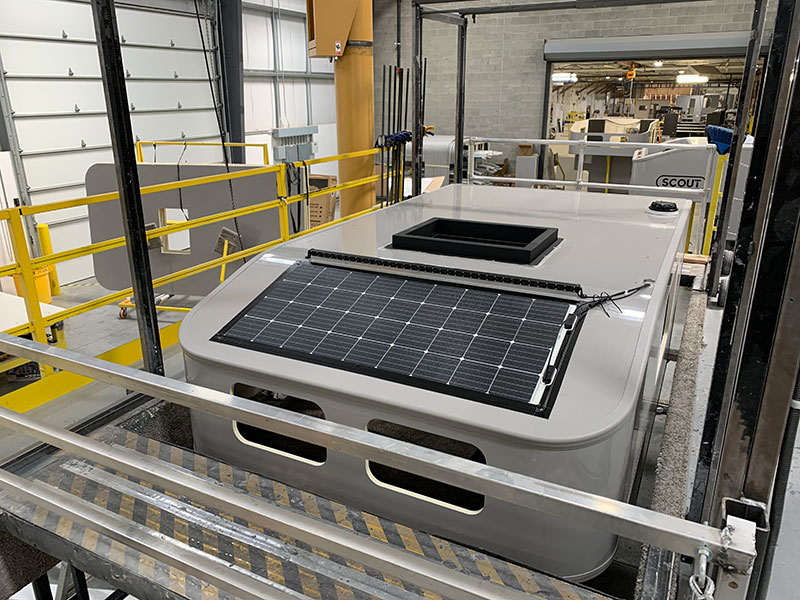 We also can't show you how the Scout roof is installed. What we can show you is the elevated cage and platform Adventurer Manufacturing has assembled to allow the Scout roof team proper access.
This is where Scout Campers get their solar panels, front light bars, rooftop tent hatches, and other roof vents and features installed. It's also where Scout's trailblazing rooftop tents (Go Fast Camper tents for 2024) are installed. And no, we can't show you that process either.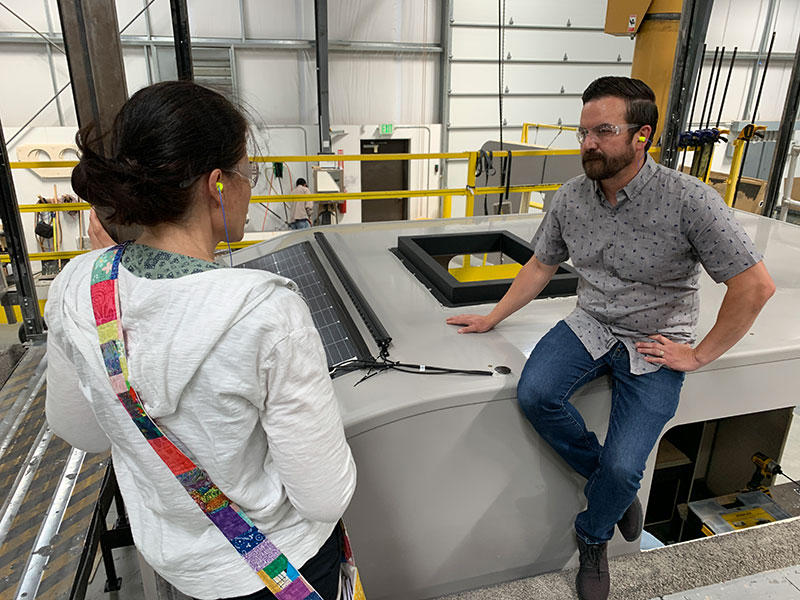 It was here that David talked to us about changes that have been made to the solar panel and clearance lights. He explained that Scout has moved away from permanently installed solar panels to a more modular approach of utilizing flat, removable, and upgradable solar panels.
He added that the 2024 Scouts have also done away with front clearance lights in favor of an extended light bar that satisfies the clearance light requirement. Look above David's right knee and you'll see the most important benefit to these changes. The solar panel and the light bar are attached to the composite Scout roof via adhesives and require only a single junction box and roof penetration to access the interior modular battery power source. Fewer penetrations mean fewer potential leaks.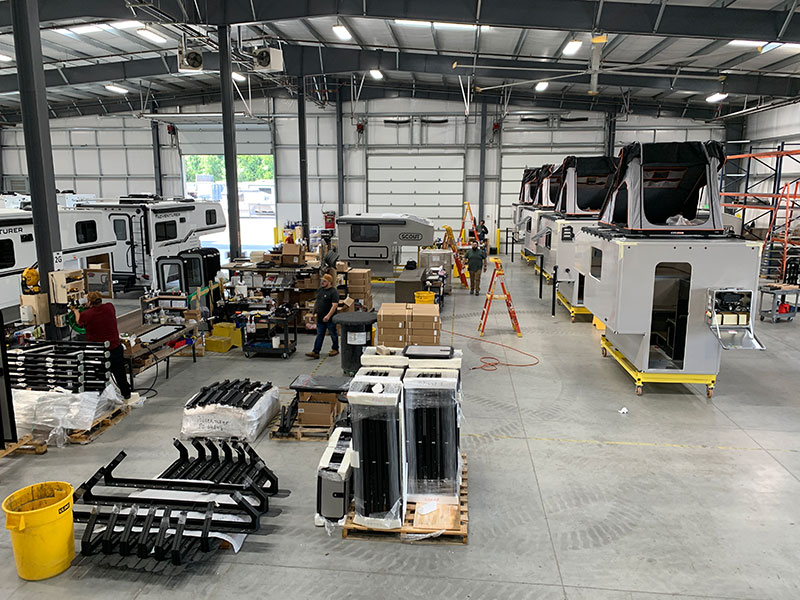 After the roof cage area, the Scout stations look like a normal truck camper production line. The floors, side walls, cabinetry, and roof are completed, and the appliances and exterior compartment doors are installed. Note the open Autotem Air 2D diesel heater mounted to the Scout Kenai in the foreground.
David showed us the new 2024 exterior compartment locking door latches. They were exceptionally robust and took some practice to properly engage. Once that was learned, the latches operated with authority and represented a notable step up in quality from their predecessors. No old-school 751 RV keys here.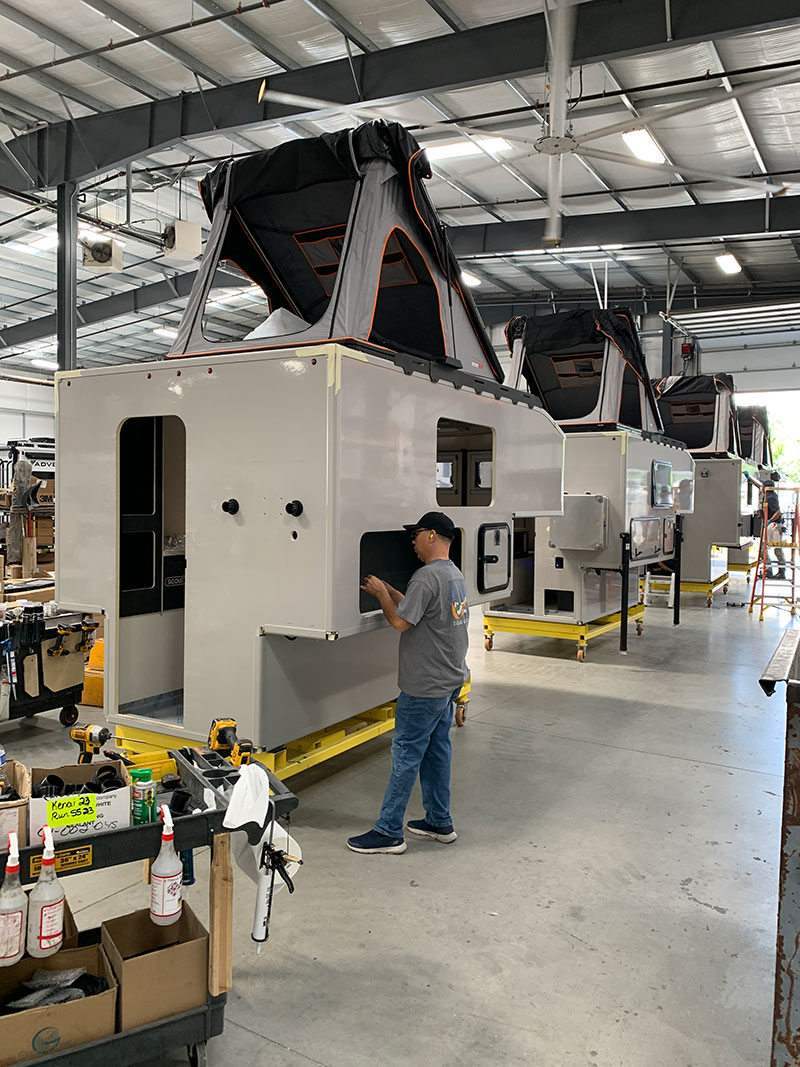 Inside the unit the Goal Zero Yeti 1500X lithium portable power stations, Dometic CFX-series 12-volt compressor refrigerator, Thetford cassette toilets (Kenai model only), RinseKit+ shower system, Lifesaver jerrycan water containers, and other standard and optional features are installed.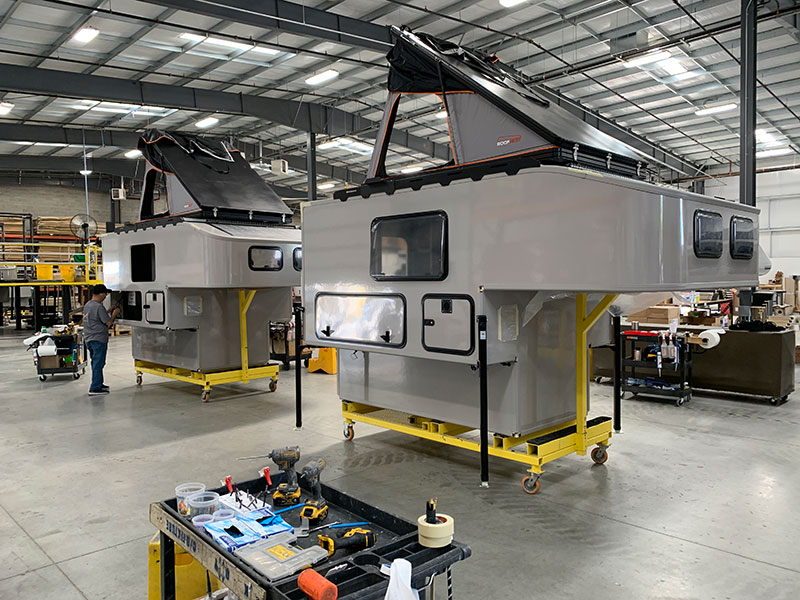 The next station is where the acrylic windows, exterior compartment doors, and removable Happijac camper jacks are installed. The Adventurer Manufacturing team explained that the clear view acrylic windows were selected for their lightweight, thermal pane insulation, and simple-to-operate built-in screen and sunshades.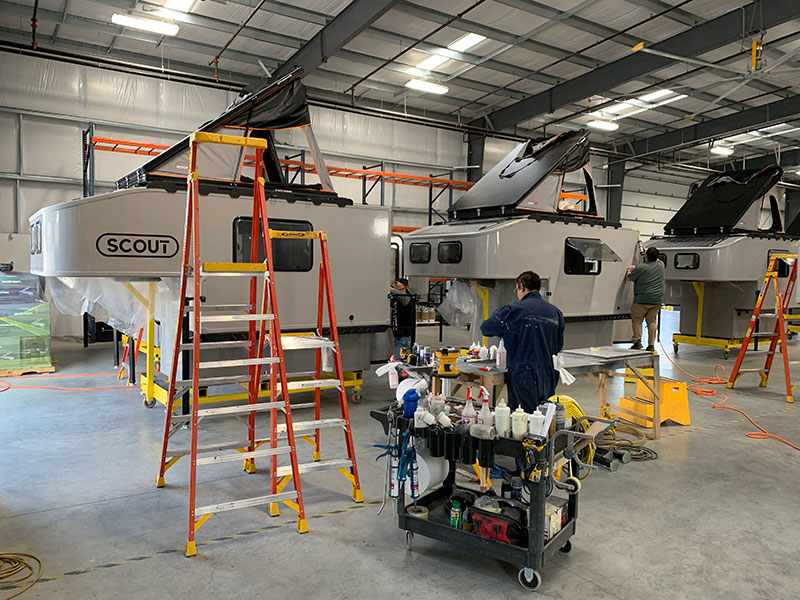 The final two stations are final finishing and quality control. Final finishing includes installing the required external seals, Scout logo decals, interior cushions, the mattress, and any customer or dealer-ordered options not installed earlier on the production line. In a nutshell, the unit is completed when it leaves final finishing and proceeds to the last station, but it's not officially done yet.
The last and final station is where the quality control team goes through a detailed check and inspection list and examines every last inch of the camper. Anything that's caught is marked and repaired before being inspected again. When every check has been done, it's time for the completed Scout to see daylight, and take a shower.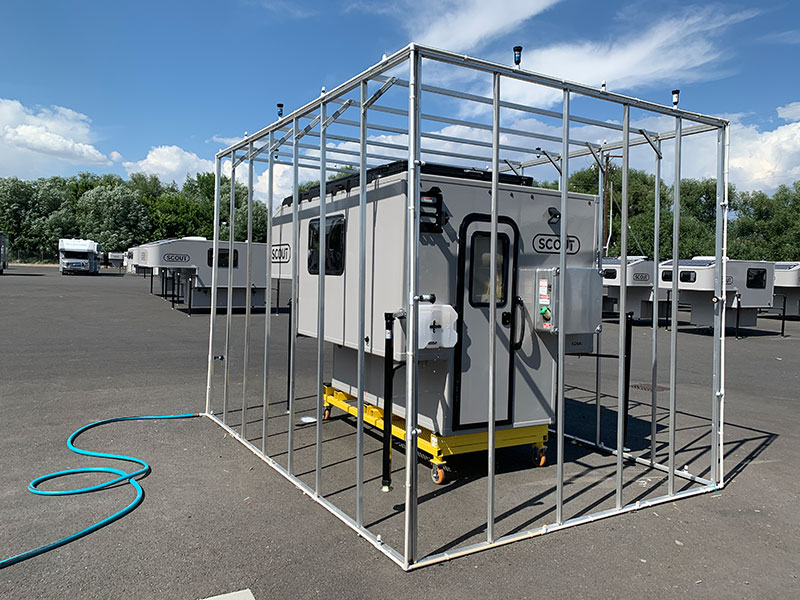 About a dozen feet beyond the Scout production building, we found a finished Scout Camper in an aluminum cage adorned with sprinklers. David turned on the water to demonstrate the final quality control check on the Scout production line; the leak test.
It's a bit hard to make out in the photo above, but the sprinklers doused the unit in a pattern similar to a steady rain. David explained that a Scout quality control team member allowed every unit to be soaked before entering the unit to inspect for leaks.
This is the perfect job for a hot summer day in Yakima, Washington. It's probably not as fun in February, but it's essential to ensure that the composite walls, aluminum extrusions, adhesives, and sealants complete a water-tight Scout Camper.
Just beyond the leak test rainbow, over a dozen completed Scout Campers sat on their jacks. When I walked the Adventurer Manufacturing facility the next day, I saw dozens more completed Scout Campers waiting for dealer and customer delivery.
The sight of all those Scouts hammered home just how impactful the roughly 40 month old brand has been at Adventurer Manufacturing. The Adventurer truck camper line remains strong, but the Scout brand has been a sea change at the 54 year old family owned business. In an industry that is often seen as lacking innovation, that's not the case here.
Scouting Ahead
It's our hope that we can one day return to Adventurer Manufacturing – post patent approval – and go much deeper into the production steps that were kept off the record on this plant tour.
In the meantime, we want to thank the Adventurer Manufacturing leadership and production teams for granting us a level of access few have been permitted. We can confirm that Scout Campers are assembled like nothing we have seen before.
Update: A few days before publishing, Adventurer Manufacturing was awarded a patent on the Scout Camper design. As our favorite Hollywood cyborg famously said, "I'll be back!"
To learn more about Scout campers, visit their website at scoutcampers.com.  Click here to request information about the Scout Kenai, Olympic, Yoho, and Tuktut.