For 2022, Lance truck campers are changing to thermal pane acrylic windows, adding solid surface countertops, making 20-options standard, debuting a new AC unit, revealing three new interiors, and more.  One model has been discontinued and another is in development.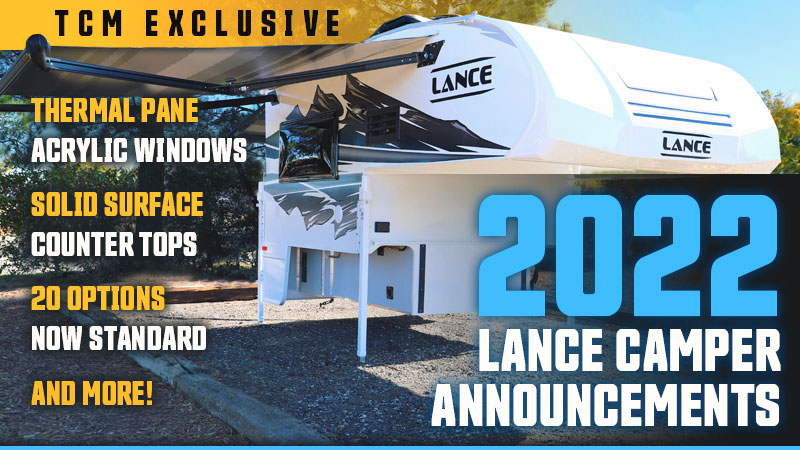 The name of the game in truck camper manufacturing right now is production.  Demand is at all-time highs.  Dealer inventory is at all-time lows.  Sourcing basic materials and appliances has never been more challenging.  Prices on those materials and appliances are increasing by the day.  And there's no relief coming from the labor market.  Oh, and there's a pandemic to keep tabs on.
As a manufacturer facing this complex and unrelenting environment, it could be hard to justify making product changes.  Changes would likely take precious time and resources away from production.  Until the supply chain, order backlog, labor shortages, and pandemic situation has been resolved, new product and feature development can wait – right?
The problem with the pause-innovation approach is competition.  If you pause new product research and development and your competitor doesn't, you might suddenly find your products are one or two years behind.  Go much longer and you could give a competitor the opportunity to pass you entirely.
That's not going to happen at Lance Camper.  Despite the challenges, the management, design, and production teams have developed an audacious list of changes for 2022.  And these updates aren't merely window dressing.  In fact, they are literally changing the make, model, and type of windows in one of the more significant Lance Camper model year updates in the past decade.
In another blockbuster 2022 announcement, Lance Camper is making no less than twenty 2021 options standard equipment for 2022.  The reasoning behind this decision is as much about providing a better-equipped camper as it is addressing the challenges of this moment.  Two birds, one long standard list.
To get the specifics on the 2022 model year updates, we talked to Gary Conley, National Sales Manager for Lance Camper.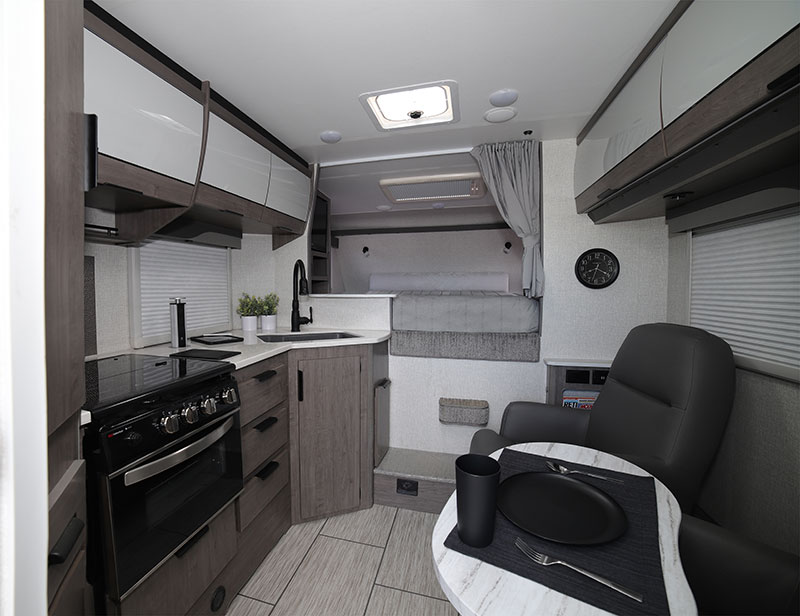 Above: The interior of the Lance 960, all photos and renderings courtesy of Lance Campers
Before we talk about the 2022 Lance Updates, catch us up on the big Lance truck camper announcement from 2021; the Lance 960. Since the 960 debuted in TCM in late 2020, we haven't seen one in the field. Has the 960 shipped yet?
The Lance 960 made its public debut at this year's Hershey Show in Pennsylvania in mid-September.  It was well received and had a lot of interest.  Prior to that debut, we had built and shipped a few Lance 960 models that are now in the hands of retail owners.  Now we're in full production of the 960.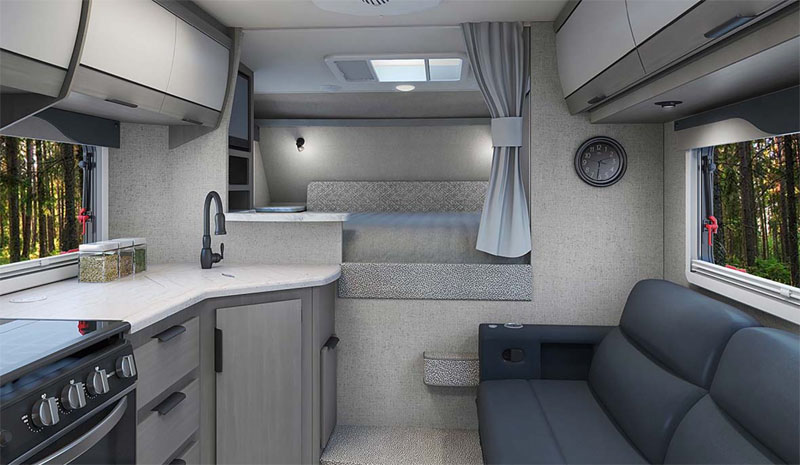 Above: A rendering of the Lance 960 with the Lapis interior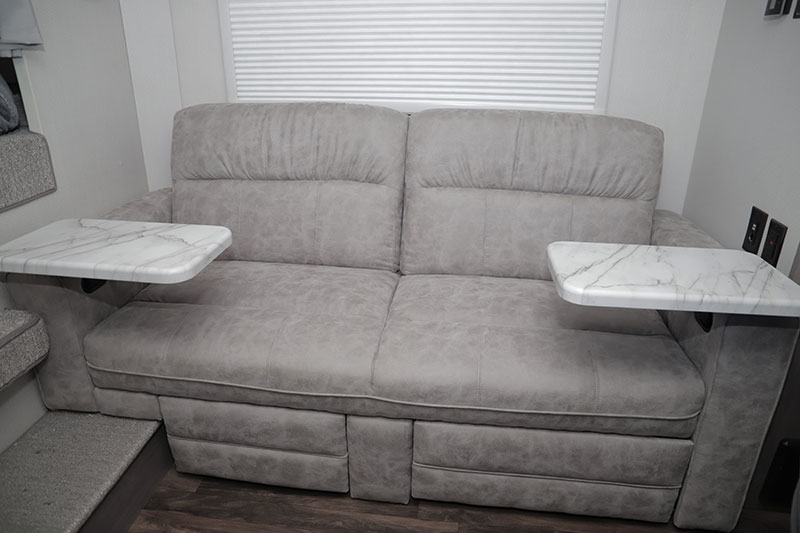 Above: The theater seating option in the 2022 Lance 960
When the 960 announcement was made, Lance was working to develop a theater seating option.  Has that been completed?
Yes.  We evaluated multiple theater seating options and came up with one that reclines a little.  Most options only lifted the feet but didn't recline.  The one we selected has some tilt back and gives more of a domestic recliner feel.  It's ready to go.
Were there any other changes made to the Lance 960 over the past 10 months or so?
There have been a few minor changes.  We tweaked and improved the locations of switches, the way the tables were articulated with the theater seating, and the orientation of the barrel chairs (shown below).  We also updated to the new and quieter Onan 2500i inverter generator.  Eric Dye of Lance Owners of America (LOA) had it installed in his camper and helped us test it.  Part of the hold-up to the production of the 960 was getting the new generator in stock.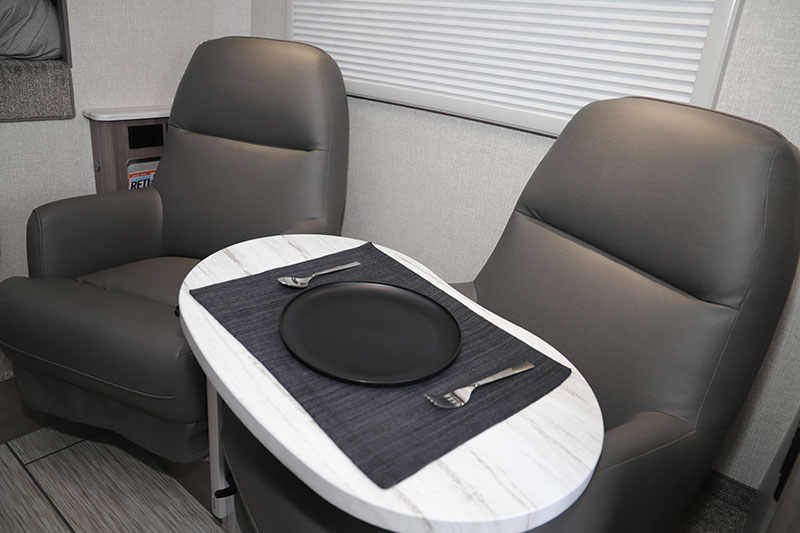 The main decision with the Lance 960 is the choice between the recliner sofa and the barrel seats.  Which do you predict will be the stronger seller?
It's a 50-50 split.  Seating is like a mattress; a personal preference.  Some people prefer to lounge.  Others like to sit upright with more back support.  The barrel seats offer more of an office workstation.  The recliner sofa is more of a domestic living room feel.  It really comes down to what customers prefer; chairs or sofas.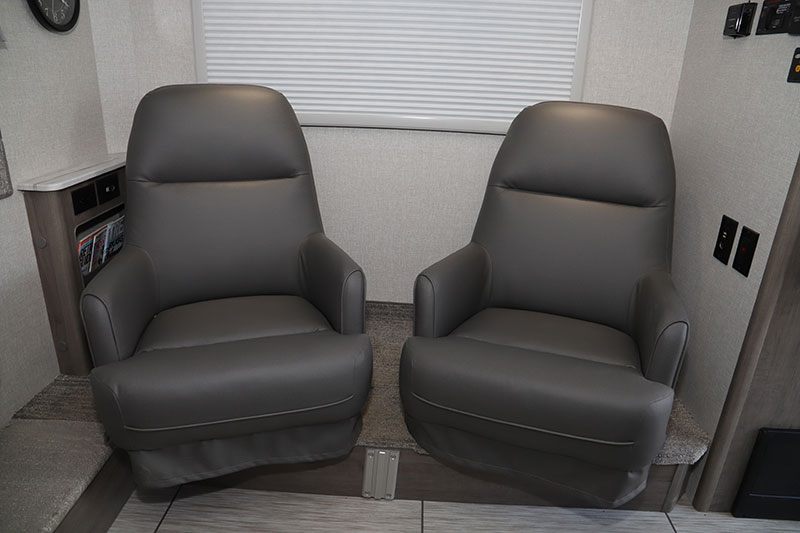 Let's get into the 2022 Lance truck camper updates.  Are there any Lance truck camper models being deleted for 2022?
Yes.  The Lance 995 truck camper is being eliminated for 2022.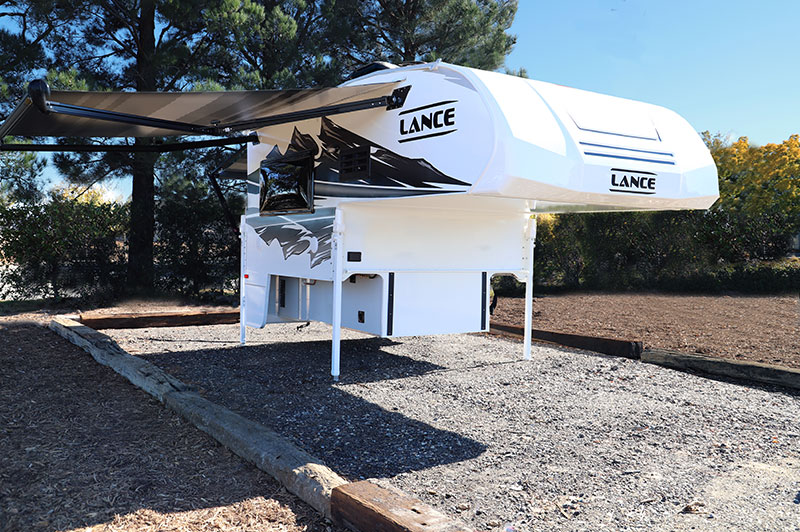 Above: The redesigned Mountain Scene exterior graphics on a 2022 Lance 650
For 2022, Lance is making a redesigned Mountain Scene exterior graphics package standard.  There will be no other exterior graphics package for 2022.  What led you to this decision?
The Mountain Scene graphics are very popular.  Whether you're from the desert, the flatlands, or the East Coast, I think most people want to be in the mountains.  People gravitated to the mountain graphics, and they look good on a truck.  The traditional stripe and swoosh decals get boring.  Making one exterior standard with no options is also better for production.
How were the Mountain Scene exterior graphics changed for 2022?
They were enhanced with some additional color and detail.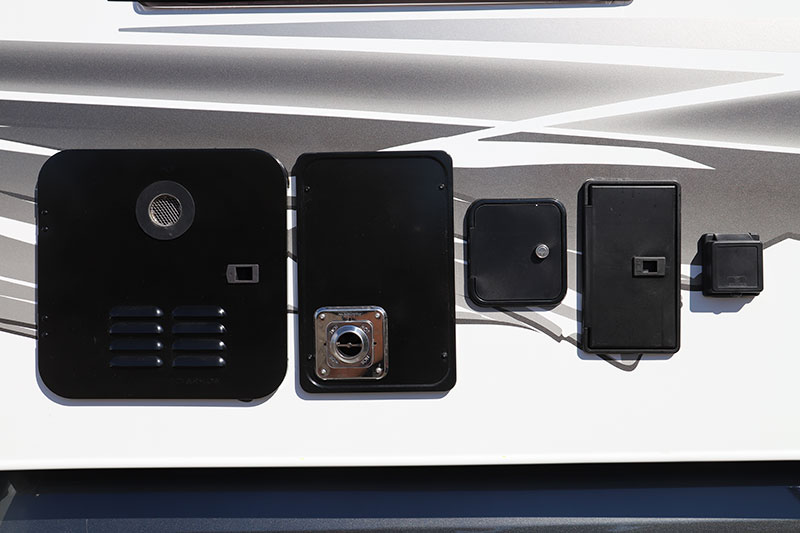 What's included in the new Black Exterior Accent Package?
It includes a black cover on the air conditioner, other trim pieces, lights, and details.  Some exterior items will still be white, but the added black accents blend well with the new Mountain Scene graphics.  The Black Exterior Accent Package is also standard for 2022.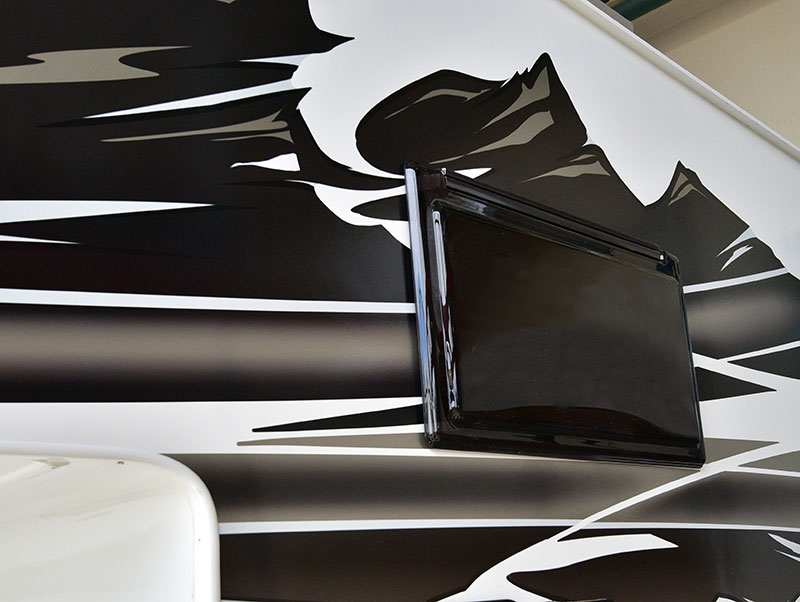 Lance is announcing new European dual-pane acrylic windows for 2022.  Is Lance going with acrylic windows for all of its truck campers in 2022?
Yes, every Lance truck camper will feature European dual-pane acrylic windows for 2022.  The new windows are five times better for insulation and eliminate condensation transfer.  They also have automotive-style bulb seals eliminating dust inside the unit from weep holes.  The new windows offer better visibility, pass-through, and lock open for better ventilation.
The full black-out shades and integrated bug screens are also superior.  Finally, the new windows are a significant weight reduction compared to dual-pane glass windows.  We've been talking about making this change for years and are now able to do it.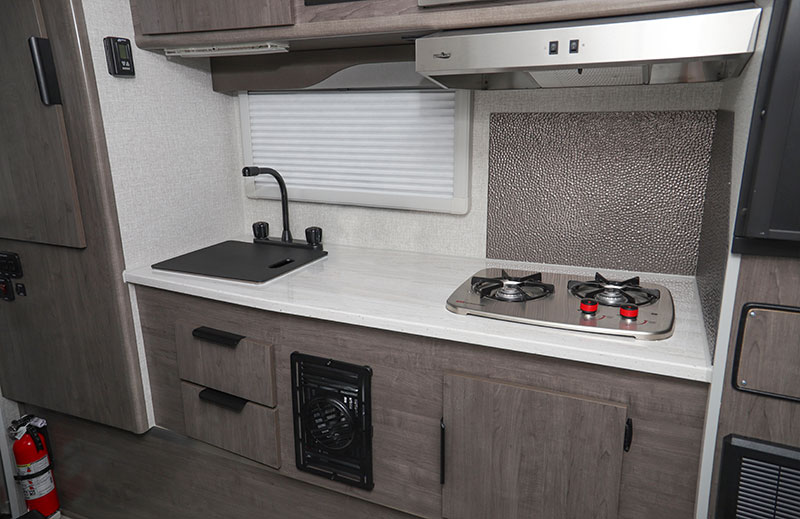 Can customers still order Lance truck campers with glass windows?
No.  All windows on Lance truck campers will now be European dual-pane acrylic windows.
When you look at the function, use, and maintenance, the European dual-pane acrylic windows are far superior.  The only downside is that you need to use a clean brush that won't scratch when washing the unit.  The acrylic window material has come a long way and is exceptionally scratch-resistant.  If you do get a scratch, you can often polish it out.
One issue we've had with acrylic windows is the lack of dark privacy tint.  Are the windows you're using tinted?
Yes, they are dark-tinted for privacy and to prevent fading inside the camper.  The window design also eliminates the need for mini blinds and strings and streamlines bulky valances.  The black-out shades completely keep light out and prevent people from being able to peer in from the side.  You have total privacy with the black-out shades.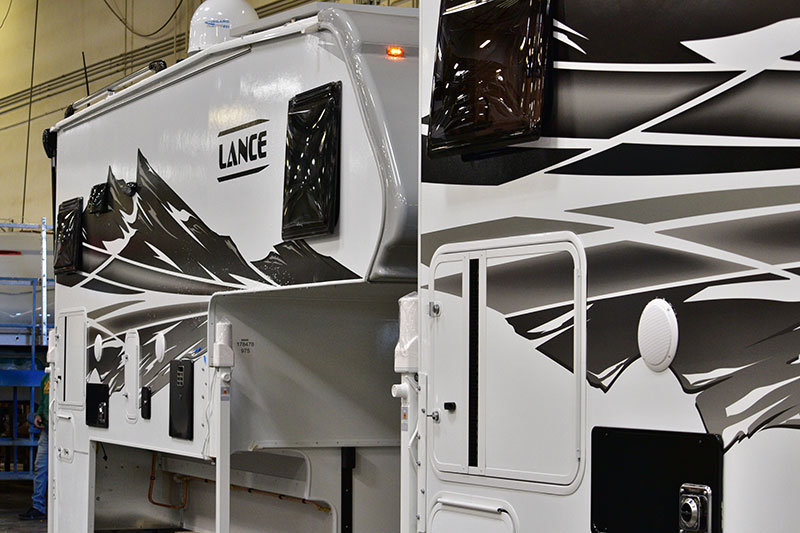 What brand and model of acrylic windows are you using?
We're using Plastoform windows.  The windows are custom made for us to our specifications.
For the 2022 models, Lance has selected a Coleman 11K BTU air conditioner with a soft-start.  What is the exact model Coleman that you're using?
We're using the Coleman Quiet Series 10 with soft start.  The soft-start feature allows the air conditioner to work with 2,200 to 2,500-watt built-in and portable generators in higher temperatures and at higher altitudes.  This unit works just about anywhere, and it's quieter than our previous air conditioner.
Adding a soft-start to an existing air conditioner can work well, but our new air conditioner has the feature built-in from the factory and doesn't risk voiding your warranty.  We're making this unit standard because you need to be cool where and when you want to be cool.
Can the Coleman Mach 10 P.S. run off Lance's optional lithium battery option?
Not in the current configuration.  When you get into lithium, you need over 400-amp-hours, with a 3000-watt inverter.  Even then you'd be lucky to run it for more than a few hours.  In an emergency it would be great, but not for long-term use.  You would need more lithium battery capacity.
It's been two years since Lance announced the lithium battery package as an option.  Has it changed since the announcement?
We're still using the GoPower 100-amp-hour Group 31 battery.  We offer one or two lithium batteries depending on the model.  Lithium batteries are available on all of our models.  We install a lot of factory-installed lithium packages.
Are all Lance truck campers now utilizing Progressive Dynamics converters?
Yes.  Progressive Dynamic converters are in every Lance camper.  All of our converters will charge lithium, AGM or lead-acid batteries.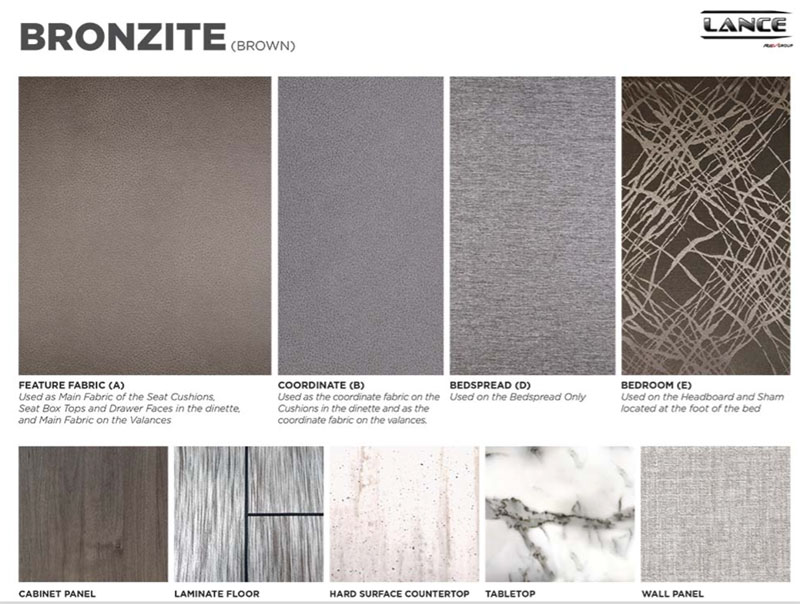 Lance is introducing three all-new interior decors for 2022; Grayson (Grey), Bronzite (Brown), and Lapis (Blue).  How were these new interiors developed and approved?
We work with a design consultant, and then there's an internal process for selection and approval.  We have a committee that picks out the interiors we like.  The first choice is wood grain.  Everything coordinates from that decision.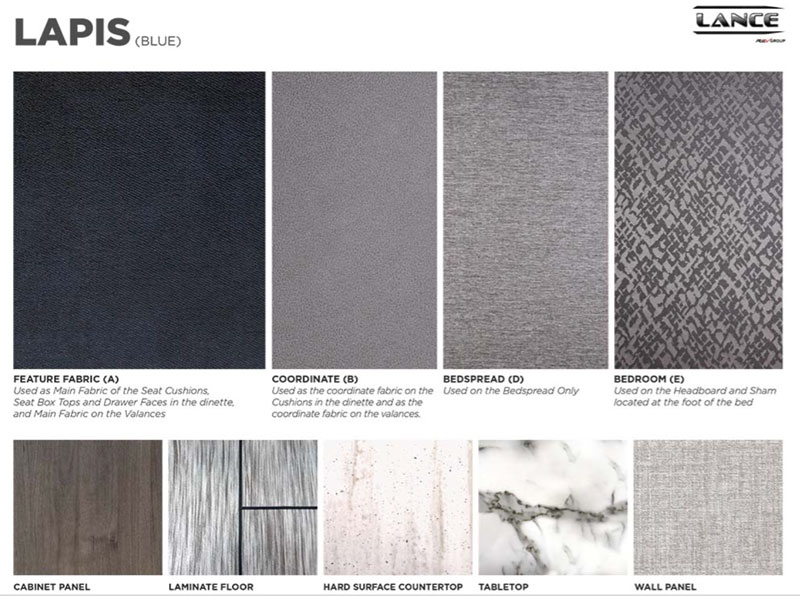 We have moved away from fabrics for 2022.  Everything is now a leatherette/vinyl.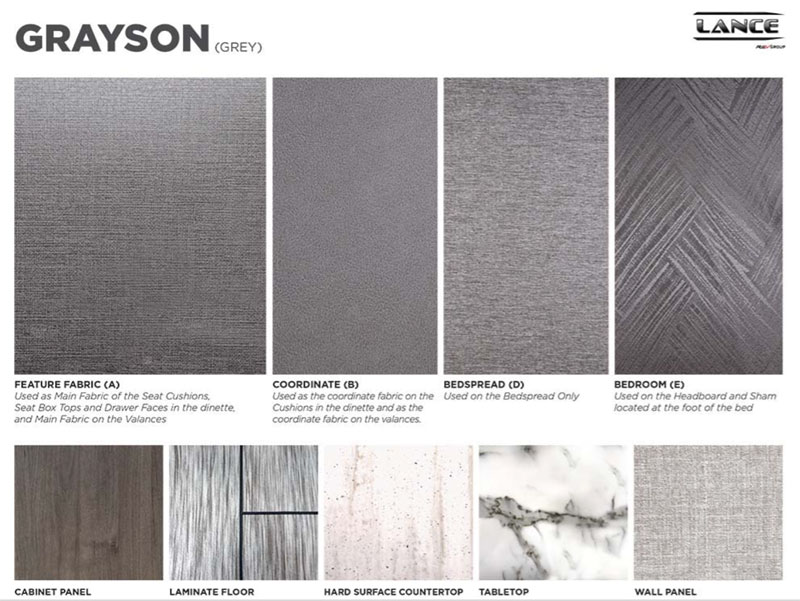 The cushions are two-tone and the colors match the new Lance interiors for 2022.  Greyson, Bronzite, and Lapis are all-new for 2022 and replace similar color schemes from 2021.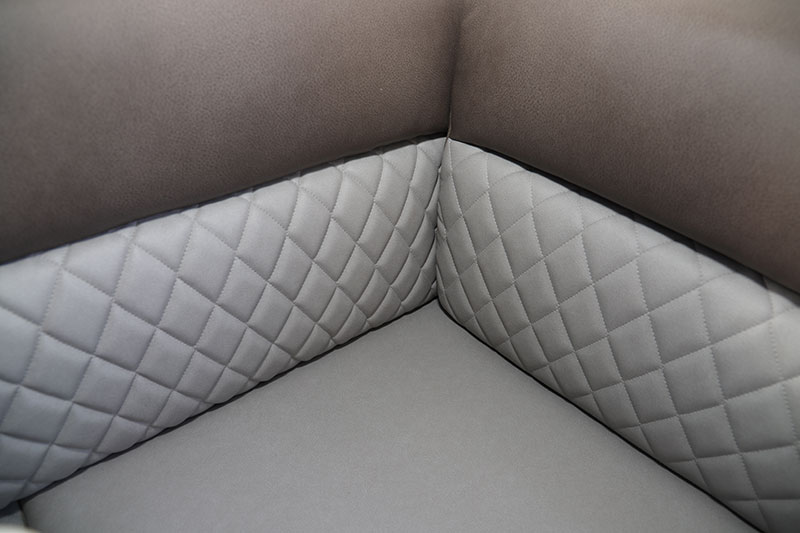 Lance is also launching a new overhead cabinet door; Driftwood (grey). Is Driftwood simply a different color, or are we talking about a new overhead cabinet door design?
Driftwood is the interior cabinetry color.  It has the same wood grain that we've been using for two years.  The 2022 Driftwood cabinetry (see photo below) door design is new and more trendy with flat doors and enhanced color to give the new campers more dimension.
Above: The interior of a 2022 Lance 650 with Lapis interior
Is the new matte black cabinetry hardware part of the Driftwood door option?
Yes.  The matte black pulls accentuate the updated Driftwood cabinet doors.  Previously we didn't have pulls on all of the cabinetry doors.  Now we do.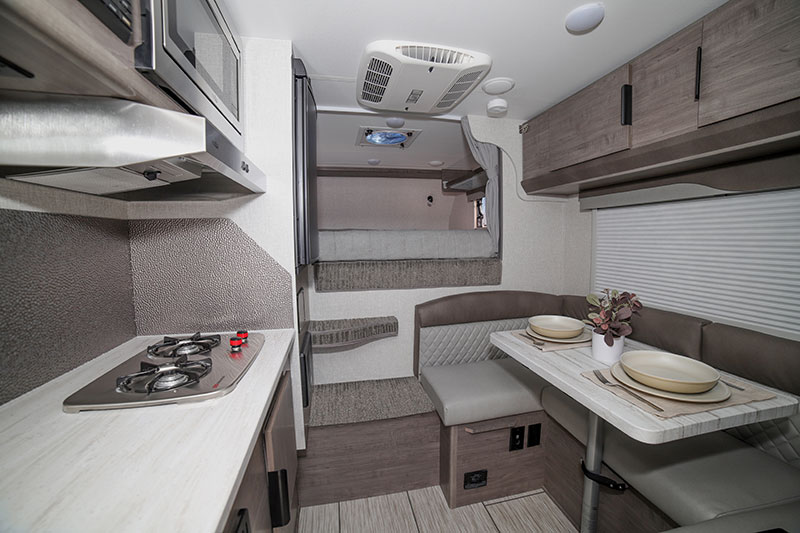 Above: The interior of a 2022 Lance 825 with Bronzite interior
What material is the solid surface galley countertop?
It's Honex, which is a premium solid surface material like Corian.  It won't scratch or chip, and you can put a hot pot on it.  It gives a premium feel to the galley and eliminates separation and burns.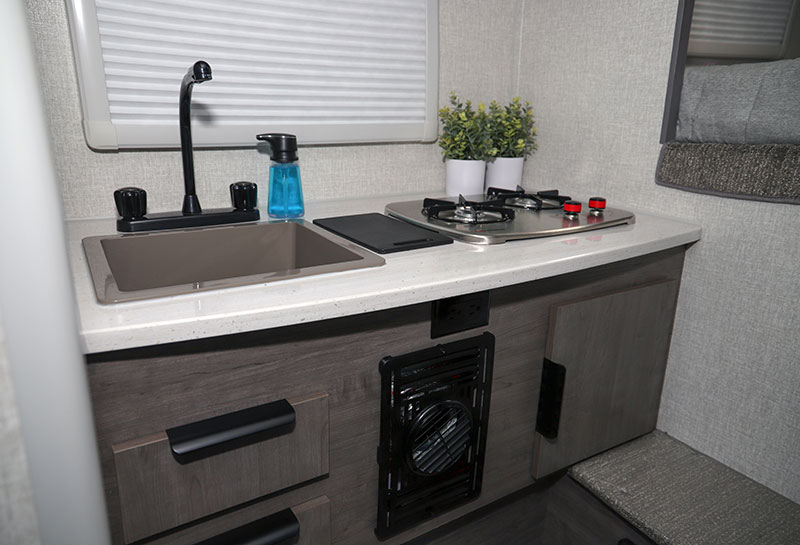 How thick is the new solid surface countertop?
It's 3/8-inches thick.  You don't want it too thin where it's going to crack or too thick for weight considerations.  There is a plywood support in the center just like you would have in a home with granite.  Installing the new counters is just like installing granite.
Solid surface counters are another way to provide a premium product to the consumer.  We saved a lot of weight going to acrylic windows and were able to balance that change with solid surface countertops.  Both are a major improvement in performance and quality.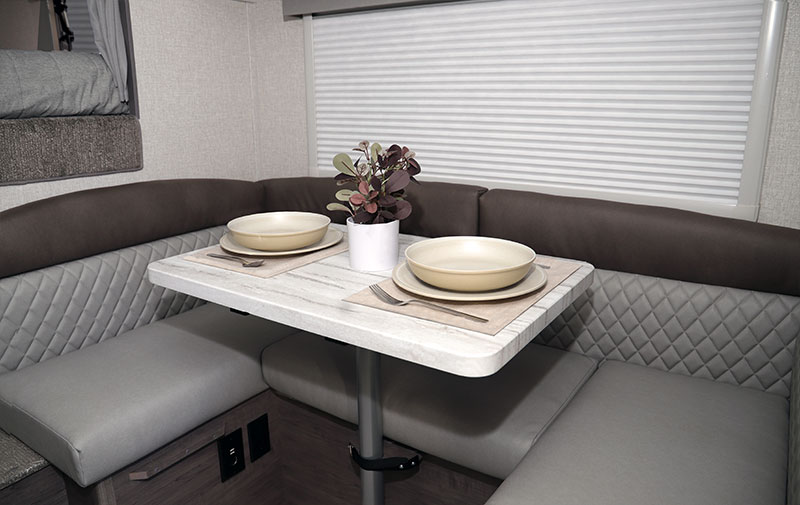 Why not use this new material for dinette tables and bathroom countertops?
For weight considerations, our dinette tables and bathroom countertops will remain our seamless thermoformed tables and countertops.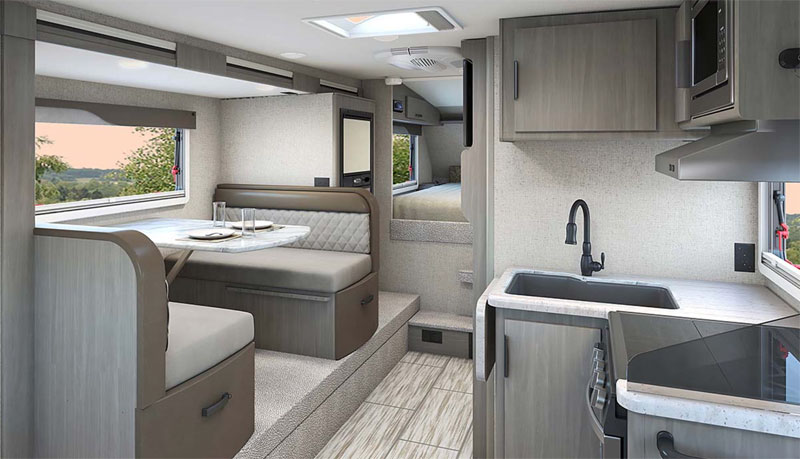 Above: A rendering of the 2022 Lance 1172
The 2022 Lance Camper interiors are also getting new flooring, wall finish, slide-out trim fascias, and refrigerator inserts.  Are these changes the same for every interior?
Yes.  The floor is a new color, but it's still a high-end Congoleum vinyl.  The color is a little lighter than what we've done in the past.  Camper interiors were getting too dark.  Dark colors make small spaces look even smaller and light colors make small spaces look bigger.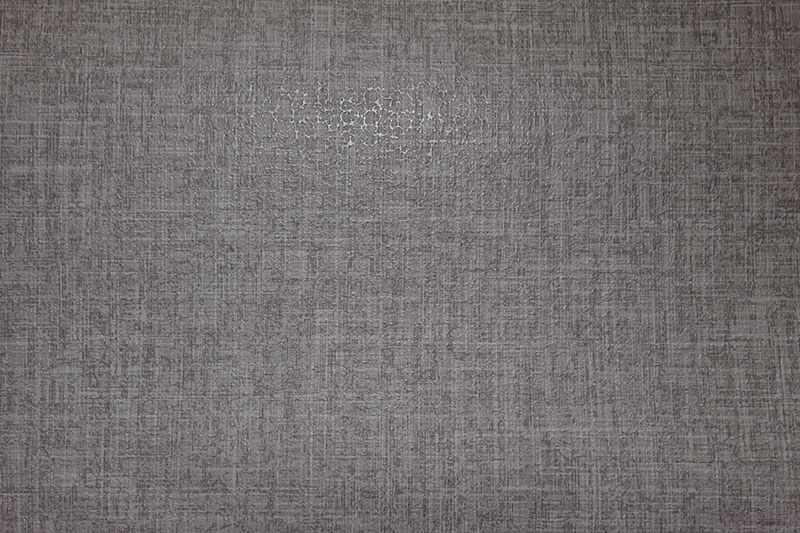 The wall finish is now a non-directional linen pattern (shown above).  The slide-out trim fascias are a different design and color, and the new refrigerator inserts match.  Overall the new interior cleans things up a bit.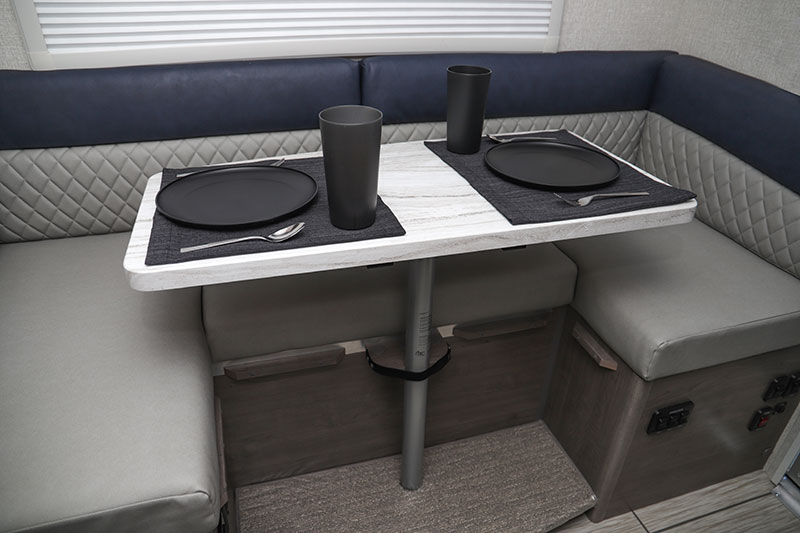 Above: The dinette in the Lance 650
The dinette cushions are changing to a diamond-stitched design.  Is this a quality improvement or just an aesthetics change?
It's both.  The new leatherette material and diamond stitching are more of a high-end automotive or marine design.  It also has a better feel.  The cushions are also two-toned for an even higher-end look.  The goal was to make our interior cushions more automotive than they've been in the past.  They're also more comfortable, and easier to clean.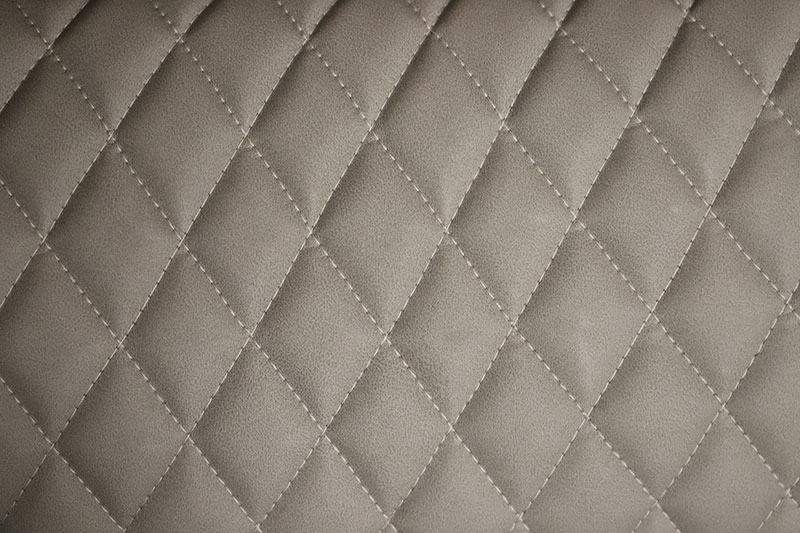 Lance is making a huge list of options standard for 2022.  Why are you making this change?
For 2022, we are making an extensive list of previous options standard.  It makes sense when the majority of these options were already being added to most orders.
The new standard includes Mountain Scene graphics, the all-weather package, swing-out assist handle, electric jacks, sink cover, microwave oven, LED side patio lights, 3-burner high-output range with oven, docking lights, battery separator, 12V/USB outlet in dinette, exterior propane connection, power 10'/12' side awning, second battery compartment, removable clothes rod, TV LED, Fantastic fan, entry door pull shade, and keyless entry.
Making nearly everything standard also gives the consumer a more precise dry weight.  In the past, you might have started with a camper that weighed 1,800-pounds dry and by the time you put on your options, it would be 2,700-pounds.  Now the base dry weight will be closer to what most people order.
All of your campers will need to have their base dry weights revised for 2022.  Does having heavier dry weights concern you?
The reality is that people don't buy stripped-down campers.  We often talk about building simpler campers that would weigh less and cost less, but that's not what our dealers and end customers buy.
Making nearly everything standard also speeds manufacturing flow and improves quality.  When every unit gets a ladder and one gets ordered without a ladder, it slows production and causes mistakes.
Believe it or not, sometimes it is slower and more expensive to delete options because of how it impacts our production line.  Customizations of any kind are difficult and expensive.  With more standardization, we can achieve faster production and higher quality.
The Truma AquaGo tankless water heater is standard on the Lance 650.  How did you decide that the Truma AquaGo was a quality product for Lance Campers?
We installed it on the Lance 1172 that the Mortons took to Alaska.  It's proven to be reliable, more efficient with propane use, and also operates on 110-volt with shore power.
The AquaGo is head and shoulders better than the water heaters that have been around forever.  We have been using them in different Lance Campers for about three years now.  For performance and efficiency, the Truma AquaGo is the way to go.
New options for 2022 include factory-installed cell boosters.  We're leaving slide-out covers and rear awnings as optional as not everyone wants them.  Torklift GlowSteps are also optional on the smaller models.
Do the Torklift GlowSteps replace the previous step systems on the 650, 850, and 865?
Yes.  The optional Torklift GlowSteps replace the scissor steps.  They make a premium product.
Are Lance truck campers increasing in price for 2022?
Yes.  With the increase in supply chain costs every RV manufacturer has seen, we needed to increase prices for 2022.  When you factor in the added standard features, the increases are more in line with where we were last year.  You're getting a lot more camper.
When do you expect 2022 Lance Campers to start shipping to dealers?
They started shipping to dealers in November.
Is the 2022 Lance truck camper brochure available yet?
Our 2022 Lance Camper brochures will be released this month.
Are you developing any new truck camper models for 2022?  How about 2023?
We are involved in the process of developing a new truck camper model, but got delayed because of demand.  We are also working on a number of areas to improve insulation and pushing forward on construction methods and numerous new materials.  We're always doing that. If you are not thinking 3 to 5-years down the road then you don't have a good business plan.
When we talked to you for the Lance 960 announcement in November of 2020, you were back to full production after a Covid-19 shut down earlier that year.  Are you still running at full production?
Yes, we're firing on all cylinders.  Even at full-production, dealer inventory is at an all-time low.
We recognize that and are prioritizing production to supply campers to those who have ordered them and for upcoming RV shows.
To check out the 2022 Lance Campers, visit LanceCamper.com. Click here to request a free Lance brochure.