Palomino RV launches their latest hard-side short-bed truck camper targeting the half-ton market.  Standing on the shoulders of the HS-650 before it, the HS-690 adds an all-new nose cap, automotive-style windshield, floor plan tweaks and an all-new interior.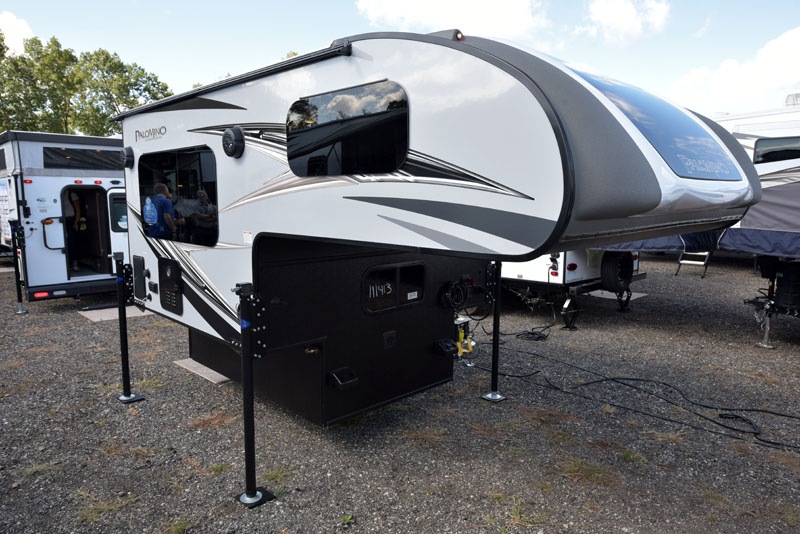 The short bed half-ton truck market is easily the most coveted and most challenging prize for the hard side truck camper industry.  There are more half-ton short bed trucks on the road than any other truck type.  That's the prize.  In reality, it's exceptionally hard to build an appealing hard side truck camper that can match the payload capacities these trucks offer.  That's the challenge.
Having observed the truck camper industry close-up for a number of years now, it always seems that the next hard side short bed truck camper weighs more than the manufacturer thought it would.  Then the dealers order the units with too many options further exasperating the problem.  If I had a cat for every time we've seen this problem, I'd have a herd of cats.  At least Angela would be happy.
Palomino RV has been chasing the hard side short bed market prize with vigor.  Many of their pop-up truck campers (and new-angled Palomino Rogue models) hit the mark with aplomb and their lightest hard sides have hit some impressive numbers.
In 2016, the Palomino HS-650 debuted with a dry weight of 1,547-pounds.  Fully wet and loaded with 500-pounds of cargo, our weight calculation brought the HS-650 model to 2,257-pounds.  That's a good match with our favorite stout half-ton; a 2019 Ford F150 XL 6.5-foot short bed, 4×4, Super Crew, 3.5L EcoBoost V6 with the Heavy Duty Payload Package and 18-inch wheels.  With over 2,800-pounds of payload capacity, there's a smart half-ton match.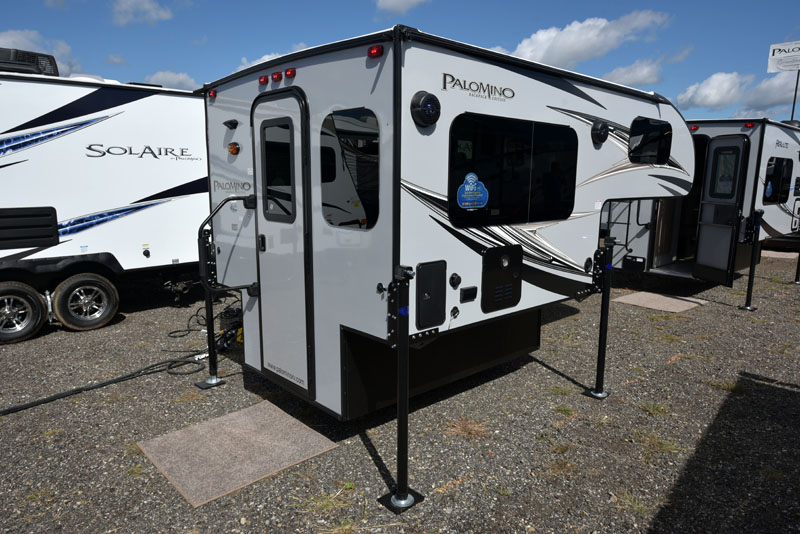 Three years later, Palomino RV is announcing the 2020 Palomino HS-690.  Evolved directly from the HS-650, the camper seeks to hit the half-ton target with greater precision and excitement.  It features an all-new front nose cap with Line-X, an automotive-style front window, new exterior graphics, frameless windows, upgraded appliances and electronics, tankless water heater and an all-new interior.
The question is, how is the new 2020 Palomino HS-690 a better half-ton hard side truck camper?  To get the official Palomino answer, we contacted Pat Hines, Regional Sales Manager for Palomino RV.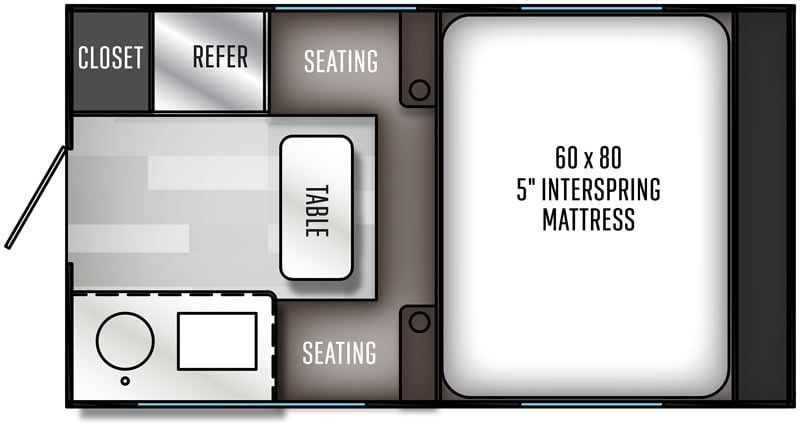 Palomino HS-690 Specifications
The 2020 Palomino HS-690 is a hard-side, non-slide truck camper for short bed trucks.  The interior floor length of the Palomino HS-690 is 6'5" and the interior height is 6'6".  Palomino RV is reporting the standard build dry weight of the HS-690 at 1,561 pounds.
The 2020 Palomino HS-690 has a 16 gallon fresh tank, porta-potti storage, and no grey tank.  The camper accommodates one battery and one vertical twenty-pound propane tank.  The MSRP for a standard build Palomino HS-690 is $20,885.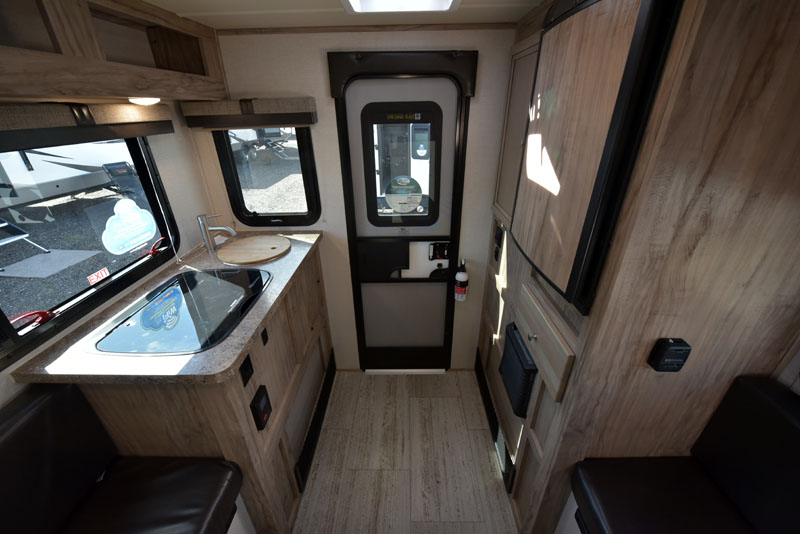 Does the HS-690 replace any truck camper models in the Palomino RV line-up?
Yes.  The HS-690 replaces our HS-650.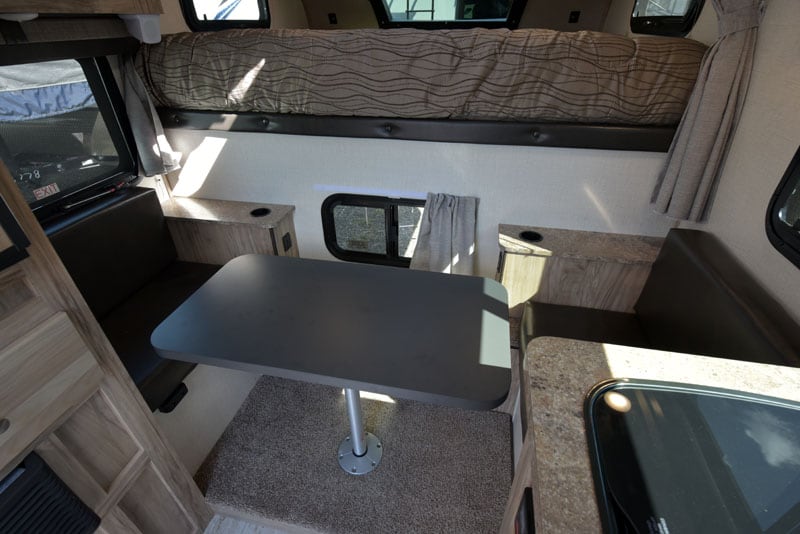 The HS-650 replaced the HS-800 in an attempt to be more half-ton compatible.  Is the HS-690 a further attempt to build a truly half-ton compatible camper?
That's correct.  Looking at the HS-690 versus HS-650, the main difference is that the HS-650 had a full rear wall.  Because of that it would only fit in 6.5-foot and shorter pick up trucks, which was a significant deterrent for that model.
As a result, the HS-650 didn't sell very well.  This makes sense considering I get at least one call a week about campers for 8-foot beds where you can close the tailgate.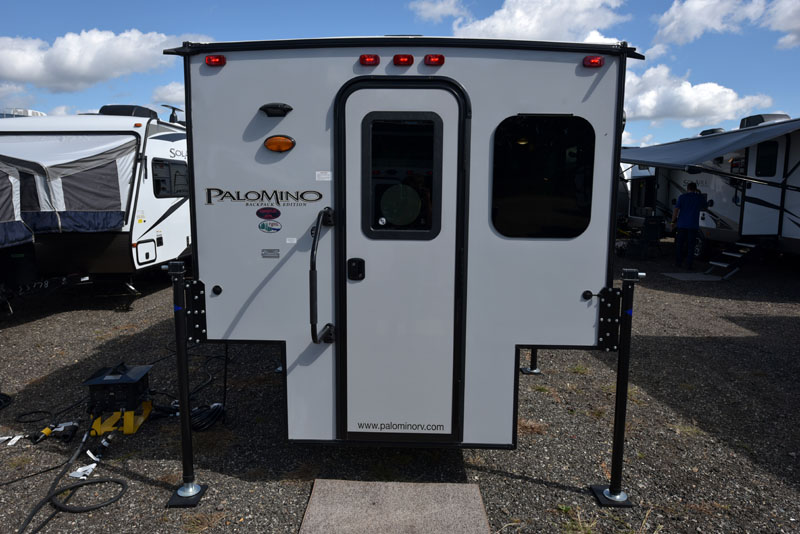 Above: The rear wall is shaped like a T to accommodate more trucks
With the new HS-690, you can close the tailgate with 8-foot beds.  This is possible because the HS-690 doesn't have a rear overhang and the rear wall is shaped like a T.  You can literally slide the HS-690 completely inside of an 8-foot bed.
This also means the 2020 Palomino HS-690 fits both long and short bed full-size trucks.
It sounds like the outgoing HS-650 and new HS-690 are very similar. Are the removal of the rear overhang and new T-shape rear wall the only major differences?
Actually, there are a number of differences.  Obviously the removal of the rear overhang and new T-shape rear wall are the most important, but we optimized the entire model.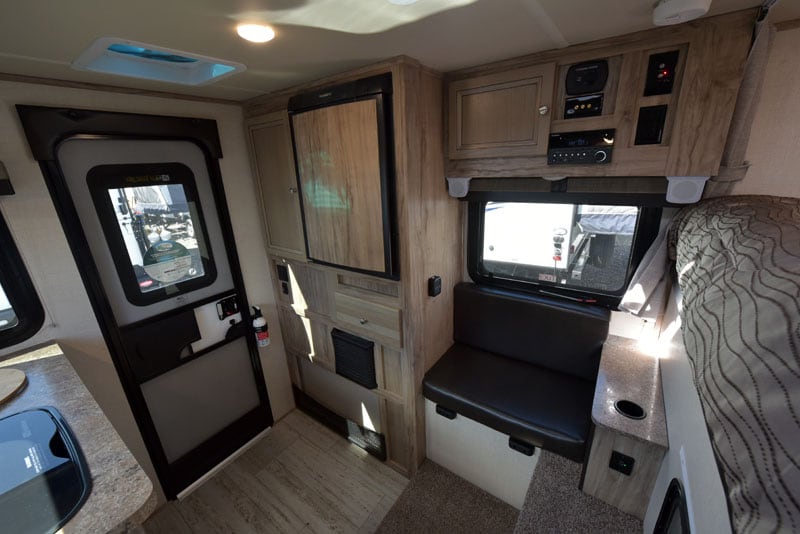 Inside the unit the refrigerator and closet were flipped.  That improved center of gravity and allowed us to improve internal storage.  The HS-690 also features our new 2020 interiors.
To keep the weight in check, we shortened the side walls just a little.  Then we added an all-new fiberglass nose cap with a windshield.  The front nose is coated in Line-X for long-term durability.
Half-ton compatibility all comes down to weight and center of gravity.  The HS-650 weighed 1,547-pounds dry.  What does the HS-690 weigh?
It weighs 1,561-pounds dry.  That's 14-additional pounds, but you get the short bed and long bed compatibility, the new fiberglass nose cap with windshield and Line-X, and a generally better camper.  We also improved the center of gravity.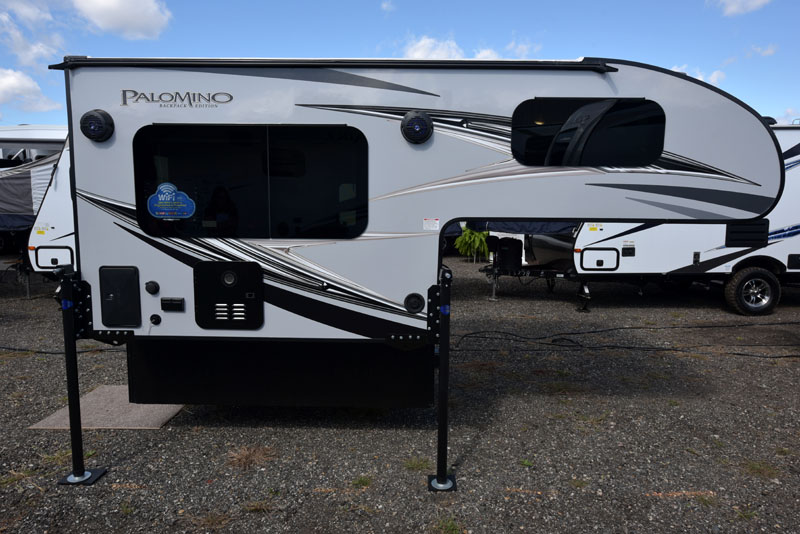 The HS-650 center of gravity was 29.5-inches from the front wall.  Where is the center of gravity on the HS-690?
The center of gravity on the HS-690 is 23-inches.  This makes the HS-690 an even better match for short bed full-size trucks.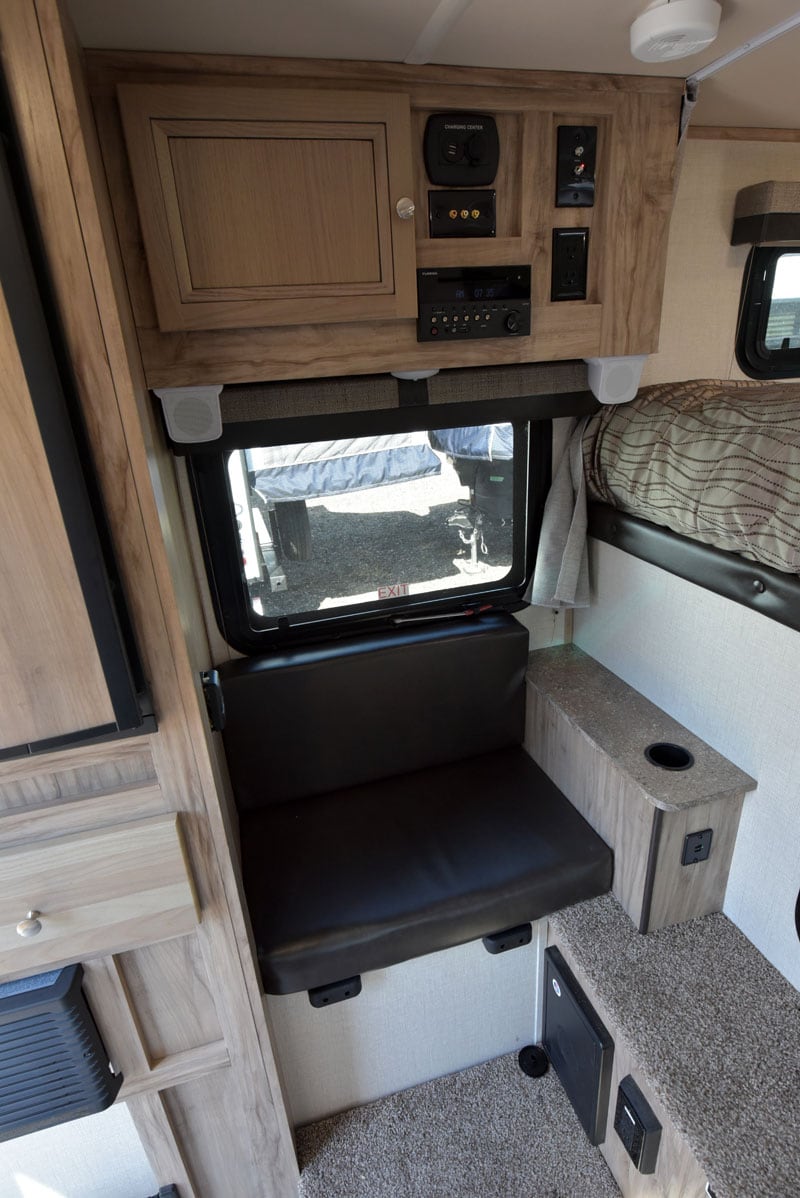 Above: The sidewall height was lowered bringing the inside height to 6'6″
Moving the center of gravity 6.5-inches forward is significant.  How did you accomplish that?
The 2020 Palomino HS-690 you saw at the Elkhart Open House was actually version three or four.  We kept building prototypes and finding more ways to improve the unit.  Moving the center of gravity forward was a major part of that effort.
Early on we lowered the side wall height.  That helped with center of gravity a bit.  Then we switched to light ply countertops and table tops.  That moved it forward again.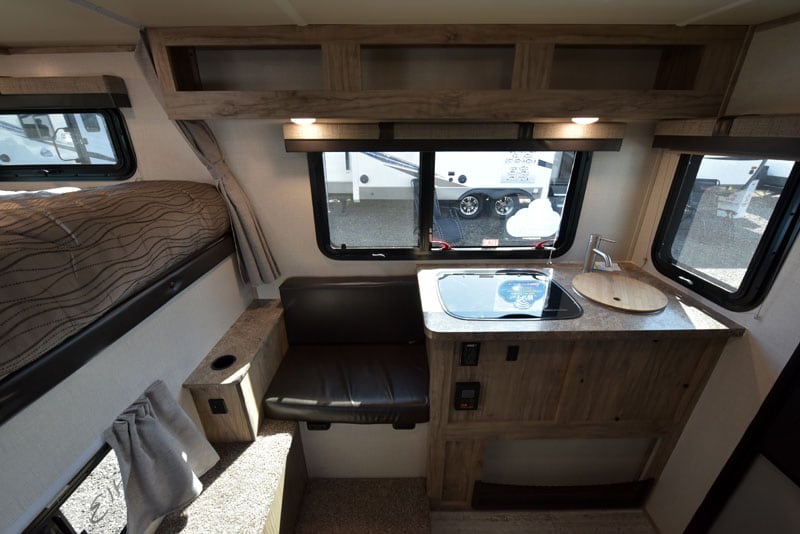 Above: The open cabinetry (top) and netting (bottom) to save weight and provide additional storage
For another prototype we removed cabinet doors and installed netting.  Storage is always a top priority for truck campers, but we are very happy with the weight, center of gravity and storage balance the HS-690 strikes.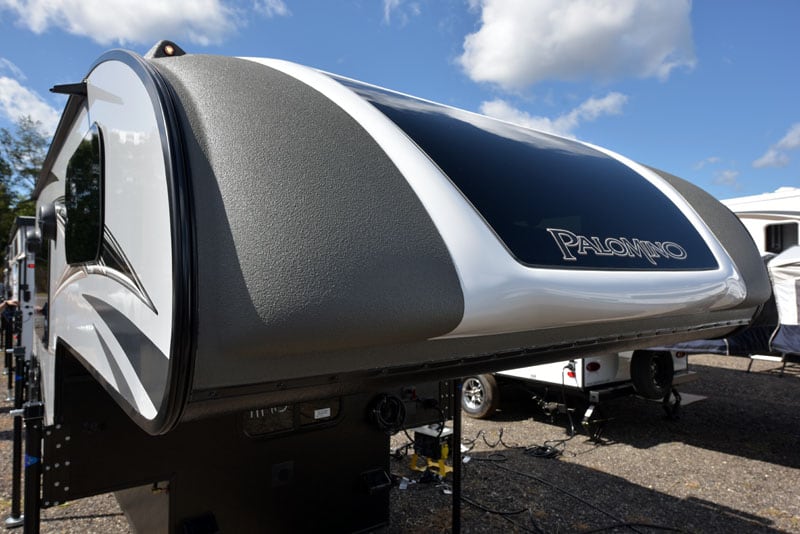 The new fiberglass, windshield and Line-X treated front nose added weight on the front of the camper.  That was the final change that further brought the center of gravity forward.  It was a process.
Where did the 14-pounds come from if it's the same length, and the walls are shorter?
Most of that weight is from the new front nose cap, windshield and Line-X. Beyond that, we did everything possible to bring down the weight without compromising structural integrity.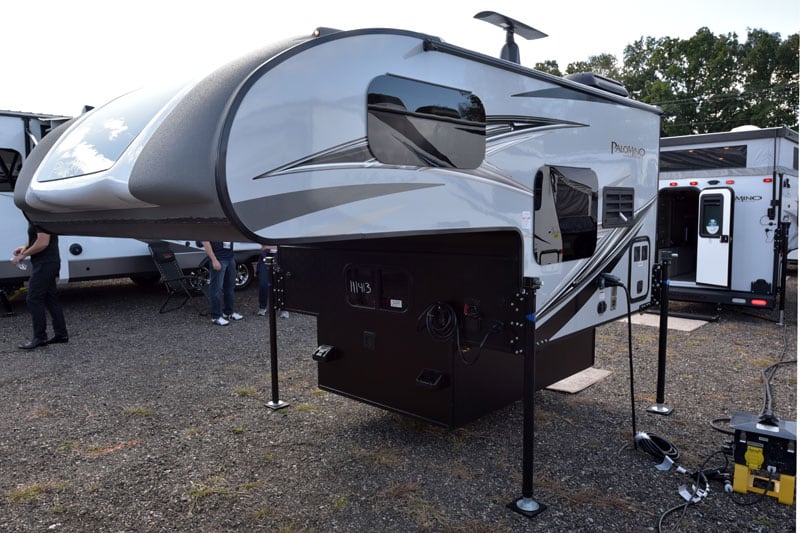 Was there anything else that you set out to improve over the HS-650?
Our main goal was to take the HS-650 and make it an improved product overall.  We are always looking for ways to make our products better.  For example, this past summer we lined up all of our soft side models out front, walked through them and decided what we could do better.
There were little tweaks like standardizing cabinet configurations.  Now we have four or five of them.  We asked, "Can we make this floor plan flow better and have less inventory in stock as far as cabinet doors and countertops, etc?"  By asking questions like that we are building better products.
We have a wonderful production team in our truck camper plant.  They come to us on a daily basis and ask questions.  We'll walk into the plant and they ask us what we think about things.  They're proactive about making improvements.
Are they new to the truck camper team or new to this plant?
Essentially they are a new team.  Our new production manager is Melvin Kauffman and he works closely with Josh Tyler and Rudy Bontrager.  They have taken ownership of our truck camper plant.
The new team members have been here about two years, so they are truly fresh blood.  They were recruited out of various RV manufacturers in the region and brought new experience and perspectives with them.  With their help, we've made some tremendous advances.  We are putting out record numbers with fantastic quality.  New ideas are constantly being presented.
Our new truck camper plant is literally twice the size as our old truck camper plant.  It's also set up much better.  The factory is lean and every station has a clear and defined goal.  On our truck camper production line, units are laid out nose to tail.  This is significantly more efficient for our production process.  Overall, we're very pleased with how things are running in our truck camper plant.
Why does Palomino RV keep building truck campers targeting half-ton trucks?
We're going fishing where the fish are.  About 80-percent of trucks sold are half-ton models.  We also know to target half ton trucks because of feedback from our dealers, customer leads generated online, and talking to customers at RV shows.
Keeping the weight down can also mean limiting options. What options are available for the HS-690?
For a weight and center of gravity-focused camper like the HS-690, we try to keep the options low.  Available options for the HS-690 include an air conditioner, 22-inch television, the Badlands package (solar panel, roof rack and second external battery box), Torklift International GlowStep system, microwave and rear awning.
We build in a lot of standard features that our competition offers as options.  If you compare our campers to others, we offer a well-equipped product at an affordable price point.  We also consider the HS-690 a loss leader to attract new customers to the Palomino truck camper line.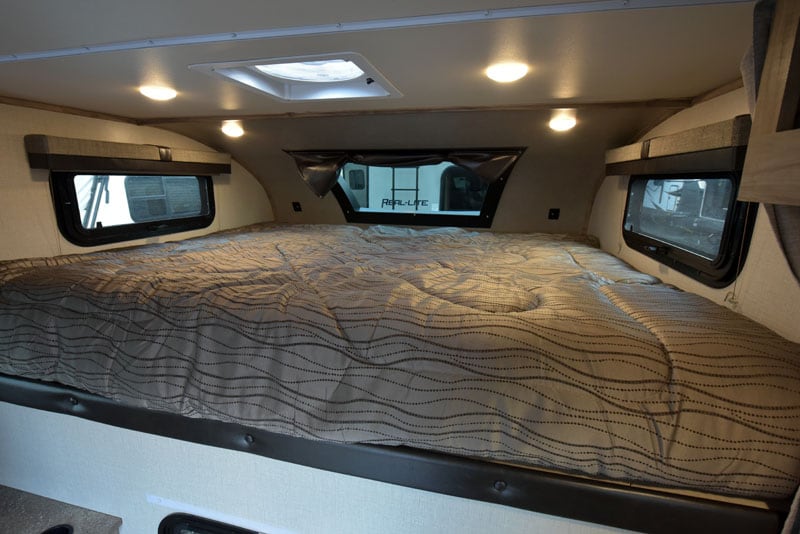 Is the HS-690 also an east-west cabover bed?  Why not north-south?
Once again the answer is weight and center of gravity.  During our prototype stage we did try to build the HS-690 with a north-south bed.  It gained too much weight for what we were trying to accomplish.  An east-west bed keeps it small and light and puts the center of gravity where it's manageable.
The HS-650 did not include a bathroom but there was a convenient internal storage area for a porta-potti. Does the HS-690 also feature a porta-potti cabinet?
Yes.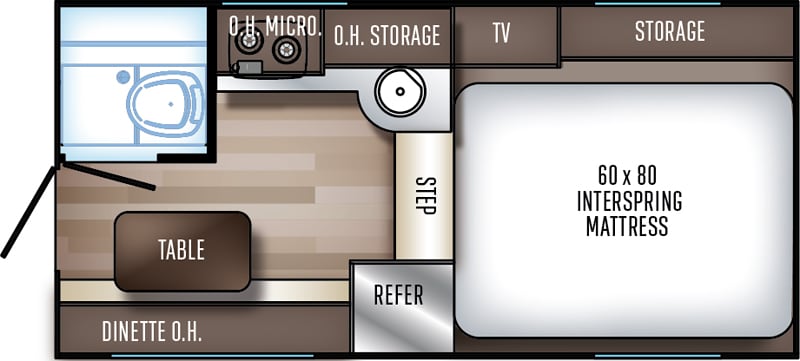 Above: The HS-750 is the lightest Palomino model with a bathroom
For Palomino customers that want a bathroom, what's the lightest model option?  And what does that model weigh?
It's going to be the Palomino HS-750 (floor plan shown above).  You gain about 300-pounds going from the HS-690 to the HS-750, but you gain a bathroom and a north-south cabover bedroom.
The first thing we noticed on the new HS-690 was the front nose windshield.  Why did Palomino decide to put a windshield on the HS-690?
We debuted front nose windshields with our hard side 2900 Max series several years ago.  That fiberglass front nose and windshield received tremendous positive feedback.  It was both functional and looked better.
Now, all of our regular hard sides have a molded gel coat fiberglass front wrap-around nose cap with a sprayed on Line-X material.  It looks great, protects the front nose of the camper, and lets a lot of light into the camper.
What about those who still say front windows are going to leak?
First of all, it's not a front window.  It's a windshield.  Our windshields are made by Guardian Glass, the same company that probably made the windshield on your cars and trucks.  As for leaks, the windshields are sealed with the same automotive grade sealants used in automobiles.  Just like a car or truck's windshield, it's a permanent sealant that you should never have to worry about.
Let's rewind to when our Guardian Glass windshields first came out a few years ago.  As it turns out, we were well ahead of the curve.  In last two or three years, it's becoming difficult to find a RV without a windshield.  Like everything else, technology and production practices are better, as are the sealants.
It's possible that rock chips or other road debris could hit a windshield on a truck camper, but it's way up there and unlikely to happen.  If you get a crack, you can literally call Safelite or any other auto glass company and it should be covered under your insurance.
Tell about the front nose fiberglass and its coating.
It's a gel coat fiberglass nose cap made in a mold.  A local fiberglass shop manufactures them for us.  The coating overtop is a Line-X that we spray in house in our 100-foot long Line-X booth.
We get the caps from our supplier and then they go to our Line-X booth.  Line-X is sprayed on the front corners to give our campers a unique durability and look.  It's basically bulletproof.  Line-X is not painted so it will not fade over time.
The HS-650 had a 16-gallon fresh tank. Did that change for the HS-690?
No, it has the same 16-gallon fresh tank.  There's no built-in grey tank.  Grey water will only be from the kitchen sink.
What's your recommended solution to handle grey water in a camper without a grey tank?
You could use something as simple as a bucket, a rolling tote or the clever auxiliary grey tank solutions that you see in Truck Camper Magazine's mod contest.
Tell us about the framing material, lamination and other construction details.
Circling back to our production process, the HS-690 is an aluminum-framed, vacuum-bonded truck camper.  Every 2020 Palomino RV truck camper is aluminum-framed and vacuum-bonded.  That includes all of our hard side and pop-up models.
So all 2020 Palomino truck campers are 100-percent aluminum-framed and vacuum-bonded?  Even the side walls, roof and floors?
That's correct.  The roofs, floors, and walls are all vacuum-bonded.  A vacuum-bonded roof makes it durable, lightweight and better insulated.
The thinking behind this comes right back to our "keep it simple stupid" mentality.  Using the same process over and over breeds quality and consistency.
Is there any wood in the structure of your 2020 truck campers?
Yes, there is wood stuffed into the aluminum tubing in the edges.  This gives the fasteners something to securely bite into.  Aluminum tubing doesn't have best screw retention.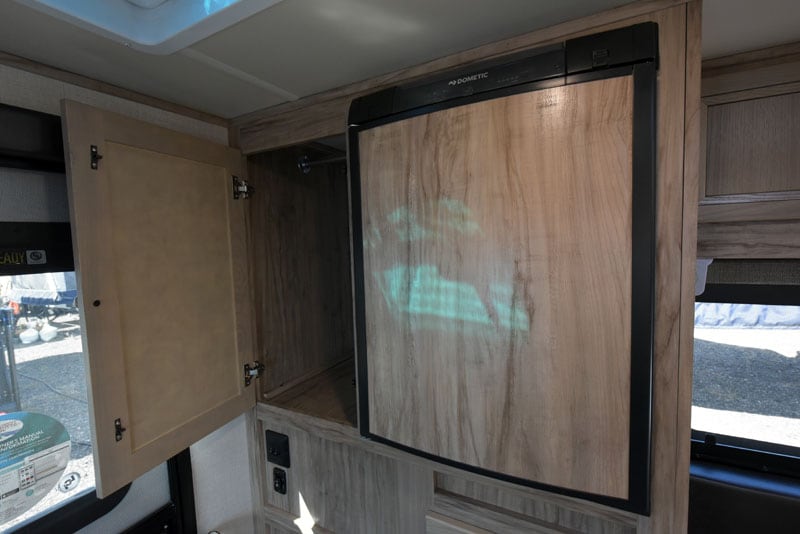 Tell us about the cabinetry and fabrics in the HS-690.
The cabinetry is all solid wood and pocket screwed.  This year we have hidden hinges on our cabinet doors which is a residential trend right now.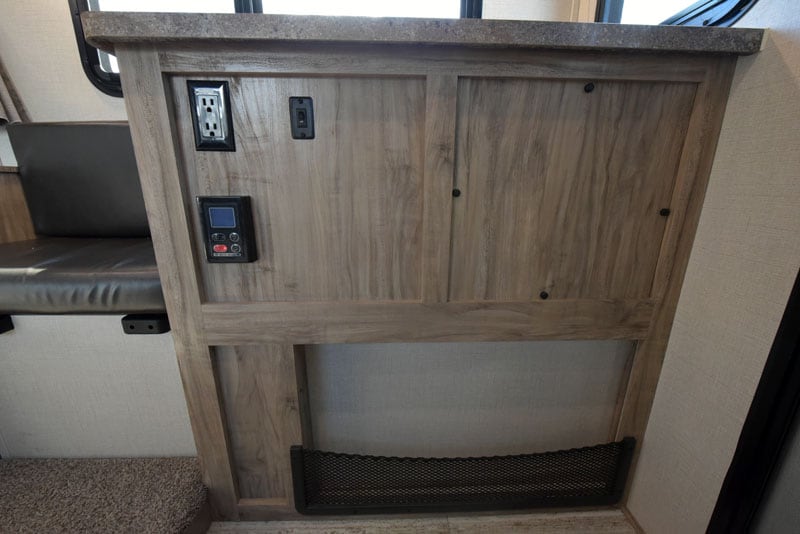 Above: Mesa Maple cabinetry
You won't see too much of that on the 690 since it doesn't have traditional cabinets with the netting and open cabinetry.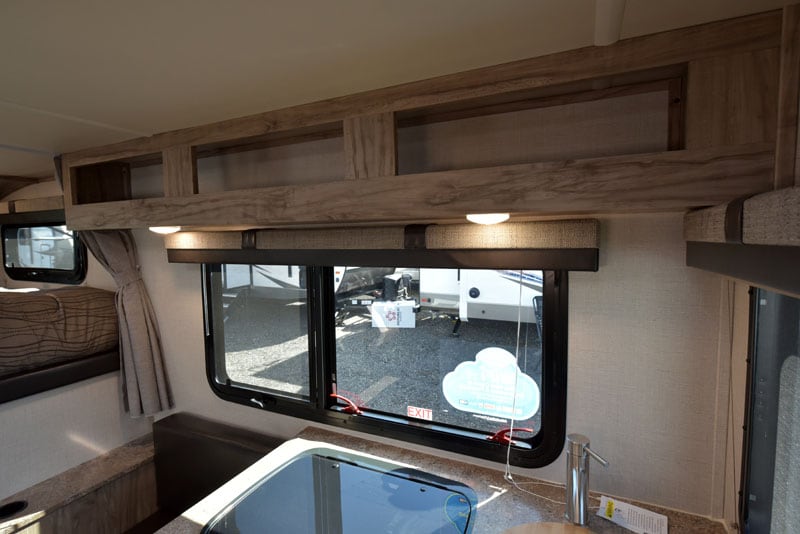 Above: Open cabinetry, the Mesa Maple interior decor
We have two cabinet colors available for our 2020 truck campers.  The standard is a Graystone Maple, which is the darker of the two colors.  We also have our optional Mesa Maple, which is considerably lighter.
The 2020 interior fabric for our dinette cushions and valences is called Pebble.  We freshen up the look of our campers each year.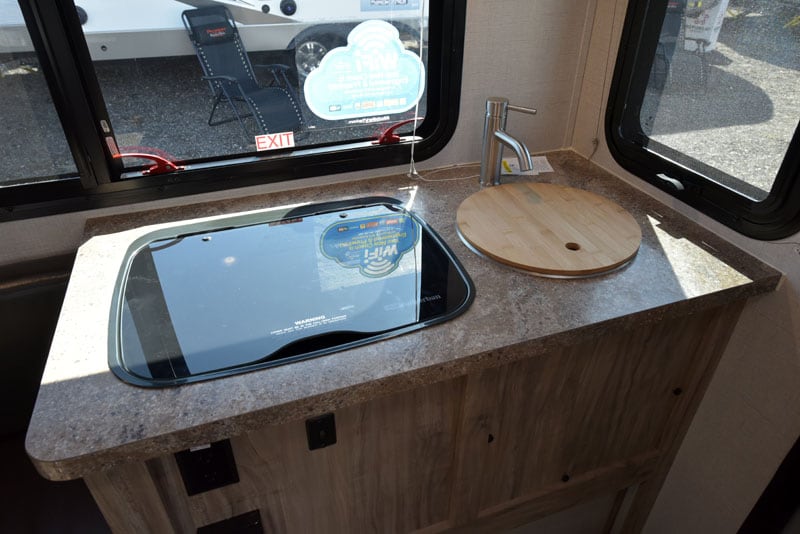 Are the various appliances including the refrigerator and cooktop the same as what was installed into the HS-650?
We improve our appliances as technology improves.  For example, there's a new two-burner range with a built-in glass cover.  Every square inch of kitchen countertop space in a 6-foot floor plan counts, so the glass cover makes a big difference.  It actually makes the HS-690 kitchen counter much more functional than the counter in the HS-650.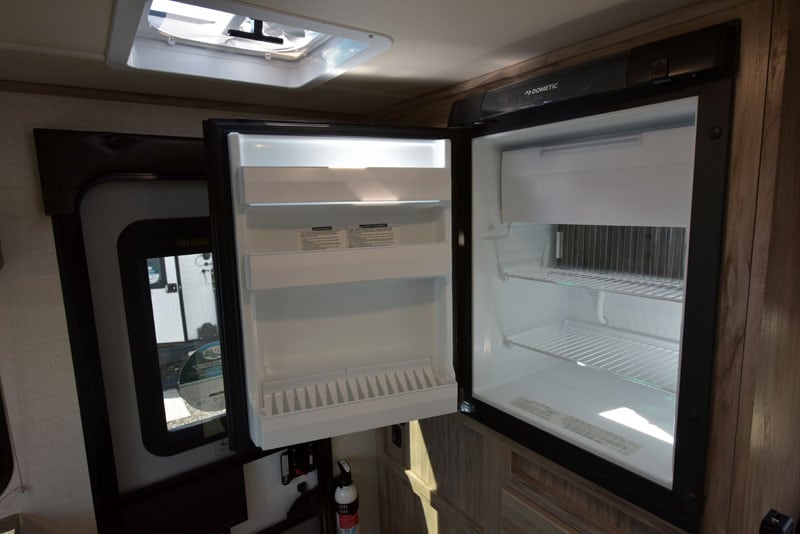 The Dometic refrigerator is a 3-cubic foot, 3-way model.  With our lean production process we use the same appliance brands across our truck camper and trailer lines.  Most everything else is the same or very similar.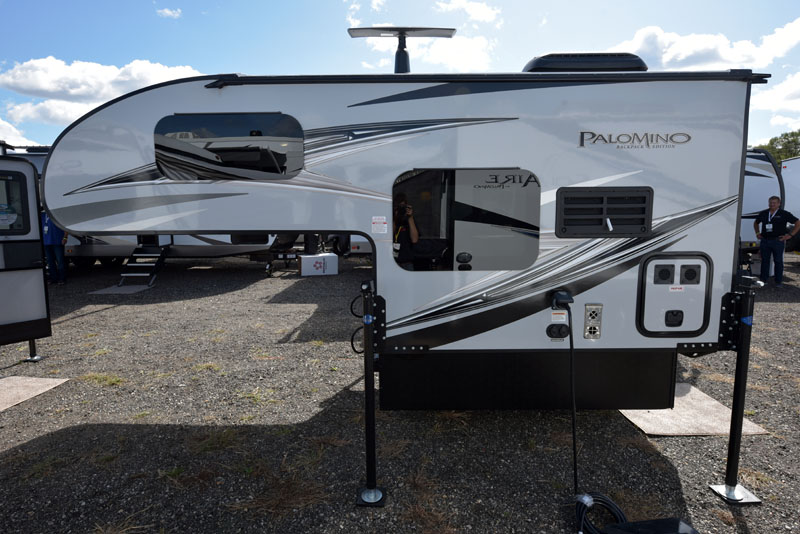 The HS-650 had a single 20-pound vertical propane tank.  Does that continue for the HS-690?
Yes.  It is located at the rear of the camper on the driver's side.
Can you get an air conditioner with the HS-690?
Yes, we offer the Coleman Mach 9000.  It runs on a portable 2,000-watt generator.
How many batteries does the HS-690 have and where are they located?
Like the HS-650, the HS-690 has a vented battery box under the cabover step that can hold one Group 24 or Group 27 size battery.  If you want a second battery you can get the optional Badlands package.
"The Badlands package has picked up steam in last six to eight months as solar and off-grid options are gaining popularity."
What does the Badlands package include?
One 100-watt solar panel and charge controller, the second battery tray and a Thule roof rack.
People are always asking if they can put kayaks and canoes on their campers.  Even if you don't get the roof rack option, proper backers are installed at the factory so that people can install one after market.
The Badlands package has picked up steam in last six to eight months as solar and off-grid options are gaining popularity.  If you want the Badlands package, it's installed at factory.
The external battery box feature has been in the field for some time now.  Has it been well received?
It's almost universally recognized as a good idea, but the external battery box does make it a bit harder to load and unload the camper.  Essentially, you have to lift the camper higher than the wheel wells to allow the battery to clear.  We are looking at other approaches to the second battery, but the external battery box works well.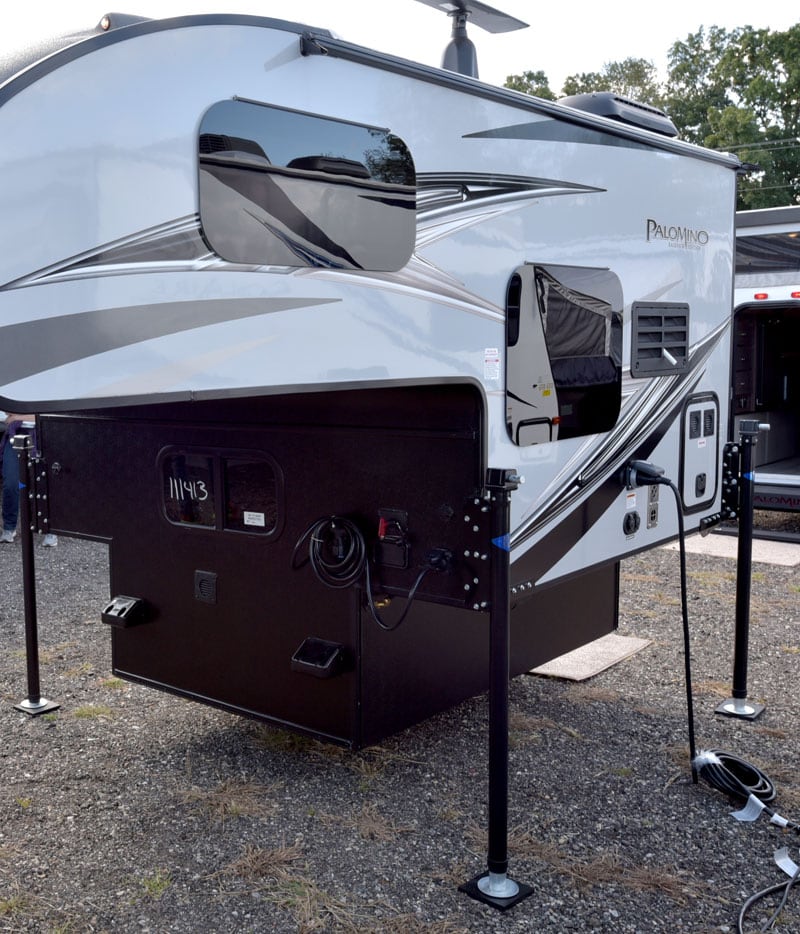 Above: Front solar port, umbilical cord, and the external battery charge port
For 2016, Palomino RV introduced solar ports on all truck camper models.  Is that continuing for 2020 and the HS-690?
Yes, all Palomino truck camper models are prepped for solar with solar ports.
We also still install the external battery charge port.  For 2020 we added an external battery disconnect on the front wall next to the exterior charge port.  When you unplug your camper from your truck, it's right there.  That feature will be on all of our 2020 hard side and soft side truck campers.
The HS-690 does not feature a bumper or step system.  What do you recommend to HS-690 customers for a step system?
The Torklift International GlowStep is our step system recommendation.
What is the MSRP for the 2020 Palomino HS-690 with standard build features?
The base MSRP is $20,885, before freight.
Most dealers are ordering the HS-690 in the base configuration to keep the weight and cost as low as possible.  Others are ordering them with options that can add a few thousand dollars and a couple hundred pounds.
"We have the buying power of Forest River behind us.  Put simply, we can buy materials and components much cheaper than our competition."
What is the Palomino RV warranty for the HS-690?
All Palomino truck campers have a one-year front-to-back warranty standard from the factory.  Our roof has a five-year warranty.  Each of the individual components, like the Fantastic Fan and refrigerator, have their own manufacturer's warranty.
When will the 2020 Palomino HS-690 be available?
We are starting full scale production of the HS-690 in the coming weeks.  Dealers should have 2020 Palomino HS-690 models on their lots by the end of 2019.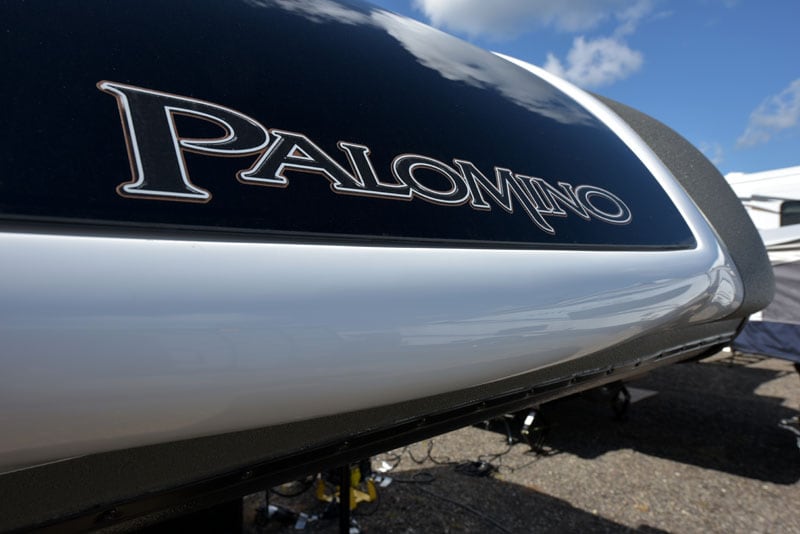 Are you looking to redesign any other truck camper models in the foreseeable future?
All I can say right now is that we are always working on improvements and coming up with new ideas in the truck camper market.  Our new Rogue pop-up truck camper is definitely out of the box and the HS-690 answers the requests of many Palomino customers.  We are excited about both.
Finally, Palomino continues to build one of the best value truck campers available.  We have the buying power of Forest River behind us.  Put simply, we can buy materials and components much cheaper than our competition.  That savings gets passed on to our customers.  We could charge you what our competitors charge, but we don't.
Check out a 2020 Palomino truck camper.  With all the improvements we have made over the past few years, you will be surprised just how much truck camper quality and value we offer.
For more information about Palomino truck campers, visit their website at palominorv.com.  Click here to request a free Palomino brochure.