Whether you have a pop-up or hard side camper, have a built-in a grey tank or not, you may need more grey water storage.  Here are four great ideas for adding more grey tank capacity to your truck camper.
1. Wheel Well PVC Grey Water Tank
Submitted by: Bob Meigs, 2011 Dodge Ram 1500, 2012 Four Wheel Camper Raven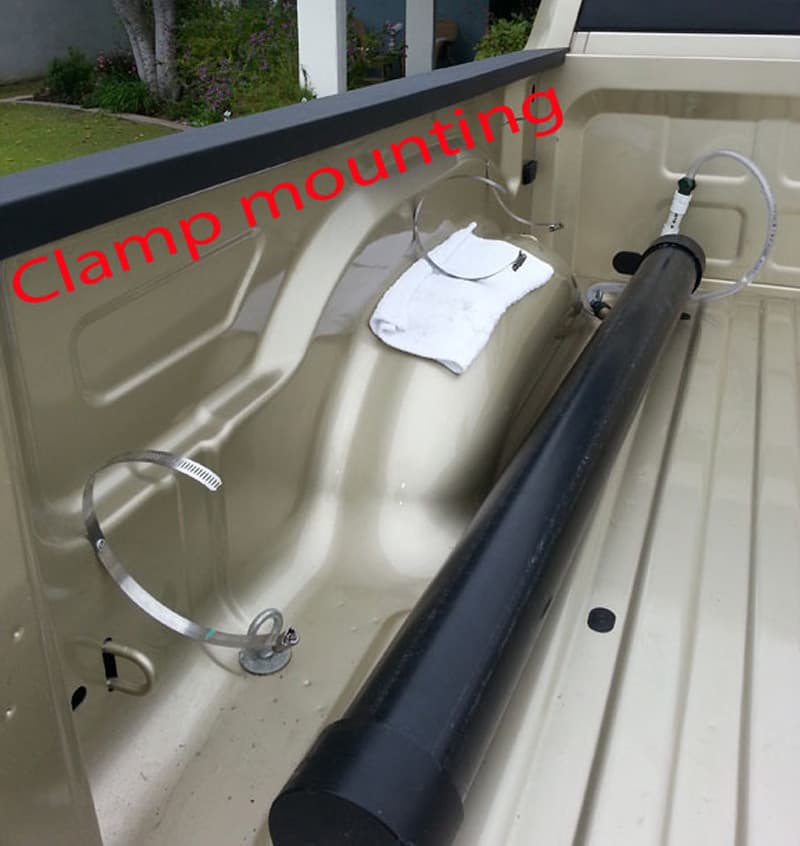 I wanted a permanent grey water storage for my Four Wheel Camper Raven pop-up camper.  Since I already had dead space over my wheel wells, that was the likely place for an onboard storage tank.
This mod is pretty straight forward.  I cut a 4-inch ABS drain pipe to fit the length of my truck bed and left enough room for end caps, fittings, etc.  The pipe is mounted at an angle so the water flows to the drain valve at the rear of the camper.
I used hose clamps to keep the pipe tight to the truck.  This makes it easier to put the camper back on.  I used four adhesives; ABS, PVC, silicon caulk, and a special ABS/PVC adhesive for where you bond PVC to the ABS.  I got all of the adhesives at Home Depot.
The silicon caulk was used to adhere a vent tube on the high end so air can escape to displace the entering water.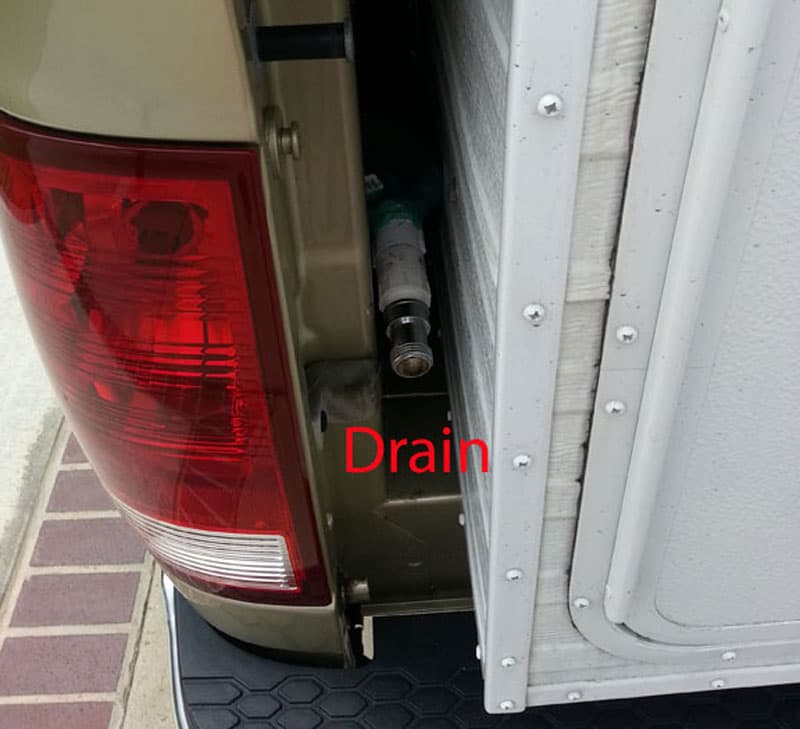 This modification works great.  The tank holds 3.5-gallons on a short-bed truck.  If I exceed the 3.5-gallons due to long stays, I can drain into a bag or bucket.  The best part is that I can now use the sink anytime without setup.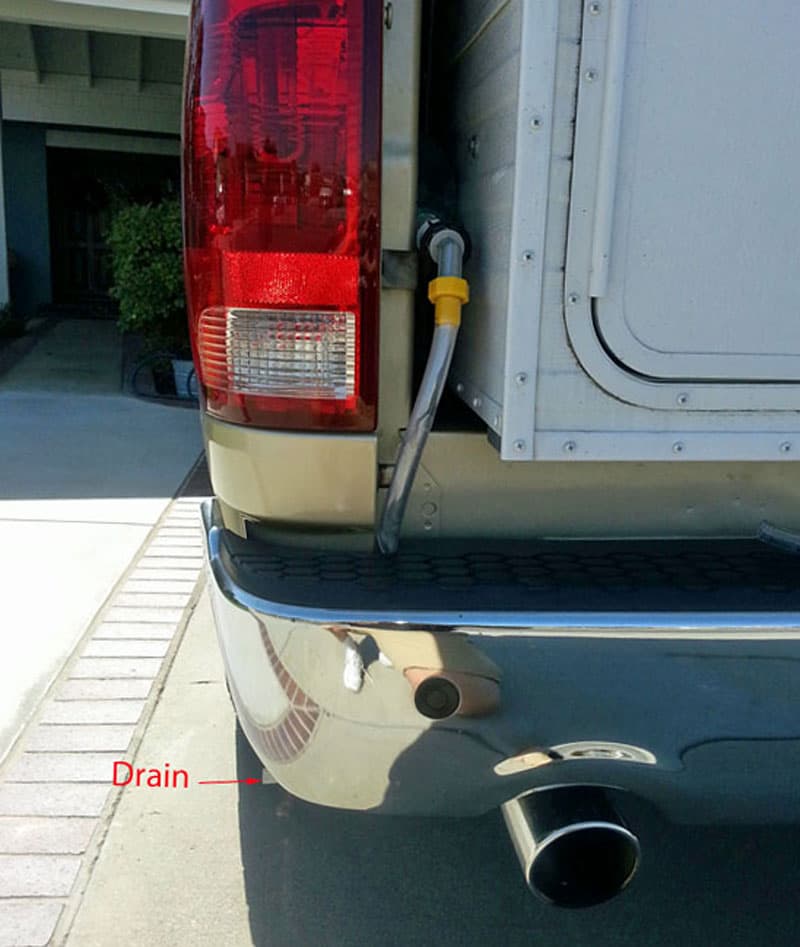 The mod took me about two hours and cost $25.  In my opinion, the skill level of this mod is medium.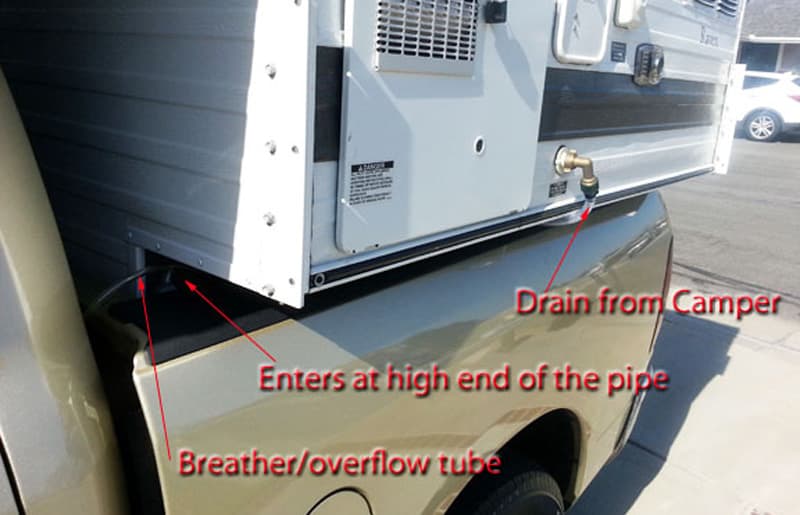 2. Auxiliary Grey Tank
Submitted by: Gerry and Lynn Minor, 2009 Ford F150, 2006 Palomino 1251
While traveling to Colorado last May, we quickly realized that not having a self-contained unit had some downsides.  For example, what to do with dish water after you stop for lunch in the parking lot in the middle of Indianapolis Motor Speedway.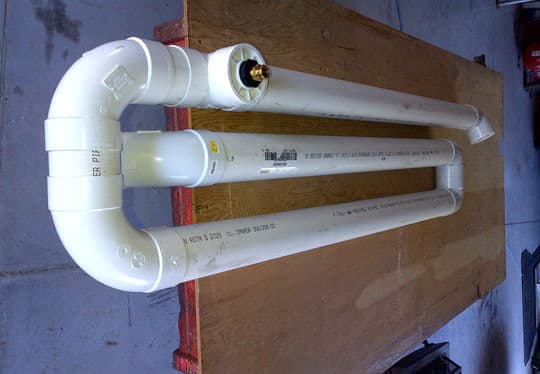 Above: Gerry's grey water auxiliary tank – click to enlarge Gerry's photos
When we got home, we first upgraded to a larger pop-up camper since space was always an issue.  But, I still had to solve the grey water issue as the camper didn't have a grey water tank.  After a failed attempt to use a portable waste tank, I came up with this idea.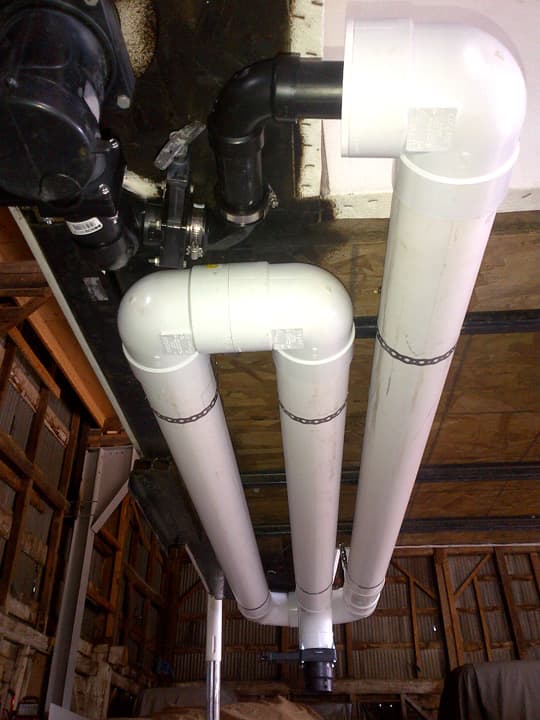 Using just ordinary drain pipe from our local hardware store, and a few plumbing fittings, I created a loop of pipe that holds just about as much water as our onboard fresh water tank.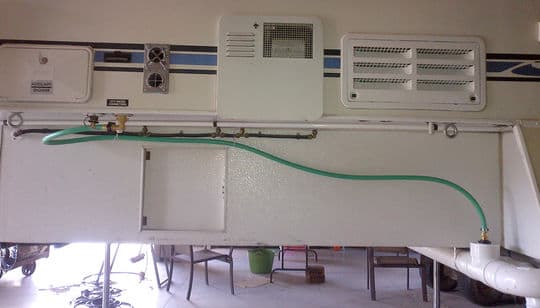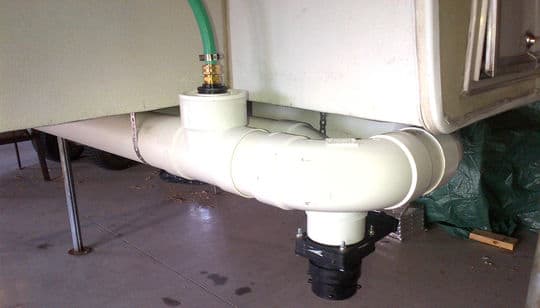 Then, I installed a T where the camper drain came out the bottom and added a blade valve to allow the water to enter the new holding tank.
Hint: It is hard to see in the pictures, but I used a rubber elbow to connect to the camper.  This allows for some vibration.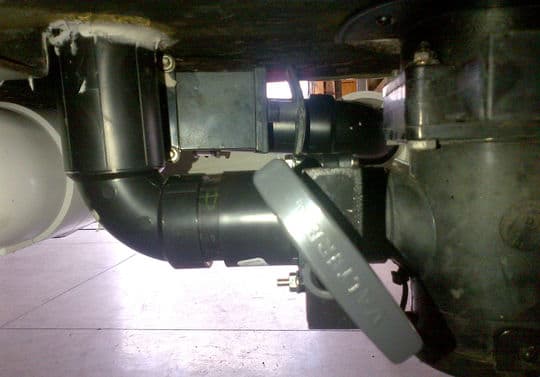 Now we can use the sink, rinse our feet after a day on the beach, or even take a quick shower after hiking.  Only basic tools are required for the project, and it works great!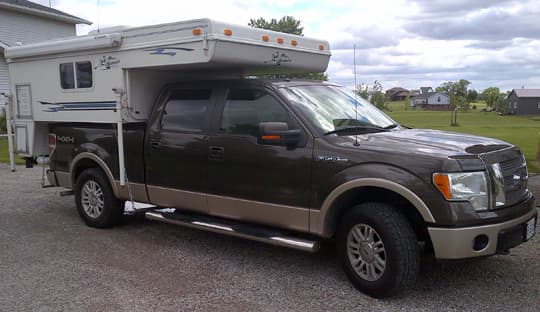 It took me five hours to complete and cost $100.  In my opinion, the skill level of this mod is medium.
3. Grey Tank Modification
Submitted by: Bill Harr, 2005 Toyota Tundra, 2002 Four Wheel Camper Hawk
A Four Wheel Camper uses a hose and bucket as a grey water tank.  If we wanted to stealth camp, we couldn't use the sink.
I built a small tank that fits between the camper and the side of the truck.  Because I have a Toyota Tundra, I did not have room to run a drain between the camper and the tail gate opening.
To solve this, I drilled a hole in the side of the stop for the tail gate and added a valve.  This hole is covered when I put the tail gate back on if I take the camper off.  This modification has worked out great.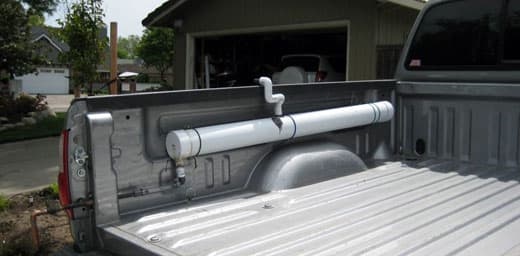 4. Added 9-Gallon Grey Water Tank And Generator Tray
Submitted by: William Cooke, 2002 Dodge 2500, 1966 Avion C-10
My 1966 Avion C-10 truck camper did not come with a grey water holding tank.  It only came with a black tank.  Also, I did not have any compartments or space for an onboard generator.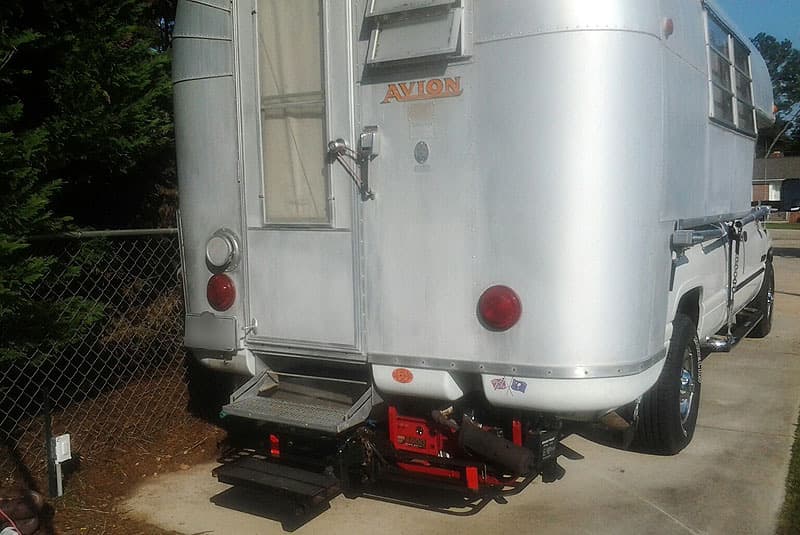 I added a 24-inch hitch extension to tow a Volkswagen or a small trailer.  I modified a 20-inch by 48-inch tray to fit under the receiver extension.  It is dropped down 3-inches lower than the tube.
I then modified a XP-series Generac generator by removing the top mounted fuel tank and shortening the frame to 13-inches tall to fit under camper's rear overhang.  I also added a universal fuel pump.  The generator is located on right side of carrier.  The fuel tank can be located on the left side of carrier or set on the ground when parked.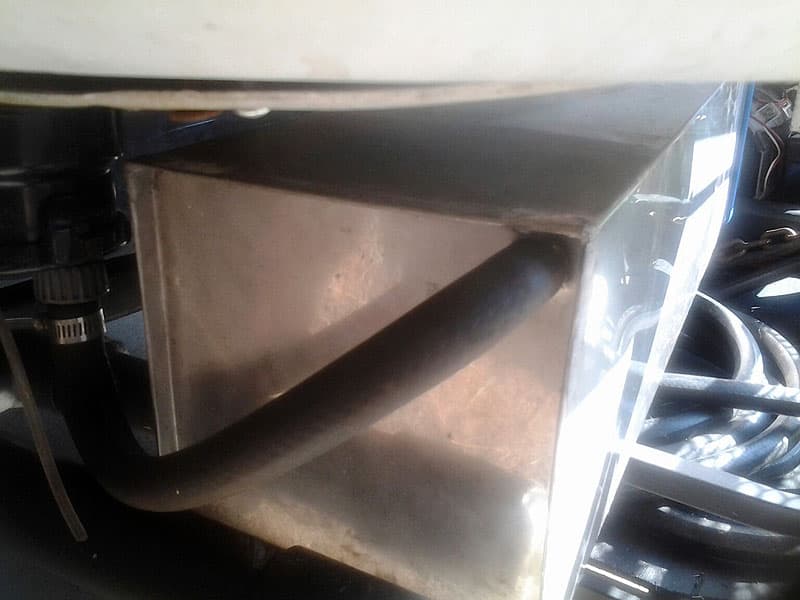 For grey water, I added a stainless tank that's 7.5-inches by 7.5-inches by 36-inches that's calculated to hold 9-gallons of water.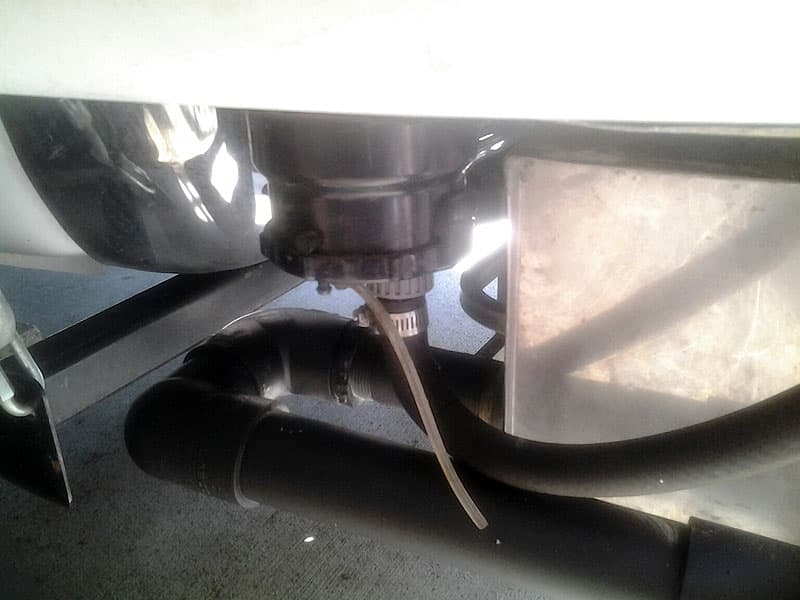 The tank fill and drain are located adjacent to the factory's black drain outlet.  Now, the grey water can go into the tank.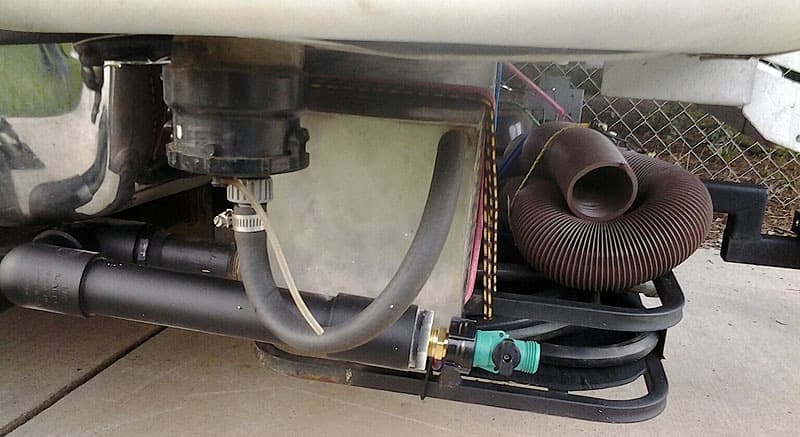 The room left under the left side of the carrier can be used for a sewer hose or longer water hoses.  It all works great while traveling or for stops at Walmart.
The ground clearance under the carrier is 8 to 9-inches.  Should the ground clearance be close, the very bottom tube will just slide over the dirt.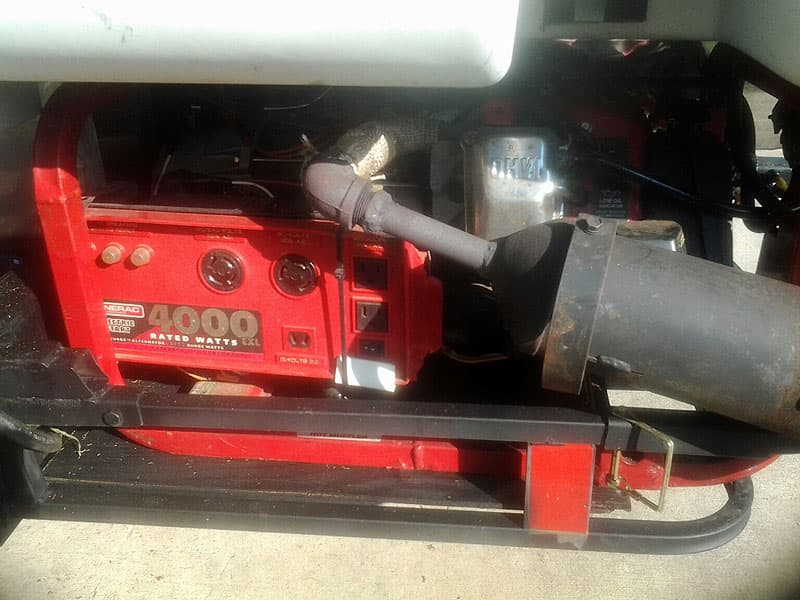 It works well, but you must plan trips to use a 4,000-watt generator.  When parked for longer times I carry two 2,000-watt Honda generators with 6-gallons of fuel.  My supply in the boat type tank is 2-gallons in the generators.  It lasts all weekend.
It took me 6 to 8 construction and welding hours to complete.  The cost of the carrier was $60 and the stainless water tank was from an old Airstream trailer I had on hand.  In my opinion, the skill level of this mod is hard because the generator and carrier tray require welding.