Lance Campers debuts all new exteriors, three new interiors, an all-new logo, lithium battery option, and teases their first new truck camper model in four years.  It's a…

Let's state the big news right up front.  Something is finally cooking in Lance's truck camper design department.  Early next year, the all-new Lance 960 truck camper will make its debut.
During the following interview for Lance's 2020 Announcements, Randy Hunter, Engineering Product Development Manager, gives us some tantalizing details about the new Lance truck camper model.  We can hardly wait to see what the Lance team has come up with.
No pressure Randy.  Really.
For their 2020 announcements, Lance is debuting an all-new exterior, three new interiors for their smaller units, a new lithium battery option and an all new logo.
From this list, there was a lot we needed to ask about.  For starters the all-new exterior and logo has made the appearance of the 2020 Lance truck campers remarkably different.  Where did this new look come from?
The new interiors were impressive in person at the Hershey RV Show in September, but they are only being made available in the smaller models; the Lance 650, 825 and the 865.  What's the story behind these new interiors, and why are they only available on select floor plans?
We are absolutely full of questions about Lance's new lithium battery option.  Lithium is a technology the entire RV industry is starting to tackle.  What has Lance's research and development team learned about lithium battery technology, and how are they planning to embrace lithium moving forward?
For more information about Lance Camper's 2020 truck camper announcements we talked to Randy Hunter, Engineering Product Development Manager for Lance Camper.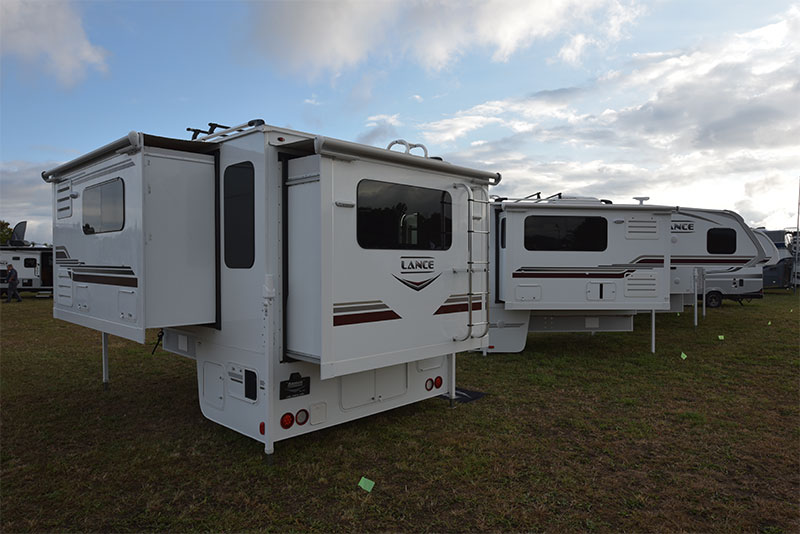 Above: 2020 Lance truck campers on display at the Elkhart Open House this past September.  Check out the full line in the Lance Buyers Guide.
Are any new Lance truck camper models being added or old Lance truck camper models being deleted for 2020?
Right now we are working on the Lance 960, an all-new model for 2020.
We are not dropping any current truck camper models for 2020.  With the upcoming Lance 960, we will offer ten Lance truck camper models; five non-slides, three single-slides and two double-slides.
You're making news with the upcoming Lance 960.  Is the Lance 960 still in CAD, or are you already building the prototype?
We are building the Lance 960 prototype right now.  The walls are getting laminated and we're working on a new bumper design with Torklift International.  When it all comes together, it's going to be a very nice Lance Camper.
What's the timing for the Lance 960?
The plan is to debut it in January 2020.
Can you tell us anything else about the new Lance truck camper?
It's a unique 9.5-foot non-slide floor plan with a wet bath.  The camper will feature a generator, electric awning, Euro window design and nice tank capacities.  Inside there are some unique seating arrangements.
The 960 represents the state-of-the-art in Lance's signature lightweight construction.  The management team comes down daily to see how it's going.  We are pulling out all the stops.
I haven't seen anything like it from any other camper manufacturer.  It's very roomy.  The way the floor plan is set up doesn't make it seem cramped.  I wish I could tell you more.
As you know, it's been four years since the last new Lance truck camper debuted (Lance 650).  Why has it been so long since we've had a new Lance truck camper?
Since debuting our last new truck camper we have launched five new travel trailers.  The travel trailer market has just been skyrocketing and we needed more travel trailer models to expand our floor plan offering.  In that same time, we noticed truck camper demand slightly softening.
Don't you think the softening demand for Lance truck campers might be tied to the lack of new Lance truck camper debuts?
It's possible.  At the Elkhart Open House, Hershey RV Show and California RV Show there was an increased interest in truck campers.  I'm really excited about the Lance 960 and where that new model will take us.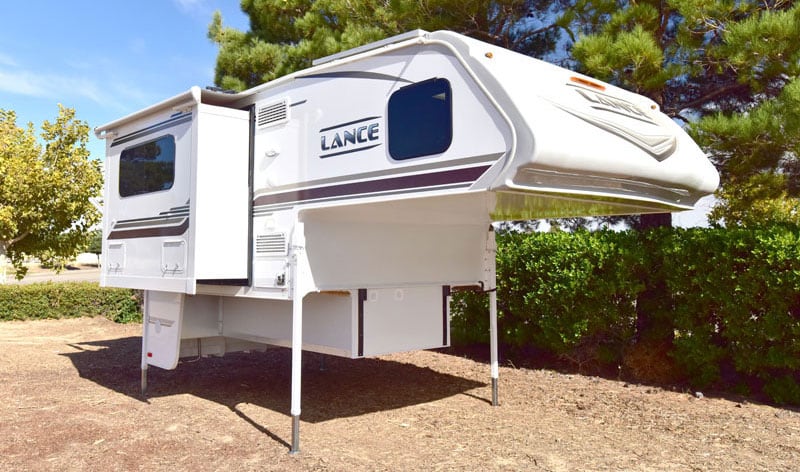 Above: 2020 Lance 855S, short bed, slide-out with the new exterior look
The new exterior design is very linear with minimal curves and swoops.  Where did the inspiration for this look come from?
We have attended the Caravan Salon RV show in Düsseldorf, Germany show for several years now.  The European RV market is light years ahead of most RV manufacturers here in United States and Canada.
One of the design features we brought back from our last trip to Düsseldorf was the minimal use of exterior graphics.  In Europe, they're not into swoops and swirls on their RVs.  Their exterior RV designs are minimal and more linear. Everything in the RV industry is going to a more linear automotive look.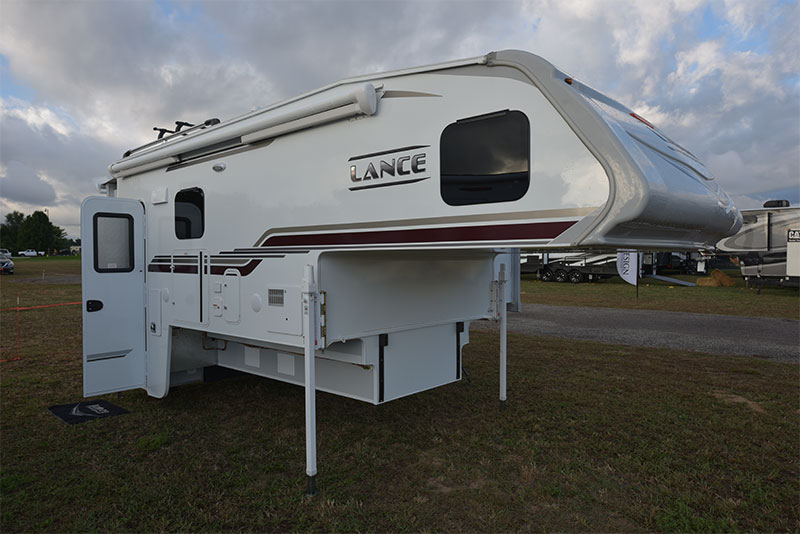 Above: The 2020 Lance 1172, double-slide, side-entry long bed model
For 2020, we have incorporated that European look into our models.  This change was also inspired by our customer surveys that stated our exteriors were becoming outdated.  We have received positive feedback about our new 2020 look.
Will you still be offering the mountain scene exterior?
The mountain scene graphics have taken off.  We have actually had customers remove their standard decals and install the mountain scene graphics.  The mountain scene started on the truck camper side and is now a hit on the trailer line as well.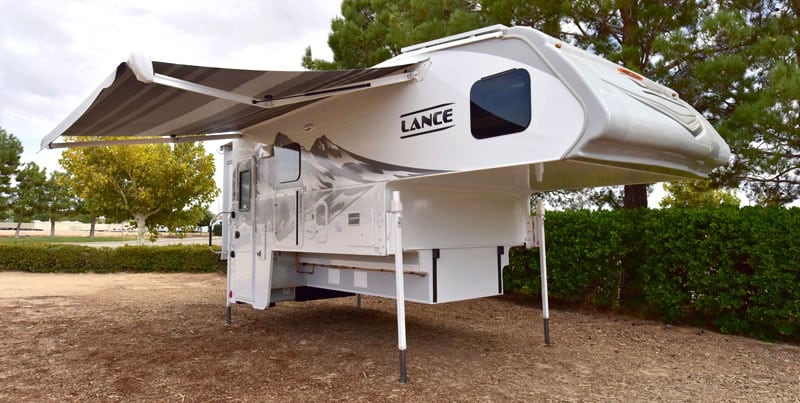 Above: 2020 Lance 1172 double-slide with the mountain scene graphics
The mountain scene exterior has been out for a few years now.  How are those large decals holding up in the field?
We haven't heard any negative feedback.  You always get customers who hit a tree branch or sharp object and penetrate the graphics, but that's true of any exterior decals or graphics.  From a weather-ability standpoint, the mountain scene graphics are doing fantastic.
I asked about the mountain scene graphics because some of the front nose Lance logo decals on late-model Lance Campers (with the front nose cap) have disintegrated.  Is it possible for these customers to get a new front nose decal?
We are aware of that.  The front nose decals were supplied by Vomela, a company that specializes in exterior decals and graphics.
Vomela is researching why the Lance logos got brittle and peeled off our TPO front caps.  Once we get that information from Vomela, we should have a solution.  Once that becomes available it will be handled by our Parts and Service department.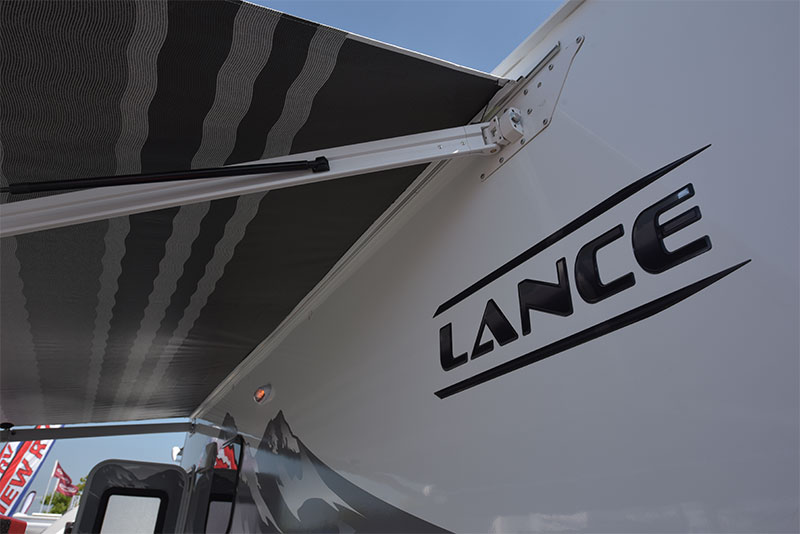 As a company that's been in continuous production for over 50 years, the Lance Camper logo is iconic.  Why did Lance decide to change it for 2020?
That change is also traced back to our design partnership with Vomela.  We worked with the Vomela team to develop the new European-inspired graphics.  As part of that process, they designed a new logo that worked better with the new European look.
We originally had no intentions of changing the Lance logo, but we really liked how Vomela's new logo worked with the new graphics.  It was refreshing and new.
When the new logo was presented internally, we said, "Wow!  That looks great!"  It actually went around the table for several weeks with a few revisions and tweaks but, over time, we started gravitating to it.
The 2020 Lance Campers with the new logo debuted at the Hershey RV Show in September and have gathered considerable praise.  Not everyone likes the new look of course, but a number of customers have already asked if they can change their exterior graphics and logo to the new look.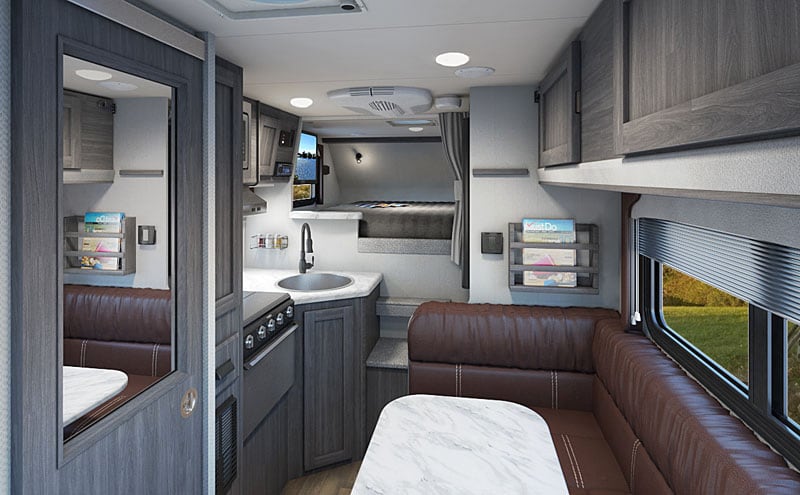 Above: 2020 Lance 865 with new Java and Driftwood décor
Tell us about the new interiors for 2020.
For 2020, we introduced a new Grey Maple wood grain panel we are calling Driftwood and new wall décor and ceiling panel design.  We are offering Platinum (grey tones), Java (burgundy/brown tones), and Royal (blue tones) as the actual interior décor packages.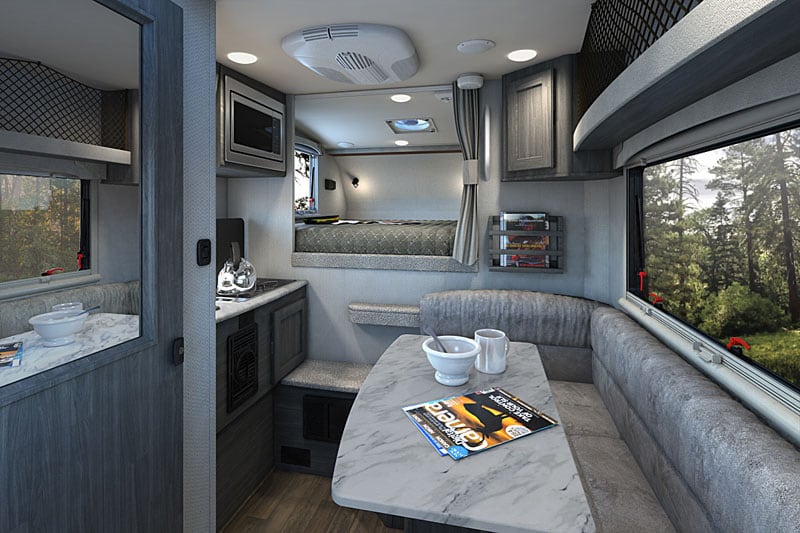 Above: 2020 Lance 650 with new Platinum and Driftwood décor
These three new interiors are initially being offered in the Lance 650, 825 and 865.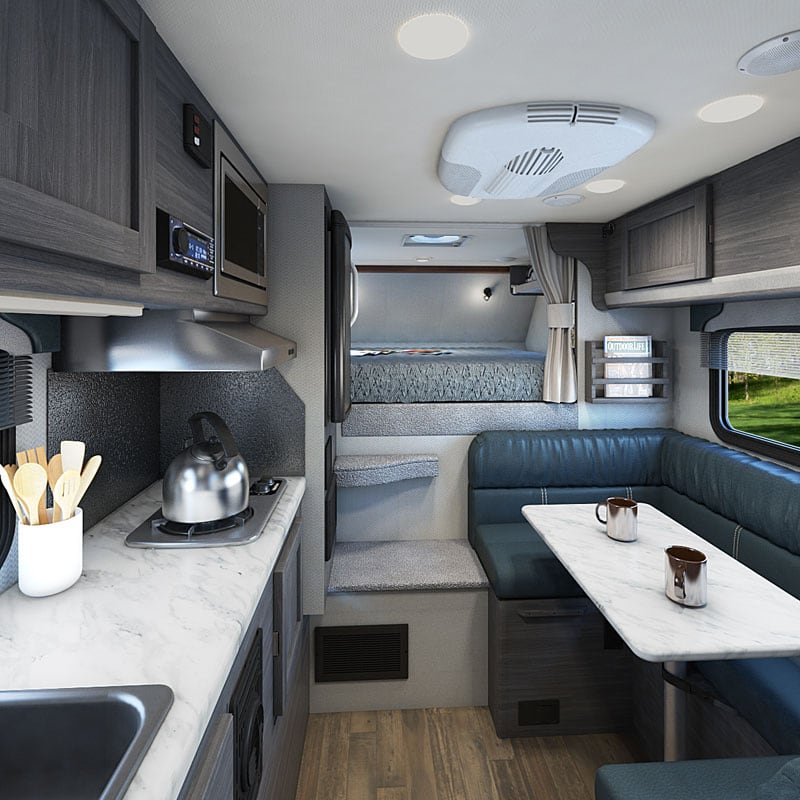 Above: 2020 Lance 825 with new Royal and Driftwood décor
Cindy, our decor consultant, goes to the major home furnishing shows.  She's got a keen eye and knows the residential market.  Grey has become the new brown.  If you start looking at the other truck camper manufacturers, they are also offering grey.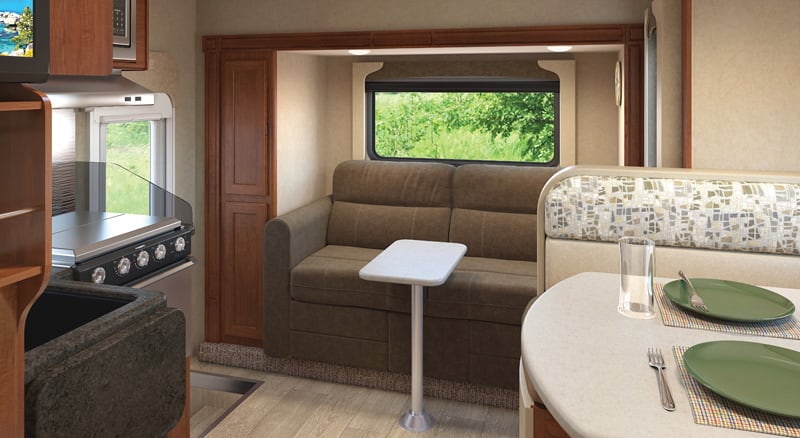 Above: Lance 1172 with the Mystic Shores décor
Are you discontinuing any interiors for 2020?
Yes, we are discontinuing the Midnight interior.  We actually discontinued Midnight earlier in the year as the black vinyl was just a little too dark.
The smaller units will be produced with the new Platinum, Java and Royal interiors and the larger models will continue with the 2019 interiors; Mystic Shores (shown above), Passage and Roadster interiors.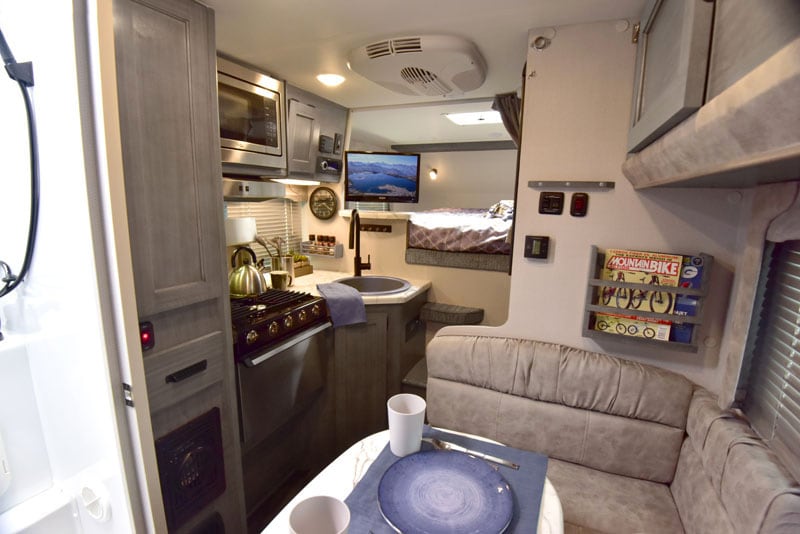 Above: 2020 Lance 865 with new Platinum and Driftwood décor
Why are the new interiors only being put into the smaller Lance truck campers?
The conventional maple look makes the smaller campers look dark, so we went to the Driftwood grey tones in those models.  Driftwood will also be in our small trailers.  The plan is to roll out the new interiors into the larger Lance models later in 2020.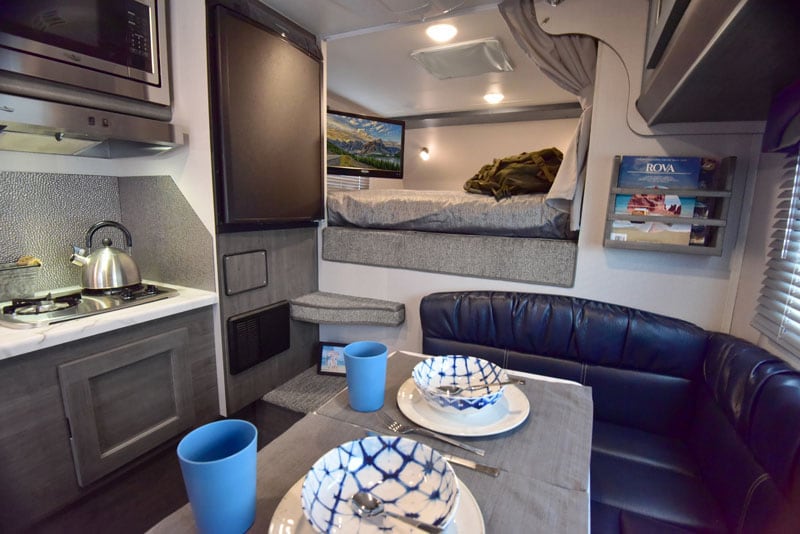 Above: 2020 Lance 825 with new Royal and Driftwood décor
For 2020, Lance is offering a lithium battery option.  How did you develop this new option?
We did a lot of homework and worked closely with GoPower to make everything lithium compatible.  By having GoPower work with us for solar, lithium batteries, a battery monitoring system, inverters, and controllers, we have ensured total compatibility.
With launch of the 2020 product, we are offering optionally both single or dual lithium battery packages.  These are 100Ah Iron Phosphate batteries.
Shortly, we will also be offering a GoPower Battery Monitoring System (BMS).  This system also works well with lead acid batteries, but it's a must for lithium batteries.
With the BMS, you can read your electrical system amp draw and the condition of your lithium and/or lead acid batteries.  This is important because lithium batteries will read at 95-percent strength right up to the point they completely drop off.
When I took the The Altimeter (Lance 855S) out for the Truck Camper Magazine Dare, we were off-grid and I ran the air conditioner for short periods, crock-pot and microwave from the lithium battery system.  I ran everything from the lithium batteries except for the refrigerator, which stayed on LP gas.
On Sunday morning when we got up, I noticed the clock went black and everything electrical in the camper died.  After two days of pushing the lithium batteries extremely hard with minimal solar (as it was shaded where we were camped), the batteries hit their wall.  That was an important lesson on the importance of using a BMS with lithium batteries.
Thankfully, the charging rate on a lithium system is so much faster.  I was able to fully charge the batteries in a couple of hours.  Lithium batteries are truly incredible, but take some adjustment.
Other than the lithium batteries themselves, what did you need to change to create the lithium option?
With the lithium package, you will soon be able to get the GoPower Battery Monitoring System I just described.  It will tell you what you're getting in from solar and other sources, what your lithium battery condition is, what your lithium battery capacity is, as well as demand pulling from the batteries.
The GoPower BMS also has a phone app that allows you to see all this information on your phone.  You can see what you're using, charging and the life of the battery – all on your phone.  It's pretty amazing!
We're working with Progressive Dynamics for our lithium compatible converters.  As of now, Progressive Dynamics makes a standard converter (lead acid and AGM) and a lithium-compatible converter.  In the near future, they will make one converter that can be changed from standard to lithium with a dip switch.
With the new converter, customers will be able to upgrade to lithium when they are ready.  Just move the switch on the panel to lithium, install lithium batteries, and you'll be good to go.
Could someone with an older Lance Camper swap to this forthcoming Progressive Dynamics converter and use lithium batteries?
Correct.  I would also strongly suggest adding the BMS feature as well.
What is the lithium battery option going to cost?
For 2020, we are making an option available to get a single or dual GoPower lithium battery.  The batteries are 100-amp hours and Group 31 in size.
The single lithium battery option costs $1,044.  The dual lithium battery option costs $2,088.
The Altimeter featured Battle Born lithium batteries.  Why did you decide to move forward with GoPower lithium batteries?
We tested a bunch of lithium battery brands and system variations.  The reason we selected GoPower is their 1,500 service centers across the United States and Canada.  Everything in our system is GoPower, so you won't have any unknown variables to contend with.  With a relatively new technology, that is important to us.
Do you see much demand at this point for lithium batteries in Lance truck campers?
Yes.  People are camping off-grid more and more.  People are willing to pay for more battery performance.  Lithium is the clear choice.
I'm personally sold on Lithium.  For the TCM dare, we had no shore power.  We let the air conditioner run for 45-minutes.  It was nice.  Thank you, by the way, for making me go out camping.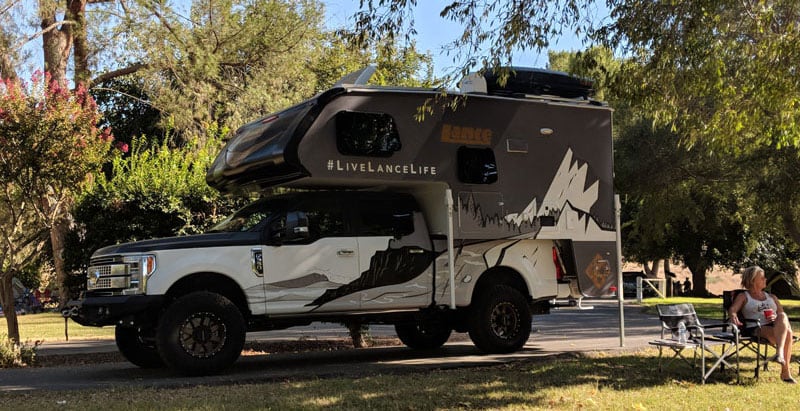 Above: Randy and his wife, Lisa, went camping in the Altimeter for the Truck Camper Magazine Dare
You're welcome!  Of course you don't need a dare from us to go camping in a Lance Camper.  Are you planning to go truck camping again in the near future?
Definitely.  I plan to take our truck campers out more regularly now.  It was also nice for Lisa and I to get away.
We heard from readers who were excited that you took the dare, but wished you had taken out a stock Lance Camper, not the tricked out Altimeter.
I thought about that when we were up there.  You're right.  I should go out again taking a camper right off the line.
I was using the Altimeter instead of a stock unit for a couple reasons.  First, I wanted to test the Truma VarioHeat furnace and the lithium package in a real dry camping environment.
We've been bench testing inverters and lithium batteries at the factory, but that's not a true test.  It's one thing to see how it works in the shop, but it's another to go out and use it while camping.  For that purpose, the dare trip was extremely helpful.
Is there anything else you'd like people to know about Lance truck campers?
I think we'll have another new truck camper model next year.
To check out the 2020 Lance Campers, visit LanceCamper.com.  Click here to request a free Lance brochure.