Lance Camper and Yamaha Motorsports team up with Torklift, Hellwig, Icon, Go-Power, Warn, Battle Born, Race Line and more to create a project rig for RVX 2019.  With four-wheel drive and four-season capability, The Altimeter is ready for adventure at any altitude.

The truck camper marketplace is fast approaching a significant crossroads.  The baby boomer generation (age 55 to 73 as of now) is buying truck campers at a blistering pace, but the generations that follow often don't know what a truck camper is.
When properly introduced, younger folks (in this case, anyone under the age of 50) are often thrilled with the go anywhere, camp anywhere, tow anything possibilities of truck campers.  They might not have the time, funds, or outdoor-oriented interests to warrant pursuing a rig, but they are almost always intrigued.
Based on our experiences, the challenge for the truck camper market isn't the product, but rather how to plant enough seeds for the future harvest.  How do we reach enough younger prospects today to sell the necessary volume of truck campers tomorrow?
The short answer is marketing.  The long answer is marketing to young potential customers currently outside of the traditional RV circles; young hunters, skiers, hikers, backpackers, rock climbers, surfers, geocachers, horseback riders, and on, and on.  If you're a young person with an outdoor lifestyle or hobby, we want to talk to you.
For the past five years, Lance Camper has been designing, building, and debuting spectacular truck and camper combinations at major industry and media events outside traditional RV circles.
2016's Lance-Hellwig Rule Breaker rig dropped at SEMA and went onto become Truck Camper Magazine's most read article for that year, not to mention catching the attention at Outdoor Magazine, Car and Driver, and a myriad of popular social media channels.  Hello young people!
For RVX 2019, Lance has partnered with Yamaha Motorsports to create The Altimeter, a Lance 855S and Ford F-350 rig.  To spark media interest, The Altimeter has a number of prototype features never before seen in a production Lance truck camper; Truma heat and hot water systems, Battle Born lithium batteries, a built-in inverter, and more.
To find out more about the The Altimeter concept and build, we interviewed Jim Waters, Marketing Coordinator and Bob Rogers, Director of Marketing for Lance Camper.
Above: The Lance Altimeter, all photos courtesy of Lance Camper
Tell us about RVX and why Lance Camper is participating with a 2019 Lance 855S and Ford F-350 build.
Bob: RVX is a brand-new RV market-development event put on by the Recreational Vehicle Industry Association (RVIA).
From a marketing perspective, RVX is a huge opportunity to get the message out about truck camping to a broader and younger audience. If we are going to appeal to a younger demographic, we cannot do the same marketing from the last ten years.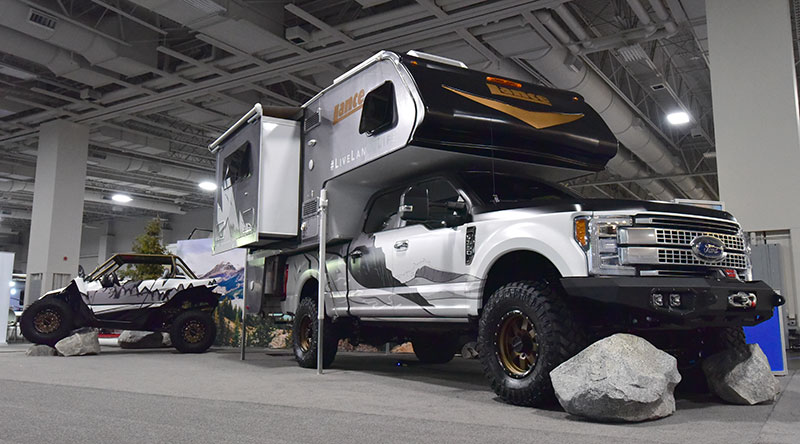 RVX has an event called 'The Reveal' that will result in a lot of positive press. 'The Reveal' will showcase new products as well as prototypes and concept units to get media and consumers excited.
Jim: I'll be 30 this year. Every event I attend I see people my age in Sprinter vans, and they're not cheap. I want to educate these younger buyers that they can go further off-road and camp longer off-grid with a truck camper.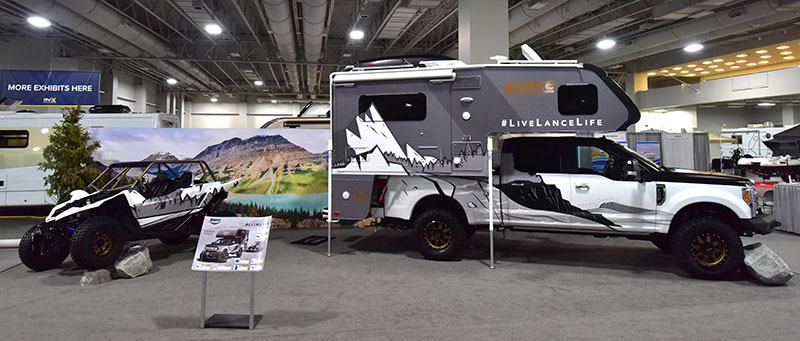 That is the big challenge facing the RV market right now. This is Lance's third special build with a truck camper. Why do you build and present these unique builds?
Bob: We do these special builds to capture the attention of media that might not otherwise cover RVs. We want to raise awareness of the amazing versatility of truck campers and the Lance Camper brand.
For SEMA 2016, Lance partnered with Hellwig Products to develop The Rule Breaker. The Rule Breaker utilizes a Lance 650 truck camper and a Nissan Titan XD diesel. That rig has earned us more media exposure for Lance Camper than any single project in our 64-year history.
Following SEMA, the Rule Breaker went to several major events outside the traditional RV-show circuit (including King of the Hammer, Overland Expo and the Redbull Rampage). Those events showcased the Lance and Hellwig brands in a legitimate and authentic way.
Major media outlets including Outside Magazine and Car and Driver paid attention to the Rule Breaker and published articles about the project. Because of that success, we are very excited to be announcing our third such build with The Altimeter at RVX in Salt Lake City.
Jim: After RVX, we will be taking The Altimeter to a number of shows and events. Truck campers are the most versatile RV products for outdoor recreation; the ultimate for any outdoor hobby or lifestyle. We can authentically take The Altimeter to just about any market including hunting, bass fishing, snowboarding, overlanding, ATVing or general camping.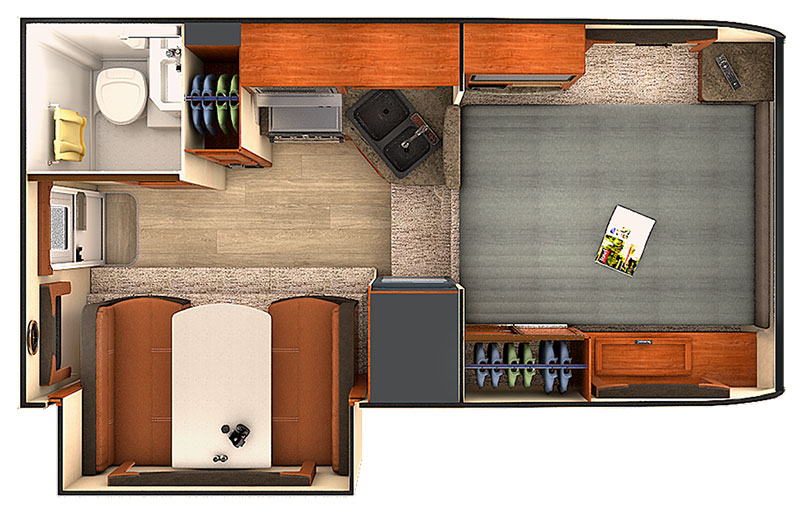 Tell us about The Altimeter and why you selected the Lance 855S for this project.
Jim: Our previous two SEMA builds were based on our smallest and lightest truck camper, the Lance 650. At other events, we have presented rigs based on our flagship Lance 1172 double-slide.
For The Altimeter we wanted to showcase a camper in the middle of our camper line-up. A Lance 855S and a short bed truck is a highly maneuverable rig with all the bells and whistles.
With a Lance 855S and Ford F-350, The Altimeter is a true four-season, four-wheel drive RV that can take you where you want to go; mountain grades to sandy beaches, cold and snowy winter to and hot and sunny summer. The Altimeter is ready for anything.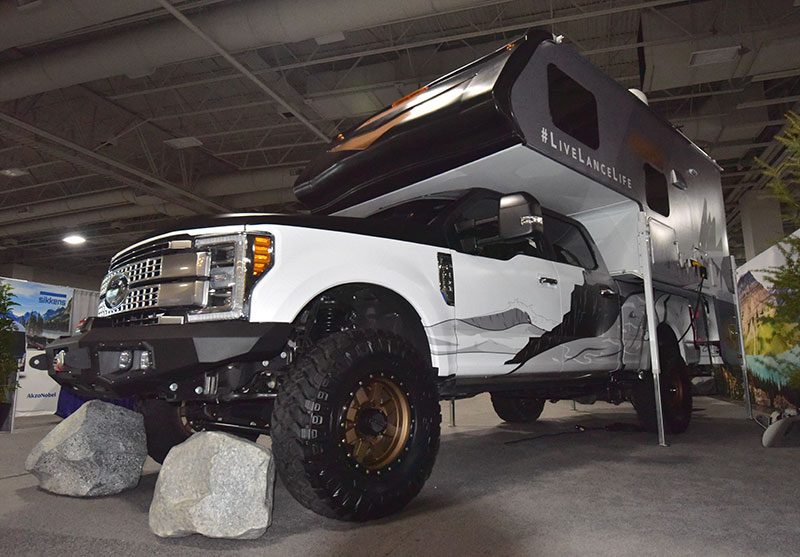 Bob: In the exterior design you'll see the mountains to the seas and every altitude in between. Our four-season graphic is also on the side panel. The ability to camp and travel in four-season weather is a major benefit of Lance truck campers.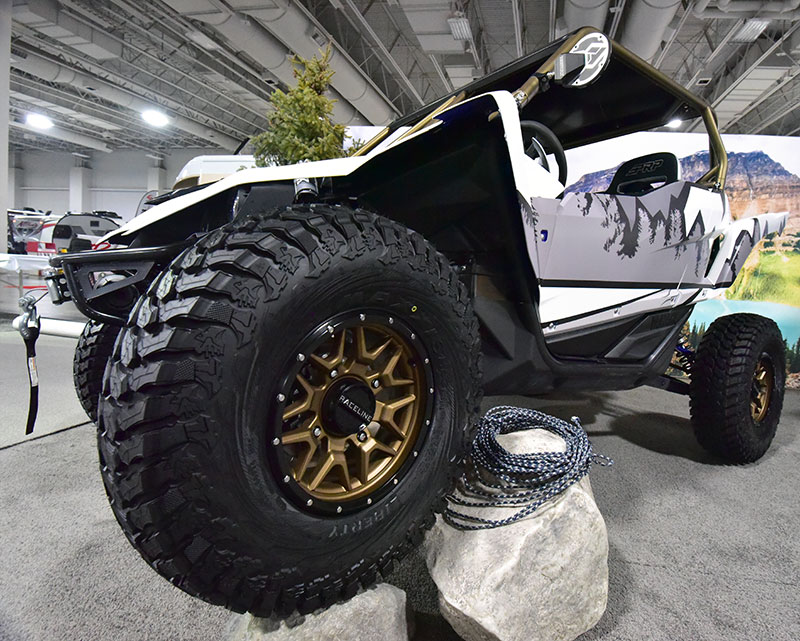 What is the strategy behind the partnership with Yamaha?
Bob: The partnership with Yamaha is very exciting. We have so many similarities with key brand attributes of quality and innovation. With the customer demographic and psychographic crossover, it just makes sense. Additionally, we simply don't have the awesome media reach that they do. Yamaha is also going to use The Altimeter in their event marketing providing even more press and brand awareness opportunities.
We also partnered with Yamaha to show the unbeatable towing capabilities of a truck camper. Yamaha loaned us a YXZ sport UTV/side-by-side that we will be towing behind The Altimeter on a flatbed trailer. The Altimeter will be displayed with the Yamaha YXZ whenever it makes sense.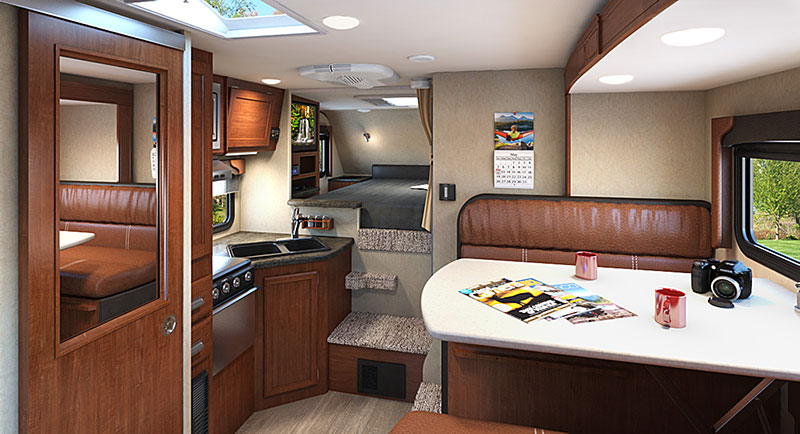 Has the interior of the Lance 855S been changed for this build?
Bob: No. It's a stock Lance 855S unit inside.
Jim: Some folks already think the wrap, wheels, tires and all the gear is unattainable. So, we tried to limit the customization of the inside of the camper.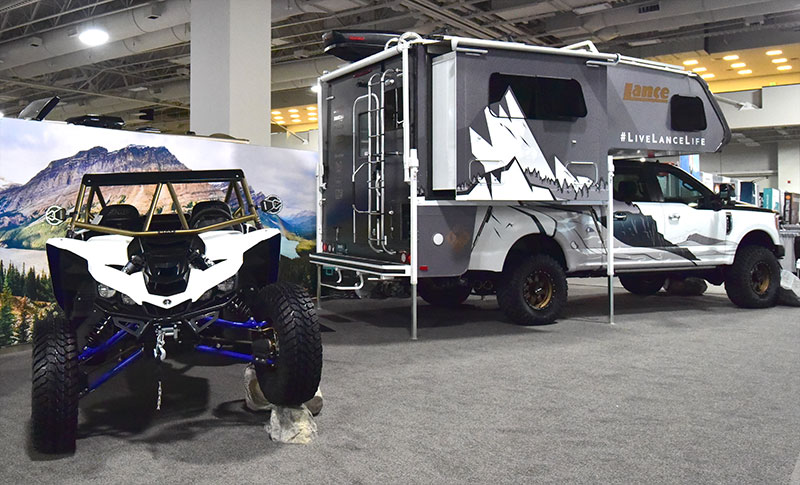 Earlier you mentioned some prototype features for 'The Reveal'. What are these prototype features?
Bob: The Altimeter features a Truma VarioHeat compact gas heating system and a Truma AquaGo instant hot water system. These systems are simply state-of-the-art.
We are featuring these Truma products in our two smallest travel trailers, but this is the first time they have been shown in a truck camper. We are very interested in getting feedback from our dealers.
Jim: The Truma VarioHeat offers higher efficiency, lighter weight, a smaller size, and is much quieter than a traditional RV furnace.
The Truma AquaGo features 60,000 BTUs and is the most powerful water heater on the market. It also features decalcification technology and an easy-drain lever for winterization.
Bob: Truma has a majority of the market share in the European market for water heaters and heaters. The Truma systems work on 110-volt, propane and 12-volt. Both products are very promising for our truck campers.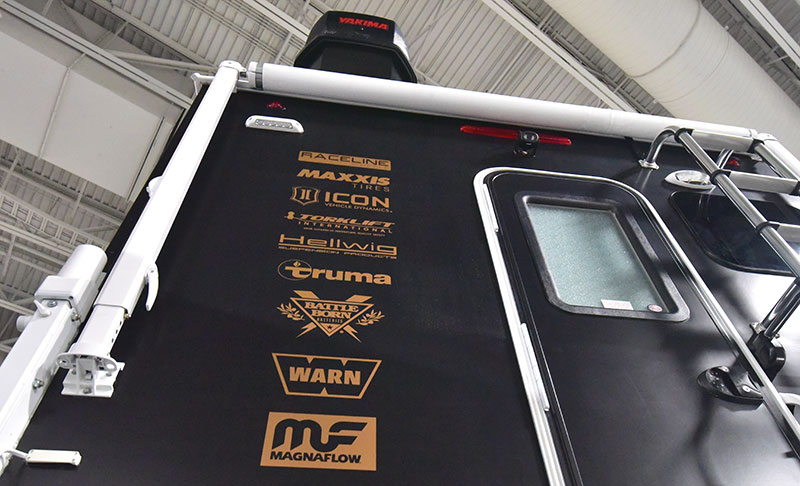 Are there any other prototype systems in The Altimeter?
Bob: Yes, we have a very extensive Go-Power solar panel system, four Battle Born 100AH 12V GC2 lithium batteries, and a Victron inverter that was recommended by Go-Power. The solar panel system consists of two 170-watt and three 100-watt Go-Power panels and a Go-Power controller.
To install the lithium batteries and inverter system in the 855S we sacrificed a bit of non-essential interior storage but we think the tradeoff is well worth it. It's amazing to be able to run the microwave without plugging into shore power or turning on the generator, but it takes six lithium batteries to do it.
All of these products and ideas are under review as part of this unique project. Lance is pushing forward.
Should we expect to see the Truma systems, Battle Born lithium batteries, and Victron inverters in future Lance truck campers?
Bob: As of now, all of these products and features are in the prototype phase with no concrete plans for production. If dealer and customer demand is there for them, we hope to bring them to market.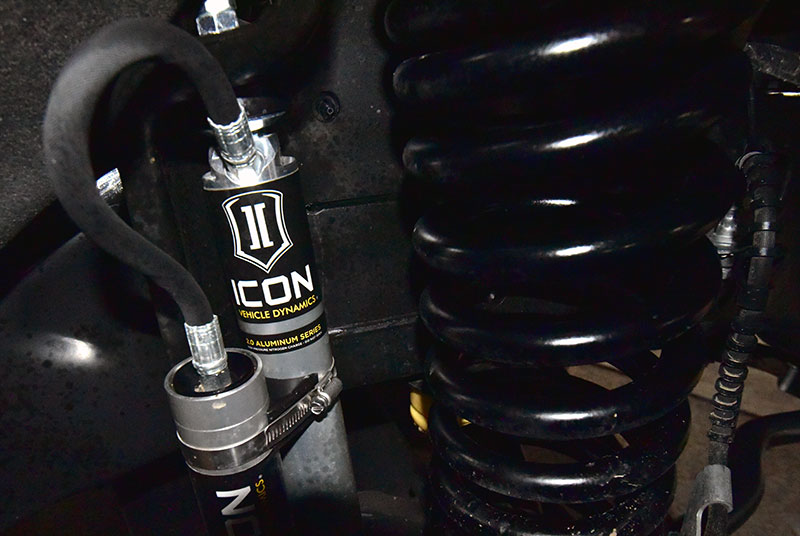 Tell us about some of the other partners who worked with you on this project.
Bob: The Altimeter features Torklift's SuperHitch, SuperTruss extension, Fastguns turnbuckles, and Talon tie-downs. Hellwig Products partnered with us again for air springs and a rear sway bar.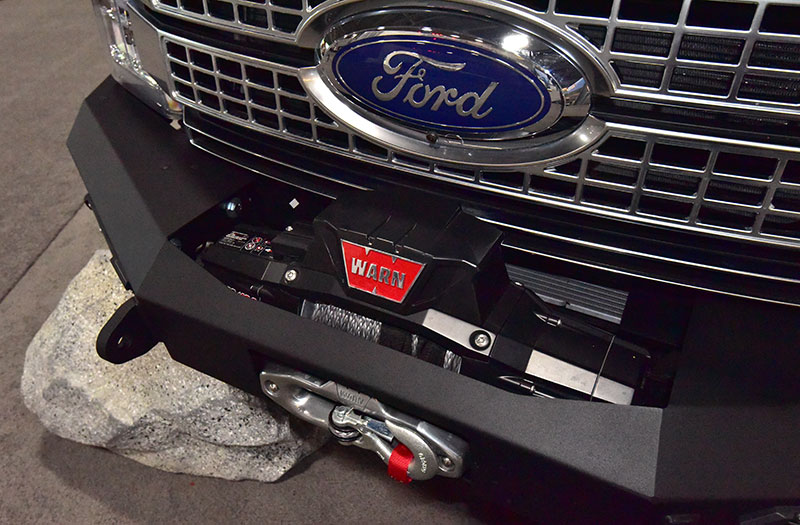 The Altimeter also features products from Raceline Wheels, Maxxis Tires, Icon, Warn, Battle Born, Maglight, KC Lights and Magnaflow.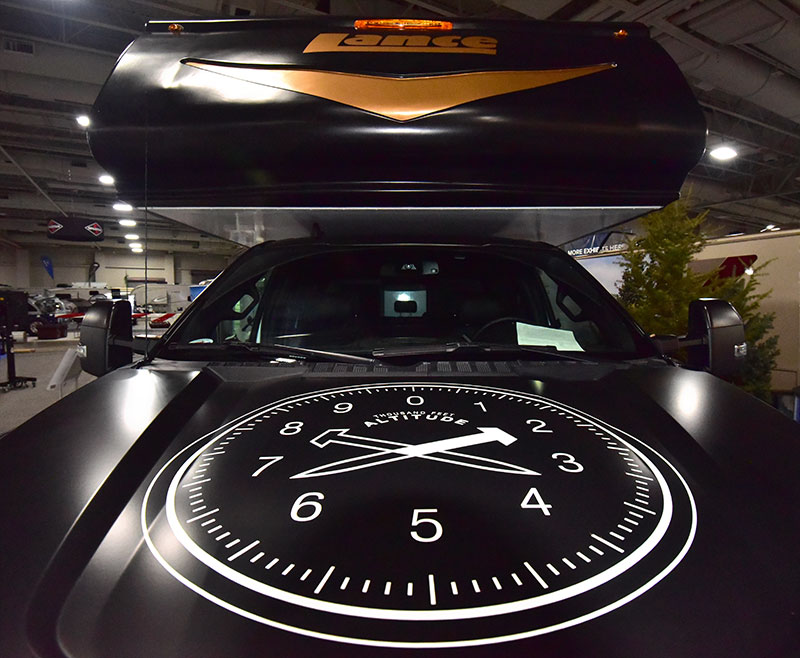 How did you come up with the name 'The Altimeter' for this rig?
Jim: We wanted the name to be short and roll off the tongue while evoking the spirit of truck camper life and the project.
We also wanted to draw from outdoor adventure elements such as topographic maps which are featured on the wrap. With versatility and four-season capability in mind, as well as the aforementioned ingredients, the name Altimeter came naturally as a symbol of the spirit of adventure we hope this rig evokes as well as the varying natural settings and hobbies we hope it brings to life.
Bob: An altimeter is an instrument used to measure the altitude of an object above a fixed level. This rig is a tool designed to assist you on any adventure you pursue at any altitude you pursue it.
The activities pursued by our truck camper demographic vary greatly including hiking and skiing the highest mountain to surfing and sailing the best ocean wave, and everything in between.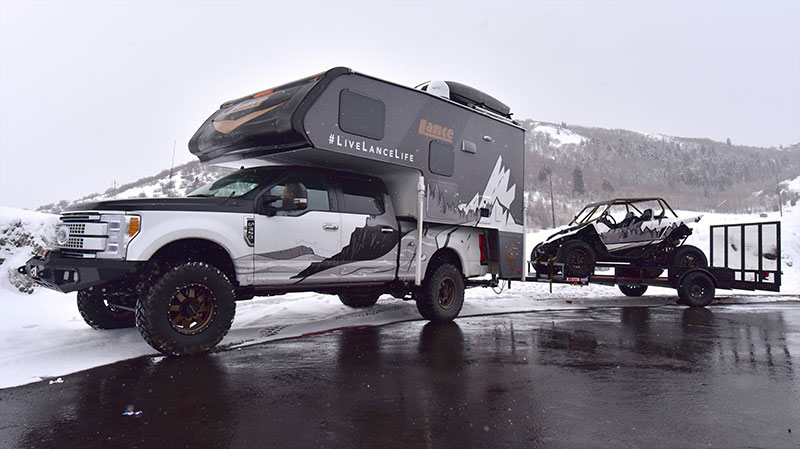 We look forward to the media's reaction to this build. Hopefully it will be picked up by some major media and we can report their coverage and perspectives. It's been over a year now since REV Group purchased Lance Camper. How are things going?
Bob: So far the REV Group loves what we're doing and wants us to do more of it. Tim Sullivan, CEO of REV Group and their new CMO, Tony BaSasie, stays updated on what's going on at Lance.
The biggest change has been with our accounting department. They had to adjust to the reporting demands of being part of a public company. Beyond that, the REV Group acquisition has been a very smooth and positive transition.
Should we be expecting any new truck camper models this year?
Bob: Yes, there is a new truck camper model in the works for 2019. I can't tell you what it is or when it's coming, but I can confirm a new Lance truck camper model is on the way. Look for that new Lance Camper to debut right here in Truck Camper Magazine.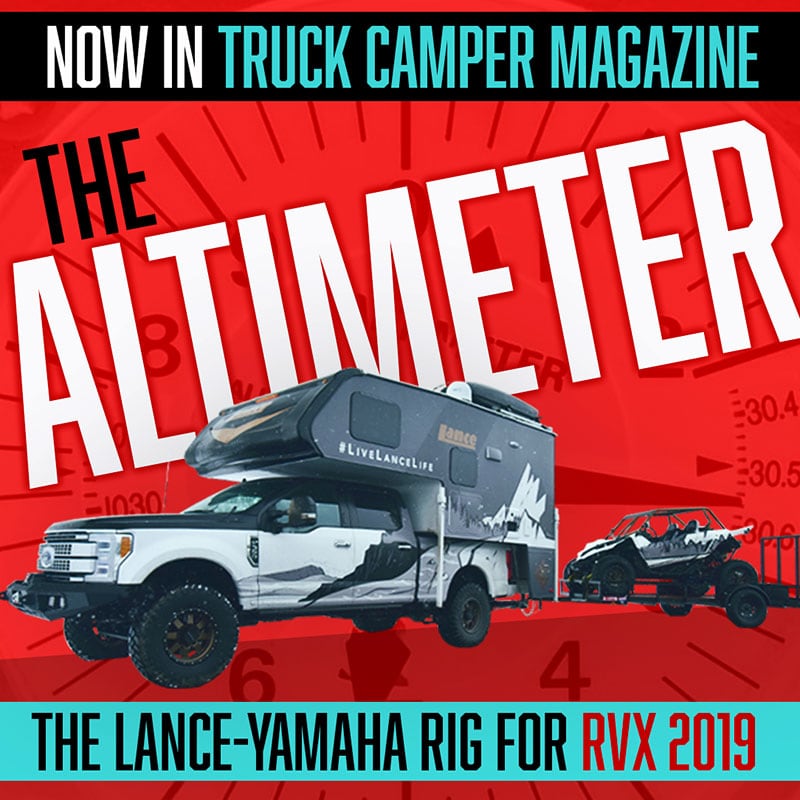 To check out the 855S and other Lance campers, visit LanceCamper.com.  Click here to request a free Lance brochure.