Following in the tire tracks of their popular 1500-series, Ram launches the new 2019 Ram 3500 with refreshed sheet metal, redesigned interior, and up to 1,000 pound-feet of diesel torque.  The heavy duty truck game just changed.
Fiat Chrysler debuted their all-new 2019 Ram Heavy 2500, 3500 and Power Wagon this week at the 2019 North American International Auto Show in Detroit.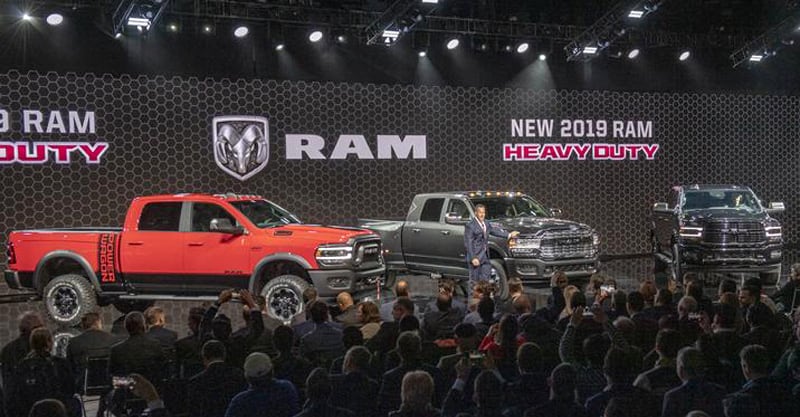 The new Rams have been reworked from the tires up including strengthened frames, updated exterior bodies, and new interiors for every trim.  It took us the better part of two hours just to read through all the upgrades and features.
Stronger and Lighter Frame and Body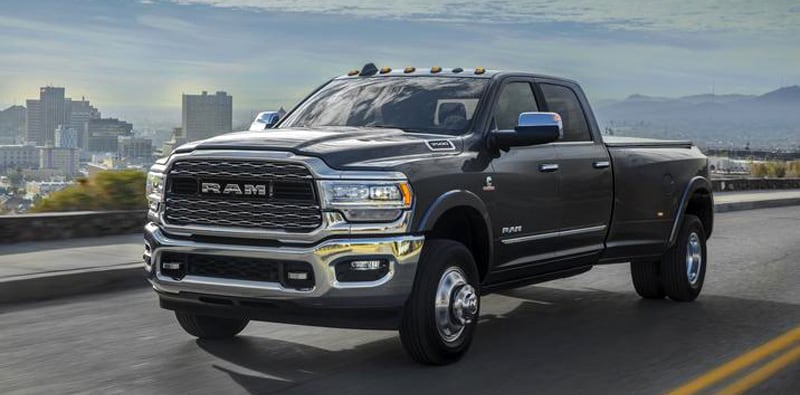 Above: 2019 Ram 3500 HD Limited, crew cab, dually
The new Ram HD-series frame is 98-5-percent high-strength steel and features six through-welded cross members and fully-boxed rear rails.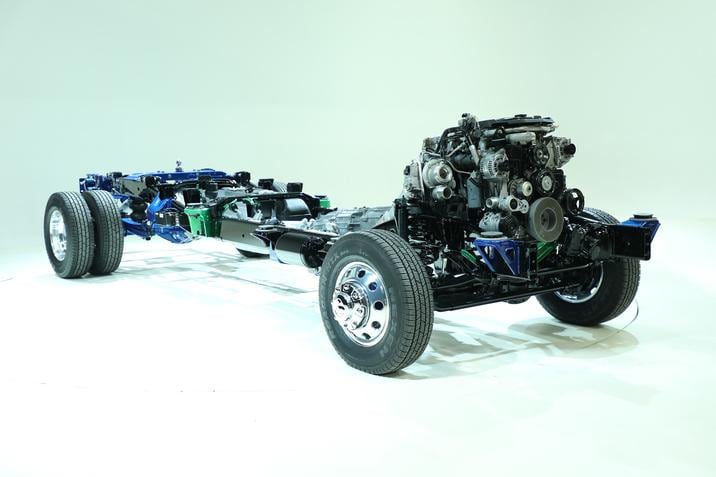 The result is not only a stronger frame, but one that weighs in up to 143-pounds lighter.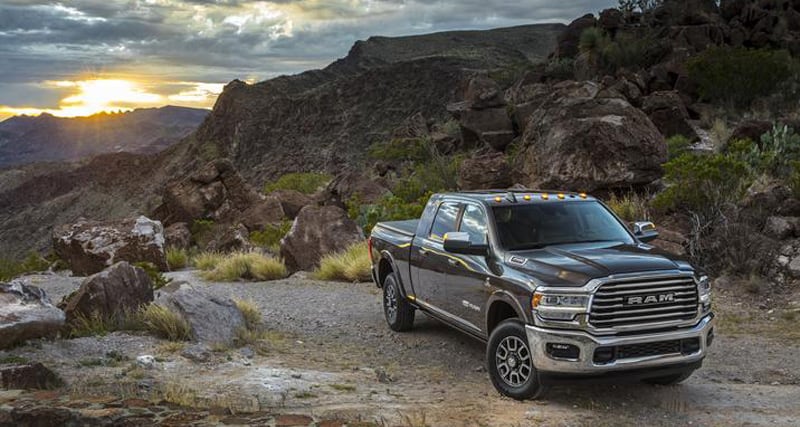 The exterior of the 2019 Ram 3500 is modeled after the previously-updated and highly-successful 2019 Ram 1500-series.  Beyond the bold new look, the truck body has a 0.41 drag coefficient making it the most aerodynamic truck that Ram has ever offered in a heavy duty truck.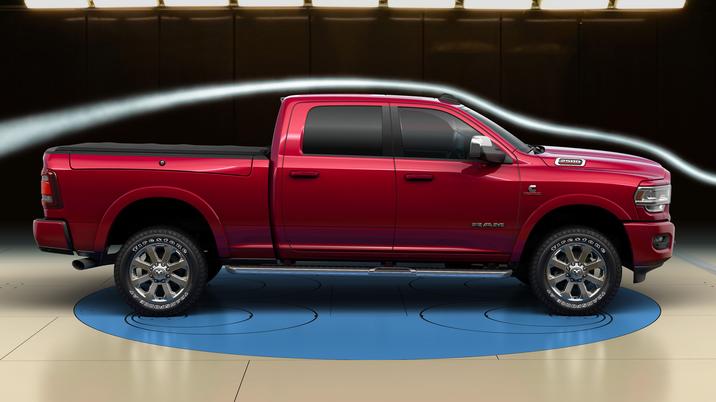 Like the updated frame, the new body uses high-strength steel to reduce weight. To further lighten the load, the new Ram 3500 has an aluminum hood.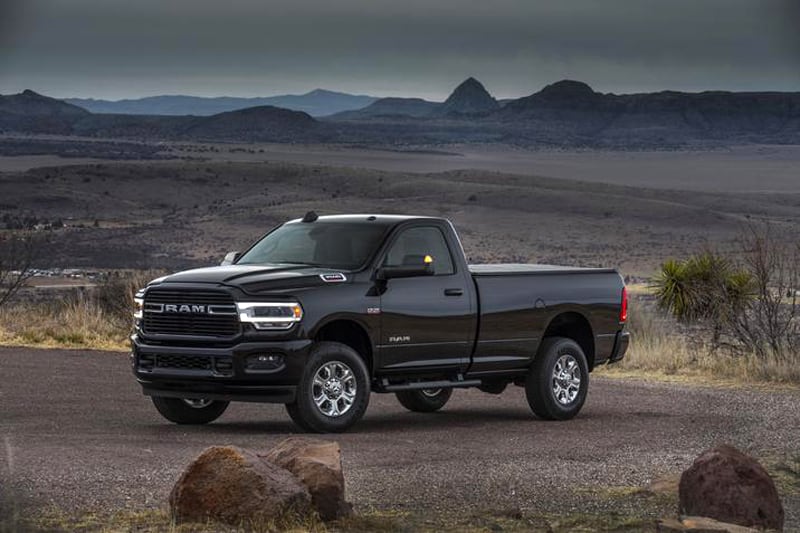 Other hidden details abound. The larger front grille features active grille shutters that automatically open and close to allow the engine to heat or cool more efficiently.  In cold weather, the shutters stay closed to allow the engine to heat up more rapidly.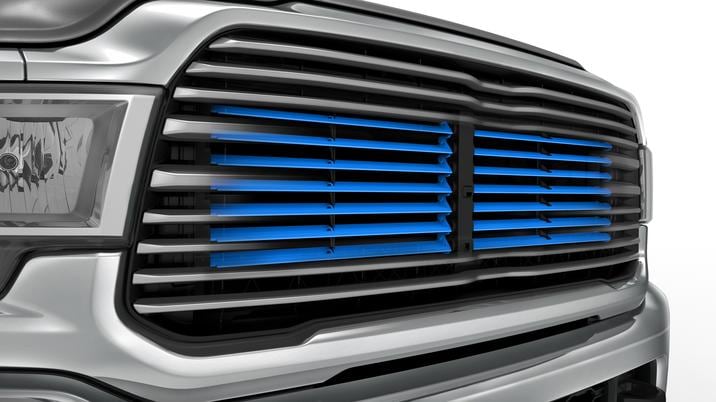 Under high demand situations the active grille shutters can fully open to maximum engine cooling.  Active grille shutters can also improve aerodynamics for greater fuel efficiency.  The new front bumper has also been designed for efficient air intake and cooling.
All-New Interior
The 2019 Ram 3500 will be available in five trims; Tradesmen (work truck), Big Horn (also sold as Lone Star in Texas), Laramie, Laramie Long Horn and Limited.  Each trim features its own exterior badging and interior design, materials and material colors.
Above: The Limited rear seats fold down for a flat floor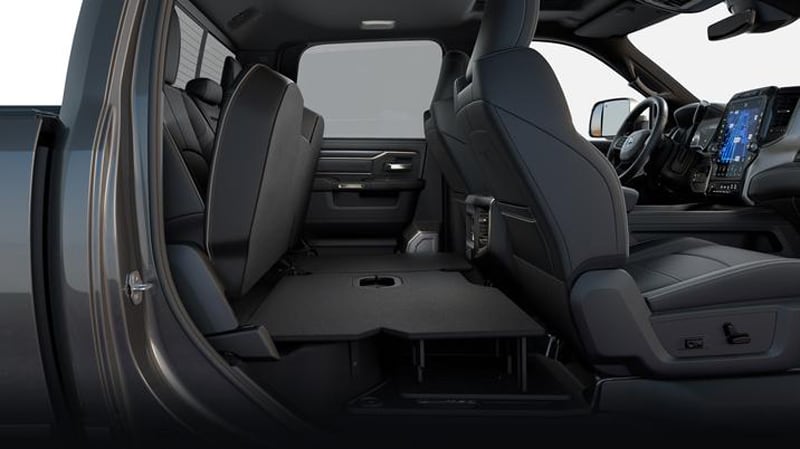 Above: The traditional crew cab with the rear flat load floor
It's any wonder that we can keep our eyes on the road anymore with the huge and beautiful touch screens they're putting into vehicles today.  Tempting our pupils to the limit, Ram is bringing the 12-inch uConnect system from their 1500-series to their new HD trucks.
Featuring Apple CarPlay and Android Audio, the 12-inch screen will be standard on the Ram 3500 Limited and optional on other trims.  The 5-inch uConnect is standard for 2019 and the 8.4-inch is also optional.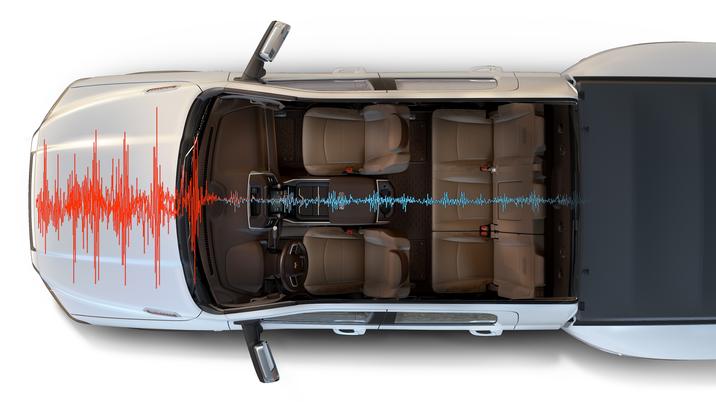 Audio buffs will be interested in the new 750-watt, 17-speaker Harmon Cardin stereo system.  Even better, the new Ram has active noise cancellation to reduce exterior noise.
Together with two Active-Tuned Mass Modules built into the frame and chassis to dampen vibrations, Ram is reporting the interior noise a full 10-decibels quieter than the previous generation.
6.4-Liter HEMI V8 Gas with Cylinder Deactivation
For 2019, Ram is dropping the 5.7-Liter HEMI and making the 6.4-Liter HEMI V8 standard.  The naturally-aspirated 6.4-Liter HEMI has 410-horsepower at 5,600 rpms and 429 pound-feet of torque at 5,600 rpms.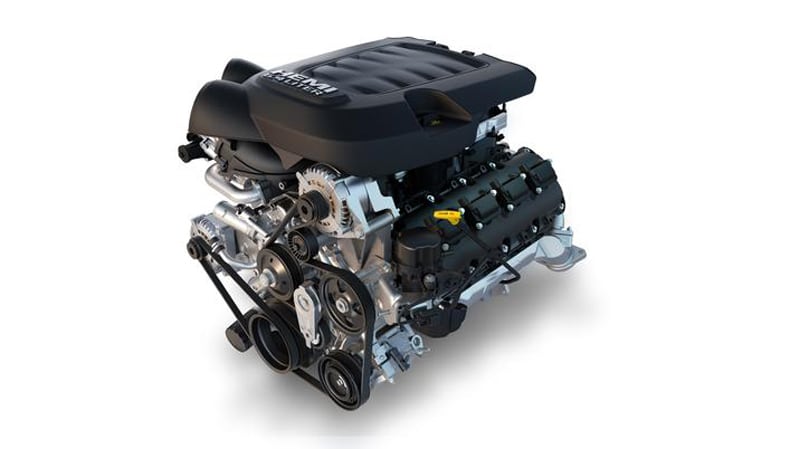 The 6.4-Liter HEMI features cylinder deactivation that automatically changes from a V8 to a V4 to save fuel.  We have this exact engine in our 2018 Ram 3500 (and previously in our 2014 Ram 3500) and – even with the camper loaded – it changes to V4 operation when we are driving downhill or coasting.
If we are understanding the Ram announcement correctly, the 6.4-Liter HEMI will now also shut-off fuel during deceleration and coasting situations.  This sounds like a version of stop-start, but that detail has not been confirmed.
The 6.4-Liter HEMI is mated to an upgraded (heavier-duty) TorqueFlight 8-speed transmission.  The 8HP75 transmission is manufactured by German manufacturer ZF Group and features a rotary-dial gear selector.  ZF Group also makes transmissions for Aston Martin, Audi, BMW, Jeep, Lamborghini, Land Rover, Rolls-Royce and VW.
New 6.7-Liter Cummins Turbo Diesel
The headliner for many will be the new 6.7-liter Cummins Turbo Diesel engine with 1,000 pound-feet of torque at 1,800 rpm and 400-horsepower at 2,800 rpm.  That's a full 70 lb-ft more than the previous Cummins, and a new best-in-class torque for the HD truck segment.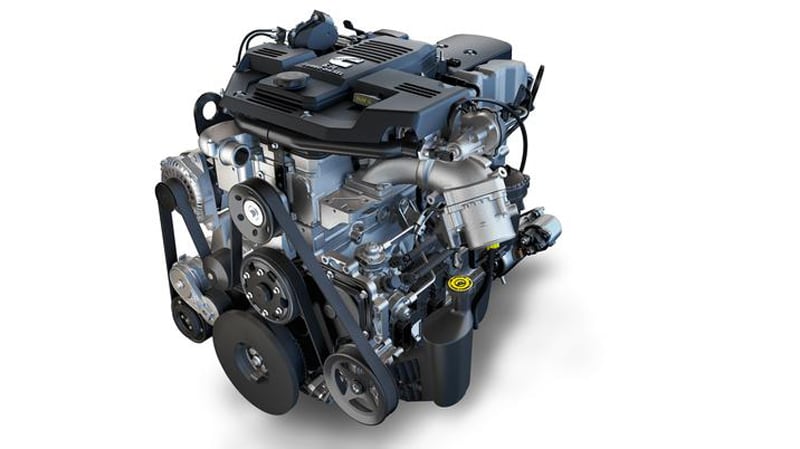 The new Cummins diesel is 60-pounds lighter thanks to elements made from compacted graphite iron and other light-weighting materials and design strategies.  Additional enhancements include new pistons with low-frictions rings and forged connecting rods, new exhaust valves and springs, new rocker arms, new hollow camshaft, and aluminum oil and water pumps.
Interestingly, an optional "down-graded" version of the 6.7-Liter Cummins diesel will also be available.  The less-powerful diesel is reported to offer more longevity with 370-horsepower at 2,800 rpms, and 850 pound-feet of torque at 1,700 rpm.  Other than the lower specs, the engine has all of the upgrades the higher-power version has.
The new Cummins Turbo Diesel is available with the six-speed automatic Aisin AS69RV transmission.  The AS69RV is manufactured by Aisin Seiki of Toyota Group and is reported to have more "learning ability" for improved shifting precision.
Bye Bye, Manual
Ram was the last HD truck hold-out to offer a manual transmission.  Unfortunately, that will now be a thing of the past.  Ram is officially dropping the six-speed manual transmission option for 2019.  We prefer our cars with manual transmissions and our trucks with automatics, but we're still sad to see the last manual truck option go.
Extensive List of Safety Tech
The 2019 Ram 3500 comes with an exhaustive list of safety features including adaptive cruise control, forward-collision warning, automatic emergency braking, blind spot monitoring, rear cross-path detection, trailer backup assist, and more cameras than a bus load of tourists at Yosemite.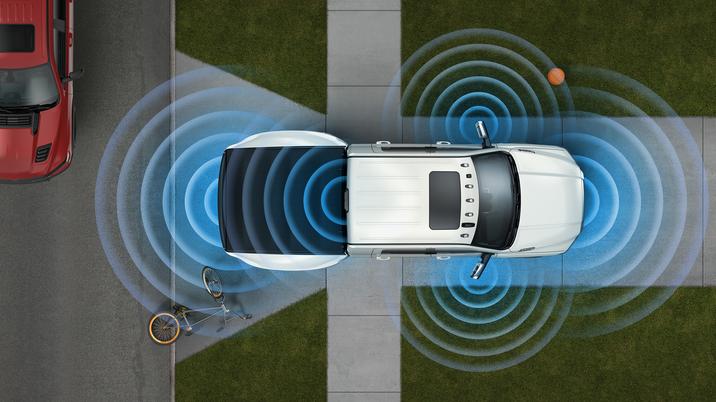 Above: 360-degree cameras and proximity sensors
These features are part of the coming wave of smart automotive technology that will eventually have us all riding as passengers as our artificially intelligent trucks take us where we want to go.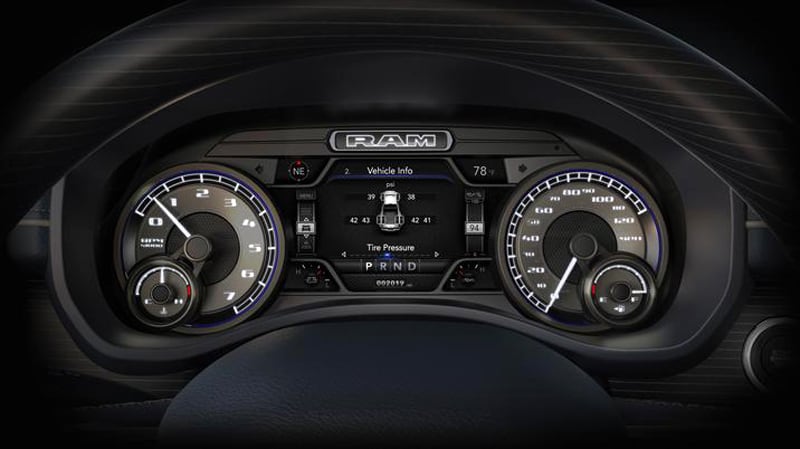 Above: Dually Tire Pressure Monitor Systems
Towing and Payload Specs: What We Know
The maximum payload capacity for the 2019 Ram 3500 is 7,680 pounds.  That number requires a 2019 Ram 3500 long bed dually with the 6.4-Liter HEMI V8 gas engine, 4×2 configuration, and a 4.10 rear axle – essentially, a base work truck built specifically for payload, payload, and more payload.
The GVWR (Gross Vehicle Weight Ratings) range is between 10,700 and 14,000-pounds – the same GVWR as the previous generation.  As such, the payload capacity improvements are a direct result of the 2019 Ram's lighter weight.

Towing capacities max out at just over 35,000 pounds.  To get this monstrous tow capacity you need the 6.7-Liter Cummins Turbo Diesel in a 4×2 configuration and a 4:10 axle ratio – essentially, a base work truck built specifically for towing, towing, and more towing.
These numbers are extremes never to be seen on a truck you find on a dealer lot, but they give Ram some serious bragging rights.  You can always special order a truck that maximizes payload.
Fitment Alert 1: Smiling Rear Bumper
Ford caused countless truck camper fitment problems with the introduction of the "smile" bumper on the 2017 Ford Super Duty series.  Specifically, the rear truck bumper turned up immediately under each rear tail light.  The upturned ends of the smile came into contact with a good number of truck camper designs.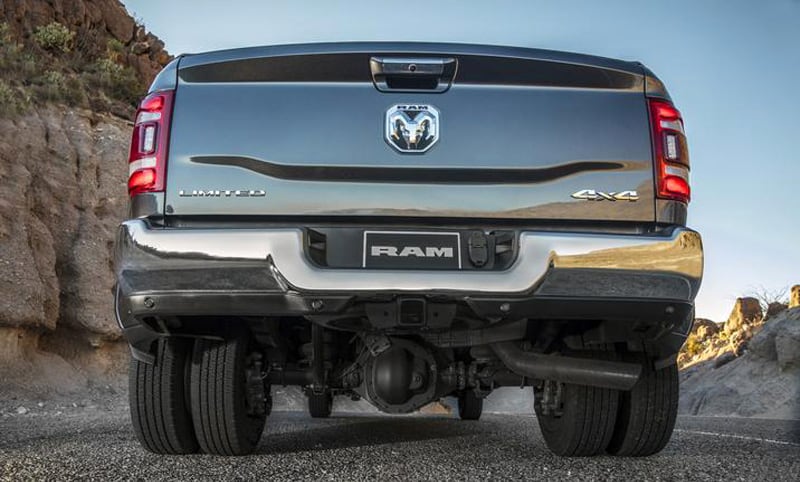 And wouldn't you know it, the 2019 Ram 3500 has a similar "smile".  This may not be an issue if you buy a new truck camper as many of the manufacturers have already made adjustments for the Ford.  If you have an older camper, you may need a riser kit to avoid contact with the new bumper.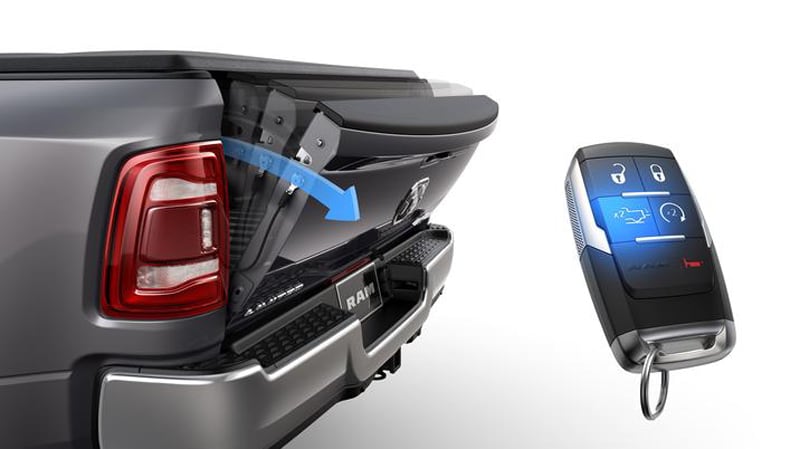 Above: Damping tailgate with remote
Fitment Alert 2: Unknown Cab Height and Bed Dimensions
Out of an abundance of caution, we also need to remind potential 2019 Ram 3500 buyers that the cab height and bed depth (rail height) remain unknown.  If the cab height is taller, it can contact the cabover of a camper.  If the bed depth (rail height) is taller, the rails can impact the camper wings.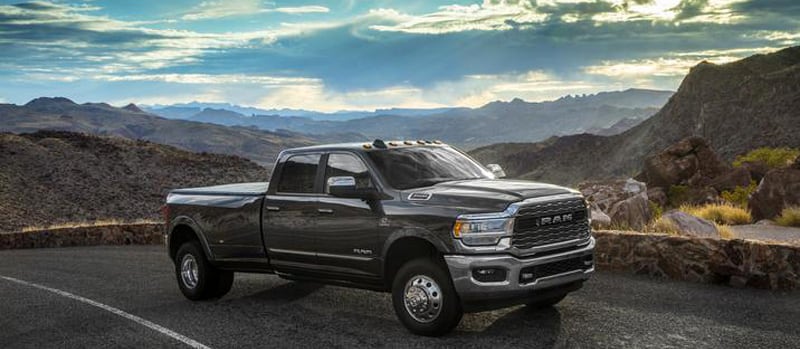 And who knows what other dimension may have changed?  In the past, truck manufacturers have designed bed curves, tailgate lips and other "enhancements" into their trucks – all without telling anyone until the trucks hit the shows and showrooms.  Next time you talk with someone from the truck camper industry, ask them about truck dimension surprises.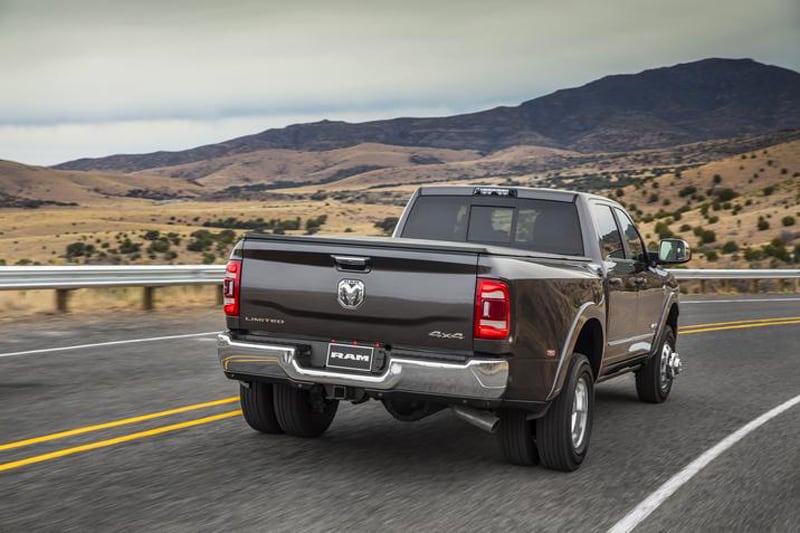 We discovered an unexpected fitment issue last summer with our "new" 2018 Ram 3500.  It had a 1-inch rise in rail height from the cab to the rear of the truck.  This was quite a shock after our 2014 Ram 3500 (with the exact same body style) had a straight and level rail height.  If we hadn't caught this change, the rear most tip of the rail would have contacted our camper.
The lesson with any new truck is to always measure the fit before loading a camper for the first time.  All of this – and more – is described in the article, "How To Match A Truck and Truck Camper".
Wrap Up: Ram Just Upped the Ante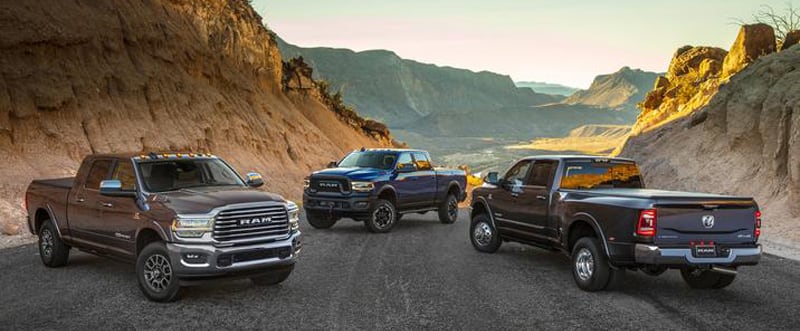 Above: Ram 2500, Power Wagon, and Ram 3500 Limited
We read Ram's 2019 HD announcement through our fingers.  After buying a brand-new 2018 Ram 3500 this past summer, we were hoping they wouldn't do anything to make us regret our purchase.
Well, that hope went right out the window.  The all-new 2019 Ram 3500 is a major upgrade from the 2018 in almost every category.  The new exterior is a more modern.  The new interior is even more luxurious.  I'm particularly keen on the 2019's stronger frame, safety features, and 10-decibel quieter cab with 17-speaker stereo.  Drat!  And double drat!  Darn you, Ram!
I can only imagine the similar sentiments towards Ram at Ford and GM right now.  Where Ram was seemingly content in years past to be the value brand, they are now making a serious play to become the marketplace leader.  With this impressive launch, and the equally impressive 2019 Ram 1500 before it, they might just do it.
Coming Early Second Quarter
Fiat Chrysler has promised the 2019 Ram 3500 by early second quarter; April/May.  Pricing will be announced closer to that time.