For 2018, Bigfoot Industries launches an all-new modern interior and announces new standard features including stainless steel appliances, an electric rear awning, and a full-width platform bumper.  Bigfoot also reveals rolling changes, the slide-out project's status, 2017 Ford Super Duty recommendations, and more.

Some manufacturers hold all of their material and design updates for a formal model year announcement.  Others make rolling changes throughout the year as material and design updates are ready to deploy.  Rolling changes can be just as important or impactful as model year updates, but often go unnoticed without a formal announcement.
When Bigfoot Industries recently contacted us about their new Driftwood interior, we had a hunch that wasn't all Bigfoot had changed for 2018.  By asking, "Have there been any rolling model changes?" we discovered that Bigfoot has been quite busy this year.  We also took the opportunity to follow-up on the slide-out model Bigfoot teased us last June in, "Bigfoot On the Move".  If you haven't already read that incredible article, it's not to be missed.
To learn the full story behind the 2018 Bigfoot updates, we talked to Grant Bilodeau, President of Bigfoot Industries.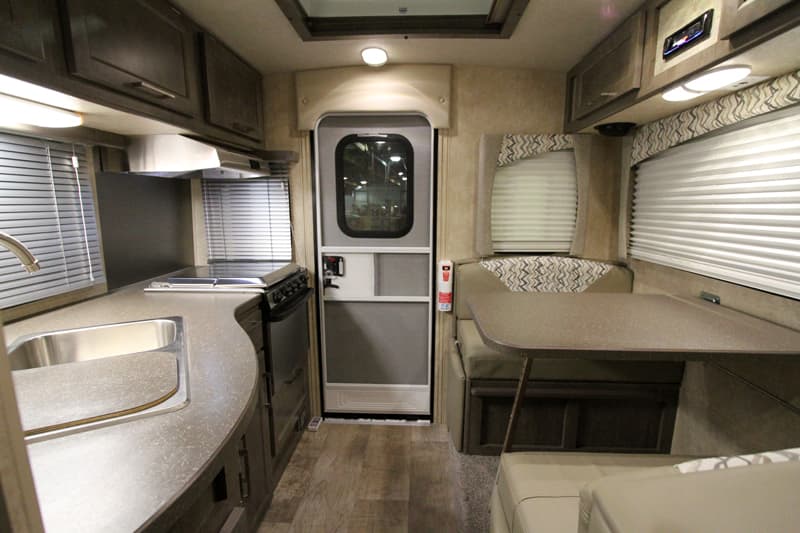 Above: The new 2018 Driftwood interior decor in the Bigfoot 9.4 camper
TCM: How did you go about designing the new Bigfoot interiors?
Grant: Sometimes our travel trailer designs benefit from truck camper designs, and sometimes our campers benefit from our travel trailers.  This time the new modern interiors were driven by Bigfoot travel trailer customers who were looking for a more updated and contemporary look.
Our goal was to bridge the gap from our traditional warm, country look to a fresh and fully modern look.  We also wanted to brighten up the interiors.  Even though the contemporary grey colors might appear dark in the photos, it's quite a bright and refreshing look in person.  We wanted to target a younger audience with designs current with today's trends.  It has had a warm welcome from all demographics.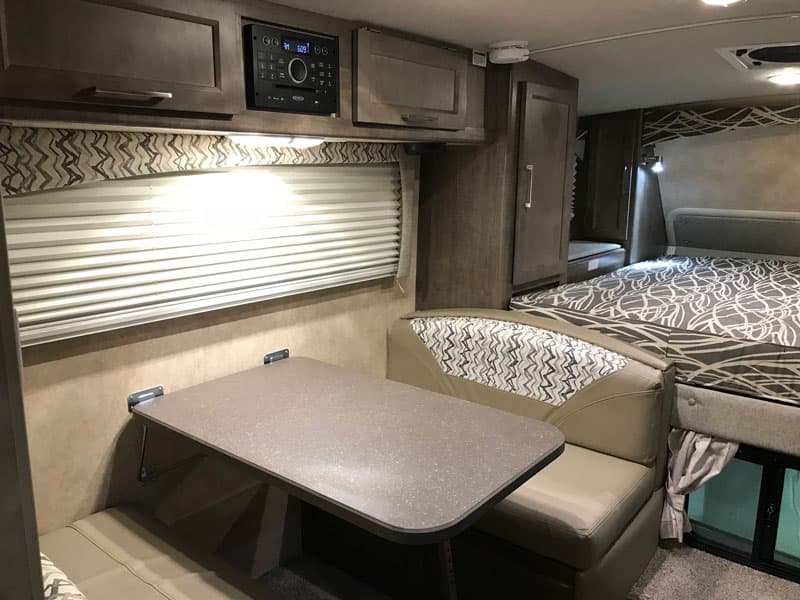 Above: The full Faux leather upgrade with the Driftwood interior
TCM: Are the old Bigfoot interiors still available?
Grant: We now have two available interior choices for Bigfoot truck campers and travel trailers; the more traditional Canoe Birch, and the new contemporary Driftwood.  After an eight year run, we have discontinued the Java interior.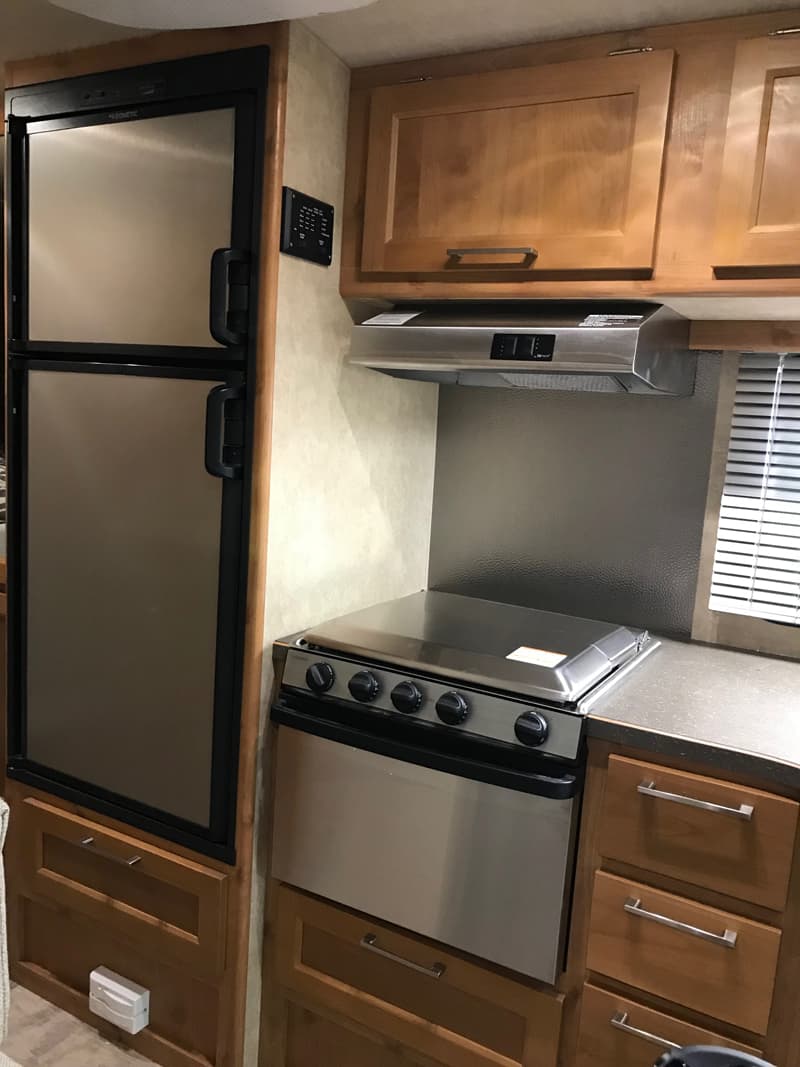 Above: The new Canoe Birch interior with stainless steel appliances
We also now offer a full Faux leather upgrade for our dinette cushions.  For customers who don't want leather, we offer woven fabrics.  For the woven fabric choices, we selected the best double-rub fabrics that would work in our new interior design.
TCM: What's double-rub?
Grant: Double-rub refers to a fabric abrasion test and resistance.  The higher the double rub, the more durable the fabric.  The fabrics we selected scored exceptionally well and will last for many years.  The faux leather interior exceeds the woven fabric for natural wear, but not every customer wants leather.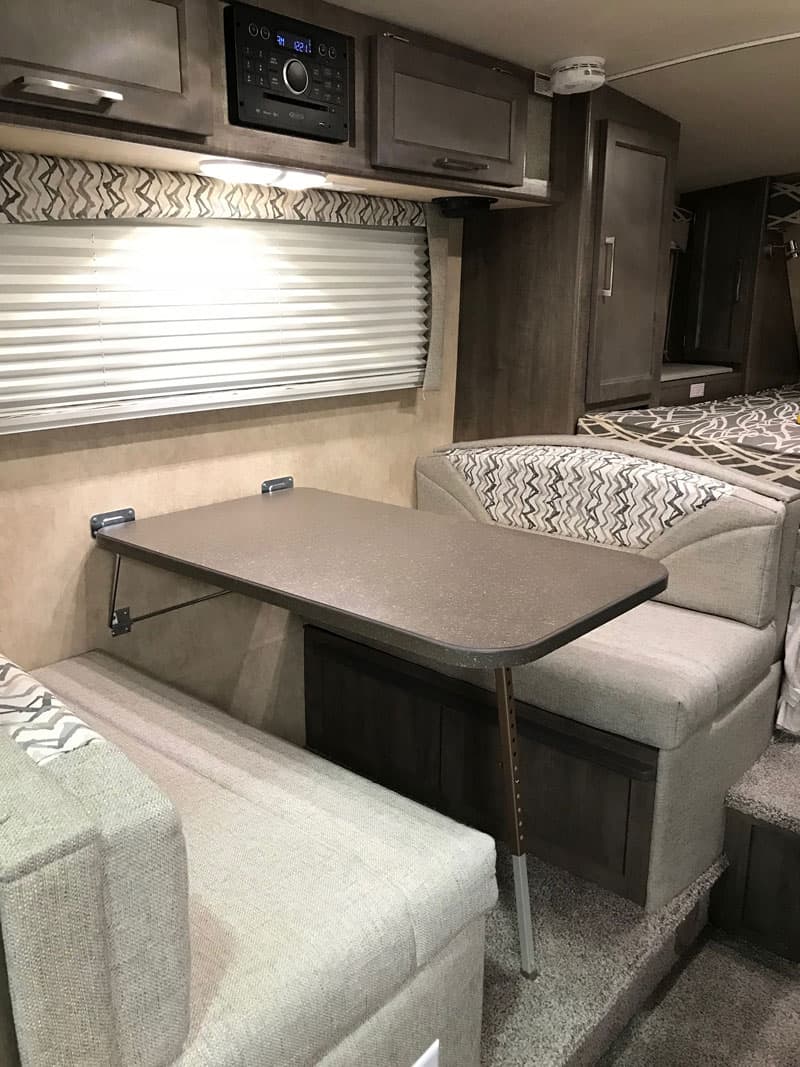 Above: The woven fabric dinette cushions
TCM: Did you make changes to the quality of the other interior materials?
Grant: We upgraded the cabinet pulls to stainless steel for the new modern look.  The hinge hardware was already top quality so that's the same.  The new stainless steel double sink and high-rise faucet are exceptional quality.  We select the highest quality materials and appliances for Bigfoot products.  As I like to say, it's either a Bigfoot, or it's not.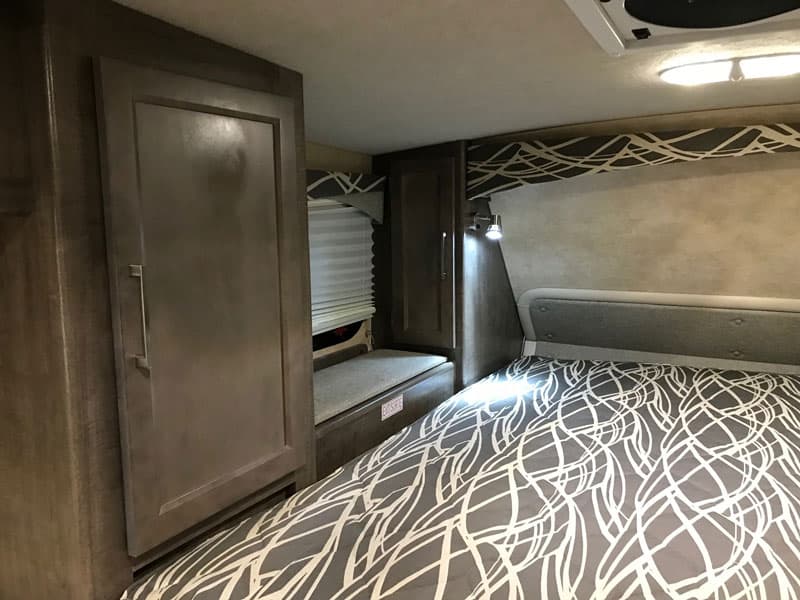 TCM: Beyond the new pulls, have you upgraded the cabinetry?
Grant: We still build our space-frame cabinetry the same way.  There are no bonded edges to come free.  There's no edge banding with plywood facias that don't match our durability standards.  Our cabinetry is all face frame with Maple and Alder doors.  You don't have to worry about a T-edge coming off or chipping at the edges.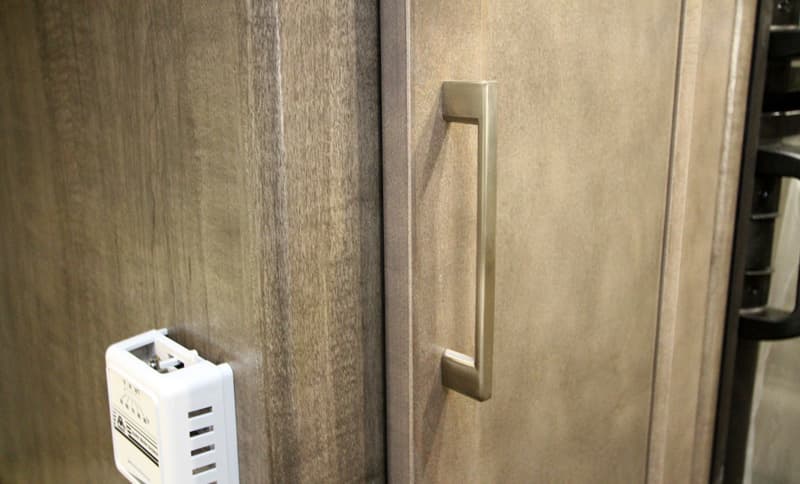 We want our cabinets to hold up for the long term.  It's not unusual for Bigfoot owners to have their truck campers for five, ten, or even fifteen years.  Due to our quality standards, the cabinets in those older campers still look incredible.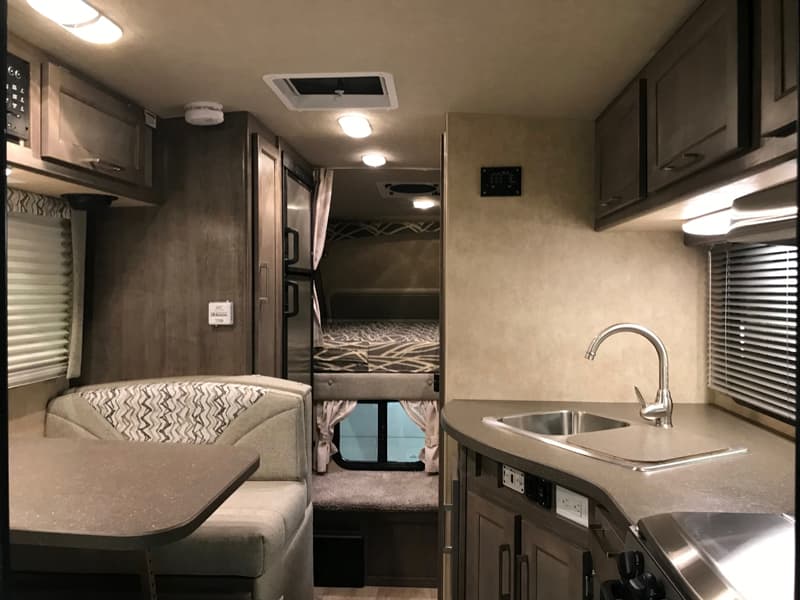 Above: A rear entry view of a Bigfoot 9.4 camper in Driftwood
In the original Truck Camper Magazine "Bigfoot On the Move" article, I stressed that we focus on quality and that it is at our core.  We want to build the best units we can build.  The changes we are making to increase production are made very carefully, and never at the expense of quality.
For example, there are other manufacturers who build internal cabinets on CNC machines.  There are production benefits to that approach, but the reduction in material durability is not something I want to do.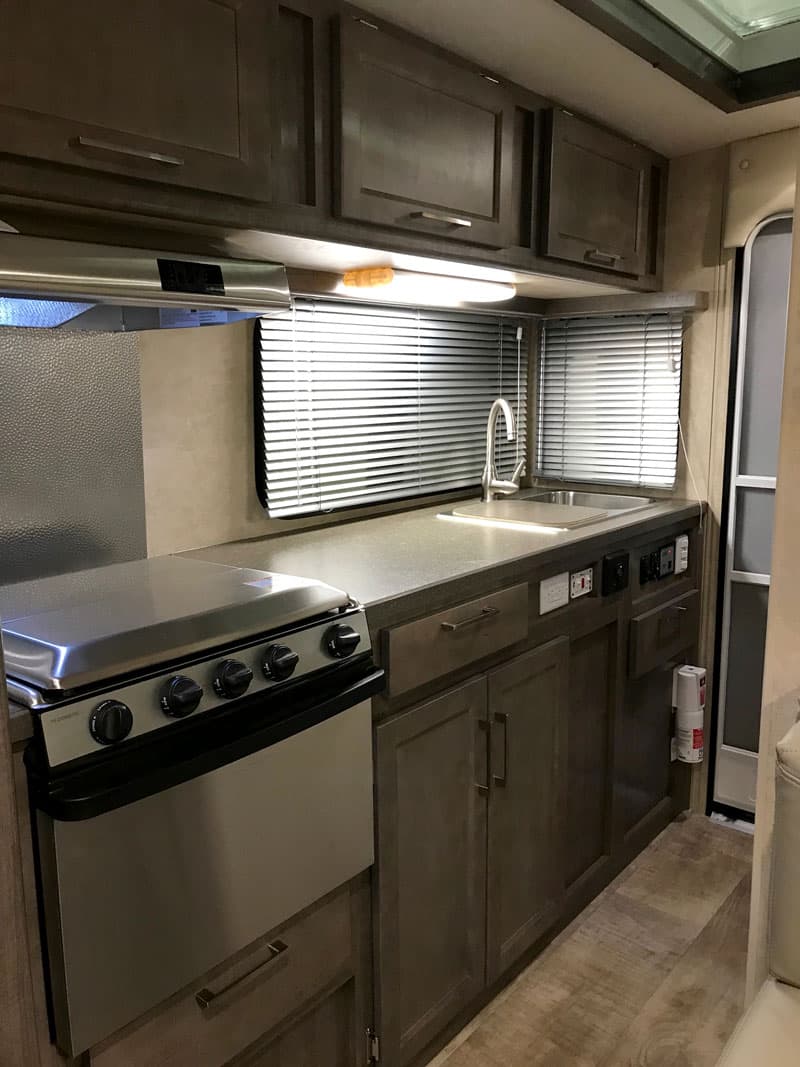 TCM: Are stainless steel appliances standard for Bigfoot in 2018?
Grant: Yes, they are.  When we designed and implemented the new Driftwood interior, I decided on the stainless steel appliance upgrade.  Without stainless appliances and materials, the Driftwood interior didn't look complete.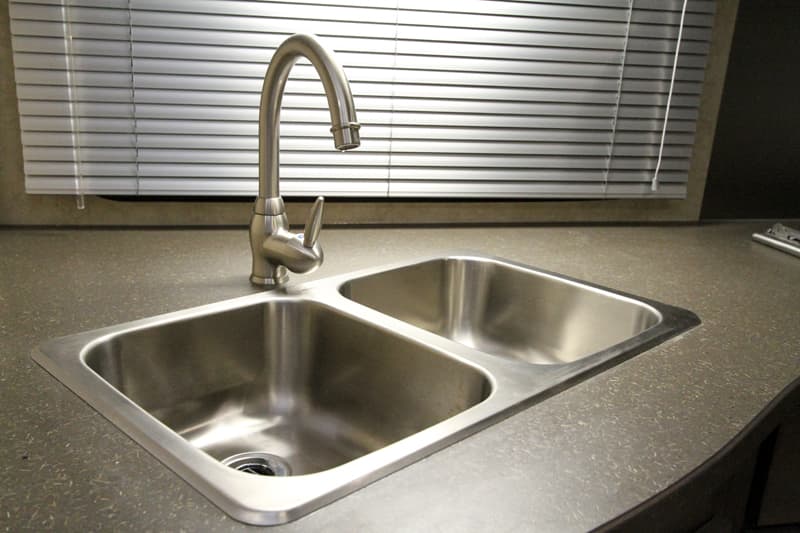 We also added a textured stainless kitchen backsplash, brushed stainless mini-blinds, stainless range and oven, faucet, and hardware.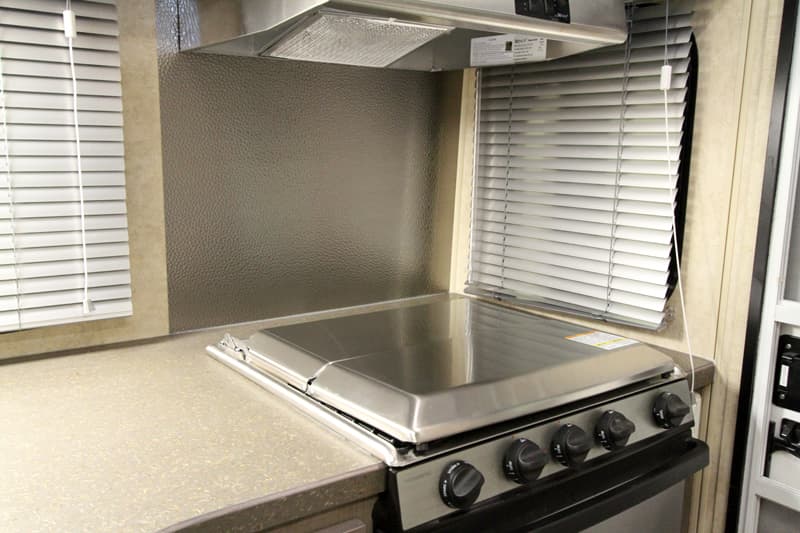 In person the new Driftwood interior looks fantastic.  We are very happy with the new look.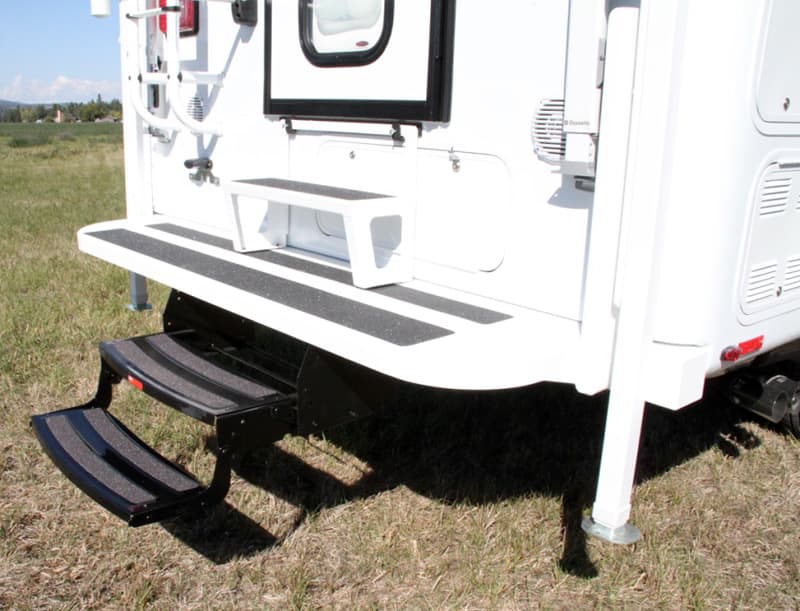 Above: The full-width aluminum platform bumper is standard for 2018 Bigfoot 2500 series campers
TCM: Have there been any rolling changes to Bigfoot truck campers throughout 2017?
Grant: We have made a number of rolling changes this year.  We made a number of popular options standard on our 2500 series including the Dometic Carefree electric rear awning.
We now have a full-width platform bumper standard on the 2500 series.  The previous bumper was only 36-inches wide.  The bumper is optional on our 1500 series campers.  The powder coated aluminum bumper makes it easier to use the ladder and makes entering and exiting the camper more comfortable and safe.  Our platform bumpers are made by a local manufacturer here in British Columbia and are very popular with Bigfoot customers.
For Bigfoot models with a generator option, we increased the size of the generator boxes, made generator pre-wire standard, and added an auto-transfer switch.
TCM: Which Bigfoot truck camper models are generator compatible, and what generator are you installing?
Grant: Generators are available on the Bigfoot 10.6E, 10.4, and 9.4 short box.  We use the Onan 2.5 LP generator.  If customers order a unit without the built-in generator, the generator compartment can actually fit two Honda EU2000i portable generators side-by-side.
TCM: Are there any new options for 2018?
Grant: We now have an optional 150-watt solar panel for all of our campers.  On the models that have the roof space, there is a second 150-watt or 100-watt solar panel option.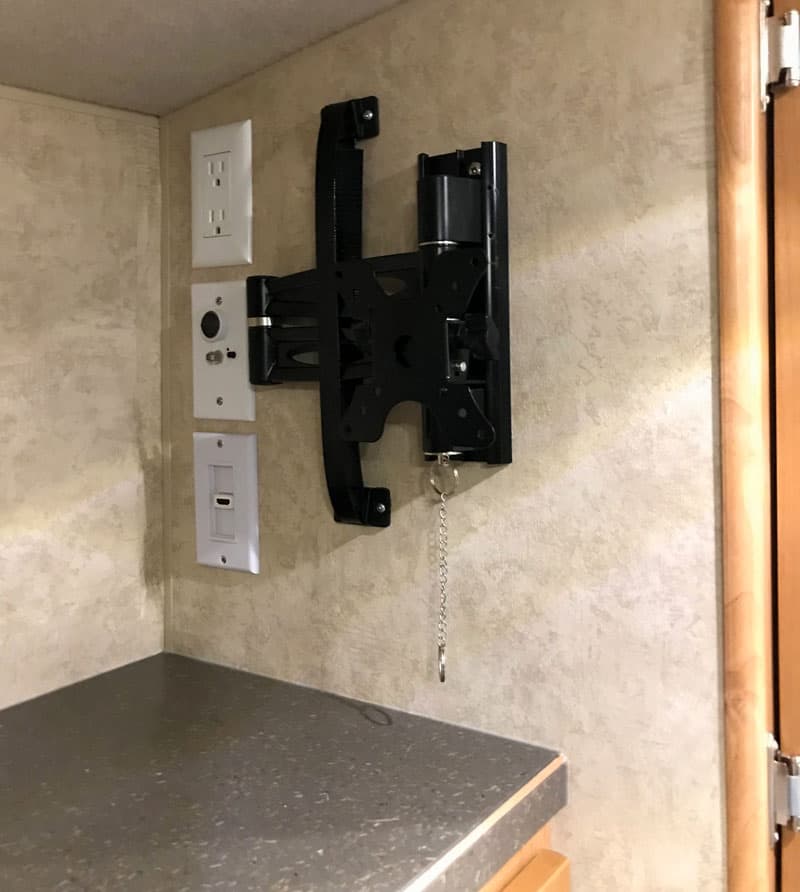 Above: The LCD Television Prep Package
All Bigfoot truck campers now come with a standard LCD television prep package including the bracket.  We also changed from RCA to HDMI for the television pre-wire.  For customers who want a television from the factory, we have a 19-inch Jensen HDTV option.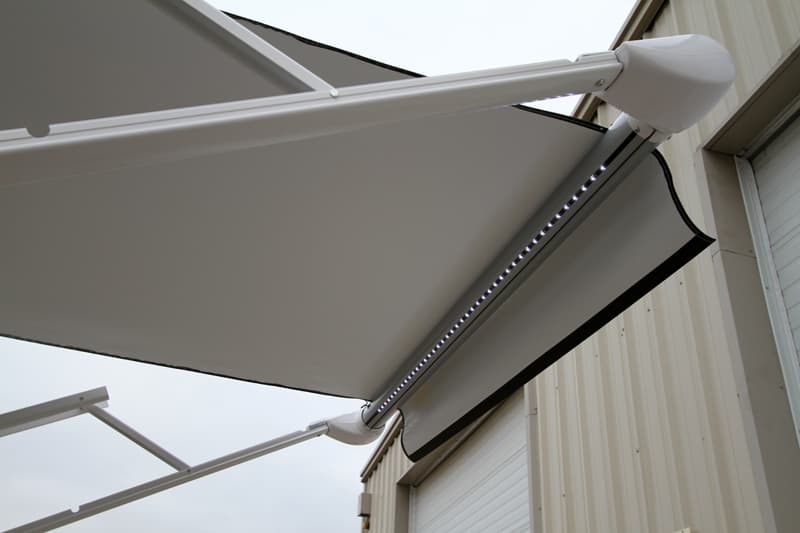 Above: Electric rear awnings are standard for 2018 Bigfoot 2500 series campers
For 2018, electric rear awnings are standard in the 2500 series campers and optional in the 1500 series.  We fabricate our own custom awning brackets so that all of the windows could be left in place.  When adding an awning, some manufacturers remove windows.  We had special brackets made to leave every window in place.  With our 9-4 and 10-4 models, there is a rear dinette with a panoramic view.  We didn't want to take the windows away.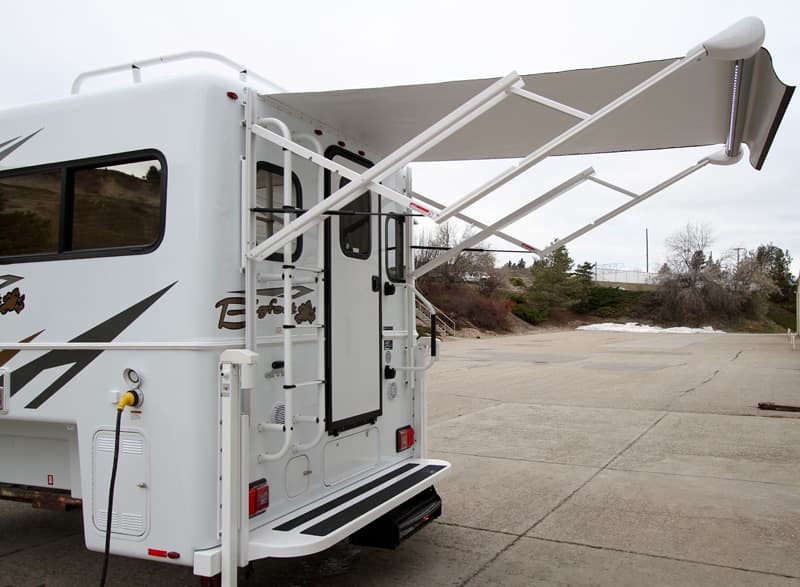 TCM: Have you made any construction changes to the truck campers that can't be seen?
Grant: As we have brought back each Bigfoot model, we made sure the structure was stronger than ever.  For example, we added more fiberglass in the right areas.  We also strengthened our basement foundations.  There is nobody in the industry that can compete with the strength of our basements.
There's an art to how the fiberglass structure of the camper marries the I-beam construction of our basement.  Composites are complex with a variety of options and how to use them.  We use fiberglass in exactly the right locations to complement this design approach without adding excessive weight.  After testing, we found these modifications add significant strength to our basements and campers.
TCM: Are you focusing on the strength of your basement to prepare for the slide-out model you teased our readership about this past July?  Basement strength would be critical to a successful slide-out model.
Grant: That's the secret filling in the Oreo cookie.  Building a slide-out truck camper is all about the foundation.  Cutting a hole in the side wall creates new flex points.  The whole structure experiences a lot of force, including where the cabover meets the body of the camper.  We are putting additional structure at key points to compliment the foundation and increase the strength of our campers.
TCM: So things are moving forward with the slide-out model?
Grant: I've already had someone contact me to tell me that he wants the first one.  It was important to update the interior and modernize the camper first.  Now that the new interior is done, my next step will be working on the slide-out project.
That said, we are in constant growth mode.  Increasing production while maintaining quality is our top priority right now.  2017 has been a fantastic year.
TCM: Truck camper manufacturers in general have had to adjust to the 2017 Ford Super Duty truck designs.  How have you addressed this challenge?
Grant: Bigfoot truck camper owners with 2017 Ford Super Duty trucks have already adapted very easily with a 1-inch rubber bed mat lift and/or a sheet of plywood.  You will need to increase the height by about 1-inch to accommodate Ford's bed rail height increase.  As a fiberglass manufacturer, we cannot make changes without extremely expensive mold changes.
When we get to the slide-out project, we will incorporate the subtle changes in the molds to further accommodate the new Fords.  Fiberglass manufacturers have to live with molds for a long time, so we design our molds carefully.
TCM: Bigfoot has had some of its truck camper molds for many years.  How do you maintain the condition of the molds to ensure the quality you're looking for?
Grant: Mold maintenance is part of our every day business.  They're a piece of equipment that needs to be waxed and polished.  If they're properly cared for, they can last for decades.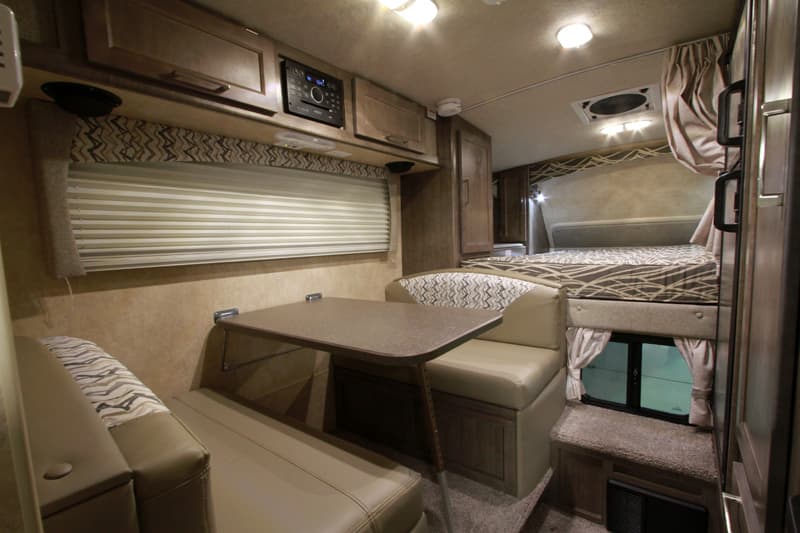 Above: The Driftwood decor in the Bigfoot 2500 series dinette
TCM: Given the new standard features, have you also adjusted the base dry weights for 2018?
Grant: For the 1500 series, we only added LED lighting.  The weight of those campers hasn't changed.
With the 2500 series, the new standard features added about 150 pounds to each camper.  The 36-inch platform bumper alone added about 120 pounds.  Every unit we build comes with a weight sheet that includes the weight of the camper with standard features and the options for that unit.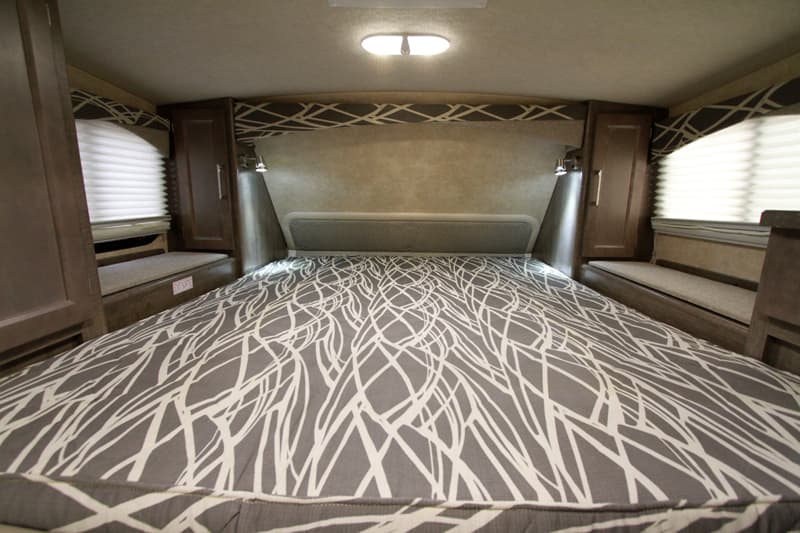 Above: The Driftwood decor in the Bigfoot 2500 series cabover
TCM: That's an excellent practice that benefits the customer tremendously.  When will Bigfoot truck campers with the new interior start shipping?
Grant: Some dealers have the new 2018 interiors now.  So far the feedback from our dealers and customers has been very positive.  I believe Driftwood is going to be a very popular interior.
TCM: Is there any other news from Bigfoot that you can share?
Grant: We added some great dealers this year that have had good success with our campers and trailers.  2017 has been our best year yet, but it's not our end destination.  We will continue to build a great product for great customers.  Just recently I went to the annual Bigfoot rally and visited with a lot of Bigfoot owners.  It was fun and it reinvigorates us to keep doing what we're doing.
For more information on Bigfoot Industries, visit their website at bigfootrv.com.  Click here to request a free Bigfoot camper brochure.