Grant Bilodeau, President of Bigfoot Industries, talks about the triumphant return of Bigfoot truck campers and trailers and exactly what makes a Bigfoot a Bigfoot.  Then Grant makes a surprise announcement that will astound the entire truck camper marketplace.  Hint: What's the one thing the 2500-series has always been missing?

Of the six truck camper manufacturers struck down during the Great Recession, perhaps none was more shocking than the demise of Bigfoot Industries.  Like many proven and profitable RV manufacturers at the time, Bigfoot was shut down by anxious banks and repurchase agreements.  The news was a complete surprise to the Bigfoot management team that was preparing to take the necessary steps to survive the financial crisis.  They were never given the chance.
Fortunately, Grant Bilodeau, Bigfoot's former Operations Manager with 30 years of experience, was able to purchase the Bigfoot name, fiberglass molds, and other critical assets.  From there, Grant negotiated space within the original Bigfoot facility and hired just enough of the best production people from the original company.
With all of the key elements in place, Grant and his A-list production team resumed Bigfoot truck camper production in August of 2010.  No other truck camper manufacturer that failed during the Great Recession made such a comeback.
From that point, the new Bigfoot Industries moved forward; methodically increasing production, team members, and dealers.  During a visit about a year after Bigfoot's re-launch, Grant explained that his focus was not on profits or production, but rather on building a stable and reliable business for his dealers and customers – one high quality Bigfoot at a time.
Seven years after the successful return, Bigfoot Industries is ready to once again expand their horizons.  Making a long anticipated return to Truck Camper Magazine, we were eager to interview Grant Bilodeau on his company's incredible story, high-end clamshell fiberglass truck campers, and vision for the future.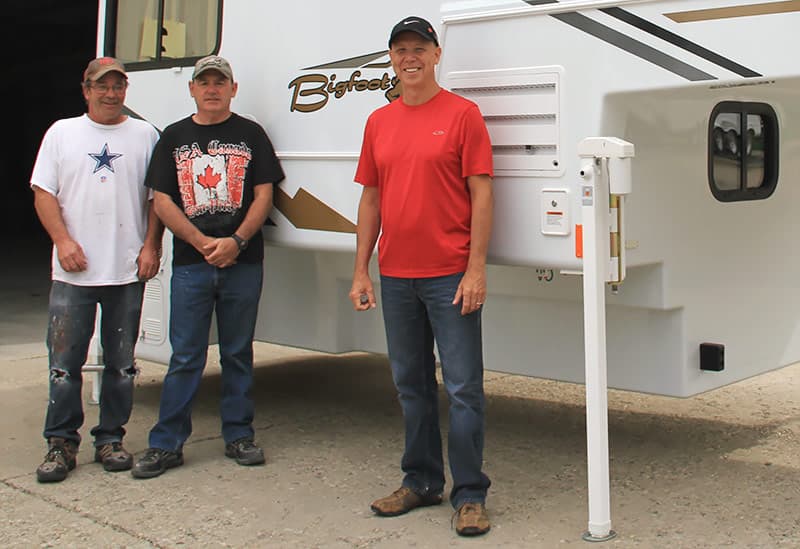 Left to right: Doug Wurz, Quality Control, Rob Ferroux, Production Manager, and Grant Bilodeau, President.  96 years of Bigfoot experience with just these three people.
TCM: Before we talk about Bigfoot, tell us how you got involved in the RV industry.
Grant: My venture in the RV industry started 30 years ago at Bigfoot RV.  In April of 1987, I got a job in the prefab department working on plumbing, wiring, and propane.
Prior to starting at Bigfoot, I worked with my dad at his auto body repair shop.  Dad had me repairing car bodies from early on.  From about grade four's summer vacation I helped my father.  This was my start and entry into the workforce.  Over the years I continued to learn this trade.  In addition I had other jobs working with animals and in farm settings.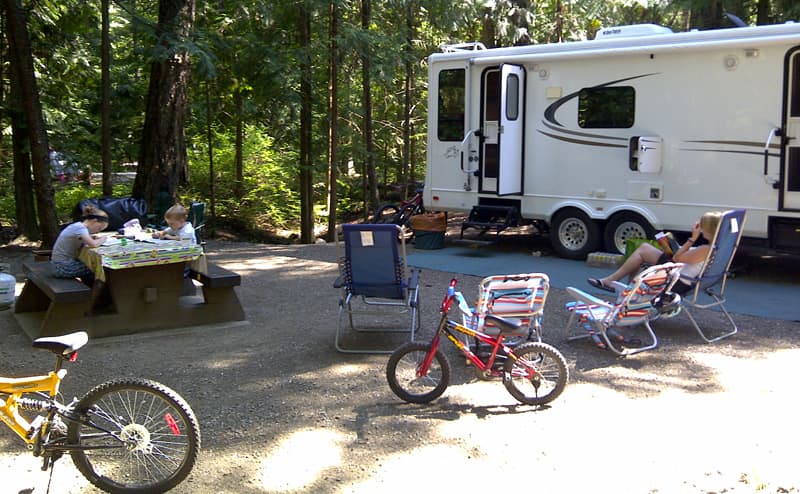 Above: Grant camping with his family in his Bigfoot travel trailer
TCM: How did things progress for you at Bigfoot?
Grant: At first I didn't see the path to advancement.  What I believed in was good honest hard work.  I wasn't competitive with others, but I was very competitive with myself.  That effort provided opportunity for promotion.
I started in prefab, but was soon put at the front of the production line on final finishing.  I did a lot of the touch-ups in the interior of the units after they were completed on the assembly line.  The auto body skills I learned working with my father became very handy later when I became a supervisor and was managing fiberglass repair staff.
Bigfoot management saw that I was doing well with final finishing and moved me to cabinet installation.  That required a lot of learning.  As two-piece fiberglass units, Bigfoot truck campers are built from the inside out.  There's a high level of craftsmanship involved in the cabinet installation station and that can also be said with every facet of Bigfoot production.
About two years later, I was promoted to Line Supervisor.  I was still installing cabinetry, but now I was responsible for managing a small team.  The team I managed included the assembly line, cabinet stop, prefab, and upholstery.  I was also involved in product development and had direct access to the President of the company.
As time went on, I was promoted to Production Manager in 1996 and then Plant Manager.  I was in that position right up the point when Bigfoot was shut down in 2008.
TCM: What can you tell us about that experience?
Grant: In the fall of 2008, RV dealers in the United States were closing at a rapid pace.  With the repurchase agreements manufacturers were forced to sign, Bigfoot had to buy back RVs from every Bigfoot dealer that shut down, most of this coming out of the United States.  As the recession intensified, repurchase letters were coming in faster than management could keep up.  Bigfoot's exposure was not just truck campers, but also travel trailers and big motorhomes.  The Bigfoot product on dealer lots became a huge liability.
As it got worse and worse, the owners of Bigfoot decided to end the company.  I was a key person at Bigfoot and didn't find out about the shut down until a week and a half before it happened.   We were all shocked.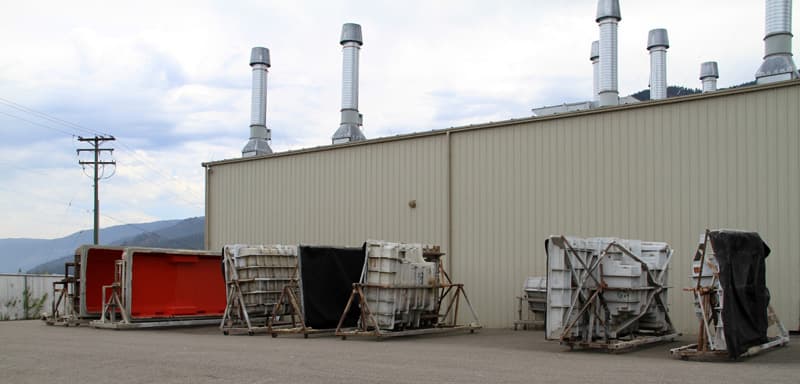 Above: 1500 and 2500-series truck camper molds at Bigfoot Industries
TCM: How did you get involved with Bigfoot after the shut down?
Grant: After the shutdown, Bigfoot sat idle for a year.  The gentlemen that had acquired the company's assets weren't doing anything and eventually started shopping for someone to purchase it.  I think they came to realize that manufacturing something as complex as a Bigfoot is not something anyone can do.
It was at this point that I was approached about purchasing the company.  Three months later, we finalized the deal and I restarted Bigfoot Industries.
TCM: You bought Bigfoot Industries by yourself?
Grant: Yes, I bought the company independently.
TCM: Why was it worth going through all the expanse and effort to bring back Bigfoot?
Grant: It would have been crazy not to do it.  It just made sense.  I don't think I approached buying Bigfoot as a risk at the time.  Maybe it was blind passion.  I was just so committed to Bigfoot.  It's a part of me.  When the opportunity presented itself, I said, "Let's just do it."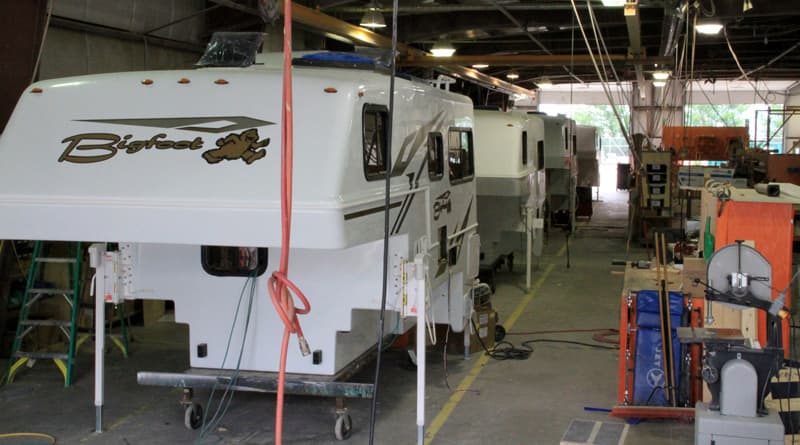 TCM: How did you go about getting the right people back to restart the production line?
Grant: Having been on the operational side of the company, I was able to create a list of the best people from each department.  Just like a sports team, you want people working with you that have the best skills and experience. You also want people that you trust.  I selected the best people that had that same trust in me. The long term relationship was already there.
Many of our team members have twenty and even thirty years of experience at Bigfoot.  Bringing back the right people made it possible to bring back Bigfoot truck campers and trailers at the quality level I require.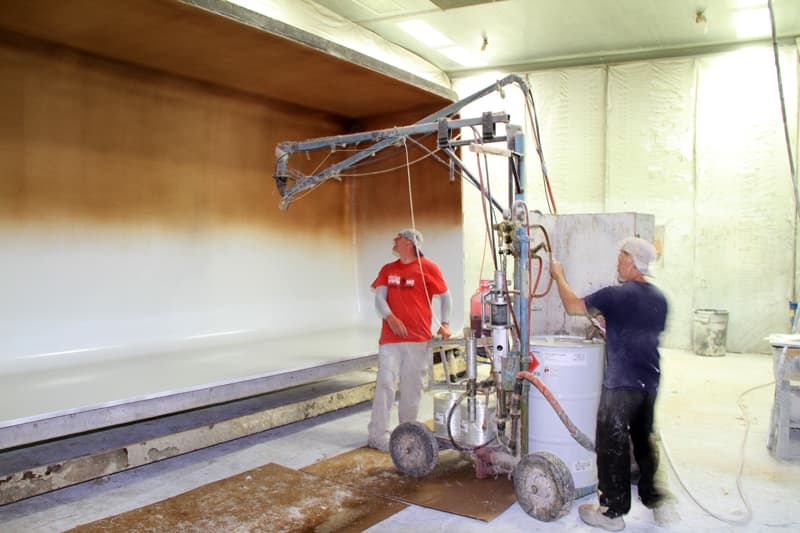 Our team is passionate about quality and consistency of production.  There are many different skill sets in building an RV.  For example, you need a team in the fiberglass shop that specializes in and understands the art of working with fiberglass.  Each member of our team has that level of passion within his/her skill set and brings his/her knowledge and experience to Bigfoot production everyday.
Above: The current production team and facilities at Bigfoot Industries
TCM: Your extensive Bigfoot production line experience must give you deep insights into the needs of your team.
Grant: It does.  There's not much that goes into a Bigfoot that I haven't personally worked on.  The experience also helps when I'm working with a team member to solve a problem, or when I need show someone the Bigfoot quality standard for a particular step.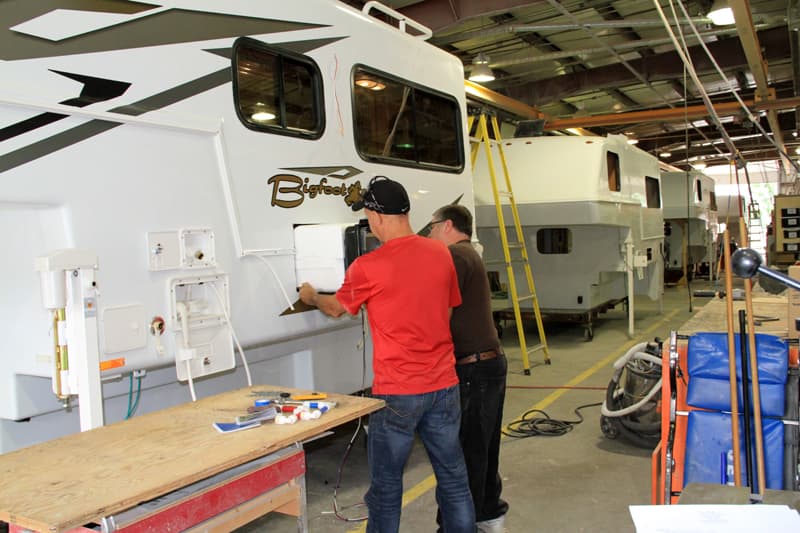 There is a level of respect that is earned when working side-by-side with many of the team members over the years.  At the same time, that experience allows me to maintain a very high standard for our campers.  I can also answer almost any question, or demonstrate what I'm talking about.  That's so important.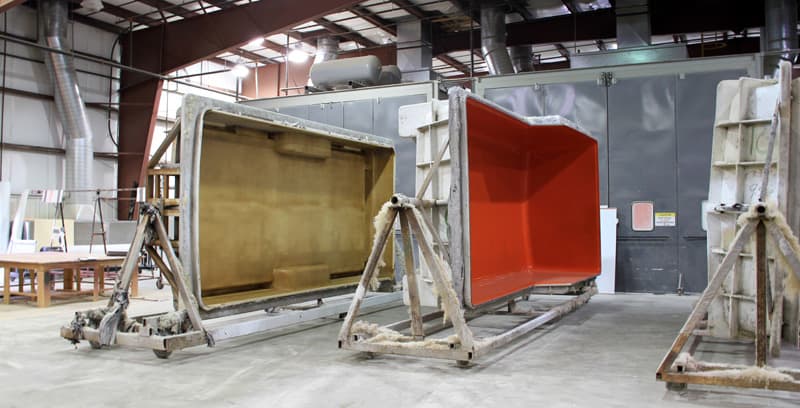 Above: Bigfoot molds ready for next production sequence
TCM: Did you ever work with the molds and fiberglass?
Grant: I mainly worked on the production line.  I have sprayed gel coat and fiberglass just enough to understand it, but never work in there as a full-time job.  Rob Ferroux, our Production Manager, specialized in the fiberglass shop and is our resident expert when it comes to fiberglass.  I performed those tasks to learn, but never did any volume.  I've done pretty much everything else for production.
TCM: If left alone at Bigfoot with enough time, do you think you could build a Bigfoot camper by yourself?
Grant: I would have to humbly say yes. Given all the years of experience I have across the entire production process, I could build a Bigfoot.  I have a strong understanding of how they come together.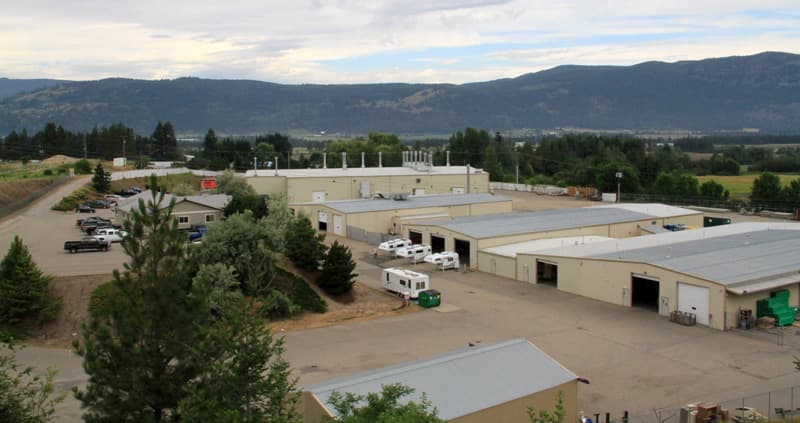 Above: Bigfoot campers are manufactured in a 85,000 square-foot multi-building complex in Armstrong, British Columbia.  Note the truck campers in the center.
TCM: How were you able to resume production in the same 85,000 square-foot multi-building complex in Armstrong, British Columbia where Bigfoot was originally produced?
Grant: After Bigfoot shut down, I helped another start up venture, Rhinokore Composites, manufacturing non-RV products in the former Bigfoot complex.  My relationship with Rhinokore created the opportunity for Bigfoot to return to the original facility.
Having Bigfoot in the same building complex as Rhinokore diversified the property.  Besides, neither company needed anything close to 85,000 square feet of production space.  That's even more than we need today.
Above: The front office (far right) and production buildings in the background
TCM: Other than sharing the costs of the property, are there any benefits to having Rhinokore Composites and Bigfoot Industries in the same complex?
Grant: Ultimately we can help Rhinokore with technical things that fall under our expertise.  In turn we are able to use areas of the complex as we need them.  We also have access to the original on site equipment.
Above: Truck camper pre-fab, production, and final finishing at Bigfoot Industries
TCM: How did things proceed once you had the team back in place?
Grant: Let me answer that question in a different way. Nothing happens without a sale.  We had the assets and team members in place, but we needed dealers and sold truck campers to move forward.
To accomplish that, we brought back a select number of Bigfoot dealers.  At first we focused on western Canada and only produced a limited number of 2500-series products starting with truck campers.  We did not want to spread ourselves too thin.  We wanted to come back with a high standard and did not want anything to come back for warranty.  With limited dealers, limited production, and an extreme eye on quality and quality control, we slowly moved forward.
Then we started with dealers on the west coast of the United States.  We currently have a strong west coast presence and are looking to build on that.  Now we are working on reaching further across North America.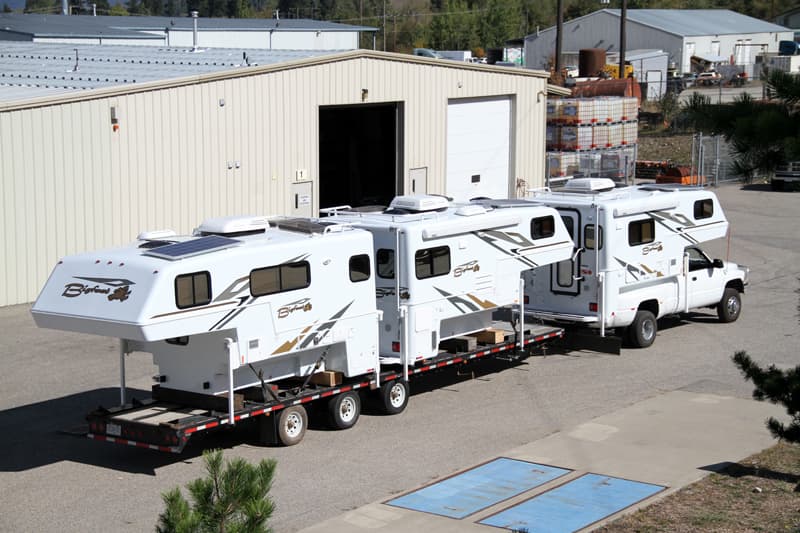 Above: A fresh load of Bigfoot truck campers being delivered to eastern Canada
TCM: How many Bigfoot truck camper and trailer floor plans are you currently manufacturing?
Grant: We are building seven truck campers and six travel trailer floor plans at this time.  It was quite an undertaking to redevelop each model.  Many of the original jigs and equipment were sold when the original company shut down.  Our team had to go back and redesign and rebuild each model step-by-step.
TCM: Did you make any changes to the units during that redevelopment process?
Grant: We did not make floor plan changes, but we made many other design and material improvements.  Most of the changes are not visible, but improve the quality of the units and production efficiency.
We were very aware that dealers, suppliers, and retail customers lost trust with the company when the shut down occurred.  So when we started working with them again, it was important that the original team was producing the campers and that we were not making significant changes to the design or quality of Bigfoot products.  Our dealers, suppliers, and retail customers had high expectations for Bigfoot.  We made sure to exceed that expectation.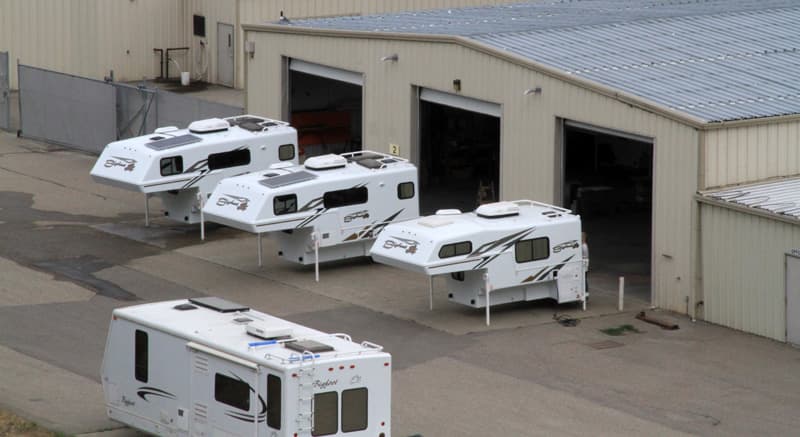 TCM: When did the first new Bigfoot truck camper leave the building?
Grant: August of 2010.  Nobody outside of the company knew that we had completed our first unit. I called our local dealer and said we were delivering the first Bigfoot. It just so happened that the dealership was hosting a radio station that afternoon. As I was driving, I heard the radio station announce the first new Bigfoot truck camper arriving to the local dealer.  Hearing that announcement on the radio made a great memory of how everything came together.
TCM: That must have been a good feeling.  Are the truck campers and travel trailers currently on the same production line?
Grant: Yes, they're on the same production line.  I want to keep my best talent focused on one production line.  There's a real risk when you go to two production lines that you lose quality.  That's not something I'm willing to do.
We have a long way to go before we will have a separate truck camper and travel trailer line.  Having previously managed three lines at Bigfoot, there has to be a good reason to do it.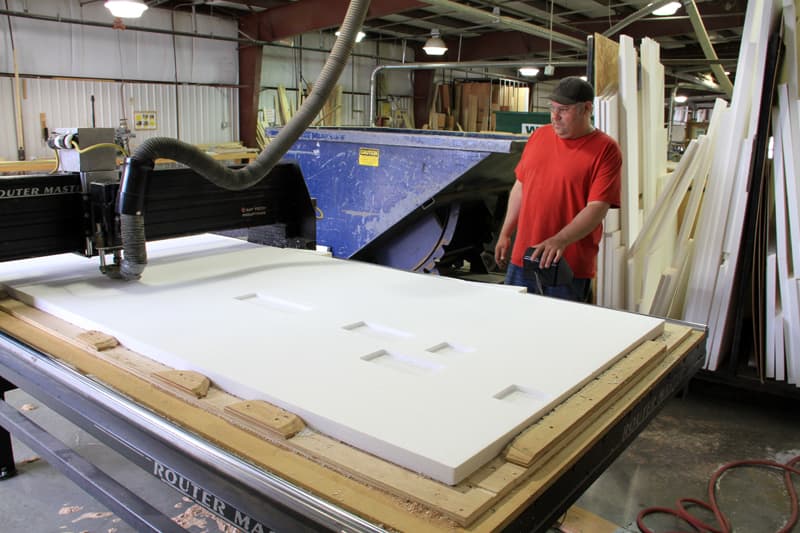 Above: Brian McKenzie, certified LEAN greenbelt, CNC routing foam insulation wire channels
TCM: The original Bigfoot Industries had earned LEAN certification for its just-in-time inventory practices, elimination of unnecessary material waste, consistency of quality and quality control, and culture of continuous improvement.  Have you been able to maintain these practices as part of Bigfoot Industries today?
Grant: To earn LEAN certification, a company first sends a team to become LEAN certified themselves.  During that process, I earned my black belt in LEAN.  Current Bigfoot team members, Rob Ferroux and Brian McKenzie, earned their green belt in LEAN.  With our LEAN experience and training, we have been able to keep many of the LEAN practices in place.
LEAN focuses on keeping production areas and production lines organized, clean, and uncluttered.  LEAN also focuses on problem solving and how different situations are approached.  Most of that now comes naturally to us.
As a much smaller company, we benefit from LEAN practices even more than we were able to before. Starting from the ground up, we are able to use LEAN systems and practices that were more difficult to maintain at the old Bigfoot.  For example, we practice just-in-time inventory better than we were able to achieve before.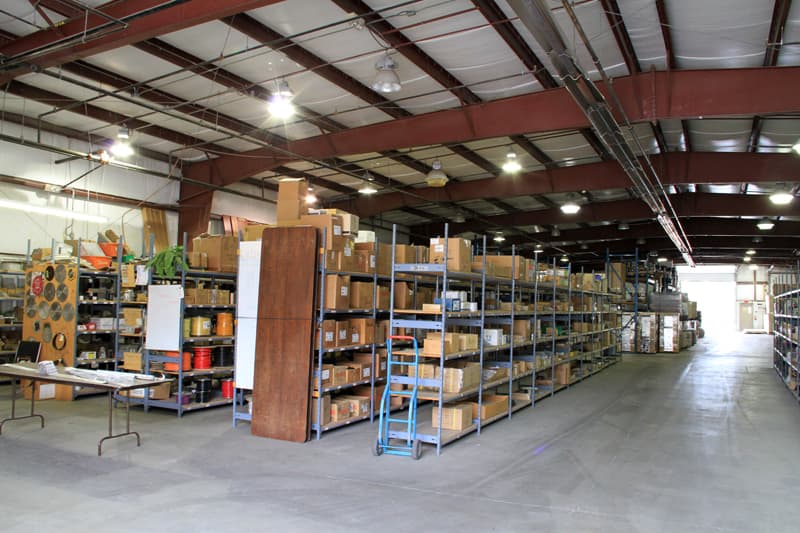 Above: Production inventory warehoused at Bigfoot Industries
Previously, purchasing was handled mostly with a computer system that forecasted what was needed. That worked okay, but there was a lot of waste as the computer was never 100-percent in tune with production. Now we have Dennis Allen order what they need when they need it.
Another LEAN improvement comes from our experienced team.  Before we had Standard Operating Procedures (SOPs) in place because we continuously had new employees working on three production lines.  Now we only have one production line populated with a highly experienced team.  That team eliminates the problems and inefficiencies of new hires and high production volume.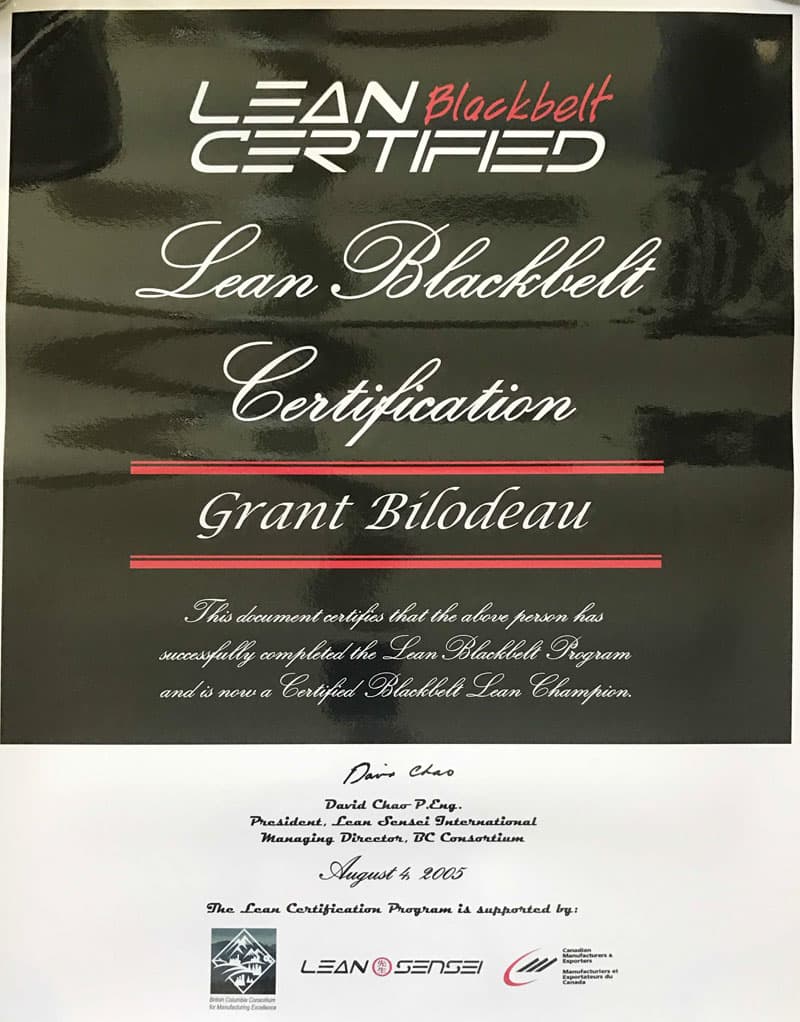 Above: Grant's LEAN blackbelt certification
The part of LEAN that I follow the most is continuous improvement.  I challenge myself to be a better version of myself.  I do the same with our company, team, and products.  We are always improving.
TCM: Are Bigfoot RV truck campers CSA and RVIA certified and code compliant?
Grant: Yes, Bigfoot RV is code compliant with both organizations.  When you talk about CSA and RVIA codes, you're referring to Z240 (Canada) and NFPA1192 (USA) codes.
CSA is a listing agency which lists the products using the Z240 code.  RVIA is an inspection agency which inspects to make sure you build to those legislated codes.  We work with an independent inspection company in Canada that inspects our production for the Canadian and US codes.
If you ship products into the United States, you have to build to US safety standards and build codes.  In Canada, you have to build to Canada's standards.  There is no wiggle room.
TCM: Are you planning to develop any new truck camper floor plans, or continue to refine the models you offer?
Grant: We are looking to design and develop new floor plans.  In fact, I am determined to put a slide-out in a 2500-series truck camper.  It's something I want to do.
TCM: You just made a lot of people very excited.  Any sense of timing on a 2500 slide-out truck camper?
Grant: There's some work to do on the shell structure, but it's going to happen.  I don't have an answer as to when.
Bigfoot has done slides in the past, but we never attempted slide-outs in our two-piece fiberglass shell products.  It wasn't that we weren't capable of putting a slide in a 2500-series, but our development was focused on the 3000-series and motorhomes.
TCM: Please put Truck Camper Magazine at the top of the list to make the 2500-series slide-out announcement when you're ready.  Back in 2008, Bruce Paracholski was Bigfoot's Design Manager.  Is he still involved with the company?
Grant: Bruce no longer works at Bigfoot. In my previous position, I was deeply involved in product development. I now have a team member who worked with Bruce.  He took Bruce's designs and built actual truck camper and trailer prototypes.  It's fun to put concepts into action and see the next stage happen.  I've always enjoyed that process.
When it comes to development, I will focus on durability and longevity. With most things I take a conservative and safe approach. I want to make sure what we produce will not be a burden to the customer or to us to support. I believe in taking the time to thoroughly test new products. When we launch the 2500 slide-out, it will be built to last.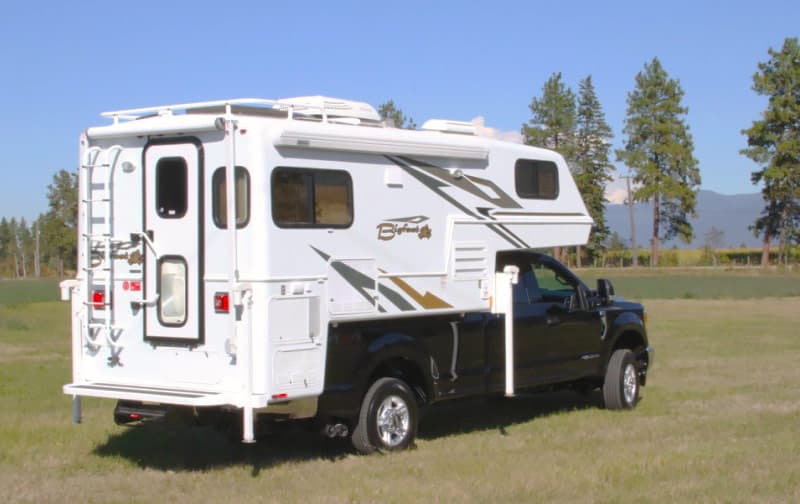 TCM: For those who are not familiar with Bigfoot products, what makes a Bigfoot a Bigfoot?
Grant: To answer that I'd like to quickly review the history of the company.  In 1978, Clyde Burgess, Erwin Kreig, and Terry Mayall started Bigfoot Industries.  Terry worked for both Clyde and Irwin who owned a fiberglass tub company and was looking for a way to start his own company.  Irwin was a part owner of the small trailer company called Boler.  He was enticed with the thought since he had a previous background in RVs.
Terry had fiberglass boat and mold building experience and wanted to build truck campers and travel trailers with minimal seams.  His vision was to eliminate the weak points from RV construction including the framing, seams, and joints.  Over time, Terry and Irwin knew with their design that they would have a great advantage to units built with seams and joints because they would eventually crack and allow water infiltration. The three partners started Bigfoot.
In building a two-piece fiberglass RV, Bigfoot was leaping decades ahead of the competition.  That same two-shell fiberglass design is still state-of-the-art today.
Our uniqueness is that Bigfoot builds true four season trailers and truck campers.  Some companies talk about the R-value of their roof, walls, and floors. But then they have an aluminum framing that literally conducts heat and cold and condensation directly into their units.  On a cold day you can find the aluminum studs by running your hands on the inside walls to feel the cold as it transfers right through.
Our 2500-series truck campers have R-8 walls with 30,000 BTU furnaces and thermal pane glass windows.  As a result, our campers are good for camping to -10 degrees Fahrenheit (- 23 degrees Celcius).  Bigfoot customers regularly report how impressed they are with the insulation of their Bigfoot.  We continue to get stories of customers using the products in even colder temperatures than listed above.
Our expertise is building with fiberglass.  Our gel coat fiberglass basement storage on the 2500 series has no wood or aluminum framing in the walls and ceiling like traditional RVs.  The floors in our 2500-series are supported with an I-beam structure on the perimeter like a house.  It's a solid and bonded foundation which is fiberglassed into place.  In addition we use material from Rhinokore Composites in our floor, which is a unique honeycomb structural insulation.  We have a unique and secret selection of marine grade quality gel coat and resins.  That's what makes Bigfoot products the best.  Our fiberglass is stronger than any other fiberglass RV.
The second-to-none two-piece fiberglass construction and industry leading four-season capabilities are a big part of what makes a Bigfoot a Bigfoot.  The other important ingredient is our uncompromising approach to quality.
TCM: You already stated that you're building 2500-series products.  Are you also building 1500-series products?
Grant: Yes, we are.  We have three 1500-series truck camper floor plans.
TCM: What's the difference between the 2500-series and 1500-series?
Grant: The 2500-series has 1.5-inch walls and the 1500-series has 1-inch walls.  The 2500-series has 30,000 BTU furnaces and the 1500-series has 16,000 BTU furnaces.  The 2500-series features basements and the 1500-series are non-basement designs.  Most everything else between the two lines is identical.
My focus is not on making the lightest truck campers, but the strongest. Bigfoot truck campers are designed to last and to be passed down to the next generation. Our fiberglass structures will do that.
TCM: Can you give us an idea about the difference in weight between the 2500 and 1500-series campers?
Grant: Our standard build 2500-series 9.4 short box out of the factory without a generator is right around 3,000 pounds.  The same 9½ foot short box camper as a 1500-series camper is about 2,500 pounds.  The 2500 versus 1500 difference for the 9½ foot short box floor plan is almost exactly 500 pounds.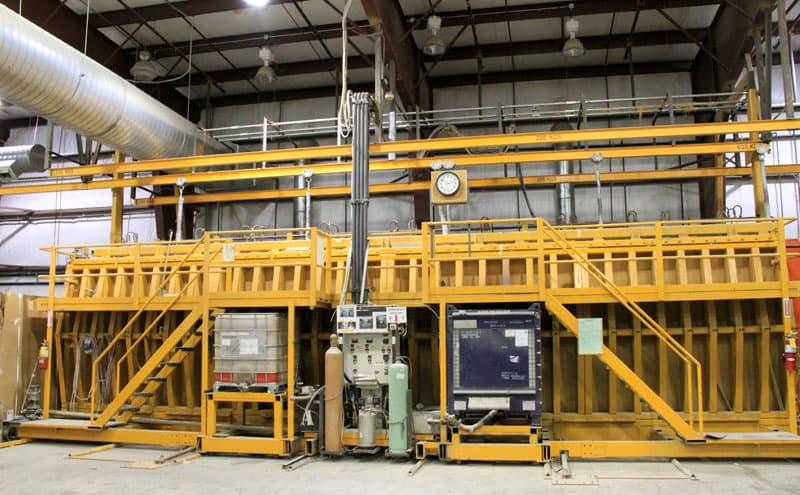 Above: The 40-foot vertical press at Bigfoot Industries.  This press was used for 3000 and 4000-series products.
TCM: You have talked about the 1500 and 2500-series.  Are there any plans to bring back the 3000-series products with Bigfoot's patented Fibercore Wall system?
Grant: I have the 40-foot vertical press, but I struggle with whether or not to bring it back.  If I started building the 3000-series, it would take me away from the 2500 slide-out camper.  I want to focus more on the 2500-series than anything.  The 3000-series process is also more expensive for the consumer.  I am conscious of that.  But, I never say never.
TCM: Let me challenge you on your "never say never" position.  Will we see a Bigfoot motorhome again?
Grant: Never! (laughs)  We have lots of people who ask that question, but no.  We will never do motorhomes again.
TCM: I thought not.  Does Bigfoot Industries mark the center of gravity on all truck campers?
Grant: Yes, we mark center of gravity on every camper.
TCM: How about the actual weight with options?  Is that posted on every unit?
Grant: We post the dry weight without options on the back of the unit.
The dry weight with options is printed on a sheet and inserted into the information packet with every unit.  That packet should be either in the camper or in a dealer's sales office.  There's also a certificate of ownership in that packet.  I also have a copy of each unit's file here at the factory.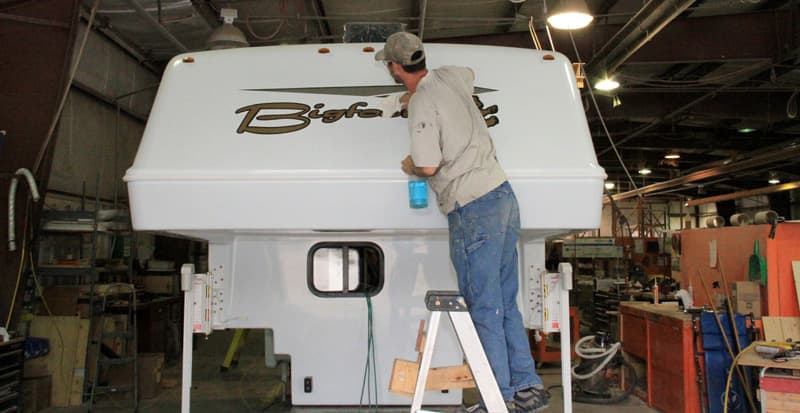 TCM: How would you describe your approach to quality and quality control at Bigfoot Industries?
Grant: I'm a very interactive owner.  I spend a considerable amount of time in the plant working with our production team.  I'm on a first name basis with everyone who works at Bigfoot.
My phrase is, "It's either a Bigfoot, or it's not."  If I see something on the production line or on a unit that isn't fitting to the Bigfoot name, that's the phrase I use with the team.  It's either right or it isn't.  There is no middle ground with me.
My goal is to meet or exceed the expectations of our customers.  I am on the verge of having obsessive compulsive disorder.  Put another way, I have extremely high standards.  If I'm not happy, it needs to be brought to the standard I want.  I do not make sacrifices with quality.
Our quality inspector has been with Bigfoot since 1984 and started in quality control and inspecting Bigfoot products around 1997.  He and I have worked together for a long time.  When I took the company over, I challenged him to lift Bigfoot's already high quality standards.
We want to be the best company we can be, and build the best truck campers and travel trailers we can build.  Whether it's a nick or a scratch, I'm aiming for perfection – nothing less.
TCM: Tell us about Bigfoot's warranty.
Grant: We have maintained Bigfoot's three year structural warranty and a one year warranty for all our standard items.  Appliances are covered under their own respective warranties.
Stating that, warranties are only as good as the company standing behind them.  Warranties are in place out of necessity, but we are here for the long term to take care of our customers.
Since we launched in 2010, we have not left a single customer without support.  There's also not been a single structural failure that I know about.  We don't hide behind the fine print of a warranty.
If you own a Bigfoot, you can contact me directly.  It's not unusual for me to help a customer on a Sunday afternoon.  That's part of our commitment to customer service.
TCM: The Bigfoot Owner's Club (BOCI) is still an active organization.  What is Bigfoot's involvement with BOCI?
Grant: The Bigfoot Owner's Club is a private organization that we support.  It was started by Rick Allen, a Bigfoot motorhome owner, many years ago.  New Bigfoot owners get a three-month membership with the purchase of their unit.  They are a great group of people.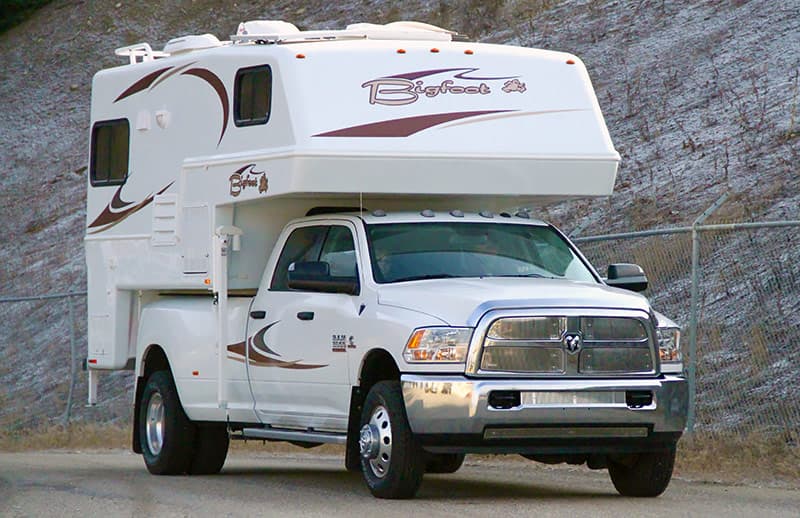 TCM: What's your vision for Bigfoot Industries for the next five years?
Grant: I want to see continued steady growth while we continue to build a high quality product.  I want to make sure our business and production is consistent and steady.  Growing too quickly causes issues.  If we can continue to grow the way we have, we will be very happy.
We will add new dealers each year and continue pushing east.  And then there's the 2500-series slide-out. That is going to happen.
TCM: We really appreciate you talking to us about Bigfoot Industries.  Is there anything else you want Truck Camper Magazine readers to know about Bigfoot and its products?
Grant: I was just talking to one of our dealers just before this interview.  He said, "Grant, it's hard to deny that anyone provides a better fit and finish than Bigfoot does today."
Nobody is perfect, but we are working very hard to be the best version of what we can be.  If we can continue to do that, we don't have to worry about the competition.  That's what we do.
For more information on Bigfoot Industries, visit their website at bigfootrv.com.  Click here to request a free Bigfoot Camper brochure.