Grant Bilodeau, President of Bigfoot Industries, talks about the triumphant return of Bigfoot truck campers and trailers and exactly what makes a Bigfoot a Bigfoot.  Then Grant makes a surprise announcement that will astound the entire truck camper marketplace.  Hint: What's the one thing the 2500-series has always been missing?

Of the six truck camper manufacturers struck down during the Great Recession, perhaps none was more shocking than the demise of Bigfoot Industries.  Like many proven and profitable RV manufacturers at the time, Bigfoot was shut down by anxious banks and repurchase agreements.  The news was a complete surprise to the Bigfoot management team that was preparing to take the necessary steps to survive the financial crisis.  They were never given the chance.
Fortunately, Grant Bilodeau, Bigfoot's former Operations Manager with 30 years of experience, was able to purchase the Bigfoot name, fiberglass molds, and other critical assets.  From there, Grant negotiated space within the original Bigfoot facility and hired just enough of the best production people from the original company.
With all of the key elements in place, Grant and his A-list production team resumed Bigfoot truck camper production in August of 2010.  No other truck camper manufacturer that failed during the Great Recession made such a comeback.
From that point, the new Bigfoot Industries moved forward; methodically increasing production, team members, and dealers.  During a visit about a year after Bigfoot's re-launch, Grant explained that his focus was not on profits or production, but rather on building a stable and reliable business for his dealers and customers – one high quality Bigfoot at a time.
Seven years after the successful return, Bigfoot Industries is ready to once again expand their horizons.  Making a long anticipated return to Truck Camper Magazine, we were eager to interview Grant Bilodeau on his company's incredible story, high-end clamshell fiberglass truck campers, and vision for the future.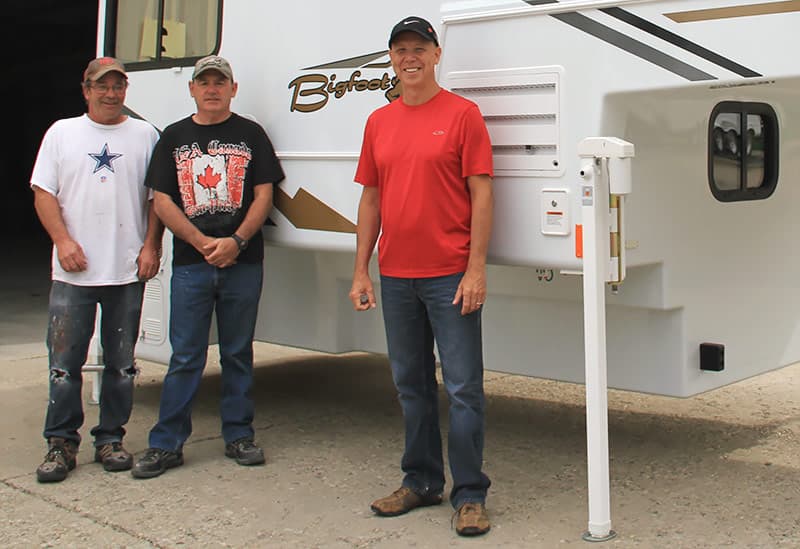 Left to right: Doug Wurz, Quality Control, Rob Ferroux, Production Manager, and Grant Bilodeau, President.  96 years of Bigfoot experience with just these three people.
TCM: Before we talk about Bigfoot, tell us how you got involved in the RV industry.
Grant: My venture in the RV industry started 30 years ago at Bigfoot RV.  In April of 1987, I got a job in the prefab department working on plumbing, wiring, and propane.
Prior to starting at Bigfoot, I worked with my dad at his auto body repair shop.  Dad had me repairing car bodies from early on.  From about grade four's summer vacation I helped my father.  This was my start and entry into the workforce.  Over the years I continued to learn this trade.  In addition I had other jobs working with animals and in farm settings.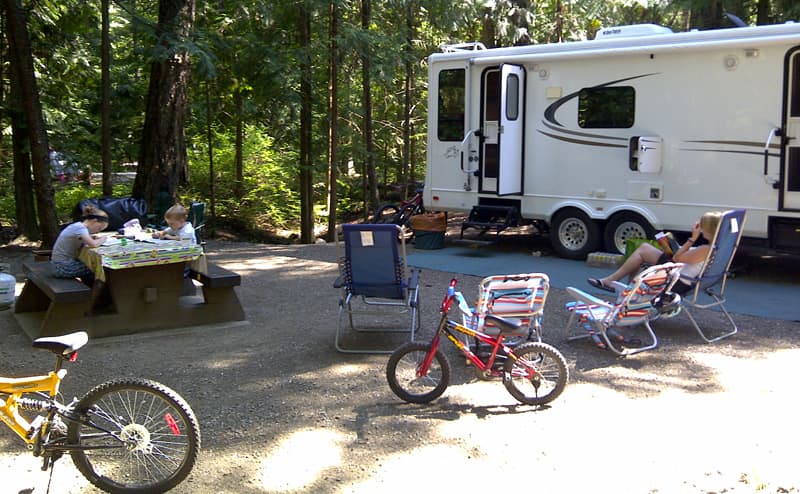 Above: Grant camping with his family in his Bigfoot travel trailer
TCM: How did things progress for you at Bigfoot?
Grant: At first I didn't see the path to advancement.  What I believed in was good honest hard work.  I wasn't competitive with others, but I was very competitive with myself.  That effort provided opportunity for promotion.
I started in prefab, but was soon put at the front of the production line on final finishing.  I did a lot of the touch-ups in the interior of the units after they were completed on the assembly line.  The auto body skills I learned working with my father became very handy later when I became a supervisor and was managing fiberglass repair staff.
Bigfoot management saw that I was doing well with final finishing and moved me to cabinet installation.  That required a lot of learning.  As two-piece fiberglass units, Bigfoot truck campers are built from the inside out.  There's a high level of craftsmanship involved in the cabinet installation station and that can also be said with every facet of Bigfoot production.
About two years later, I was promoted to Line Supervisor.  I was still installing cabinetry, but now I was responsible for managing a small team.  The team I managed included the assembly line, cabinet stop, prefab, and upholstery.  I was also involved in product development and had direct access to the President of the company.
As time went on, I was promoted to Production Manager in 1996 and then Plant Manager.  I was in that position right up the point when Bigfoot was shut down in 2008.