Extending the slide-out to the full wall would add a considerable amount of dry weight (upwards of 100 pounds or more) while decreasing the structural integrity of the camper.  Furthermore, putting a refrigerator on a slide means forgoing roof ventilation and adding an additional side vent with a fan.  Refrigerator fans are notoriously noisy in truck campers, especially for light sleepers.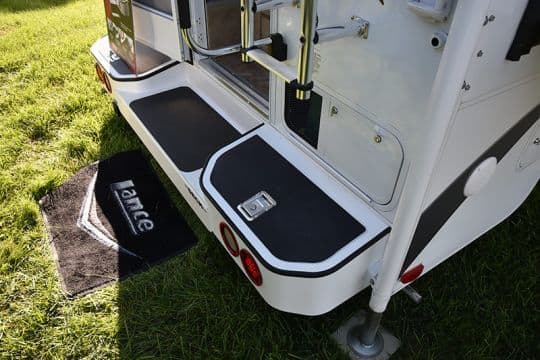 Above: The Lance Ultra Deck Plus by Torklift International is a popular option
So, is the 1062 worth of its new model number?  Honestly, who cares.  That's a decision for the sales, marketing, and senior management at Lance Campers.  All we care about is whether the 1062 is a better truck camper than the outgoing 1052.  On that we have a decision.
Yes, the 1062 is certainly improved over the 1052.  With the list of tweaks and enhancements, the double-slide floor plan looks and feels much better in person.  I would even urge folks who liked but didn't love the 1052 to give the 1062 a fresh look.  If nothing else, you will notice the unmistakably wide open interior.  Bring your dancing slippers.
For those who want a hard side, long bed, rear entry, dry bath, double-slide, and prize interior floor space above almost anything else, the 1062 is a must-see.  Folks with dogs would love the wide-open floor in the 1062.  For reasons my family has yet to comprehend, my sister bought a Greyhound last year (the dog, not the bus) and would need the 1062's floor space for her lovely horse-sized dog, "Lady".  Big dog people, the 1062 is calling.
Others may want the floor space because they're coming out of a fifth wheel, motorhome, or another large RV.  Some may want this kind of real estate to do sit-ups and push-ups in the morning.  A few folks out there might like the social aspect of having lots of stand and talk room in their coach.  The 1062 is a very social feeling camper inside.
Having published a full review of a 2015 Lance 1052 last June, it's unlikely that I will review the 1062.  What I will say is that I like the 1062 much more than the 1052.  For me, this goes beyond the taller basement and wider floor.  The original 1052 lacked something that I couldn't quite put my finger on.  With the updates, the 1062 eliminates that hesitation and represents a more fully-realized Lance Camper.
For more information on Lance Campers, visit the Lance website at lancecamper.com.  Click here to request a free Lance brochure.