For example, if we entered 3,734 as our odometer at our last fill-up, and then entered 4,037 miles at our next fill-up, Fuelly would subtract those numbers to calculate how many miles we had traveled on that particular tank of fuel.  In this example, the miles traveled would be 303 miles.
Fuelly then automatically takes the number of gallons that were needed to fill the tank, and divides that number by the miles traveled on that tank.  For example, if the tank took 26.584 gallons to fill after 303 miles, the average miles per gallon would be 11.39 mpg.
Fuelly also allows you input other variables, like highway versus city driving, and tracks everything over time to show trends.  With Fuelly's graphs, you can see whether your truck's fuel economy is improving, or declining and may need an oil or filter change.  There's even a Fuelly app for your smartphone so you can input your fill-up and milage data on the go.
We're quite smitten with Fuelly.  Unfortunately, we're not quite as smitten with the Ram fuel economy data Fuelly is giving us.  In fact, we're fairly ticked off by what we've discovered.
"Tell me lies, tell me sweet little lies." – Fleetwood Mac
Based on the Fuelly data, our Ram fuel economy readout is overstating our miles per gallon by 11.5%.  Where our Ram fuel economy readout told us we were averaging 12.2 miles per gallon, Fuelly.com tells us we're actually averaging 10.8.  This data is based on the last twenty-six fill-ups, all of which include either our 4,685 pound camper, or a 5,185 pound review camper.
I was absolutely furious when I first saw the Fuelly data.  I had thought the "hand-calculated" data might be a little different, but I never imagined it would be 11.5% off.
These results are shameful and I personally apologize to anyone who made a decision based on the initial fuel economy data I reported.  As a magazine, we will never report an automotive fuel economy read-out again without first performing the appropriate hand calculations.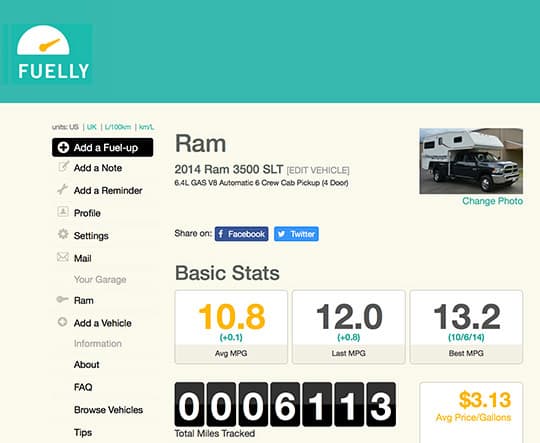 Above: The total miles tracked on Fuelly.com reflects only the miles with a truck camper loaded.  We do not enter data from fill-ups when the truck is empty.
The Fuelly.com data still stings, especially when I look down at the Ram fuel economy gauge.  That said, we have made our peace with the reality that we are actually averaging between 10-11 miles per gallon, not the 12-13 we had previously thought.
When the cylinder deactivation really kicks in on flat and/or descending highways, we can average 12.0 mpg – hand-calculated.  If the conditions are very favorable, such as coming out of the mountains in North Carolina, we can reach an average of 13.2 mpg – also hand-calculated –  but that's as good as it gets.  Most of the time we're in the 10-11 mpg range.
Keep in mind that getting these fuel economy numbers requires that we keep the RPMs around 1,500 and keep our speed to 62 miles per hour, or less.  If you can't keep the RPMs near 1,500, or drive 62 miles per hour, you will never see these higher fuel economy numbers with the 6.4L HEMI.
5K Camper, 10K Mountain Passes
An important part of our Colorado mission was to test the 6.4L HEMI with a heavier truck camper and real mountain passes.  Fortunately for us, we were offered a 2015 Arctic Fox 990 full-wall slide truck camper for a review.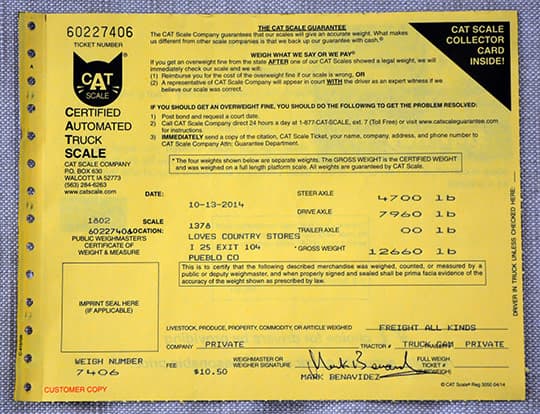 At the CAT scale, the well optioned 2015 Arctic Fox 990 weighed in at 5,185 pounds fully loaded and wet; exactly 500 pounds more than our camper.
After taking the 2015 Arctic Fox 990 over several mountain passes, the average fuel economy data (hand-calculated) did not change as much as we had anticipated.  We averaged in the low to mid 10 mpg range.
To be fair, we were going up and down mountains, not exactly ideal conditions for the 6.4L HEMI cylinder deactivation technology to make a difference.  When we were going up mountains, we averaged in the 5-7 mpg range.  When we were going down mountains, we mostly coasted.  Ideally we would have taken the same course with the Arctic Fox and our camper, but we didn't have that kind of time.