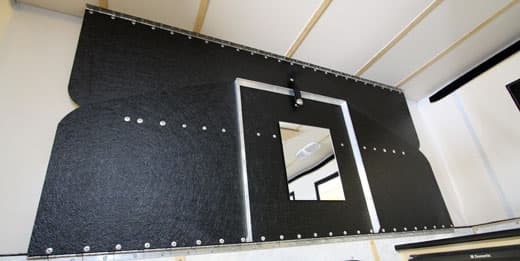 TCM: The Four Wheel Camper lift system may be the most proven, tried, and true pop-up camper lift system in the business.  You are changing to composite panels for the lift system in 2013?  Why are you making this change?
Tom: Again, this is another improvement designed to increase the longevity of the product.  Our company philosophy focuses on durability, as well as being lightweight, flexible, and efficiently compact.  We are seeing challenges for the future in availability of adequately strong, thin mahogany plywood.  This is a proactive design change.
TCM: What is the material the composite panels are made from?  Are you using this material anywhere else in Four Wheel Camper construction?
Tom: The fiberglass reinforced resin panel is made for us by a company in the Dakotas.  At this time, we are not using the panel in other subsystems, but we are studying where it may be used.  High quality plywood is a marvelous base material for many applications, and composites, despite their benefits, present challenges in their application.  As you know, we don't make changes just to be different, we make them to improve the overall quality of the Four Wheel product.
TCM: Are the new panels lighter?  And do they make lifting the roof easier?
Tom: The weight is about the same, and the panels seem to be a bit easier for raising the roof.
TCM: Again, can old FWC customers upgrade to the new composite lift system?
Tom: Definitely, but we would suggest waiting for an opportune situation when the old panels are ready for replacement, or the pop-up fabric needs replacing.
TCM: Four Wheel Campers is now offering two deep cycle batteries in most models for 2013.  Which models can fit two batteries, and what size batteries fit?
Tom: All of the new campers accommodate two batteries, and typically group 24 gel cell or AGM batteries made by Exide are installed.  These are reliable and tolerate heavy duty applications.  These are the same style batteries used in boats, race cars, and jet fighters.  They have to tolerate rough environments.
TCM: With the minimal electrical systems in a Four Wheel Camper, including extremely efficient exterior and interior LED lighting, why would someone want two batteries in a Four Wheel Camper?  After all, they can weigh fifty pounds each, or more.
Tom: Many of our owners enjoy dry camping for extended periods of time, far away from civilization.  Not everybody, of course, but why not enjoy a margin of durability, protection, and extended time away from the grid.  As an example, I enjoy camping in the southwest far away from hookups.  So, my camper has a solar panel and two batteries to provide power for an electric compressor refrigerator (for consistent temperature control), furnace, LED lighting, and providing power to my laptop and camera battery charger.
TCM: Are there any other changes to Four Wheel Campers for 2013?
Tom: Improving our products is a never ending quest.  We are improving the design of our self contained and front dinette campers, as well as considering new components for a variety of systems.  As I said before, stay tuned!
TCM: How's Four Wheel Camper doing?
Tom: Very, very well.  2010 and 2011 were excellent years, and 2012 has brought new dealers in South Africa, Chile, Peru, and now campers are starting on the production line for Argentina.  Growth continues, and our new factory, a little more than a year old, provides more opportunity for improving production methods and efficiency.
TCM: Is there anything else you would like to add to your interview?
Tom: We are looking forward to the fall season, as we are embarking on programs to start applying the principles of the Toyota Production System and the 5S methodology.  This doesn't happen overnight, but it is a path to the future and making a great product even better.
We have enjoyed the benefits of the Solidworks CAD design software for almost two years now, and it allows us to consider new ideas before we consume valuable production time.  Now, we design, then build a prototype and work out design challenges.