TCM: Do the new latches weigh more or less than the old latches?
Tom: The new latches are made of fiberglass filled nylon and stainless steel  The weight difference is insignificant.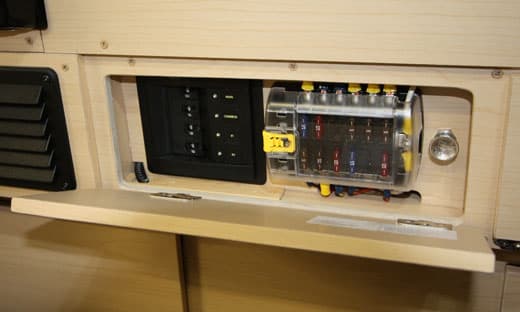 TCM: Tell us about the new Blue Sea Systems electrical system.  Their website shows a lot of sailboats and powerboats.  Is this a marine level product?
Tom: Blue Sea is the world leader in marine electrical applications.  We have used their products for years in very severe applications, and are very satisfied with their quality.  The company is located near Seattle, and provides exceptional customer service and a broad line of products.
TCM: Why did you change from the tried and true IOTA electrical system?
Tom: Instead of a less expensive brand, we have used IOTA for years, and still use their converters, which are exceptionally reliable.  The electric distribution panel we typically installed was discontinued, and we were interested in a new system.  The Blue Sea System is also compatible with the more stringent requirements for European and Australian standards.  Because of our successful history with Blue Sea, their product was a natural choice.
TCM: Other than the marine-quality of the Blue Sea Systems electrical system, are there any other benefits to the Blue Sea?  More versatility?  More efficiency?  Lighter weight?
Tom: We are concerned about long term reliability and durability, as well as efficiency and consistent quality control.  Blue Sea exceeds expectations, even though the circuit breaker panel adds a bit more weight.  We designed an improved installation that provides a bit more protection for the system, too.
TCM: Do you recommend that older FWC customers upgrade to the Blue Sea?
Tom: Again, not terribly necessary.  The old system works fine; this is just an improvement for the present and future.
TCM: The new "Silver Spur Edition" is sure to raise some eyebrows with its color and styling.  Where did this option package come from?
Tom: Good question!  We have been building a "techno" interior for the German market for a few years.  Last year, while attending a rodeo in Germany, our distributor asked us to build a product he calls the Silver Spur to honor the American cowboy tradition.  We agreed, and modified the interior design a bit with new surface treatments, and added the silver exterior.  It's done so well we are now selling more Silver Spur Editions in America than in Europe.  Many folks have commented that they like the modern appearance of the Silver Spur interior, so now we are working on yet another interior style that is a departure from our traditional maple wood grained appearance.  Stay tuned!
TCM: Other than cosmetics, are there any advantages to the "Silver Spur Edition"?  For example, are the materials more rugged or lighter weight?
Tom: In addition to being more attractive, the Silver Spur cabinetry features a more durable surface and is more abrasion resistant.  The aluminum exterior has an exceptionally durable baked acrylic enamel finish.
TCM: What does the "Silver Spur Edition" option cost?
Tom: The Silver Spur package is available at for $800 dollars.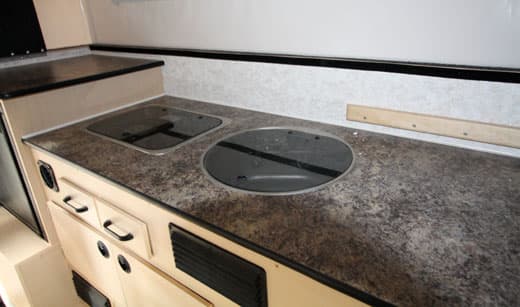 TCM: Tell us about the new flush mount appliances.  What makes and models of flush mount appliances are you offering?
Tom: We are offering tempered glass top Cramer appliances made in Germany.  Not only are they very attractive, but they also offer more counter space for working in the kitchen.