FWC announces a list of changes for 2013 including a new pop-up liner, new Blue Sea Systems, new Silver Spur Edition, new counter tops, new composite lift, and more.

Four Wheel Campers goes to great lengths to challenge camper changes before actually launching them down the camper production line.  Consider the new for 2013 Four Wheel Camper latches.  The Four Wheel team probably had an American Idol style competition where some latches immediately went home to mamma, bursting into tears as they hit the door, while others sweat it out for weeks of stressful camper latch auditions.
We know this because we have been to the Four Wheel Camper factory and seen the material, components, and design contestants littered about, waiting anxiously to find out if they're "going to Hollywood" or hitting the pavement.  We also have met enough Four Wheel Camper customers to understand how seriously that community takes the core Four Wheel Camper product.  You don't just change something on a Four Wheel Camper.  It has to be right.
With that in mind, we were surprised when Stan Kennedy, Sales Manager for Four Wheel Campers, sent us a list of about ten changes to Four Wheel Campers for 2013.  "I bet there's a story behind each of these changes," we thought and called Tom Hanagan, President of Four Wheel Campers.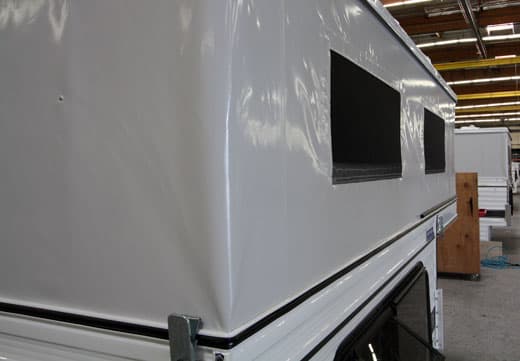 TCM: You have upgraded your pop-up liner for 2013.  Can you tell us what this new material is and why it's better than the pop-up liner it replaces?
Tom: The old liner was excellent.  The new liner is made for us by a German manufacturer with a stronger fabric foundation, an excellent UV coating, and more consistent overall quality.  I toured the factory, near the Dutch border, last year, and was amazed at the manufacturing process and how it is controlled.  The German reputation for quality is well earned.
TCM: Does the new material weigh more or less than the old material?
Tom: The new material weighs less, although it's significantly stronger.  The old material was rated to weigh 18 ounces, but really weighed in at 19.2 ounces.  The new material is a true 18 ounce fabric, and is 28% stronger.
TCM: How did you select the new material?
Tom: We take great care about the changes we make to Four Wheel Campers and actually visited the factory in Germany before selecting the new material.  We were extremely impressed with their manufacturing process, quality, and quality control.
The base of the new material is woven polyester giving the material a high tensile strength.  Where the old material was laminated with vinyl on a press, the new material is coated with liquid vinyl which is then rolled and heat cured in an oven.  As a result, the new fabric is much stronger and will not delaminate.
TCM: Does the new material offer a different insulation value?  Does it better resist mildew and moisture?
Tom: The insulation factor of the new material is about the same.  I expect better mildew resistance because of the surface finish.  Because of our construction process, the pop-up liner is waterproof and far superior to anything else on the market.  The liner is truly fitted to the body and roof, and the proprietary window construction eliminates window leaks.  We use special thread, too, to seal against leaking.
TCM: Can a Four Wheel Camper customer with an older model upgrade to the new pop-up liner material?  What would that cost with installation?
Tom: Absolutely, although the upgrade is not terribly necessary.  Our liners typically last many years, and we frequently see campers coming in for replacement after as many as twenty to twenty-five years on the road.  The installed price for a new custom made liner is just under two thousand dollars.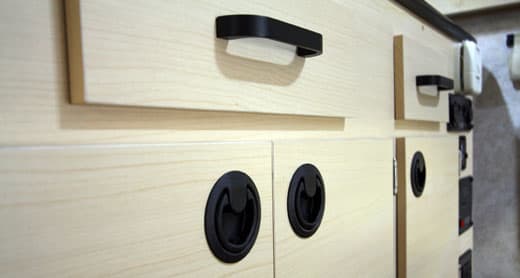 TCM: Four Wheel Campers has changed its cabinetry latches for 2013.  Was this a matter of solving a problem with the old latches, or discovering a better latch?
Tom: It's just a better latch.  The old latch was unstable in very rough off-road overland travel.  This is a positive latch with a non-snag surface and is extremely durable.