FWC announces a list of changes for 2013 including a new pop-up liner, new Blue Sea Systems, new Silver Spur Edition, new counter tops, new composite lift, and more.

Four Wheel Campers goes to great lengths to challenge camper changes before actually launching them down the camper production line.  Consider the new for 2013 Four Wheel Camper latches.  The Four Wheel team probably had an American Idol style competition where some latches immediately went home to mamma, bursting into tears as they hit the door, while others sweat it out for weeks of stressful camper latch auditions.
We know this because we have been to the Four Wheel Camper factory and seen the material, components, and design contestants littered about, waiting anxiously to find out if they're "going to Hollywood" or hitting the pavement.  We also have met enough Four Wheel Camper customers to understand how seriously that community takes the core Four Wheel Camper product.  You don't just change something on a Four Wheel Camper.  It has to be right.
With that in mind, we were surprised when Stan Kennedy, Sales Manager for Four Wheel Campers, sent us a list of about ten changes to Four Wheel Campers for 2013.  "I bet there's a story behind each of these changes," we thought and called Tom Hanagan, President of FWC.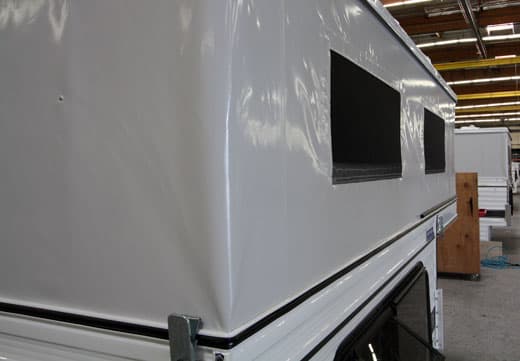 TCM: You have upgraded your pop-up liner for 2013.  Can you tell us what this new material is and why it's better than the pop-up liner it replaces?
Tom: The old liner was excellent.  The new liner is made for us by a German manufacturer with a stronger fabric foundation, an excellent UV coating, and more consistent overall quality.  I toured the factory, near the Dutch border, last year, and was amazed at the manufacturing process and how it is controlled.  The German reputation for quality is well earned.
TCM: Does the new material weigh more or less than the old material?
Tom: The new material weighs less, although it's significantly stronger.  The old material was rated to weigh 18 ounces but really weighed in at 19.2 ounces.  The new material is a true 18-ounce fabric, and is 28% stronger.
TCM: How did you select the new material?
Tom: We take great care about the changes we make to Four Wheel Campers and actually visited the factory in Germany before selecting the new material.  We were extremely impressed with their manufacturing process, quality, and quality control.
The base of the new material is woven polyester giving the material a high tensile strength.  Where the old material was laminated with vinyl on a press, the new material is coated with liquid vinyl which is then rolled and heat-cured in an oven.  As a result, the new fabric is much stronger and will not delaminate.
TCM: Does the new material offer a different insulation value?  Does it better resist mildew and moisture?
Tom: The insulation factor of the new material is about the same.  I expect better mildew resistance because of the surface finish.  Because of our construction process, the pop-up liner is waterproof and far superior to anything else on the market.  The liner is truly fitted to the body and roof, and the proprietary window construction eliminates window leaks.  We use special thread, too, to seal against leaking.
TCM: Can a Four Wheel Camper customer with an older model upgrade to the new pop-up liner material?  What would that cost with installation?
Tom: Absolutely, although the upgrade is not terribly necessary.  Our liners typically last many years, and we frequently see campers coming in for replacement after as many as twenty to twenty-five years on the road.  The installed price for a new custom-made liner is just under two thousand dollars.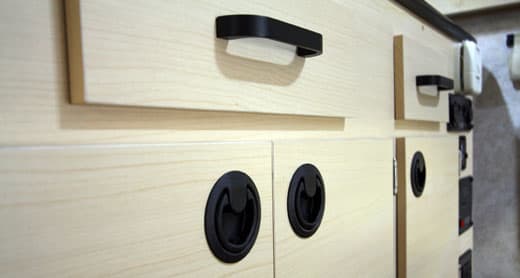 TCM: Four Wheel Campers has changed its cabinetry latches for 2013.  Was this a matter of solving a problem with the old latches, or discovering a better latch?
Tom: It's just a better latch.  The old latch was unstable in very rough off-road overland travel.  This is a positive latch with a non-snag surface and is extremely durable.
TCM: Do the new latches weigh more or less than the old latches?
Tom: The new latches are made of fiberglass-filled nylon and stainless steel  The weight difference is insignificant.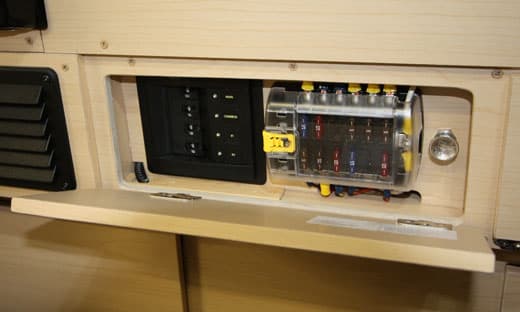 TCM: Tell us about the new Blue Sea Systems electrical system.  Their website shows a lot of sailboats and powerboats.  Is this a marine-level product?
Tom: Blue Sea is the world leader in marine electrical applications.  We have used their products for years in very severe applications, and are very satisfied with their quality.  The company is located near Seattle and provides exceptional customer service and a broad line of products.
TCM: Why did you change from the tried and true IOTA electrical system?
Tom: Instead of a less expensive brand, we have used IOTA for years, and still use their converters, which are exceptionally reliable.  The electric distribution panel we typically installed was discontinued, and we were interested in a new system.  The Blue Sea System is also compatible with the more stringent requirements for European and Australian standards.  Because of our successful history with Blue Sea, their product was a natural choice.
TCM: Other than the marine-quality of the Blue Sea Systems electrical system, are there any other benefits to the Blue Sea?  More versatility?  More efficiency?  Lighter weight?
Tom: We are concerned about long-term reliability and durability, as well as efficiency and consistent quality control.  Blue Sea exceeds expectations, even though the circuit breaker panel adds a bit more weight.  We designed an improved installation that provides a bit more protection for the system, too.
TCM: Do you recommend that older FWC customers upgrade to the Blue Sea?
Tom: Again, not terribly necessary.  The old system works fine; this is just an improvement for the present and future.
TCM: The new "Silver Spur Edition" is sure to raise some eyebrows with its color and styling.  Where did this option package come from?
Tom: Good question!  We have been building a "techno" interior for the German market for a few years.  Last year, while attending a rodeo in Germany, our distributor asked us to build a product he calls the Silver Spur to honor the American cowboy tradition.  We agreed, and modified the interior design a bit with new surface treatments, and added the silver exterior.  It's done so well we are now selling more Silver Spur Editions in America than in Europe.  Many folks have commented that they like the modern appearance of the Silver Spur interior, so now we are working on yet another interior style that is a departure from our traditional maple wood-grained appearance.  Stay tuned!
TCM: Other than cosmetics, are there any advantages to the "Silver Spur Edition"?  For example, are the materials more rugged or lighter weight?
Tom: In addition to being more attractive, the Silver Spur cabinetry features a more durable surface and is more abrasion-resistant.  The aluminum exterior has an exceptionally durable baked acrylic enamel finish.
TCM: What does the "Silver Spur Edition" option cost?
Tom: The Silver Spur package is available for $800 dollars.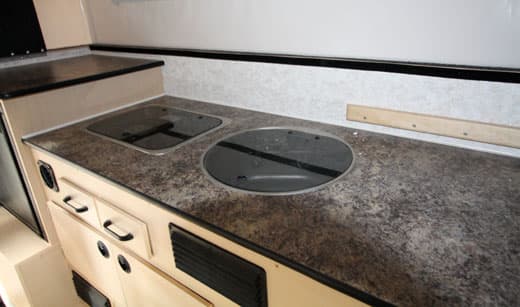 TCM: Tell us about the new flush mount appliances.  What makes and models of flush mount appliances are you offering?
Tom: We are offering tempered glass top Cramer appliances made in Germany.  Not only are they very attractive, but they also offer more counter space for working in the kitchen.
TCM: Other than aesthetics, what are the advantages of these appliances?  Are they more efficient, lighter weight, better performing?
Tom: I have used the Cramer sink and stove in my own camper for more than three years now, and really appreciate the exceptional efficiency of the stove burners.  They get a pot of water boiling for the morning coffee or evening pasta in a flash.  The sink is deeper and easy to use as well, and the tilt-up faucet is a convenience for filling and rinsing.
TCM: What do the flush appliances cost?
Tom: The flush mount appliance package is priced at 600 dollars.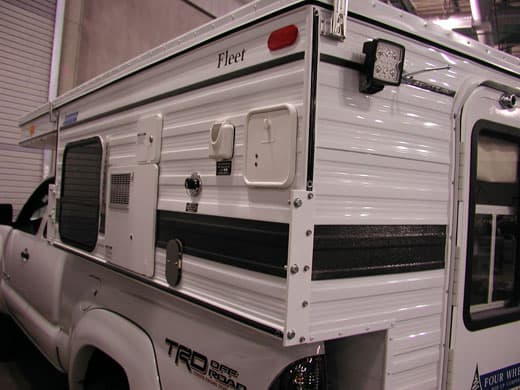 TCM: For 2013, you're still offering aluminum sides for your campers.  When almost the entire truck camper and RV industry has adopted fiberglass filon siding, why is Four Wheel Campers still using aluminum siding?
Tom: Many users appreciate the proven reliability of aluminum siding.  It's lightweight and strong.  The sun reflects exceptionally well from the smooth surface.  Because our campers are designed for aggressive overland travel, the flexibility of the aluminum siding on the flexible frame adds to the long-term durability of the camper.  In line with the off-road overland concept, accidents can happen, and replacing the aluminum siding is fast and inexpensive compared to fiberglass siding.
TCM: Are there any advantages to the way you're currently siding your campers with aluminum?  Did you lose any strength by eliminating the embossed texture?
Tom: We transitioned back to a smooth finish this last year for appearance primarily.  The structural stability of the smooth finish is fine.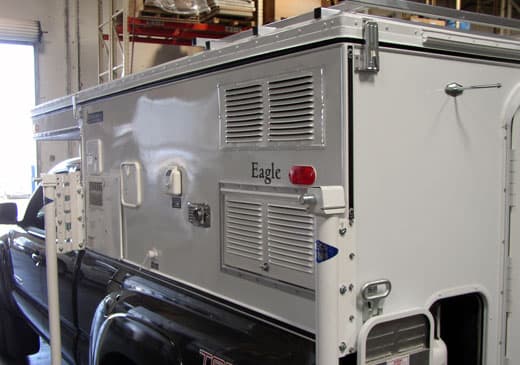 TCM: If you were talking to a Four Wheel customer, how do you advise them about choosing between your new aluminum siding, and fiberglass filon siding?  What are the advantages and disadvantages to both siding types?
Tom: What works best for you, in your particular use of the camper is what we recommend.  A nice thing about fiberglass is that it offers a little better insulation from the cold.  Appearance has a lot to do with your satisfaction with the product.  We'll be happy to discuss what works best for your needs.
TCM: What are the cost differences for the two siding options?
Tom: We use a premium grade of Filon, laminated to a mahogany type plywood, and the option is priced at 600 dollars.
TCM: Four Wheel Campers is announcing new countertops and tables for 2013.  Tell us about the materials, aesthetics, and advantages of the new countertops and tables compared to the old material.
Tom: White is very nice, but it was time to modernize the appearance.  We chose a granite pattern for application to an exceptionally durable maple/poplar plywood core.  We do not use any particleboard or oriented strand board (OSB) in our campers, so it costs us more and is more difficult to work with, but is lighter and much more durable, especially in harsh operating environments.  The new finish is more attractive and easier to clean.
TCM: Are the new countertops and tables stronger or lighter?
Tom: The old countertops and tables used the same strong core, so the new style is primarily more attractive.
TCM: Can customers with older Four Wheel Campers upgrade to the new counters or tabletop?
Tom: Yes, although the new design is most attractive with the lighter maple cabinetry.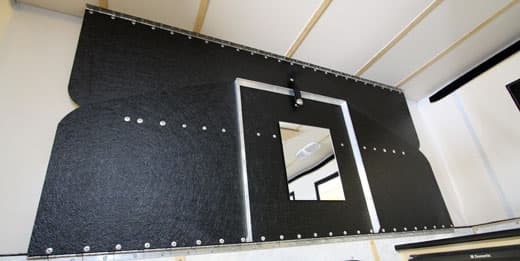 TCM: The Four Wheel Camper lift system may be the most proven, tried, and true pop-up camper lift system in the business.  You are changing to composite panels for the lift system in 2013?  Why are you making this change?
Tom: Again, this is another improvement designed to increase the longevity of the product.  Our company philosophy focuses on durability, as well as being lightweight, flexible, and efficiently compact.  We are seeing challenges for the future in the availability of adequately strong, thin mahogany plywood.  This is a proactive design change.
TCM: What is the material the composite panels are made from?  Are you using this material anywhere else in Four Wheel Camper construction?
Tom: The fiberglass-reinforced resin panel is made for us by a company in the Dakotas.  At this time, we are not using the panel in other subsystems, but we are studying where it may be used.  High-quality plywood is a marvelous base material for many applications, and composites, despite their benefits, present challenges in their application.  As you know, we don't make changes just to be different, we make them to improve the overall quality of the Four Wheel product.
TCM: Are the new panels lighter?  And do they make lifting the roof easier?
Tom: The weight is about the same, and the panels seem to be a bit easier for raising the roof.
TCM: Again, can old FWC customers upgrade to the new composite lift system?
Tom: Definitely, but we would suggest waiting for an opportune situation when the old panels are ready for replacement, or the pop-up fabric needs replacing.
TCM: Four Wheel Campers is now offering two deep cycle batteries in most models for 2013.  Which models can fit two batteries, and what size batteries fit?
Tom: All of the new campers accommodate two batteries, and typically group 24 gel cell or AGM batteries made by Exide are installed.  These are reliable and tolerate heavy-duty applications.  These are the same style batteries used in boats, race cars, and jet fighters.  They have to tolerate rough environments.
TCM: With the minimal electrical systems in a Four Wheel Camper, including extremely efficient exterior and interior LED lighting, why would someone want two batteries in a Four Wheel Camper?  After all, they can weigh fifty pounds each, or more.
Tom: Many of our owners enjoy dry camping for extended periods of time, far away from civilization.  Not everybody, of course, but why not enjoy a margin of durability, protection, and extended time away from the grid.  As an example, I enjoy camping in the southwest far away from hookups.  So, my camper has a solar panel and two batteries to provide power for an electric compressor refrigerator (for consistent temperature control), furnace, LED lighting, and providing power to my laptop and camera battery charger.
TCM: Are there any other changes to Four Wheel Campers for 2013?
Tom: Improving our products is a never-ending quest.  We are improving the design of our self-contained and front dinette campers, as well as considering new components for a variety of systems.  As I said before, stay tuned!
TCM: How's Four Wheel Camper doing?
Tom: Very, very well.  2010 and 2011 were excellent years, and 2012 has brought new dealers in South Africa, Chile, Peru, and now campers are starting on the production line for Argentina.  Growth continues, and our new factory, a little more than a year old, provides more opportunity for improving production methods and efficiency.
TCM: Is there anything else you would like to add to your interview?
Tom: We are looking forward to the fall season, as we are embarking on programs to start applying the principles of the Toyota Production System and the 5S methodology.  This doesn't happen overnight, but it is a path to the future and making a great product even better.
We have enjoyed the benefits of the Solidworks CAD design software for almost two years now, and it allows us to consider new ideas before we consume valuable production time.  Now, we design, then build a prototype and work out design challenges.
Our staff works together like a family always looking to the future, not just working for today.  And, yes, we enjoy camping!  We are planning on a staff camping trip in October with our families and a batch of our campers.  Thanks for the interview today, and keep up the wonderful job you're both doing at Truck Camper Magazine.
To visit the Four Wheel website, go to fourwheelcampers.com. Click here for a free Four Wheel brochure.