Rick Douglass, President of Douglass Truck Bodies, talks to us about custom steel camper beds with six storage compartments and seemingly endless options.

In the 1983 Christmas movie classic, A Christmas Story, Ralphie Parker lusts after a Red Ryder BB Gun with every fiber in his nine-year-old being.  Even after his sweet mother, clueless third grade teacher, and a particularly scary department store Santa Claus warn him, "You'll shoot your eye out" Ralphie was undeterred.  He had to have that Red Ryder BB Gun with the compass in the stock, he just had to.
Bring up the subject of camper storage bodies at a truck camper rally and you'll hear the same kind of deep lustful yearning from grown and supposedly mature men.  No matter how many times their wives say, "You'll spend our retirement" they are undeterred.  They have to have a camper body with the storage compartments in the bed, they just have to.
Speaking of camper bodies, a few weeks ago we had a very interesting conversation with Rick Douglass of Douglass Truck Bodies.  We learned that Douglass is a fourth generation company and a classic American success story.  When we told Rick about the Red Rider BB Gun-like desire for camper bodies amoung truck camper owners, he told us that he could offer their basic six compartment steel camper body for $10,800.  That's a low new entry point for custom camper bodies, one that is less likely to crack a nest egg or ruin retirement.  Red Ryder Ralphies rejoice!
To dig into the details about Douglass Truck Bodies and exactly how this custom steel truck camper body thing works, we called Rick again.  It all started 92 years ago.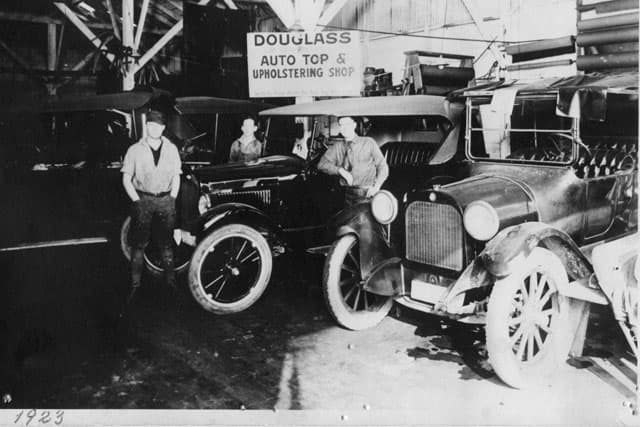 Above: Rick's great grandfather, C.C. Douglass Senior, is on the far right with the tie
TCM: Tell us the history of Douglass Truck Bodies.
Rick: My great-grandparents moved to Bakersfield, California in the early 1920s with fifty bucks in their pocket.  My great-grandfather, C.C. Douglass Senior, was a true entrepreneur.  He partnered in an oil company, sold insurance, invested in property, and started a company that reupholstered and manufactured canvas tops for Model T Fords.

Later my great-grandfather started C.C. Douglass Used Cars, and sold used automobiles and trucks for many years.  When C.C. Douglass Junior, his son and my grandfather, returned from World War II he took over the business from his dad.

C.C. Douglass purchased a lot of retired trucks from the telephone company at auctions.  Many of trucks featured utility bodies with tall sides, and my grandfather had the idea of creating a lower profile service body.  He went on to work with a local high school shop and welding instructor who welded some low profile service bodies for him.
Things evolved from there.  He went on to obtain patents on his designs in the United States as well as Canada, Mexico, and Japan.  And that's how Douglass got into the truck body business.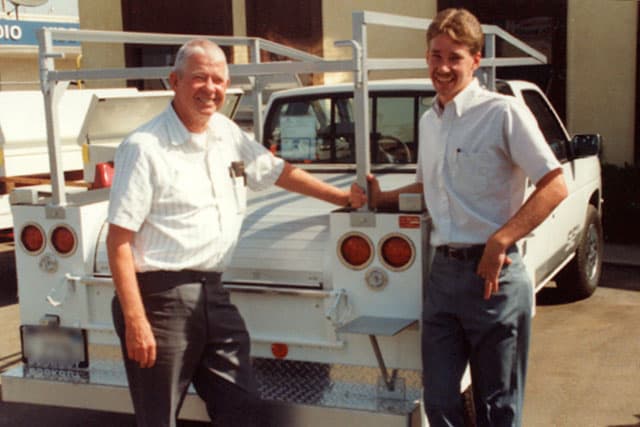 Above: Rick and his grandfather in 1992 at Douglass Truck Bodies

TCM: When did you get involved with the company?
Rick: I grew up in Cheyenne, Wyoming and would come out to California every summer and Christmas to see my family.  When I was sixteen, I took a summer job in the Douglass shop which helped me buy my first car.
In 1992, when I was twenty-one years old, my grandfather offered me an entry-level position in the company.  After discussing it with my fiancée, we decided to leave Cheyenne and move to Bakersfield, making a quick stop in Loveland, Colorado to tie the knot.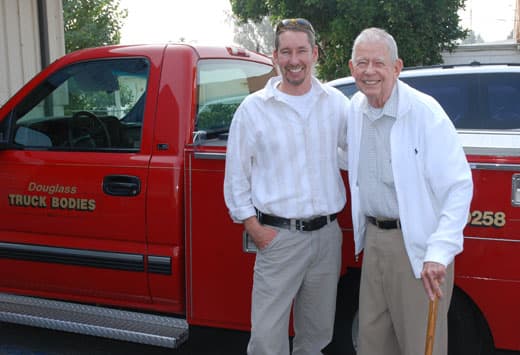 Above: Rick and his grandfather in 2007