Rick Douglass, President of Douglass Truck Bodies, talks to us about custom steel camper beds with six storage compartments and seemingly endless options.

In the 1983 Christmas movie classic, A Christmas Story, Ralphie Parker lusts after a Red Ryder BB Gun with every fiber in his nine-year-old being.  Even after his sweet mother, clueless third grade teacher, and a particularly scary department store Santa Claus warn him, "You'll shoot your eye out" Ralphie was undeterred.  He had to have that Red Ryder BB Gun with the compass in the stock, he just had to.
Bring up the subject of camper storage bodies at a truck camper rally and you'll hear the same kind of deep lustful yearning from grown and supposedly mature men.  No matter how many times their wives say, "You'll spend our retirement" they are undeterred.  They have to have a camper body with the storage compartments in the bed, they just have to.
Speaking of camper bodies, a few weeks ago we had a very interesting conversation with Rick Douglass of Douglass Truck Bodies.  We learned that Douglass is a fourth generation company and a classic American success story.  When we told Rick about the Red Rider BB Gun-like desire for camper bodies amoung truck camper owners, he told us that he could offer their basic six compartment steel camper body for $10,800.  That's a low new entry point for custom camper bodies, one that is less likely to crack a nest egg or ruin retirement.  Red Ryder Ralphies rejoice!
To dig into the details about Douglass Truck Bodies and exactly how this custom steel truck camper body thing works, we called Rick again.  It all started 92 years ago.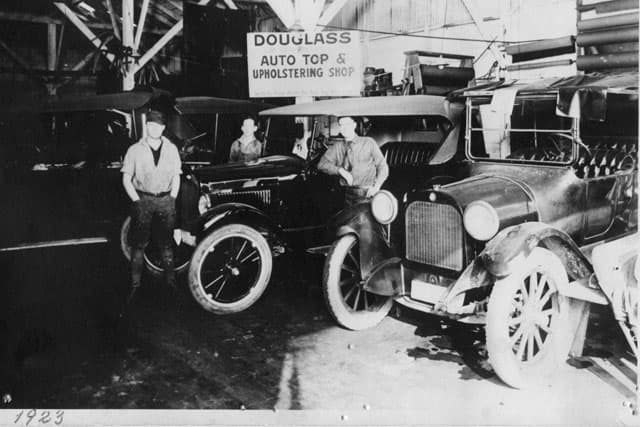 Above: Rick's great grandfather, C.C. Douglass Senior, is on the far right with the tie
TCM: Tell us the history of Douglass Truck Bodies.
Rick: My great-grandparents moved to Bakersfield, California in the early 1920s with fifty bucks in their pocket.  My great-grandfather, C.C. Douglass Senior, was a true entrepreneur.  He partnered in an oil company, sold insurance, invested in property, and started a company that reupholstered and manufactured canvas tops for Model T Fords.

Later my great-grandfather started C.C. Douglass Used Cars, and sold used automobiles and trucks for many years.  When C.C. Douglass Junior, his son and my grandfather, returned from World War II he took over the business from his dad.

C.C. Douglass purchased a lot of retired trucks from the telephone company at auctions.  Many of trucks featured utility bodies with tall sides, and my grandfather had the idea of creating a lower profile service body.  He went on to work with a local high school shop and welding instructor who welded some low profile service bodies for him.
Things evolved from there.  He went on to obtain patents on his designs in the United States as well as Canada, Mexico, and Japan.  And that's how Douglass got into the truck body business.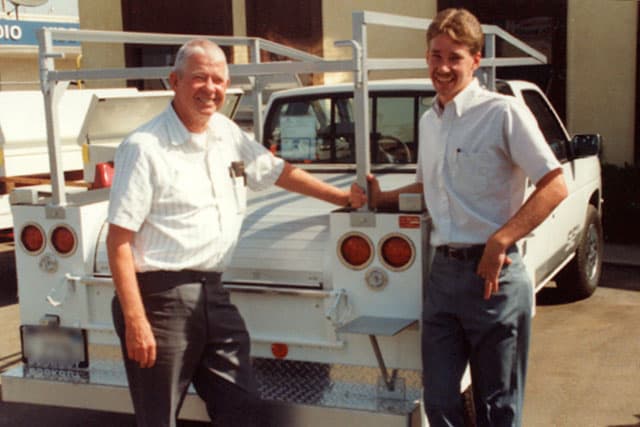 Above: Rick and his grandfather in 1992 at Douglass Truck Bodies

TCM: When did you get involved with the company?
Rick: I grew up in Cheyenne, Wyoming and would come out to California every summer and Christmas to see my family.  When I was sixteen, I took a summer job in the Douglass shop which helped me buy my first car.
In 1992, when I was twenty-one years old, my grandfather offered me an entry-level position in the company.  After discussing it with my fiancée, we decided to leave Cheyenne and move to Bakersfield, making a quick stop in Loveland, Colorado to tie the knot.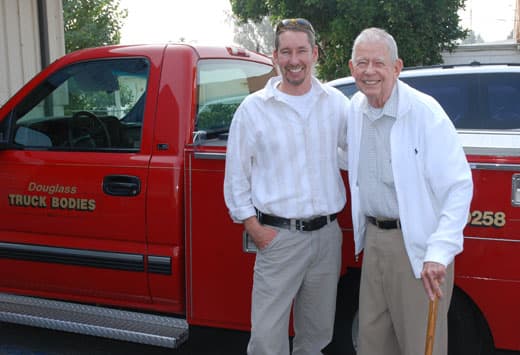 Above: Rick and his grandfather in 2007
Over time, I worked my way up to a position where my grandfather decided to give me a shot at running the day-to-day operations of the company.  Soon I found myself company President.  I wasn't really ready to fill those shoes, but I had a passion for the business.  I'm very competitive and want to win, and that helps in this industry.  Also, I didn't want to let my grandfather down.  There aren't too many times in life when someone believes in you the way he believed in me.
Since then, I've bought the company, and continue to push it forward.  But I never forget that this will always be the company my grandfather built, and that he took the risk to start.  As the company continues to grow, I hope the directions I take it honor his memory.

Above: Douglass Truck Bodies print ads from years ago.  Click to enlarge.
TCM: When did Douglass Truck Bodies start building camper bodies?
Rick: My grandfather was very diversified in his business and certainly wouldn't turn down any kind of custom truck body.  Many people have come in requesting a custom truck body that would fit between their camper and truck, and over the decades we accumulated a lot of experience in what works and what does not.  Camper bodies became a niche for us that we could refine and improve on, and became something we were pretty comfortable offering as part of our lineup.  Now that we're on board with Truck Camper Magazine, we're excited to do even more camper bodies.
TCM: Other than building camper bodies, what does Douglass Truck Bodies do?
Rick: Where we differ from most truck body companies is that we are very customized.  Our motto is, "Built to fit your needs".  Whether it's a heavy fleet account, a contractor, a municipality, or a camper guy, we build the custom truck body you want to fit your needs.  Our business is at a size where we can pull off custom work and do a good job at it.  You lose efficiency going custom, so it's hard for most companies to do.
We do service bodies, crane bodies, and flat beds.  We up fit bodies with equipment like cranes, compressors, generators, inverters, and welders.  We do a lot of fleet business and contract bid work and can meet needed specifications and quality requirements.
Camper bodies are certainly not the most complex truck bodies we build.  The basic camper body templates don't differ that much from one to another;  they may need a bigger notch to fit a camper to a truck, but for the most part they are similar.  Where the really interesting custom work comes in is from the needs of the customer; finding clever ways to store and organize their special gear or finding ways to solve the specific obstacles they face living on the road.
TCM: Most of our readers will be interested in the camper bodies, but there is also growing interest in flatbed trucks for truck campers.  Talk to us about your flat beds.
Rick: Flat beds are less expensive, but they're available everywhere.  Typically, a guy is not going to travel 2,000 miles for a flat bed.  You can pick them up pretty much anywhere.  We do our fair share of flat beds, but we do more camper bodies.

TCM: Are the camper bodies fabricated on site?
Rick: Yes.  We have our own steel brakes, shears, and notches.  Ninety-nine percent of what's on a Douglass camper body, minus hardware, is all done here in our shop.  We have two paint booths, so even the painting is done here.
In the truck body industry, most companies are not manufacturers.  Most are resellers of another company's truck bodies.  By building our truck bodies in-house, we can offer more customization, higher quality control, and better customer service.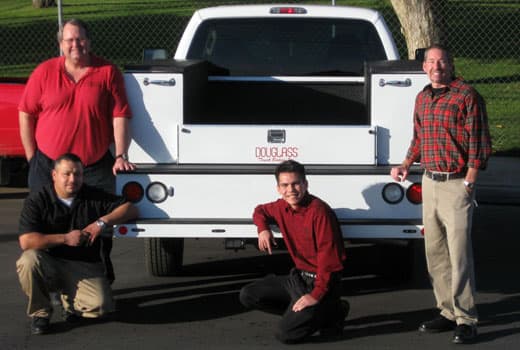 Above: The Douglass Truck Bodies Sales Team; standing on the left is Danny Owens, kneeling down on the left in Rey Mesa, kneeling down on the right is Mike Ledford, and on the far right is Rick Douglass.
TCM: Tell us how a customer works with Douglass Truck Bodies to have a camper body built?
Rick: We make it easy for our customers.  First, you can view a gallery of custom camper bodies we've manufactured in the past on our website.  Start getting ideas of what we're capable of or what needs you have that we can address.  Then you can contact our sales department, who will walk you through some of our more popular options, as well as get information on your truck chassis and camper, and put you together a price.
Once you're satisfied with the specifications and have moved forward with your deposit, we'll develop AutoCAD drawings for your approval.  Most often, we take dimensions right off of your camper, although we can also work directly with the manufacturer of the camper you have or want to get the dimensions we need.  We'll then send the AutoCAD drawings to you for your approval.  At this point we can still make changes until you're satisfied that you're getting everything you want.
We want our customers involved in the choices that go into designing their bed, and personalizing their storage space.  There's only so much storage in a truck camper and we want to make sure every compartment fits your needs.  That's what we do best.  We help you with that process to build your own custom truck body.
To keep our customers informed during their build, we take pictures of the process and email it to our customers.  We set up a private gallery page on our website and upload pictures to that page.  Posting the pictures sets the tone for the process and pushes the customer relationship to a higher level.  Plus, it's fun.
TCM: What options are available for a customer to get their truck to you, or order a new truck for a Douglass camper body?
Rick: If you're buying a new truck, some dealerships will let you finance the truck body with the truck.  One of the best options is to work with one of our local truck dealers in Bakersfield, so you're only arranging the pick up of the truck.
If you buy the chassis in your hometown, you can also have your local truck dealership drop ship the truck to a Bakersfield dealership.  If you want to either buy from a Bakersfield dealership or have a new truck drop shipped to us, we will give you the names and numbers of our local dealers.
If you have your own truck that you would like customized, our first preference is that you bring the truck to us.  That way we can do the installation and maintain quality control.  Another option is to have the bed shipped to you and then to have the bed installed locally.  We do not need to see the truck in most cases, as we have plenty of experience working with all the major truck manufacturers.  We prefer to do the up fit and paint ourselves.  That way we know it comes out to our quality standards and it is exactly what you want.

Above: Completed Dodge, Ford, and GMC Douglass camper bodies.  For more examples check out the gallery on the Douglass Truck Bodies website; douglasstruckbodies/campers.
TCM: What is included with your basic camper body?
Rick: The $10,800 basic Douglass Camper Body is a six compartment design with compartments on each side; in front of the wheels, over the wheels, and behind the wheels.  The basic includes AutoCad drawings, consultation to make sure the truck and camper are a good match, and the painted truck body with six compartments and bumper.
TCM: What kinds of options are available for a camper body?
Rick: The sky is the limit.  Most of our camper body customers order spare tire mounting brackets, an electrical notch out, custom access compartments, and body offsets for tie-downs.  Other popular options include drawers, shelving, spray on bed liners, generators, and inverters.
TCM: What do the more popular camper body options cost?
Rick: Given that every truck body is built to order, there's a lot of variance in price depending on size and also the current cost of steel.  Also, different options are popular with different types of RVers.  Your best bet would be to call a salesperson who could recommend a list of options based on your rig's size and needs.
One option we really push is a body protection package.  We add aluminum treadbrite guards to the front of your body to protect your paint from rocks and debris, as well as coat your cargo area and compartment tops with spray-on bedliner.  The liner really protects both your camper and your body from the wear-and-tear of having two metal surfaces constantly rubbing against each other.  Currently the body protection package runs about $998 on a typical nine foot camper body.
While the basic body comes with six open compartments, a lot of people like to upgrade their interiors with adjustable shelves and a spare tire holder.  A couple of shelves in three of your compartments and a spare tire bracket in the fourth currently runs around $425.
Roll-out drawers are also popular in our higher-end camper bodies, where someone might want to turn one of their compartments into a toolbox by filling it with drawers.  A typical five-drawer Package that completely fills up a compartment currently runs around $995.  Since the drawers are all built on location, we can build them shallower as well if you'd prefer to add a sixth or seventh drawer to your compartment.
Receiver hitches, or heavy duty hitches such as goosenecks and fifth-wheel hitches, are also available although the price varies greatly depending on style and capacity.
TCM: Your beds are made from A-60 galvennealed zinc coated steel.  What is A-60 galvennealed zinc coated steel?
Rick: Galvennealed steel is the same steel they are building the truck cabs from.  The heavy zinc coating guards against corrosion.  Galvanneal is a process of galvanizing and then annealing the steel, which coats it with zinc but still leaves it paintable (unlike traditional galvanizing).  Galvannealed steel is graded by how much zinc coating and corrosion protection the steel has been coated with, and grade A-60 is an industry-leading grade.  Other manufacturers typically use less corrosion resistant galvannealed steel, when they use galvannealed steel at all.
TCM: Why not use aluminum?
Rick: In the truck body industry, only a very small percentage of truck bodies are made from aluminum.  While aluminum is lighter, it's also significantly more expensive while having less strength and durability.
For our camper body customers, who tend to be serious RVers who spend a lot of time on the road, you just can't beat the reliability of steel.  Besides, we've always worked in steel and really know the material well.
TCM: What does a Douglass camper body weigh?
Rick: A typical nine foot dual-rear-wheel camper body is about 1,600 pounds.  The average standard truck bed weighs about 588 pounds so you're adding about 1,000 pounds to your truck.  If you're seriously considering a camper body, you need a Ford F450 at a minimum, preferably a Ford F550 or Dodge 5500.  Around here we say bigger is always better.
TCM: Douglass Truck Bodies uses double panel doors and high solids polyurethane paint.  Why are these two features important?
Rick: We strive for the best in everything we do at Douglass.  Our steel is the highest zinc steel available.  Our hardware is all stainless steel.  Our lights are all LED.  Our wiring harnesses are not spliced.  We use an automotive grade high solids polyurethane primer paint.  Our doors are double panel to add rigidity and strength to the door.  We really try to offer the best we can in our truck bodies.
TCM: Tell us about the Douglass Truck Bodies warranty.
Rick: Our standard warranty is three years.  That said, we stand behind our product long term.  We don't really have issues.  Truck bodies could have a paint or rust problem, but we have solved that with the A-60 galvennealed zinc coated steel and PPG primer paint that we use.  We are guaranteed against corrosion with the PPG paint company.
TCM: How does a customer get service or warranty work if they're out of state?
Rick: If you purchased your Douglass Truck Body from out of state and need service, you could take your truck and truck body to any local body shop.  If one of our custom doors was damaged, we would fabricate one here and ship it to you.  Any body shop could repaint it and install it.
We 100% support anything we sell.  Whether you need a new bumper, door, or latch, we have a parts department that can get you what you need.  We're old school and want people to feel good about doing business with us.
To read stories of Douglass Truck Body owners, check out Building The Perfect Truck Camping Beast and Porsche Hauler and Race Station.