Steve Torp restores and races vintage Porsche cars, all from the comfort of his 2014 Lance 1172 and 2008 Ford F450 with a tricked out Douglass Truck Body utility bed.  Full Spectrum – Full Synergy, indeed.

When Angela handed Steve Torp's interview for me to proofread, she said, "You're really going to like this. Steve is an entrepreneur, truck camper, and vintage Porsche restorer and race car driver."  Honestly, I thought she was kidding. I mean who's that cool – seriously?  "Oh, and he has a totally tricked out custom bed by Douglass Truck Bodies."
It took me over two hours to get through Steve's interview because I kept stopping to Google things like, "Porsche 356", and, "used Ford F450 prices".  The 1965 Porsche 356B Coup Steve has lovingly restored and races is simply stunning.  And the idea of taking an older Class 5 truck – with relatively low miles – and modding it out with a custom storage bed is more than intriguing.
Maybe I can convince Angela that we need a vintage Porsche and a Ford F450 with a utility bed.  "Honey, think of all the friends we could make at the race track if we just had a red Porsche 356?  Think of it as an investment!  And isn't Steve's F450 and custom utility body pretty?  Can we get one? Puh-leeeze!"  Don't laugh. I bet a lot of you fellas have tried similar ploys.
When Steve's truck camper rig isn't serving as his mobile racing command, it's back at his auto body shop as his personal break room.  Last Christmas he used the outdoor cooking side of the Douglass Truck Body to prepare barbecue for his team.  That's right, his utility bed has a built-in slide-out barbecue and meal prep area.  "Honey, it's also a mobile outdoor kitchen.  Now can we get one?"  Why doesn't that ever work?
Steve's interview digs into the details of Steve's impressive truck camper rig, and unbelievably beautiful Porsche.  And it turns out that's not all Steve is into.  Between running his business and racing vintage Porsches, Steve also enjoys fly fishing and exploring off-grid trails with his Polaris General 4 1000 EPS – as far from crowds as possible.  Introducing one of the most interesting truck camper owners we've met.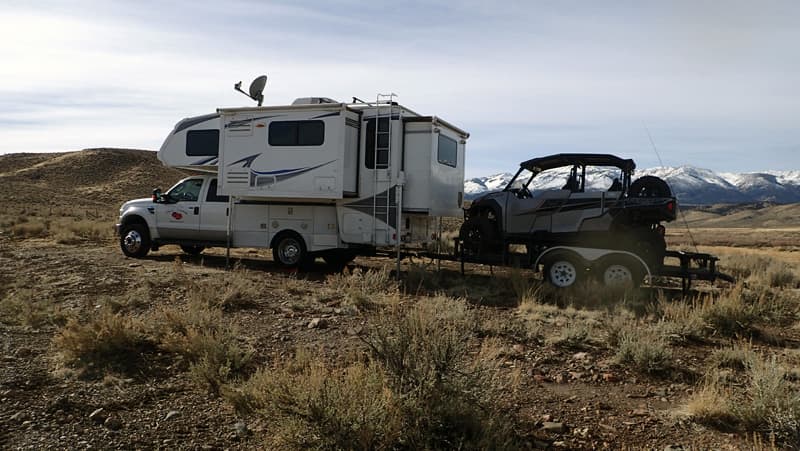 TCM: How did you get into camping?  Did you go camping as a kid?
Steve: I did some backpacking and camping with my family as a kid.  I lived in Yosemite for the summer of 1972 and worked in the valley.
When I was younger, I was more into backpacking and the pure form of camping.  At that point in my life I looked at RVs and said, "What a waste!  They're not getting out!"
As I got older and had kids, camping was a way to get the kids out at a young age.  We went backpacking as a family.
Getting into truck campers was more about racing and being at the racetrack.  The 2014 Lance 1172 is actually my fifth truck camper.  It's the nicest truck camper I've ever had.
TCM: Wow!  Five truck campers!  Tell us about your Ford F450.  That's a lot of truck.
Steve: It's a 2008 Ford F450.  I bought it brand new.  2008 was the first year Ford offered the F450 as a pickup and not just a cab and chassis.  I needed the capacities of the F450 for hauling the truck camper and towing two race cars.
I use the truck a lot when I'm not camping.  That's why I want a truck camper; the versatility of having a truck.  I restored a Victorian home in Alameda and did a lot of work on my current house.  I am always in need of a truck.
I actually wore out the pickup bed in the F450 hauling landscaping rocks.  The floor of the bed and the supports were worn out.
That led me to research utility beds.  That's how I came across Douglass Truck Bodies.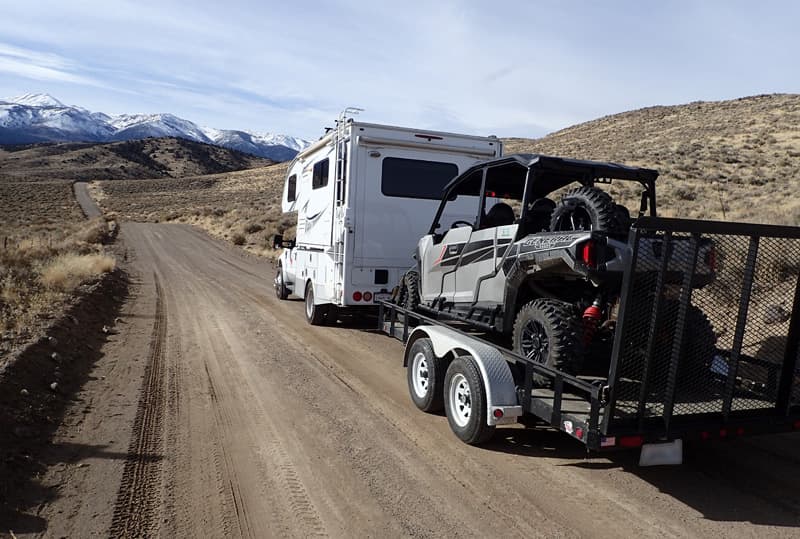 My 2008 Ford F450 pickup has a 4" shorter wheelbase from cab to rear axle than Douglass's prior builds.  It took some configuration to adapt their build for my truck.  I went back and forth with the decision to get a different truck.
My original plan was to buy a new truck.  I actually ordered a 2016 Ford F550, but Ford never built the truck.  Long story short, Ford wanted me to purchase a 2017 Ford F550, but I didn't want to be a guinea pig for the new aluminum body design.
I wasn't interested in that, so I decided to stick with my 2008 Ford F450.  It had only 60,000 miles and was in good shape other than the truck bed.
TCM: How did the process of getting a utility bed from Douglass Truck Bodies work?
Steve: After I decided to work with the truck I had, I contacted Tyler at Douglass.  I also pulled up their website and looked at the many truck camper utility beds they had done.  They were willing to put anything I wanted into the final product.

Above: Steve's shop, Classic Autobody in California
I do high-end automotive restorations at my shop, Classic Autobody.  My company started with restoring old Porsches.  We pride ourselves in the quality of our work, so I have an eye for detail.  That's the way I am.
Douglass Truck Bodies is only three hours away from me, so I went to check out other truck beds they were building.  That sealed the deal.  I looked at the shop and what the guys were doing.  I liked the quality and how they were doing it.  The quality is there.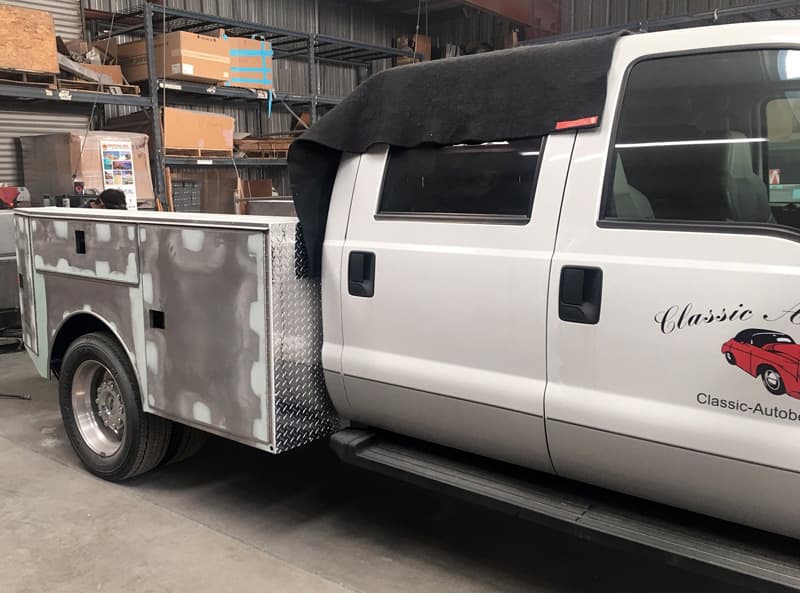 Above: Pictures of Steve's truck during the Douglass Truck Body build
TCM: How long did it take to get your utility body made?
Steve: Douglass kept my truck and camper for three months as they built the utility bed from scratch.  People need to understand that it's all custom.  They will do whatever you want them to do.  They had my rig when I wasn't in any race car events, so I wasn't using the camper anyway.
Tyler sent photos during the build and kept me up to date with the progress.  The guys at Douglass Truck Bodies are great to deal with and fulfilled what they said they were going to do.  It all boiled down to keeping with the truck I had.  The pricing was fair and it was a good package.  I am happy with the quality.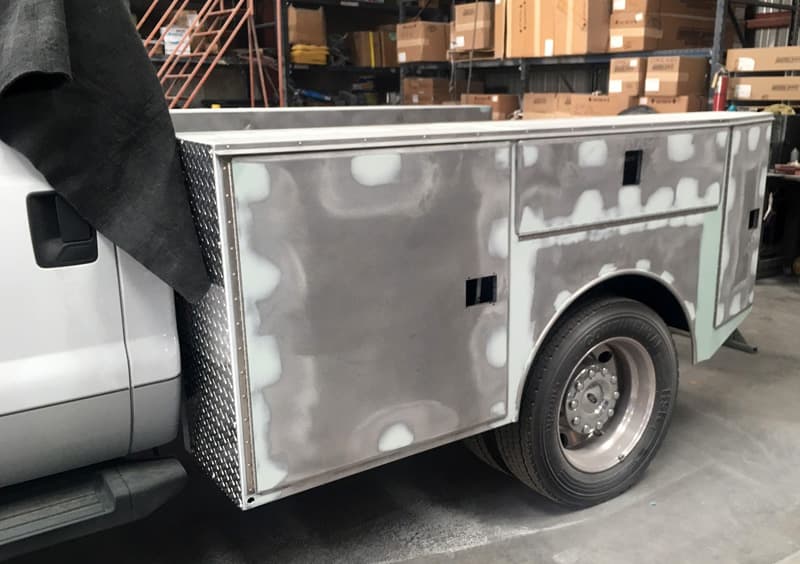 TCM: What was the process of designing your custom utility bed?
Steve: Douglass designed it with my input and the measurements I provided of my truck and camper.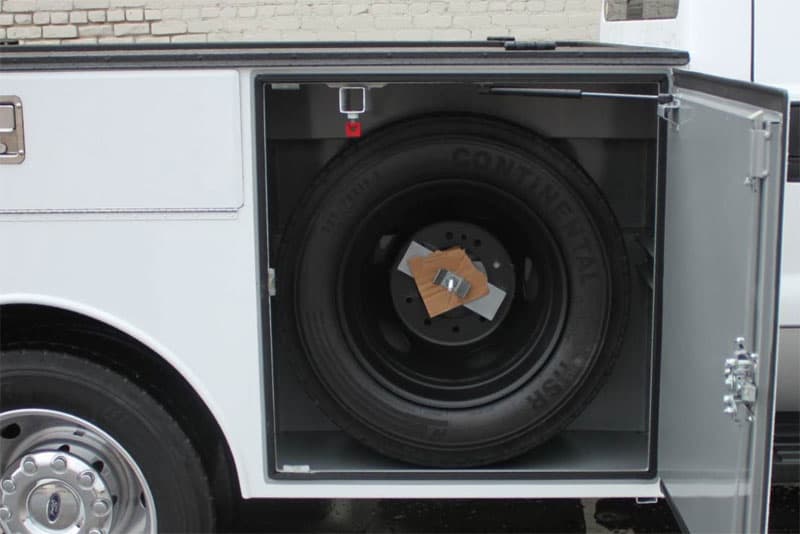 One custom request I had was an enclosed 19.5-inch wheel and tire compartment.  They shortened the box over the wheel openings to get a bigger box to accommodate the wheel and tire.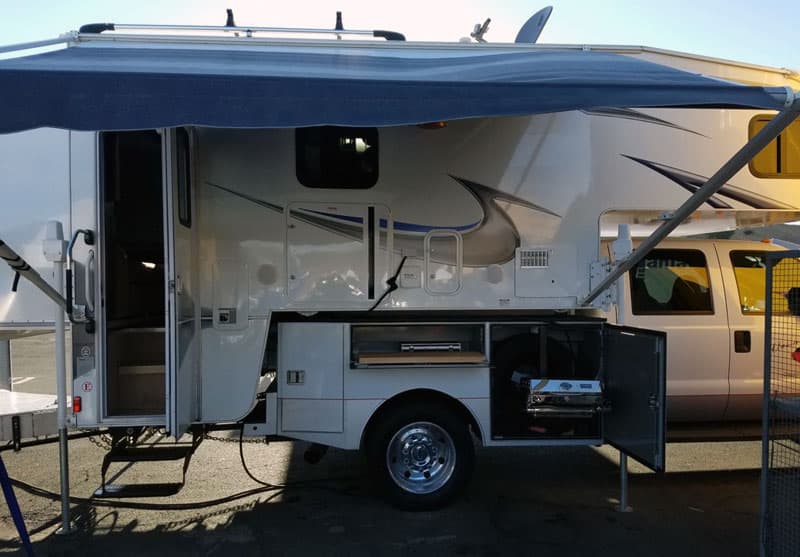 I also wanted a place for my barbecue.  I fabricated the bracket for the barbecue.  I put a beam across the box to a Z-bracket that slides in and locks into place.  I sent them photos and they accommodated for what I had designed.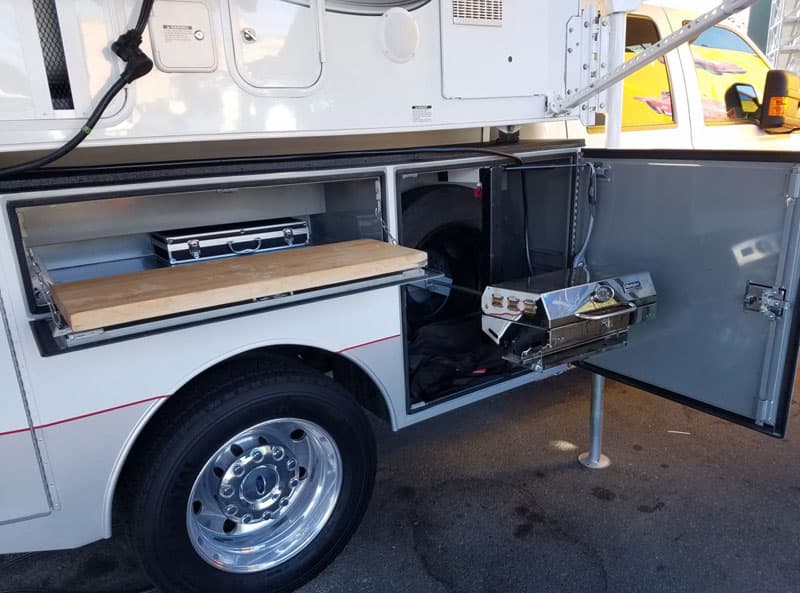 The right side of the utility body is for outdoor cooking.  The left side has power cords, straps, caulks for leveling the rig, and more.  The compartments all have adjustable shelves.  I still have more storage room, which is nice.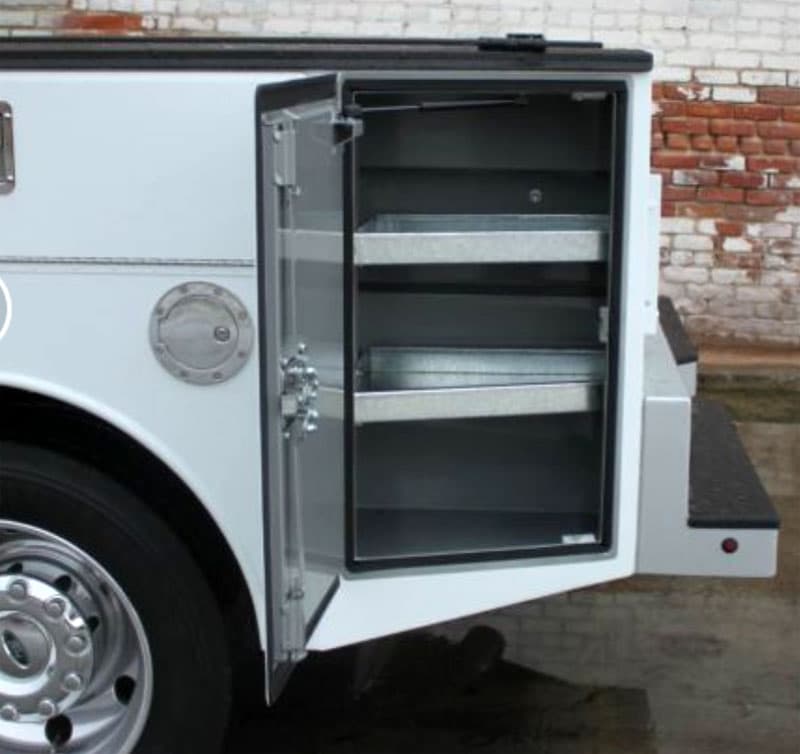 TCM: You also did some interesting modifications prior to taking Douglass your truck.  Tell us about those mods.
Steve: I sold the dually flares and tailgate.  Then I removed the truck bed and installed an auxiliary fuel tank where the spare tire went.  The spare tire would be going in the utility box, so I didn't need the spare tire under the truck anymore.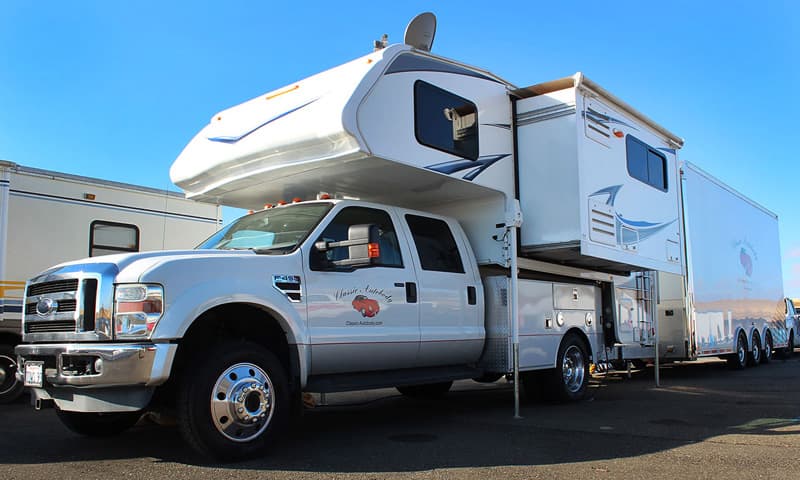 TCM: How did you set up the truck for towing two race cars?
Steve: I started with the standard Ford hitch.  Then I upgraded to the Torklift SuperHitch Magnum.  It works great!  The SuperHitch Magnum is rated for 30,000 pounds and has a 36-inch extension.  I also use Equalizer's weight distribution system.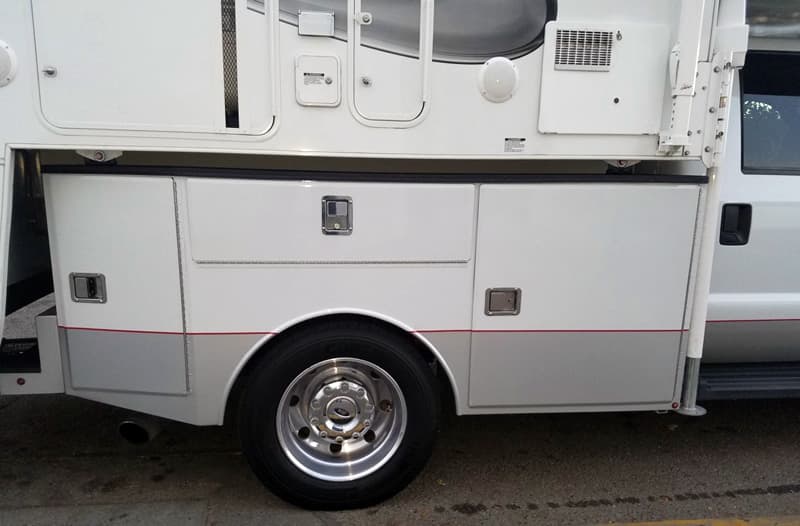 Above: Douglass Truck Bodies put in guide brackets for loading and hinge points to attach to the camper's tie-downs
TCM: How is loading and unloading with the Douglass truck body?
Steve: Douglass Truck Bodies put guide brackets in the bed to help locate the camper.  The guide brackets go up 3 to 4 inches and then taper back into the side on the front wall of the truck bed.  The guide brackets are bolted in the bottom of the box and run the width of the floor.  If I'm a half-inch off when loading the camper, the guide brackets slide the camper into perfect position.
When I lower the camper into the utility bed, I get it all the way to the front wall.  Then, it drops down and it's right in place.  I can unload the camper in 20 minutes, but it takes longer to load because I have to line up the truck and camper.
With the Douglass utility body, I do not use a traditional tie-down and turnbuckle system.  The utility body has four built-in hinge brackets that line up with the four tie-down brackets under the wing walls of the Lance 1172.  Using this system I was amazed when I drove away from Douglass with absolutely no sway.
The hinge bracket system takes a little longer than a traditional tie-down and turnbuckle system because you have to be perfectly lined up.  Thankfully, the guide brackets help.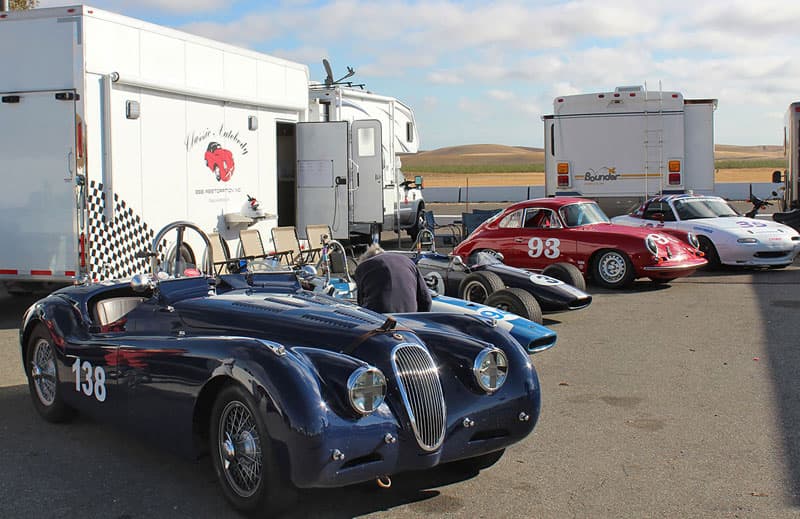 TCM: Tell us about your racing vintage Porsches.  How often do you get to do that?
Steve: I race vintage Porsches four to five weekends a year.  I have been vintage automobile racing for twenty-five years.  I've been on the board of directors for Classic Sports Racing Group for ten years.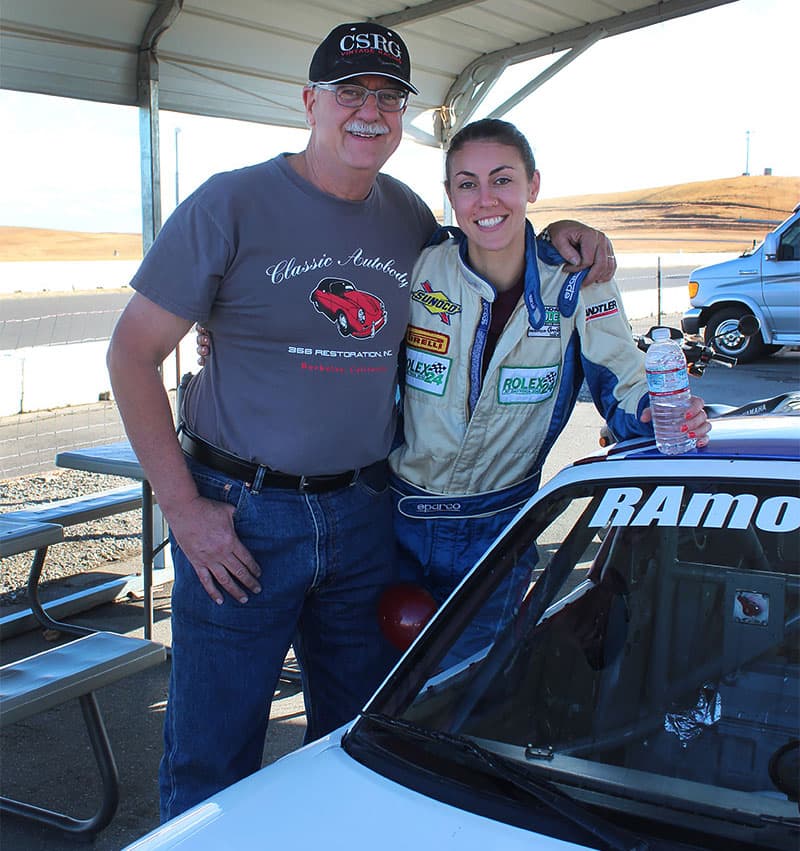 Above: Steve and his daughter at the track
The cars I race are obsolete for current forms of racing, but have a lot of history.  It is competitive to a point.  Obviously it's a no-no to have contact in our type of racing.  Some of these cars are priceless one of a kind cars.
The owners are taking them out and showing them off.  To quote a long time organizer, "The cars are the stars".  This isn't a steeping stone for professional racing.  We do get professional racers at our events who want to have fun with rare old cars.
I started with the red Porsche 356 and have had a lot of fun with it.  It is a production car that they raced in early 1960s.  It was in the production class, so it was eligible for racing.  It's a lot of fun.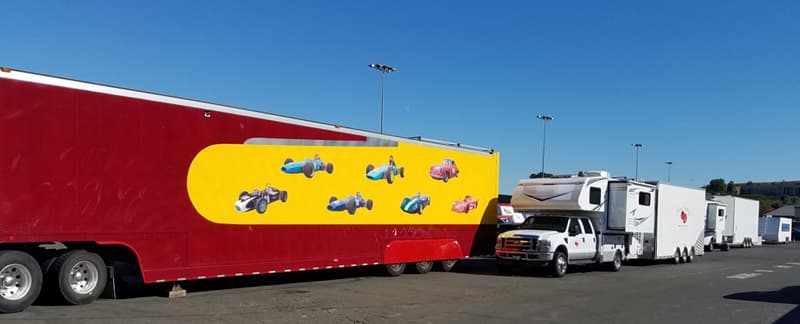 The racing part is fun, but it's really about the camaraderie of the whole weekend.  We set up the camper and the kitchen and sometimes cook for fifteen people.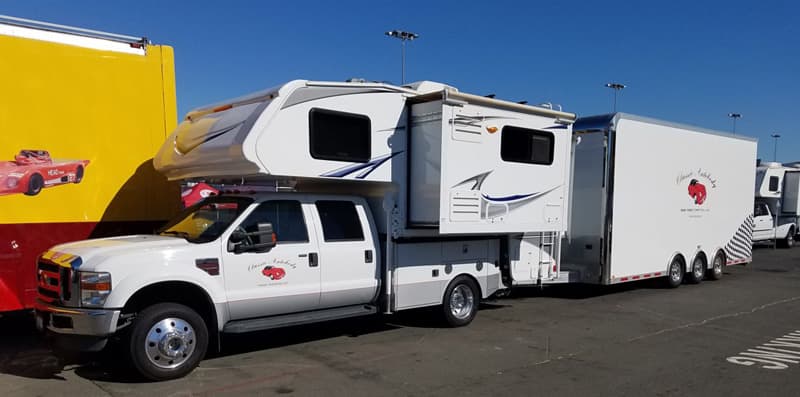 We hang out at the racetrack after hours, which is cool.  Having the 1172, we have all the comforts of home; air conditioning, heat, a comfortable bed, and shower.

We do one charity event a year.  Our event supports the Sonoma chapter of Speedway Children's Charities.  Over the past fourteen years we have raised $915,000.
Bruton Smith is the owner of the Sonoma Raceway.  He owns seven other major tracks.  He's a NASCAR guy.  Every track of his has a Speedway Children's charity that benefits the county of the speedway.
In Sonoma we have approximately 35 recipients.  It gets divided among them by the people who run the charity.  We just had the fires here.  One of the local schools burnt to the ground, so they need even more money this year.  This year alone we raised $74,000.   Folks can check out our website at CSRGracing.org.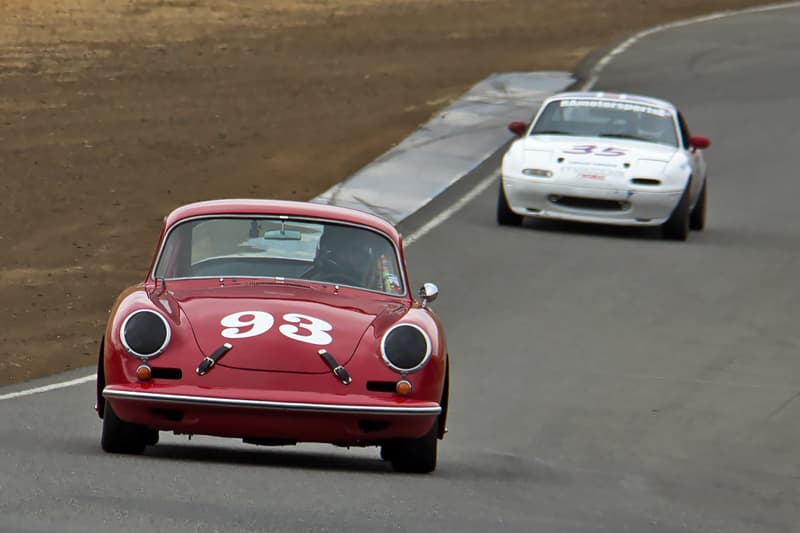 TCM: Are you racing Porsches that your company restored?
Steve: Yes, every car but one I've raced over the years has been restored here at Classic Autobody.  The red Porsche 356 was a two year project started in 1991.  That's when I decided to get into vintage racing.
My company has a background in vintage Porsches.  I worked for a Porsche dealer before owning this company.  I bought the car 27 years ago.  My corporate name is 356 Restoration, Inc.
TCM: Those are some seriously beautiful cars.  What else do you like to do while truck camping?
Steve: I love to fly fish.  I don't get to do it enough, but hopefully I can do more fly fishing this year.  I always try to go on a winter steelhead trout trip in the camper.  I really enjoy getting away from the crowds.
I sent you a picture from East Walker in Nevada.  That was on a plateau.  I camped a little ways from the river and took the Polaris fishing and exploring.  It was in the twenties at night, but we were still very comfortable in our Lance Camper.
I'm a native San Franciscan.  In three hours I can be in Tahoe and there's a lot between here and there.  My wife and I have gone down the coast at the spur of the moment.  We have a lot of places to get away.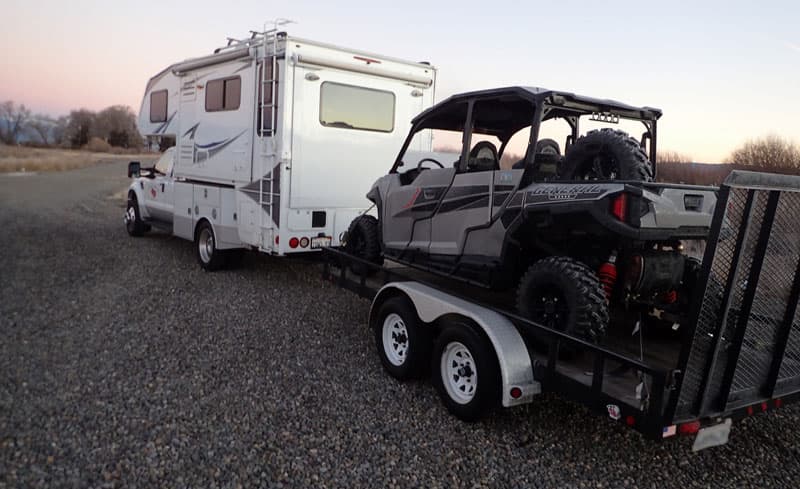 TCM: You are lucky to have so many amazing truck camping opportunities in your area.  Is there anything else about your truck camping lifestyle you would like to share?
Steve: I have a place to keep the camper here at the shop.  I hook up the power, dial in the satellite and, if I want, I have lunch in my camper.  Even when it's not on a trip, it gets used.
The Friday before Christmas this year we put together a barbecue lunch for the guys.  With my truck camper in the shop, I have the kitchen right there.  I'm set up to cook for lots of people.  It's a great set up.
For more information on Douglass Truck Bodies and to get a free brochure, click here.
Steve Torp's Rig
Truck: 2008 Ford F450, long bed, diesel, crew cab, four wheel drive
Camper: 2014 Lance 1172
Tie-Downs/Turnbuckles: Douglass Bed System
Suspension: Douglass Resprung the Truck
Gear: Custom Douglass Truck Body