Steve Torp restores and races vintage Porsche cars, all from the comfort of his 2014 Lance 1172 and 2008 Ford F450 with a tricked out Douglass Truck Body utility bed.  Full Spectrum – Full Synergy, indeed.

When Angela handed Steve Torp's interview for me to proofread, she said, "You're really going to like this. Steve is an entrepreneur, truck camper, and vintage Porsche restorer and race car driver."  Honestly, I thought she was kidding. I mean who's that cool – seriously?  "Oh, and he has a totally tricked out custom bed by Douglass Truck Bodies."
It took me over two hours to get through Steve's interview because I kept stopping to Google things like, "Porsche 356", and, "used Ford F450 prices".  The 1965 Porsche 356B Coup Steve has lovingly restored and races is simply stunning.  And the idea of taking an older Class 5 truck – with relatively low miles – and modding it out with a custom storage bed is more than intriguing.
Maybe I can convince Angela that we need a vintage Porsche and a Ford F450 with a utility bed.  "Honey, think of all the friends we could make at the race track if we just had a red Porsche 356?  Think of it as an investment!  And isn't Steve's F450 and custom utility body pretty?  Can we get one? Puh-leeeze!"  Don't laugh. I bet a lot of you fellas have tried similar ploys.
When Steve's truck camper rig isn't serving as his mobile racing command, it's back at his auto body shop as his personal break room.  Last Christmas he used the outdoor cooking side of the Douglass Truck Body to prepare barbecue for his team.  That's right, his utility bed has a built-in slide-out barbecue and meal prep area.  "Honey, it's also a mobile outdoor kitchen.  Now can we get one?"  Why doesn't that ever work?
Steve's interview digs into the details of Steve's impressive truck camper rig, and unbelievably beautiful Porsche.  And it turns out that's not all Steve is into.  Between running his business and racing vintage Porsches, Steve also enjoys fly fishing and exploring off-grid trails with his Polaris General 4 1000 EPS – as far from crowds as possible.  Introducing one of the most interesting truck camper owners we've met.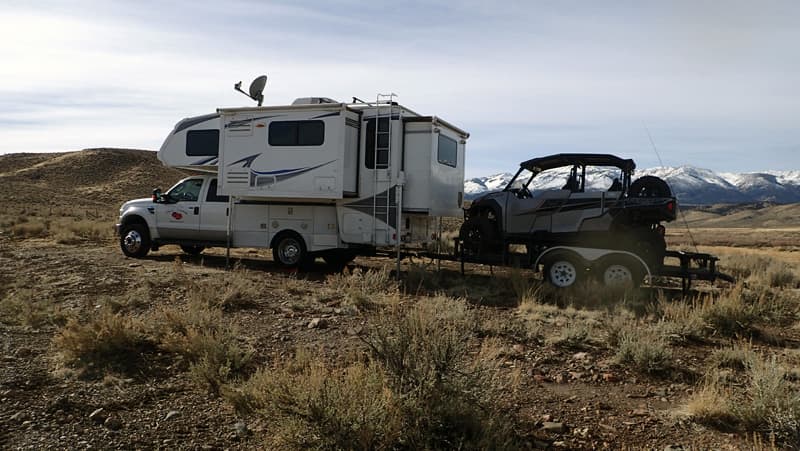 TCM: How did you get into camping?  Did you go camping as a kid?
Steve: I did some backpacking and camping with my family as a kid.  I lived in Yosemite for the summer of 1972 and worked in the valley.
When I was younger, I was more into backpacking and the pure form of camping.  At that point in my life I looked at RVs and said, "What a waste!  They're not getting out!"
As I got older and had kids, camping was a way to get the kids out at a young age.  We went backpacking as a family.
Getting into truck campers was more about racing and being at the racetrack.  The 2014 Lance 1172 is actually my fifth truck camper.  It's the nicest truck camper I've ever had.
TCM: Wow!  Five truck campers!  Tell us about your Ford F450.  That's a lot of truck.
Steve: It's a 2008 Ford F450.  I bought it brand new.  2008 was the first year Ford offered the F450 as a pickup and not just a cab and chassis.  I needed the capacities of the F450 for hauling the truck camper and towing two race cars.
I use the truck a lot when I'm not camping.  That's why I want a truck camper; the versatility of having a truck.  I restored a Victorian home in Alameda and did a lot of work on my current house.  I am always in need of a truck.
I actually wore out the pickup bed in the F450 hauling landscaping rocks.  The floor of the bed and the supports were worn out.
That led me to research utility beds.  That's how I came across Douglass Truck Bodies.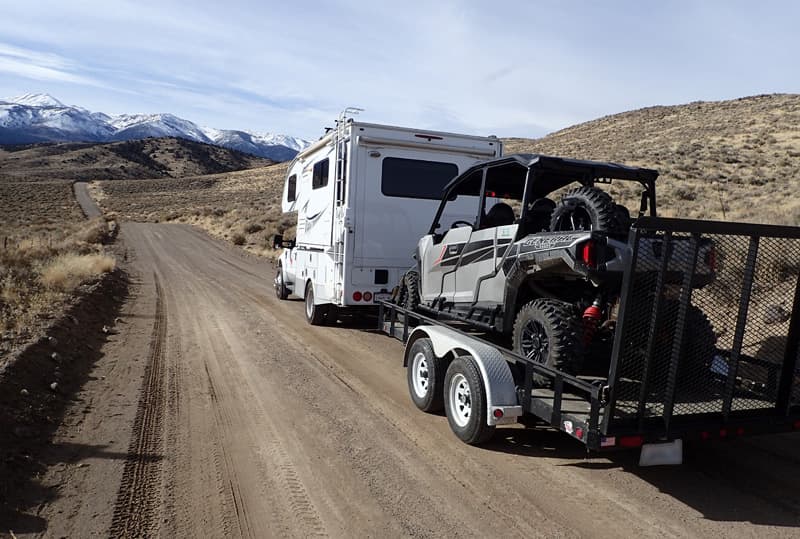 My 2008 Ford F450 pickup has a 4" shorter wheelbase from cab to rear axle than Douglass's prior builds.  It took some configuration to adapt their build for my truck.  I went back and forth with the decision to get a different truck.