Quartzsite, Arizona enthusiast and full-time truck camper, Frank Poole, reveals the ins and outs of the most famous snowbird hideout in America.  Want to camp in the warmth all winter for $180?  Hit the "Q"!

Quartzsite is a town in La Paz County, Arizona that sits at an elevation of 879-feet.  It's located 20-miles east of the California border and 128-miles west of Phoenix.
Interstate 10 runs directly through Quartzsite, which is at the intersection of U.S. Route 95 and Arizona State Route 95. According to the 2010 census, Quartzsite's population was 3,677.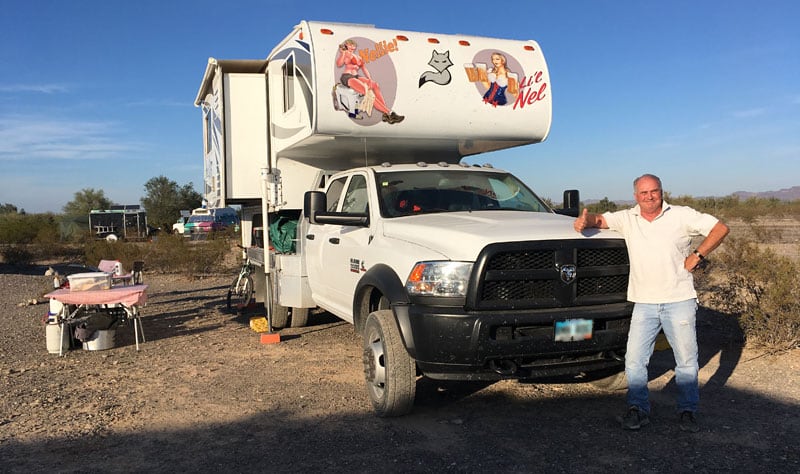 Above: Frank Poole in Quartzsite, Arizona with his 2016 RAM 5500, custom bed, and 2016 Arctic Fox 990
What Is The "Q"?
You might hear Quartzsite referred to as the, "Q". Many people who camp in Quartzsite commonly call it the, "Q". There's even a big "Q" on the mountain, just southwest of the town.
When people ask, I describe Quartzsite as, "A giant flea market in the middle of a 'shrub and brush' RV park in the middle of the desert with a highway running through it".
There are many reasons to be in Quartzsite during the winter.  First and foremost is the mild winter weather. The second reason is the price. Quartzsite is an extremely inexpensive place to camp. To pay $180 for seven months of camping is a deal.
Another important reason to camp in Quartzsite is the community. During the winter you can meet up with fellow travelers from all over the United States and Canada.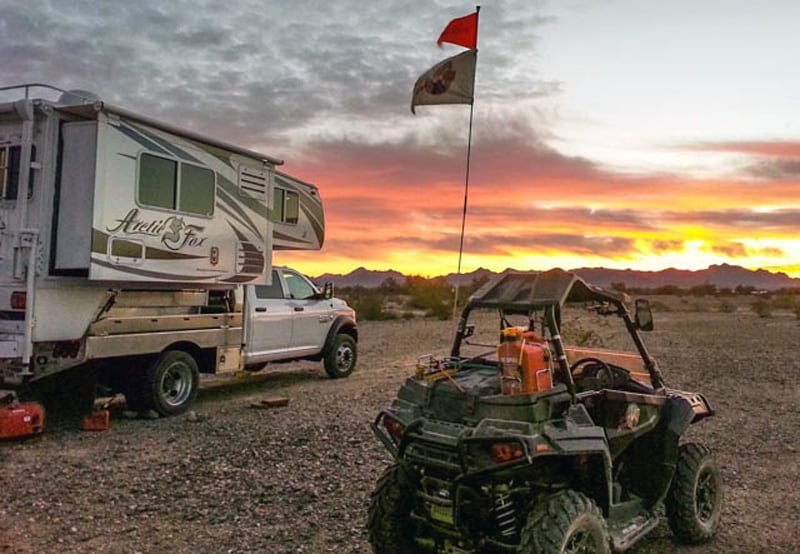 Above: Quartzsite has beautiful sunsets.  They are to die for!
There's also a lot going on in Quartzsite in the early part of the year; RV shows, rock and mineral shows, and various group meetings; Rubber Tramp Rendezvous, Escapees RV Club, and more.  Click here for the 2019/2020 schedule.
For more things to do, Quartzsite can be a good base of operations to visit Joshua Tree National Park, Lake Havasu, the city of Yuma, and beyond.
Quartzsite is great for off-road vehicles.  There are many dirt and back roads to explore. Some go as far up to the "Desert Bar" just east of Parker, or over to Bouse, down to Kofa, and over to the Colorado River and back in a loop.
Having an off-road "buggy" is a great way to get around including driving to town and back. While I don't believe driving an off-road vehicle in town is legal, (it might have changed), you will see plenty of off-road vehicles on the roads in Quartzsite. As long as you're not acting crazy, you're good to go. I recommend taking the Tyson Wash to head into town.
Best Time To Camp in Quartzsite
Seasonal RVers are there in the winter time, so that's when Quartzsite is really crowded. Dump stations and markets are extremely busy with a dump station wait being up to 45-minutes. January is the busiest month.

The best time to be in Quartzsite is October, November, and December. After the season, April and May are good, depending on when the temperatures go up. Since it's a dry heat, 90-degrees Fahrenheit feels like 80. So, while it will get hotter, 90-degrees is not that bad.