Quartzsite, Arizona enthusiast and full-time truck camper, Frank Poole, reveals the ins and outs of the most famous snowbird hideout in America.  Want to camp in the warmth all winter for $180?  Hit the "Q"!

Quartzsite is a town in La Paz County, Arizona that sits at an elevation of 879-feet.  It's located 20-miles east of the California border and 128-miles west of Phoenix.
Interstate 10 runs directly through Quartzsite, which is at the intersection of U.S. Route 95 and Arizona State Route 95. According to the 2010 census, Quartzsite's population was 3,677.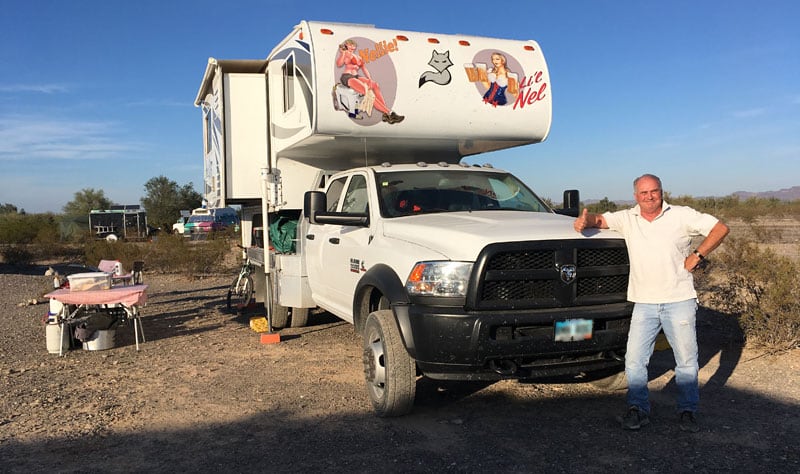 Above: Frank Poole in Quartzsite, Arizona with his 2016 RAM 5500, custom bed, and 2016 Arctic Fox 990
What Is The "Q"?
You might hear Quartzsite referred to as the, "Q". Many people who camp in Quartzsite commonly call it the, "Q". There's even a big "Q" on the mountain, just southwest of the town.
When people ask, I describe Quartzsite as, "A giant flea market in the middle of a 'shrub and brush' RV park in the middle of the desert with a highway running through it".
There are many reasons to be in Quartzsite during the winter.  First and foremost is the mild winter weather. The second reason is the price. Quartzsite is an extremely inexpensive place to camp. To pay $180 for seven months of camping is a deal.
Another important reason to camp in Quartzsite is the community. During the winter you can meet up with fellow travelers from all over the United States and Canada.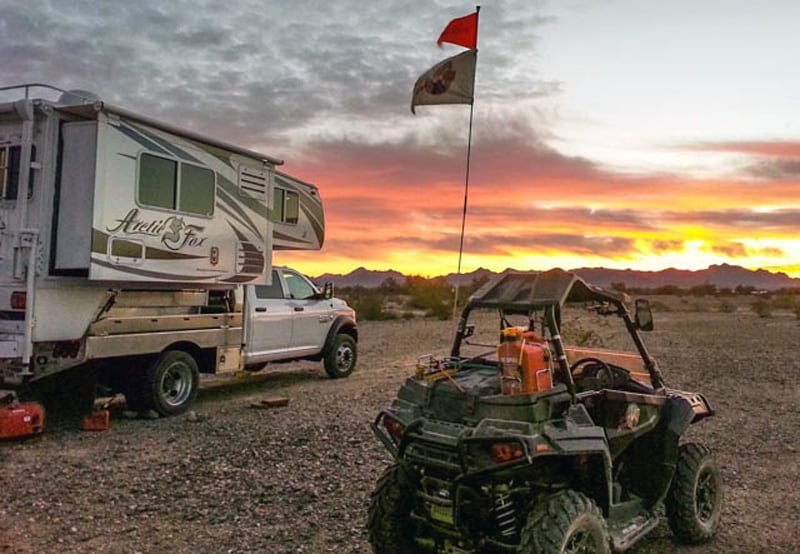 Above: Quartzsite has beautiful sunsets.  They are to die for!
There's also a lot going on in Quartzsite in the early part of the year; RV shows, rock and mineral shows, and various group meetings; Rubber Tramp Rendezvous, Escapees RV Club, and more.  Click here for the 2019/2020 schedule.
For more things to do, Quartzsite can be a good base of operations to visit Joshua Tree National Park, Lake Havasu, the city of Yuma, and beyond.
Quartzsite is great for off-road vehicles.  There are many dirt and back roads to explore. Some go as far up to the "Desert Bar" just east of Parker, or over to Bouse, down to Kofa, and over to the Colorado River and back in a loop.
Having an off-road "buggy" is a great way to get around including driving to town and back. While I don't believe driving an off-road vehicle in town is legal, (it might have changed), you will see plenty of off-road vehicles on the roads in Quartzsite. As long as you're not acting crazy, you're good to go. I recommend taking the Tyson Wash to head into town.
Best Time To Camp in Quartzsite
Seasonal RVers are there in the winter time, so that's when Quartzsite is really crowded. Dump stations and markets are extremely busy with a dump station wait being up to 45-minutes. January is the busiest month.

The best time to be in Quartzsite is October, November, and December. After the season, April and May are good, depending on when the temperatures go up. Since it's a dry heat, 90-degrees Fahrenheit feels like 80. So, while it will get hotter, 90-degrees is not that bad.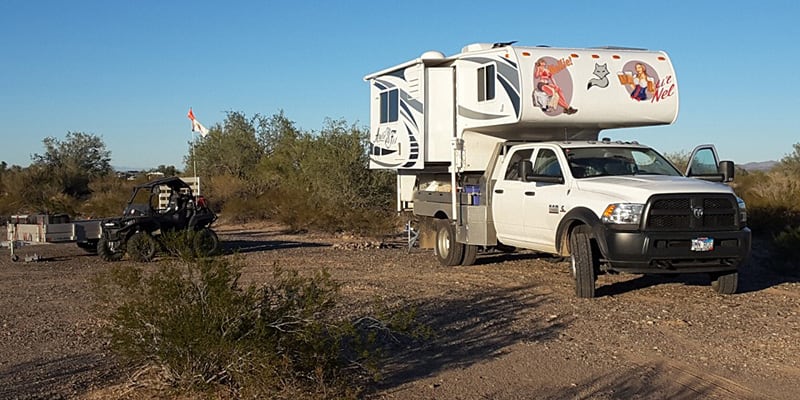 I typically arrive in early November and stay until April or May when it heats up and the snakes come out.  I am not a big fan of snakes because they can park under your steps at night and nip at your heels in the morning.
During the winter it might go from the low 70s during the day to the low 40s at night. Because you are in the desert, it gets quite cold when the sun goes down.  It can also be windy with dust storms.
There is some rain, but not a whole lot.  Be careful to not park in washes. They can be quite dangerous during flash floods.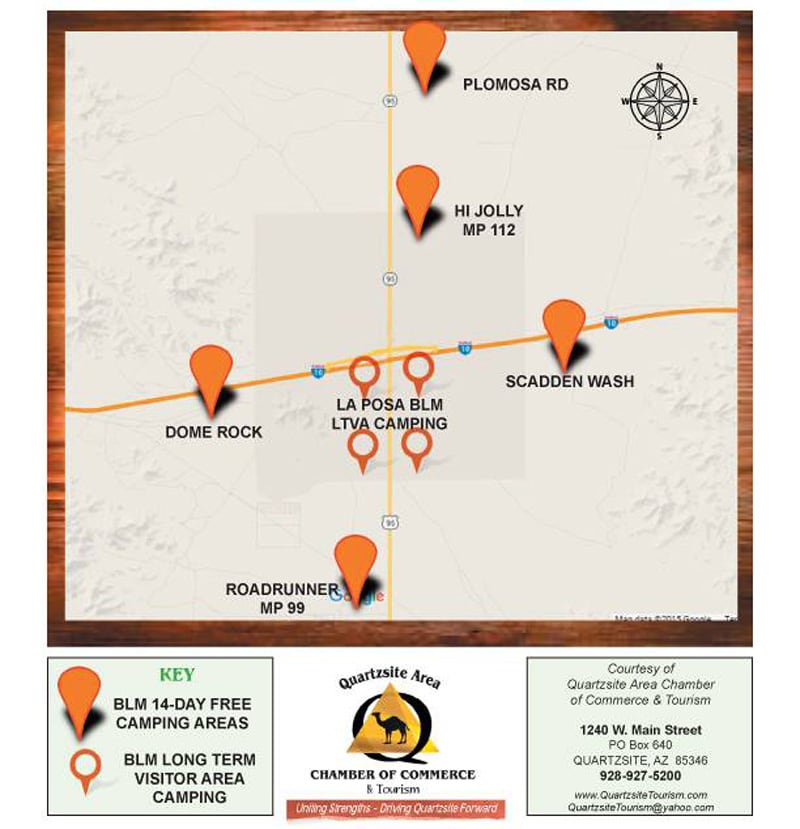 Above: A Quartzsite BLM Map.  The Long Term and Short Term Visitor Areas are explained below.
Long Term Visitor Areas (LVTA)
For $1.17 a day, you can spend the entire winter in Quartzsite's Long Term Visitor Areas (LVTA). That includes a place to camp on BLM land, activities throughout the winter, fresh water, trash drop-off, and use of the dump station.

The Long Term Visitor Areas (LTVA) costs $180 for a pass to dry camp for up to seven months. That runs from September 15th through April 15th each season.
There are four Long Term Visitor Areas in Quartzsite:
1. La Posa West – West of Highway 95 next to the town and RV tents.
2. La Posa North – East of Highway 95 and south of I-10 right across from West.
3. La Posa South – Just south of La Posa North.  This is the only place to dump and get a fresh water in the BLM areas. Even if you stay in another BLM long-term or short-term area, you can dump and fill at La Posa South.
4. Tyson Wash – West of Highway 95 next to the wash that goes into town. There is an off-road trail/wash into town from this location. It's also close to the mountains, so you have a room with a view.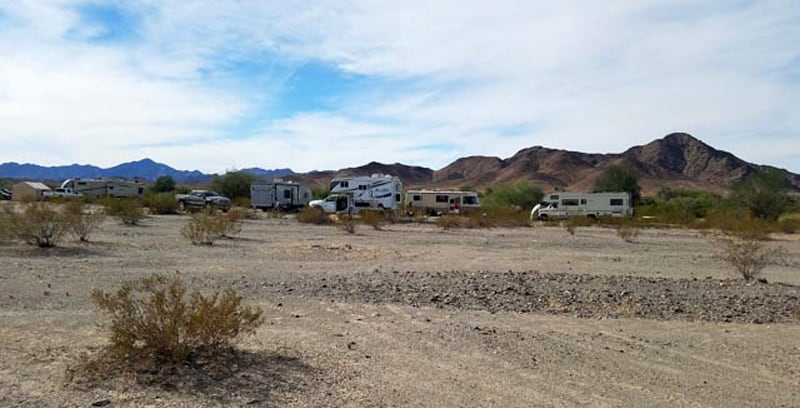 Above: Tyson Wash, Long Term Visitor Area
If you're not staying that long, it costs $40 for 14-days in the Long Term Visitor Areas (LTVA). I believe the charge is for the facilities like the dump, fresh water, and trash. After 14-days you have to move outside of a 25-mile radius.  The dates are posted on the white receipt you get when you pay and register.
Short Term Visitor Areas (STVA)
The Short Term Visitor Area is free for 14 days then you have to move. If you want to stay for more than 14-days and don't want to get a LTVA pass, you just move to a STVA 28 miles away from where you were.  If you are in the south end and want to go to another STVA, then go to one in the north end.
Above: Dome Rock, Short Term Visitor Area
There are five Short Term Visitor Areas in Quartzsite:
1. Dome Rock – Just west of town.  Aside from Dome Rock, it's all pretty much flat desert. Dome Rock just happens to have some mountains next to it.
Dome Rock is my favorite, and is a limited 14-day STVA.  I feel it's the most scenic of the BLM areas.
You can see the interstate from that location. It's sort of nice at night (assuming it's not too cold) to watch the truckers with their trailers all lit up like Christmas lights.
Above: Hi Jolly, Short Term Visitor Area
2. Hi Jolly – Just north of town and is popular. Hi Jolly is approximately three-miles north of town off Highway 95.  There is good internet there because the cell tower is right across from Highway 95.
3. Scaddan Wash – Approximately three miles east of town.  Scaddan Wash is south of Interstate 10 past LTVA North.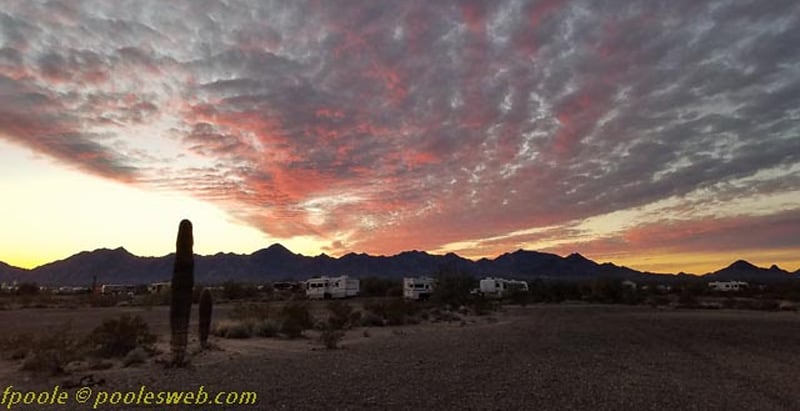 Above: Road Runner, Short Term Visitor Area
4. Road Runner – South of Tyson Wash.  Road Runner is approximately seven-miles south off Highway 95. It is at the south end of the LTVA, so it is actually a STVA. It can get crowded like an RV park. Ham radio groups and Class A manufacturer groups (etc.) camp there.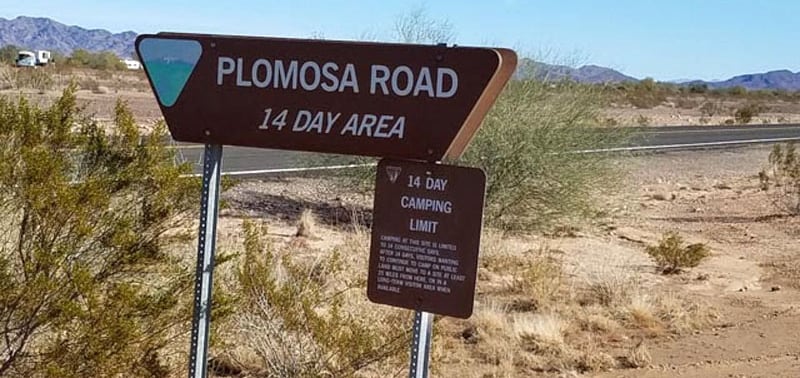 5. Plomosa Road – Approximately ten miles north of town.  It is north and south of Plomosa Road.
How To Find The LTVA and STVA
The LTVA and STVA areas are not clearly marked.  The LTVA has little gatekeeper kiosks where you go in and register. That's where you pay the seven-month fee.  You can also pay the LTVA short term fee there.

Other areas will have a volunteer at the entrances in their trailer and a canopy where you register (see photo above). They don't enforce anything and there's always a back way in, so it's pretty loose. I once camped in a STVA for four days before finding the camp host.
How To Find A Good Dry Camping Spot
As an example of how to find a BLM camping spot in Quartzsite, I'll use La Posa South. Start from the middle of town on Highway 95 and go south for about a mile.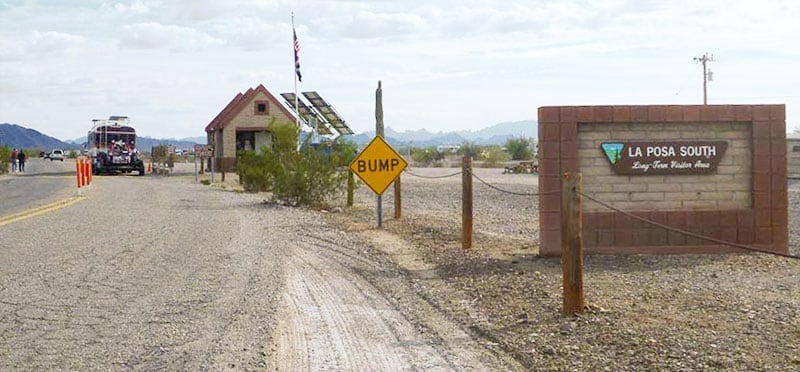 When you arrive, you'll see brown kiosks on either side and signs. If you get there after hours and it's closed, just drive along the dirt road and look for an empty place to camp.
Usually you'll see campfire rings at the campsites.  Pretty much all of the empty areas are for camping. Find a spot, park, set up, and it's yours. The next day register to get your sticker or white receipt and you're good to go.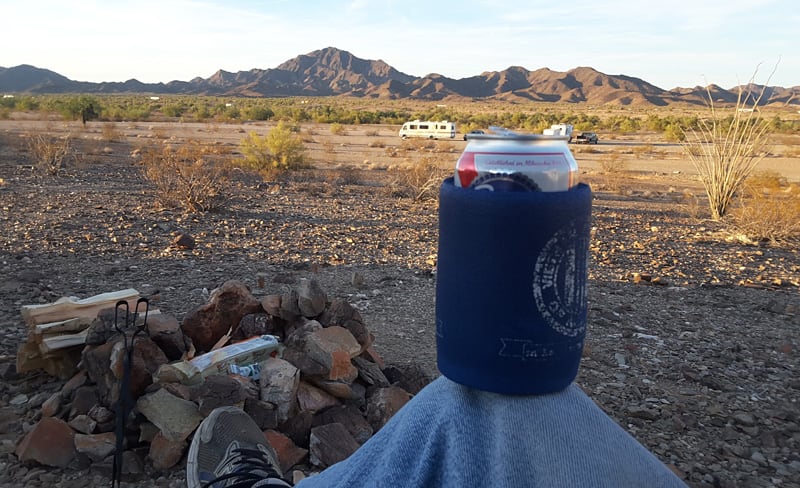 The volunteers at the kiosk will answer your questions, but that's all you have to do. Just register and then go back and have a beer.
If you go north on the Highway 95, you'll see other RVs parked and a road that goes into the STVAs. Again, there are signs, but you have to watch for them.

Once inside, you'll see the camp host with a canopy. It's the same procedure as La Posa South if it's closed.  Again, it's pretty relaxed and the host doesn't enforce anything. The rangers will cruise by and are very helpful and understanding.
I recommend coming in during the daylight.  If you arrive at night you might park over a campfire ring because you can't see it.
There are no reservations because it is a wide open space.  Just keep driving down the dirt road until you find a suitable site and park your rig.  As you drive the road and see other RVs parked, you'll get the idea quickly.
Just look for a flat area and/or a fire ring, pull over, set-up, grab a beer, and wait for the sunsets. There are still plenty of open areas to park.
Private Campgrounds In Quartzsite
If you need hookups, there are private (paid) full-hookup campgrounds in Quartzsite. I have not stayed at any of the private campgrounds, so I can't make any specific recommendations.
I would suggest that you make reservations if you are planning to stay at a private campground in January, February, or March. There are some new campgrounds so there should be plenty of campsites available.
Other Places To Camp in the Area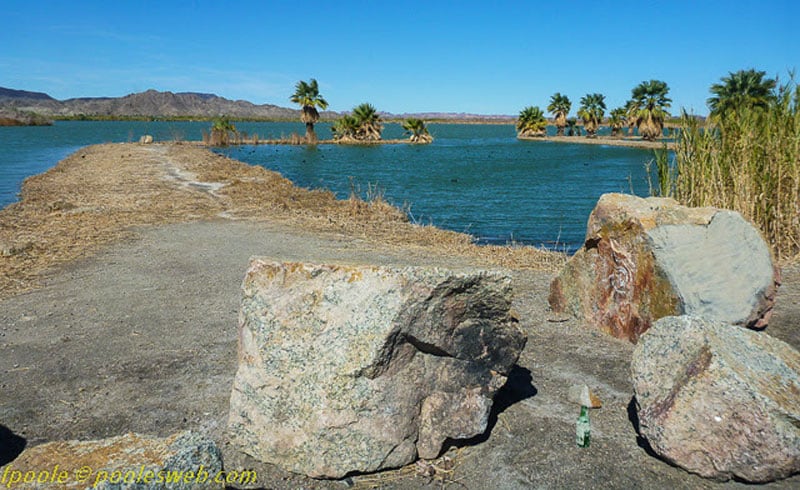 1. Mittry Lake, AZ – Nice lake. Limited shoreline camping.  Pictured above.
2. Cibola, AZ – Right on the river. Not really exciting.
3. Yuma Mesa, AZ – Big area. Some views of the lake, but basically on a mesa.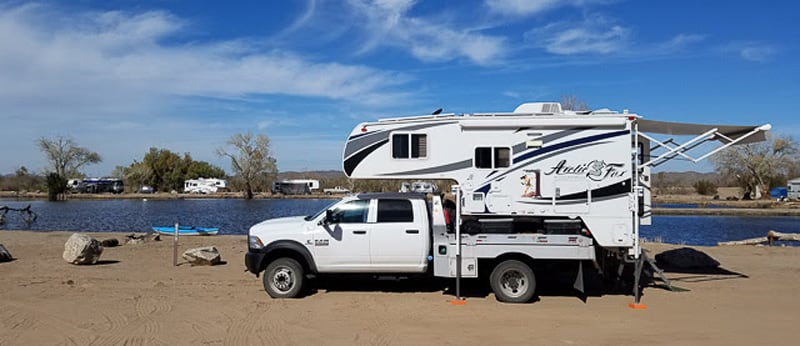 4. Fortuna Pond, AZ  – Nice pond. Camp right along the banks.  Can get crowded.  Pictured above.
5. Parker, AZ  – Several campsites, one BLM free area, and other low cost campsites on the river.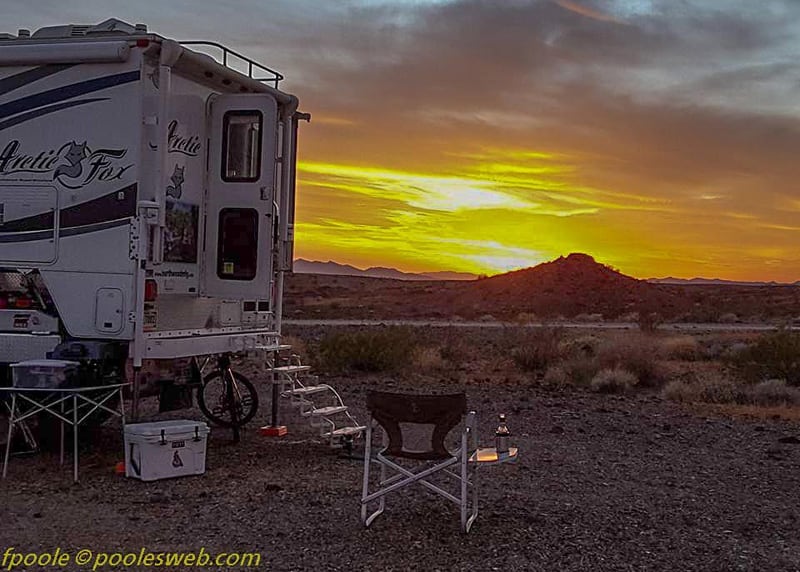 6. Big River, BLM, CA – Right across the border to California, and free. Pictured above.
7. Crossroads, BLM, CA – Right on the river.  The California side has $5 limited spaces.
Click for more information on these BLM areas.
SHARE YOUR CAMPSITE: This week's question of the week is all about cheap/free campsites.  Click here if you have a campsite that's a great deal.
NEXT: Frank shares 15 tips to camping in Quartzsite including where to dump and fill water and the inside scoop on getting groceries and mail.  He also demystifies the cheap Rx, dental, and optical opportunities of Los Algodones, Mexico, takes us off-roading, and warns of five "Q" hazards to avoid.