Quartzsite connoisseur, Frank Poole, goes beyond cheap BLM to reveal where to dump tanks, fill fresh, fetch mail, and grab groceries.  He also demystifies the opportunities of Los Algodones, Mexico, takes us off-roading, and warns of five "Q" hazards to avoid.

I initially came down to Quartzsite for the warmer climate. I also wanted to find a new winter location. A few of my friends from Oregon went down there during the winter to ride their buggies, so I went to ride with them on the trails.
For the last two years, I have stayed in Quartzsite to save money. I had a massive drop in income so I pretty much had to stay put given the high cost of fuel. During the winter I pretty much just camp in Quartzsite and hang out.

I'll move around if needed but, once I'm unloaded and set up, I stay put. When dumping my tanks (once a week), I leave my campsite set up so no one will take my spot. Most folks in Quartzsite are respectful, so it's not really a problem unless it is vacant.
For my first article on Quartsite, "Winter Camping In Quartzsite for $180", I revealed where to camp for cheap at the "Q". For this follow-up story, I share some of my best Quartzsite tips and tricks to make a winter here safer, cheaper, and more enjoyable.
Tip 1: Look Out For Rock Boundaries
RVers have been coming down the "Q" for many years. Although it's not officially sanctioned, some RVers have marked off their "spot" with rock boundaries.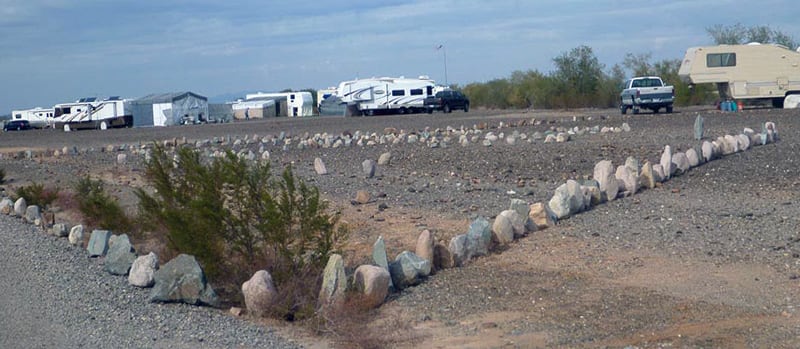 Technically, all Quartsite BLM is first come, first serve, so no claim to a spot is officially recognized. That stated, I usually try to find a non-marked spot. It is getting harder as more "claim" spots, but there's still plenty of open BLM land for campers.
Tip 2: Watch For Nearby Roads and Washes
When you pick out a camping spot, also be aware of the roads and traffic.  Typically the wind is blowing out of the southwest going to the northeast, so parking along the east side of the road with heavy traffic can be dusty.
This point was made in my first article, but it bears repeating; do not park in a wash. That way you won't be surprised by a flash flood, though I haven't seen one here yet.
Tip 3: Campfires Are Permitted
Campfires are allowed everywhere that I know of because there is nothing to burn in the desert.  It can get windy so common sense applies.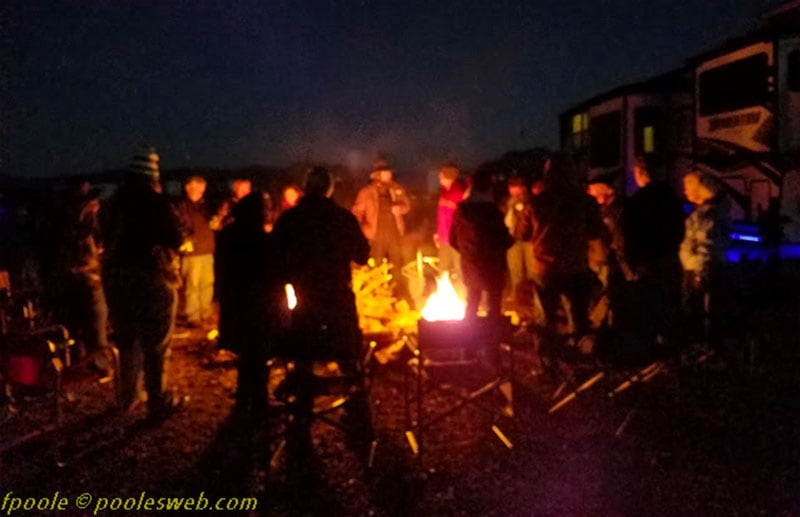 You can buy fire wood in town for about $5 to $7 per bundle.  The price depends upon the type of wood; pine which burns quickly to juniper/cedar that doesn't.  After a few tries you get to know which place to buy from.
Tip 4: Bring Your Own Power Sources
Quartzsite Long Term (LTVA) and Short Term (STVA) BLM areas are dry camping only. There are no electrical hookups unless you go to a paid private campground in town. In the BLM areas, you need to be self-contained and should bring the power sources you need.
I have a solar panel system on my truck camper. It is sunny here most of the time, but the sun is lower in the winter. As a result, the solar charge is not as strong as it is in the summer.
I also have a Honda EU2000i portable gas generator. I believe the official generator hours are from 6:00am to 10:00pm. Most generators cut off around 9:00pm.
Hopefully, you are far enough away from other RVs that generator noise is not an issue. Unless folks are running loud contractor generators, you don't hear them too much. Keep in mind that sound carries out in the desert.
Tip 5: Free Versus Paid Dump Stations
There are a few private dump stations that charge a fee.  Typically it is $15 and well worth it during the busy times of January and February. In peak season, the lines at the free dumps in La Posa South LTVA can get long.