Full-time truck camper Bryan Appleby explains the ins and outs of sending and receiving mail and packages while traveling throughout the United States, Canada, and Mexico.

As more truck camper owners travel on extended trips, the need to receive mail and packages has become increasingly necessary.  Once primarily the domain of full-time RVers, utilizing mail forwarding is available for those of us who travel for weeks and months, in our truck campers.
With these services, a traveler is able to satisfy the need to receive mail, packages, and replacement parts for their truck, camper, and towable toys.  To that end, this article demystifies mail forwarding for both the long-term and casual traveler.
USPS General Delivery
General Delivery had its beginning from the onset of the United States Post Office with Ben Franklin in 1775.  At the time, one was able to send mail to another town's post office, where it was held for the addressee for pickup.
Today's General Delivery is really no different.  As the post office has evolved, the mail went from being held at the post office, to being placed in unsecured reserved pigeonhole boxes, allowing retrieval when the post office was closed.  This evolved into boxes with lockable doors and, as towns expanded, mail delivery to homes.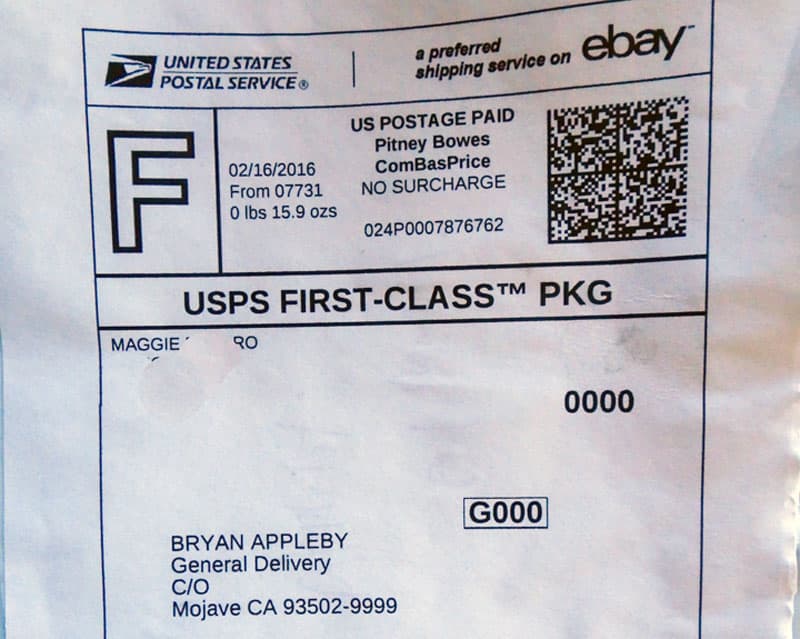 Important USPS General Delivery tips:
1. Post Offices are located across the country and in many remote and rural areas.
2. The United States Post Office offers a smartphone app showing the availability of General Delivery at a given post office, as well as the hours, Blue Box locations, and directions.
3. When a town or city has more than one post office, General Delivery is only available at that area's main post office.  If you don't follow the proper addressing, or send your General Delivery to the main post office, it will likely be returned to sender.
4. I utilize small town post offices for my General Delivery.  This allows better access for RVs and more personalized service.
5. When visiting a rural post office, the staff are often a great resource for learning about the surrounding area.  They might even suggest a place to park overnight, and/or interesting places to add to your itinerary.  While there, just ask if there is anything they might recommend to see or a place that most tourists never discover.
6. There is a standard address format that is used for having mail/packages sent General Delivery.  It is important to use this format, without a street address;
Your Name
C/O General Delivery
Town, State  Zip Code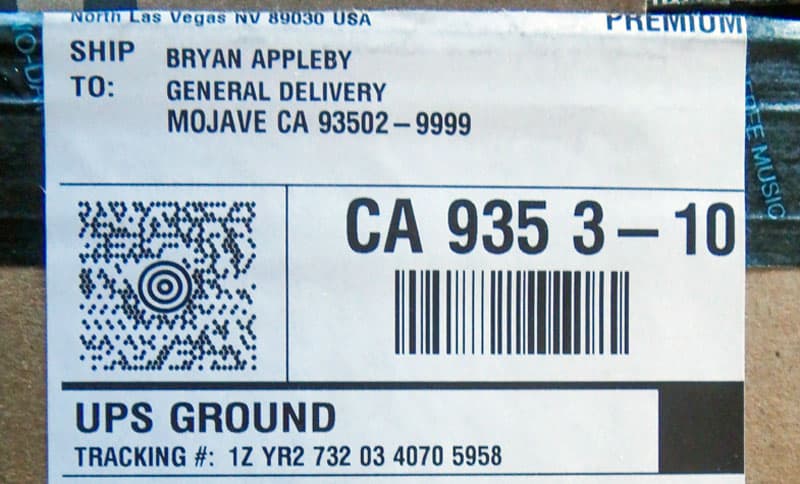 Above: Mail Packages from UPS cannot be sent to a USPS General Delivery post office.  The photo shows a good example of a shipment redirected after being shipped by a carrier that disregarded the shipping address requirements.
7. Any type of mail and packages that you receive at home are allowed and available via General Delivery.
8. General Delivery mail and packages are held for a period of thirty days before being returned to the sender.  Exceeding this restriction will require written permission from the Postmaster, in many locations.  Some smaller post office locations restrict holding to two weeks.
9. USPS tracking numbers allow you to determine when a package has arrived and is available for General Delivery pick-up.
10. In rural areas, allow for an extra day for delivery for priority and overnight mail services.
Sending Mail and Packages
Sending out mail and packages while traveling is really no different than what you have experienced at home.  You will need to do a little more investigative work to find nearby post offices and shipping centers to deposit your mail and packages.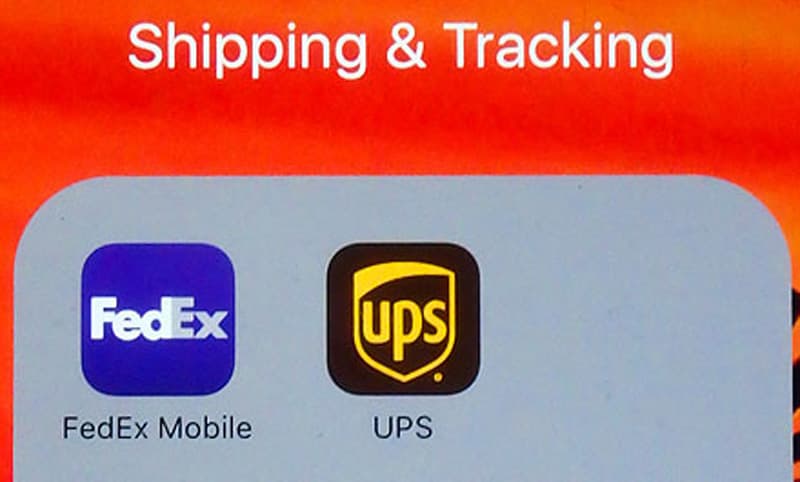 Fortunately, technological advancements have made this process significantly easier.  The United States Postal Service (USPS), United Parcel Service (UPS), and Federal Express (FedEx) all offer smartphone apps for locating their drop-off locations.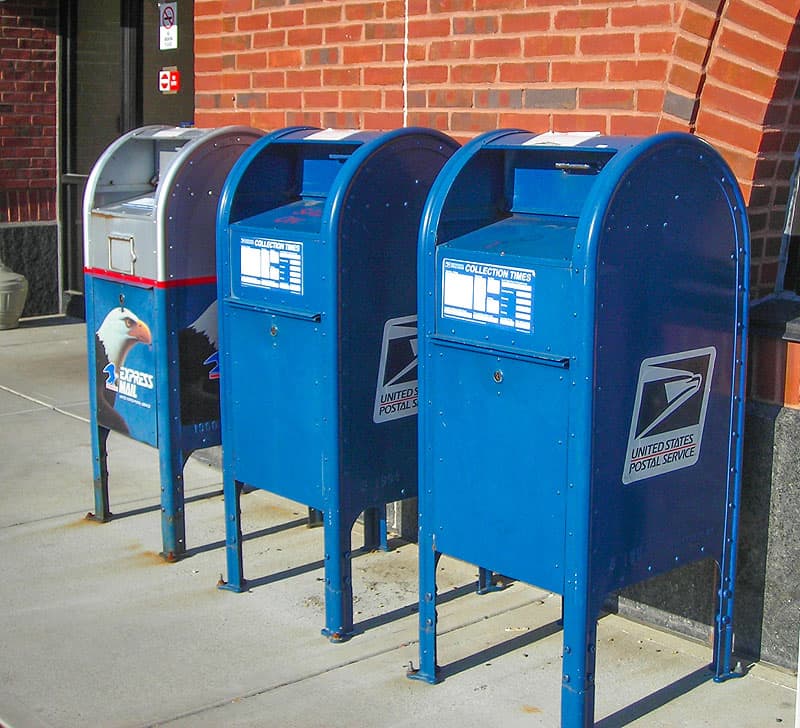 Standardized blue USPS mailboxes are found via the USPS app and in central locations, including the new pedestal receptacles.  Once you learn where to look for these standardized receptacles, it becomes easy to drop off a letter, or your recently viewed Netflix DVD.
Above: UPS and FexEx drop-off boxes
The challenge is when you are not near a Post Office, UPS, or FedEx center.  These shipping locations are almost always in populated areas, and not necessarily where truck camper enthusiasts travel.
Above: Post box in the desert (left) and post box in an urban area (right).  Both have outgoing mail slots.
The United States Post Office has solved this for rural customers with rural post boxes.  Rural post boxes are often found where roads come together and feature mailboxes for the local residents, and a slot for mailing letters and envelopes.  Similar post office boxes are found at the entrance of sub-divisions, business parks, shopping centers, and malls.  These are great locations to send mail while traveling.
Mail Forwarding Services
Many travelers ask friends and family to collect their mail and forward it to them while they're on the road.  This works well for some travelers, long-distance trippers, and full-timers.
Others will either not have this opportunity available, or might be reluctant to place the responsibility of collecting and forwarding their mail upon others.  Personally, my choice is not to impose upon others for my mail forwarding needs.
For short-term travel, simply putting in place a temporary mail hold request with the USPS will suffice for collecting your mail while you are gone.
For my full-time mail requirements, I use a mail forwarding service with a PMB (Private Mail Box).  There are a number of PMB service companies around the United States.  The largest is offered by The Escapees in Texas, and many others are in South Dakota, including services like Dakota Post.  UPS Service Centers stores also offer Private Mail Boxes and forward mail.
For long-term travelers who are staying in one location for an extended period – for example, working at a campground or park, or visiting with family and friends – renting a post office box at a Post Office or UPS store could be a viable solution.  Certain restrictions will apply.
Mail forwarding is not just a service for travelers and full-timers.  Folks who work in seasonal jobs, travel for indeterminate periods, or work in locations that don't have standard mail delivery (like the remote camps in Yosemite National Park) also use mail forwarding services.
Many mail services are offered by Private Mail Box locations, for a fee.  These services can include an address for vehicle registration, filtering out junk mail, and notification via email of incoming mail and packages.  Upon your request, you can direct the frequency of forwarding your mail and packages to your current location via USPS, UPS, or FedEx.  Freight shipping is also available for larger items.  Utilizing these services, you have a secure location to receive and ship important items.
Retail Package Service Stores
There are many retail stores set up for receiving and shipping packages and mail.  Unfortunately, these are mostly located near populated areas.  You also will pay a handling fee for each package received. Utilizing a Post Office will be the best location, most numerous, and easily accessible.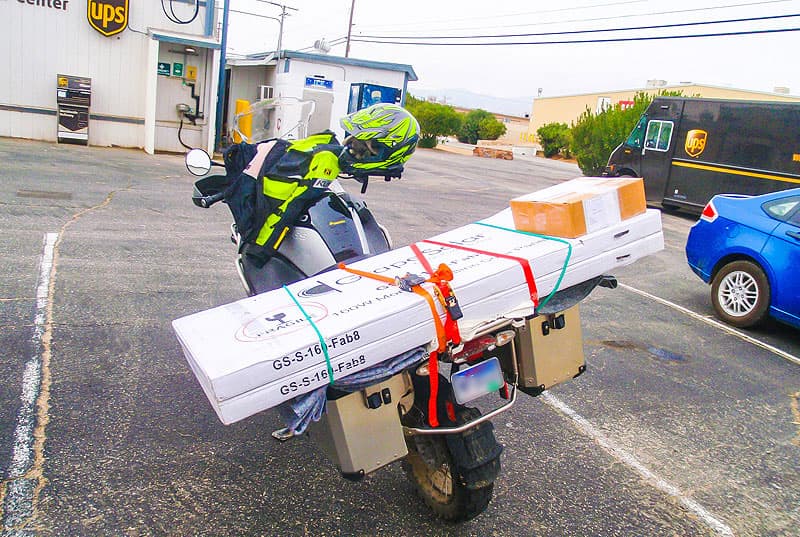 Above: Picking up delivered solar panels
My recommendation is to stay with FedEx, UPS, and the United States Post Office.  There is no handling fee from the customer service centers operated by the United States Post Office, UPS, and FedEx.  My 1,860-watt solar system was all shipped via UPS and Post Office, with no handling fees.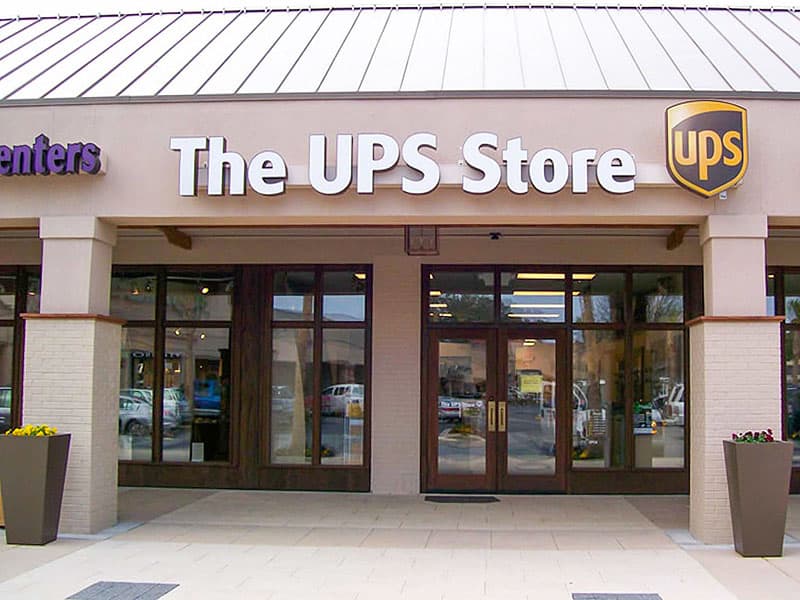 Address for Medical, Insurance, and Permits
For those who are planning to use mail forwarding services for extended periods, be sure to determine if the change of mailing address will impact or change your medical insurance, auto and home insurance, and other insurances and permits.  I also recommend checking that your various insurances and permits are active and honored for the areas you plan to travel through.
Here are some actual examples for you to adapt to your own scenarios:
Shipping Packages and/or Supplies
USPS Post Office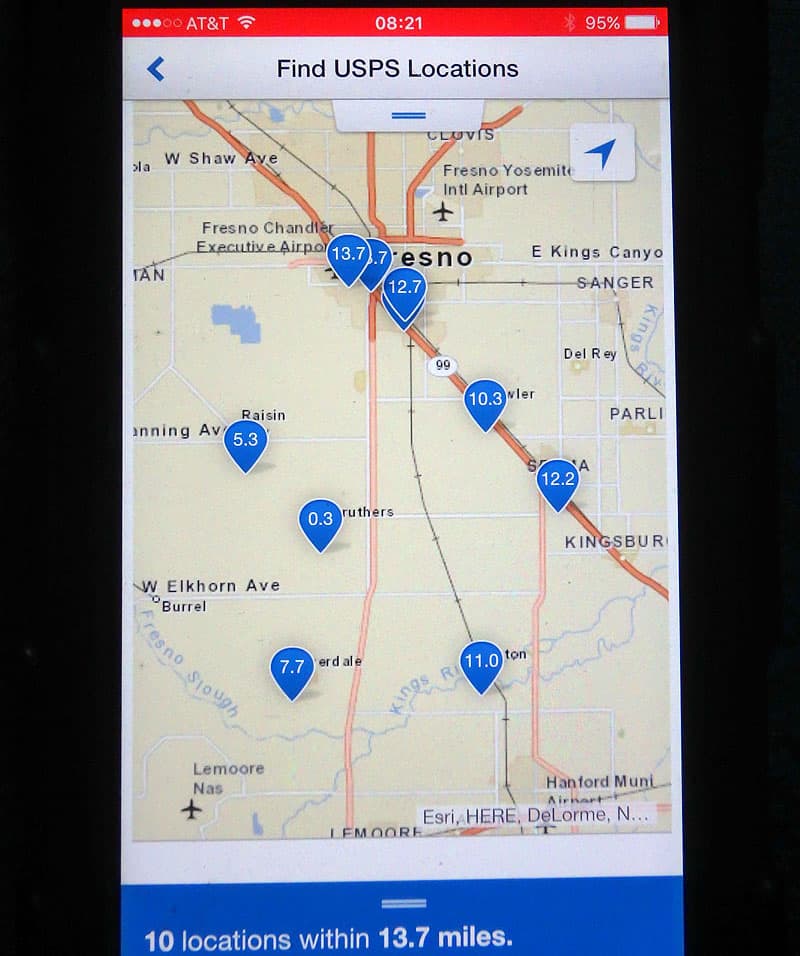 Above: You can use your smartphone to locate nearby USPS post offices
1. Packages can be sent to any USPS post office throughout the country via General Delivery.
2. Packages can be held for up to thirty days.  Smaller post offices may limit this to two weeks.
3. Always request a tracking number.
4. Add an extra day for Priority Mail and Overnight packages, especially for rural post office locations.
Above: The USPS app can be helpful in tracking your packages
Receiving UPS Packages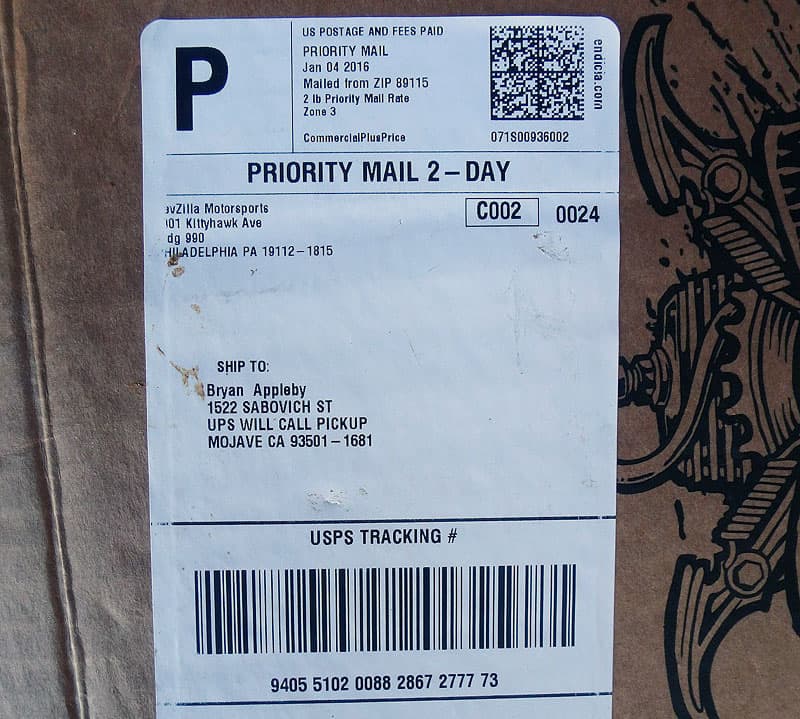 Above: USPS package mailed to a UPS will-call address
1. Packages can be sent to any UPS Customer center throughout the country using their will-call service.
2. Or, check your UPS smartphone app for a nearby UPS customer service center.
3. Packages can be held at a UPS service center for up to five days.
4. Most small-town UPS centers have short counter hours, so check before going.
Above: The UPS smartphone app gives nearby UPS customer service centers
Receiving FedEx Packages
1. Contact a local business and request permission to have a package shipped to their location.  I have never been declined.  When the package arrives, I always bring a treat or gift for their help.
2. Or, check your FedEx smartphone app for a nearby FedEx customer service center. In the west these locations may be long distances away.
3. Packages can be held at a FedEx service center for up to five days.
Above: The USPS app can track your packages
Vendors
1. When you need a part, use a supplier that offers requested shipping services.  For example, the ability to choose between USPS, FedEx, and UPS.
2. Use the receiving location that is best for you; Post Office, UPS or FedEx.
Amazon, Costco and others that use contractual shipping
1. Always use C/O General Delivery as your shipping address.  You can always interrupt the shipment if it is shipped via UPS/FedEx, but not if it is shipped USPS with a UPS or FedEx address.
2. If the package ships via UPS, call 1-800-742-5877 and request Track a Package.  Follow the prompts for a nearby customer service center to be held there for pickup.
3. If the package goes to FedEx, call 1-800-463-3339 and request a local customer service center.  Your package will then be held there for pickup up to five days. Or utilize the earlier-mentioned local business.
Shipping and Receiving in Canada
Shipping and receiving mail and packages in Canada is not much different than what was previously described about shipping and receiving packages in the United States.  In fact, there are many similarities between the Canadian and United States postal services and I highly recommend visiting both websites.
Shipping and receiving packages in Canada are available via Canadian Postal, UPS, and FedEx.  These packages can be sent to a private or business address, postal office, or customer service center for UPS or FedEx.
General Delivery in Canada
For General Delivery in Canada, use the same format as USPS General Delivery.  Again, General Delivery in Canada and the United States is perfect for receiving mail and Netflix DVDs while traveling.
As a Canadian General Delivery example, I'll use the Post Office for the Waterton-Glacier International Peace Park;
Your Name
C/O General Delivery
Waterton Park AB T0K 2M0
(Town/Province/Postal Code)
Canadian Customs
If you will be sending an item of value in or out of Canada, review the forms necessary for customs and complete them.  All of this can be done at the originating postal center that you are mailing from.
Shipping and Receiving in Mexico
As one might expect, traveling in and through Mexico has its own inherent challenges, many which are manageable.  What we will stress here is security when shipping and receiving.
When using the mail system in Mexico, do refrain from sending items that have value.  If you need to do ship valuables in Mexico, use secure locations to accept delivery such as customer service centers.  While it is available, it is not recommended to send funds via the postal service in Mexico.
Shipping and receiving packages in Mexico via Mexico Postal, UPS, and FedEx is available.  These packages can be sent to a private or business address and a customer service center for UPS and FedEx.  Again, caution should be exercised here when sending items of value.
Will Call vs. General Delivery
Sending and accepting mail will be different in Mexico than what we have been discussing.  There is no General Delivery in Mexico, but there is the ability to send mail to post offices with the proper addressing via "will call".  For will call sending and receiving in Mexico, follow these suggestions:
1. Always provide a valid return address on the letter.
2. At the top of the letter, print the word; Transeúnte.  This translates to; Passerby.  This is what is used for sending mail to Mexican post offices, in lieu of; General Delivery.
Use this Format for the Address;
Your Name
Town/City Name – Mexico –
Additional information can be found by visiting the Mexican postal website.
Sending Monies In Mexico
The recommended procedure for sending or receiving monies in Mexico is to use financial institutions such as Bank of America or Wells Fargo.  These banking institutions are readily available in both Mexico and the United States.  Bank of America and Wells Fargo have information for this service, and the identification requirements for receipt.
If you are looking for ways of doing banking while in Mexico – including bank deposits and cash withdrawals at ATMs – utilizing one of these two banking institutions is a recommended way to accomplish this important need.
Ship Anywhere, Receive Anywhere
Using these simple tips and recommendations I have received my Christmas presents through FedEx, a replacement DVR from Direct TV, and thirteen solar panels, batteries, cables, and charge controllers.  Getting my Netflix DVDs on the road has been great, as it can be for you on a long trip across the United States or Alaska.
While traveling, in your truck camper, there is no reason why you can't get your packages and mail while you're out on the road.  It's also fun striking up a conversation with a local Postmaster in a small town and learning about those special places to explore, or a café to try.
See you out on the road.  I'll be the one waving at you!