The winter of 2010 was our first official snowbirding winter in Florida.  We went down mid-January and returned to work an RV show in mid-February.  During our month in Florida, we traveled with our good friends Jerry and Reta Caldwell.  We were in a demo Arctic Fox 865, and they traveled in their Lance 1181.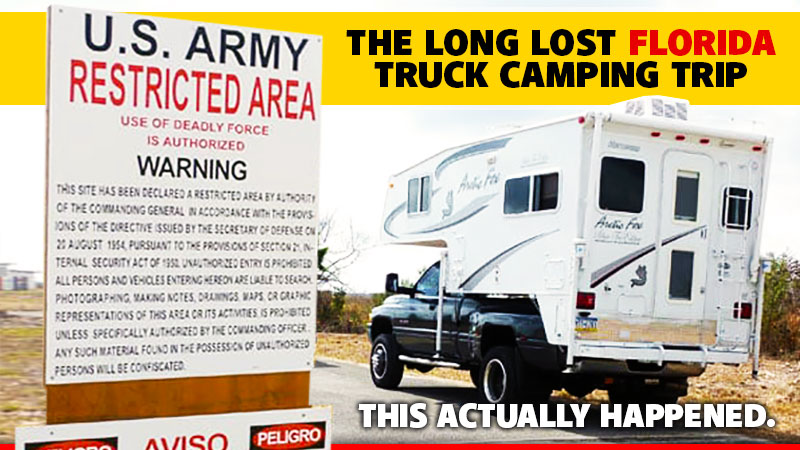 Our itinerary had us visiting a number of Florida State Parks, Everglades National Park and a possible run down to Key West.  We had campground reservations for most nights, but intended to wing-it – probably a bit more than we should have.
During our trip, we made a video that has long been one of our personal favorites; "Everglades National Park to Key West".  Watching that video again recently, I remembered the blog series I wrote during that trip.  With titles like, "Buzzard Bang", "Mosquitoes Attack" and "No Oranges For You" the short blogs got a huge response from our readership at the time – which brings up a funny story.
Angela was not happy that I was taking so much time writing these short Florida blogs.  As blogs, they were not feature stories and didn't help add main content to our publishing schedule.  On the other hand, I was having a blast writing them.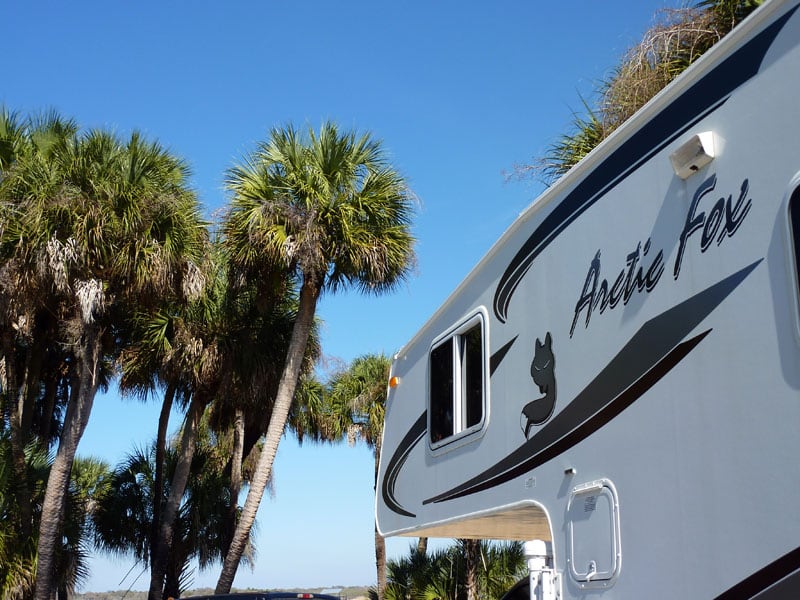 Above: Our Arctic Fox 865 under the palm trees
This vigorous discussion continued up to the Springfield RV Show.  We high-tailed it from Florida (very warm) to Springfield, Massachusetts (decidedly cold) to work the show with a number of truck camper dealers and manufacturers.  The stark temperature contrast gave me an obvious theme for the video.
Anyway, Angela was still concerned that I had spent so much time writing these blogs.  Then an amazing thing happened, and happened, and happened.
As we were working the Springfield RV Show, a Truck Camper Magazine reader came up to me and said, "I love your Florida blogs!  They're hysterical!"  To which I answered, "See Angela standing over there? Would you mind telling her what you just told me?"
Over the course of that weekend show, I must have sent a dozen or more readers over to Angela.  She would shoot me a look every time as they told her how they enjoyed the blogs she was so bothered about.  And I loved every single moment of that.
To bring the Florida blogs back, Angela (begrudgingly) put them together as a single story.  We then made a few updates and edits to make sure the Florida snowbirding tips are as current as possible.
Oh, and if you like this story, please tell Angela.
Myakka State Park and the Buzzard Bang
My darling wife is the planner in our family.  Our first stop in Florida was Myakka River State Park just east of Sarasota.  Truck Camper Magazine reader and Florida resident, Don Kingfield, had recommended the park to us as one not to miss.  He was right.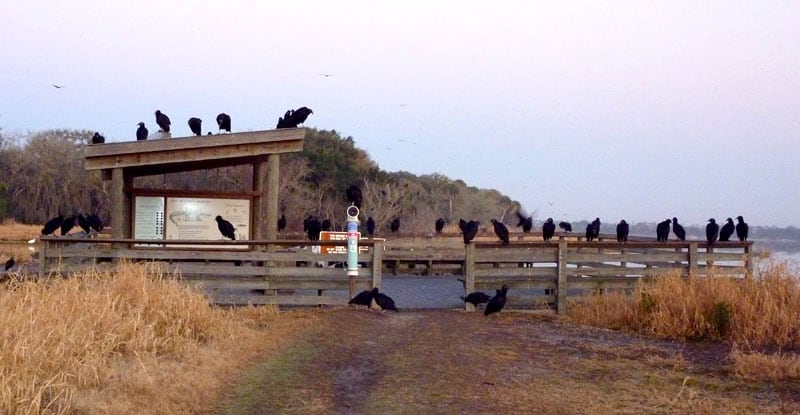 Above: The buzzards at dawn
Joining us on our Myakka stay were good friends, Jerry and Reta Caldwell.  As we pulled into the park, our rigs were embraced by a lush overgrown canopy of palm trees, oak trees and air plants.
When we arrived at our shaded campsites, we backed right to a swamp complete with white Egrets tiptoeing through the water.  We were surrounded by miles of wetlands, prairies, and shallow lakes.  It was beautiful.
After we plugged in our camper, Angela and I took a short walk down to the Myakka Outpost where we were delighted to find free wireless internet.  That was a big relief as our Verizon cellular internet was not working well in the park.  We urgently needed internet for the next day's article.  So much for the time off.
The next morning we woke up at dawn and headed down to the Outpost to publish and send out the email alerts.  The sun was just peaking, the air was cool, and the buzzards were everywhere.
That's right, buzzards!  There are literally hundreds, if not thousands of awkward, funny, scary, and otherwise fascinating buzzards at Myakka.  And that brings me to a big bang.
Bang!  What was that?  BANG!  I mean what the heck was that?  Ka-boom!  Okay, we have a situation here.  KA-BLAMMO!  We're starting to freak out, big time.
It turns out that Myakka State Park has had it with the buzzards.  Every morning a guy in a white truck comes out and explodes something in the bed of his truck to scare off the big birds.
Of course no one told us about this most intense bird shooing event and we too considered flying the coup.  Once we figured what was going on, we had a good laugh and got back to work.  Bang!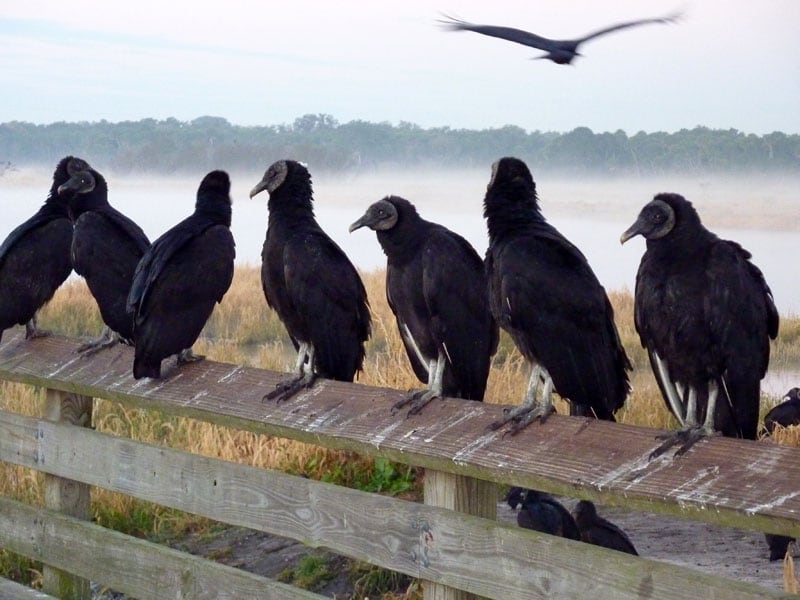 Once the buzzards and email alerts had flown, we walked back to the camper and got ready for a day in the park.  Later that morning, we drove our rigs to the nature trails including the Bird Walk and Canopy Walkway.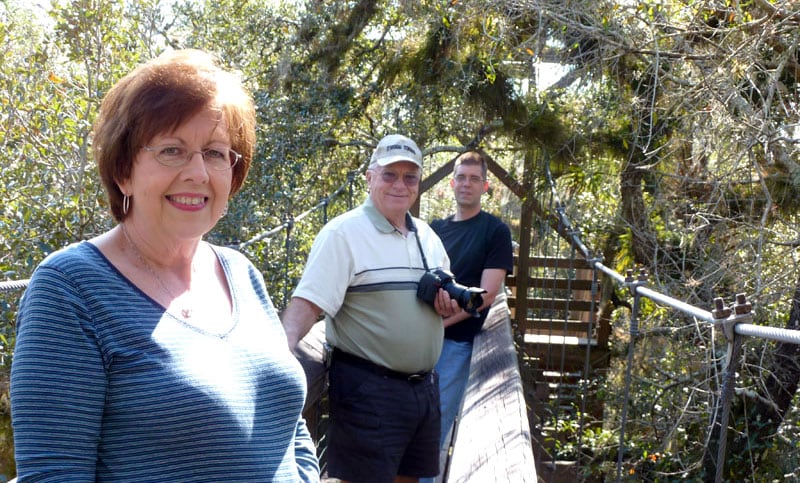 Above: On the Canopy Walkway – Reta, Jerry and I
The Canopy Walkway features a suspension bridge 85-feet long and 25-feet above the ground to view the very top of the canopy of trees.  It's the kind of bridge that Indiana Jones would walk half way across and then cut one of the ropes with his machete to force the bad guys to fall into the ravine as he swung to safety on the other side.  We didn't do that.
For lunch we took our rigs down to Upper Myakka Lake just past the Outpost and parked right on the water.  The weather was warm and the funny buzzards had returned.
As we ate our turkey wraps – a favorite easy camper lunch of ours – we talked about our next stop; Midway Campground on the way to Everglades National Park.  At least, that was the plan.
Midway Campground In The Everglades
With our batteries charged, water full, and holding tanks empty, we headed out of Myakka to our next stop off Route 41/Tamiami Trail – Midway Campground.  We had some fun with all the different ways to say, "Tamiami" and off we went.
A few hours later we pulled into the Big Cypress Visitor's Center.  Outside of the visitor's center there are dozens of alligators, fish and birds in a small body of water.  It's like a mini-Everglades with boardwalk viewing.
A few miles down the road we pulled into Midway Campground and saw a bad sign.  It read, "Campground Full".  Did we have a Plan B ready?  Of course not.
Then, the campground host recommended the Walmart in Florida City or the Miccosukee Indian Casino at the corners of 997 and 41.  We had heard that the Walmart in Florida City didn't allow overnight camping, so off we went to the casino.
Editor's Note: Since we were rejected at Midway in 2010 they have opened up online reservations.  We have used the online reservations and stayed in a very nice water and electric campsite.  But, don't expect to get a cell signal.  There isn't much of anything around.
Camping For Free At The Casino
Angela and I had never camped in a casino and we thought it was a bit of a gamble.  But sometimes you have to roll the dice, play the cards you're dealt and put your chips on the table.  All cliches aside, the Miccosukee Indian Casino was a good bet.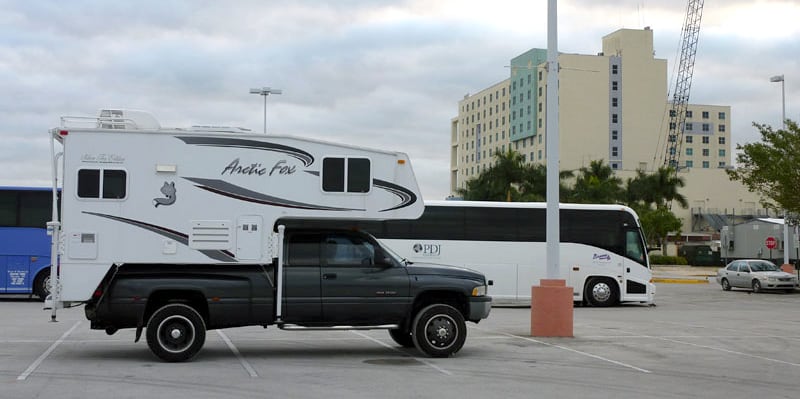 After we parked near the other RVs, we registered with the casino security for our overnight stay.  When the security guard handed us our pass, Angela and Reta started hootin' and hollerin' like they had just hit the jackpot.  They were excited because there was an illustration of a truck and camper on the pass.  The guard thought we were nuts.  It was a funny moment.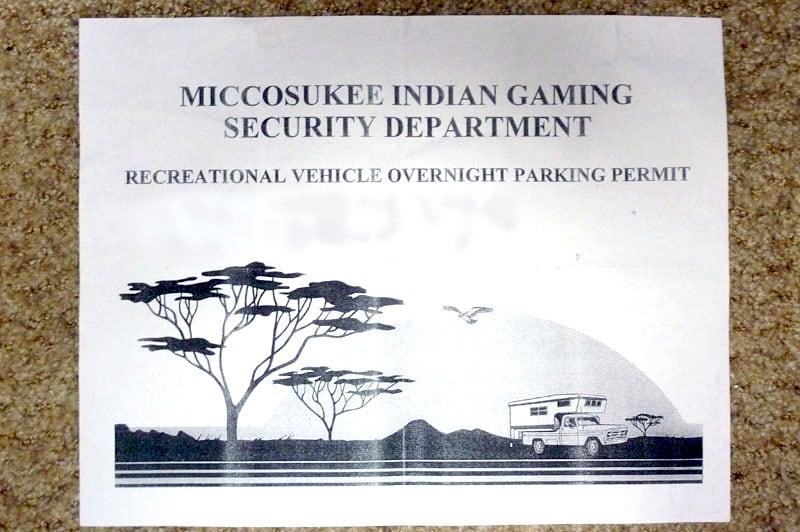 While we didn't drop a single quarter into the sea of slot machines before us, we did gorge on the free soda and bountiful $12 buffet (now $15).  After the disappointment at Midway, this was the perfect ending to our day.  Full of food and ready for sleep, we walked back to our campers.
The next day Angela and I were up at dawn publishing.  After publishing, our MIFI internet stopped working.  My only guess was that there was a large cell tower nearby and they turned a switch at about 9:00am that killed our internet reception.  The email alerts hadn't gone out yet.  Ugh!
Panera Bread For Free Wireless Internet
We quickly cleaned up the camper, closed all the vents and windows, locked the door, put up the step, put the cat in the truck and headed to the Panera Bread just north of Homestead.  Panera has free wireless internet, and darn good coffee, tea and bagels.  Once there, we plugged-in our laptops and fired off the email alerts.  I just love the feeling when another story and email alert is released.
As your computers pinged with the TCM Alert, we headed to Everglades National Park.  At the far end of the Visitor's Center parking lot was a Northern Lite 10-2 truck camper.  When we met the owners we were stunned to realize that we had met them in Kelowna, Canada at the Northern Lite factory in 2007.  After we had a good laugh, we headed to the Anhinga Trail in the Royal Palm area of Everglades National Park.
And wouldn't you know that we bumped into another couple in a Lance 845 filling their tank with water just outside of the campground.  We were two of six truck campers in Long Pine campground that night.  Evidently there are more than alligators in the Everglades.
Everglades National Park, Nike Missiles and Mosquitoes Attack!
When most of us imagine what the Everglades are like, we think of swamps, alligators, wondrous birds, and an airboat or two.  At least that was what we imagined.
The closest we found to satisfying our imaginations was the Anhinga Trail, pronounced, "anne-hing-ah".  In fact, we enjoyed the Anhinga Trail so much we walked it three times.  Angela and I have been to almost every National Park from coast-to-coast and I don't think there's a single trail we have walked so much.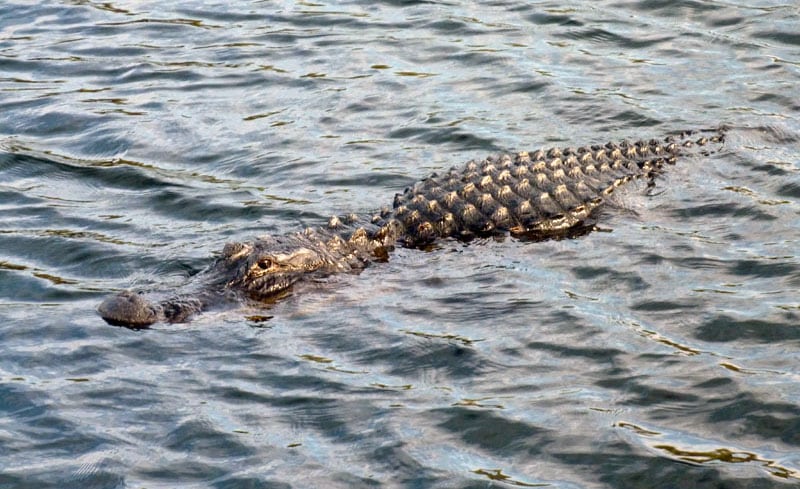 Above: One of many alligators along the Anhinga Trail
Essentially, the trail is a series of boardwalks above swampy wetlands filled with dozens of alligators, fish, and birds.  It's a nature photographer's paradise.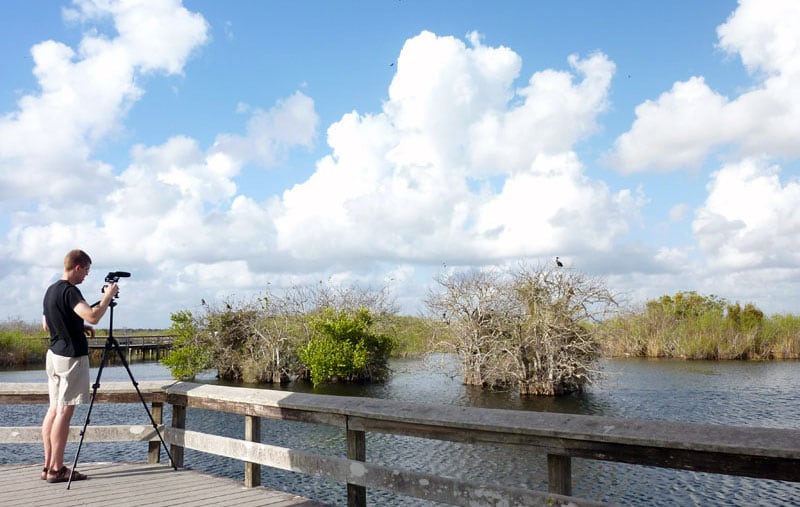 Above: Filming a video for Truck Camper Magazine on the Anhinga Trail
It's also home to hundreds of buzzards, like the kind we met at Myakka River State Park.  Jerry even tried to break up a fight between two roughhousing buzzards.  He may have failed at his peace mission, but he and Reta really loved the Anhinga Trail.  So did we.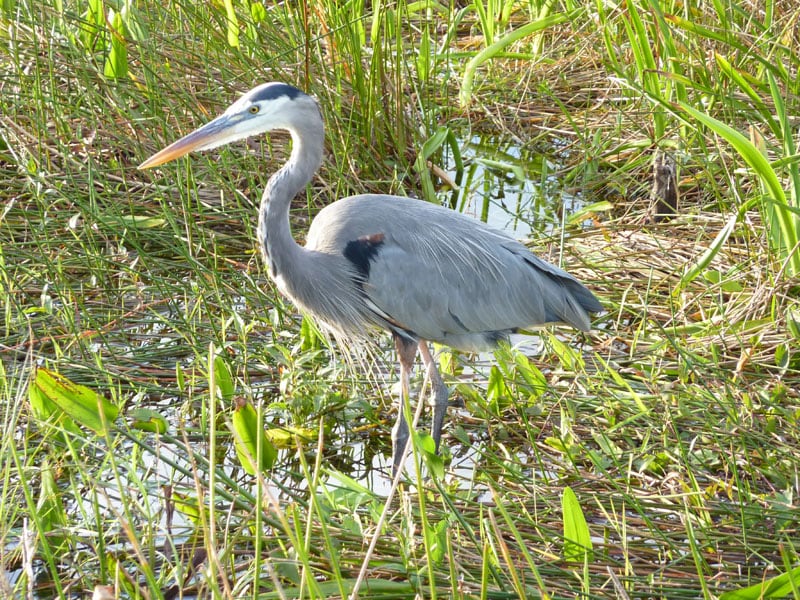 Above: There is lots of wildlife all along the Anhinga Trail
Driving into Long Pine Key campground, Angela and I were very excited to see not one, not two, not three, but four other truck campers in the campground!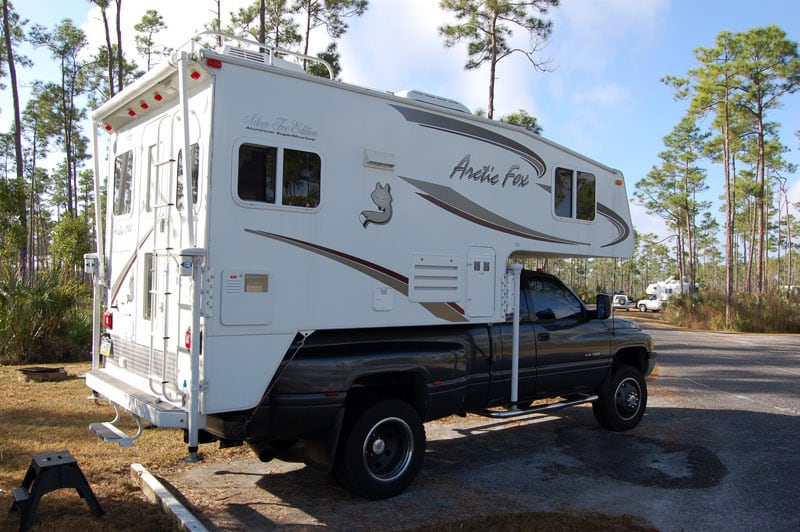 Above: Long Pine Key Campground Site #90
Including our camper and the Caldwell's camper, there were six truck campers there that night.  It looked like a mini truck camper rally.  Before preparing dinner and settling in, we went and introduced ourselves to the other truck campers and made more friends.
Nike Missile Site
At first blush, you might think the park rangers in the Everglades are launching expensive sneakers into orbit when you read that title.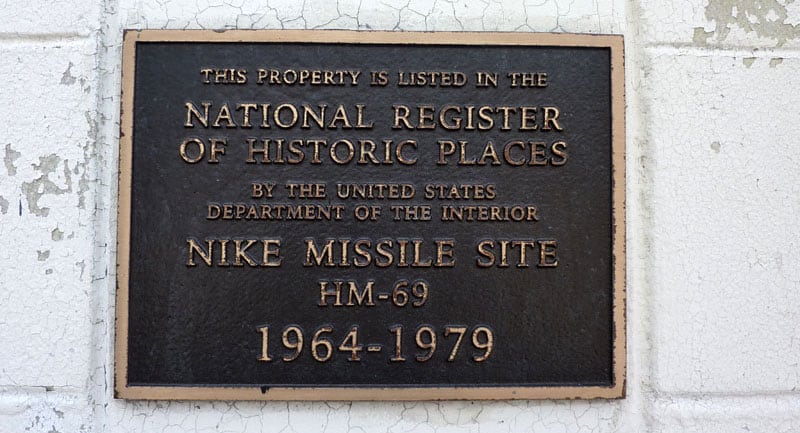 Actually, there's a Cold War missile facility of critical historical importance in the heart of Everglades National Park.  I was born ten years after the Cuban Missile Crisis, but, as the proud son of a history teacher, I know how nearly apocalyptic that event was.  And like my father, I love almost anything to do with history.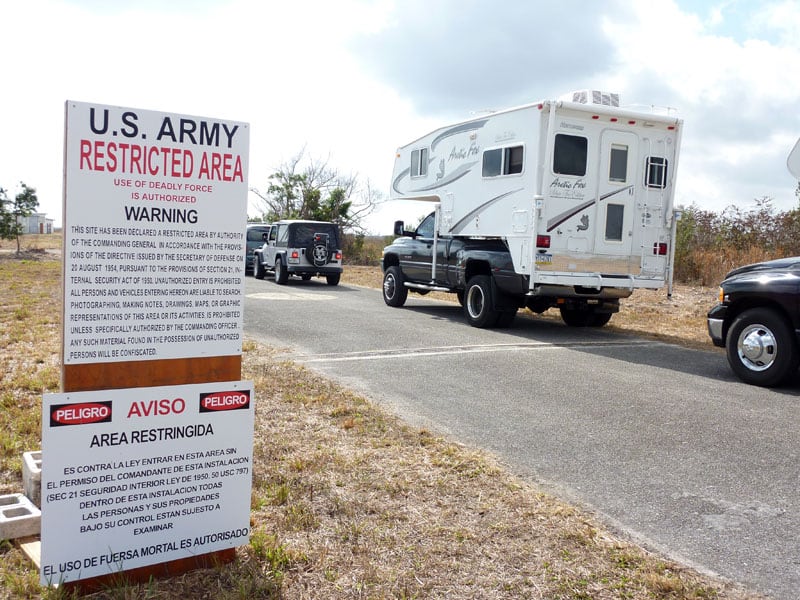 Above: During the Nike Missile Site tour we went into a restricted area
The Everglades National Park rangers offer a fantastic tour of the Daniel Beard Center, the location of the Nike Missile Site.  The facility is as it was when the government abandoned the missile site.
The park ranger presentation was fantastic and the facility was truly amazing.  The Nike Missile Site is highly recommended for anyone with an interest in history, our country and the brave men and women who protect us.
Flamingo Campground
The drive from Long Pine Key campground to Flamingo campground is 38-miles and takes about an hour due to the low speed limit in the National Park.   Flamingo is right on Florida Bay at the southern tip of Florida.  It's about as far south as you're going to get in Florida, short of the Keys.
Boy could we feel the breeze off the water when we arrived.  This was the weather we all had envisioned when we set our sights on Florida, truly warm and tropical.
When we saw the blue and green water near the Flamingo Visitor's Center, we were giddy.  I don't think I've ever used the word giddy in Truck Camper Magazine before and I wouldn't throw it around lightly.  Let there be no doubt, we were giddy.
Lucky for us, Flamingo had plenty of campsites available and our truck campers were small enough to be allowed in the section closest to the bay.  The big motorhomes and towables were sent to another site a few tenths of a mile further from the water.  Too bad for them.
Even in mid-January, the temperatures were in the high 70s to low 80s with a touch of humidity.  And that says nothing about the thirsty squadrons of salt water mosquitoes that lie in waiting.  Before I get to them, there's a certain lasagna to discuss.
Everglades Lasagna
Angela and I have been truck camping now for five years (in 2010) and we have never used our camper's oven.  In fact, I have often wondered why truck campers have ovens except for a place to store pots and pans.  So I was quite surprised when Angela got the idea that she was going to make one of her delicious lasagnas while we were in the Everglades.
Before I had a chance to ask, "And why are you doing this?" she had bought the ingredients, invited the Caldwells to dinner, and convinced me that Truck Camper Magazine should know how to bake a lasagna in a camper, in the middle of the Everglades with no hookups.  Of course.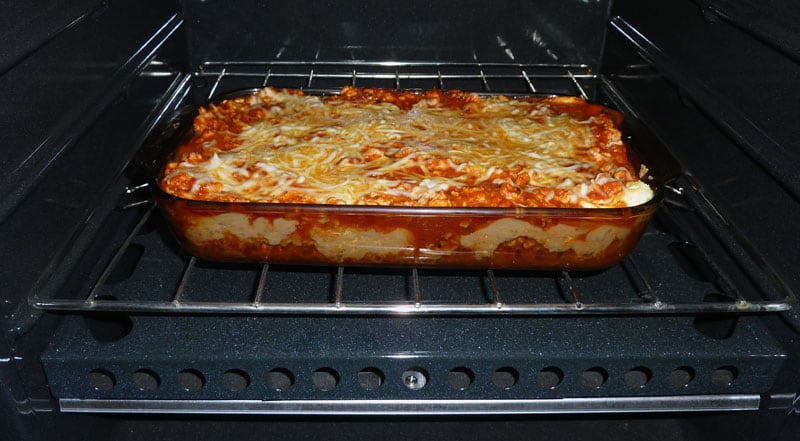 Above: The completed lasagna in the oven
With our safety lighter in one hand and the oven manual in the other, Angela stuck her head in the oven and lit the burner.  You're not supposed to stick your head in the oven but, if you haven't noticed already, Angela is quite tenacious and wanted to make sure she lit the oven from exactly the right place.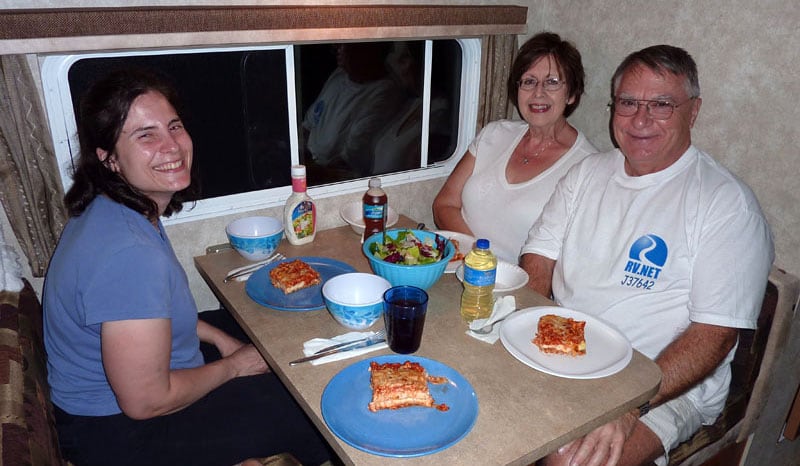 Above: Reta and Jerry Caldwell, in our Arctic Fox 865 dinette for a lasagna dinner
With her life and eyebrows still in tact, Angela closed the now lit oven and began building her lasagna.  A few layers of ground meat, pasta sheets, ricotta cheese, mozzarella, and tomato sauce later, the lasagna went into the oven.
In about an hour, a beautiful hot lasagna emerged.  She did it.  We ate it.  Delicious!
Mosquitoes Attack!
That night the camper was rocking.  No, not that.  We had opened the windows to allow for cross ventilation and didn't notice that the screens had come open, just a little.  This wasn't missed by the nearly bird-sized mosquitoes – and they attacked.
The mosquitoes were very difficult to see with the camper's lights on, but they showed up well with our trusty flashlight.  Like a searchlight looking for enemy bombers, we scanned the ceiling hunting for the mosquitoes we could hear buzzing, but couldn't see.
When we found one, we would leap into action whacking and slapping madly until the enemy was down.  This went on for about half an hour before we realized that our screens were ever so slightly open.
I can only imagine what our camping neighbors must have been thinking with our lights out, flashlight waving around and all the noise we were making chasing the mosquitoes.  Once the screens were closed, we nailed the last mosquito and went to sleep.  What a night.
The Florida Keys
Angela and I had debated making a run down to the Florida Keys twice and decided it was too far and too expensive for this trip.  Besides, we had heard stories about $100 a night campgrounds that were booked solid, not to mention the rigorously enforced rules against boondocking anywhere in the Keys.  The Magic 8-Ball of life was saying, "OUTLOOK NOT SO GOOD".  So the question picked at us, "What if we just went for it?"
We are truck campers!  We don't need no stinkin' campgrounds!  We are pirates. Arrr… we're going!
Three Key Miracles
Maybe the word miracle is a bit strong, but our luck decidedly improved right when we decided to make a run for the Keys.  First, we met a couple in a truck camper who told us that you really can camp at the Florida City Walmart despite the "NO CAMPING ALLOWED" signs.  There was our launching off point.
Second, another couple in a truck camper shared with us a top secret location in Key West where small RVs can boondock overnight.  Unfortunately, they made us swear not to publish the secret location.  As fellow pirates we swore.  Mums the word.  Pirates code.
Editor's Note: Since this blog first published in 2010, the secret camping location in the Keys has been developed.  Oh, and the campground prices in the Keys are now pushing $110 per night (in season), and above.  Nuts!
Third, Andy and Guinness Spedden just happened to already be in the Keys and told us about a campground that had availability at a very good rate.  A quick phone call to Geiger Key Marina RV Park confirmed the availability.  They had room, but only because we were in a truck camper and another RV had left early.
Keep in mind that we had been boondocking without power for about five days and our computers and other equipment needed a charge.  We may be pirates, but we are also running a magazine.  And these pirates needed a long shower.
Down to the Keys at Dawn
That afternoon we left Everglades National Park and drove to the Florida City Walmart.  We parked with a dozen RVs, went shopping and hit the sack.  Nobody bothered us.  The next morning we were up before sunrise and drove a few miles to the entrance of the Keys.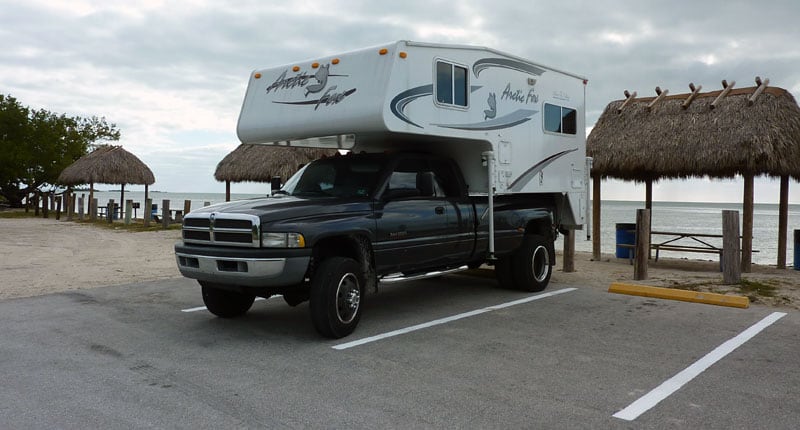 Above: Our 2010 rig at Veteran's Memorial Park, just south of Seven Mile Bridge
About half way down the island chain, we stopped at Veteran's Memorial Park to have some breakfast in the camper.  The free park is just south of the Seven Mile Bridge and features a short stretch of beach, a half-dozen cabanas and a bathroom.  It's a small but beautiful place to stop on the way to or from Key West and we had the park all to ourselves.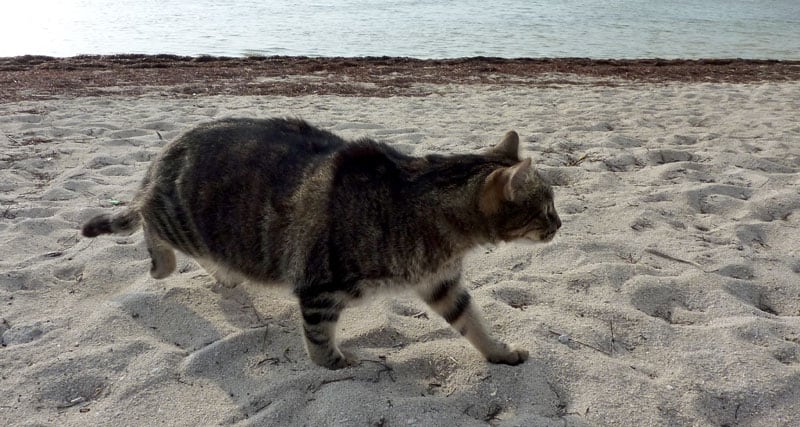 Above: Harley's first time on the beach.  He's not to sure about it.
Since we were the only people there, we introduced Harley to the Florida sand.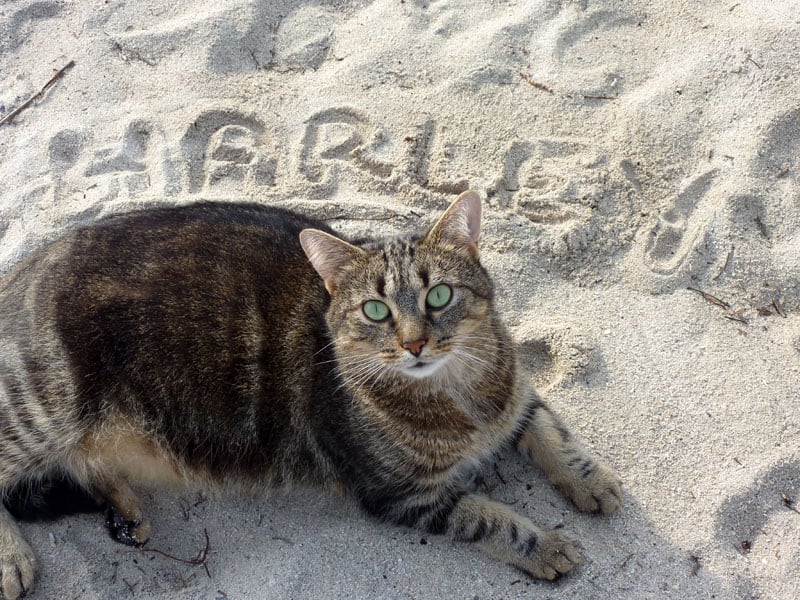 Geiger Key Marina RV Park
After breakfast, we set our for Geiger Key Marina RV Park.  After signing in at the campground office, we backed our Arctic Fox 865 right up to the water.  If we had overshot by about 5-feet, we would be publishing Truck Submarine Magazine right about now.  It was that close.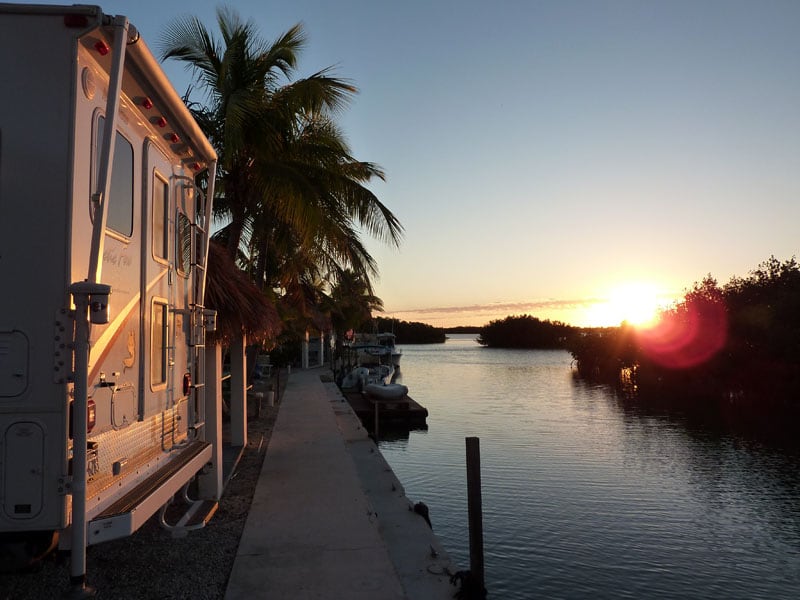 Above: Our campsite at Geiger Key Campground, MM 10
With the back door of the camper open, you literally could have jumped into the water.  We didn't do that, but it was very tempting.  Maybe next time.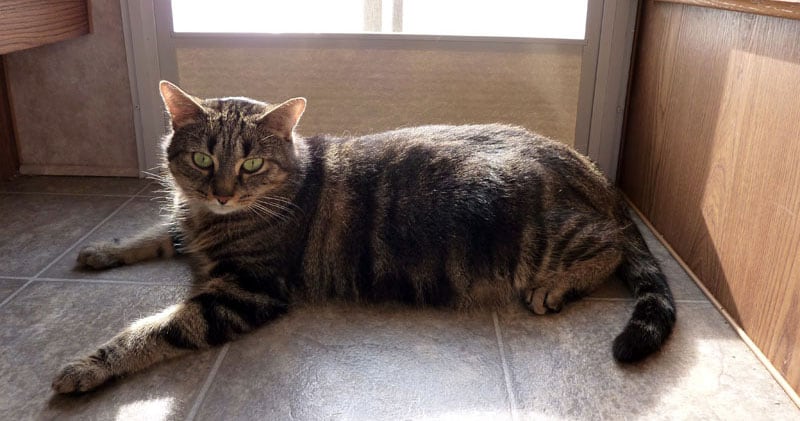 Above: Harley loves the Florida sun
Now this was what we really, really were looking for.  Geiger Key Marina RV Park's location was like something out of a Hollywood movie.  Lush tropical scenery, fish literally swimming a few feet past our camper's door, warm tropical sun, the smell of salt water… it was just heaven.
After about 15-minutes, Angela was talking about staying all winter and asking, "Why do we live in Pennsylvania again?"  I have to admit, she got me thinking.  For two days we took in every inch of Geiger Key Marina RV Park.  If our work schedule allowed, we would most certainly still be there.
Even Harley loved it.  Highly recommended.
Secret Key West
It was really tough leaving Geiger Key, but we had to go.  With our hand drawn pirate map in hand, we headed to our secret Key West spot.  Sure enough, there it was.  We parked our rig and walked about six blocks to Mallory Square.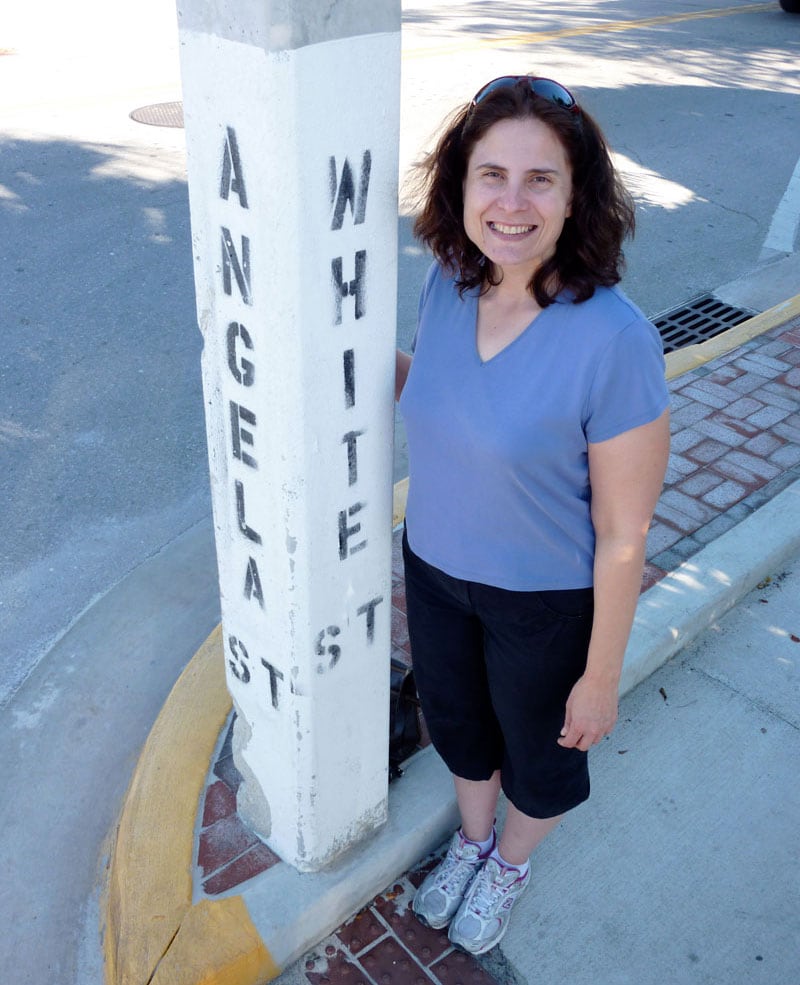 Above: Angela White at the corner Angela Street and White Street in Key West
All of the usual street theater knuckleheads were on hand juggling fire from ladders and poking fun with the herds of gawking tourists.  It's quite the show, but nothing compared to the sunset over the ocean.  Simply breathtaking.
We woke up before dawn the next morning and drove to the Southernmost point in the continental United States.  It's a red, black, and yellow monument at the corner of South Street and Whitehead Street in Key West.  Andy and Guinness had managed a photo of themselves in their camper driving past the Monument and we were determined to match their stunt.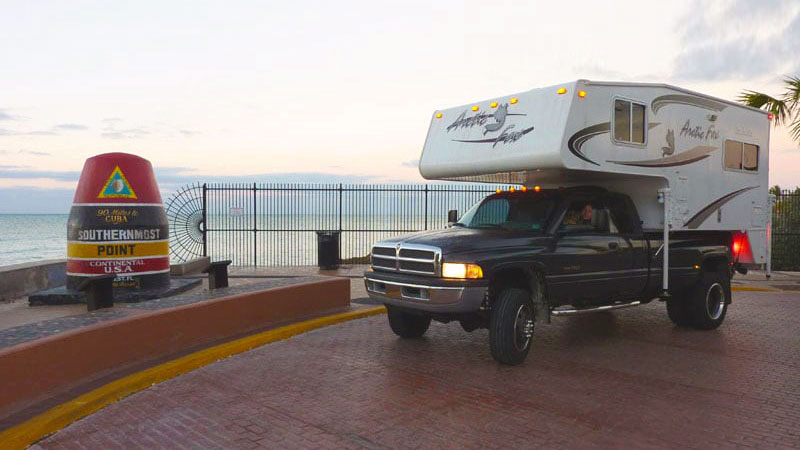 Above: The Arctic Fox 865 at the Southernmost point
With our mission accomplished, we pointed our camper East on Route 1. Goodbye Key West. We'll be back.
John Pennekamp Coral Reef State Park
At mile marker 102.5, John Pennekamp Coral Reef State Park offers snorkeling tours, scuba tours and glass bottom boat tours.  They also have 47-full-hookup sites for RVs that are reserved eleven months in advance and are almost always sold out.
Editor's Note: We stayed at John Pennekamp Coral Reef State Park with our camper this past December (2019).  It was a great spot but the no-see-ums were unbearable.  If you go, be prepared.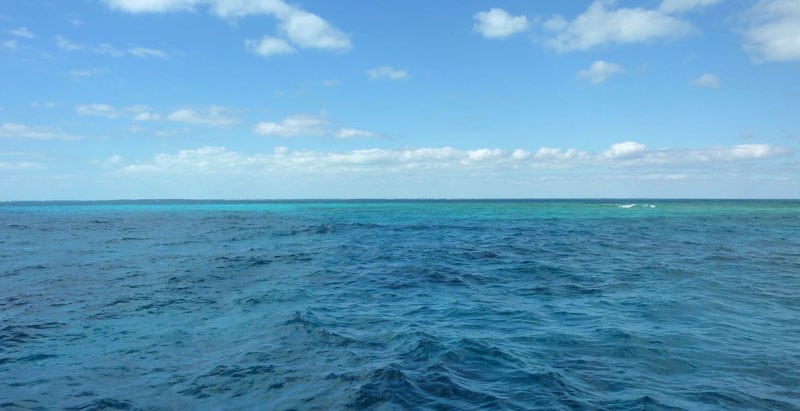 We stopped at John Pennekamp for the glass bottom boat tour, something we have done twice before and really enjoyed.  After the tour, we drove directly across the street to have some lunch at a delicious Cuban restaurant.  If you have never had Cuban food, you owe it to yourself to try a Cuban coffee, a Cubano sandwich, and fried plantains.  Angela and I could eat there everyday.  Before we left, Angela bought two more Cubano sandwiches for the road.  They're that good.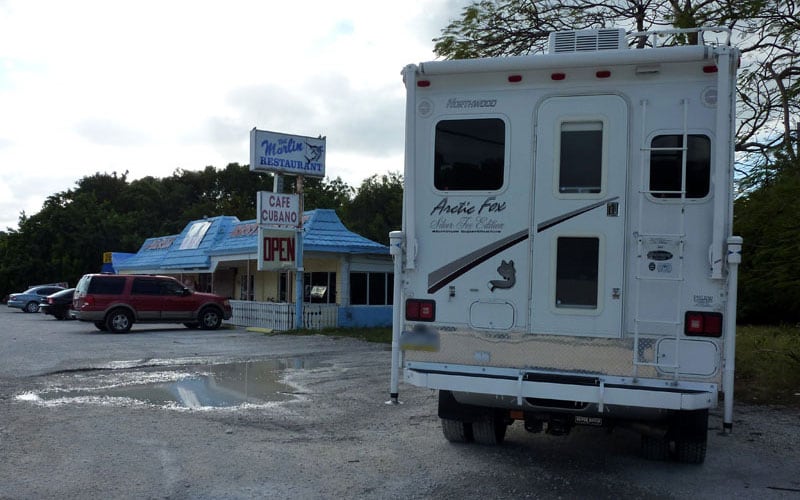 Above: Having lunch at the Cuban restaurant
Editor's Note: The Cuban restaurant is gone, but we had fantastic Cuban sandwiches and plantains this past December at King Seafood Market and Restaurant in Marathon.  Highly recommended.
There's not much left of the Keys once you drive east of John Pennekamp State Park.  Back on the mainland, we drove back to the Panera Bread in Homestead.  We parked the camper within eyesight of the restaurant, fed Harley, and walked into Panera with our laptops.
After a long adventurous day, it was finally time to do some work.  With our computers plugged in and the WIFI streaming, we worked on Truck Camper Magazine.  Another amazing day.
No Oranges for You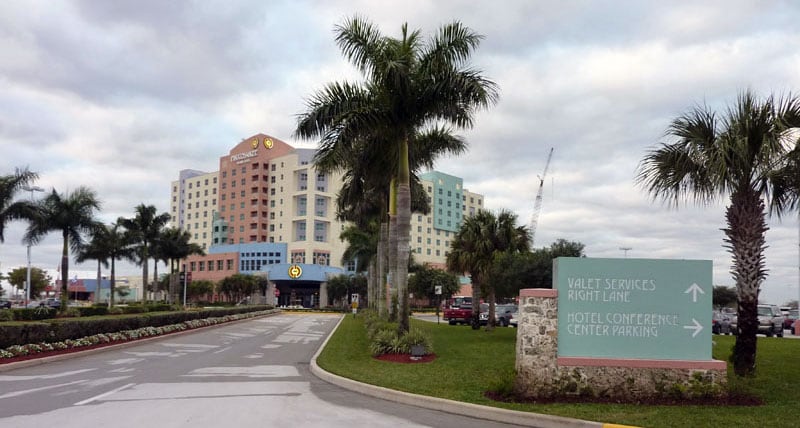 After dinner, we returned to the Miccosukee Indian Casino at the corner of 997 and 41.  Once again, the casino was a comfortable and free place to boondock for the night.
The 5-hour drive took us north and west across the center of Florida and just south of Lake Okeechobee.  Along the way we counted 1,044,988-oranges still on the orange trees.  Okay, so we didn't actually count the oranges, but we sure saw at least a million.  We also passed a few trucks so full of oranges that they were almost scary to be near.  We're talking serious oranges, and lots of them.
Angela grew up near an apple farm and was very interested in picking her own orange or two just has she had picked so many apples back home.  We thought for sure we would see a, "pick your own" orange farm along the way – but one never presented itself.
When we finally stopped for diesel, Angela asked the attendants for a local orange picking opportunity.  Keep in mind that we are at a gas station that is surrounded by at least a 100,000 orange trees.  The attendants looked at each other like we just asked where the sky was and insisted that if we wanted to pick an orange we should just pull over and pick one, anywhere we pleased.
Now we may be pirates, but we found the suggested drive by citrus heist most unappealing.  We got into our fruitless truck camper and drove past grove after grove.  What does someone have to do to pick an orange in Florida?
The Most Orange Smell Ever
A few miles later I spotted a billboard for the Florida's Natural Orange Juice Factory visitor's center in Lake Wales.  Surely they would have an orange Angela could pick.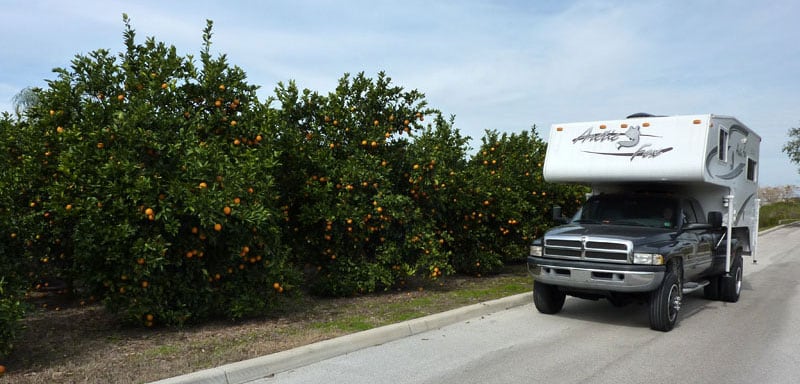 Above: At Nature's Best just southeast of Lakeland
I have never smelled the smell of oranges like the smell of oranges in Lake Wales, and we were about a quarter mile outside the orange juice plant.  The poor folks who work there must smell like oranges for the rest of their lives.  It's really incredible.
Anyway, the visitor's center was more like a small store with orange themed foods, orange knick knacks, and a theater that was closed due to a big company meeting they were hosting.  And while they had plenty of pretty orange trees surrounding the parking lot, they also had a sign that stated, "DON'T PICK THE ORANGES".
After that we drove about an hour to see some close family friends of Angela's in Ocala, Gene and Pat.  That night they took us to what has to be the most authentic Floridian meal I've ever had.
We're talking fried alligator bites, conch fritters, hush puppies, creole soup, cat fish and blackened Mahi Mahi.  The restaurant was literally in the middle of nowhere and absolutely worth the drive.  Based on the crowds we saw there, Stumpknockers in Dunnellon, Florida is a long time local favorite.  Highly recommended for the adventurous or anyone who likes southern seafood.  Delicious!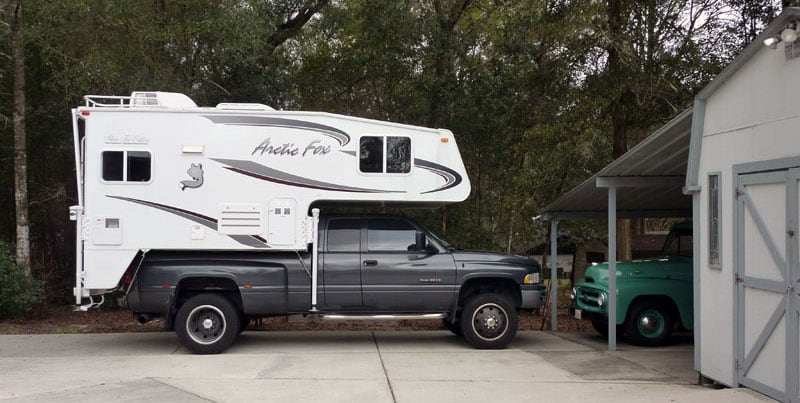 Above: Moochdocking at our friend's house in Ocala
Despite Gene and Pat's invitations to stay in their house, we slept two nights in our camper with Harley.  While we were there, we did laundry, indulged in a shower or two and generally relaxed with our friends.  We also got a few hours of work in.
Blue Spring State Park
When it was time to leave, Angela did a tight three-point turn around in the driveway and we headed to Blue Spring State Park.  This would be our last real campground until we got home.  From here on out it would essentially be a cold dash home, winterizing on the way.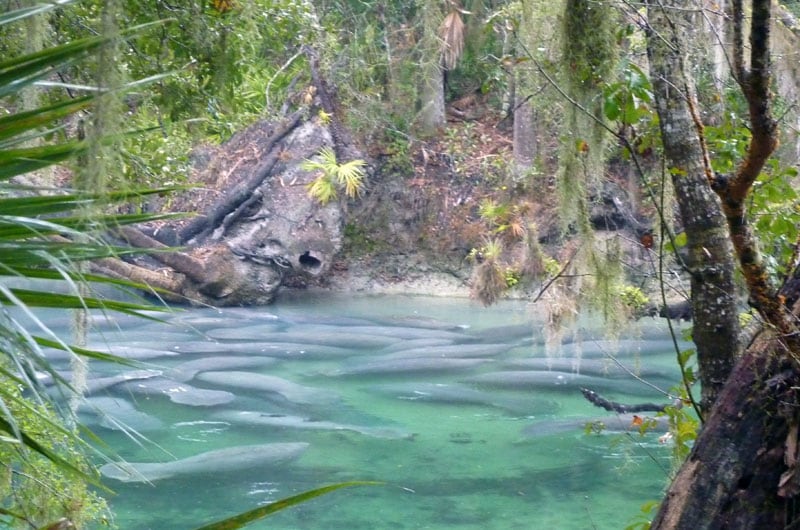 Above: The constant 72-degree water is ideal for manatees at Blue Spring State Park
Blue Spring State Park is a few hours east of Ocala in Orange City, Florida.  During the winter, the park is a protected refuge for West Indian Manatees.
Near the water there are dozens of signs that basically say, "No swimming" and, "If you so much as think about getting near a manatee you'll be in big trouble, mister".  We got the message.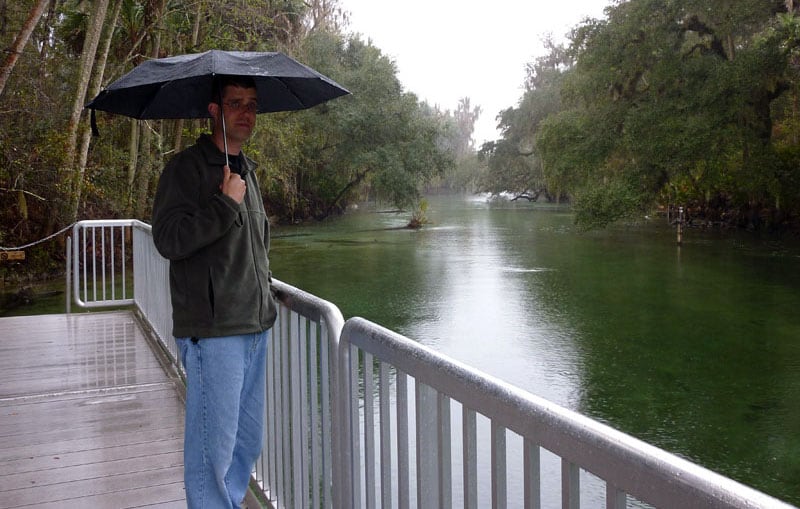 Above: Manatee viewing is optimal in the winter months
If you've never seen manatee before, think of combining a dolphin with a cow and you're at least half way there.  They're quite rotund, relatively slow moving, and have very little physical features other than two rounded flippers, a large rounded tail fin, and a face that almost looks like it belongs on a big dog, minus the ears.  They are delightful to watch as they swim gently, rolling and playing as they go.
If you visit Blue Spring State Park, there's a lot more than just meandering manatees.  I was really struck by the size and number of shark-like Tarpon and long nosed Alligator Gar fish.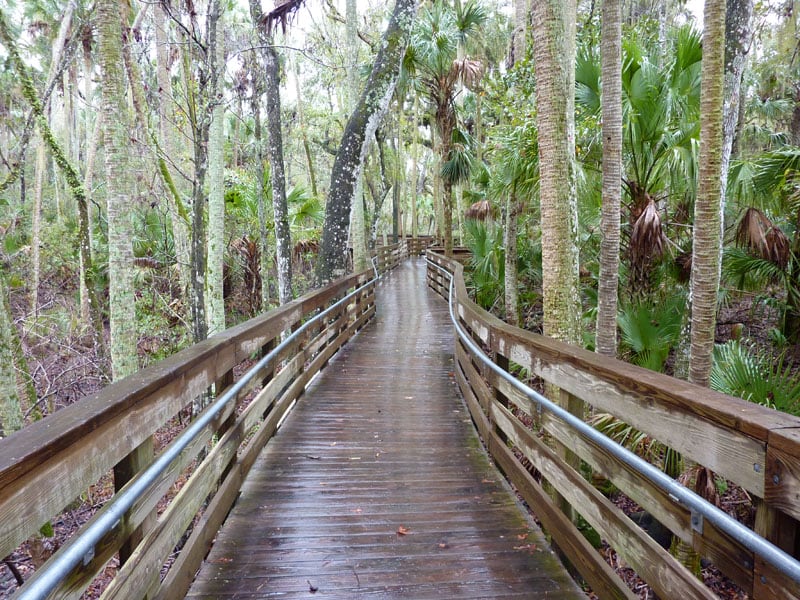 Above: A bridge path in Blue Spring State Park
The water is so clear that you can really see these fish as they swim just a few feet from the various lookouts.  You can also see plenty of fish eating birds including Anhingas and Cormorants as they dive and indulge on the local fresh seafood cuisine.
As we drove up the eastern seaboard, it was disheartening to see the letter "N" on the truck's compass.  It was even more disheartening to watch the temperatures decline on the truck's thermometer.  Before we would arrive home, we would watch that temperature gauge drop a full fifty degrees since the, "good ole days" in Key West.
The snowbirds have it right.
For more Florida fun, read about our adventures to Kennedy Space Center and Disney's Fort Wilderness.