With his 2011 Ford F150 EcoBoost and 2011 Four Wheel Camper Keystone pop-up camper, Mark explores nature from coast-to-coast, working from the road as he travels.

For better or for worse, the internet has been mainstream in our culture for about fifteen years.  Today it is commonplace to find people who work all day long on computers via the world wide web.  Some of these "digital" workers are lucky enough to work from home leaving the rigors of daily commuting and mind numbing office politics behind.  Add to this new reality the emergence of wireless internet and widespread 3G and 4G cellular internet availability, and the idea of fixed office seems so 20th century.
So if you can work from anywhere, why not work from anywhere?
Meet Mark Marano, digital worker.  His latest gadget isn't a smartphone, a fancy tablet, or the latest app.  It's a truck camper.

Above: Oregon near Cape Kiwanda State Park
TCM: How did you get into truck camping?
Mark: Before I started looking at RVs, I had taken about ten tenting trips.  During those experiences, I began thinking it would be nice to have an RV that would always be set up and ready to go.
Deciding what I wanted was a long process.  When I was first looking, I had very little money saved and was hoping to find something used.  I even considered buying a van and converting it into an RV.  Whatever I got, it needed to be usable as a daily driver, fit into normal parking spaces, and yet offer all the usual RV amenities including a toilet and sink.
During my research I came across Class A and Class B motorhomes that featured the Sprinter chassis, but they were very expensive.  Eventually I started looking at trucks, an idea that I liked.  I had never owned a truck before, or any four-wheel drive vehicle for that matter, but I was excited about the possibility of going off-road.
At the Tampa RV Show in 2010, I met Gordon and explored the Lance Campers on display.  After our conversation, I started reading Truck Camper Magazine and got a good feel for the truck camping lifestyle and the different types of campers available.  Before that I didn't even know pop-up truck campers existed.
Over the following year I continued my research and looked at more options.  Eventually I narrowed my choice down to a Four Wheel Camper.  Specifically, a Four Wheel Camper Keystone and Ford F150 EcoBoost rig met all my criteria; excellent daily driver, all of the RV amenities needed, and off-road performance.
When I sat in a Four Wheel Camper Keystone at Xtreme Campers in North Carolina, it felt right.  It was spacious and I could see myself camping in it.  That was it.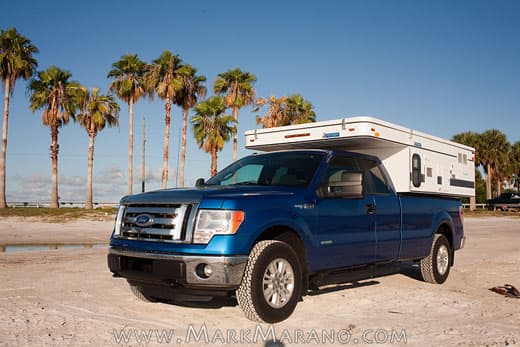 Above: Dunedin Causeway, Florida
TCM: How did you decide on the Ford F150 EcoBoost?
Mark: I wanted a new truck. I didn't want to worry about the condition of a used truck.  I was up in Illinois at the time and didn't know how well used trucks would have been treated by their previous owners, especially in the long winters and around a very busy major city.  The Ford F150 EcoBoost offered me the long bed, fuel economy, features, and payload I was looking for.  I also like driving the Ford F150 EcoBoost as a daily driver.  It rides much more smoothly, like a car, than other trucks I've driven or ridden in.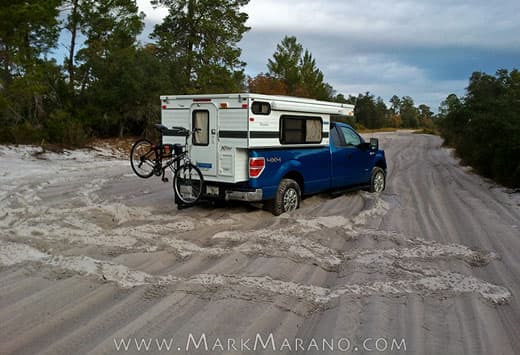 Above: A road near Sebring, Florida (had to dig out the front tires, the sand was still wet and deep from raining the night before)