Mark Turnbull shares his trip planning, truck packing, rig modifying, tips and experiences from an incredible 14,052 mile, fifty-nine day, 1,131 gallon, emotional truck camping trip to Alaska.

Every year we talk to dozens of readers who are preparing to chase their dream of visiting Alaska in a truck camper.  From maps, to books, to magazines, and websites, they are meticulously plotting their course, planning their destinations, and choosing their campsites.  With all of their intensive research, you might think they were planning a trip to the moon.
In a way, the idea of driving to Alaska does feel like a moon launch.  You will be thousands of miles from home, in a beautiful but desolate land, often far from the safety net of civilization or cell phone range.  Ground control to Major Tom… we're stepping outside our comfort zones….
When the, "Alaska-nauts" return, they're always buzzing about their adventure and can barely contain their stories and pictures.  It's like they've visited, well, the moon, and have to share their extra-terrestrial experience with all of man (and woman) kind.  Okay, they're not quite that insufferable, but it never ceases to surprise us how passionate they are about going back.  They've had Alaska, and they want more.
This article marks the beginning of Alaska Week 2013.  To begin, truck camping Alaska-naut Mark Turnbull shares his plans, packing, mods, and more from before, during, and after his trip.  Take your protein pills and put your helmet on, we're going to Alaska.
Planning for Alaska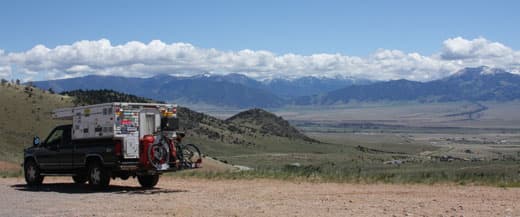 Above: Mark's 1998 Chevrolet Silverado 1500 and 2011 Hawk Four Wheel Camper
Planning for Alaska started about two years before my trip.  I decided to get my truck camper in June of 2011 and left the following April.  Before the trip I went through Frommer's Alaska, Alaska for Dummies, and The Milepost.
I am blessed that my wife, Hope, is a wonderful planner.  She put notes and stickies in the books as we educated ourselves about Alaska.  Hope joined me for ten days of my Alaska trip when she flew into Anchorage.
Before my trip I "drove" every road on Google Earth.  I even found some places on Google Earth I wanted to visit.  Google Earth was a big part of the planning process.  I also used YouTube by watching Alaska videos and getting ideas.
I contacted a number of people who live in Alaska and asked for advice including the Bureau of Land Management office.  One lady wrote me back two and a half pages of information.  If you reach out to the right people, they are often more than happy to give you helpful information.
Another part of preparing for the trip was telling my clients I would be away.  I run my own business, and I told my clients a year ahead of time about my trip.  I made arrangements ahead of time to make sure things would be well taken care of.  I am also very fortunate in that I can work if I have internet access.
Packing the Truck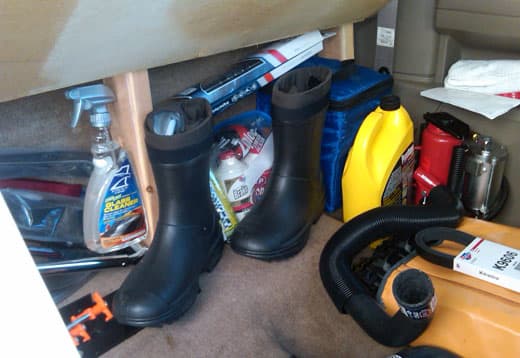 The first thing I did before leaving for Alaska was to make an extensive list of things to take with me.  I started by dividing my truck into four quadrants and putting the items packed into each quadrant on the list under that quadrant.  That strategy allowed me to know exactly what I had with me and where it was located in the truck during the trip.  That strategy worked out well and I was glad I had the list.  Nothing went in the truck that wasn't on the list.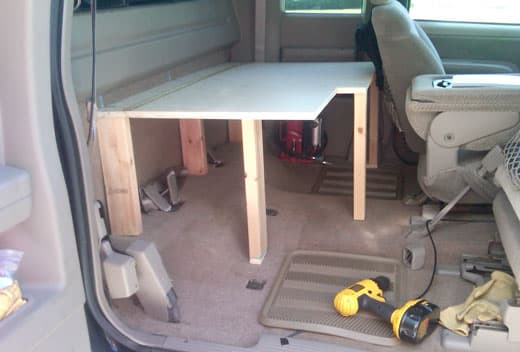 It's only the two of us when we go truck camping so I decided to take out the back seat giving us a lot more storage space.  Once the back seat was removed, I built a shelf to make the rear cab area more level.  I put things I only need to access occasionally under the shelf.  Anything I need to get to more often is on top of the shelf.  This approach gave me even more storage space.
Back in April of 2012, I had a blog in Truck Camper Magazine about getting my Four Wheel Camper ready for Alaska including the above mentioned rear truck shelf.  That "Packing for Alaska" article also goes into even more specifics about packing for my trip.