Mark Turnbull shares his trip planning, truck packing, rig modifying, tips and experiences from an incredible 14,052 mile, fifty-nine day, 1,131 gallon, emotional truck camping trip to Alaska.

Every year we talk to dozens of readers who are preparing to chase their dream of visiting Alaska in a truck camper.  From maps, to books, to magazines, and websites, they are meticulously plotting their course, planning their destinations, and choosing their campsites.  With all of their intensive research, you might think they were planning a trip to the moon.
In a way, the idea of driving to Alaska does feel like a moon launch.  You will be thousands of miles from home, in a beautiful but desolate land, often far from the safety net of civilization or cell phone range.  Ground control to Major Tom… we're stepping outside our comfort zones….
When the, "Alaska-nauts" return, they're always buzzing about their adventure and can barely contain their stories and pictures.  It's like they've visited, well, the moon, and have to share their extra-terrestrial experience with all of man (and woman) kind.  Okay, they're not quite that insufferable, but it never ceases to surprise us how passionate they are about going back.  They've had Alaska, and they want more.
This article marks the beginning of Alaska Week 2013.  To begin, truck camping Alaska-naut Mark Turnbull shares his plans, packing, mods, and more from before, during, and after his trip.  Take your protein pills and put your helmet on, we're going to Alaska.
Planning for Alaska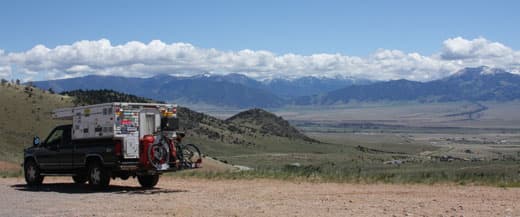 Above: Mark's 1998 Chevrolet Silverado 1500 and 2011 Hawk Four Wheel Camper
Planning for Alaska started about two years before my trip.  I decided to get my truck camper in June of 2011 and left the following April.  Before the trip, I went through Frommer's Alaska, Alaska for Dummies, and The Milepost.
I am blessed that my wife, Hope, is a wonderful planner.  She put notes and stickies in the books as we educated ourselves about Alaska.  Hope joined me for ten days of my Alaska trip when she flew into Anchorage.
Before my trip, I "drove" every road on Google Earth.  I even found some places on Google Earth I wanted to visit.  Google Earth was a big part of the planning process.  I also used YouTube by watching Alaska videos and getting ideas.
I contacted a number of people who live in Alaska and asked for advice including the Bureau of Land Management office.  One lady wrote me back two and a half pages of information.  If you reach out to the right people, they are often more than happy to give you helpful information.
Another part of preparing for the trip was telling my clients I would be away.  I run my own business, and I told my clients a year ahead of time about my trip.  I made arrangements ahead of time to make sure things would be well taken care of.  I am also very fortunate in that I can work if I have internet access.
Packing the Truck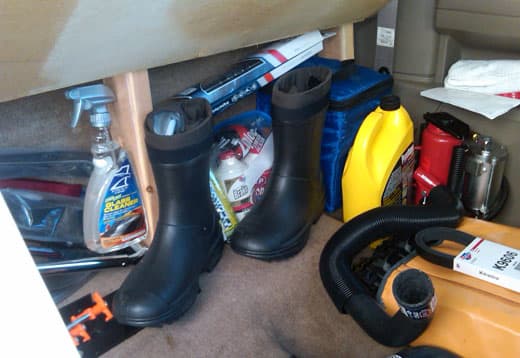 The first thing I did before leaving for Alaska was to make an extensive list of things to take with me.  I started by dividing my truck into four quadrants and putting the items packed into each quadrant on the list under that quadrant.  That strategy allowed me to know exactly what I had with me and where it was located in the truck during the trip.  That strategy worked out well and I was glad I had the list.  Nothing went in the truck that wasn't on the list.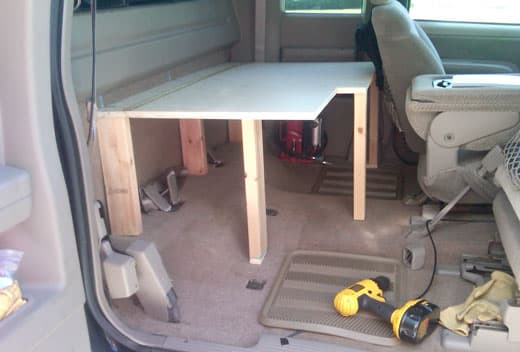 It's only the two of us when we go truck camping so I decided to take out the back seat giving us a lot more storage space.  Once the back seat was removed, I built a shelf to make the rear cab area more level.  I put things I only need to access occasionally under the shelf.  Anything I need to get to more often is on top of the shelf.  This approach gave me even more storage space.
Back in April of 2012, I had a blog in Truck Camper Magazine about getting my Four Wheel Camper ready for Alaska including the above-mentioned rear truck shelf.  That "Packing for Alaska" article also goes into even more specifics about packing for my trip.
Preparing the Truck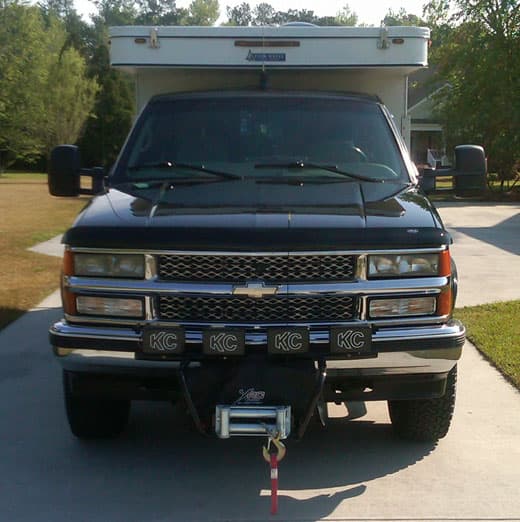 I did a number of modifications to my truck to prepare it for the roads and driving conditions of Alaska.  I installed a winch on the front of the truck and a generator on the back of the camper on a porch.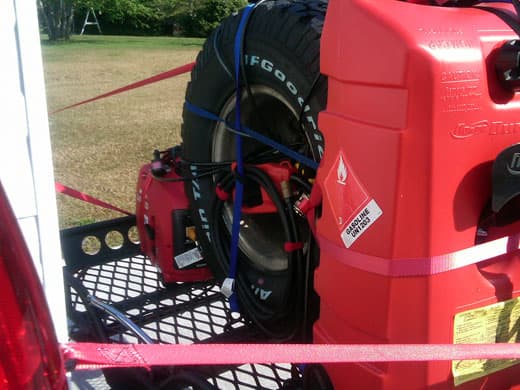 Above: Fourteen-gallon gas tank, full spare, and a generator
If I were to do the trip over again, I would find a way to mount the generator on the front of the truck where it would not get as dirty.
I brought two spare tires but would only bring one if I were to go again.  Maybe I would get a second spare in Alaska for the Haul Road, put it in the back seat, and then get rid of it as soon as I was back on real US highways.  The Haul Road is shale rock and is known to be extremely tough on tires.
I did experience a rock-torn tire on the Denali Highway that was not repairable, so at least one full-sized spare is mandatory.  They sell a tire repair kit in Alaska that they don't sell in the lower forty-eight that has a bigger, thicker plug.  It may be a good idea to purchase one of these kits before you need it.
When I left North Carolina for Alaska my truck had 198,500 miles on it, so it was not a new truck.  I live in a small town and have friends who are mechanics.  They checked my truck from stem to stern to make sure it was okay.  I even have NASCAR brakes, drum brakes on the back, and disks on the front, which give me extra stopping power in the front.  The brakes worked out great.
During the trip every day I checked the oil level, windshield washer fluid, and had a compressor put on my truck.  Having the air compressor allowed me to add air, if needed, to either the tires or the Firestone airbags that were installed on the truck.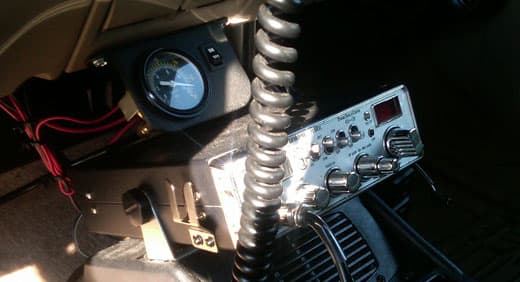 I had a CB radio that worked well.  My Four Wheel Camper has aluminum siding which can interfere with CB radio antennas.  To compensate, I installed an eight-foot metal antenna and that made all the difference in the world.  In Alaska, I believe having a CB radio is mandatory.  Keep it on Channel 19, which allows you to monitor truckers as they drive the Alaska Highway.  The CB is an absolute must on the Haul Road.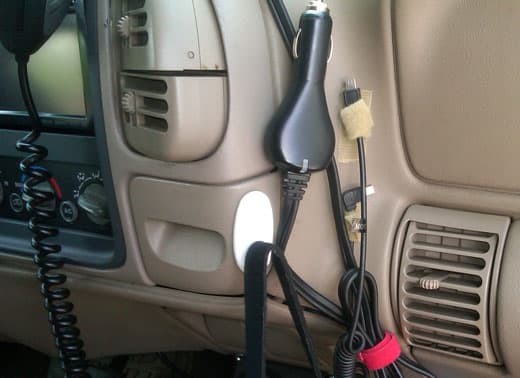 Above: Velcro straps were added to organize the wires of the devices I needed to charge on a regular basis.
Above: Video camera was on the dash on a small tripod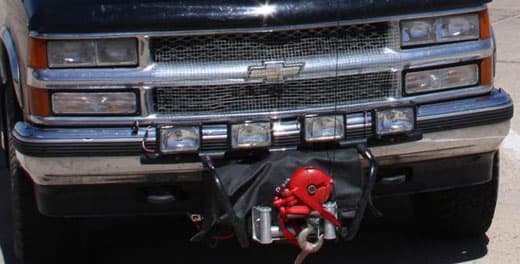 I put a film of chicken wire on the front of my truck grill using electrical plastic ties to help prevent rocks from getting through. I also carried along Rad stop to pour in the radiator if a rock did make it through and put a hole in the radiator.  Rad stop helps to plug the holes.
I also added Firestone airbags, SuperSprings, and a second battery to the truck.
Preparing the Camper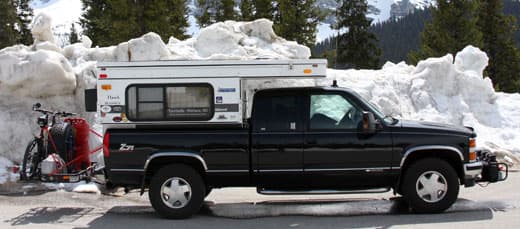 There were two reasons I went with a pop-up camper.  First was the height.  I looked at hard side campers and preferred a low-profile pop-up camper.  I also liked that the Four Wheel Camper was all aluminum.  I went on pretty lousy roads in Alaska and never had any problems with the camper.  I mistreated it and it held up fine.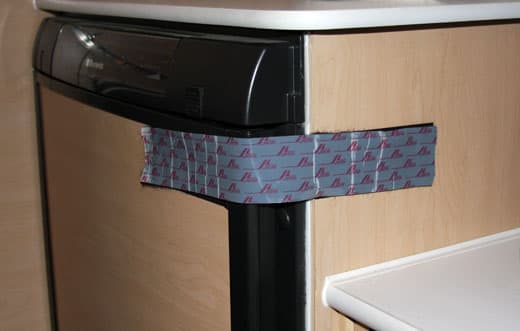 Before I left, I attached wide Velcro strips on the front and side of the refrigerator to make sure the refrigerator door would not come open.  One time I did not reattach the Velcro and it did open, not good.  That was on Haul Road, which is a very rough road.  It was no fault of my Four Wheel Hawk camper.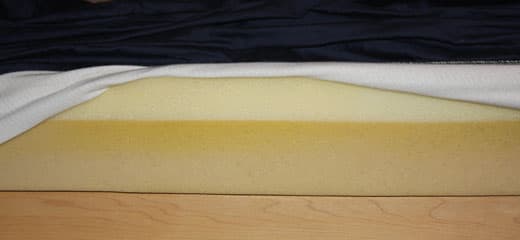 The only other change I made to the camper before leaving for the trip was putting a SleepDog memory foam mattress in.  It's very much like a Tempur-Pedic memory foam bed.  Sleep Dog will make a mattress to fit in your camper.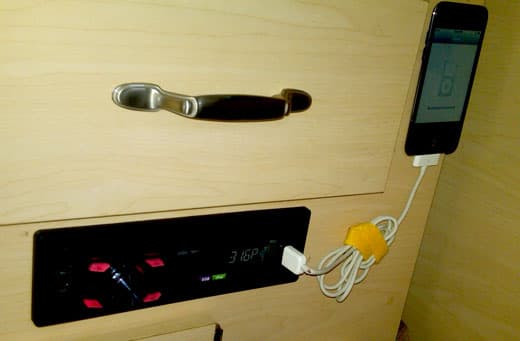 Since the camper was brand new before I went to Alaska, I took it on a ten-day trip to Canada to make sure that everything worked perfectly.  The shakedown trip went well and everything performed as expected, including the heater on a couple of nights.  It is important to know that your heater is working if you are traveling to Alaska in April and May, which was my plan.
Driving to Alaska Solo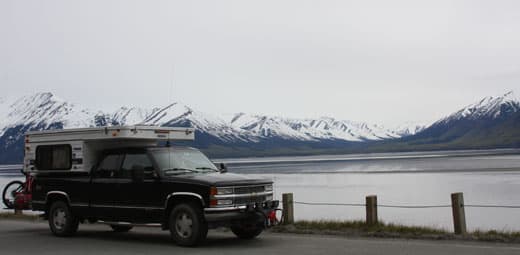 Above: Turnagain Arm into Anchorage
My entire trip was 14,052 miles and took fifty-nine days.  It all started in eastern North Carolina on April 26, 2012.  Hope went with me for the first three days up the East Coast.
Visiting family and friends really helped to break up the drive.  We stopped in Erie, Pennsylvania, and Buffalo, New York to visit friends.  From Buffalo to we went to Newmarket, Ontario where my daughter and granddaughters live.  Hope flew home from Toronto.
From Toronto, I drove north over the Great Lakes, and then into Winnipeg, Manitoba to spend time with my brother, sister-in-law, their oldest son, and his family for several days.  My nephew lives in Calgary, so I stopped there.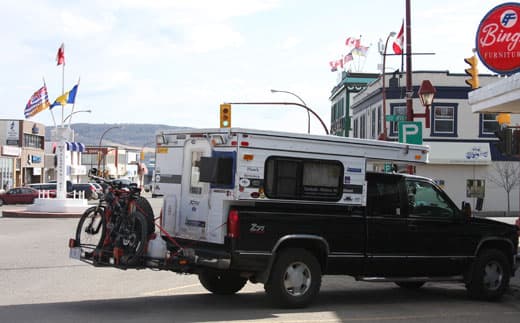 Above: Mark's Four Wheel Camper parked in a regular parking spot in Dawson Creek, British Columbia
From Calgary, I headed for the start of the Alaska Highway in British Columbia.  I followed the Alaska Highway all the way to Skagway.  By early May I was in Alaska.  I remember stopping the truck in the wilderness.  I couldn't hear a single sound.  I highly recommend going early before the tourists show up.
If you don't like to drive, don't drive to Alaska.  It's not like driving New York to Washington where you can reach out and touch the houses.  That's not the case.  Once you leave Anchorage, Palmer, and Wasilla, there's nothing until you get to Fairbanks.  There were stretches of the Alaska Highway when I did not see a single soul, house, or vehicle for over an hour.  You are alone on the road if you travel early or late in the season to Alaska.
The Feeling of Reaching Alaska
I crossed into Alaska twice.  The first time, I almost missed the sign because the snow was so heavy.  It was a good feeling; finally getting there.  When I got to the Alaska/Yukon border as I was heading to Tok, Alaska, I stopped, got the camera out, put up the tripod, got the remote, and threw my arms up in the air.   After more than two years of planning it was pretty exciting to finally make it to my destination.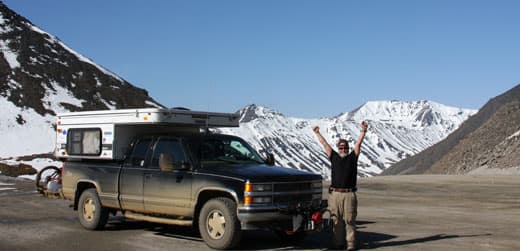 The most emotional part of the trip was traveling the Haul Road and reaching the top of Atigun Pass.  When I hit the top of Atigun Pass and put the truck in park, I realized that I had achieved the final goal of the trip which was to get to Atigun Pass.  The emotions came through and I started to cry; two years of planning and we made it.  That's where the emotions truly flowed.
To get to the top of Atigun Pass you climb up almost 1,200 feet for two miles.  The top of the pass is at 4,860 feet.  When I got there, that's where I really felt that I had done it.  That's the top of the Haul Road.
My virtual driving in Google Earth helped me because I knew what I was going to see ahead of time.  For example, at Finger Mountain on the Haul Road, I knew there was going to be a rest area and facilities.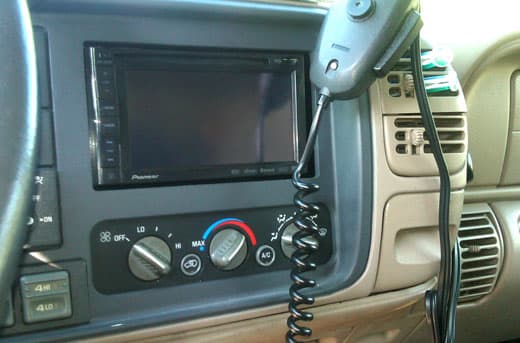 To help with the long drive, I modified the truck with a navigation system and had my iPod with an Alaska playlist of up-tempo songs.  I also had a SPOT Satellite Messenger.  In my opinion, everyone needs a SPOT for safety.  I pressed the "okay" button three to four times a day.  That was my communication with my family.  If you have a problem, and you are a long way from anywhere, you can get help with a SPOT.
It was three and a half weeks until Hope came up to Alaska.  My wife is an angel.  She said, "If you want to go to Alaska, you can".  She joined me on the trip for several days.  She flew from North Carolina to Anchorage.  I was smart enough to buy her a first-class ticket so she was in a happy mood when she arrived.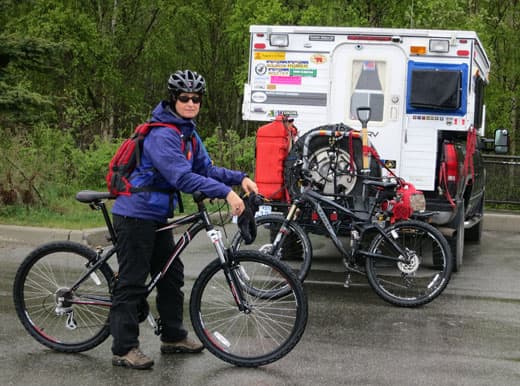 We planned out the time she was in Alaska; the restaurants we would go to and the famous and recommended places.  She was a trooper and camped with me, and we had a great time.
Camping In Alaska Before Tourist Season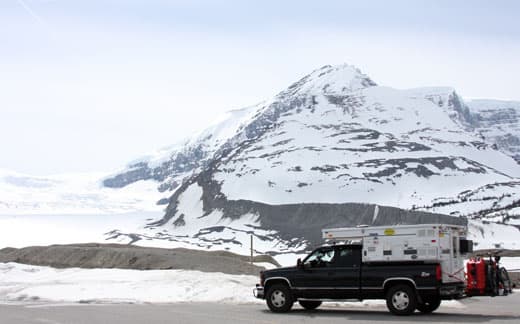 Above: Columbia Icefields, Canadian Rockies
I was able to find camping locations in early May, but there were some places that were closed.  There was one KOA where I stayed even though they didn't officially open until the following week.  If you travel in the spring to Alaska, I recommend that you call campgrounds in advance to ask if they are open.
When I went into Homer, Alaska, I went to a campground that had two or three people in bigger RVs that had been there for a while, but I had the rest of the campground to myself.  No one had arrived yet.  That campground was in the $30 range.  I also dry camped at Wal-Marts and boondocked on dirt roads to save money, and for the adventure of it.
An advantage to going in early May was that there was still snow on the mountains.  It looks completely different when the snow melts.  The only time I really ran into a lot of snow was in Skagway.  I was up there in May and June and I saw a lot of snowmelt.  By mid-June, you won't see as much snow.
For the most part, I didn't have problems with the condition of the highways.  On some of the dirt roads, I had to use four wheel drive because of the soft dirt.
When my wife visited me in Anchorage and Fairbanks, the weather warmed up to between 65 and 70 degrees during the day.  I was enjoying those comfortable temperatures as opposed to the heat and humidity of North Carolina.  If you are concerned about being cold, wait until June or July to visit Alaska.
I also didn't see mosquitoes until the later part of May.  When they come out, they are large, like small helicopters that come in waves.  I highly recommend 100% Deet bug spray.  It works very well and will increase your comfort level if the bugs are out.
Travel Tips and Reflection
You've got to go through Canada to get to Alaska, so make sure your passport is current.  If you want to have a firearm with you, do not bring a handgun.  If you are going to carry a shotgun or long rifle, fill out the Canadian government form, print it, and give it to them when you get to the border.  They tell you to go off to the side and park.  They will make sure the serial number matches.  It's an easy process to go through, but you've got to do it legally.
I admit it.  I took too much stuff with me.  You can find about anything you need along the way.  I bought a tire in Tok, Alaska when a tire went flat.  While you may not be able to find your favorite food, there are plenty of grocery stores in between here and Alaska.  I took too many canned goods.  Don't take too much and overload your vehicle.
Try to avoid the tourist traps.  Go early and meet the local folks and learn what Alaska is all about.  Leave your schedule flexible.  Fifty-nine days was good.  Near the end, I was done and drove straight home for the last 1,000 miles.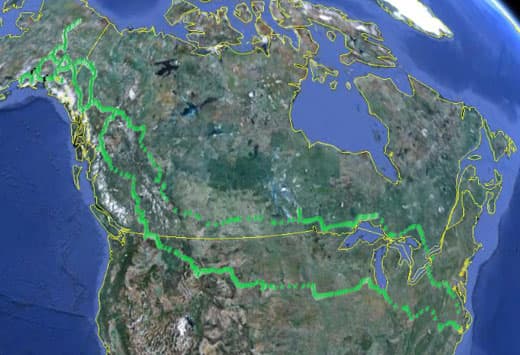 In recap, I traveled 14,052 miles, used 1,131.78 gallons of gas at an average cost of $4.61 a gallon ($5,213.91 in fuel).  As long as I have the finances and my health, I hope to go back to Alaska in five or six years.  I would go during September and October to experience the Aurora Borealis.  This also assumes that Hope will agree to another trip.
To visit the Four Wheel website, go to fourwheelcampers.com. Click here for a free Four Wheel brochure.