TCM reviews Torklift International's Stow N' Go system including a four-step set of Torklift GlowSteps and All-Terrain Landing Gear.  Can scissor steps be better than traditional bumper steps?  It's time to bring the jury back in.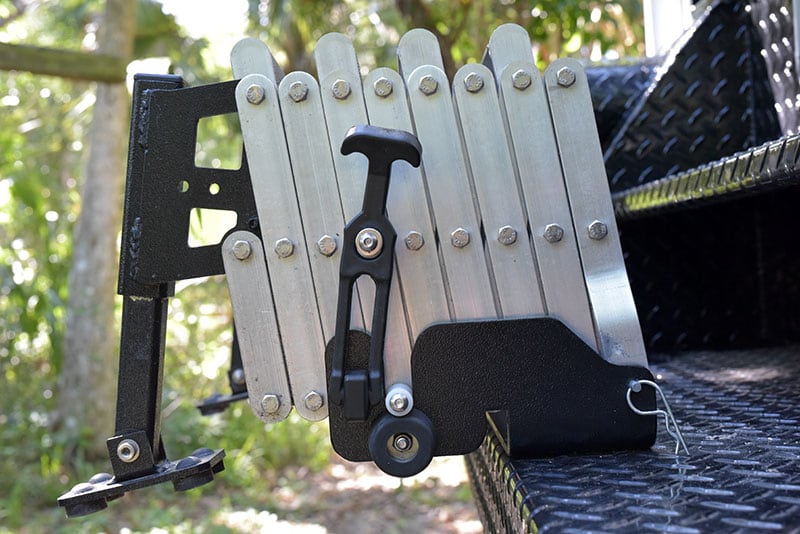 I'll admit it. I have never been a fan of scissor steps.
When I first encountered scissor steps nearly 15-years ago, they looked precarious and unwieldy.  I remember thinking, "Why would anyone want scissor steps instead of a bumper step system?"
That opinion was supported my numerous reports from fellow truck campers.  In fact, it was difficult to find anyone back then that liked scissor steps.  They seemed, at best, a necessary evil for pop-up and hard side truck campers that could not accommodate a bumper step system.
For the first few years of the magazine we managed to avoid scissor steps almost entirely.  Yes, we encountered a scissor steps on a rig now and then, but the campers we borrowed and used all had bumper steps.
Our scissor side-stepping came to an end in June of 2011 when Northwood Manufacturing asked us to help them debut their all-new truck camper brand; Wolf Creek.  For two weeks we explored the incredible and diverse state of Oregon with a Torklift International GlowStep scissor step system.
Knowing our passion for proper payload matching, Northwood loaded the Wolf Creek 850 on a one-ton dually truck.  That not only gave us nearly 1,000-pounds of extra payload capacity, but it also put the camper's entry door somewhere between the sky and the moon.  We literally needed a six-step Torklift International GlowStep system to get into the camper.  Six steps!
The GlowStep system had to be physically removed, stowed and reinstalled every time we needed to enter or exit the unit.  With six steps, the system was heavy and awkward to handle and guide into its receiver.  I wouldn't say the steps felt dangerous in use, but they didn't exactly feel rock solid either.  Precarious and unwieldy?  Unfortunately, yes.
Later that fall, we had a much better scissor step experience with a Hallmark Cuchara XL.  Hallmark matched their pop-up camper with a one-ton single-rear wheel truck.  Both examples prove that the industry knows how to properly payload match a rig when they want to.
The Hallmark combination only needed a three-step scissor step system.  Only needing three steps made an enormous difference in weight, handling, and the overall sense of safety.  It was night and day.
As we explored Rocky Mountain National Park, we actually began to appreciate the three-step scissor step system.  We still didn't prefer scissor steps, but we no longer thought they were universally precarious and unwieldy.  With three steps, scissor steps actually weren't too bad.
Big Steps For Scissor Steps
Fast forward six years.  In February of 2017, Torklift International debuted the Stow N' Go system in Truck Camper Magazine.  The product essentially combined the Torklift International's GlowSteps and All-Terrain Landing Gear and added a new storage bracket – the Stow N' Go bracket – onto the rear of a truck camper.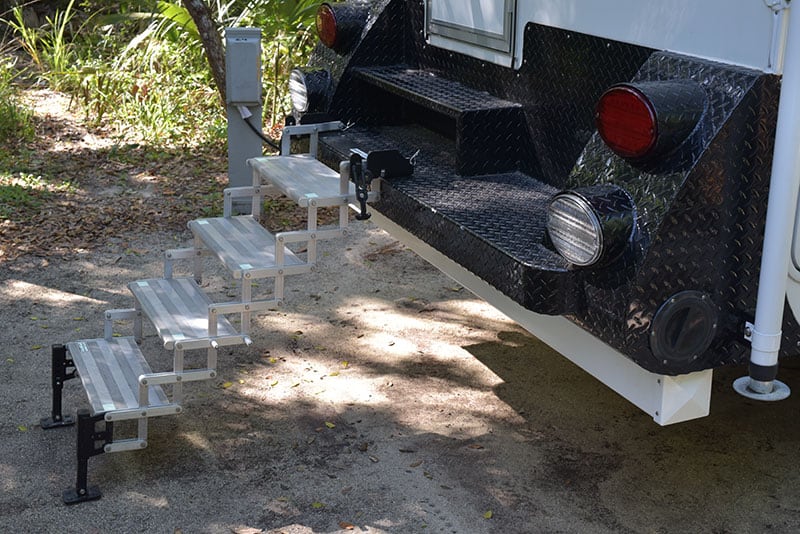 While interviewing Torklift International's leadership for the Stow N' Go announcement, the team sounded like they had just discovered reliable cold fusion.  Their excitement and enthusiasm for the Stow N' Go was off the charts.  I remember thinking, "What are they so excited about?"  I didn't get it at the time.  I do now.
Stow N' Go Bracket
One of our goals for 2018 was to borrow a Cirrus truck camper long-term and really get to know the Alde hydronic heating system.  In September we picked up a 2018 Cirrus 920 – which just happened to have a complete four-step Torklift Stow N' Go system.  Cirrus selected the Torklift Stow N' Go system as standard for Cirrus 820 and 920 truck campers.
The first time I engaged the Stow N' Go system, my perception of the product immediately changed.  With the Stow N' Go bracket, Torklift had solved the weight and awkward handling issues common to scissor steps.
With the four-step GlowStep pinned into the Stow N' Go bracket, extending and retracting the GlowSteps was actually fun.  With a minimum of effort, the steps almost guided themselves to the ground and back into the bracket.  Compared to our first six-step scissor step experience, this was kids play.  Where was this in 2011?
The bracket also held the GlowSteps firmly in place making the steps rock steady in use.  Where the six-step system made us feel uneasy, the four-step Stow N' Go system was fantastic.  Precarious and unwieldy?  Not a bit.
The Grommets
Of course not everything about the Stow N' Go system is perfect.  We started our Cirrus 920 experience in Fall weather.  With temperatures reaching into the mid-50s during the day and dipping into the high 30s at night, the cooler temperatures made the rubber grommets that secure the steps during travel quite stiff.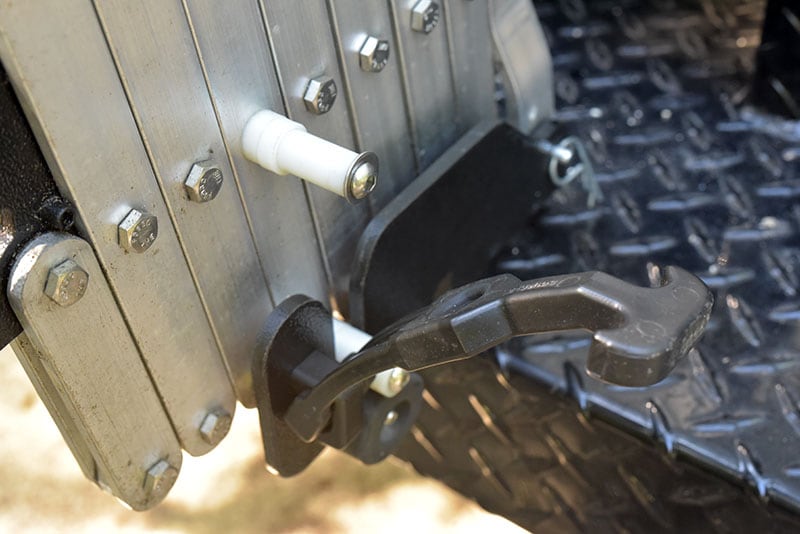 We really needed to pull up and over to get the grommet to latch onto the steps.  We really had to pull up and out to get the grommet to release the steps.  I remember thinking, "Why didn't Torklift make these grommets more pliable or a little bigger?"
When we reached Florida a few weeks later, the temperatures increased considerably.  With highs in the low-80s and lows the high-50s, the rubber grommets relaxed.  Now we still needed to pull up and over, but the grommet was much more pliable and easy to work.  Florida in the winter has this affect.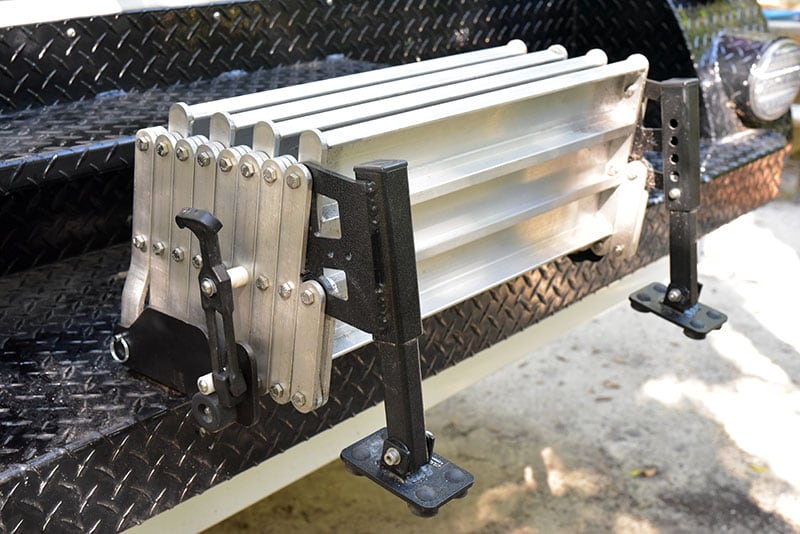 The grommets work exceptionally well, but engaging and disengaging them can be challenging in cold weather.  Folks with arthritis might have an especially hard time.  There has to be an easier (and no less safe) way to secure these steps for transport.
All-Terrain Landing Gear
For the first week or two I didn't bother to adjust the All-Terrain Landing Gear.  We were camping in level sites and the Stow N' Go system was working well.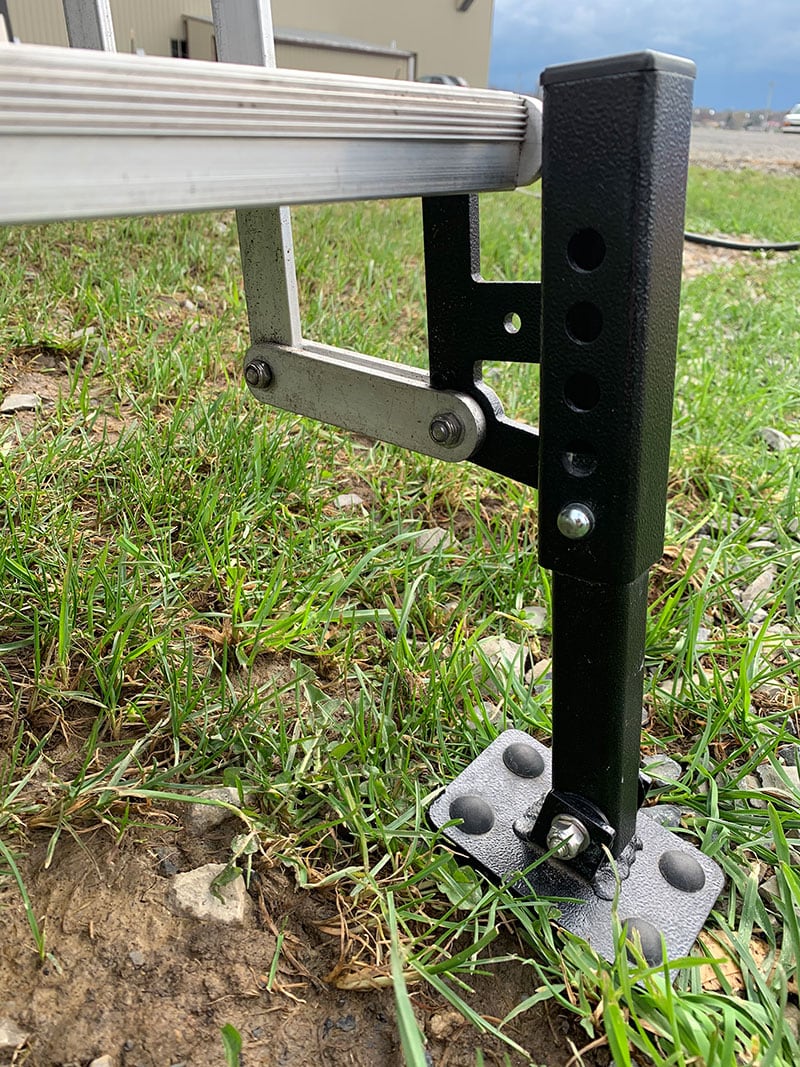 Then we parked in an un-level spot.  The camper was level enough, but the ground was decidedly uneven where the scissor steps landed.
Looking at one All-Terrain leg up in the air I remembered the adjustability feature.  With a few clicks extending one leg, the system adjusted to the uneven terrain.  Holy smokes!  The All-Terrain Landing Gear worked beautifully.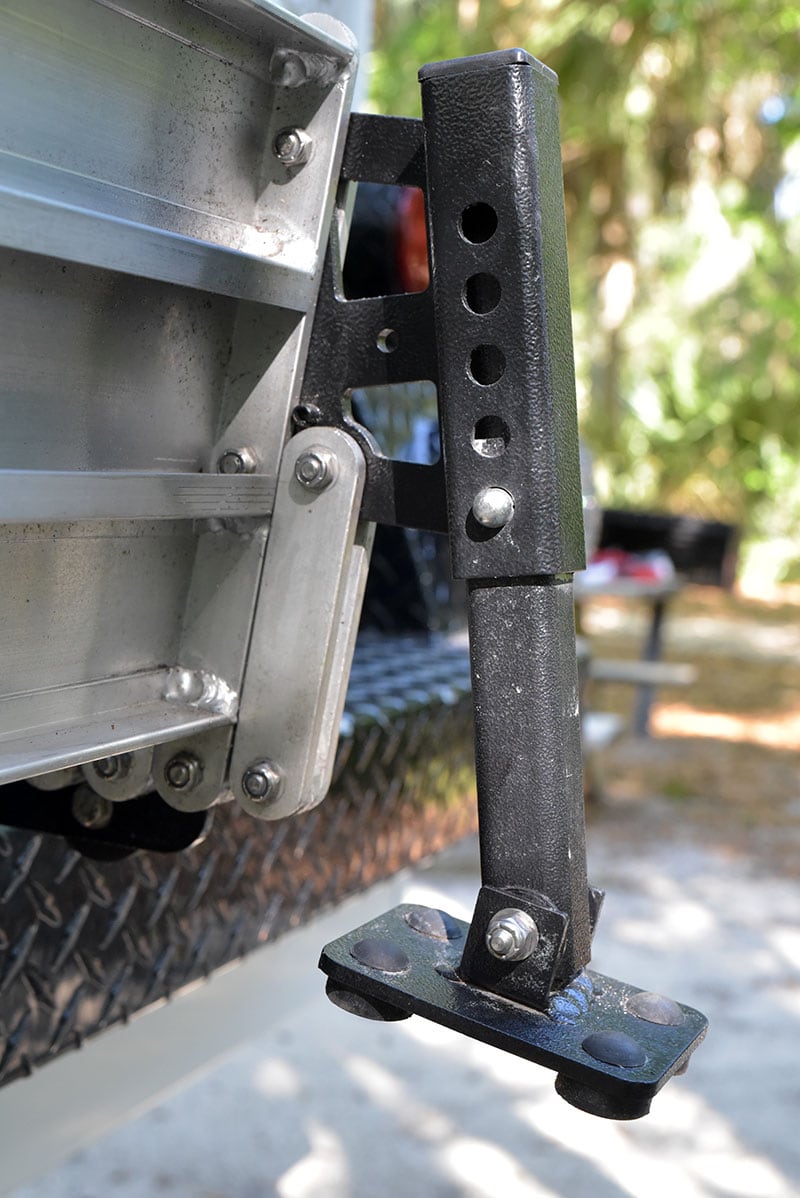 Later that week we were parked on pavement and I noticed that the steps weren't exactly level. When extended to the ground, the steps leaned forward just a little.
By adjusting the All-Terrain's legs to their full extension, the steps got much closer to perfectly level.  From that point on I left the All-Terrain's steps at their maximum height.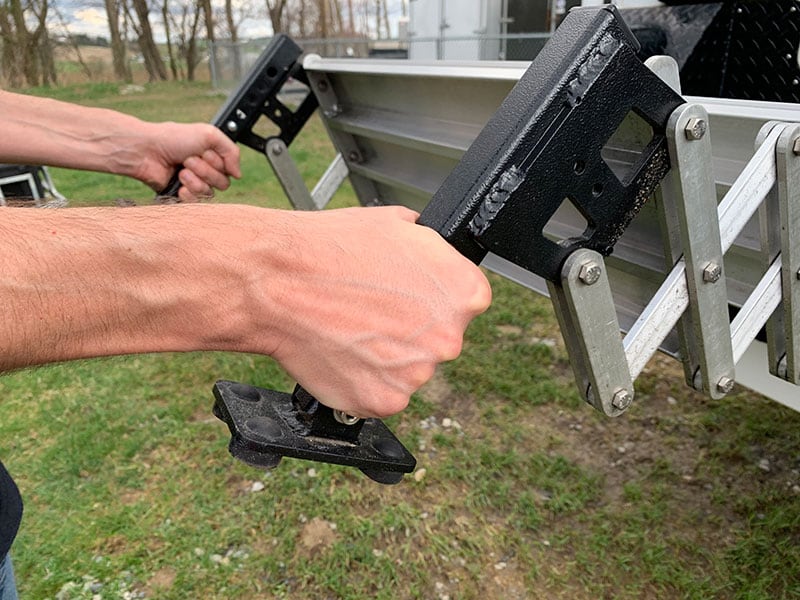 This sparked another discovery.  With the All-Terrain's legs at their maximum extension, the legs became handles for extending and retracting the system.  Prior to that I was pushing and pulling on the last step.  That worked, but grasping the All-Terrain's legs was a lot more comfortable.
An Important Lesson
After about three months of traveling and using the Stow N' Go system, I noticed the steps were getting harder and harder to extend and retract.  I thought about lubricating the joints, but didn't get around to it for a couple weeks.
In the meantime the system darn near seized up.  On one particular morning I went to push the steps back in and they almost pushed me back on the ground.  Oh, so it's fightin' time, is it?  Well, I'll show you!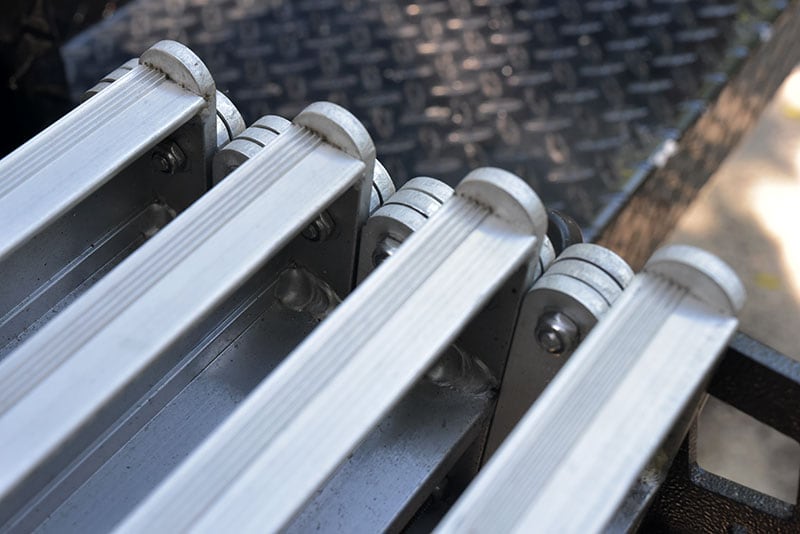 We happened to be camping with Mike Tassinari, aka Mikeee of the Truck Camping Jamboree.  I asked him, "Do you have any silicone spray?  My scissor steps are nearly frozen."  Now I knew full well that Mikeee travels with an entire Camping World (and Home Depot) in his rig and would have exactly the right spray for the task.  And he did.
Two minutes later we were spraying every aluminum joint on the Stow N' Go system.  After reaching everywhere we could find, the steps started to loosen up – a little.
The next day we packed up the rig to hit the laundromat, cruised the hallowed aisles of Walmart, and perused the vinyl LPs at every Goodwill, thrift store and junk shop I could find.  You know, a normal Saturday.
When I went to pickup the steps, I almost launched myself into the cabover.  Overnight the silicone spray had worked some serious magic making the steps as free flowing as can be.  Honestly they were even easier to move than the day we picked up the Cirrus.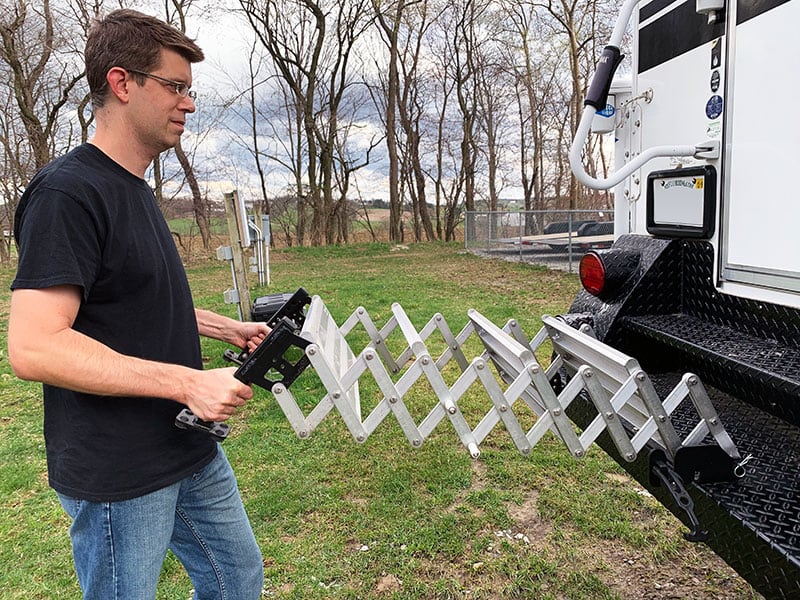 From that experience I can only surmise that the Stow N' Go will need lubrication every few months.  Stow N' Go owners should keep a can of silicone spray on hand.
Steps Back! A Three Foot Difference
It's not unusual for us to park in a busy parking lot.  We always put our intrepid cat in the camper while we shop, do laundry or whatever.  That means extending the Stow N' Go steps to the ground.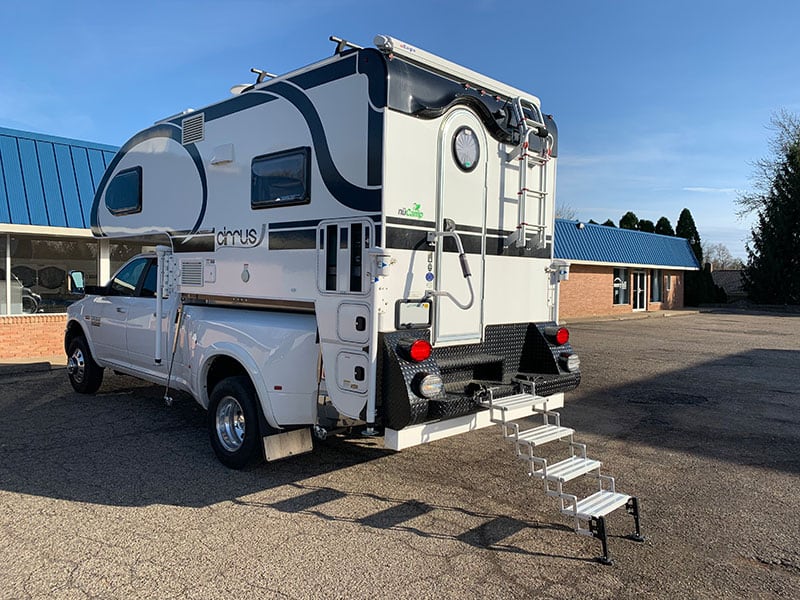 The steps protrude from the rig about three feet.  This is quite a distance in a busy parking lot.  The extended steps aren't exactly easy to see if you're driving.  This left us concerned that someone – probably texting, tuning the radio, and eating a Big Mac at the same time – could hit the extended steps.
As a precaution, we always put the steps into their Stow N' Go cradle when we left the rig.  Did we need to do this?  Probably not, but the damage someone would create hitting these steps would be considerable.  Better safe than sorry.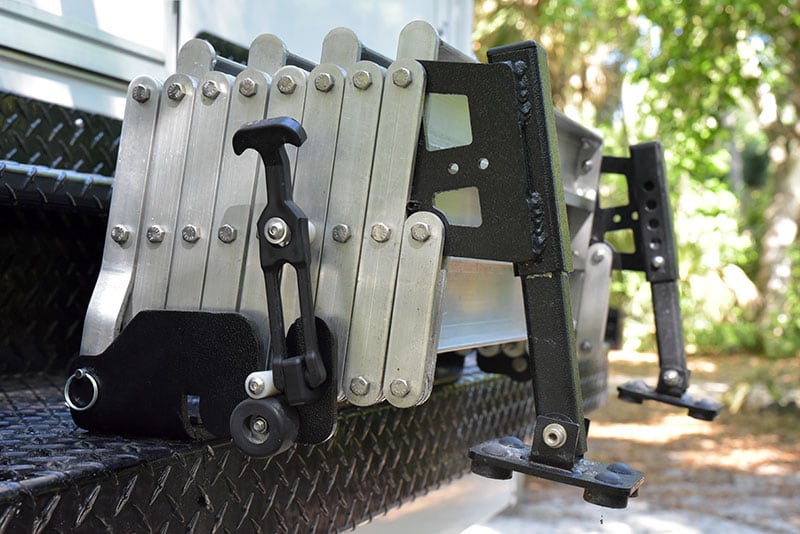 The other time the step protrusion is an issue is at a gas station.  When we're traveling in our project camper, it's not unusual for Angela to zip into the rig while I'm filling fuel.  She might be grabbing a map, a cold drink, or using the facilities.  With a bumper step system and a non-slide camper, this is easy.
Unfortunately, the three feet needed for the Stow N' Go system often precludes this opportunity.  It's just too far to come out with another car behind you.  This happened a number of times during our experience with the Cirrus 920.  Is either of these issues a deal breaker?  No, but they're something to be aware of.
Slip Note: A Preventable Fall
Last winter Angela fell out of our project camper.  She had just completed preparing food for a potluck dinner with fellow truck campers and the stool under our bumper step collapsed.  It was a bad fall, but she wasn't hurt beyond a bruise or two.
When I asked her what she thought the pros and cons of the Stow N' Go were, she mentioned that she might not have fallen had we had the Stow N' Go steps.  Since the Stow N' Go extends to the ground, no stool is needed.  Step stools, as we have learned, can topple or collapse if you don't step on them dead center.
The Verdict
A strong argument could be made that Torklift's complete Stow N' Go system (Stow N' Go bracket, GlowStep steps, and All-Terrain Landing Gear) are better than a traditional bumper step system.  After all, a bumper step system does not reach the ground and typically requires a step stool to bridge the gap.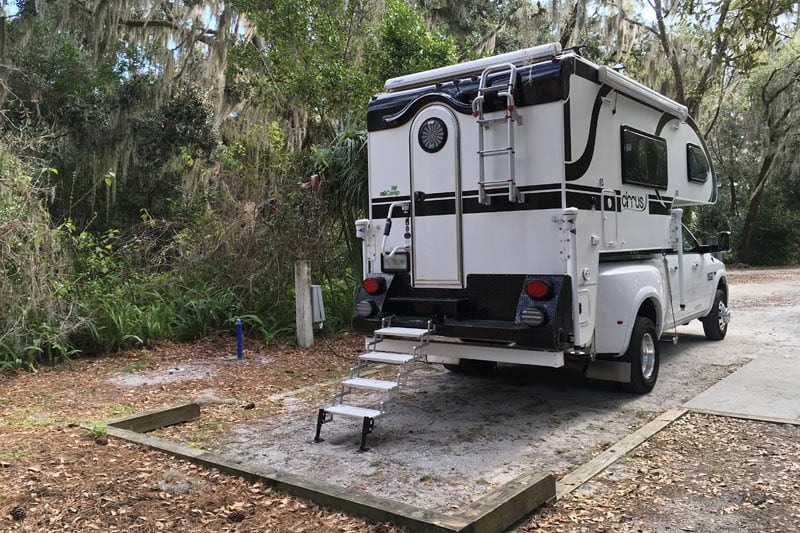 In stark contrast, the Torklift Stow N' Go system extends all the way to the ground.  This is a very big deal.  In fact, many non-camping family members who were previously hesitant about entering our camper with a bumper step system were excited to try the Stow N' Go system.  That speaks volumes.
Our time with the Torklift Stow N' Go system had us completely reassess our position toward scissor steps.  While I still loathe generic scissor steps, we are quite fond of the complete Torklift Stow N' Go system.  Executed as part of the Stow N' Go system, scissor steps are – in many ways – more stable and safer than bumper steps.  I can't believe I just wrote that, but it's a fact.
Will we be changing to a Stow N' Go system in our project camper?  No.  We love our Torklift bumper step and are accustomed to using a step stool to bridge the gap.  Furthermore, the porch and storage that's built into to the Torklift bumper step is something we don't see giving up.  We also prefer the speed and shorter step distance of a traditional bumper step.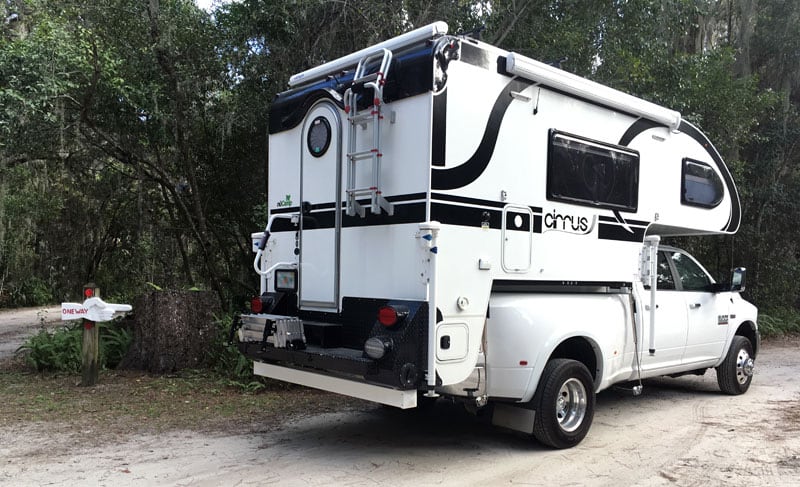 That shouldn't detract from the ground-breaking shift the Torklift Stow N' Go system has created.  We can now honestly say that we could live and be satisfied with a scissor step system.  Of course that scissor step system would have to be a complete Torklift International Stow N' Go system; Stow N' Go bracket, GlowSteps and All-Terrain Landing Gear.  Nothing less would do.
Now we understand what the Torklift leadership team was so excited about when the Stow N' Go system was announced.  Nicely done, Torklift.
Pros
By far the best scissor step system available
The steps reach all the way to the ground – no step stool required
Bracket makes extending and retracting system easy and comfortable
All-Terrain Landing Gear adjusts to uneven ground
Excellent fit and finish on all aspects of the product
Steps are removable with two pins for ferries that charge by length
Cons
Premium priced for a scissor step system – see MSRPs below
Rubber grommets that secure system stiffen in cold weather
Steps need several feet to extend creating potential parking lot hazard
System needs regular lubrication or it can seize up
System will drag if you forget to secure it before travel
Not as fast to deploy as a bumper step system
Model Information:
Torklift International Stow N' Go
MSRP: $431.99 (3-step) to $584.99 (5-step)
Warranty: Lifetime Warranty
Torklift International
Phone: 800-246-8132
Request a Torklift Brochure
Web: torklift.com
Quality, Customer Service, and Long-Term Reliability
Truck Camper Magazine inspects all reviewed truck campers and gear for design, material, and quality issues and reports what we find.  However, since Truck Camper Magazine reviews only brand new truck campers and gear, our reviews do not address long-term quality, customer service, or reliability.
To learn about a brand's long-term quality, customer service, and reliability, Truck Camper Magazine recommends talking directly with truck camper and gear owners at truck camper rallies and online via truck camper forums and truck camper owners groups.
Please be sure to balance your gathered feedback across multiple sources including direct correspondence with the truck camper and gear manufacturers and your closest truck camper dealers.  If you are new to truck campers, please start in the Newbie Corner.