Finally, the 4800-HD features all of the updates Happijac announced including zinc plating for corrosion resistance, built-in wiper systems to prevent water intrusion, upgraded powder coating to improve durability, and higher tolerances for quieter operation.  For more information on these updates, see, "Happijac Announces Next Generation Jacks".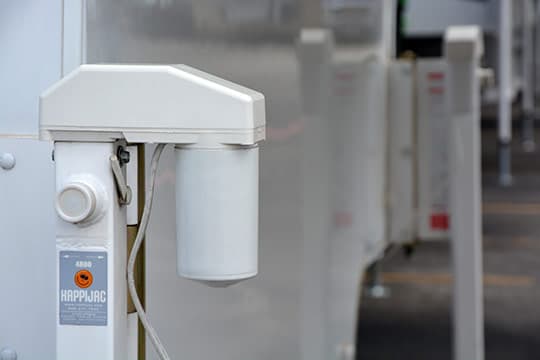 Above: The Happijac 4800-HD on a 2014 Adventurer 116DS
Adventurer Manufacturing was the first to employ 4800-HD jacks for their Eagle Cap 1160 double-slide and 1165 triple-slide.  They've been featured on those models and the Adventurer 116DS double-slide ever since.
The Happijac 4800-HD was announced in a TCM article cleverly titled, "Happijac Announces 4800 Heavy Duty Jack System".  Put bluntly, the 4800-HD is Happijac's tour-de-force camper jack, and their state-of-the-art camper jack statement product.
Gary Presents Happijac at MATCR 9
Every year, Ron and Michelle Humphress, Founders of the Mid-Atlantic Truck Camper Rally, host what has to be recognized as the biggest truck camper rally of all-time.  They also put together a calendar of events including wild games, gluttonous feasts, and a possibly quite dangerous fireworks show.  Despite the expanded waist lines and risk of singed eyebrows, it's always one heck of a good time.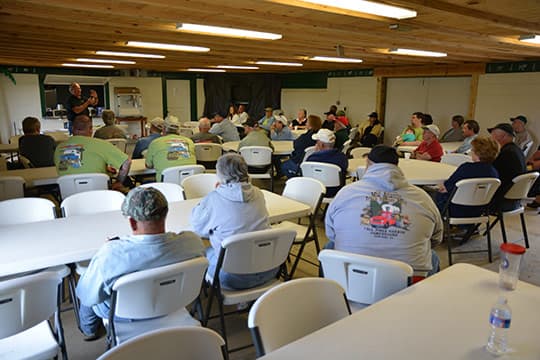 Above: Gary's Happijac seminar at the Mid-Atlantic Truck Camper Rally was well attended
On the docket this past year was a presentation by Gary about Happijac products.  Now it takes a brave soul to fly-in, walk-out in front of rally-full of truck campers, present your wares, and take questions.  Truck campers can be quite analytical, and all too eager to wrestle any technical subject to the ground.  With his decades of experience at Happijac, Gary was more than up to the challenge and quickly earned the respect of the attendees.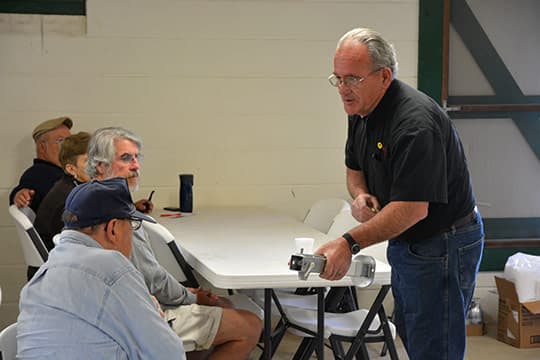 Nearly all of the questions Gary took are covered in previous Happijac articles including, "Maintaining Happijac Tie-Downs and Turnbuckles" and "Maintaining Happijac Camper Jacks".  He also showed the audience the internals of the 4800-HD.  For detailed information about the Happijac 4800-HD, check out, "Happijac Announces the 4800 Heavy Duty Jack System".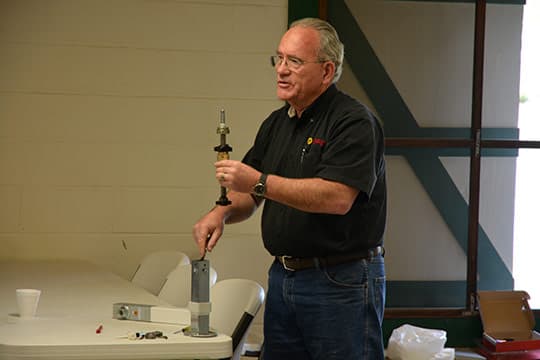 When Gary concluded his presentation, he announced that he would be installing the 4800-HD jacks on the Goode's Okanagan.  A few minutes later, we were all gathered around the Goode's truck camper ready to watch Gary's install.
Installing the Happijac 4800-HD Jacks
The Goode's 2008 Okanagan 117DBL had Happijac 4500 jacks installed from the Okanagan factory.  The motor assembly on the 4500 are identical to the motor assembly on the 4800-HD, so the existing motor assemblies were used for the 4800-HD installation.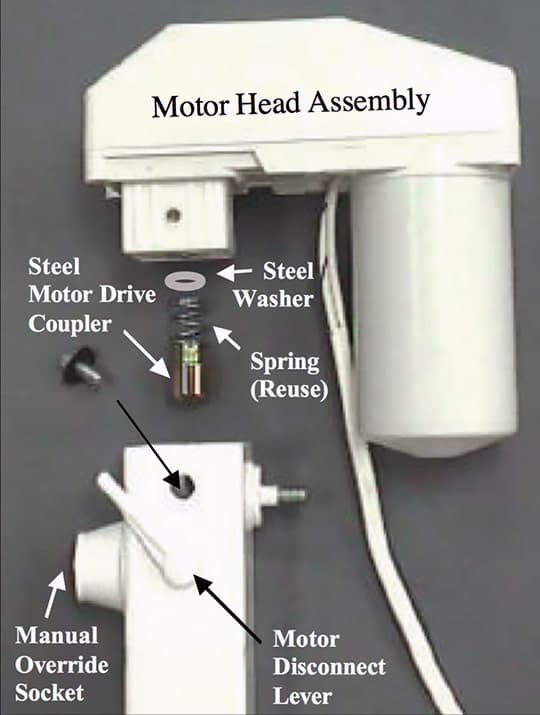 Above: Happijac's diagram showing the assembly of a Happijac camper jack and a Happijac motor assembly
The process of installing the Happijac 4800-HD was relatively straight forward.  Gary started by removing the 4500 jacks from their Happijac Z-brackets using a 9/16" wrench.