Truck Camper Magazine reviews a Bigfoot 25C10.4, a hard side, non-slide, dry bath, long bed, two-piece fiberglass truck camper.  Is this flagship non-slide fiberglass truck camper worth its premium price?

Click here to read Bigfoot's response to this review.
"We just shipped a Bigfoot 25C10.4 to A&M Services in North Carolina.  It should be there in less than a week.  It has everything you're looking for."
The voice on the phone was Grant Bilodeau, President of Bigfoot Industries.  We were eager to review a Bigfoot truck camper featuring the new Bigfoot updates Grant was about to debut in Truck Camper Magazine.  The timing and location of the 25C10.4's arrival at A&M Services was perfect – at least for us.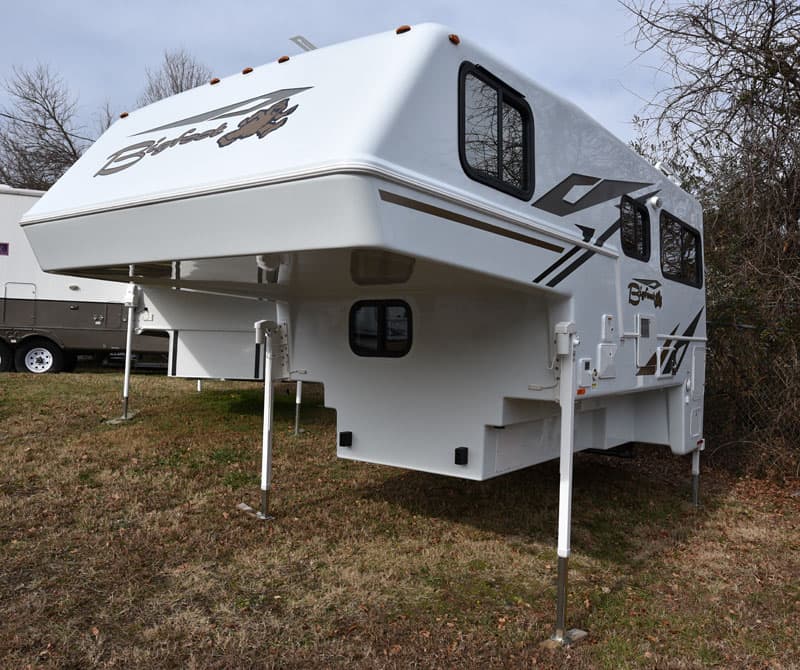 "Hello, Mark?  It's Gordon White from Truck Camper Magazine.  Would it be possible for us to visit A&M Services the day before New Year's Eve and get access to the Bigfoot 25C10.4?"  I felt really bad about this request, but the opportunity to review a factory-fresh Bigfoot was too good not to try.
"We can make that happen.  I'll have my son, Ben, come in."
Poor Ben.  He was a trooper meeting us that Saturday, opening the gate, getting us into the Bigfoot, and making sure we had everything we needed.  Thank you, Mark and Ben!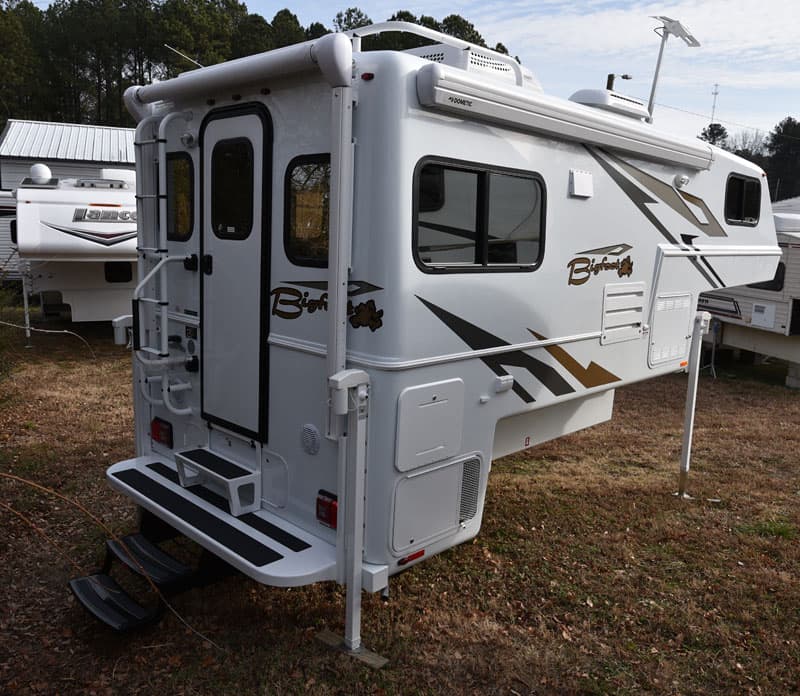 It's been almost ten years to the day since we first published a Bigfoot truck camper review.  In April of 2008, Jeff Johnston – a 30-plus year veteran of RV journalism – reviewed a Bigfoot 2500-series 25C9.4 truck camper for Truck Camper Magazine.  I vividly remember reading and re-reading that review and absorbing the language and overall presentation Jeff brought to the task.  Suffice it to say there were a lot of people pulling for our young start-up back then, and Jeff was a stand out.
Jeff's review left no question about his admiration for Bigfoot's quality.  In conclusion about the 25C9.4, he wrote, "It looks good outside, has functional living spaces inside, and displays the kind of quality control that gives the buyer a feeling that it's a good long-term investment. You can't ask for much more than that."  For those of you who know Jeff and his writing, that's very high praise indeed.
Ten years after Jeff's review, how would a 2018 Bigfoot 2500-series compare?  Has Bigfoot's legendary build quality and quality control stood the test of time?  The proof is always in the camper.  Let's dig in.
The Bigfoot 25C10.4 has a very open floor plan for a non-slide camper.  With the kitchen and the dinette in the back, there is a beautiful panoramic view.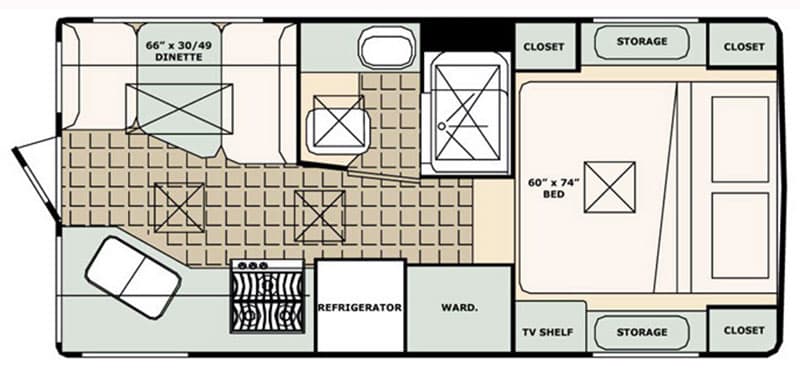 Standing just inside the entry way door you see the booth dinette on the driver's side, the kitchen on the passenger's side, the mid-dry bath and refrigerator in the hallway, and the cabover.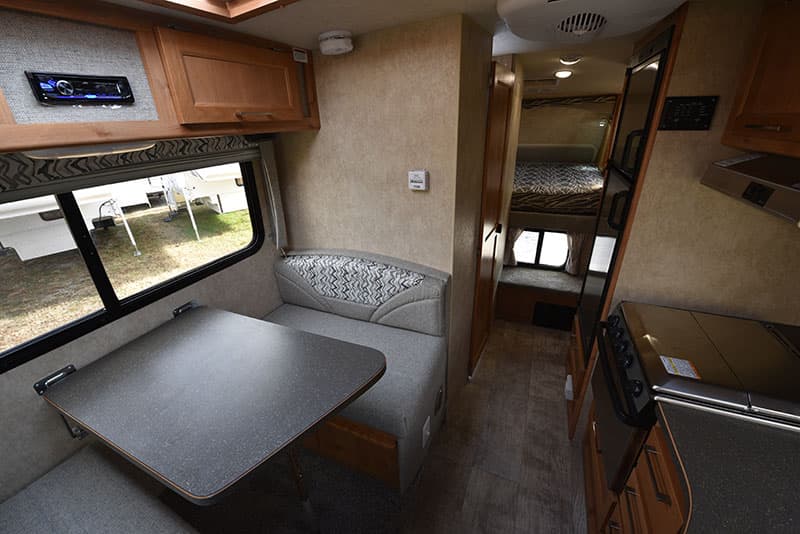 Bigfoot 10.4 Panoramic Camping View
While this is an attractive layout, the real magic of the Bigfoot 25C10.4 floor plan appears when you stand mid-ship and look toward the rear of the unit.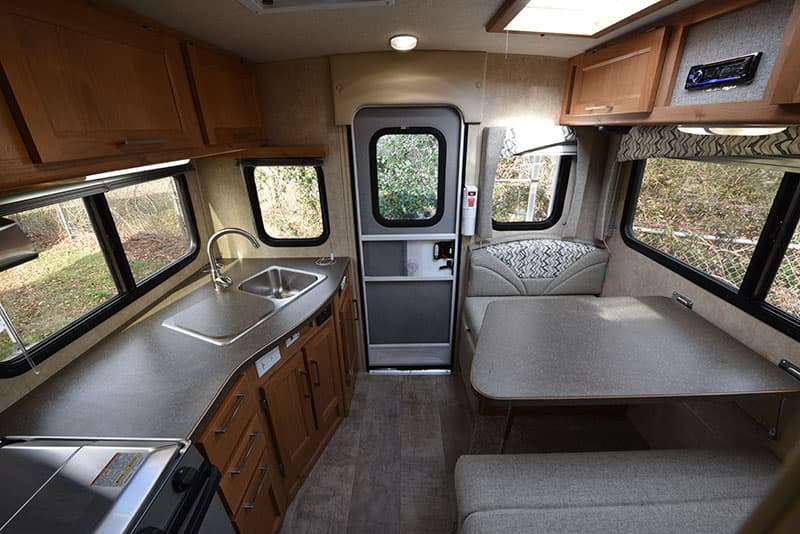 From there the Bigfoot 25C10.4 offers a stunning 180-degree rear panoramic view.  Just look at the open and amazing vision you will enjoy everywhere you go.
There are very few truck campers that offer this quality rear panoramic experience.  First, many hard-side truck campers have their bathrooms in the rear.  Second, most mid-bath models don't have five rear windows or use small windows that don't offer the view quality available here.
In our opinion, the Bigfoot 25C 10.4 has the best rear panoramic view available on any truck camper on the market.  This is a feature you'll enjoy everywhere you go.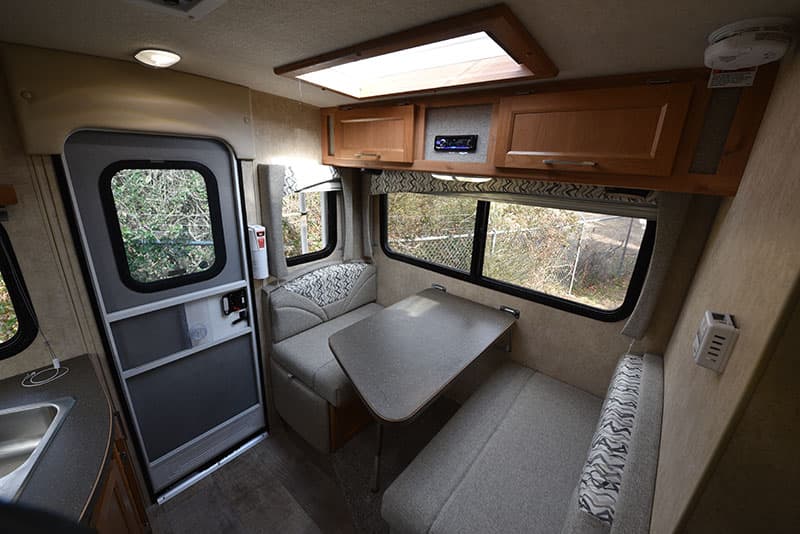 Imagine having breakfast, lunch, and dinner with this kind of outdoor light and visibility.  The large skylight over the dinette adds even more natural light.  Simply stunning.
Bigfoot 10.4 Dinette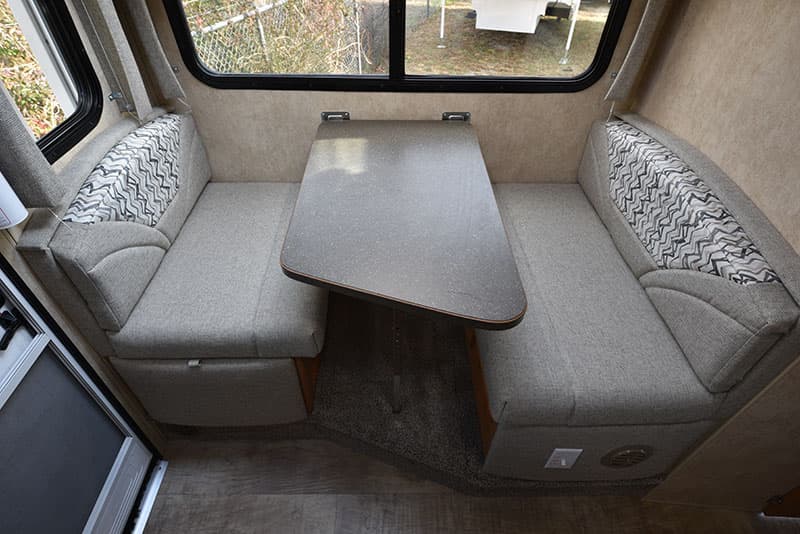 The driver's side booth-style dinette is asymmetrical with a smaller seat against the back wall and an angled table.  This design accommodates the doorway and the protruding kitchen counter and sink area.
Since the great majority of truck camper owners are couples; the shorter seat and angled table are smart compromises.  If you have more people, you could put a stool in the hallway, or just squeeze in.
I would be curious to see the table not angled.  I don't believe a full-size table would protrude much into the main living area.  As it is, the table is very elegant following the floor.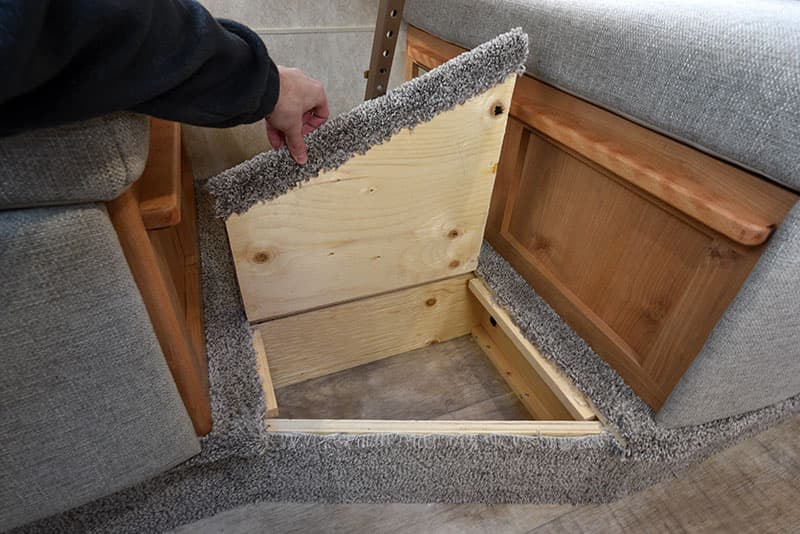 Since I already have you looking at the floor, check this out.  There's a pull-up storage nook where your feet rest!  I'm not sure what we would use this for, but I love the unique storage it offers.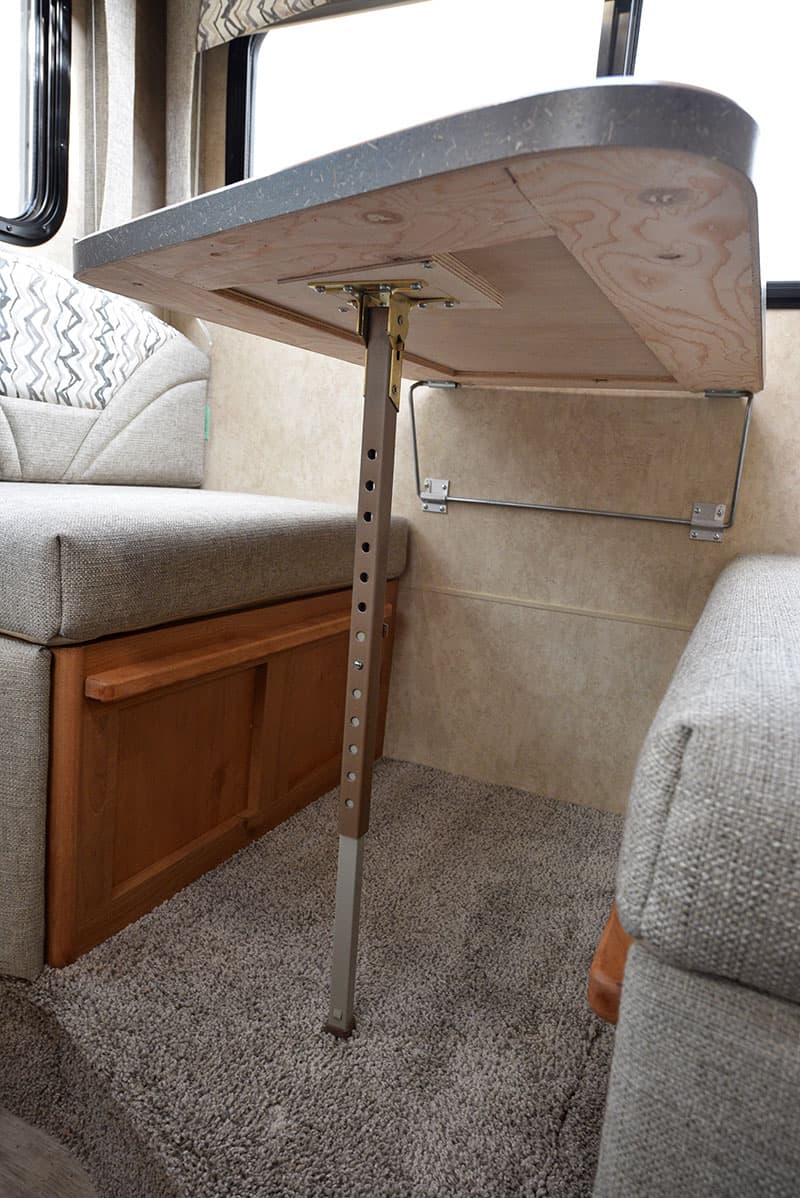 The tabletop and leg system has an adjustable post and trapped hanger design.  The advantages of this system are that (a) it's adjustable, and (b) the table is firmly held by the trapped hanger.  Bigfoot's trapped hanger system also allows the dinette table to be flush against the sidewall.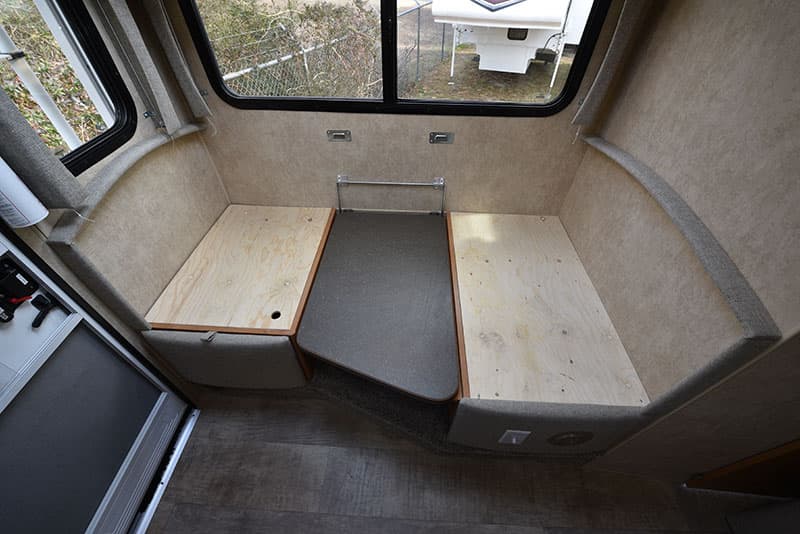 Here we are five seconds later.  As with the dinette set-up, the bed platform is asymmetrical.
The seating cushions assemble into a 5'5" (65 inches) bed.  This would be perfect for children but might be tough for taller adults who prefer to stretch out.  The narrow width probably also means the dinette-bed is a single-person bed only.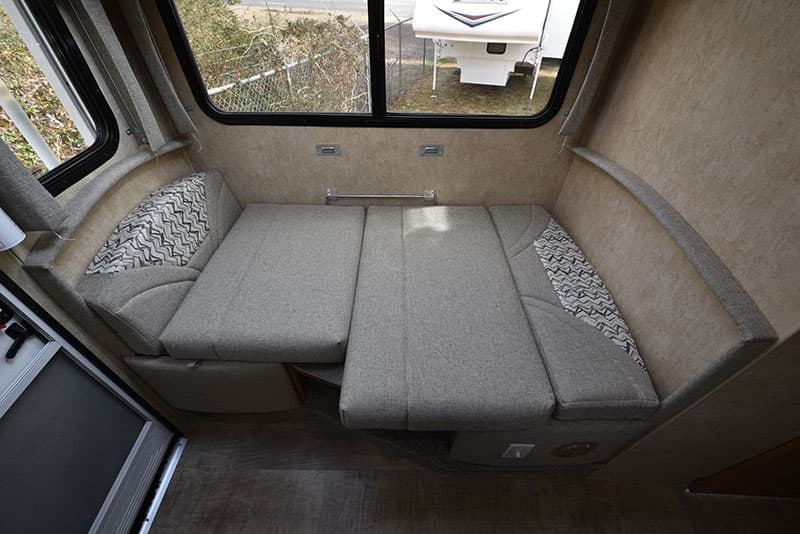 I believe this is how Bigfoot intends the bed to be made.  I would welcome Bigfoot to submit a Manufacturer's Comment about this arrangement since the cushions really didn't fit the bed.  Note the cushion at the rear of the dinette in the vertical position.
Before reassembling the dinette, I always peek to see what's under the seats.  Under the dinette seat against the rear wall is a pull-up platform that accesses the storage drawer and exterior storage compartment.
With the midway wood divider, this picture also shows you how much space two people could possibly have to sit on this side of the dinette.  It would be tight, but possible.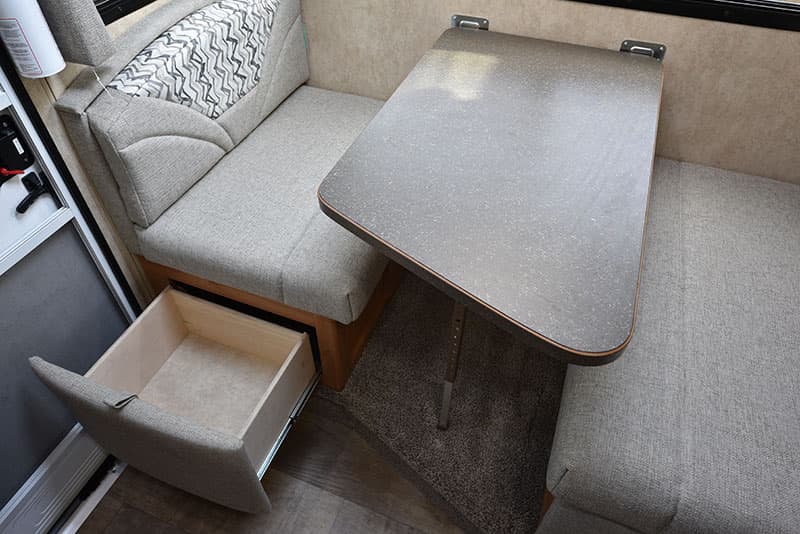 The aforementioned drawer pulls out to present a welcome storage opportunity.  The standard steel roller bearings are another good sign of Bigfoot's commitment to quality components.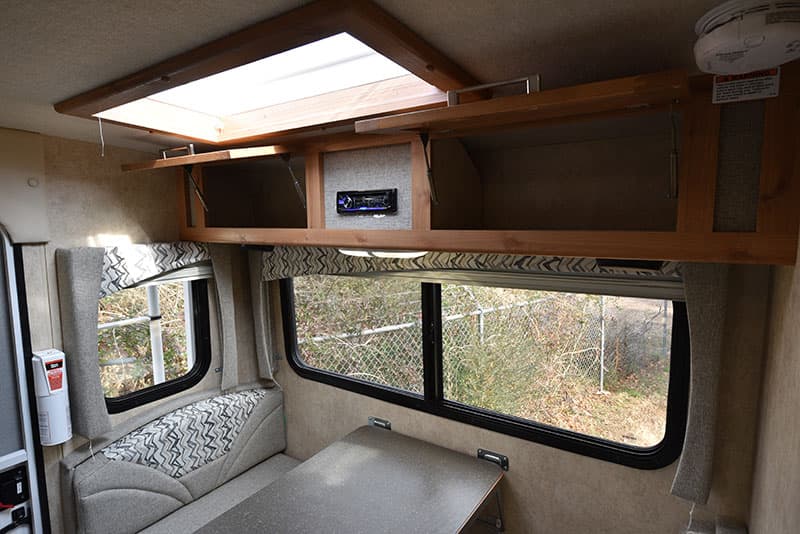 Above the dinette are two pull-up cabinets and a standard-size (single DIN) car stereo.  It's hard to see in this photo, but behind the stereo is a wide divider that consumes the middle space in the cabinet.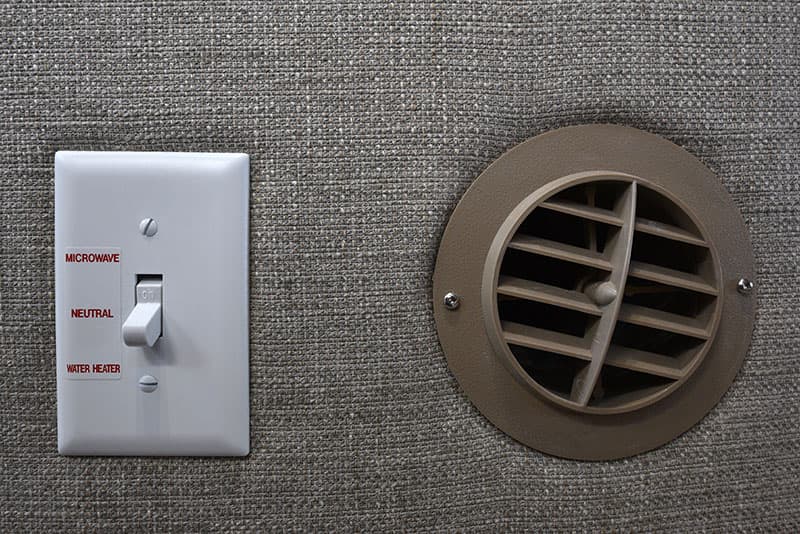 Before we move on from the dinette, there's one more detail that requires examination.
Beside the ducted heat vent, there's a switch located on the outside of the rear-facing dinette seat.  It's an on-off switch that presumably activates the 110-volt microwave and electric water heater when plugged into shore power (or running the optional built-in generator).
Usually, the microwave does not have a switch and the water heater has a dedicated switch (it actually does in the kitchen).  I am hoping Bigfoot addresses this in a Manufacturer's Response.  I'm sure there's a good reason for this switch, but I have no idea what it is.
Bigfoot 25C10.4 Stainless Steel Appliances
Immediately across from the dinette is the kitchen of the Bigfoot 25C10.4.  Again the windows and light bring out the beauty of the Canoe Birch cabinetry, stainless steel appliances, and cabinet pulls.  The clean and modern design on display here is just gorgeous.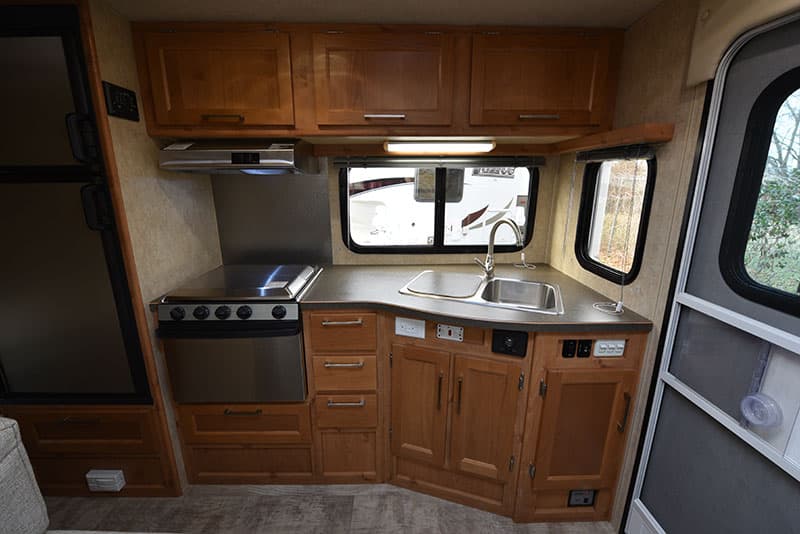 The stainless steel double sink and high faucet are exactly what most Truck Camper Magazine readers asked for in the Ultimate Camper Survey.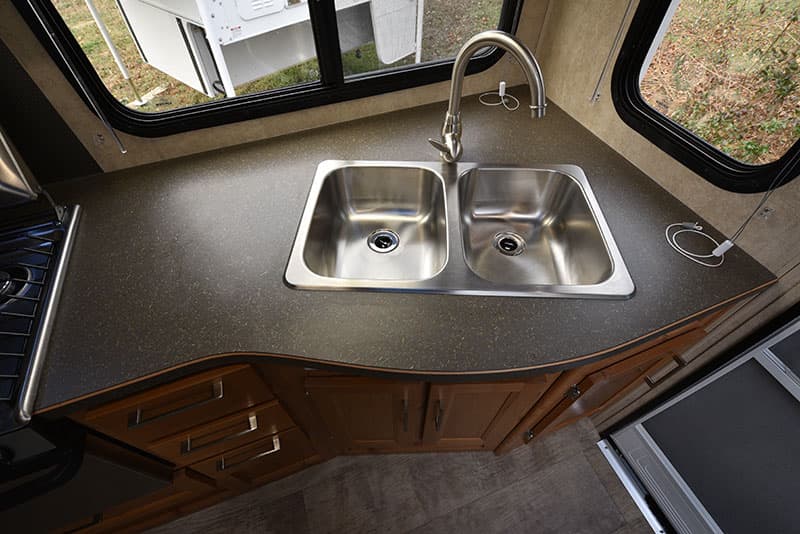 There's also a good amount of counter space for meal preparation, cooking, and dishwashing.  If you need more counter space, the dinette table is only a foot behind you.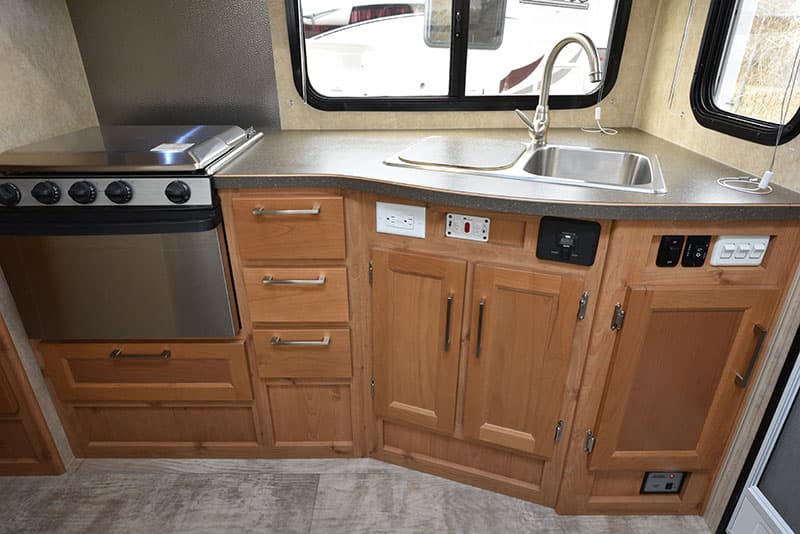 Bigfoot Kitchen Outlets and Switches
The lower cabinets present an impressive number of domestic-style storage options.  There's also a lot of functionality built into this space; 110-volt outlets, propane, and electric water heater switch, the optional built-in generator switch and hour meter, interior light switch, electric awning rocker, and exterior light switches.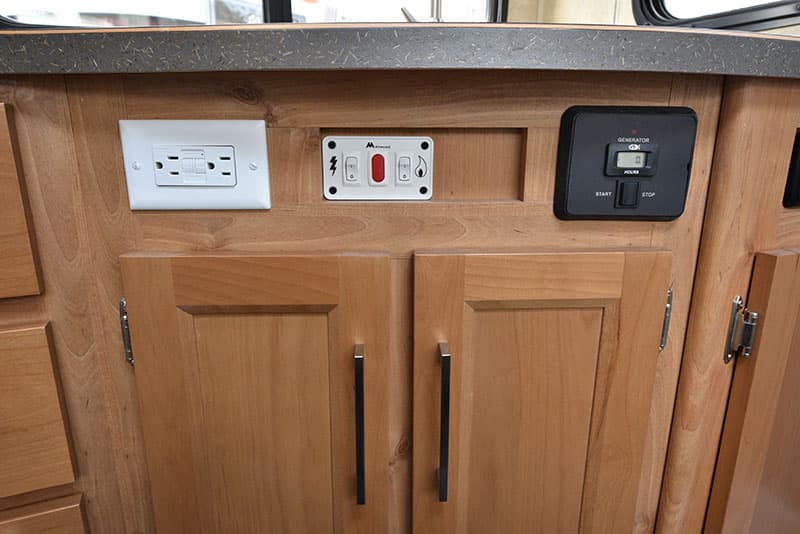 The easy access location of the water heater and generator switch is excellent.  Having a 110-volt outlet in the kitchen is appreciated, as is the flawless execution and quality.  What's missing here are 12-volt and USB outlets.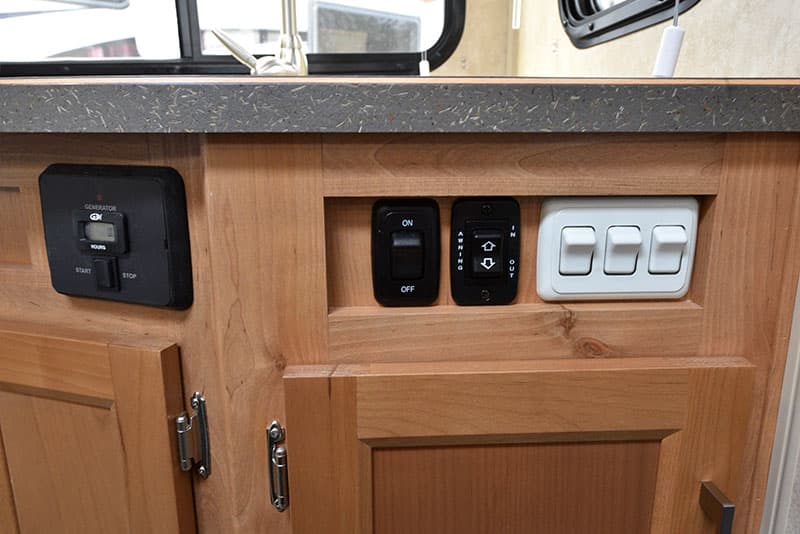 Just inside the entry door is a set of three white exterior light switches, the electric awning rocker, and an inside light switch.  The location of these switches and awning rocker is spot on, but I would like to see the light switches labeled.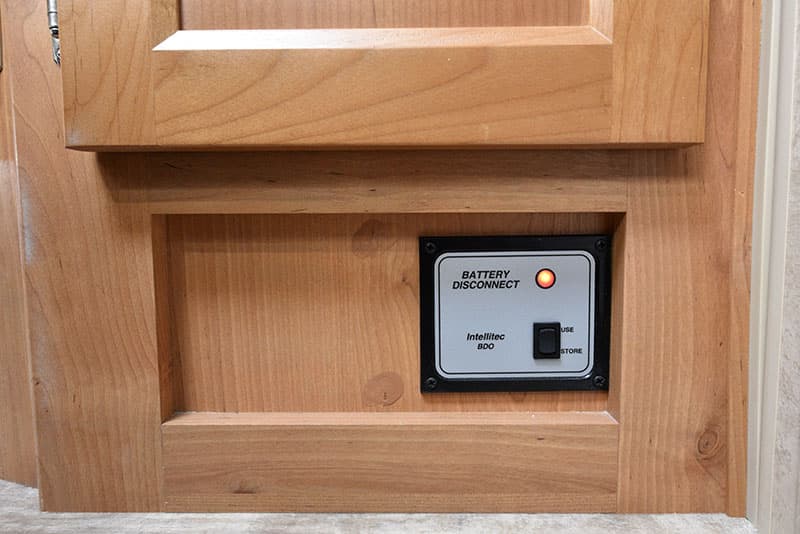 Battery Disconnect
Along the floor immediately inside the entry door is the battery disconnect.  In conjunction with a solar panel system, a battery disconnect is critical for keeping camper batteries healthy while a camper is winterized or not in use for extended periods.
Having the battery disconnect next to the door is both convenient and helps to remind the owners to engage this important function.  Having missed this critical step once many years ago, I can attest to the dreadful result of dead batteries.  Expensive mistake!
Quality, Fit and Finish
Under the sink, the cabinet presents an uneven floor.  Ideally, this would present a space for a trash can, or at least a flat-floored storage area.  While the flat floor may not be possible due to the complexity of this area, I would like to see Bigfoot provide a trash can that fits here.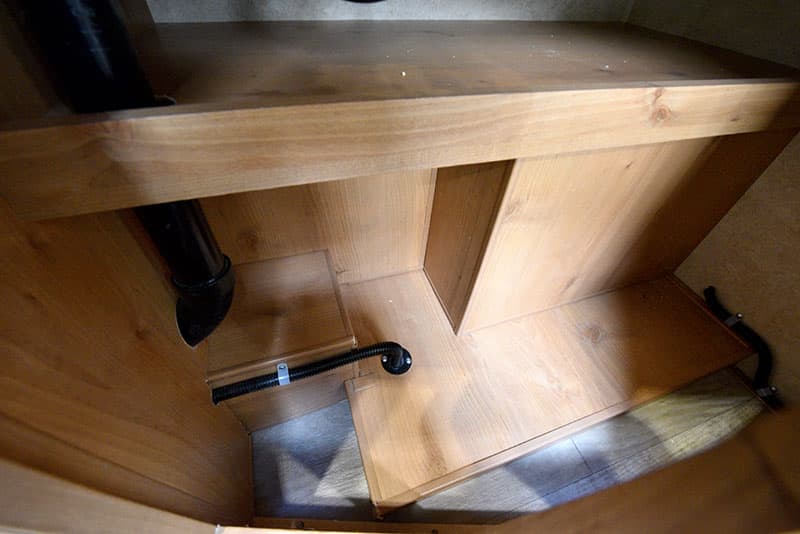 On second blush, the fit and finish in this cabinet is truly impressive.  The inside of this cabinet looks as finished as anything in the camper's interior.  Really nice work, Bigfoot team.
Everywhere we looked in the Bigfoot 25C10.4, the quality of the plumbing and electrical materials, components, and installation was top notch.  This camper was built to last by a team that truly cares about their work.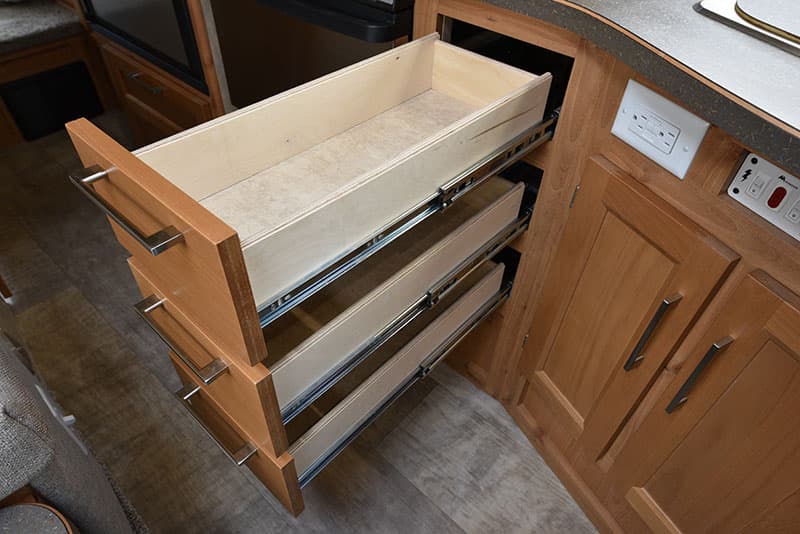 The three pull-out kitchen drawers are exactly what you want to see; the right storage in the right place.  It seems only natural that the top drawer is silverware, the second drawer is utensils, and the third drawer is for small kitchen items that need a home; oven mitts, medications, etc.
The quality of the materials and build show a keen awareness of the need to be both robust and lightweight.  Light-ply plywood.  Full-length steel roller bearings.  The right balance of heavy-duty and efficient.  Well done.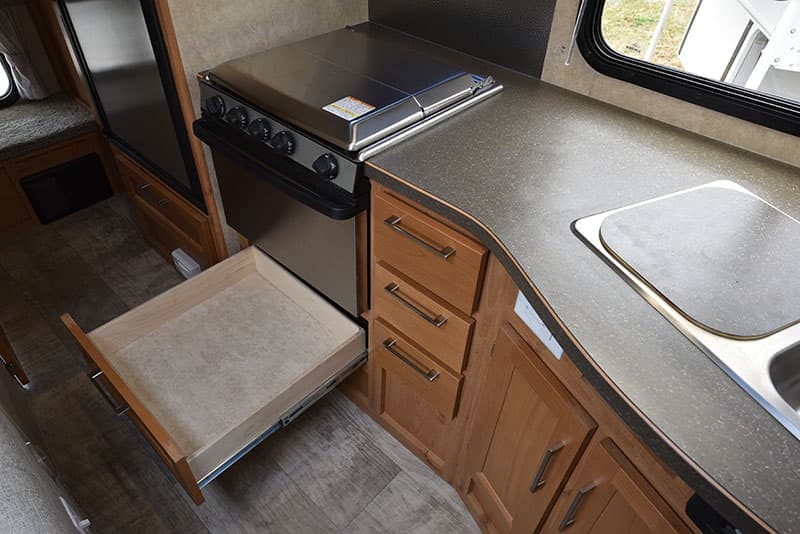 Kitchen Storage
Under the oven is a huge drawer perfect for shallow pans, plates, and/or dry foods.  The available storage in this kitchen is fantastic.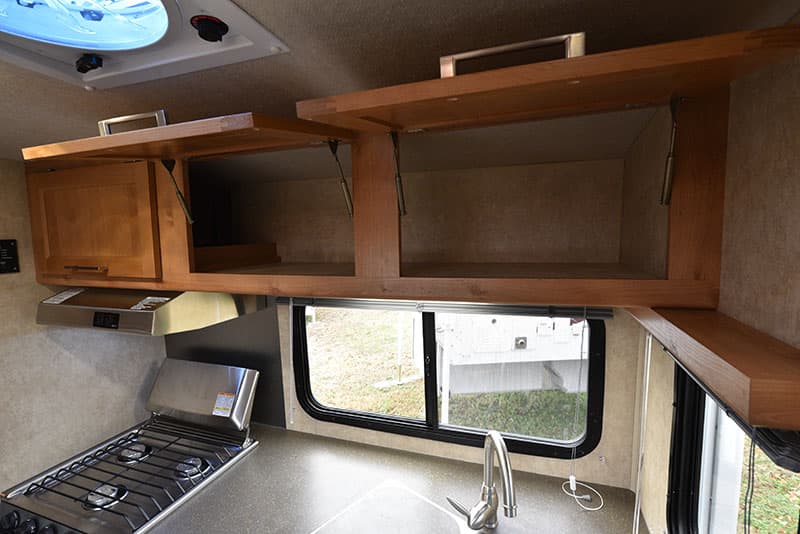 Above the counter are two large pull-open cabinets begging for dry foods, plates, and dishes.  The cabinets are firmly held in place with stainless steel gas struts.
Kitchen Appliances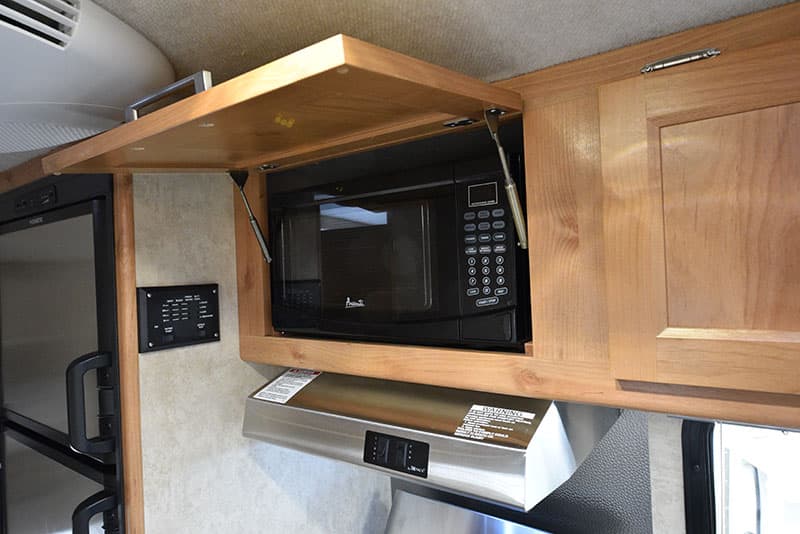 The third upper cabinet contains a microwave.  It might not be everyone's design choice, but having the microwave behind a cabinet certainly gives the kitchen a more finished look.  Besides, the black microwave would throw the stainless appliance aesthetic if it weren't neatly tucked away.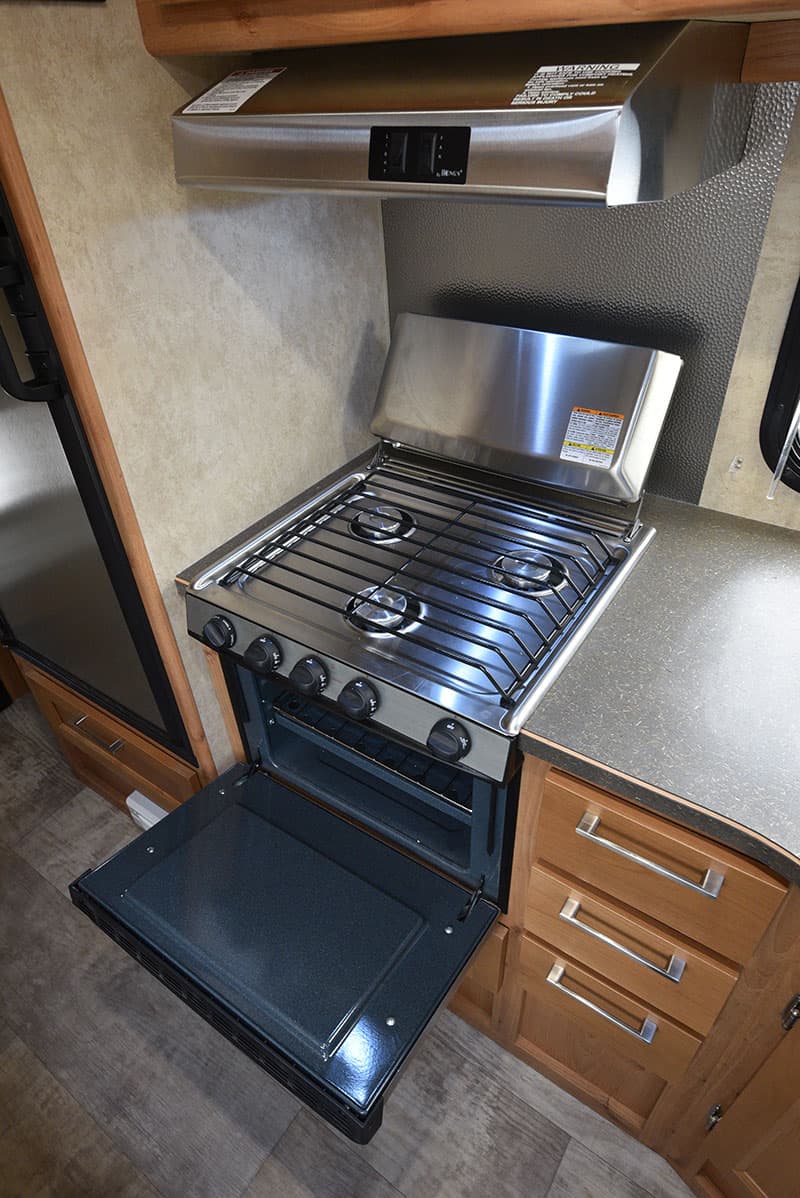 Speaking of which, the stainless range hood, cooktop, and oven are a knockout.  Bigfoot updated their appliances to stainless steel for 2018 and they definitely enhance the already modern and refined interior.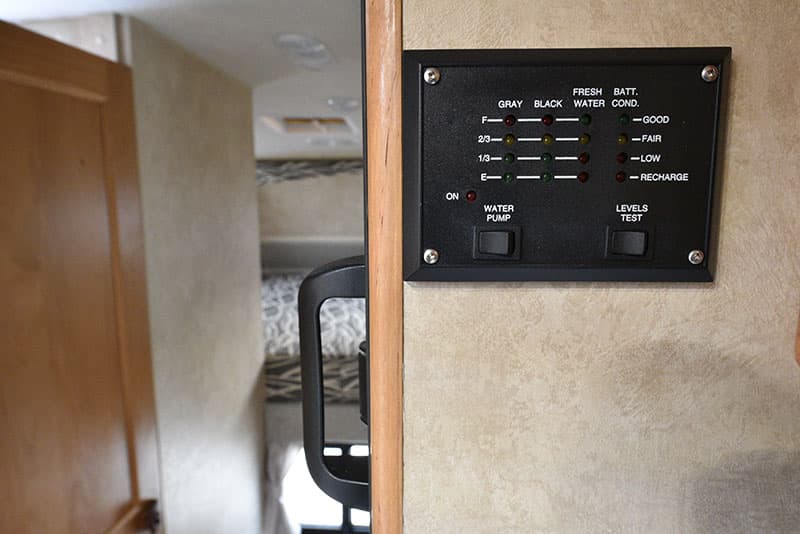 Bigfoot Camper Tank Sensors
On the forward-facing wall before the hallway is a panel with the tank monitor, battery monitor, and water pump switch.  This is a good central and eye-level location for this important feature.
Since the 25C10.4 is nothing less than a high-end luxury truck camper, I would like to encourage Bigfoot to move towards more accurate tank sensors.  For example, SeeLevel II tank monitors are digital and significantly more accurate than notoriously imprecise traditional RV tank sensors.  Maybe a 2019 update?
Dometic Refrigerator
The Bigfoot 25C10.4 features a six-cubic foot Dometic refrigerator and freezer.
This is the same brand and size refrigerator in our project camper and we are able to camp for a week to ten days with the available refrigerator and freezer storage.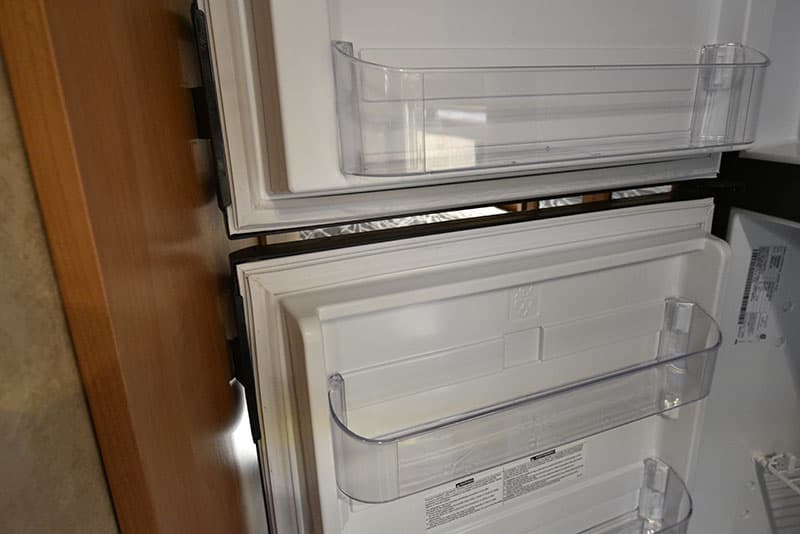 The only issue I have with the refrigerator is its location.  When the door is open, it swings across the hall and impacts the dry bath's door.
To be fair, the door opens more than enough for day-to-day use.  Owners will also naturally adapt and not open the refrigerator too wide.  In truck camper design, everything is a compromise.
Bigfoot 25C10.4 Bathroom Critique
I distinctly remember the first time Angela and I saw the dry bathroom in a Bigfoot 25C10.4.  It was July of 2007 and we were at Camping Country RV in Fountain, Colorado.  We instantly loved the layout, but the dry bath completely threw our socks out the window.  This dry bath is in a molded clamshell fiberglass non-slide truck camper.  Holy cow!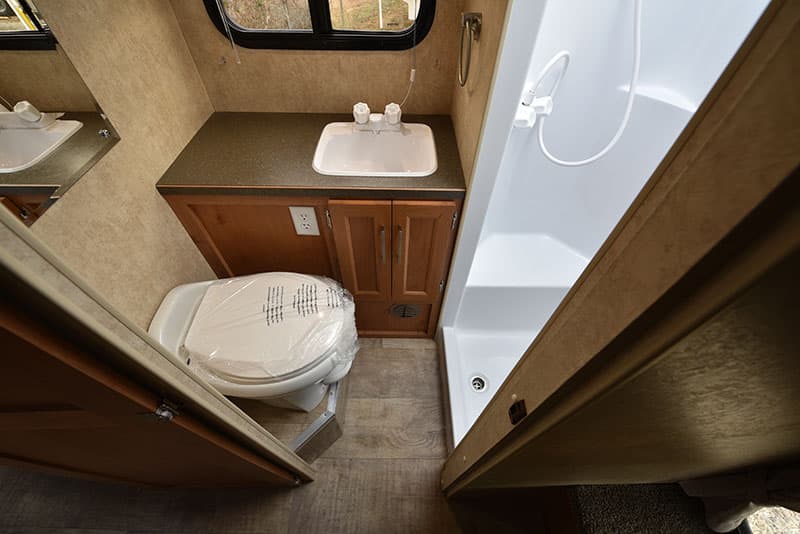 Well, that impression hasn't changed.  Eleven years later our socks went clear out the window, across the street, and on some guy's lawn.
Truck Camper Bathroom With A Window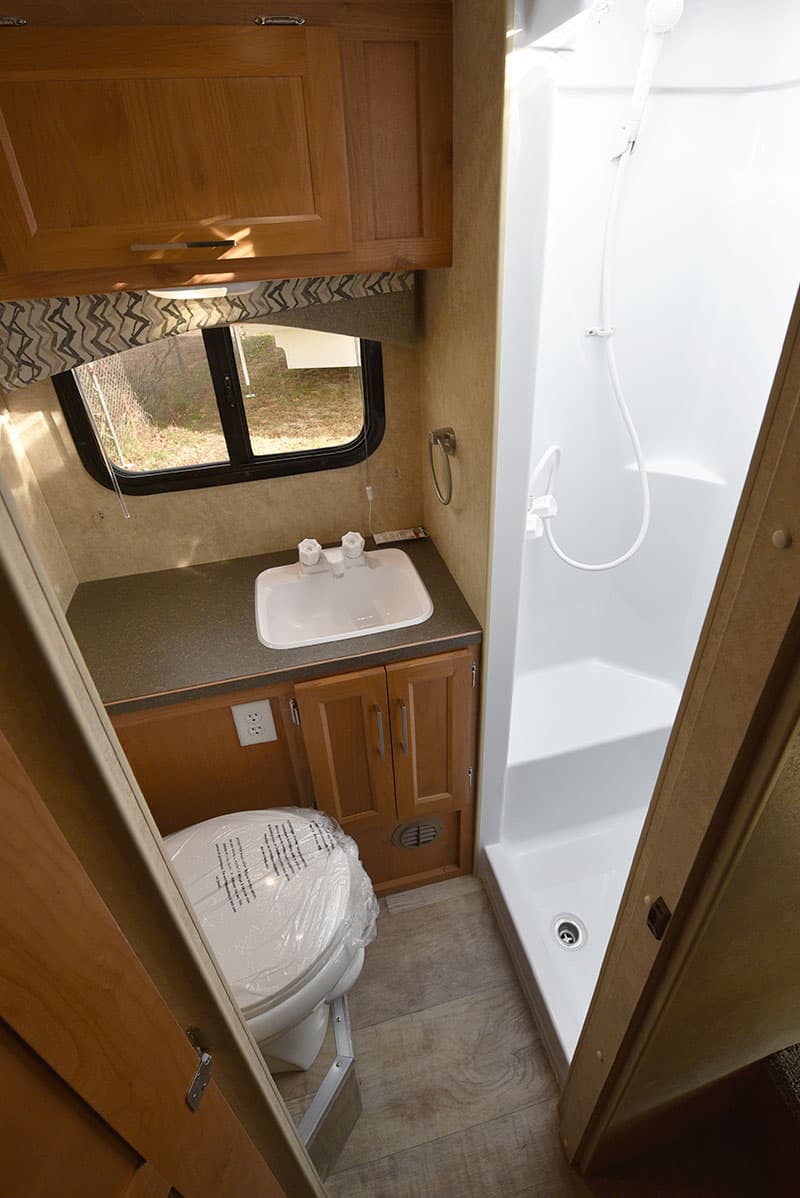 Of course, that wouldn't even be possible if this stunning dry bath didn't have a big window.  Not only is this dry bath as big as dry baths in some multi-slide truck campers, but those campers rarely, if ever, have a big window.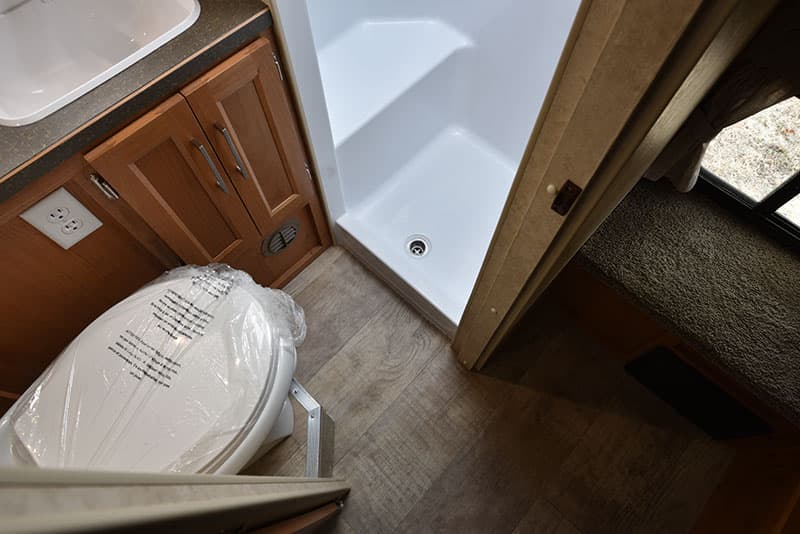 Bigfoot 10.4 Fiberglass Shower Stall
The one-piece molded fiberglass shower stall is as good as it gets.
Also, note the ducted heat and the continuation of the stainless cabinetry pulls.  Ideally, the bathroom sink and faucet would also be stainless to match the new decor.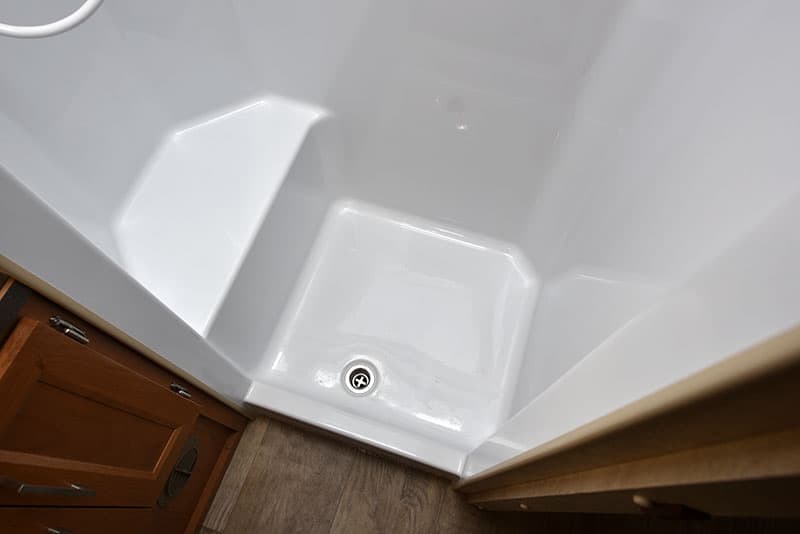 Some manufacturers have gone to multi-piece plastic shower floors, walls, and ceilings.  That's fine to control cost and decrease weight, but nothing beats a one-piece molded fiberglass shower stall for quality and durability.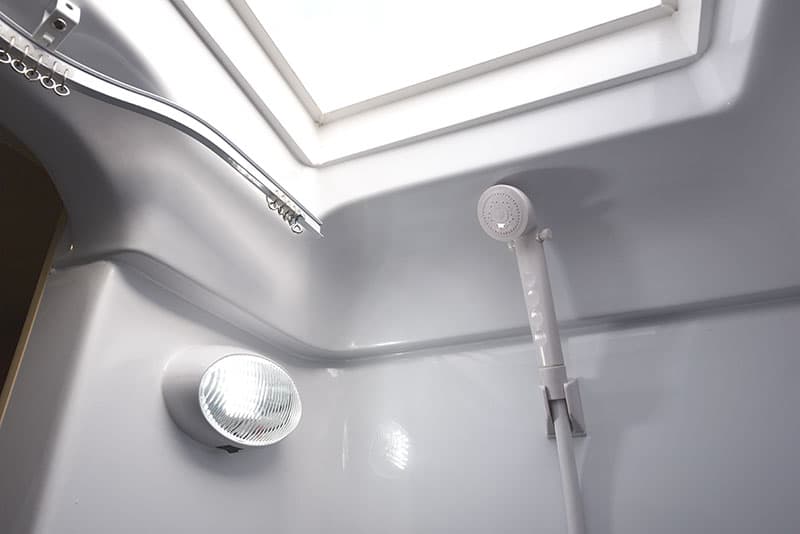 Plus, the white gel coat fiberglass looks better and is easier to squeegee the water down the drain.
Bigfoot 10.4 Bathroom Counter Space
The counter space is awesome with space to put down toiletries and clothing when you get out of the shower.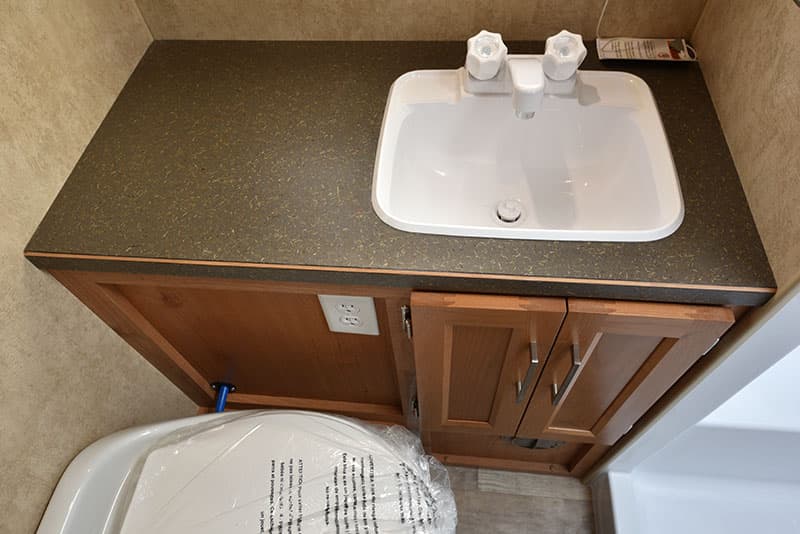 I know residential bathrooms with less functional counter space than this.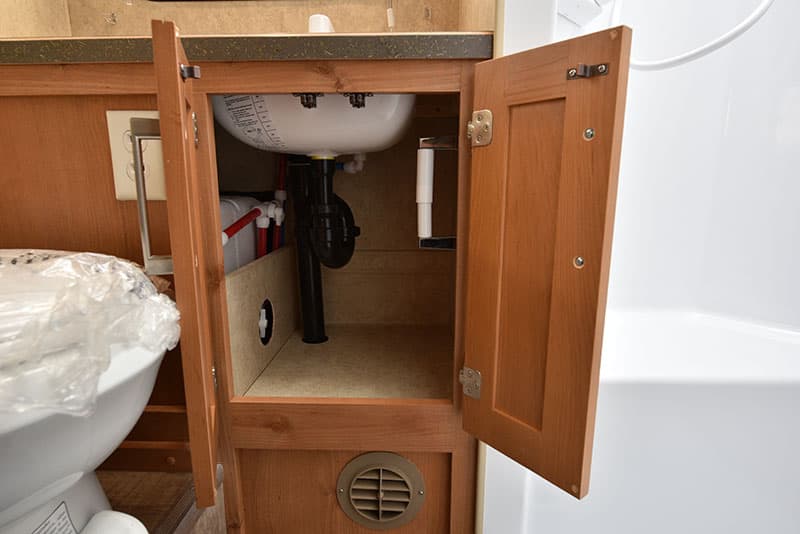 Remember when I said that we were impressed with all of the plumbing and electrical in this camper?  Well, here we go again.  The plumbing work under the bathroom counter is first-rate; high quality, well-installed, and beautiful attention to detail.
I would be tempted to move the toilet paper roll to the inside of the cabinet door facing the throne.  As it is, it might be a bit awkward to reach.
Water Heater Close To Shower For Immediate Hot Water
While you attempt to scrub that visual, notice that the water heater is located just to the left of the sink's plumbing.  Having the water heater that close to the shower means less water will be wasted waiting for the hot water to arrive.  In our camper, the water heater is on the opposite side from our shower and we waste a lot of water every morning waiting for the hot water to arrive.
Finally, that circular cut-out under the sink offers access to the bypass valve.  I love details like that!  And you should too because it makes the ownership experience so much better.  Bravo Bigfoot!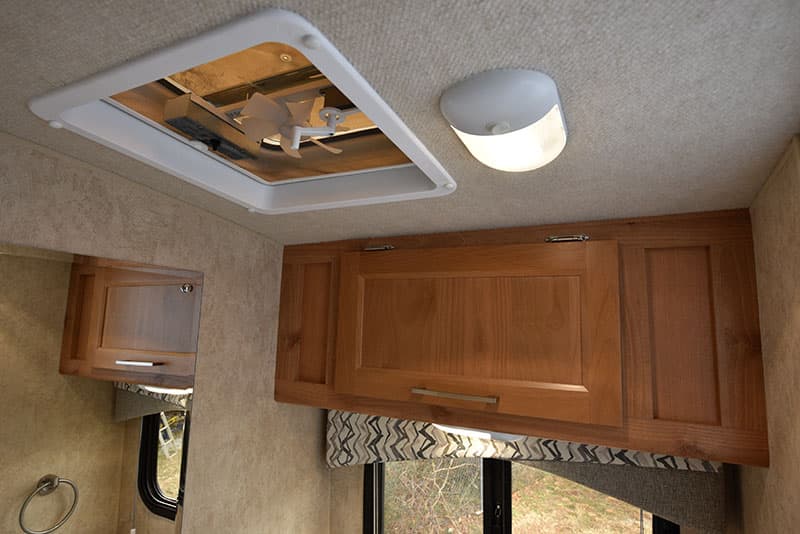 I'm well known for my requirement of a bathroom fan in a truck camper.  That box is checked.  This is one of our favorite dry baths in all of truck camperdom.  Incredible.
The very bathroom door that lives in fear of the swinging Dometic refrigerator door just barely misses the underside of the optional Dometic 11,000 BTU air conditioner.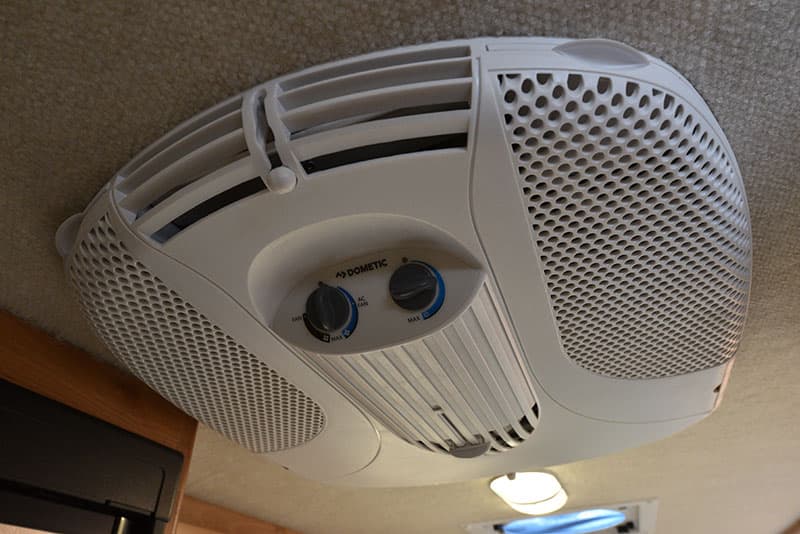 The Ceiling Height Could Be A Bit Low
This is a good time to mention that I was quite comfortable, at 6'3" tall, walking around inside the 6'4" interior height of the Bigfoot 25C10.4.  That's probably attributable to (a) the extra inch of headroom, and (b) slouching.  I passed under the air conditioner without issue and stood comfortably in the 6'6" shower (the shower skylight adds considerable headroom).
I know some folks assume Bigfoot campers are low inside.  That wasn't our experience with the 25C10.4.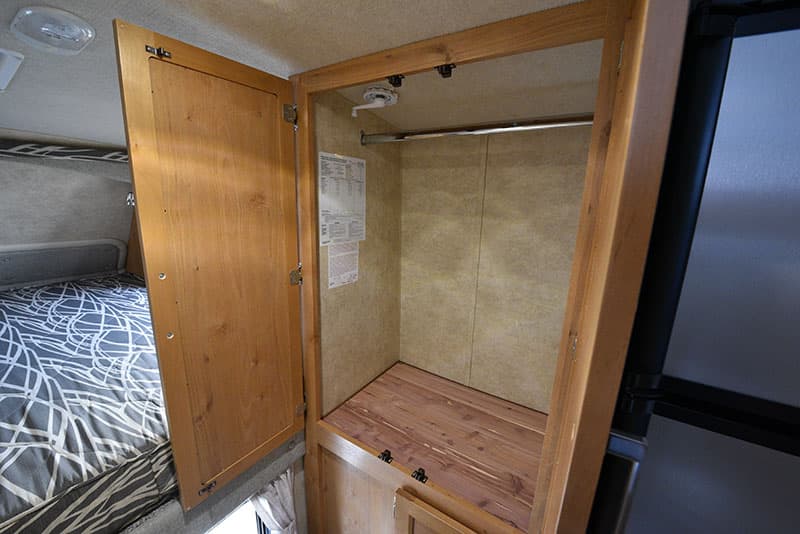 On the passenger's side across from the shower stall wall is a cedar hanging closet.  This is a generously sized closet for hanging shirts, coats, and other hanging clothes.
On the closet ceiling is the television antenna crank and directional adjustment dial.  The flat panel television mount is located on the opposite side of the wall.  With the cabinet door open, it would be difficult to see the television while making directional adjustments.
I would prefer to have the television antenna crank in the cabover bedroom area above the television.  I'd also like to see a no-crank King Jack antenna considered.  It's too easy to forget to crank an antenna down before leaving and drive around with your antenna up.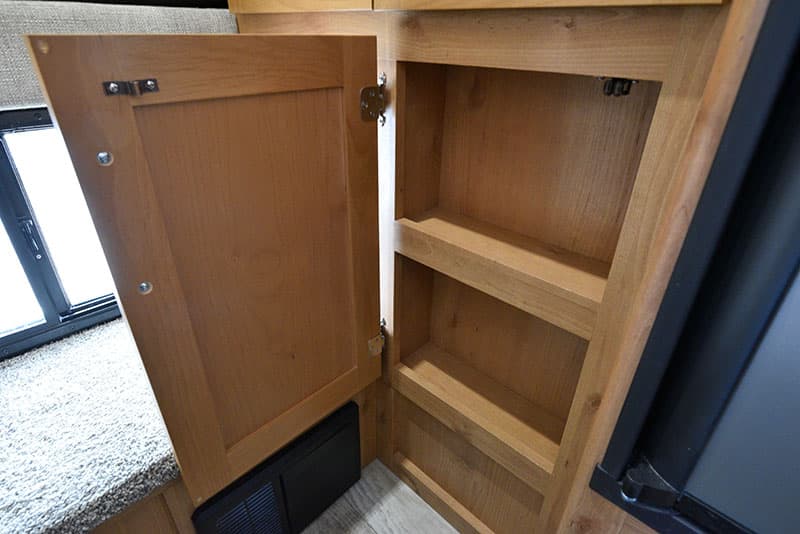 Under the cedar closet, there's a shallow two-shelf cabinet that might be considered a spice rack.  There's even a slight lip to keep items from spilling out.
Storage details like this are likely the result of the years and years of evolution and refinement the 10.4 has undergone.  I'd like to imagine a customer pulled into Armstrong, British Columbia one day with this mod, and the Bigfoot team said, "We can do that."
The Cabover Is Truly A Bedroom
The Bigfoot 25C10.4 bedroom is a bit closed off from the main living area of the camper by the large dry bath and hallway.  This gives the 25C10.4 a sense of having multiple separate rooms; like a house.  There's the cabover bedroom, the dry bathroom, and the dinette kitchen room.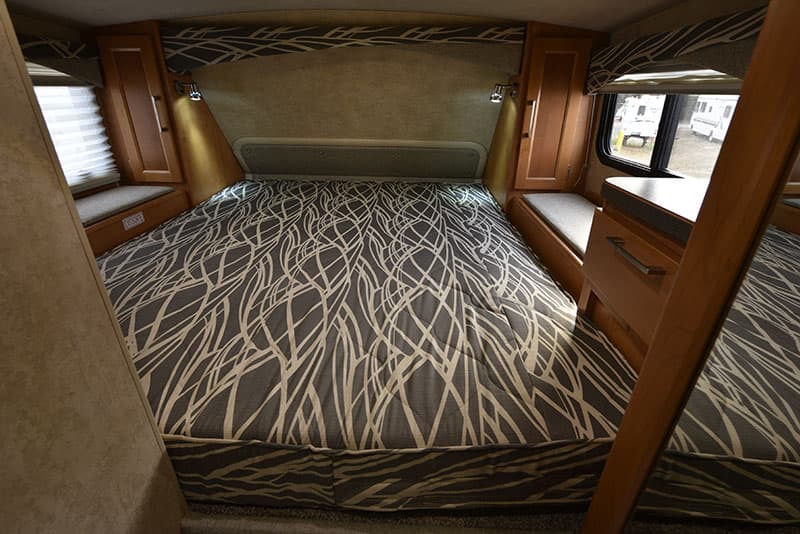 Some folks may not like this sense of separation, but it means one person can be sleeping in the cabover while another works on their laptop in the dinette.  There's just enough space between these two areas that sound and light have a chance to not be intrusive.  That is a rare thing in a truck camper.
The cabover itself is traditionally designed yet modern in its materials and execution.  The Canoe Birch cabinetry, stainless steel pulls, and tastefully neutral fabric and wallboard create an inviting aesthetic.  The storage is also well balanced on both sides with a hamper, front penguin storage, and bonus storage option on both sides.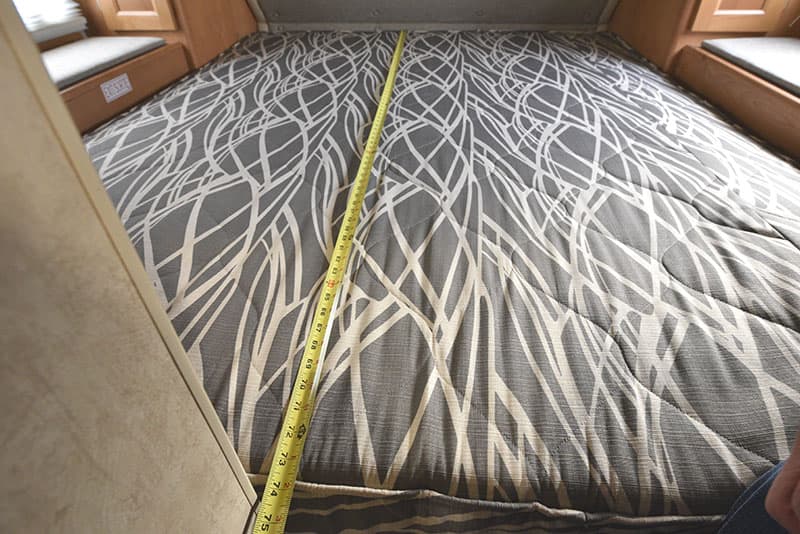 We have heard from readers who are concerned about the cabover bed length in Bigfoot truck campers.  When we measured the bed length in the Bigfoot 25C10.4, it was just under 74-inches (6'2").  Most truck camper beds are 80-inches long.
At 6'3", my feet would hang off the end of the cabover bed a little – if I fully stretched out.  Since I'm a curl-up side sleeper, this would not be as much of an issue for me.  However, taller folks who stretch out when they sleep should take note.
Bigfoot Bedroom Storage Is Abundant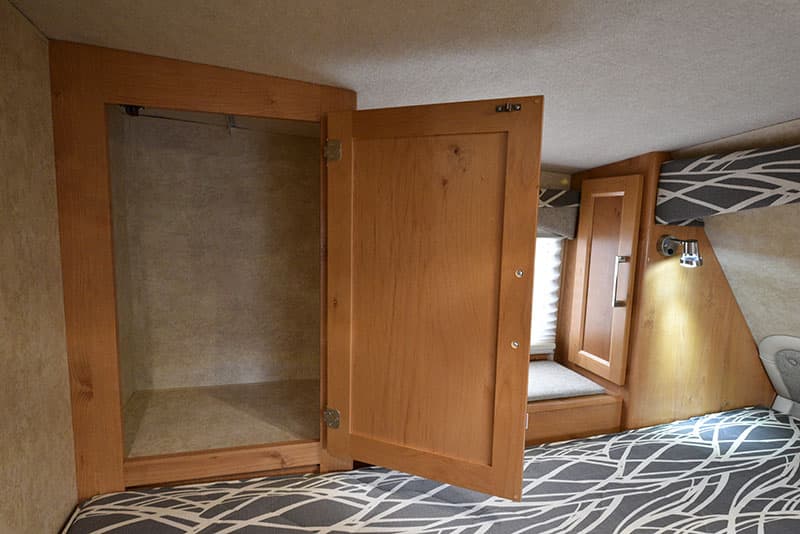 The bonus storage feature on the driver's side is a large storage closet.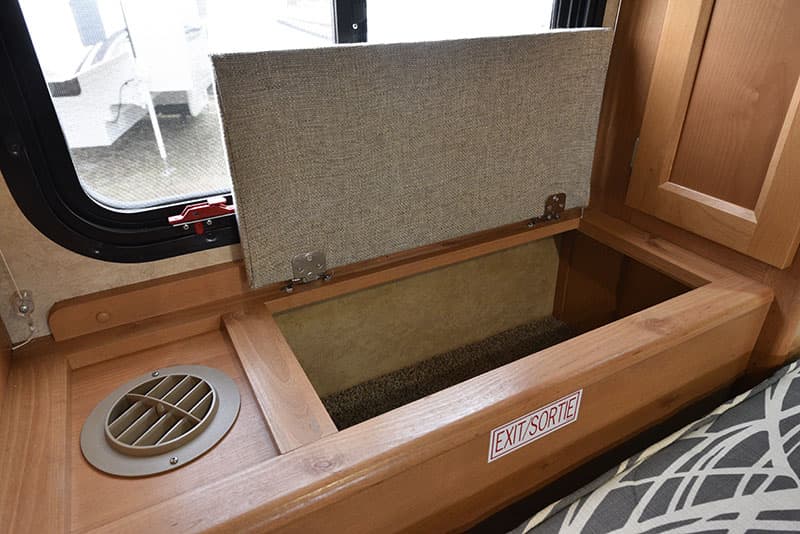 The driver's side hamper is partially consumed by a ducted heat vent.  In theory, this should help to avoid the all too common "warm living area" and "cold cabover" syndrome.
I would like to see the vent itself placed somewhere that doesn't sacrifice valuable hamper space, and potentially get things dropped into it.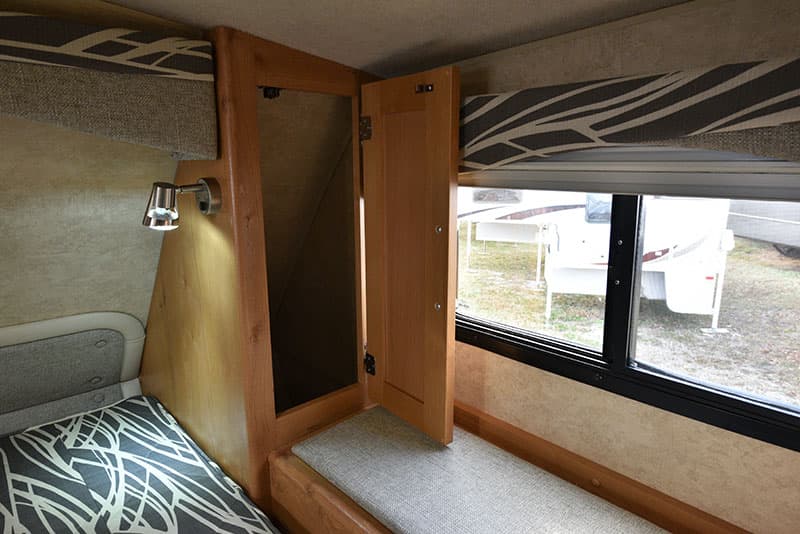 Both sides of the cabover front nose get penguins, so-called because they look like the flightless aquatic birds when stood up on the factory floor.  I did not make that up.
Penguin cabinets are very useful, but the typically deep floors and awkward space can be very hard to keep organized.  To address this, I would love to see these penguins with a mid-shelf and maybe a false floor for upper and lower storage.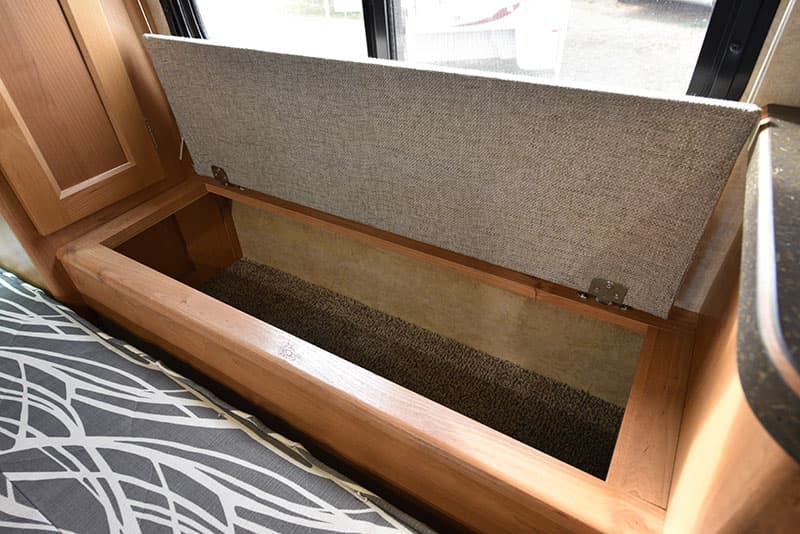 Now that's a hamper!  This is where most folks keep socks, underwear, belts, and books for nighttime reading.  I also want to point out the quality of the cabinetry finish one more time.  The fabric-covered lid is also nicely finished.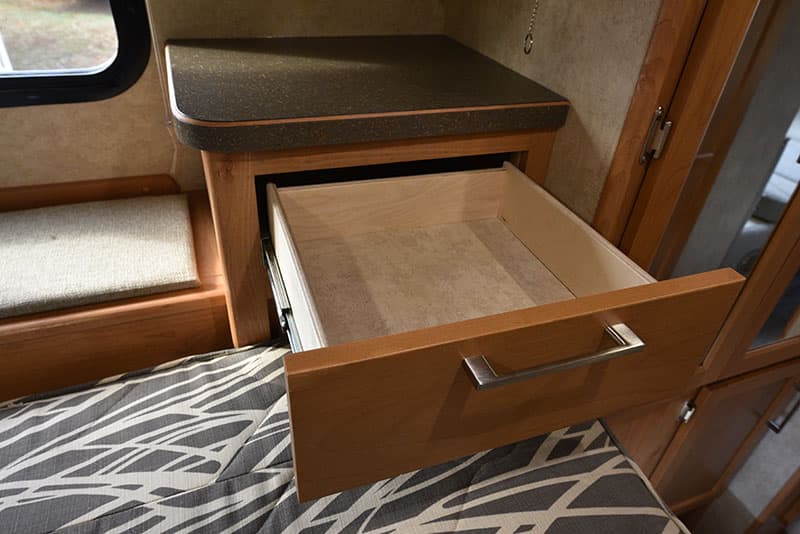 12-Volt and 110-Volt Outlets
The bonus storage on the passenger's side is a night table and drawer.  I can see the owners putting their smartphones here at night, and maybe a Kindle or iPad.  That's how we roll in 2018, right?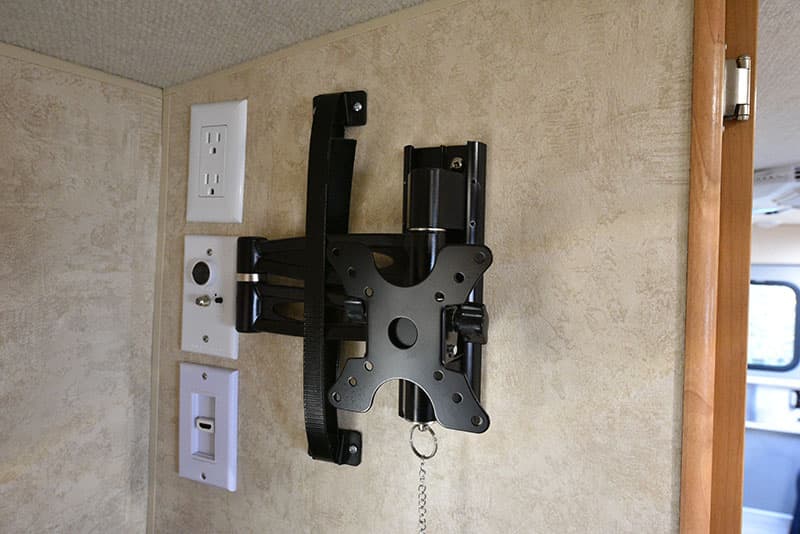 The television mount is designed to accommodate up to a 19-inch HDTV.  That's a decent size for a truck camper cabover.  You may be able to install a 24-inch television, but please measure first.
A Roof Vent Or A Fantastic Fan
Above the bed in the cabover, most truck camper manufacturers install either an insulated Heki skylight or a Fantastic Fan.  In this same spot, Bigfoot has a non-insulated vent.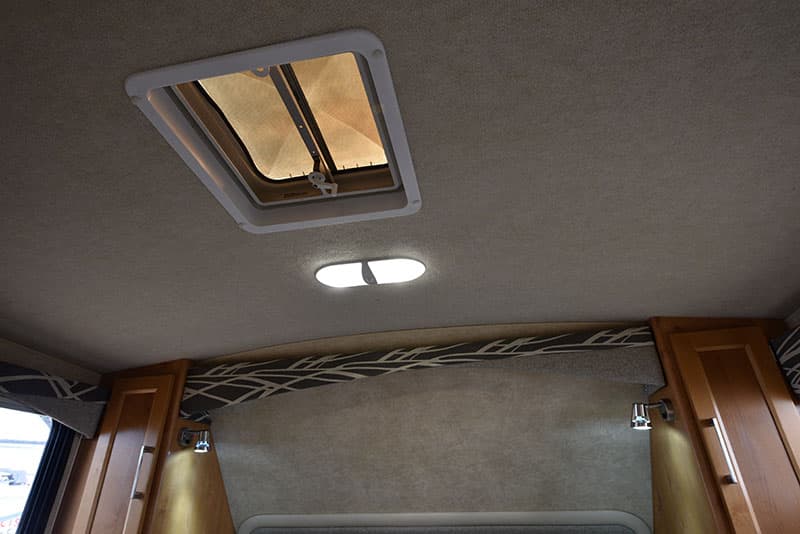 With the Fantastic Fan turned on in the main living area, and the entry door and windows closed, this vent would bring plenty of air through the cabover.  That said, most folks would probably prefer the option of a Fantastic Fan in the cabover.  Fortunately, that's an available Bigfoot factory option and should be easy to add after the fact.  A&M Services just didn't order it for this unit.
The Positives Of A Non-Slide Camper
As I wrapped up my review photography, I turned to look back through the camper toward the entry door and looked at the floor.
There are many among us who would never consider a non-slide truck camper.  Mostly this boils down to the incredible sense of openness slide-outs create by increasing the floor space.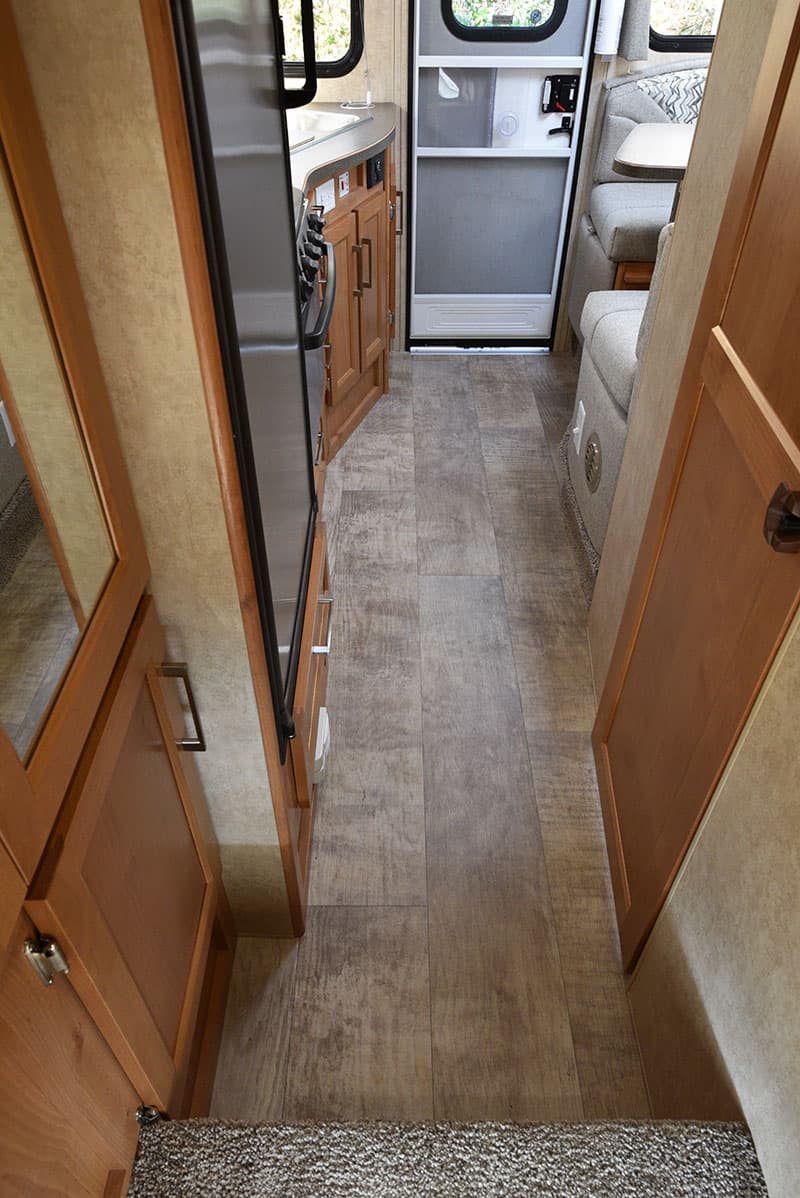 What's lost in this decision is what's lost.  Yes, you gain more floor space with a slide-out, but you lose cabinetry, countertop width, dinette width, and other interior features to allow clearance for the slide-out room and mechanism.  Then you gain camper weight, mechanical complexity, and maintenance.
The Bigfoot 25C10.4 is a breathtaking example of what's possible in a long bed, non-slide design.  Look at the booth-dinette, fully-featured kitchen, huge dry bath, storage upon storage, and nicely separated cabover.
What's missing?  Floor space.  And possibly a sofa or reclining chairs.  I'm not saying those features aren't possibly important, but that's it, folks.  This is one impressive luxury truck camper.
Weights and Specifications of the Bigfoot 25C10.4 Camper
While we have visited Bigfoot Industries in Armstrong, British Columbia three times over the past 11 years, it's been over 10 years (2007) since we conducted an official and thorough factory tour.  This is partially due to Bigfoot Industries post-recession hiatus, and partially due to Bigfoot's previous desire to be low-profile as they ramped up production.
| | |
| --- | --- |
| Specifications | |
| Dry Weight | 3,230 pounds |
| Wet Weight* | 4,275 pounds |
| Floor Length | 10'6″ |
| Overall Length | 17'11" |
| Width | 7'11" |
| Interior Height | 6'4″ |
| Exterior Height | 8'3″ |
| Center of Gravity | 50″ |
| Truck Type | Long Bed |
We have made a Bigfoot Industries factory tour a priority.  It's time.
In the meantime, we cannot confirm that Bigfoot Industries has onsite scales.  That stated the 3,230-pound dry weight provided by Bigfoot Industries is in line with our expectations for a long bed molded fiberglass truck camper.
Bigfoot 25C10.4 Weight Sticker
The exterior weight sticker on the rear of the 25C10.4 under review shows a dry weight of 3,090 pounds.  This is likely the base dry weight without options, not the dry with options weight of the camper.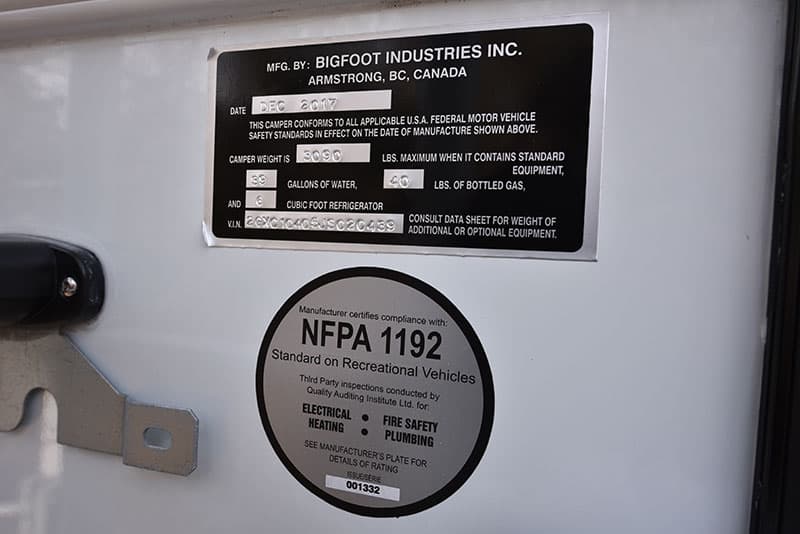 The 140 pound discrepancy between the Bigfoot Industries provided 3,430 dry weight and the 3,090 pound dry weight on the unit is a mystery.  We are hoping Bigfoot Industries can clarify this difference.  If Bigfoot has onsite scales, or certified scale tickets for the 25C10.4, they are welcome to include that information and/or weight tickets in a Manufacturer's Response.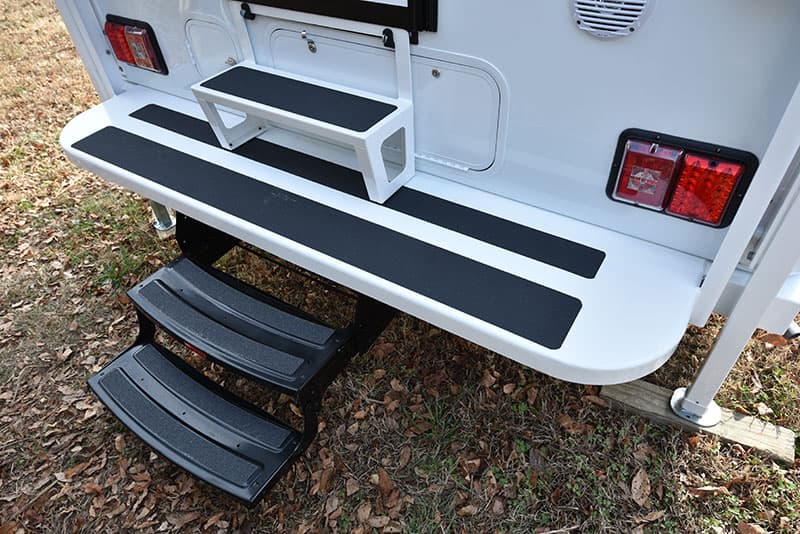 Even at 3,230 pounds, the Bigfoot 25C10.4 presents a lot of truck camper for the weight.  This is especially true given the impressive standard feature list including an aluminum rear bumper step (shown above), remote control electric jacks, 72-inch electric rear door awning with LED strip, 6-cubic foot 2-way Dometic refrigerator, microwave, 30,000 BTU ducted furnace, all LED interior lighting, and a porcelain toilet.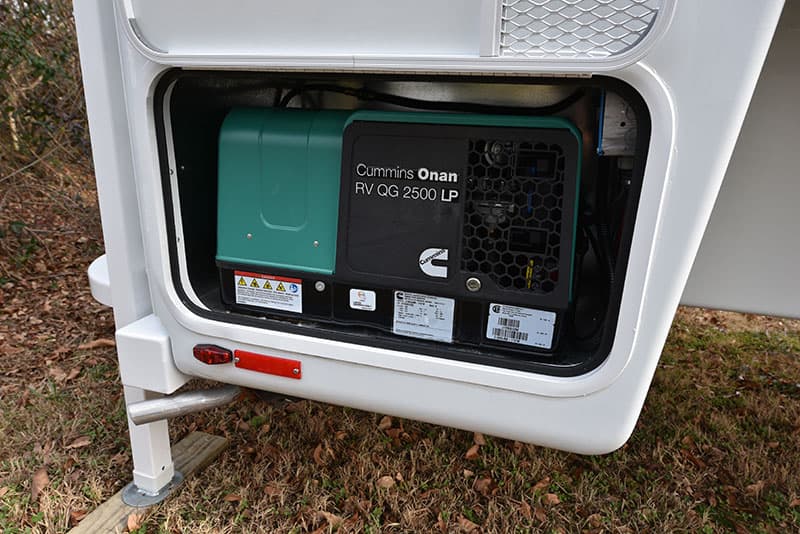 Optional Solar Panel, Air Conditioner and Generator
The Bigfoot comes standard with solar panel system pre-wire and roof air conditioner pre-wire, but a solar panel system (with up to two solar panels) and 11,000 BTU air conditioner are optional items.  Other options include a built-in Onan QG 2500 LP propane generator (shown above), and a wireless rear view camera system.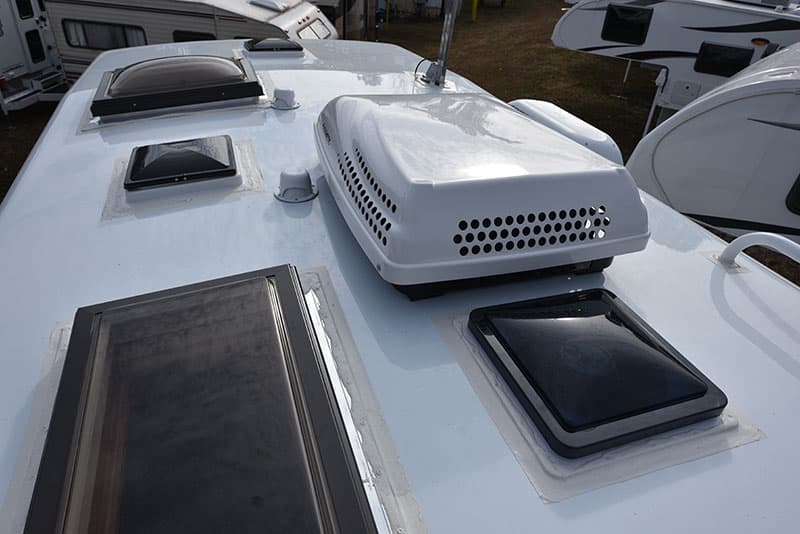 Above: The optional Dometic 11,000 BTU air conditioner on the roof.  Note the molded gel-coat fiberglass.
The interior height of the unit is 6'4".  This is in line with many other truck camper manufacturers, although some offer another few additional inches of ceiling height.  As previously stated, I stand at 6'3" tall and was comfortable walking around inside the unit.  Unless you're as tall as me and have perfect posture, or taller than me, the interior height should be more than adequate.
Center of Gravity At 50″
We are very pleased to report that Bigfoot marks the Center of Gravity (COG) on their truck campers.  We would like to see the COG sticker itself be moved to the visible exterior sidewall of the camper.  As it is, the COG sticker is placed on the underbody of the camper.  It cannot be seen once the camper is loaded.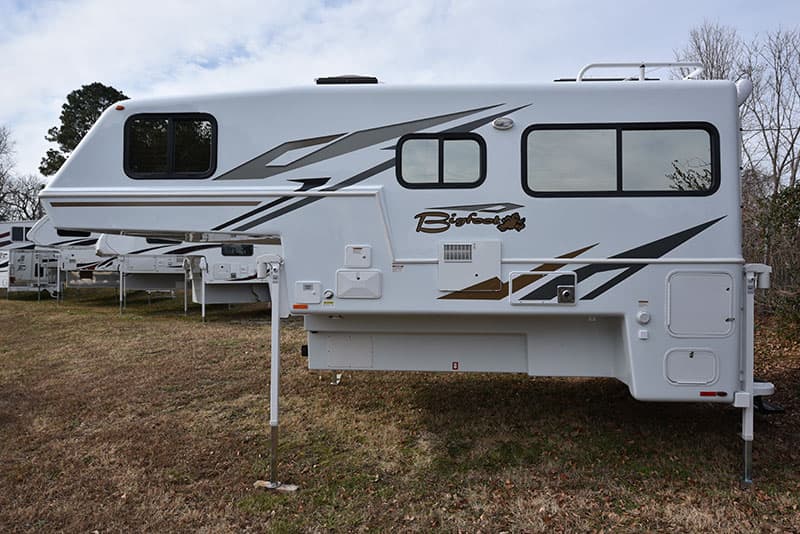 Above: The red Center of Gravity sticker on the underbody of the camper
The 50-inch Center of Gravity reported by Bigfoot should be forward of the rear axle for most long bed trucks.
The concept of holding tank balance is important when evaluating the holding tank capacities.  It's also important to understand how fresh water flows to both the grey and black tanks, not just the grey tank.
This occurs because the RV flush toilet draws from the fresh tank.  About 1 to 2 gallons of fresh water gets flushed into the black tank for every 10 gallons that goes into the grey.  Your flushing habits may vary.
Battery, Propane and Holding Tank Capacities
| | |
| --- | --- |
| Capacities | |
| Fresh | 39 gallons |
| Grey | 32 gallons |
| Black | 21 gallons |
| Water Heater | 6 gallons |
| Propane Tanks | 2x 20 pounds |
| Batteries | Two Batteries |
With this in mind, the 39 gallon fresh, 32 gallon grey, and 21 gallon black tank holding capacities of the Bigfoot 25C10.4 seem perfectly balanced.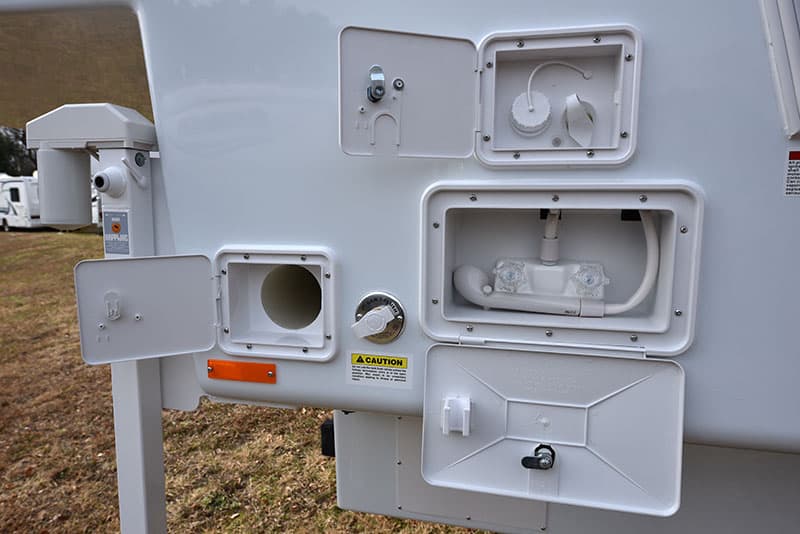 Above: The front driver's side includes a sewer hose compartment, black tank flush, fresh water fill, outside shower
Based on our truck camping experience, these tanks should last about 5-6 days of camping.  With aggressive water and holding tank conservation techniques, you could camp off-grid for  8-9 days (or more) in the Bigfoot.  Start with paper plates, sponge baths, quick flushes, and never letting the water just run.
The 6 gallon water heater is a standard size for hard-side truck campers.  We have showered hundreds of times with 6 gallon water heaters and never once run out of hot water.  It's truly incredible how well they work.  In fact, I've often wondered if the industry should go to 4 gallon water heaters to save weight.
The Bigfoot 25C10.4 has a molded fiberglass propane compartment that holds two 20-pound vertical propane tanks.  20-pound vertical propane tanks are the standard throughout the truck camper marketplace, and for good reason.
You can exchange 20-pound propane tanks at many big box hardware stores, grocery stores, and convenience stores coast to coast, 24-hours a day.  Or you can refill them at any propane filling station.  Excellent choice Bigfoot.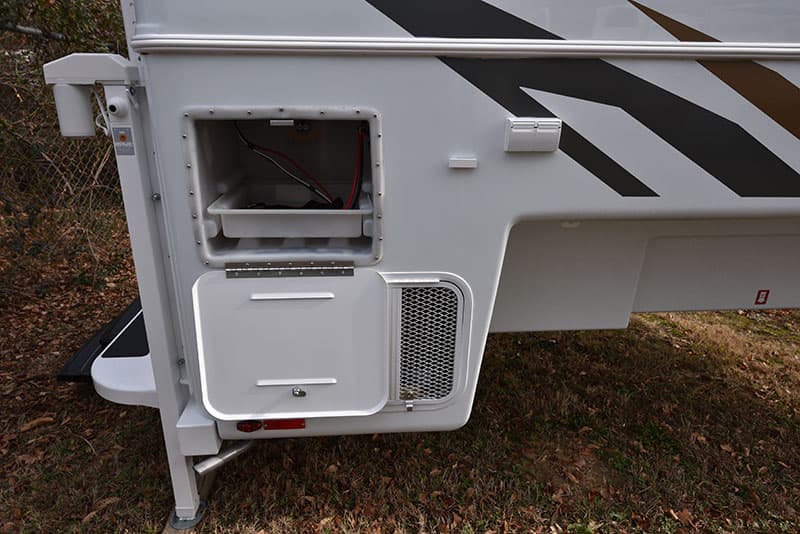 The rear passenger's side of the unit features an external battery compartment with a pull-out tray.  This compartment can hold two Group 27 batteries.  Dual Group 27 batteries are standard for a hard side truck camper this size and provide plenty of amp hours for a typical truck camping lifestyle.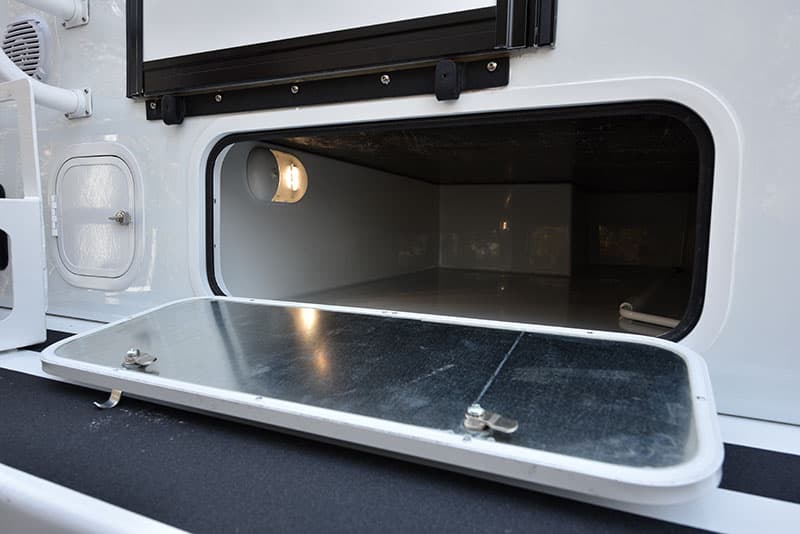 Above: The rear basement storage compartment interior is molded fiberglass
If you need more power for constantly charging laptops (like us) or regularly running 110-volt appliances off an inverter, you might want to consider the optional built-in generator option, a portable generator, and/or finding a suitable location on your rig for additional batteries.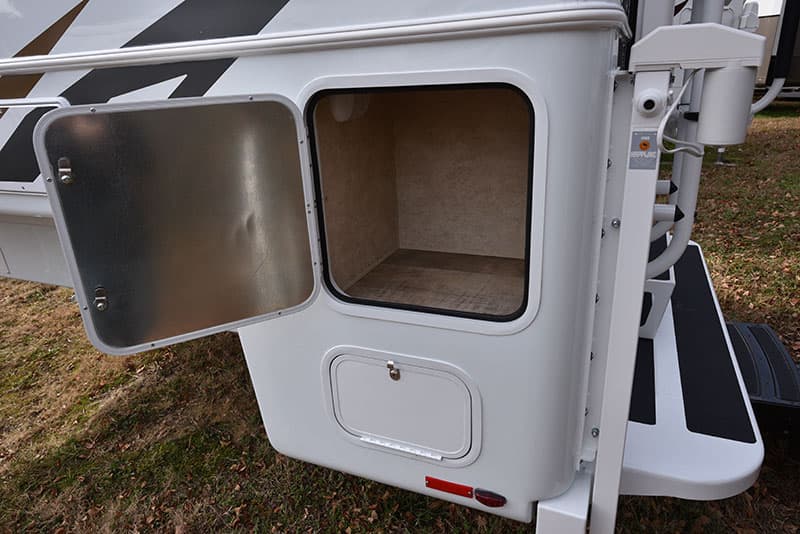 Above: The rear driver's side features an exterior storage compartment.  Overall the exterior storage on the Bigfoot 25C10.4 is outstanding.
Wet Weight and Truck Recommendations
For the Bigfoot 25C10.4 wet weight calculation, we are going to start with the Bigfoot-approved 3,230 pound dry weight from our Bigfoot Camper Buyers Guide.  Then we are going to add the option weight for the options installed on the review unit for a second wet weight calculation.
Base Dry Weight – Factory Order Only
Bigfoot 25C10.4: dry weight, 3,230 pounds + 39 gallons fresh, 325.3 pounds + 6 gallon water heater, 50 pounds + 2x 20-pound full propane tanks, 40 pounds + 2 batteries, 130 pounds + stuff, 500 pounds = 4,275.3 pounds
Base Dry Weight – with options installed on the review unit
The camper under review has the following installed options; Dometic 11,000 BTU air conditioner, crank up TV antenna, Fantastic Fan in the galley, built-in Onan QG 2500 LP propane generator, optical rear vision door, skylight in shower, and a propane and 110-volt electric water heater.  We also believe the side awning is optional, but we were not able to verify this with Bigfoot's options list.
In total, we estimate these options add 250 pounds to the dry weight of the camper.  Let's add this option weight to the dry weight, and re-calculate.
Bigfoot 25C10.4: dry weight, 3,480 pounds + 39 gallons fresh, 325.3 pounds + 6 gallon water heater, 50 pounds + 2x 20-pound full propane tanks, 40 pounds + 2 batteries, 130 pounds + stuff, 500 pounds = 4,525.3 pounds
Truck Recommendations for the Bigfoot 25C10.4
Not too long ago, a 4,525.3 pound wet weight would have limited a camper to a dually truck.  In 2018, there are a few one-ton single rear wheel trucks that can handle that payload, but you won't find one on a dealer lot.  Such a truck needs to be carefully designed, optioned, and featured – and then special ordered.
For example, a 2018 Ford F350 XLT 4×4 Super Cab Long Bed single rear-wheel can be optioned for 11,500 pounds of GVWR and 4,710 pounds of payload capacity.  That gives you 184.7 pounds of excess payload for the well-optioned and wet Bigfoot 25C10.4 under review.  With the 4,275.3 pound base unit, you would have 434.7 pounds of payload margin.
Taking a step back, the 4.525.3 pound loaded and wet weight of the review unit is pushing the limits of single rear wheel trucks.  Unless you're willing to special order a truck for this purpose, you will need a dually truck to be within payload capacity.
This is especially true if (a) you want to tow something, or (b) you want a truck with heavy features and options (think diesel engines, upgraded transmissions, and luxury interior packages).  If either or both of these describe you, you need a dually truck for the Bigfoot 25C10.4.  We have a dually for our long bed, non-slide truck camper and love the combination and its margin of safety.
Of course, we have a must-read in-depth article on the subject titled, How To Match A Truck and Truck Camper.  To avoid the many potential pitfalls of truck and camper matching, please read this article first.
Bigfoot 25C10.4 Final Analysis
After repeatedly caulking and sealing our framed, laminated, and screwed together project camper for the past four years, I can barely contain my enthusiasm for two-piece molded fiberglass campers.  No frame to rot or sweat.  No lamination to de-laminate.  An approximately 5-to-1 reduction in external seams and the countless screws they require.  Ladies and gentlemen, after everything we have seen, two-piece fiberglass construction is the best way to build a truck camper for long-term durability – period.
The Bigfoot 25C10.4 is an exemplary example of this superior construction approach, but that's not the whole story.  The 180-degree panoramic rear view, enormous dry bath, highly functional kitchen design, nearly ideal holding tank balance, and excellent battery, propane, and battery capacities add up to something much more.  This is a very special non-slide truck camper.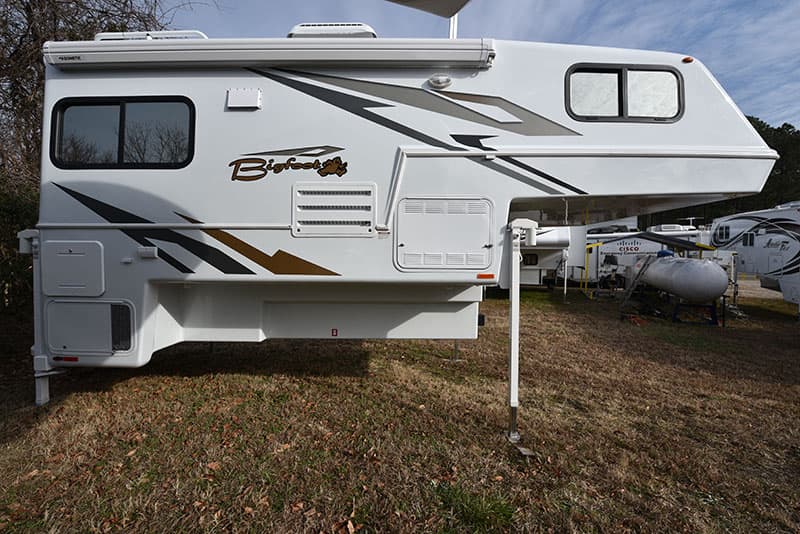 That doesn't mean the 2018 Bigfoot 25C10.4 is perfect.  During the course of the review I found a number of design details that are less than optimal; Center of Gravity stickers that need to be moved, entry way light switches that need labeling, dinette cushions that don't quite make into a bed, an awkwardly placed television antenna crank, and an inconvenient heat duct location in the cabover.
There's also a shortage of 12-volt and USB outlets in the kitchen, dinette, and cabover.  To be fair, the JVC stereo in the dinette does feature a 12-volt outlet, but I would prefer to see a dedicated 12-volt and USB outlet in that area; preferably with more than one USB connection.  While we're at it, the cabover needs an additional 110-volt outlet on the driver's side for a CPAP machine.
Quibbles aside, the quality and quality control on display throughout this camper is beyond reproach.  Everywhere we looked we found evidence of a manufacturer and team who cares about the quality of the materials, appliances, construction, fit and finish.  With a base MSRP of $43,260, the 2018 Bigfoot 25C10.4 is a premium-priced non-slide truck camper, but you can literally see the quality at every turn.  Put bluntly, this is one of the best-built RVs on the planet.  Well done, Bigfoot.
Bigfoot 25C10.4 Pros
Outstanding two-piece molded fiberglass construction
Stunning 180-degree panoramic rear view with five big windows
Huge dry bath with a window and a one-piece molded fiberglass shower stall
Excellent quantity of storage throughout unit
Battery, propane, and holding tank capacities are spot on
Built to last by a team that cares about quality and quality control
Bigfoot 25C10.4 Cons
At $43,260 Base MSRP, this is a premium-priced luxury non-slide truck camper
Center of Gravity stickers are obscured from view after loading
Entry way exterior and interior lights need to be labeled
Asymmetrical dinette makes into an odd-shaped bed with non-fitting cushions
Refrigerator door can contact dry bath door on opposite side of camper
Missing 12-volt and USB outlets in kitchen and cabover – dinette has one USB
Model Information:
2018 Bigfoot 25C10.4
MSRP: $43,260
Warranty: Three-year structural warranty.  Individual appliances have their own warranties.
Bigfoot Industries (2010) Inc.
Phone: 250-546-2155
Request a Bigfoot Brochure
Web: BigfootRV.com
Quality, Customer Service, and Long-Term Reliability
Truck Camper Magazine inspects all reviewed truck campers for design, material, and quality issues and reports what we find.  However, since Truck Camper Magazine reviews only brand new truck campers, our reviews do not address long-term quality, customer service, or reliability.
To learn about a brand's long-term quality, customer service, and reliability, Truck Camper Magazine recommends talking directly with truck camper owners at truck camper rallies and online via truck camper forums and truck camper owners groups.
Please be sure to balance your gathered feedback across multiple sources including direct correspondence with the truck camper manufacturers and your closest truck camper dealers.  Click here if you are new to truck campers.