While we're in this area, we were very happy to find a full set of two 110-volt outlets, two 12-USB outlets, and one 12-volt outlet. These outlets are technically optional on the Lance 650, but we suspect many customers will want them in their unit.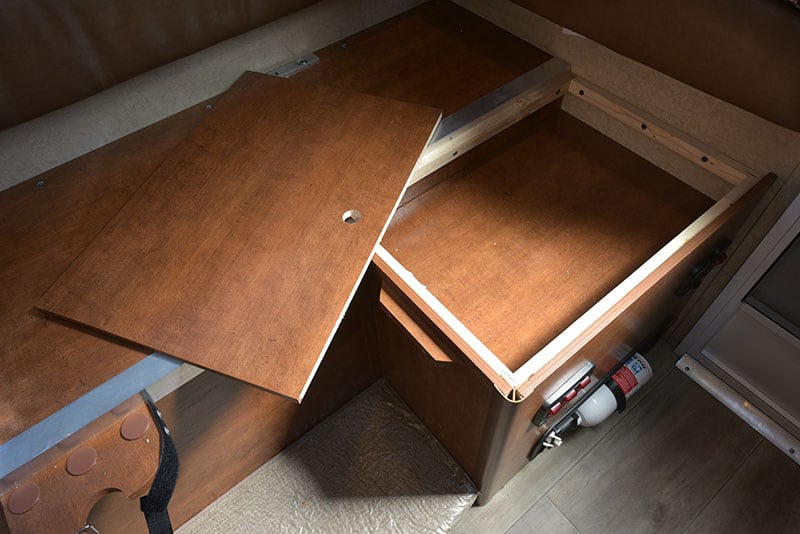 Under the forward-facing dinette seat is a small storage area. This would be a great place to store maps, brochures, and other flat items.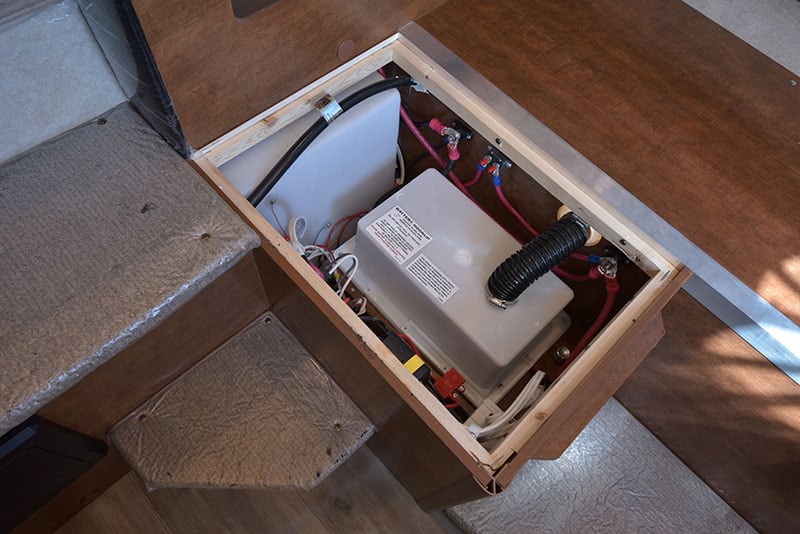 Under the rear-facing dinette seat is an enclosed and exterior-ventilated battery box for a single Group 27 battery.
Some readers might lament Lance's decision for an interior battery box with one battery. Keep in mind that these are exactly the kind of decisions that are required to hit the strict size, weight and center of gravity requirements of this model.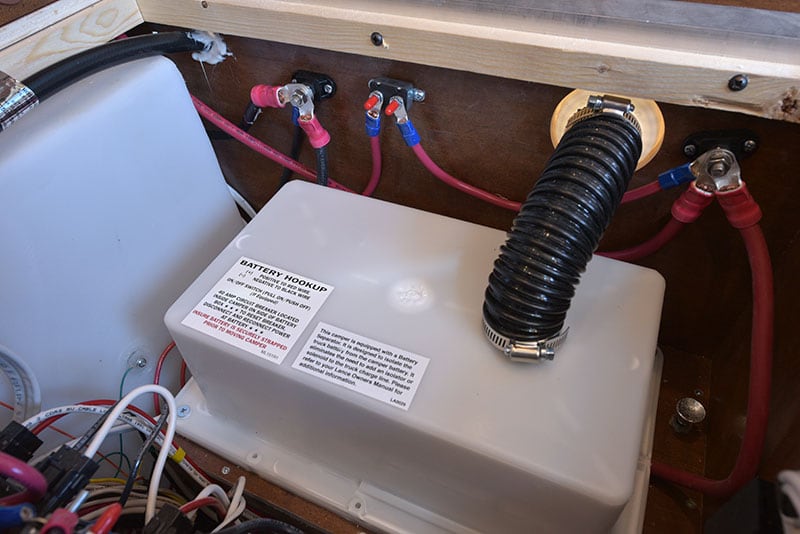 Taking a closer look inside the battery box area, we admired the well-executed wiring and the securely-clamped battery ventilation tube.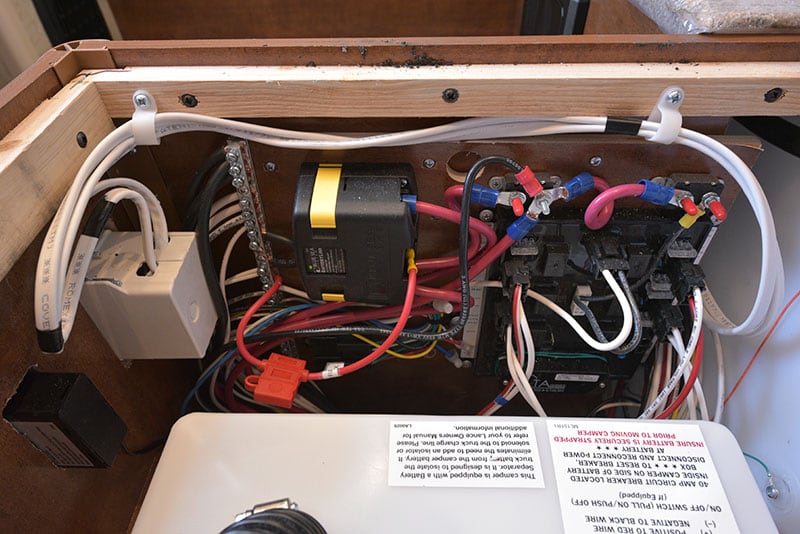 The wiring panel on the opposite wall of the battery box appears to have been preassembled on LitePly. This allows the panel to be built and tested prior to installation.
Preassembled modular components are something we are seeing more and more throughout the truck camper industry. In general, preassembly reduces time on the production line, improves quality control, and reduces cost. It also allows for a quick swap-out should something fail on the modular component.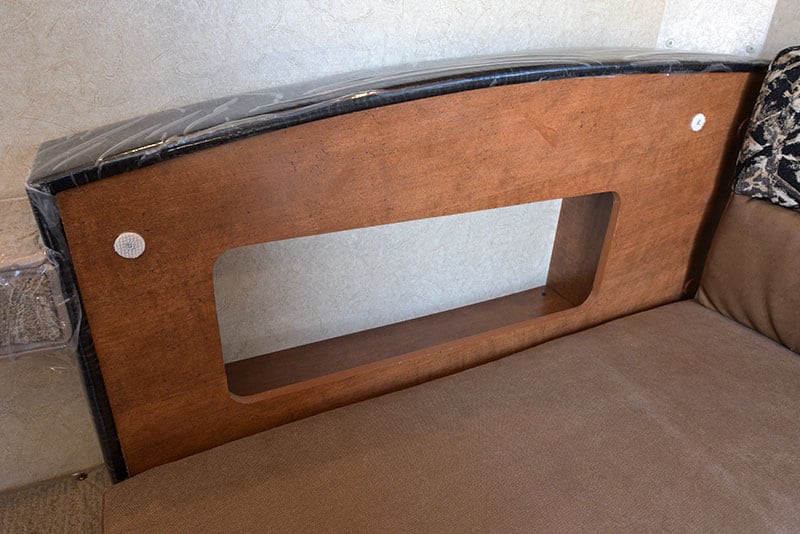 Behind the rear-facing dinette seat we found another storage cubby. I want to call to your attention to the perfectly rounded edges of this storage cubby, and the finished interior. This feature is normally hidden behind a seat cushion, but the Lance team took the time and effort to design, CNC cut, and finish it like a front-facing cabinet. Nicely done, not to mention a very useful storage space.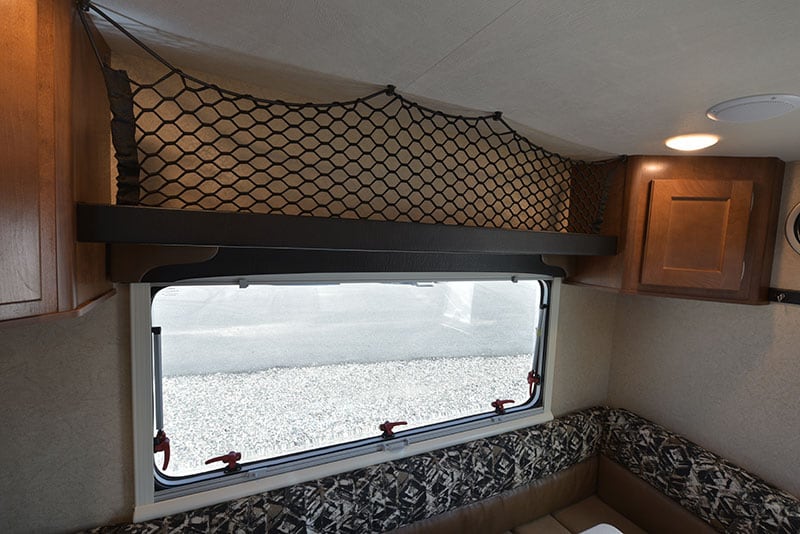 Above the dinette Lance has incorporated two corner cabinets and a long netted storage area. By using netting Lance is able to shave a few pounds off the total weight of the camper while retaining the storage function of this space. You have to save every ounce you can when you're shooting for an honest half-ton, short bed payload match.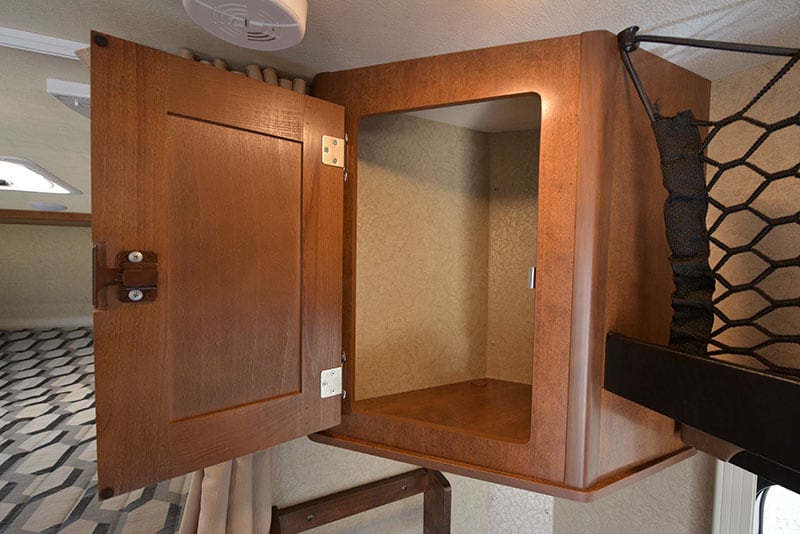 The rear-facing cabinet offers a good amount of storage. To save weight, the cabinet itself only has three sides; the door side, one side wall, and the floor.
To save even more weight, Lance opted to use 12-millimeter LitePly for the 650. The rest of Lance's truck camper line uses 15-millimeter LitePly, but I honestly did not perceive any difference when studying the 650's 12-millimeter cabinetry. Now that's a good compromise!
Lance also used their SolidWorks design and CNC equipment to eliminate the need for gimp throughout the unit. The CNC cut LitePly cabinetry goes right to the wall with tight tolerances.