The Verdict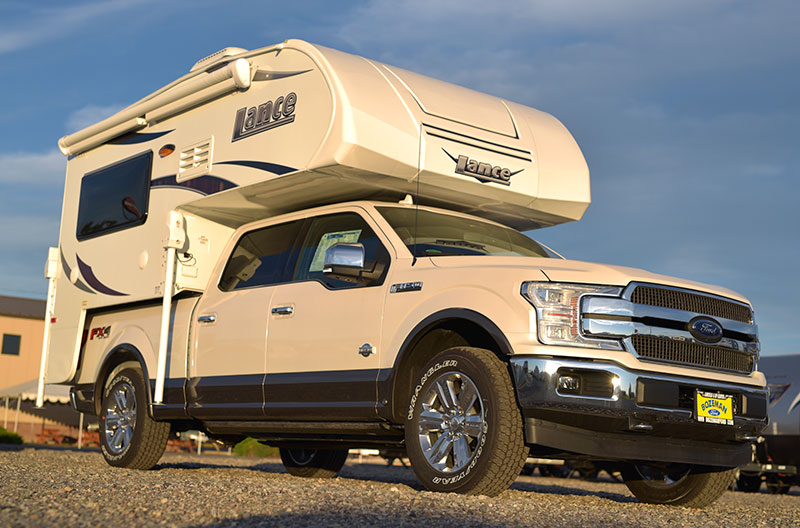 Towards the end of the Lance 650 announcement, Gary Conley, National Sales Manager for Lance Campers stated, "I don't want anyone to think the 650 is a just a stripped-down basic camper.  It's not.  It has many modern conveniences like a north-south queen-size bed, plenty of storage, an audio-video system with Bluetooth and HDMI, 12-volt USB charging ports, and more. The 650 may be lightweight as it is intended to be a half-ton truck camper, but it's still full of Lance flair."
That perfectly encapsulates what Lance has achieved with the 650.  It's a half-ton targeted camper – shorter in floor length and lighter than anything Lance currently offers – but it's still a full-blooded Lance Camper.  The fact that there's a specific half-ton Ford F-150 configuration (see Truck Recommendations above) that properly payload matches the 650 is nothing less than remarkable.
If I had a magic wand, the exact truck and camper combination described in the Truck Recommendation section would be loaded up and ready for sale at every Lance dealership coast-to-coast.  They would sell like hotcakes.
Unfortunately, that's not likely to happen.  As such, prospective Lance 650 buyers need to be very careful about payload matching and fit compatibility with this camper.  With popular options, the Lance 650 weighs more than most half-tons can properly handle.  Fit compatibility will also need to be carefully measured and confirmed before loading the unit.  Do not ignore either consideration with this camper.
Careful matching aside, my main concern with the Lance 650 is the exposed underside and holding tanks.  This defeats the Lance 650's suitability for camping in below-freezing temperatures and may not be appropriate for some off-road conditions; loose gravel, mud, etc.  I am hoping Lance responds to this review with an explanation for this design decision.
Some will note that I didn't have too many negatives about the Lance 650's interior.  Truth be told, that's because I love the interior design and execution of this camper.  Considering the weight and size limitations, it's a home run stem to stern.
We found some things to nit pick throughout the scope of this review, but honestly everything about this camper boils down to proper payload matching and fit compatibility.  The camper's floor plan, quality, and feature set are fantastic.  Make a proper truck match, and you will have an outstanding rig.
Inspired by the ground-breaking Six-Pac D650, the 650 is nothing less than a breakthrough product for Lance Campers.  If you're in the market for a lightweight, short bed, fully-featured truck camper, the Lance 650 deserves to be on your very, very short list.
Pros
Short bed half-ton compatible if carefully matched – see Truck Matching above
Fully-featured hard side in a compact and lightweight package
Huge 6'4" U-shape dinette, dinette table, and dinette bed
SolidWorks and CNC-cut materials result in high interior quality
Cabover steps provide comfortable cabover entry and exit
Lots of clever storage opportunities throughout the unit
Cons
Available options can put the weight beyond most half-ton trucks
Fit-compatibility needs to be carefully checked before loading
Rear underside and holding tanks are open and exposed
Roof is not a full walk-on roof requiring careful roof seal maintenance
Cabover has minimal storage – essentially none on the driver's side
Not everyone will like the refrigerator in the cabover – but it's the key
Model Information
2019 Lance 650
MSRP: $22,533
Warranty: 1 year limited warranty, 2 year structural warranty, appliances have their own warranties
Lance Camper Manufacturing
43120 Venture Street
Lancaster, CA 93535
Phone: 661-949-3322
Request a Lance 650 Brochure
Web: LanceCamper.com
Quality, Customer Service, and Long-Term Reliability
Truck Camper Magazine inspects all reviewed truck campers for design, material, and quality issues and reports what we find.  However, since Truck Camper Magazine reviews only brand new truck campers, our reviews do not address long-term quality, customer service, or reliability.
To learn about a brand's long-term quality, customer service, and reliability, Truck Camper Magazine recommends talking directly with truck camper owners at truck camper rallies and online via truck camper forums and truck camper owners groups.
Please be sure to balance your gathered feedback across multiple sources including direct correspondence with the truck camper manufacturers and your closest truck camper dealers.  If you are new to truck campers, please start with the Newbie Corner.