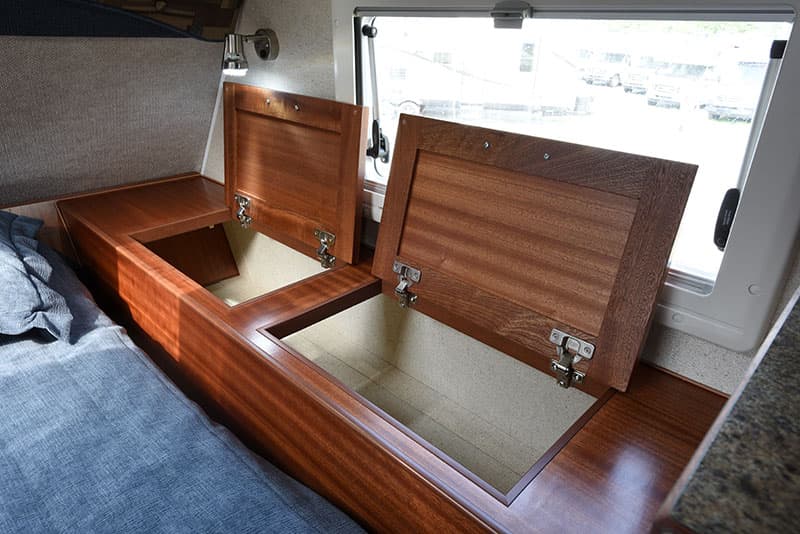 The hampers are deep and wide with steel hardware and that gorgeous Sapele finish reminding you everyday that this is a top-notch luxury truck camper.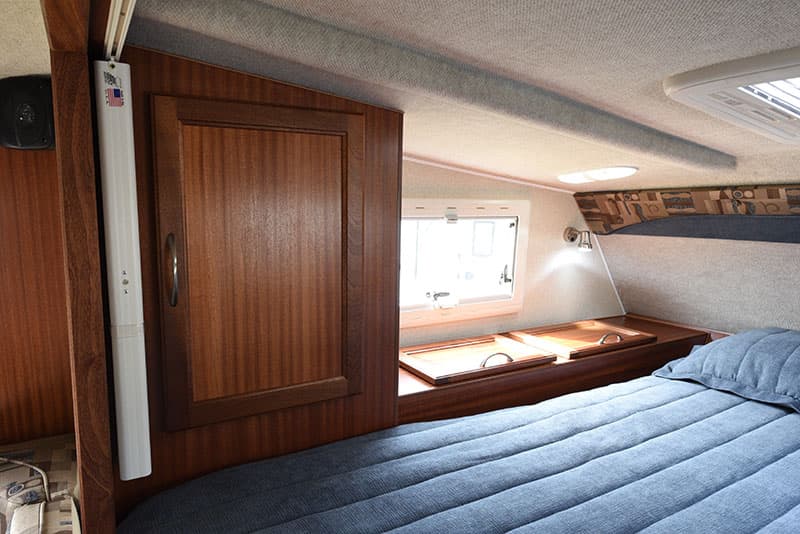 The driver's side the cabover features a deep hanging closet that extends below the mattress line, and two more hampers.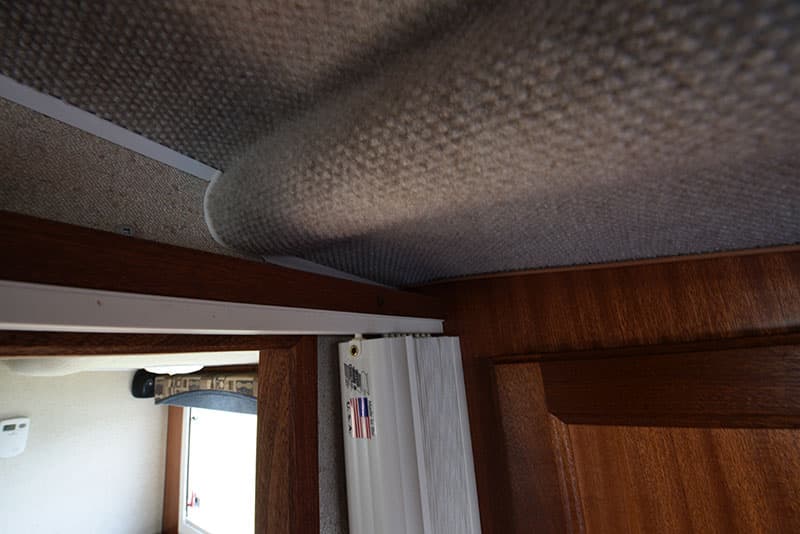 Last October I reviewed a 2017 Northern Lite 10-2 CD Special Edition.  One of the only criticisms I was able to find in that camper was a ceiling liner that was not fully applied in the cabover.  In a few areas, the liner appeared to be not fully adhered to the underlying insulation and fiberglass shell.
I'm very happy to report that the ceiling liner in the 8-11 EX was absolutely perfect.  I could find no ripples in the liner as we did in the 10-2 last year.  The ceiling liner in this camper was tight and flawless.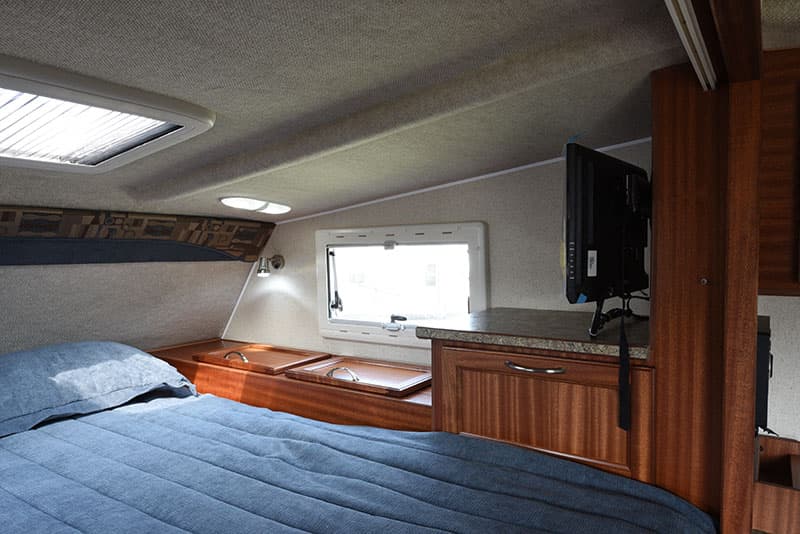 I do want to encourage Northern Lite to stop using gimp throughout their campers.  While I understand that gimp is a very efficient way to hide seams, there has to be way to rid this material from what is otherwise a high-end furniture grade aesthetic and quality.  Don't rest on your laurels Northern Lite.  Keep setting the bar.
Capacities
| | |
| --- | --- |
| Capacities | |
| Fresh | 33 gallons |
| Grey | 24 gallons |
| Black | 12 gallons |
| Water Heater | 6 gallons |
| Propane Tanks | 2x 20 pounds |
| Batteries | Two Batteries |
The holding tank capacities for the 8-11 EX are 33 gallons fresh, 24 gallons grey, and 12 gallons black.  The only difference here between the 8-11 EX and 8-11 is the black tank.  The 8-11 EX black tank is one gallon less than the 8-11 due to design adjustments for the dry bath.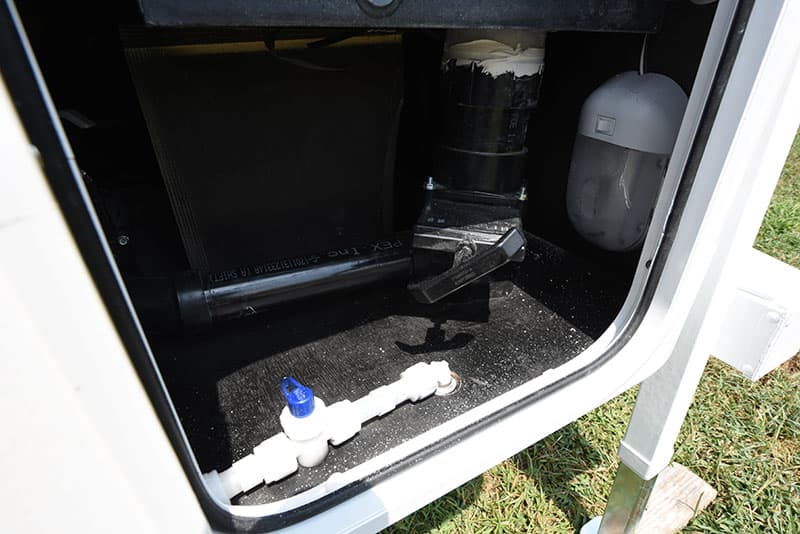 Above: The dump valve and low water drain compartment features a LED light
From experience, the 33 gallon fresh tank and 24 gallon grey tank would last us (two adults) about 5 to 6 days of short navy showers and careful water conservation.  The 12 gallon black tank would last us between 4 and 5 days.  As such, the black tank would be the limiting factor.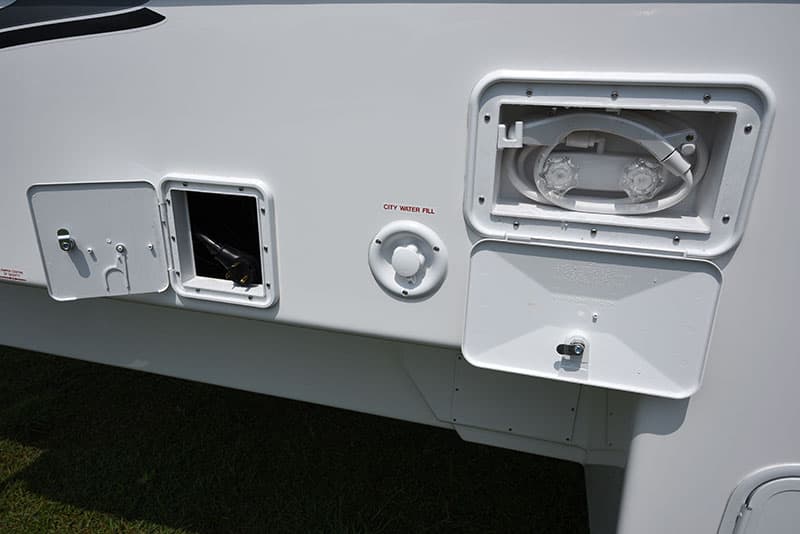 The 6-gallon hot water heater, two 20-pound propane tanks, and two batteries are the perfect balance of capacity for a luxury short bed truck camper.  If we were in charge, all full-size hard side truck campers would have exactly this set of amenities.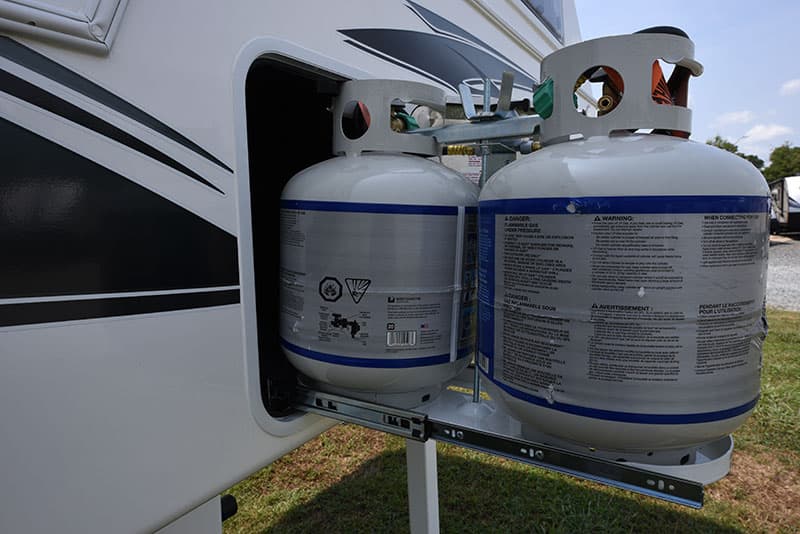 The 20-pound propane tanks can be exchanged just about anywhere coast-to-coast including big box hardware stores, gas stations, and grocery stores.  We particularly appreciate how 20-pound tanks are relatively easy to lift and position, unlike their 30-pound cousins.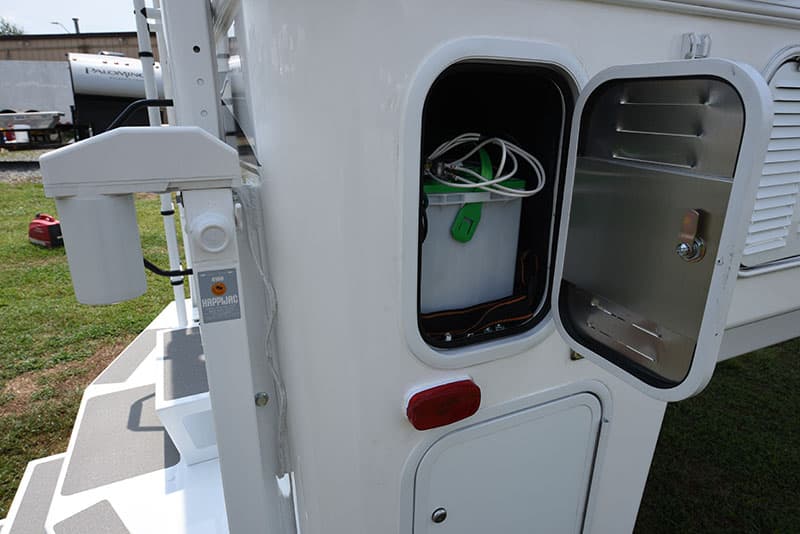 Together with the all-LED lighting and standard 95-watt solar panel, the two batteries in the 8-11 EX make for a very respectful electrical system.  Those who need or want more power could add an additional solar panel, and/or upgrade to the best Group 27 AGMs for additional charging and amp hours.  We have had Interstate AGMs for two and a half years and love their performance.