Truck Camper Magazine takes focus on the 2016 Eagle Cap 995, a hard side, single-slide, dry bath truck camper.  Is this enduring Eagle Cap slide-out floor plan still a serious contender?

Around the mid-2000s, the truck camper industry started to concentrate on slide-outs.  Up to that point, several manufacturers had designed, manufactured, and sold slide-out models, but the majority of manufacturers had been on the sidelines watching to see how the whole "truck camper with a slide" would work out.  Would they sell consistently?  Would they hold up structurally?
While some of the first slide-out models did have structural challenges, the overall message from the marketplace was clear; slide-outs were the future of hard side truck camper design.  Retail sales repeatedly proved the point, and dealers and consumers clamored for more.
In the wake of this new reality, fresh and exciting slide-out models began to appear.  Dinette only slides became full wall slide-outs.  One slide led to two, then three.  Basements rose from the floor, to the wheel wells, to the truck rails.  The use of computer modeling allowed for increasingly intricate floor plans leading to nothing less than a renaissance in truck camper design.
Over the following decade, many of these early slide out designs came and went.  Today, only handful of the first and second generation slide-out floor plans remain, refined and improved through years of feedback and model year updates.  For lack of a better description, these are the slide-out classics.
Debuting in 2007, the Eagle Cap 995 is, by any account, a slide-out classic.  The full-wall dinette, refrigerator, and pantry slide-out, the expansive rear kitchen, the huge dry bath, and north-south cabover result in a truck camper layout that's sold well year, after year, after year.
Does the 995 still deserve consideration in an increasingly competitive marketplace?  It's time to stop playing the Eagle Cap 995 track record, and put this celebrated stalwart through a 2016 Truck Camper Magazine review.  To conduct our formal exam, we went to D&H RV Center in Apex, North Carolina.
Floor Plan Evaluation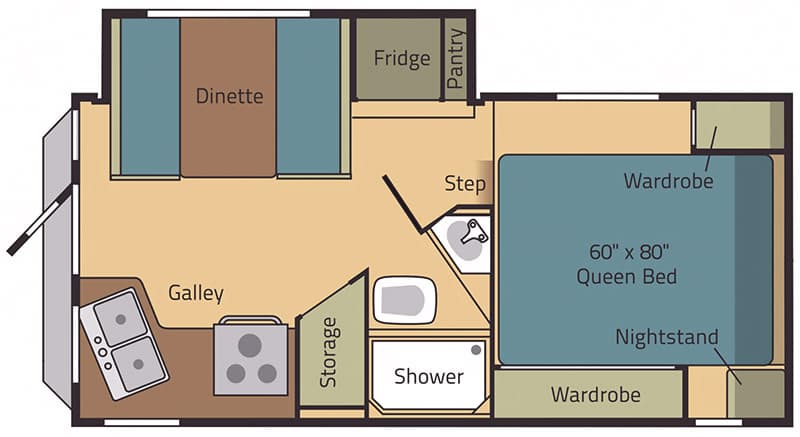 Not that long ago, folks would walk into a truck camper like the Eagle Cap 995 and freak out at all the floor space.
The integration of a full-wall slide-out in a truck camper turned what had been channels and hallways into wide-open rooms.  For many, this was impossible to refuse.  Their future truck campers would be slide-out models from that moment forward.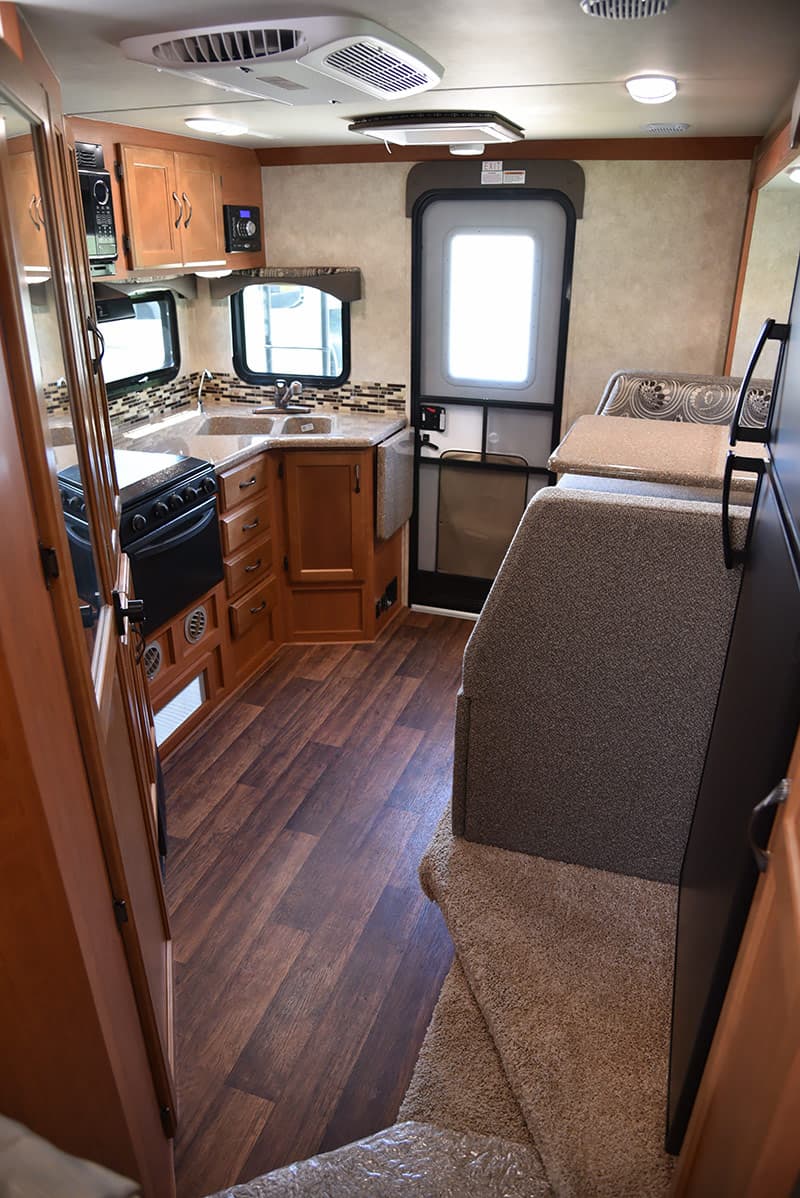 I remember the first time I walked into an Eagle Cap 995.  The first thing that struck me was the large kitchen and the angled wall with storage cabinetry and a huge dry bath.  Seven years later, that initial impression remains.  Together with the luxury materials and presentation Eagle Cap is known for, it's no wonder this camper continues to do well in the marketplace.
For the floor plan evaluation, let's start from the entry door and examine the passenger's side kitchen.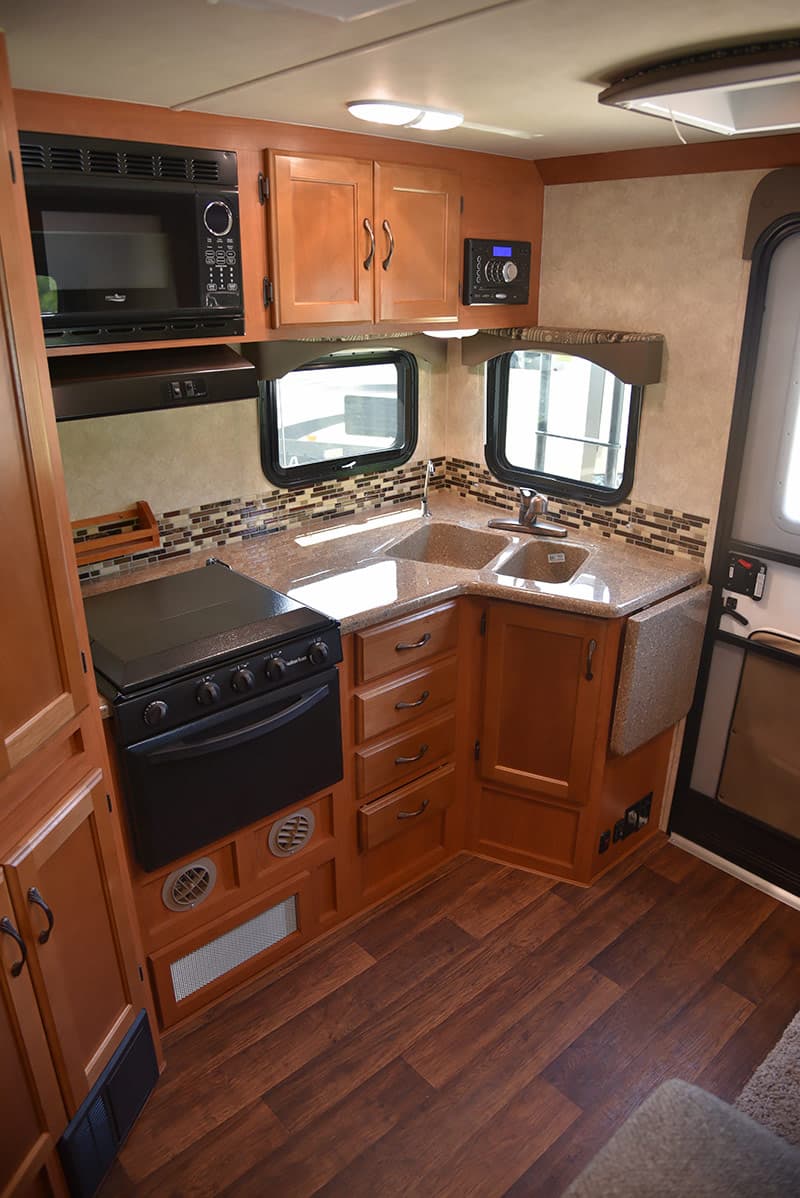 Now this is a serious truck camper kitchen; double basin sink, three burner gas range and oven, microwave, lots of storage, and two insulated windows.
Folks who enjoy meal preparation beyond sandwiches and one-pot meals should be very excited when they see the countertop layout, amenities, and storage on tap here.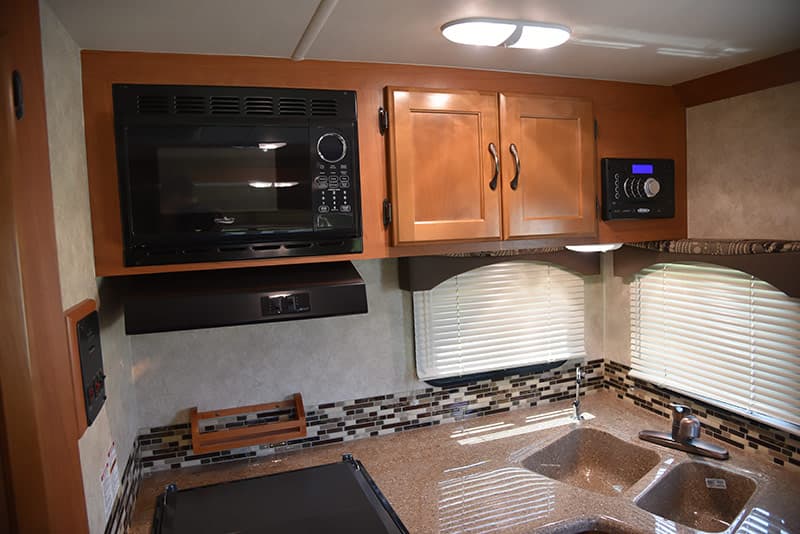 The standard microwave takes up some storage in the kitchen cabinetry, but this camper is not lacking in available storage.  The single upper kitchen cabinet features a built-in shelf and would be perfect for plates and dishes.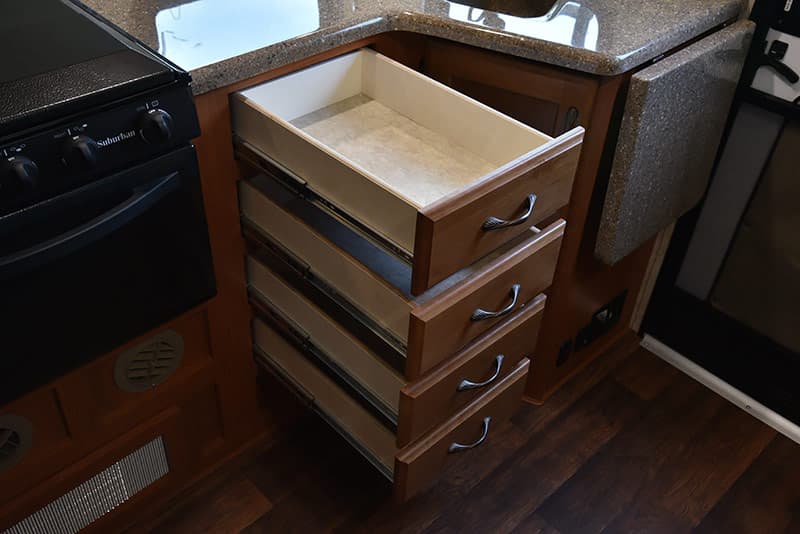 Above: Note the heavy duty ball-bearing guides on the four kitchen drawers
Under the gel coat fiberglass kitchen counter top are four pull-out drawers on ball-bearing metal guides.  This is a fantastic example of exactly the right type of storage opportunity in exactly the right place.  It's not hard to imagine everyone keeping their silverware and cooking utensils in the top drawer.
Above: The lower and upper kitchen cabinetry offers lots of storage in the Eagle Cap 995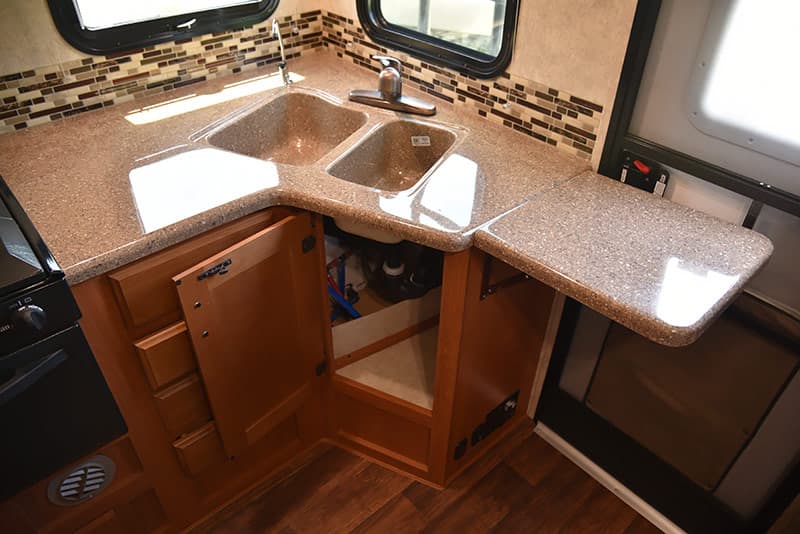 Above: Counter top extension, and room for a small trash can under the sink
Enhancing the already impressive counter top space is an extension that adds approximately 20% more meal prep territory.  The downside of this extension is that it crosses into the entry door area.  If you frequently cook when others are coming in and out of the unit, this could be a consideration.
Under the sink is a fantastic place for a small trash can.  Keeping your trash under the sink and out of the way is a subtle but important benefit of this kitchen layout.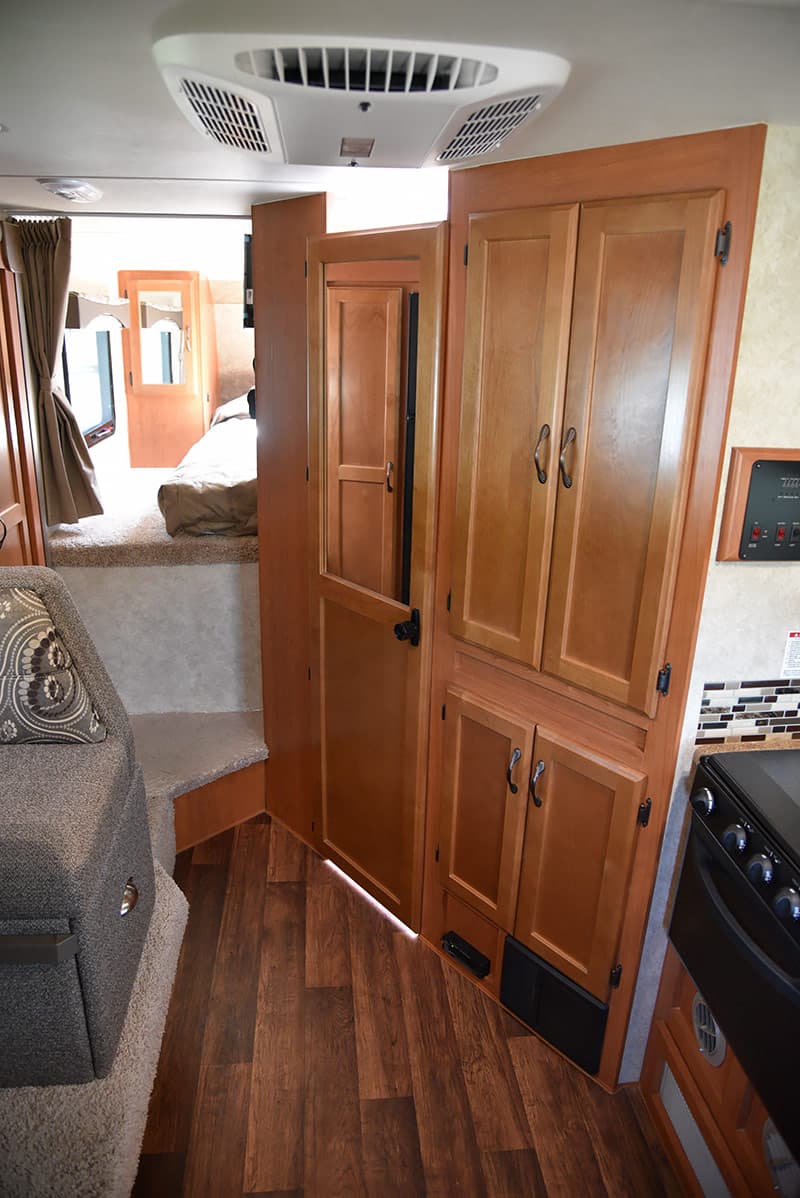 Dead center in the main living area, the 2016 Eagle Cap 995 has a huge double door closet for hanging shirts and coats, storing camping gear, or other relatively large items.  Large interior storage opportunities like this are rare in truck campers.
The beauty of Eagle Cap's wood cabinetry is really on display here and is sure to grab the attention of anyone who enters this camper.  This just doesn't look like your typical truck camper.
What may also grab attention is the curious space over the bathroom door.  This space could be for air circulation or to save weight, but it certainly doesn't improve the sense of auditory privacy one expects in a bathroom.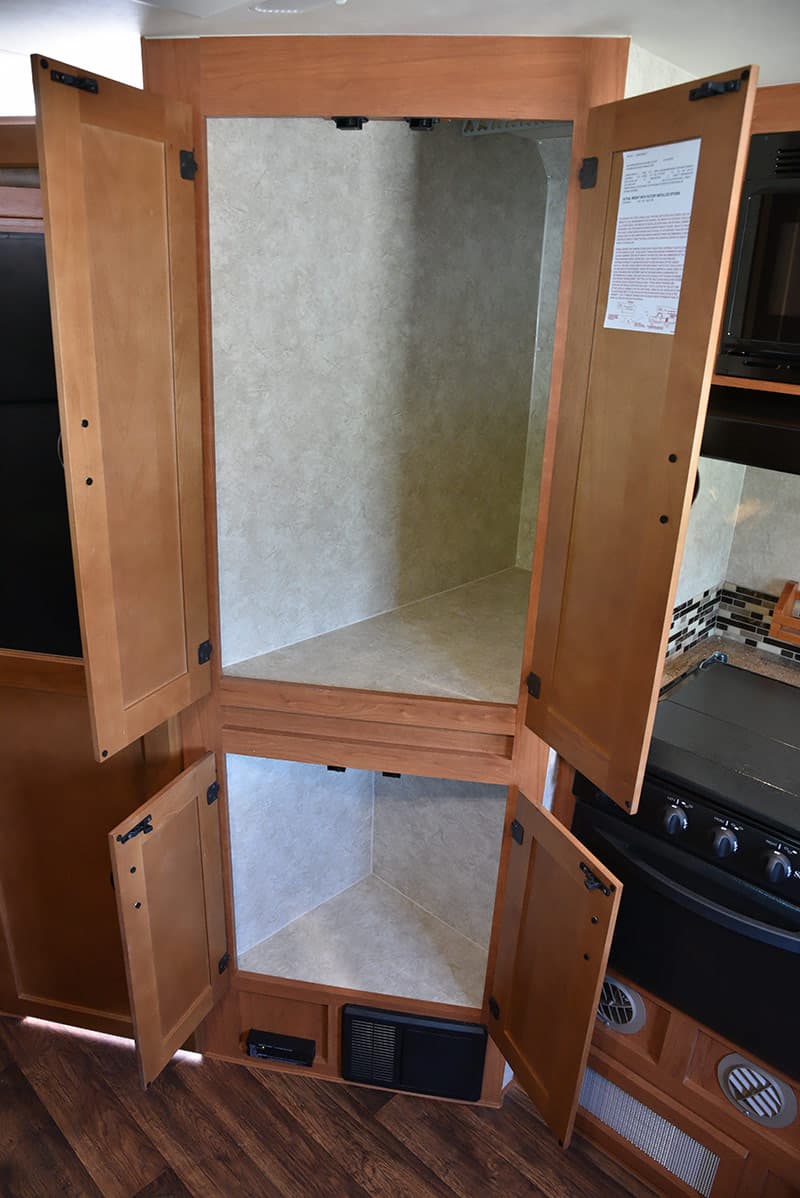 Just under the large closet is a smaller cabinet area that could accommodate more gear, pots, pans, and food storage containers.  Below the smaller cabinet is the fuse box and a LP/CO detector.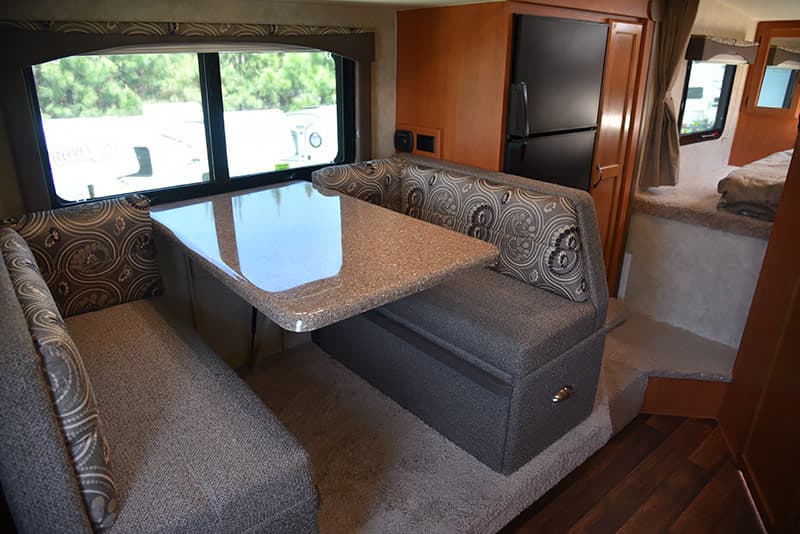 For 2015, Eagle Cap introduced modular and changeable seating options.  For example, a customer could get a traditional dinette, or opt for a sofa.  Then, down the line, that same customer could take out their modular dinette or sofa and install reclining theater seating.
Never before had a truck camper manufacturer offered the ability to customize their dinette and seating furniture with modular options.  Eagle Cap's modular furniture captured the attention of TCM readers and won the Readers' Choice Innovation of the Year award in 2014.
In the Eagle Cap 995, the dinette area is available as a traditional dinette, sofa, or reclining theater seating.  The camper under review had the traditional dinette installed, so that's what we evaluated.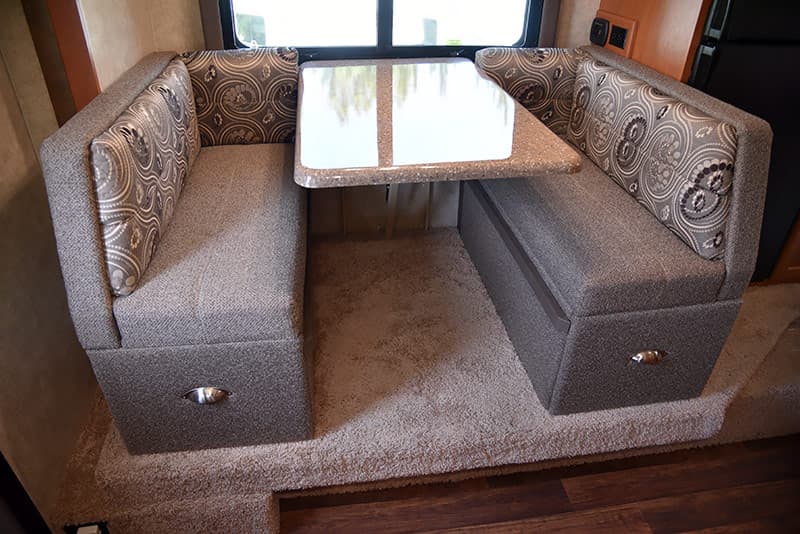 The fabric, fit, and finish of the modular dinette was exceptional.  The dream dinette table with solid-surface fiberglass table looked beautiful and functioned flawlessly to quickly convert into a bed.
Sitting in the dinette, the backs of the seats and the seats themselves felt a little short and narrow.  In all fairness, I am over 6-feet tall and prefer taller and deeper dinette seats.  This is the kind of thing – like sitting on the toilet and standing in the shower stall – that you have to experience and evaluate in person.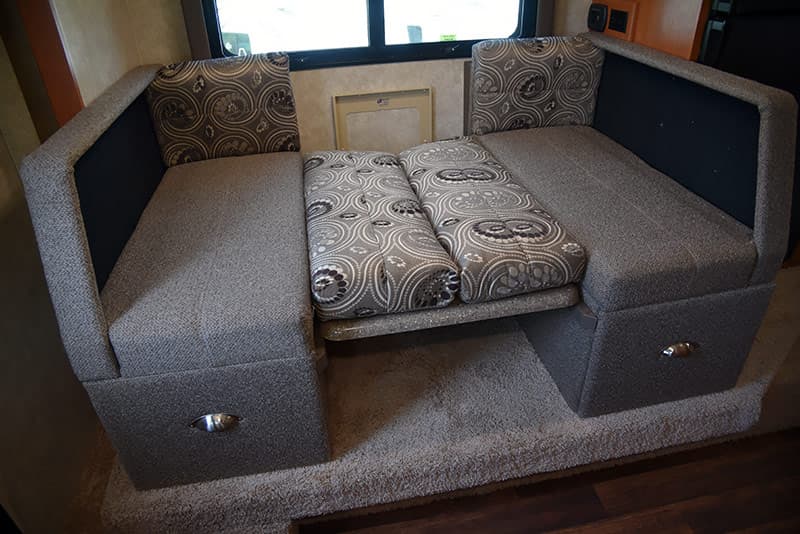 When made into a bed, the rear-back dinette cushions – the only dinette cushions that are removable – were large enough to cover the table, but left a space on either side.  The middle part of the dinette bed did not extend all the way to the outside wall, or even with the inside dinette seat cushions.  This would be a fine place to sleep, but it might feel a bit narrow, especially for more than one person.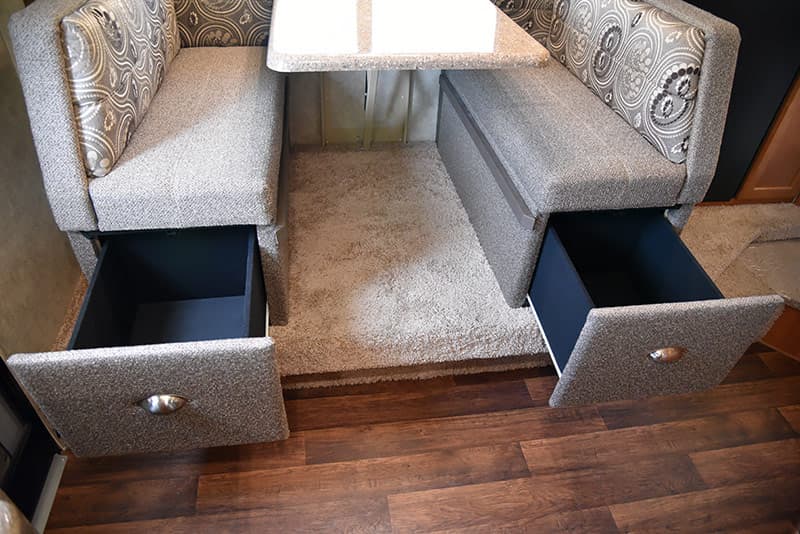 The drawers under the dinette seats pull out smoothly and offer a welcome amount of convenient storage.  It's truly remarkable how much storage this camper has.  An owner would need to be very careful not to bring too much stuff.  Having done exactly that ourselves, we know how easy it is to do.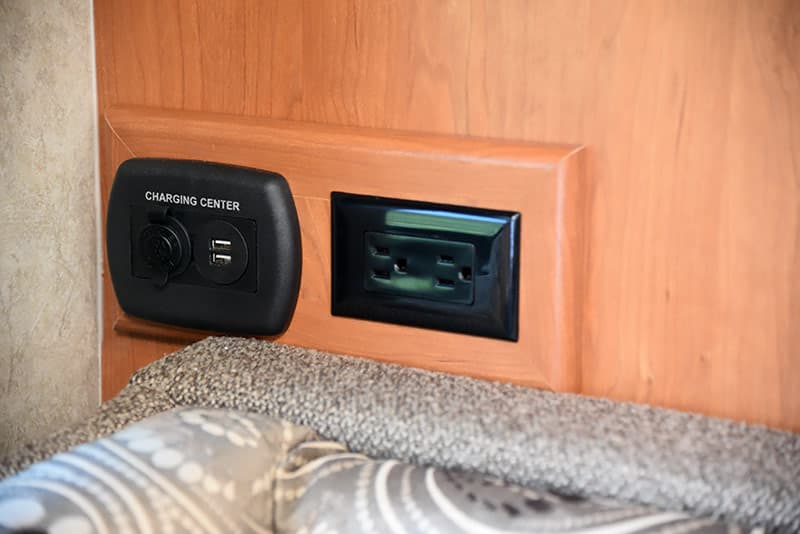 Behind the dinette seat is a 12-volt and USB charging center and 110-volt outlets.  This is a very welcome location for charging laptops, smartphones, and cameras while sitting in the dinette.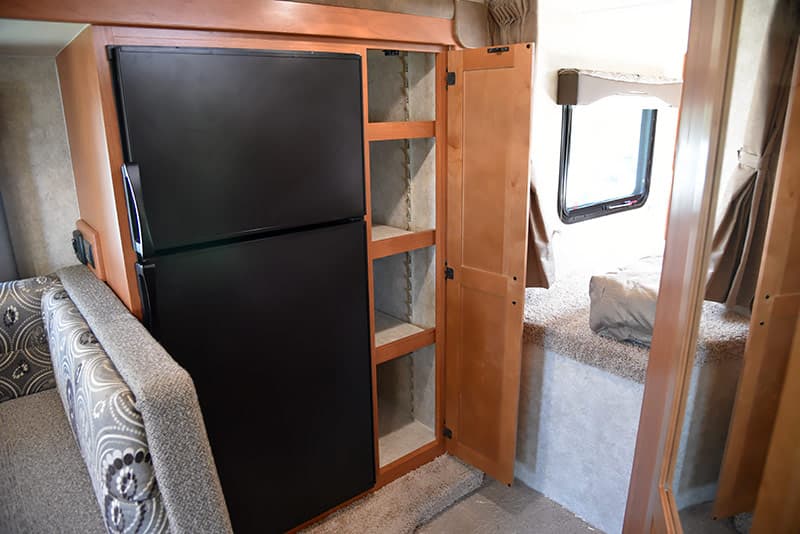 Eagle Cap installed a 7-cubic foot refrigerator in the Eagle Cap 995.  Right next to the refrigerator is a large pantry with movable shelves.  Given this pantry's proximity to the cabover, it might also be used for clothing and gear.  Whatever it's used for, the size of this storage opportunity and the flexibility of the movable shelves is terrific.  We wish we had a storage opportunity like this in our truck camper.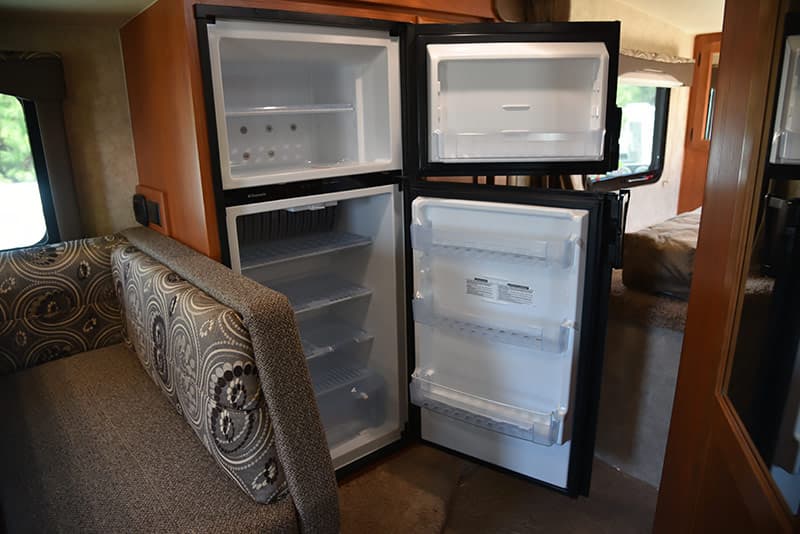 Look at the food storage of this monster refrigerator.  Part of me wonders why anyone needs this much refrigerated food storage on the road, but I'm sure many folks would answer, "beer" and, "rally parties" and, "because we like to eat".  I hear that.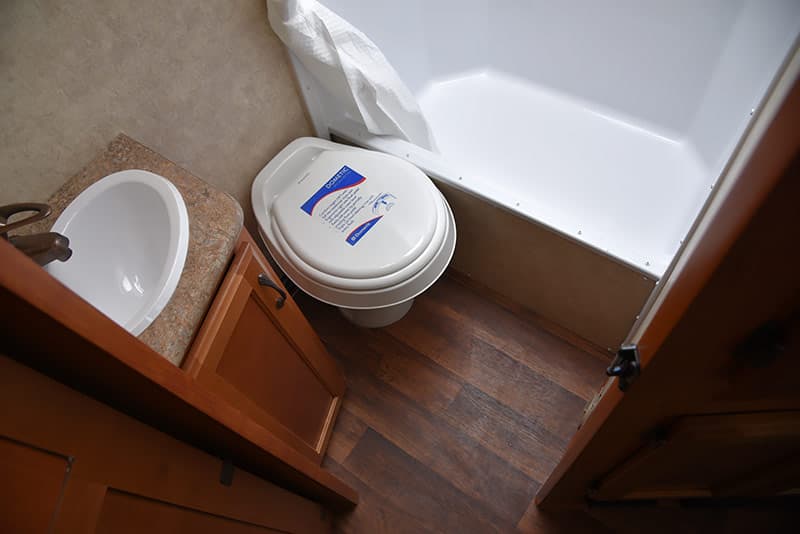 Above: The dry bath feels very residential for a single-slide truck camper
The dry bath in the 995 is large and spacious; more like a bathroom in a small apartment than anything you'd expect in a single-slide truck camper.  Adding to the residential aesthetic, the shower features its own hot and cold water controls and a shower curtain rod that extends and retracts for a larger or smaller shower stall area.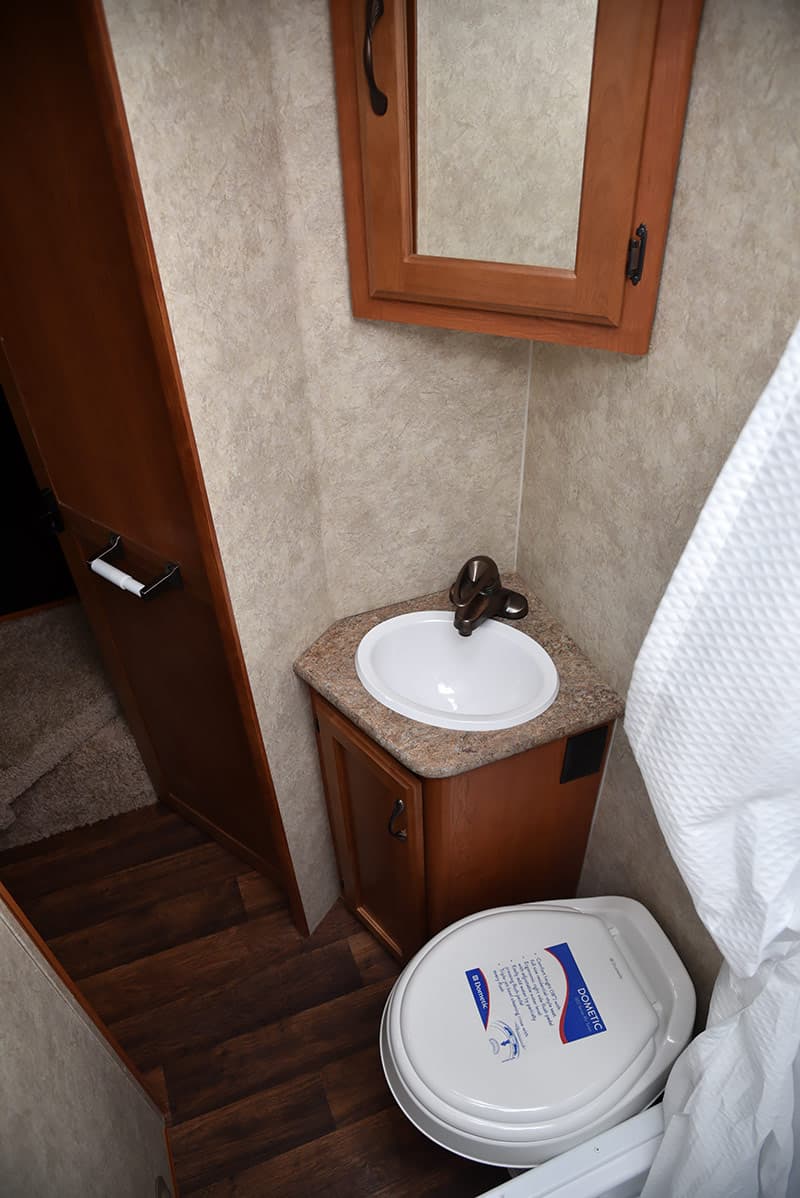 Above: The sink, medicine cabinet, and foot-flush toilet
Like a small residential bathroom, the sink counter is tight and will require careful positioning of toothbrushes, hair brushes, and other common toiletries.  If this were our camper, I would also look for ways to move the toilet paper holder from the door to somewhere inside the bathroom proper.  That should be an easy mod.
It's really something to see the same gorgeous flooring in the bathroom as in the main living area.  The wood and mirrored medicine cabinet above the sink is very attractive and will be much appreciated for shaving and grooming while offering much-needed toiletry storage.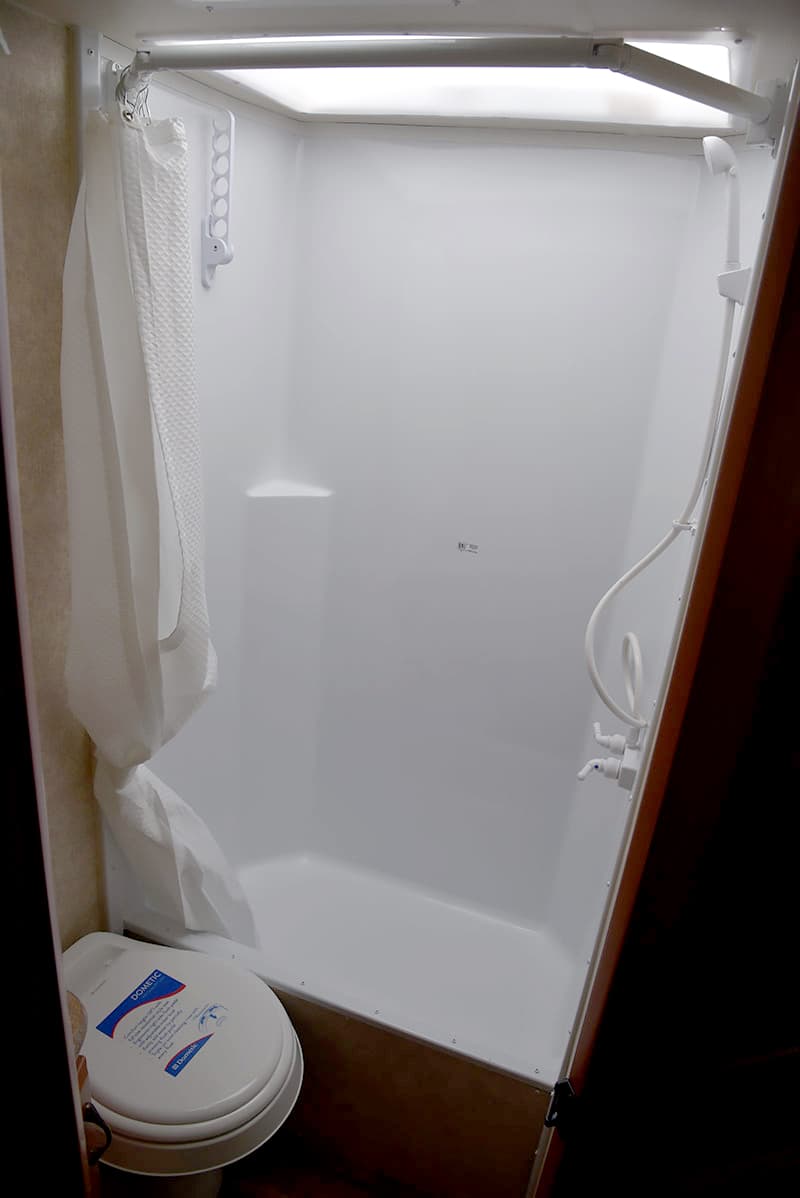 Above: The fiberglass shower stall has an extendable rod to give you significantly more room while showering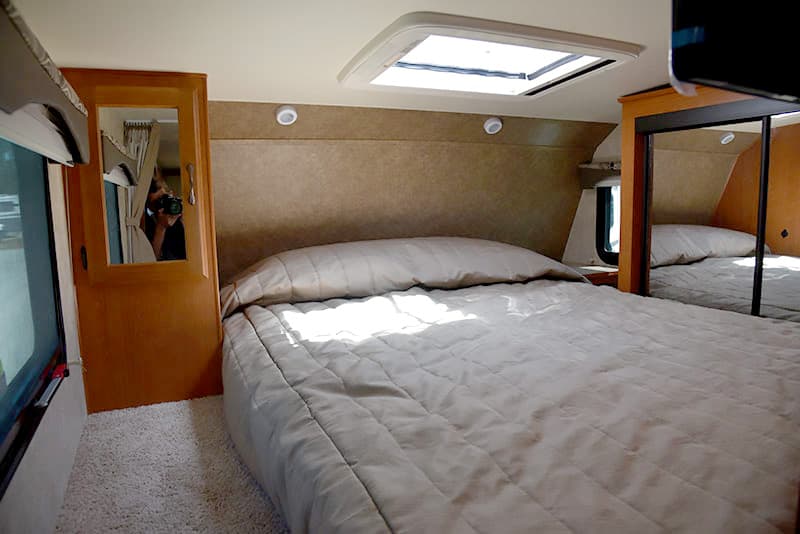 The cabover bedroom in the Eagle Cap 995 is bright and open with windows on both sides of the camper.  Adding to the sense of spaciousness is a Heki skylight, large mirrored wardrobe, and a mirrored driver's side cabinet.  In person, the Eagle Cap 995 cabover looks and feels fantastic.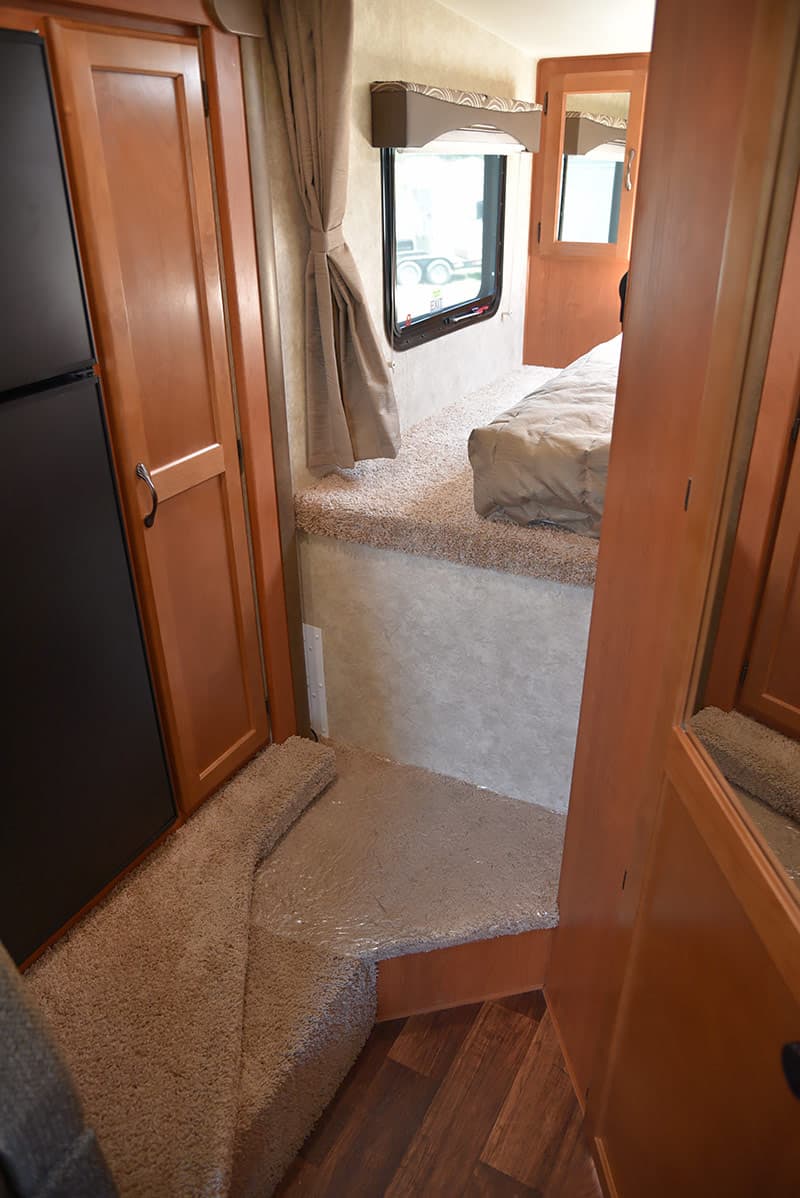 The large dry bath in the Eagle Cap 995 does defeat some of the normal advantages of a north-south cabover.  First, the entry to the cabover is on the driver's side and is otherwise blocked by the dry bath wall.  If the person sleeping on the passenger's side wants to get out, they need to crawl over their spouse.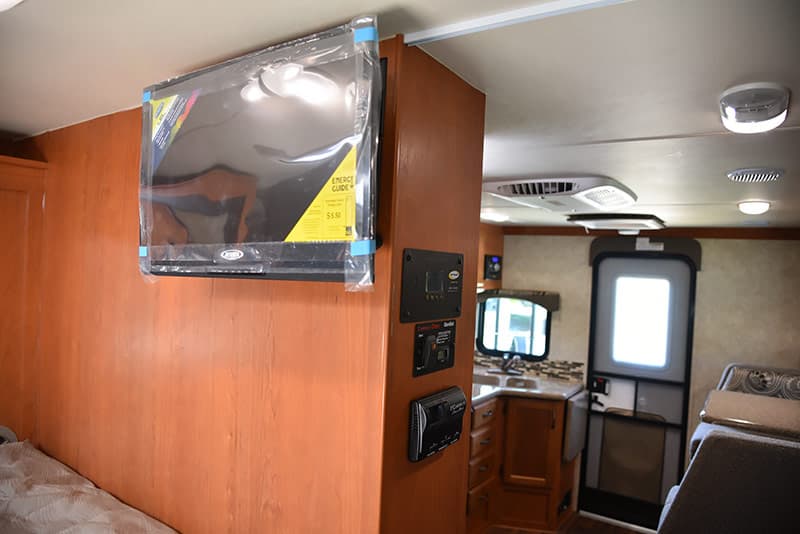 Above: The dry bath wall and television as seen from the cabover
Second, the cabover storage greatly favors the passenger's side as the driver's side is utilized for the aforementioned cabover entry and exit area.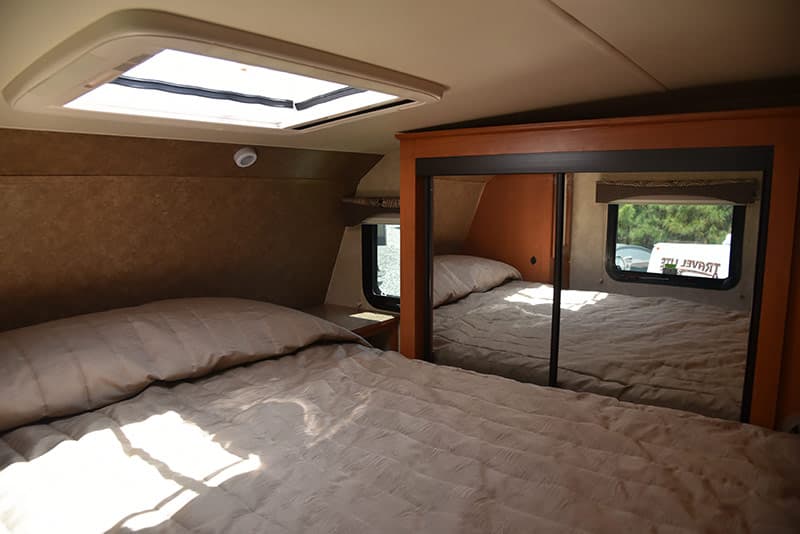 Again, the wall that blocks the spouse escape route is what makes the enormous dry bath possible.  The missing driver's side storage is also part of this design.  If you would prefer a more traditional cabover layout, consider the Eagle Cap 850 or Eagle Cap 960, but you'll be giving up the large dry bath.  In truck campers, everything is a trade-off.
Specifications
| | |
| --- | --- |
| Specifications | |
| Dry Weight | 3,618 pounds |
| Wet Weight* | 4,681 pounds |
| Floor Length | 10'2″ |
| Overall Length | 18'5″ |
| Width | 96″ |
| Interior Height | 78″ |
| Exterior Height | 105″ |
| Center of Gravity | 49″ |
| Truck Type | Long Bed |
Adventurer Manufacturing, the parent company of Eagle Cap, weighs every truck camper at the end of their production line and documents that data in a log book at the factory, and on a rear camper window.  That said, the 3,618 weight provided by Adventurer Manufacturing is a base weight without options.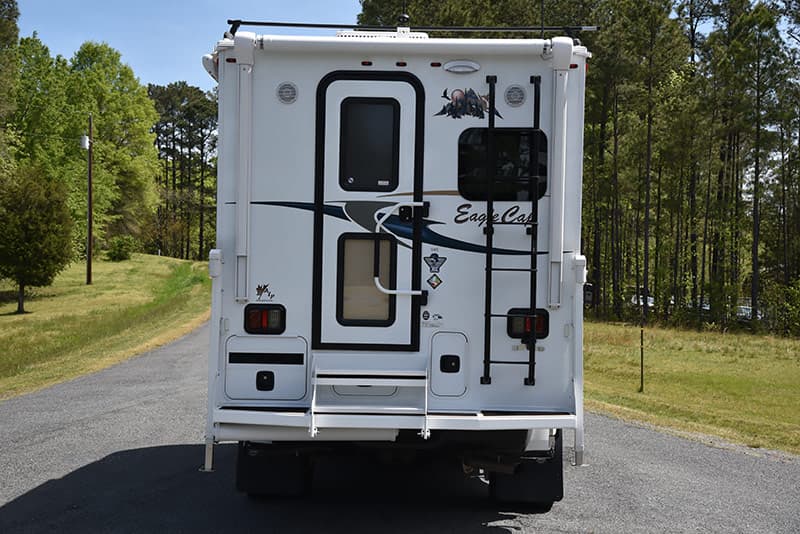 Every specification of the Eagle Cap 995 is full-size or near full-size.  The 96-inch (2.44 meter) width is 6-inches short of the maximum Federally-allowed width for a truck camper in the United States.
With a wheel well height basement, the exterior height measures at 105-inches, 7-inches lower than the rail-height Eagle Cap 1160, 1165, and 1200 models.  Interestingly, the 78-inch (6.5-feet) interior height is actually 2-inches taller than the triple-slide 1165 and 1200.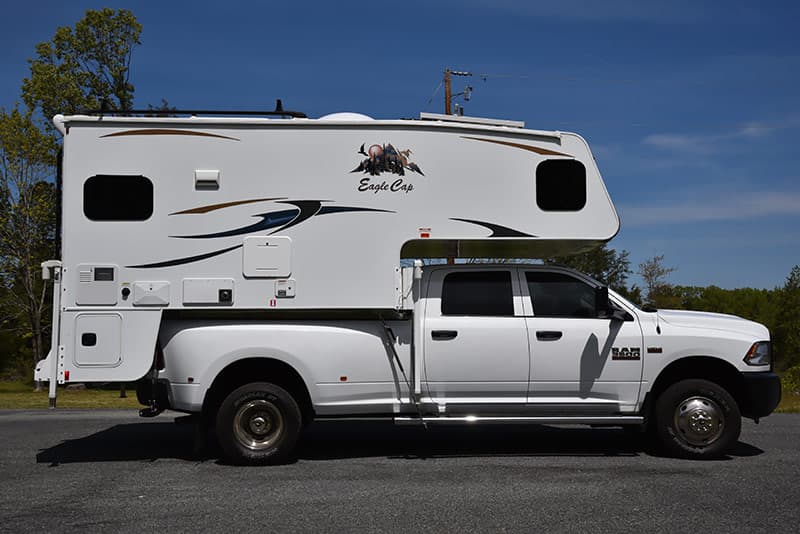 Above: The relatively short rear skirt allows for easier towing
Finally, the shorter rear skirt of the 10-foot 2-inch floor length might make the 995 a better candidate for towing than its larger 11-foot plus siblings.  The longer the skirt, the longer the towing extension will need to be.  Toy pullers take note.
Capacities
| | |
| --- | --- |
| Capacities | |
| Fresh | 41 gallons |
| Grey | 34 gallons |
| Black | 22 gallons |
| Water Heater | 6 gallons |
| Propane Tanks | 2x 20 pounds |
| Batteries | Two Batteries |
The holding tanks in the 995 offer 41 gallons of fresh, 34 gallons of grey, and 22 gallons of black.  Where the larger Eagle Cap models offer upwards of 50% more capacity per tank (60 gallons of fresh in the 1160 and 1165), the 995 provides a sensible balance between tank capacity and weight.
From experience, the 995 holding tanks should provide a camping couple with at least 6 to 7 days of off-grid camping.  If you are alone and/or practice extreme conservation, you could possibly stretch that range to 10 days or more.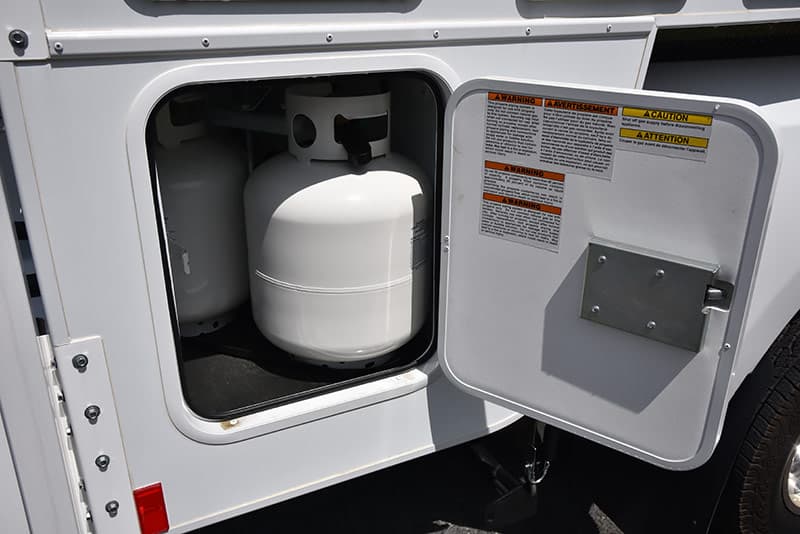 Above: Two 20-pound vertical propane tanks are easy to exchange
The two 20-pound vertical propane tanks and exterior storage compartment for two Group 27 batteries is excellent.  Owners of this unit can option or install a 100-watt or better solar panel creating our favorite power trio: two batteries, all-LED interior lights, and solar power.  Go for AGM batteries and you'll have essentially the same set-up we have, and love.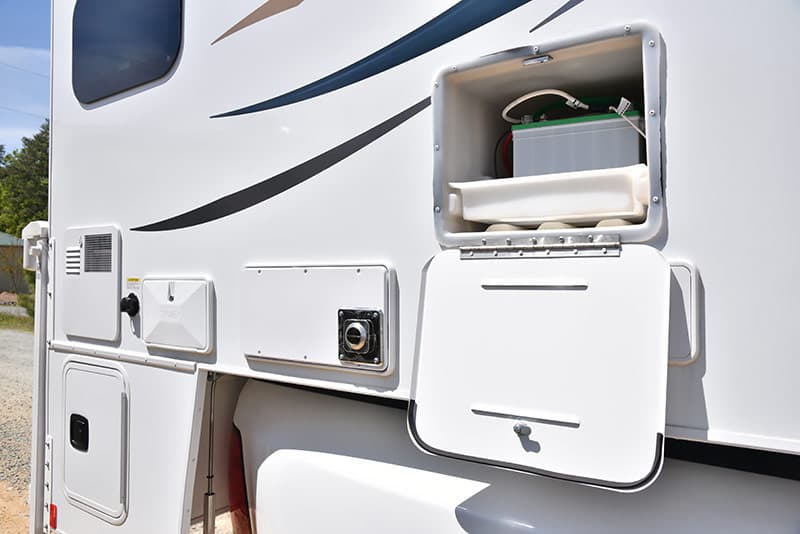 Above: Two Group 27 batteries will fit in the exterior storage compartment
Overall, the specifications and capacities of the 2016 Eagle Cap 995 offer exactly what most long-distance and/or long-term truck campers want and need.  This camper is ready for a coast-to-coast expedition and ready to go to Alaska and back.
Wet Weight Calculation
No matter how big or how small the camper you're considering, it's important to run the wet weight numbers before making a purchase.  With that in mind, let's run the numbers on the 995 using Truck Camper Magazine's standard wet weight calculation.
Base Dry Weight – special factory order only
The following truck camper starts with a base dry weight.  It is extremely unlikely that you will see a 995 with this weight unless you factory order one as a base unit without a single option.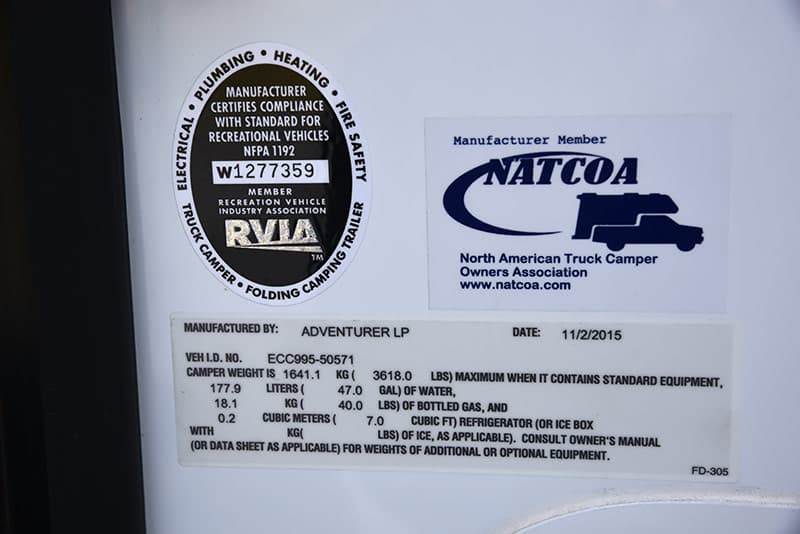 Eagle Cap 995: dry weight, 3,618 pounds + 41 gallons fresh, 341.9 pounds + 6 gallon full hot water heater, 50 pounds + 2x 20-pound full propane tanks, 40 pounds + 2 batteries, 130 pounds + stuff, 500 pounds = 4,680.9 pounds
Option-Loaded Review Unit
The inside weight sticker in the 2016 Eagle Cap 995 under review listed the dry weight with factory options at 4,020 pounds.  The 402 pounds of option weight is right on target for a loaded 10-foot luxury hard side truck camper.  Here is the standard wet weight calculation starting with Adventurer's provided weight.
Eagle Cap 995: dry weight, 4,020 pounds + 41 gallons fresh, 341.9 pounds + 6 gallon full hot water heater, 50 pounds + 2x 20-pound full propane tanks, 40 pounds + 2 batteries, 130 pounds + stuff, 500 pounds = 5,081.9 pounds
Truck Recommendations
When it comes to the larger slide-out truck campers, almost everyone understands that they need a one ton truck, preferably a dually.  In fact, we never recommend a slide-out truck camper on anything but a dual rear wheel truck.
We have several friends who have slide-out campers on single rear wheel trucks, and they all wish they had the stability and increased margin of safety of a dually when driving with the camper loaded.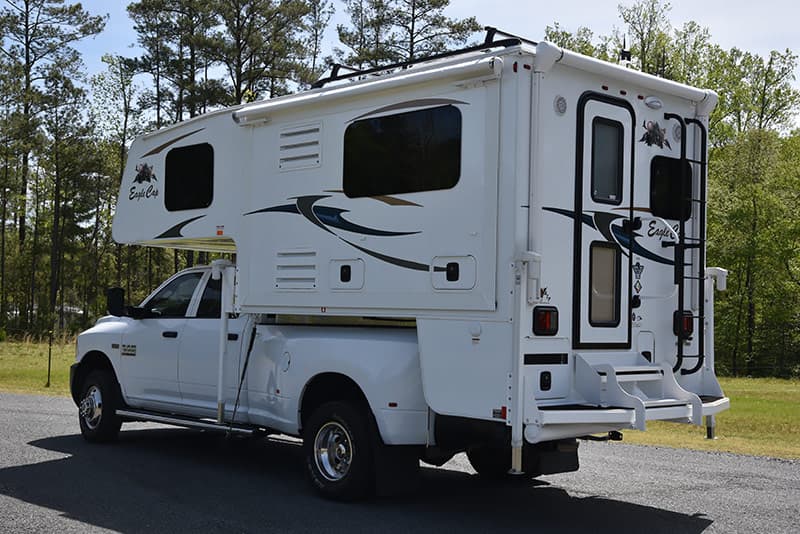 The 5,081.9 pound wet weight of the fully-loaded Eagle Cap 995 under review is an easy carry for a carefully selected one ton dually truck.  The bad news, if you can call it that, is that this truck absolutely requires a dually truck to be properly payload matched.  To our knowledge, no single rear wheel one ton truck has over 5,000 pounds of payload.
Payload matching the 2016 Eagle Cap 995 under review would be as simple as finding a new or late model one ton dually with 5,081.9 pounds of payload, or more.  If you buy new, tell your truck dealer that you need at least 5,100 pounds of payload, have them spec out a truck, and then locate or special order a truck that meets those specifications.
We always recommend special ordering as it allows you to maximize the payload of the truck while dialing in the exact packages, options, and exterior color you want.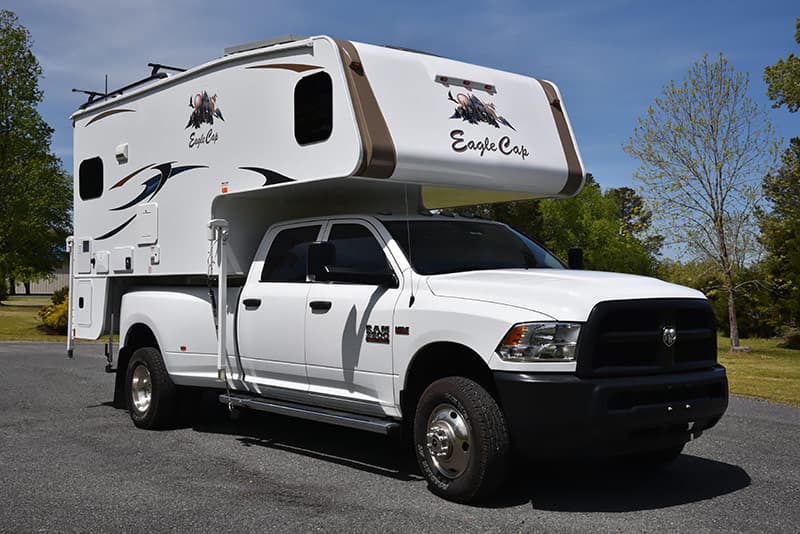 D&H RV Center had a 2015 Ram 3500 dually with a 6.4L HEMI and loaded the 995 on the truck.  The Ram featured an impressive 5,913 pound payload capacity, more than enough to carry the fully-loaded and wet Eagle Cap 995.  D&H RV Center sells payload matched truck and camper packages, a service that we believe has industry-wide potential.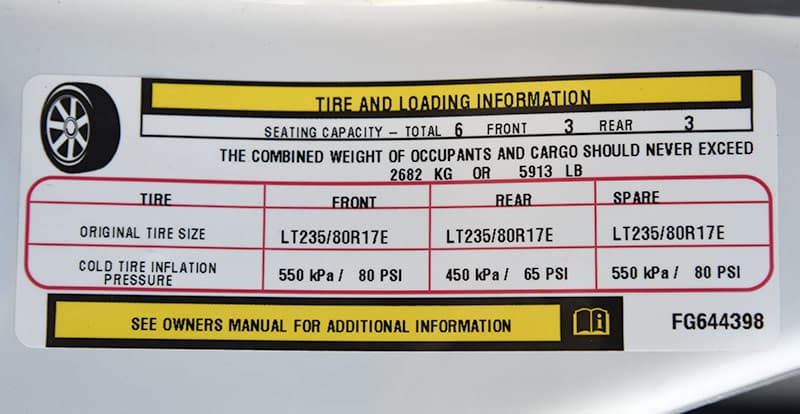 Above: The payload sticker on the 2015 Ram 3500 6.4L HEMI
If you buy a new or used truck, make sure you check the yellow payload sticker inside the truck driver's side door before committing to a purchase.  Never assume when it comes to payload capacity.
The Verdict
There can be no doubt as to why the Eagle Cap 995 has endured as a best seller.  The full-wall slide-out, gourmet chef-ready kitchen, cavernous dry bath, wide assortment of impressive storage opportunities, and the sheer luxury of the interior presentation leave no doubt.  On paper and in person, this camper is a stunner.
Reading through our con list below, these really are nit picks for what is otherwise a rock solid and proven truck camper design.  Put another way, the pros greatly out weight the cons on the 995.  Nowhere in the Eagle Cap design could we find a deal breaker.  From the specifications, to the capacities, to the floor plan, the 2016 Eagle Cap 995 shows us why it's still here, and still a top choice for many.
Pros
Fantastic kitchen design for meal preparation
Modular dinette-area furniture: dinette, sofa, or recliners
Huge dry bath with separate shower controls
Bright cabover with two windows and a Heki skylight
Excellent storage opportunities throughout
Ideal specs and capacities for long distance travel
Cons
Kitchen counter extension crosses entry door
Dinette seating feels short and narrow, and makes narrow bed
Space above bathroom door seems excessive
Limited bathroom counter space
Cabover exit requires spouse climb-over
Cabover storage favors passenger's side
Model Information
2016 Eagle Cap 995
MSRP: $36,505
Warranty: One year bumper-to-bumper, three-year structural
Adventurer LP (ALP)
3303 West Washington Avenue
Yakima, Washington 98903
Phone: 509-895-7064
Request An Eagle Cap Camper Brochure
Web: eaglecapcampers.com
Quality, Customer Service, and Long-Term Reliability
Truck Camper Magazine inspects all reviewed truck campers for design, material, and quality issues and reports what we find.  However, since Truck Camper Magazine reviews only brand new truck campers, our reviews do not address long-term quality, customer service, or reliability.
To learn about a brand's long-term quality, customer service, and reliability, Truck Camper Magazine recommends talking directly with truck camper owners at truck camper rallies and online via truck camper forums and truck camper owners groups.
Please be sure to balance your gathered feedback across multiple sources including direct correspondence with the truck camper manufacturers and your closest truck camper dealers.
If you are new to truck campers, start here.