TCM reviews a 2014 Palomino SS-600 Backpack Edition, a small, simple, and light-weight pop-up truck camper featuring Rieco-Titan's all-new electric lift system.  Can truck campers be cute?

EDITORS NOTE: This review originally stated that the 2014 Palomino SS-600 was designed for full-size short-bed trucks.  In fact, the SS-600 features a 36 inch wide floor and is designed for medium-sized trucks.  For full-size short bed trucks, please refer to the Palomino SS-550.
I should probably be a little embarrassed about the first word that popped into my head when I saw the 2014 Palomino SS-600, "cute".  I normally never use this word, much less think about it unless it's in reference to my cat, or in response a snide remark.
Experienced truck camper industry leaders know the word, "cute" is almost always a consumer code word for, "Too small. No way. Forget it".  Naturally this first impression had me concerned.
Then I spent half a day really looking at the SS-600 Backpack Edition at Princess Craft RV in Round Rock, Texas.  Yes, it's still "cute", but this camper is so much more.  First, it's impossible to ignore the MSRP; just over $9,646 without options and freight.  Second, the overall fit and finish is far superior to anything we've seen in previous Palomino truck campers.
The more we looked at the SS-600, the more we liked it.  The value is unmistakable.  The quality is outstanding for this price class.  And the design, materials, overall aesthetic, and functionality are no less impressive.  In some ways, we could end the review right here.
Then again, that would be short changing this camper, and our mission.  We have some important criticisms for this otherwise impressive model.  It's time to check out every square inch of this pop-up Palomino.  Let's start with the top down.
Contact Palomino RV about the Palomino SS-600.

For 2014, Palomino made an incredible transformation with their pop-up truck camper line starting with a completely new lower-profile roof and an all-new electric Rieco-Titan roof lift system designed specifically for Palomino.
With the top down, this pop-up truck camper looks low, light, and lean – just like a small pop-up truck camper should.  While the blunt shaped front nose isn't going to cheat the wind like a Porsche 911, it's still lower and leaner than any modern hard side truck camper.  Side-by-side with their previous generation pop-ups, this is a major improvement.

The electric Rieco-Titan roof lift system makes putting the top up quick and easy.  If traditional crank up pop-ups made you cranky, you would flip your lid over how smooth and fast the Rieco-Titan system works.  It's dreamy.
When the roof was lowered into the down position, it never lined up 100% with the body of the camper.  Instead it was slightly crooked in the down position.  This necessitated adjusting the latches in order to secure the roof for travel.  Adjusting the latches is quite easy but, given the quality of the rest of the exterior, the misaligned roof was disappointing.
The Rieco-Titan system worked flawlessly raising and lowering the roof into the exact same position each time.  I know this because I raised and lowered the roof quite a bit trying to get the roof to line up right.  Palomino needs to make sure the roof and body of the camper are 100% lined up at the factory.  Once properly dialed in at Palomino, the Rieco-Titan lift system should nail the landing every time.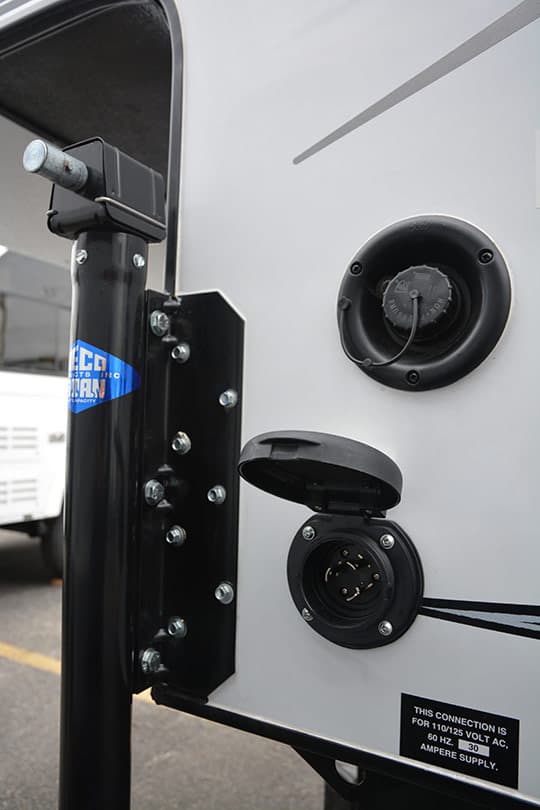 "Talk-in' 'bout, Hey now!  Hey now!  Rieco, Rieco, un-day!"
Okay, that's not really how the song goes, but look how sharp these black Rieco-Titan jacks look on this camper.  This speaks to the focused vision for the SS-600; everything on the outside is black, matching not only the graphics, but the upscale vibe of this Palomino.
We also like the cream white soft-wall canvas and black window screen that matches the black and white theme of the SS-600.  Obviously this look won't be for everyone, but it's definitely modern.  Palomino's new one-piece laminated sidewall should also be pointed out as yet another big step up for 2014.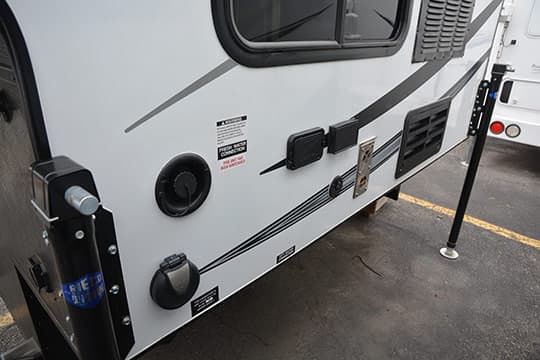 Just behind the front driver side Rieco-Titan jack is a detachable 30-amp electric connection with LED light indicator, and the ten gallon fresh water fill.  Ten gallons isn't much, but it should be plenty for a long weekend of efficient camping, supplemented with gallon jugs for drinking water.  We would prefer to see the electrical connection above the fresh water fill, just in case the water should spill.