TCM reviews a 2014 Palomino SS-600 Backpack Edition, a small, simple, and light-weight pop-up truck camper featuring Rieco-Titan's all-new electric lift system.  Can truck campers be cute?

EDITORS NOTE: This review originally stated that the 2014 Palomino SS-600 was designed for full-size short-bed trucks.  In fact, the SS-600 features a 36 inch wide floor and is designed for medium-sized trucks.  For full-size short bed trucks, please refer to the Palomino SS-550.
I should probably be a little embarrassed about the first word that popped into my head when I saw the 2014 Palomino SS-600, "cute".  I normally never use this word, much less think about it unless it's in reference to my cat, or in response a snide remark.
Experienced truck camper industry leaders know the word, "cute" is almost always a consumer code word for, "Too small. No way. Forget it".  Naturally this first impression had me concerned.
Then I spent half a day really looking at the SS-600 Backpack Edition at Princess Craft RV in Round Rock, Texas.  Yes, it's still "cute", but this camper is so much more.  First, it's impossible to ignore the MSRP; just over $9,646 without options and freight.  Second, the overall fit and finish is far superior to anything we've seen in previous Palomino truck campers.
The more we looked at the SS-600, the more we liked it.  The value is unmistakable.  The quality is outstanding for this price class.  And the design, materials, overall aesthetic, and functionality are no less impressive.  In some ways, we could end the review right here.
Then again, that would be short changing this camper, and our mission.  We have some important criticisms for this otherwise impressive model.  It's time to check out every square inch of this pop-up Palomino.  Let's start with the top down.
Contact Palomino RV about the Palomino SS-600.

For 2014, Palomino made an incredible transformation with their pop-up truck camper line starting with a completely new lower-profile roof and an all-new electric Rieco-Titan roof lift system designed specifically for Palomino.
With the top down, this pop-up truck camper looks low, light, and lean – just like a small pop-up truck camper should.  While the blunt shaped front nose isn't going to cheat the wind like a Porsche 911, it's still lower and leaner than any modern hard side truck camper.  Side-by-side with their previous generation pop-ups, this is a major improvement.

The electric Rieco-Titan roof lift system makes putting the top up quick and easy.  If traditional crank up pop-ups made you cranky, you would flip your lid over how smooth and fast the Rieco-Titan system works.  It's dreamy.
When the roof was lowered into the down position, it never lined up 100% with the body of the camper.  Instead it was slightly crooked in the down position.  This necessitated adjusting the latches in order to secure the roof for travel.  Adjusting the latches is quite easy but, given the quality of the rest of the exterior, the misaligned roof was disappointing.
The Rieco-Titan system worked flawlessly raising and lowering the roof into the exact same position each time.  I know this because I raised and lowered the roof quite a bit trying to get the roof to line up right.  Palomino needs to make sure the roof and body of the camper are 100% lined up at the factory.  Once properly dialed in at Palomino, the Rieco-Titan lift system should nail the landing every time.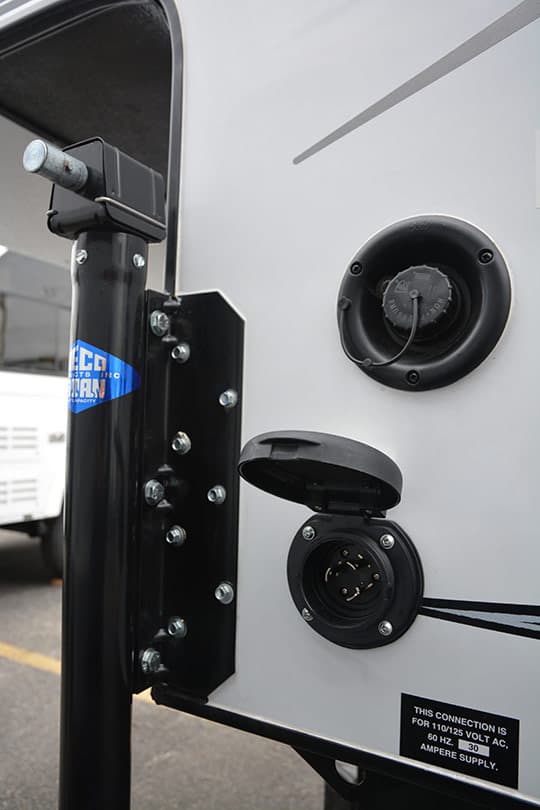 "Talk-in' 'bout, Hey now!  Hey now!  Rieco, Rieco, un-day!"
Okay, that's not really how the song goes, but look how sharp these black Rieco-Titan jacks look on this camper.  This speaks to the focused vision for the SS-600; everything on the outside is black, matching not only the graphics, but the upscale vibe of this Palomino.
We also like the cream white soft-wall canvas and black window screen that matches the black and white theme of the SS-600.  Obviously this look won't be for everyone, but it's definitely modern.  Palomino's new one-piece laminated sidewall should also be pointed out as yet another big step up for 2014.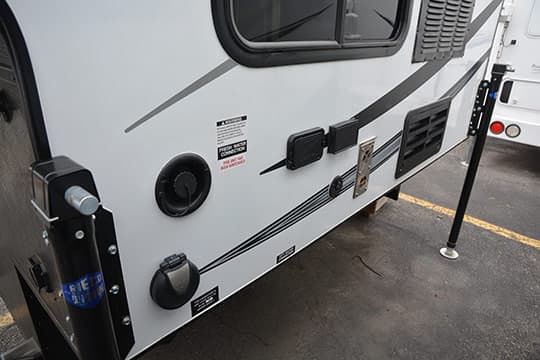 Just behind the front driver side Rieco-Titan jack is a detachable 30-amp electric connection with LED light indicator, and the ten gallon fresh water fill.  Ten gallons isn't much, but it should be plenty for a long weekend of efficient camping, supplemented with gallon jugs for drinking water.  We would prefer to see the electrical connection above the fresh water fill, just in case the water should spill.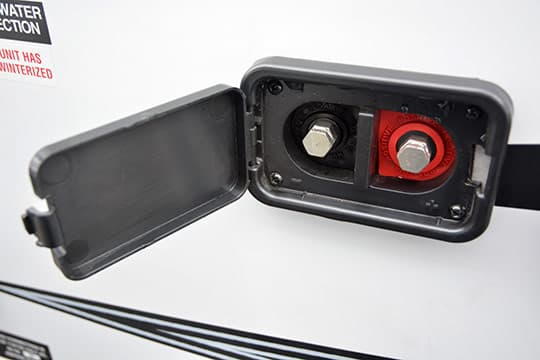 We were immediate supporters of Palomino's power port feature when it was announced for their 2014 truck camper line.  This port is designed to allow the owner to trickle change the batteries inside the camper without needing to remove the batteries.
As folks who have experienced the aggravation, mess, and considerable replacement cost of frozen batteries, this is a fantastic feature.  We hope power ports become an industry standard, especially on campers with interior battery compartments.
We discovered a small amount of pooled water inside the power port compartment when we opened it.  The compartment door was also a bit wonky to open and close.  Naturally, the compartment and leads should be very carefully dried (as we did before taking this photo), and an owner would likely get used to how this compartment properly opened and closed.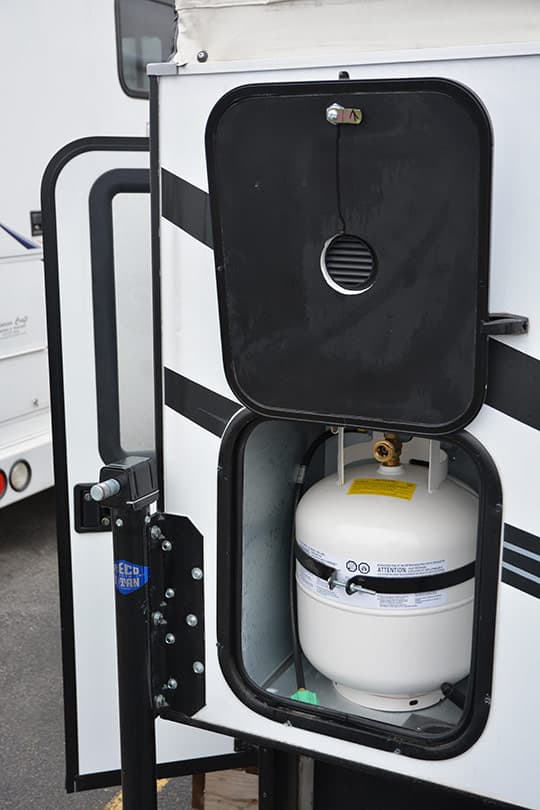 The propane compartment holds one twenty-gallon, five pound propane tank.  Unless you're camping in colder temperatures (forty degrees Fahrenheit and lower), this single tank should last a week or two of continuous use in a camper of this size.
In summer temperatures, when propane will likely only be used for the refrigerator, water heater, and cooking, this tank could last much longer.  Just make sure to park the refrigerator side of your rig out of the direct sun when possible.  That goes for any truck camper, big or small.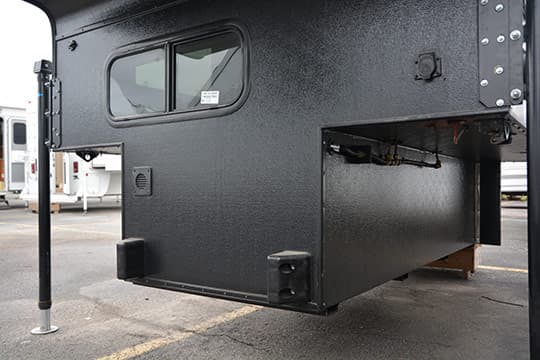 The lower front wall and underbody of the SS-600 features black pebble fiberglass lining.  You can also see the circular vent for the enclosed battery box inside, the front bumpers, and the front wall window.  The black pebble fiberglass feels like a heavy plastic and gives the camper a more sophisticated look than you would expect for a camper in this price category.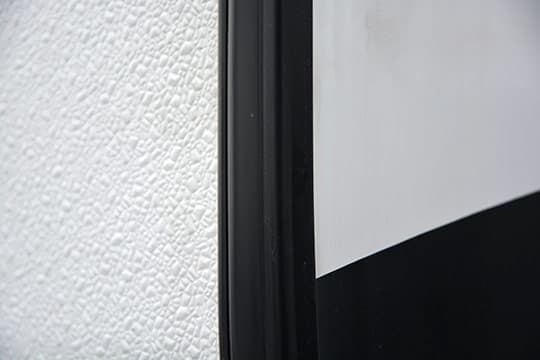 The rear of the camper features while pebble fiberglass lining.  The rest of the camper is finished in smooth filon fiberglass.  In this photograph you can see the difference between these two materials.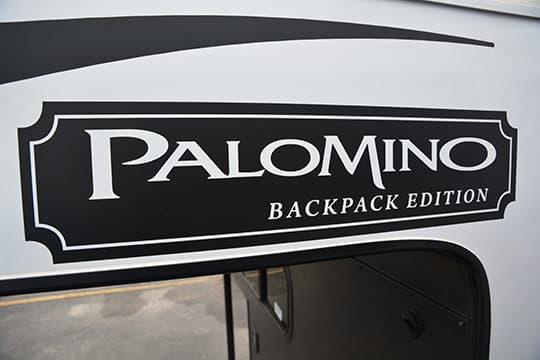 We have absolutely no idea where the name "Backpack Edition" came from.  And it's not just being placed on Palomino's small pop-ups like the SS-600.  We have seen the "Backpack Edition" decal on their hard sides and double-slide as well.  Clearly none of these campers are going to fit into junior's Jansport any time soon.
What we do know is that the Backpack Edition is a "mandatory" options package that includes a CO2 detector, Create-A-Breeze fan, 20,000 BTU furnace, three-way refrigerator, pre-wire for electric jacks, black Rieco-Titan convertible jacks, Serta mattress, Rieco-Titan electric roof lift, 55" one-piece door, and LED interior lighting.
While not a criticism of the camper itself, I am not exactly thrilled with the new trend of manufacturers including "mandatory" options packages.  First, how can an option be mandatory?  It's common sense that anything that's mandatory should be standard.
Second, does the fact that these features are part of a "mandatory" options package mean they're not being included in the base dry weight or MSRP, even though they're built into every truck camper that leaves the production line?
And third, many of these options are clearly items that should be standard; the CO2 detector, Rieco-Titan jacks, Serta mattress, and Rieco-Titan electric roof lift.  How can you have a pop-up truck camper without a door, jacks, mattress, or roof lift?  I may have just found a new pet peeve; mandatory options packages must go.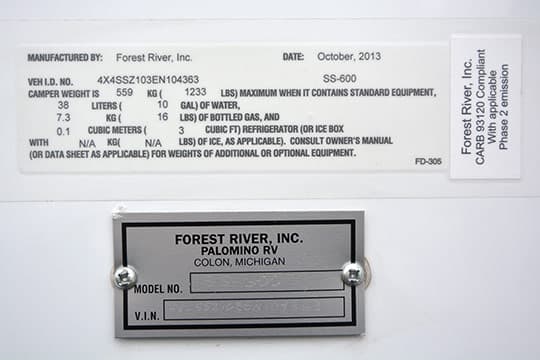 It doesn't matter what truck and camper combination we're talking about, there's always a question about weight, and proper payload matching.  One might assume that the 2014 Palomino SS-600 might be an easier match due to its impressively light 1,233 pound sticker.
While this may be true, it's still important to run the numbers first, even on a small pop-up like this.  Just for fun, let's run the numbers on the SS-600 right now.
Here are our wet weight calculations for a 2014 Palomino SS-600 (without options): dry weight, 1,056 pounds + 10 gallons fresh, 83.4 pounds + 20 pound full propane tank, 20 pounds + battery, 65 pounds + stuff, 500 pounds = 1,724.4 pounds.
The camper we reviewed had an additional 73 pounds of options including an air conditioner bringing its total wet weight to 1,798 pounds.  To be fair, most folks will not take the 500 pounds of stuff we list in every wet weight calculation.  Then again, stuff weight should include people and pet weight, which brings that wet weight number back up again.  As you can see, it's just as easy to overload a small pop-up as it is a triple-slide.
Safety first.  After that, the fun and adventure begins.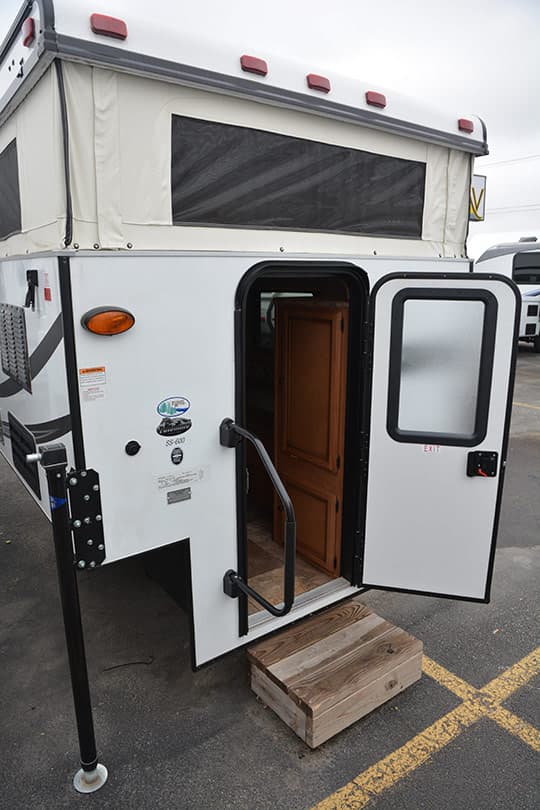 At 6' 3", I really appreciate the 55" one-piece door Palomino changed to for their 2014 pop-up line.  I can honestly say I didn't bump my head once going in and out of this camper about a dozen times or more.  Adults will still need to stoop down, but it seems more natural at this height than with the shorter doors you often find on pop-up campers.
The door also opens and closes with a satisfying "clunk".  This is a real door.  Palomino even added an entry assist handle, in black, of course.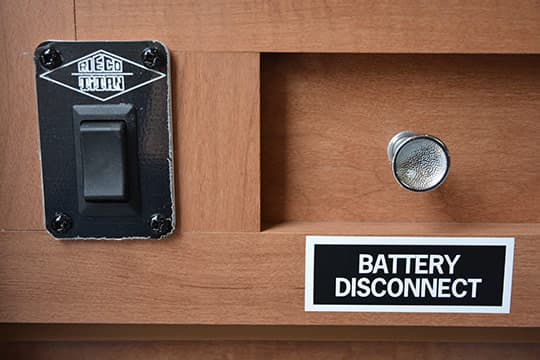 Enormous praise goes in Palomino's general direction for (a) putting a battery disconnect switch in every Palomino truck camper, and (b) putting that battery disconnect switch right inside the entry door on the SS-600.  If only every truck camper had their battery disconnect switch this easy to find, just inside the rear door.  Bravo, Palomino!
It's also heartening to find the Rieco-Titan electric slide rocker just inside entry door.  No worries about losing the remote control for the electric roof lift.  Just open the door, and push the rocker up or down.  In a few seconds, the top will be up, or down.  With my nit-pick reporter hat on, I would like to see the presentation of the Rieco-Titan plate improved (click here to see Rieco-Titan's response).
It should be noted that the SS-600 we reviewed did not come with the optional Rieco-Titan key fob.  We did see the key fob at Louisville last year.  It's definitely neat, but Palomino has done such a good job placing the rocker switch just inside the rear door that I'm not sure it's necessary.  Then again, you may fob differently.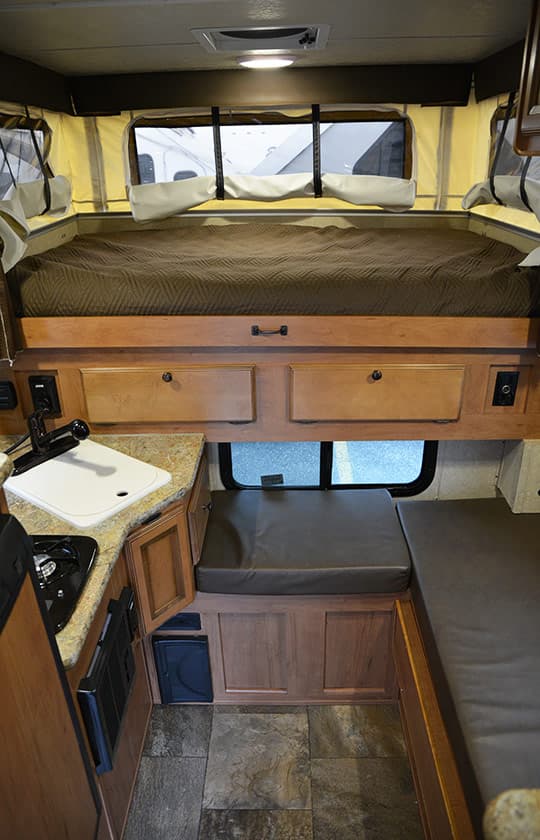 With the top up, the interior of the 2014 Palomino SS-600 Backpack Edition feels much bigger than one might expect.  The floor plan is smart, simple, and well sorted.  From the right-sized sink and cooktop, to the almost shockingly ample storage, this is a camper design has been carefully thought through.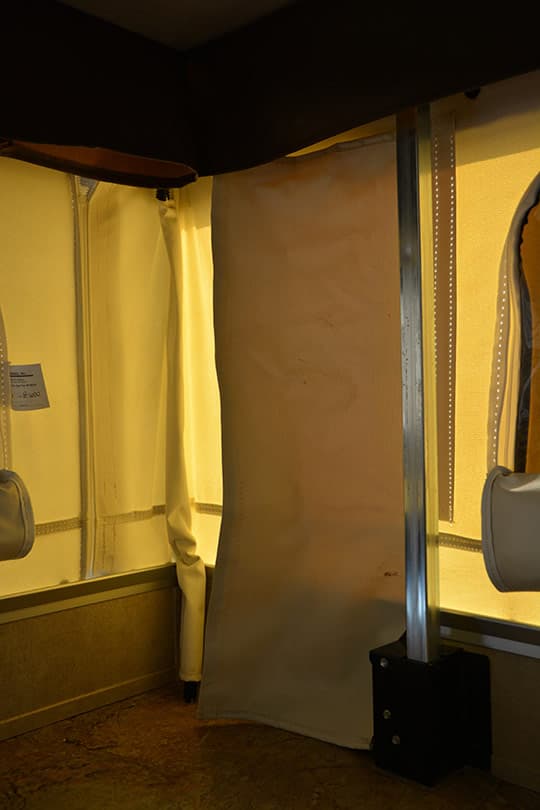 A nice touch in the SS-600 are the velcro wraps for the Rieco-Titan lift system.  Made from the same material as the soft wall, these wraps hide the aluminum lift bars giving the interior a more refined look.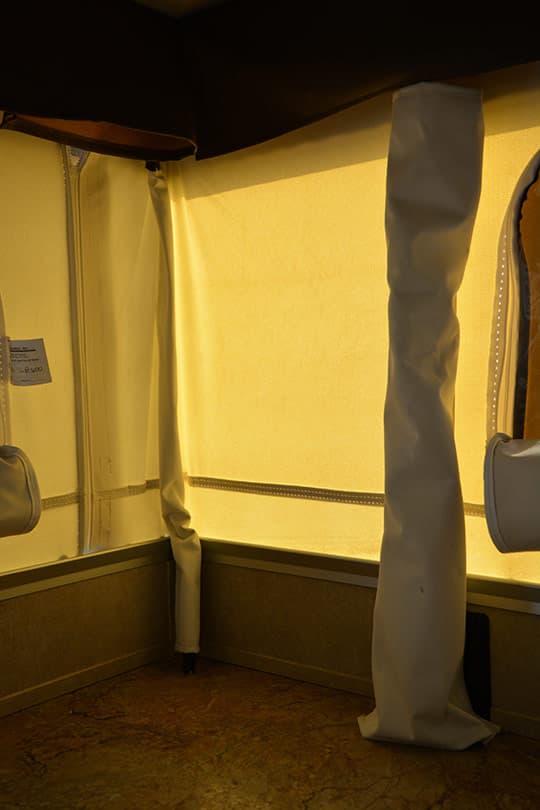 Wrapping the Rieco-Titan bars was a simple process that took only a half-minute or so.  Just make sure you don't forget to unwrap the bars before letting the top down as it may damage the velcro or wrap material.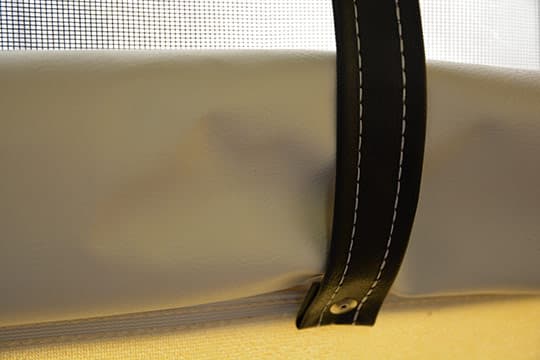 The parts of the 2014 Palomino SS-600 Backpack Edition that actually had me think "that's kinda backpack" were the straps that hold the rolled soft wall windows covers.  The black (of course) straps feature white stitching and velcro fasteners.  When I used these to dress the window covers, the material quality was assuring, and the overall aesthetic impressed me once again.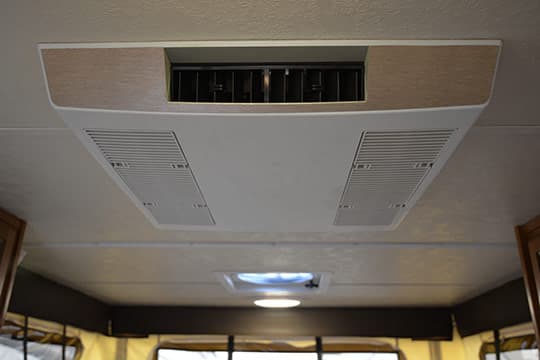 The first thing I saw when I walked into the SS-600 was the optional air conditioner.  I'm at odds for the need of an air conditioner in a small pop-up truck camper like the SS-600.  The camper already features a Create-A-Breeze fan and, as a pop-up, is open to the elements for air flow.
On balance, the SS-600 we reviewed was at Princess Craft in Round Rock, Texas.  Texas gets quite hot in the summer, perhaps making an air conditioner a necessary proposition.  Still, the air conditioner would likely make the SS-600 occupants into popsicles in a matter of minutes.
Unless you're going to camp a lot in the hot, consider saving some money, saving some weight, lowering your center of gravity, and improving your aerodynamics by skipping the AC.  Besides, that's what lakes, altitude, shade, fans, and cases of cold beer are for.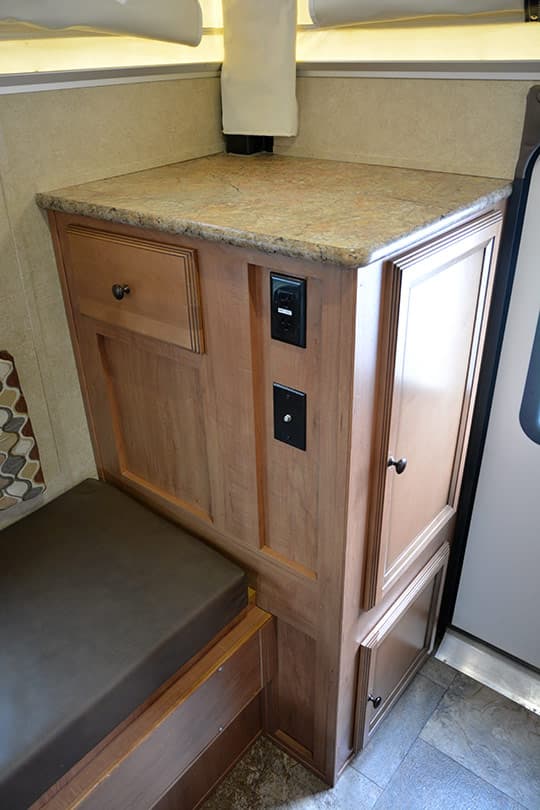 In the rear passenger side of the SS-600 is a multi-purpose cabinet with a counter top surface that smartly matched the kitchen counters.  In this cabinet there's a drawer facing the sitting area, an outlet, coax-cable connection, a hanging wardrobe, and a lower cabinet.
The coax connection location is curious, but it would allow for a small flat-panel television to be mounted in this area.  I'm not sure that's a good idea, but it's possible.
The bench-sofa-sitting-area-thing in the SS-600 was surprisingly comfortable, even if it did make me want to lay down, and explain my feelings.  Unfortunately, I would be explaining how I didn't have enough room to lay down as there's not enough length for most full-grown adults.  I blame my parents.

Pop-up truck campers have an interesting design challenge when it comes to the upper cabinetry.  Upper cabinets are attached to the pop-up roof and must have a corresponding space for them to fit when the pop-up roof is in the down position.
In this way, pop-up interiors are like a vertical puzzle that fits together; the pop-up roof must fit into the bottom of the camper.  Almost every multi-slide is like this as well, only with dinette, sofa, and kitchen slides fitting together in a horizontal puzzle.  This is why I look at pop-up truck campers like a slide-out, only it's the roof that "slides".
The cabinetry in the SS-600 is of the same "Palomino Maple" as the lower cabinetry.  Yes, they actually call it Palomino Maple.  Do they call the fabric "Palomino Plaid"?  No, that would be ridiculous.  Besides, it's more of a "Palomino Argyle".
On the driver's side, above the bench-sofa-sitting-area-thing there's a single cabinet with a LED light.  The LED light is directly above the kitchen.  On the passenger's side there's a double door cabinet with about twice the storage area and another LED light.  This light is directly above the seating area.
Upon close inspection of these cabinets I noticed something I could hardly believe – no gimp!  Then I looked around the camper and noticed the conspicuous absence of gimp.  Could it be that this is a gimp-less camper?  Palomino has their tolerances tight enough that they don't need that pesky plastic trim (aka trailer welt) that the RV industry has used for generations to cover less than tight tolerances.  Very, very impressive Palomino.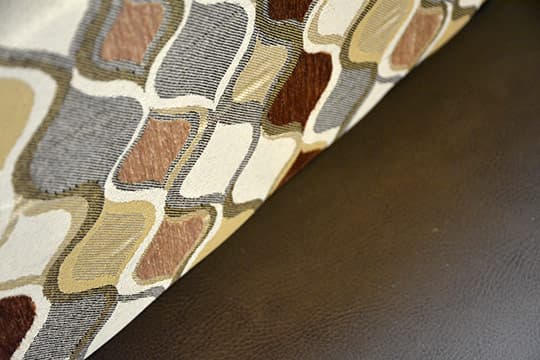 Speaking of "Palomino Argyle", here it is in the SS-600.  This same fabric is used in every single 2014 Palomino truck camper.  Like Henry Ford once famously quoted himself saying, "You can have any truck camper fabric you want, so long as it's Palomino Argyle."  I may have confused that quote a bit, but you get the idea.  If you don't like Palomino Argyle, too bad.

On the front wall of the camper, just under the overcab, there are two pull-down storage nooks.  With their immediate proximity to the kitchen and sitting area, these storage areas would be especially handy for cooking utensils and food items.
The driver's side of the front wall has a GFCI outlet and the furnace thermostat.  The passenger's side of the front wall has a 12-volt outlet.  We love the 12-volt outlet near the dinette and can't help but point out how everything is in matching black.
We've seen too many campers over the years where the outside aesthetic doesn't coordinate with the interior aesthetic, like they're two different products entirely.  With the Palomino SS-600, the exterior look continues to the inside of the camper, giving the coach a unified look right down to the black Suburban thermostat.  Nice work.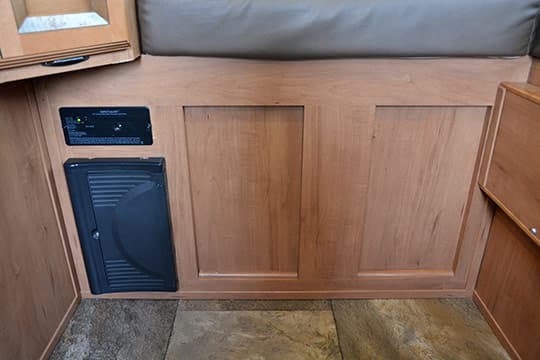 The lower front wall has the fuse box and carbon monoxide detector.  Also notice the build quality and the tight tolerances.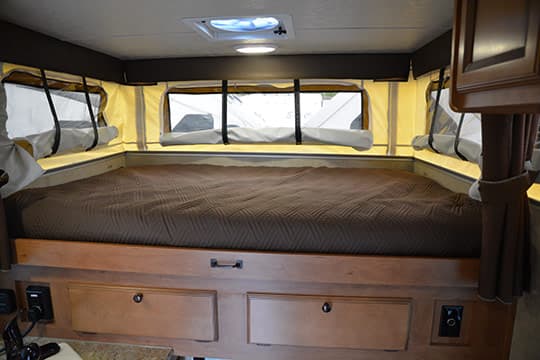 The cabover is East-West and features a place to sleep and the previously mentioned Create-A-Breeze fan.  That's it.  Nice and simple.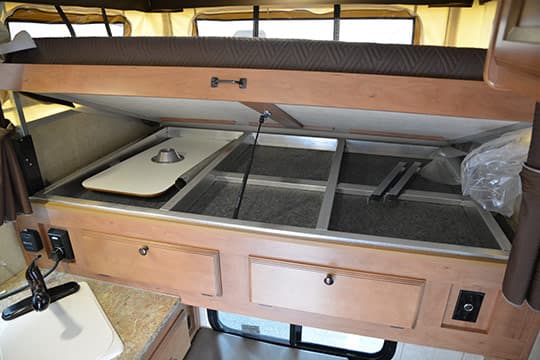 With the help of a central gas strut, the cabover bed lifts to reveal a large storage area.  It also reveals aluminum support material, something we found curious given the camper's vacuum bonded wood-frame construction.
Lift-up under bed storage has long been a secret strength of pop-up truck camper design.  The only brand of hard side truck camper that we've seen with a similar under bed storage area is the now defunct Okanagan.  Hey industry, under bed storage might be worth exploring again for the hard side market.
When we found the table top and leg stored under the bed, we immediately looked at the floor near the dinette for the corresponding table leg mount.  There wasn't one.  Perhaps this is a dealer installed option that had yet to be installed, or perhaps there's giant magnet under the dinette that keeps the table leg secure.  I'm sure our bright green Palomino phone will ring with the answer as soon as this review publishes.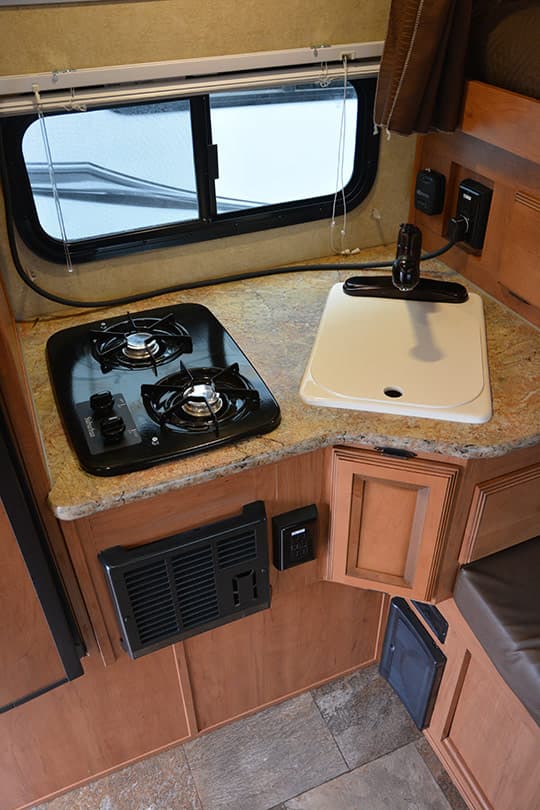 The kitchen in the SS-600 has a single bowl sink, a two burner propane stove, and a respectable amount of counter space.  While there's no oven or microwave, it's amazing how much can be made with a simple two-top propane cook-top, and a sink.  I suspect no one in the SS-600 is going to wake up without a hot beverage, or go to bed without a hot dinner, if that's their preference.  In the world of small RV kitchens, this is efficiency exemplified.
Under the kitchen counter is the propane heater and another AC outlet.  Just be careful not to get any water on that outlet.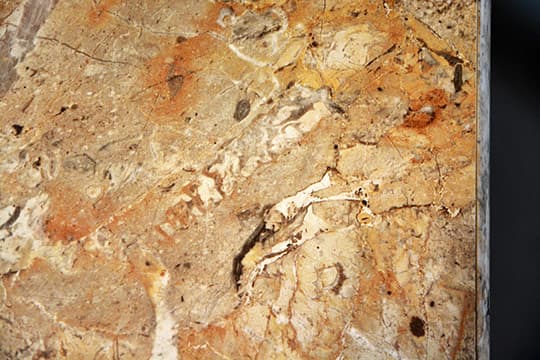 While it's never going to be mistaken for real granite, or even a true solid surface, the laminate countertops in the SS-600 are quite pleasing to the eye.  We especially appreciate that Palomino used this laminate on the other surface areas continuing the coordinated interior look.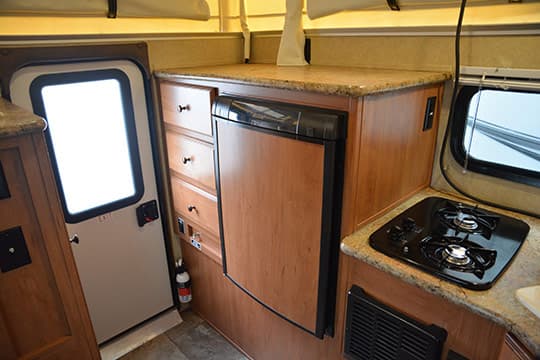 The rear driver's side features a three-way three-cubic-foot Dometic refrigerator, three pull-out drawers, matching counter top, battery disconnect switch, and a toggle switch for the electric Rieco-Titan lift mechanism.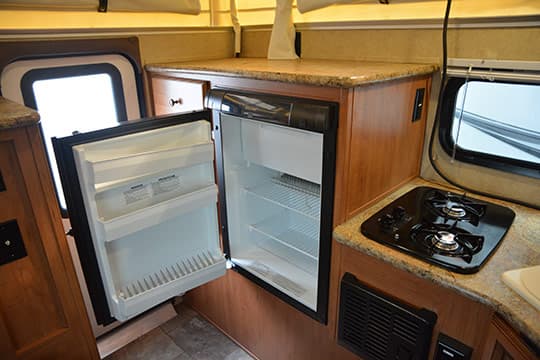 The three-cubic foot refrigerator should be plenty for weekend adventures.  Most folks who buy a camper this size probably won't need much more.
Wrap It Up
Yes, the 2014 Palomino SS-600 is still "cute".  When you see one in person, you'll understand immediately, especially if it's side-by-side with larger hard-side and multi-slide truck campers like the one we reviewed at Princess Craft Campers and Trailers.
I can't help but come back to the impressive value Palomino has hit with this camper.  At just under $10,000 before options and freight, I can honestly see people purchasing this camper as an impulse buy.  They stop by the dealership on their way to somewhere, see the camper, and think to themselves, "That looks like fun. The price is right. Load it up!"  We hear a lot about such happenings with travel trailers and towable pop-tops, but never with truck campers.  We're usually the "research for a year or two and then buy after much deliberation" crowd.
So, is this a rave review?  If you put aside our concerns about the roof and lower body alignment and the ridiculous "mandatory" options package, I suppose it is.  I'm also confident Palomino can address the alignment issue in the same way they made so many other quality improvements for their 2014 pop-up line.  You've raised your own bar Palomino.  Line the roof up, make the "mandatory" options standard, and you'll have the SS-600 down.
Of course not everyone wants a small, simple, and light-weight pop-up truck camper with no bathroom.  But if that's what you're looking for, the 2014 Palomino SS-600 is a clear winner.  We were extremely impressed.
Quality, Customer Service, and Long-Term Reliability
Truck Camper Magazine inspects all reviewed truck campers for design, material, and quality issues and reports what we find. However, since Truck Camper Magazine reviews only brand new truck campers, our reviews do not address long-term quality, customer service, or reliability.
To learn about a brand's long-term quality, customer service, and reliability, Truck Camper Magazine recommends talking directly with truck camper owners at truck camper rallies and online via truck camper forums and truck camper owners groups.
Please be sure to balance your gathered feedback across multiple sources including direct correspondence with the truck camper manufacturers and your closest truck camper dealers.
If you are new to truck campers, start in the Newbie Corner.
For more information on the SS-600 and other Palomino campers, visit their website at palominorv.com.  Contact Palomino RV about the Palomino SS-600.