Ten amazing Medium Mods including a polypropylene air diversion, PVC camper guides, memory foam chair swap, toolbox camper steps, backup camera relocation, and more.  Don't miss the marine countertop salvage!

Welcome to the September 2017 Super Cup Monthly Mod Contest.  Please review the following ten Medium Mods and vote for your favorite.  We will announce the winner next week.  If you'd like to enter mods into TCM's Monthly Mod Contest, click here.
Click here to vote for your favorite 3 mods from this month's contest.
1. Mike Tassinari, Peabody, Massachusetts
Kitchen Storage Containers On Wall
2002 Ford F350
2016 Lance 1172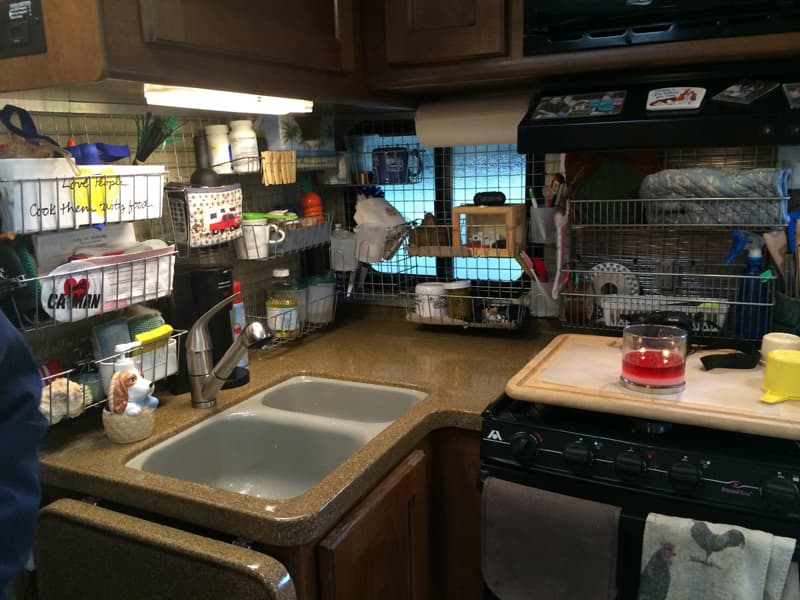 We did this modification so that I don't have to put things away.  It also keeps the counter space empty and provides more kitchen storage.
First, I measured the area for my storage containers.  The wire rack backing comes as 24-inch by 30-inch pieces.  I bought three of them for this modification.  There are three physical sizes of the wire rack backing, so get the one that fits your set-up best.
You can't anchor anything to the walls because there is nothing to hold to, so I got 3/4-inch by 3/4-inch aluminum tubing.  I put velcro on the bottom tubing and from the top I screwed down from the cabinets.

Above: Wire spoke attachments on the bottom (left) and top (right)
I had to drill a hole with the drill press for each one of the wire spokes on the rack and put it in the tubing.  I pre-assembled this part in my shop with a side cutters.  I had to get a couple and overlap them.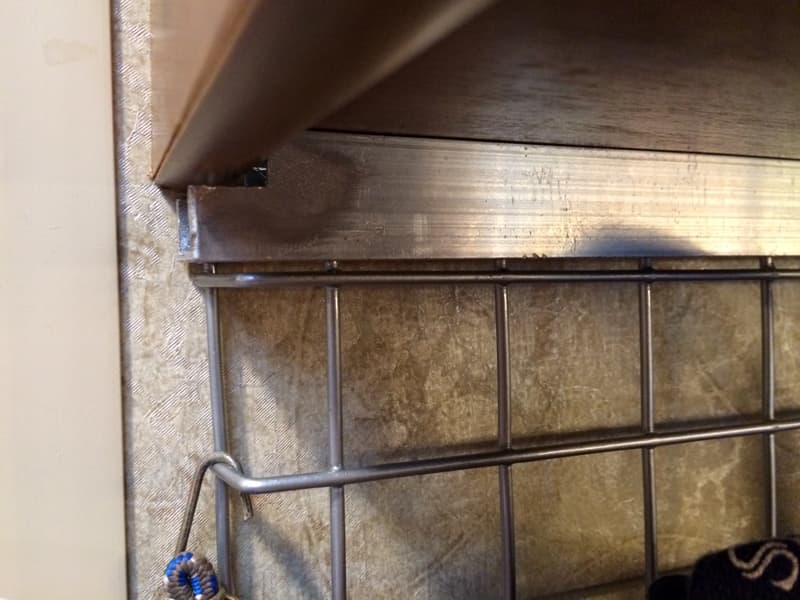 First, a 30-inch by 24-inch piece was cut to size, and then I cut to size a 12-inch by 24-inch piece to finish up the sink side.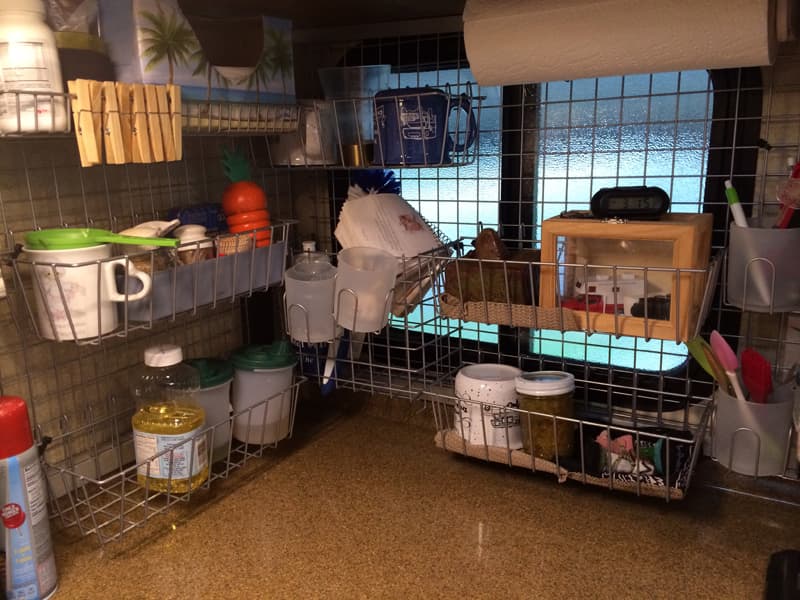 On the window/stove side we never use the kitchen window, so we bought a plastic film to put over the window for privacy.  On the window/stove side I used a 24-inch by 30-inch cut to stop that end at the stove's exhaust fan.  On top of the stove, the aluminum bars had to be vertical.  They are screwed into the sides of the range hood.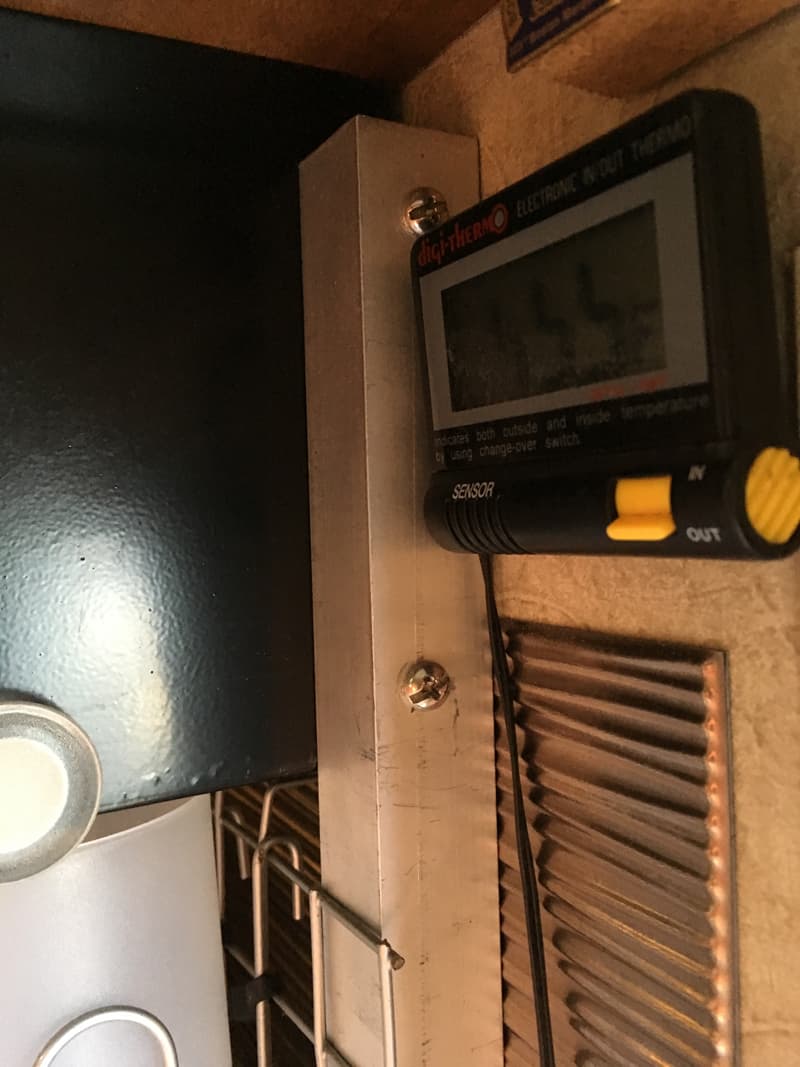 All of the components in this modification came from The Container Store.  The baskets and hooks come with it.  You can choose from deep and shallow baskets, long and short.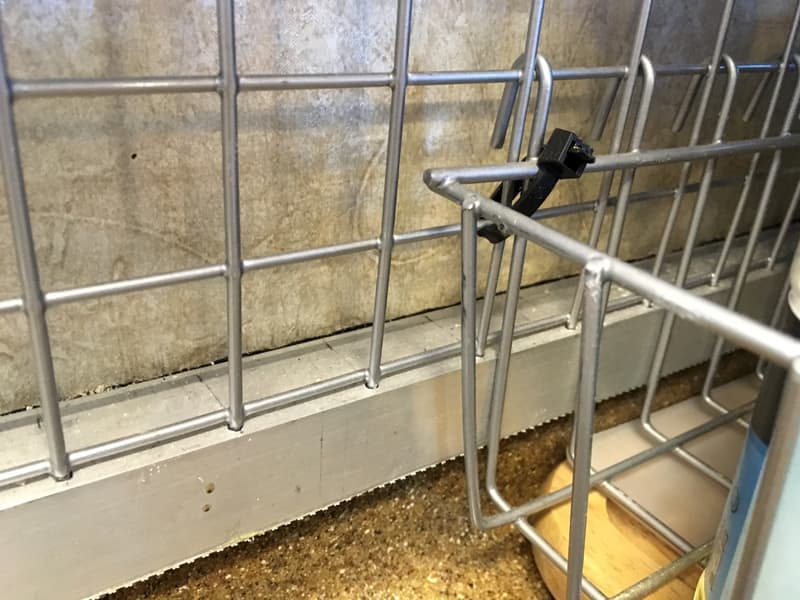 I have zip-tied them to the grid work so they don't pop off while we drive.  They did once in the past, and what a mess that was.  Because of the grid wire racks, you can arrange the baskets as you want them arranged.