Stephen O'Neal builds a flatbed Alaskan truck camper rig tricked out and modded to an extreme rarely seen.  Look out Crockett and Tubs, this Miami camper has a vise.

More than any other type of RV, truck campers are tools.  As tools, they are often purchased to accomplish a specific task, and/or accommodate a specific hobby or interest.  Want to tow a bass boat to fishing tournaments?  Looking to off-road to the best landscape photography opportunities?  How about camping off-grid at ski resorts in the dead of winter?  A truck and camper combination is your best solution.
Those examples are kitten play compared to what Stephen O'Neal wanted to do.  In short, Stephen wanted a rig that would be capable of traveling the most remote off-road and off-grid locations possible (think Alaska), while also being suitable as a daily driver in a major city (think Miami).
As if the hot to cold, palm tree to frost heave, and rush hour to wide open space contrast wasn't enough, he also wanted to bring every conceivable self-recovery and field repair tool with him.  Somehow describing Stephen's rig as a tool doesn't quite cut it.  He designed and built a veritable Swiss Army knife, on wheels.
To this already superbly capable road machine Stephen added one of the highest performance security camera systems we've ever seen in an RV.  Think the mods and versatility end there?  Think again.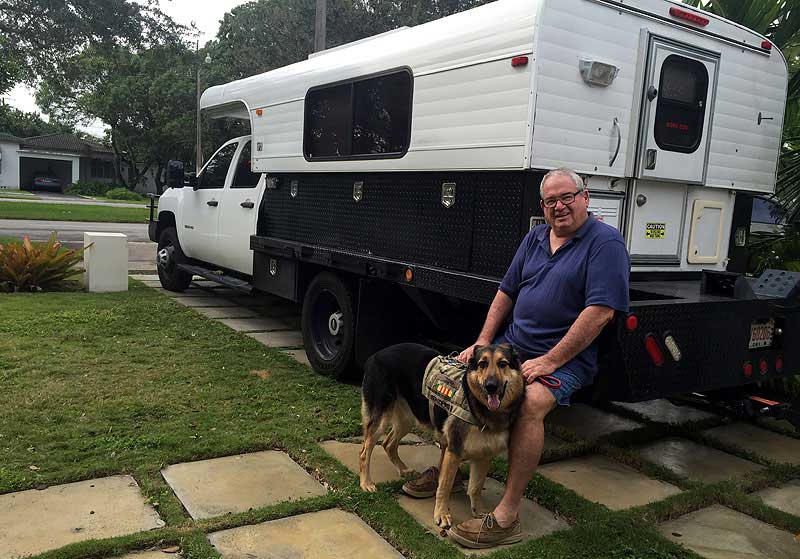 Above: Stephen and Toby with their Alaskan Camper rig
TCM: How did someone from Miami come to own an Alaskan Camper?
Stephen: Alaska was my goal when I put the Alaskan Camper rig together.  I had flown as a co-pilot for two summers on a vintage Douglas DC-4 hauling fuel to villages in the Arctic Circle and gold mines where the landing strips are bulldozed mine tailings.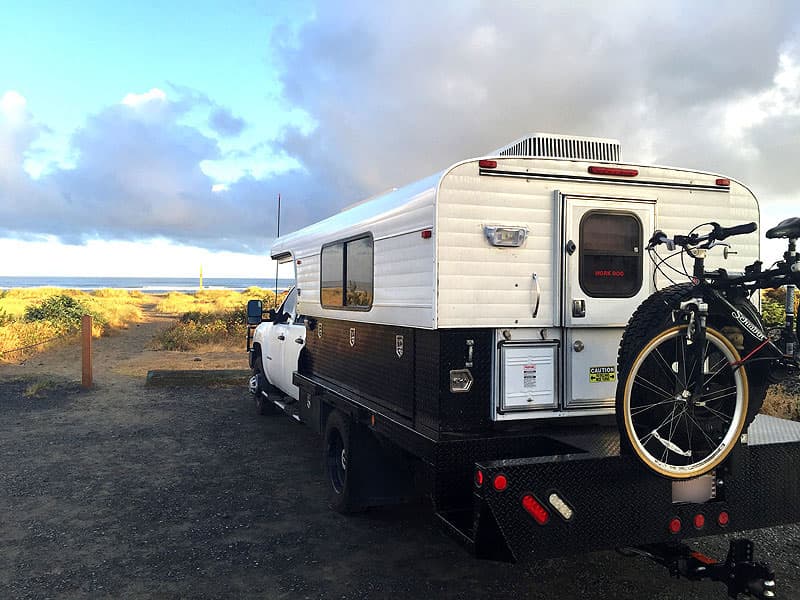 Above: Stephen's 11-foot Alaskan on the Pacific Coast
There are no roads in these areas, but the beauty of Alaska drew me to want to see more from the ground.  My Alaskan Camper rig is designed specifically for off-road and back-road adventure.
Above: Driving through Deadhorse, Alaska
TCM: Why did you decide to purchase hard-side pop-up truck camper?
Stephen: I spent two years figuring out exactly what I wanted.  I did not want a conventional hard side truck camper.  For where I want to go and what I want to do, hard side campers are too exposed to potential incidents.  I needed something more compact and rugged.
Soft side pop-ups were an option, but didn't offer the security I wanted.  That brought me to Alaskan Campers and their unique hard side pop-up truck campers.
After two years of research including many Truck Camper Magazine articles, I designed a truck and Alaskan Camper rig that ensured the dependability I wanted.  When you consider that Alaskan has been in production for over sixty years, they had to be doing something right.