Welcome to the fourth entry in August's Mega Mod Contest.  One Mega Mod will be published in every Email Alert in August.  At the end of the month, we'll hold a reader vote to determine August's winner.  Click here for information about the 2021 Mod Contest, including how to enter.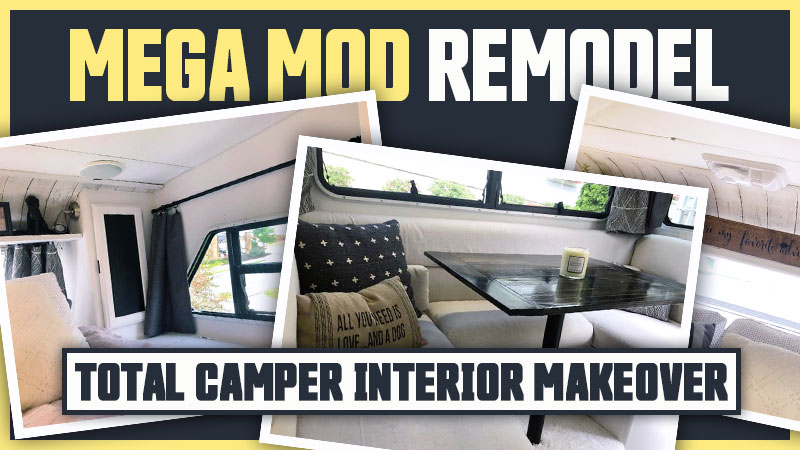 Will and Angela Howerter, Marietta, Georgia
Total Camper Interior Makeover
2019 Ram 3500
2004 Lance 1030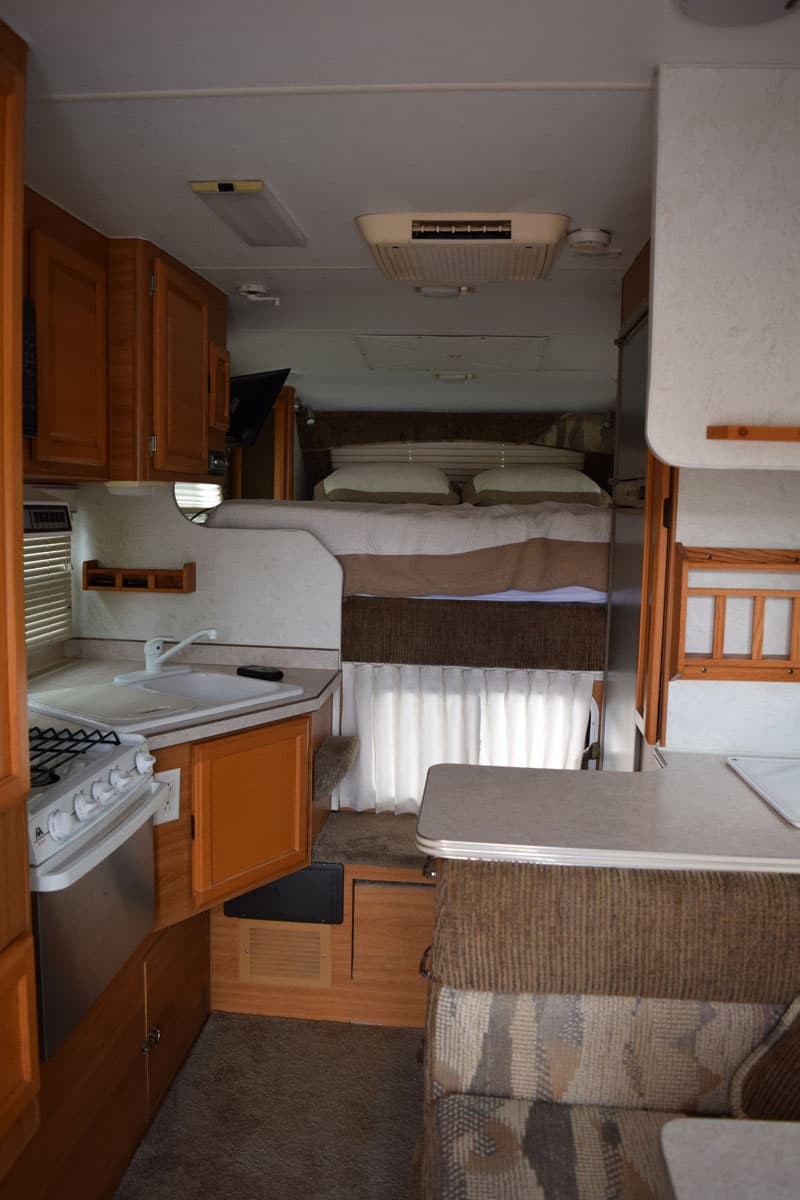 Above and below: The 1030 before the makeover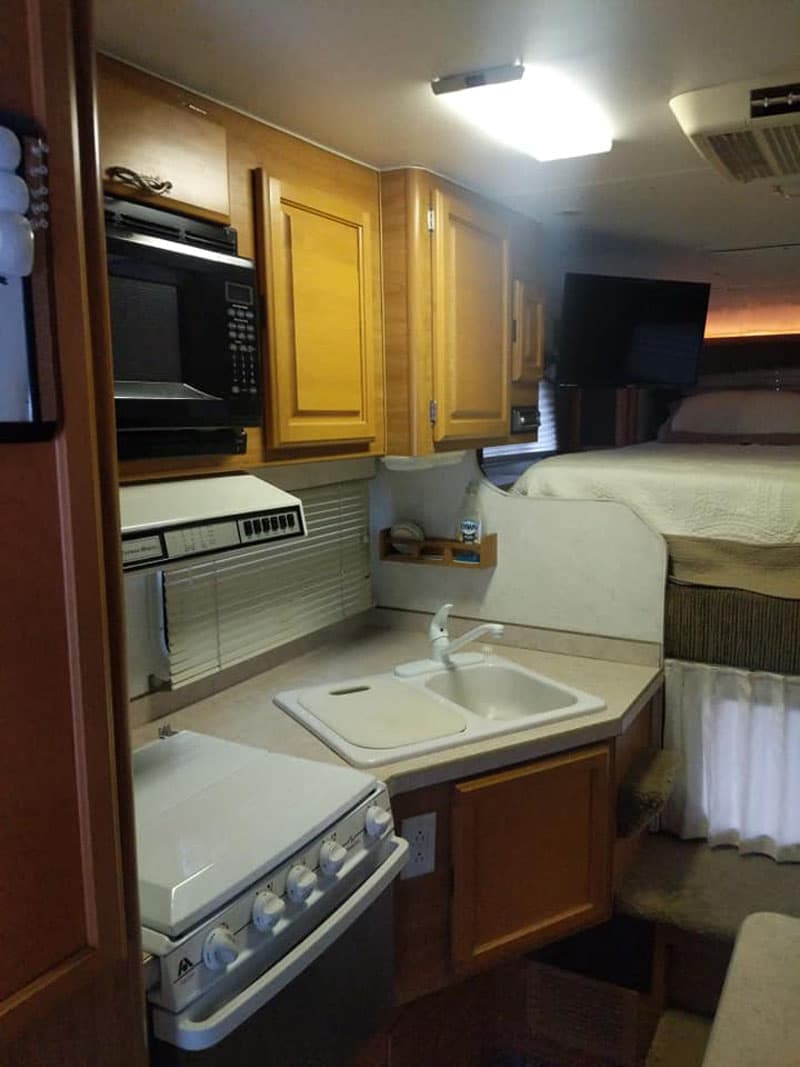 We bought a used 2004 Lance 1030 camper in July of 2020.  We were new to truck campers.  We were so new in fact, that we didn't even have tie-downs for our truck, which (due to the pandemic) took four-weeks for delivery and installation.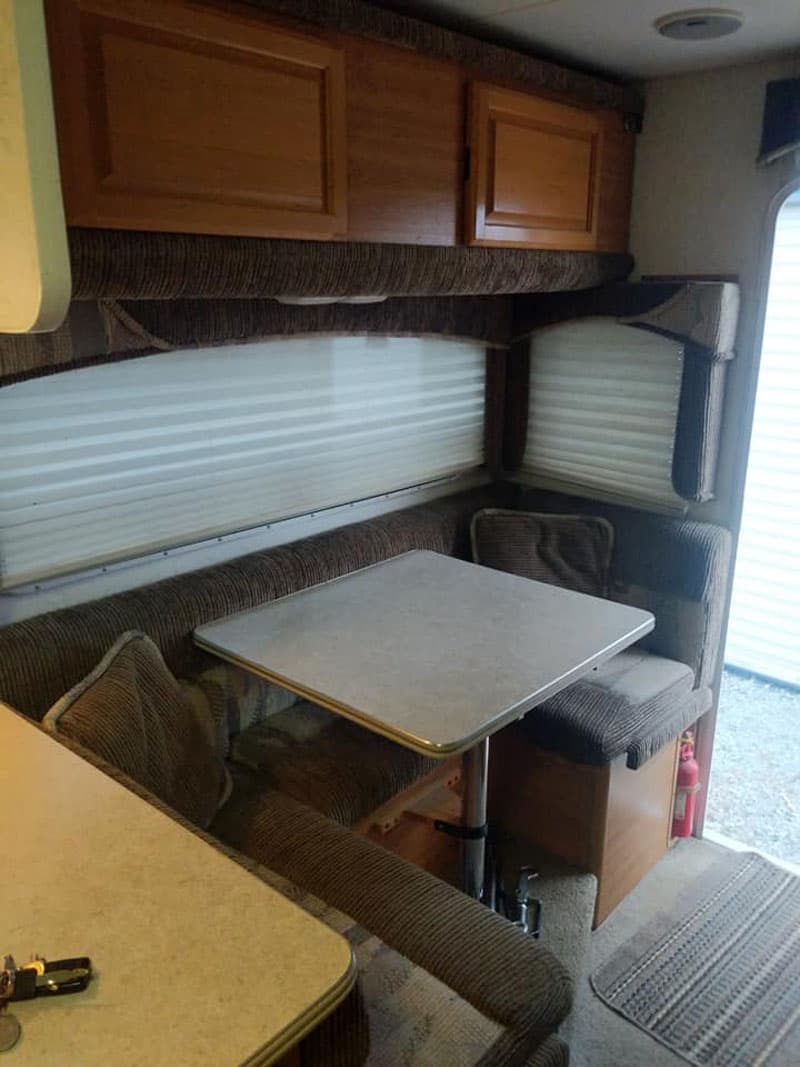 Above and below: The 1030 before the makeover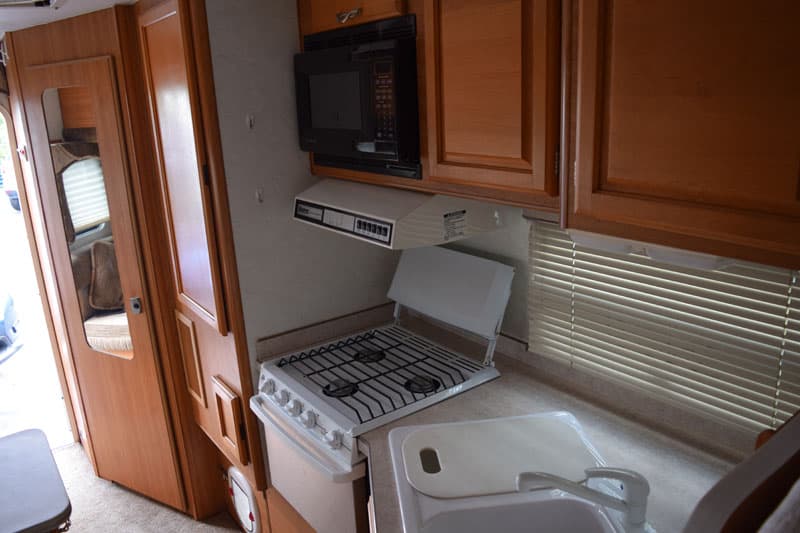 We wanted to renovate the interior to make the used camper our own, and more like our home away from home.  The camper felt dark, and the windows and fabric just weren't our style.  As soon as we took possession, we started ripping out the carpet, cornices and window treatments.  And thank goodness we did because we discovered water damage over the headboard in the window once we ripped out the window treatment.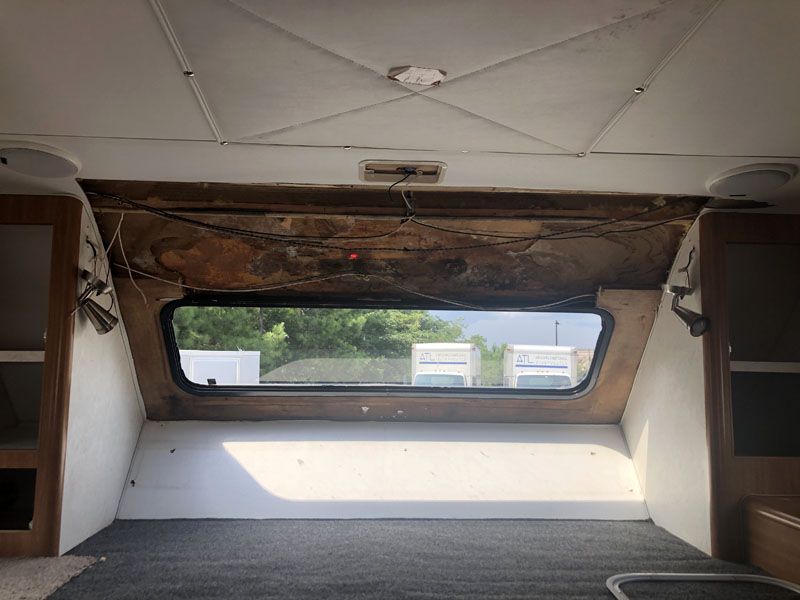 Above: The cabover area rot near the window
Above: The cabover after the rot repair and remodel
We looked for de-lamination when we were surveying potential campers, but we completely missed it on this one.  We actually didn't see any de-lamination until a month later when we were driving up to our storage spot to work on the camper.  The sun was hitting the camper just right and we were almost level with that high part of the camper since we were driving up in our truck.
The most major change we planned was to dump the existing non-working generator and replace it with something newer, quieter, and more powerful.  Speaking of generators, for three weeks we worked without air conditioning (in Georgia, in July) while we waited for our new generator to arrive.
While Will replaced the rotted-out water-damaged bedroom wall, I cleaned and painted the walls, sewed blackout curtains for all of the windows, and re-covered the dinette cushions.  I also created all of the artwork and camp mugs.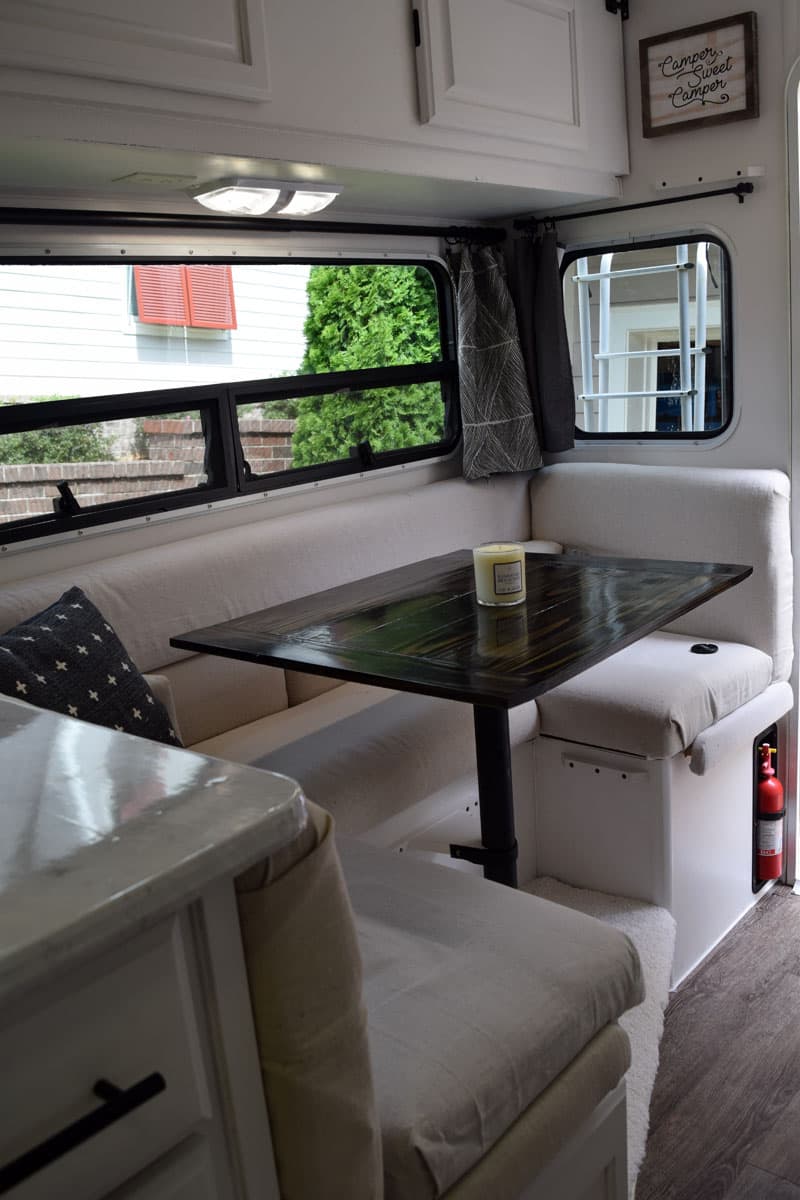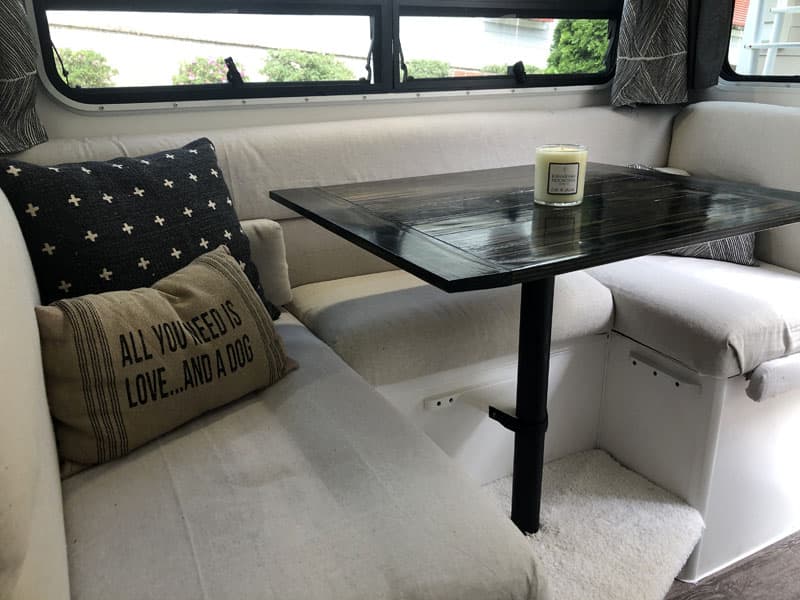 Will built a custom top for the dinette table and laid new flooring.  We covered the countertops with contact paper.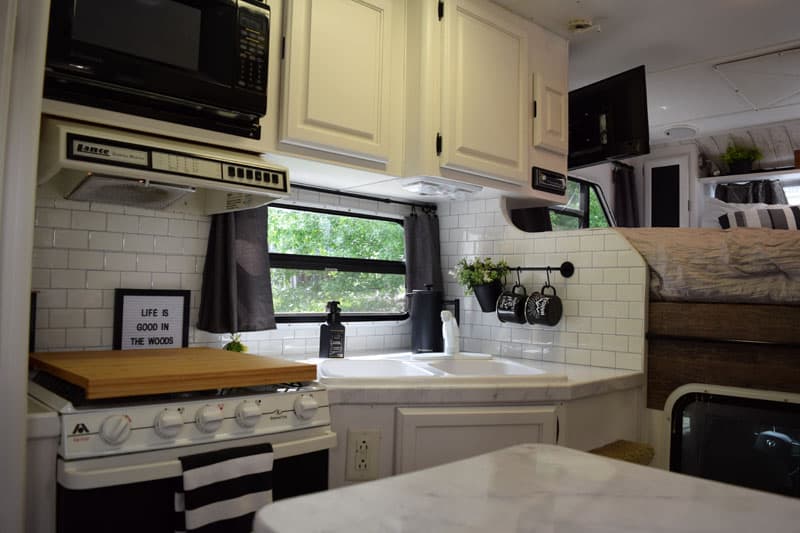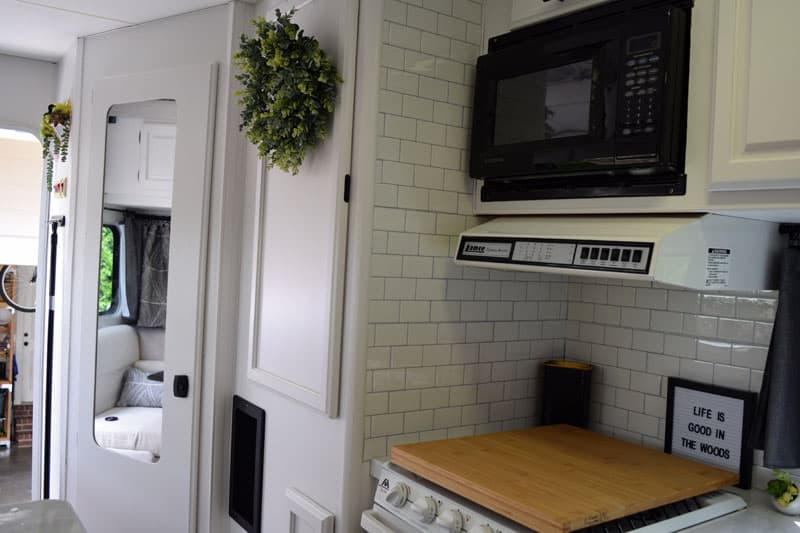 We also covered the kitchen wall with a peel and stick subway tile and hid the imperfections on the new bedroom wall rebuild with wallpaper.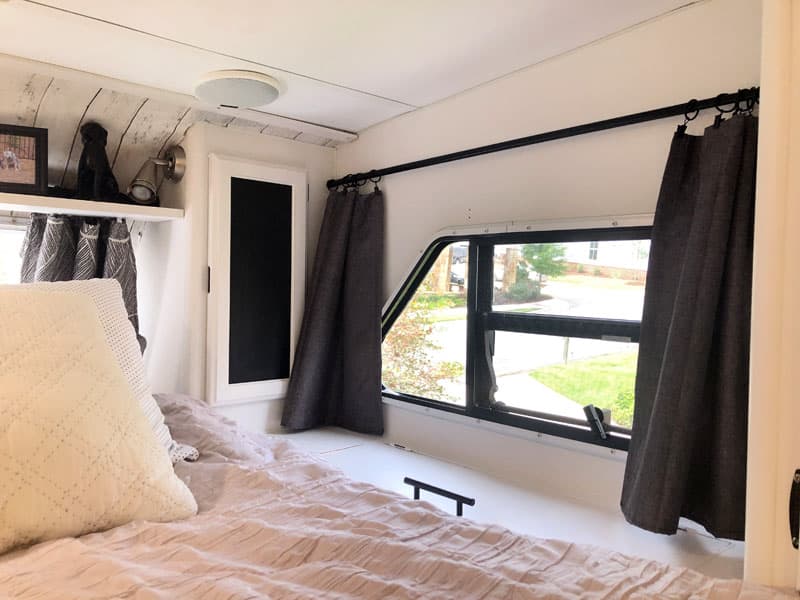 Will also installed a shelf over the bed.  There were two reasons for this.  One was to add a few decorating touches, but also to hide new LED strip lighting.  Lastly, we swapped out the lights and changed them to LED.  We also changed a few outlets to USB.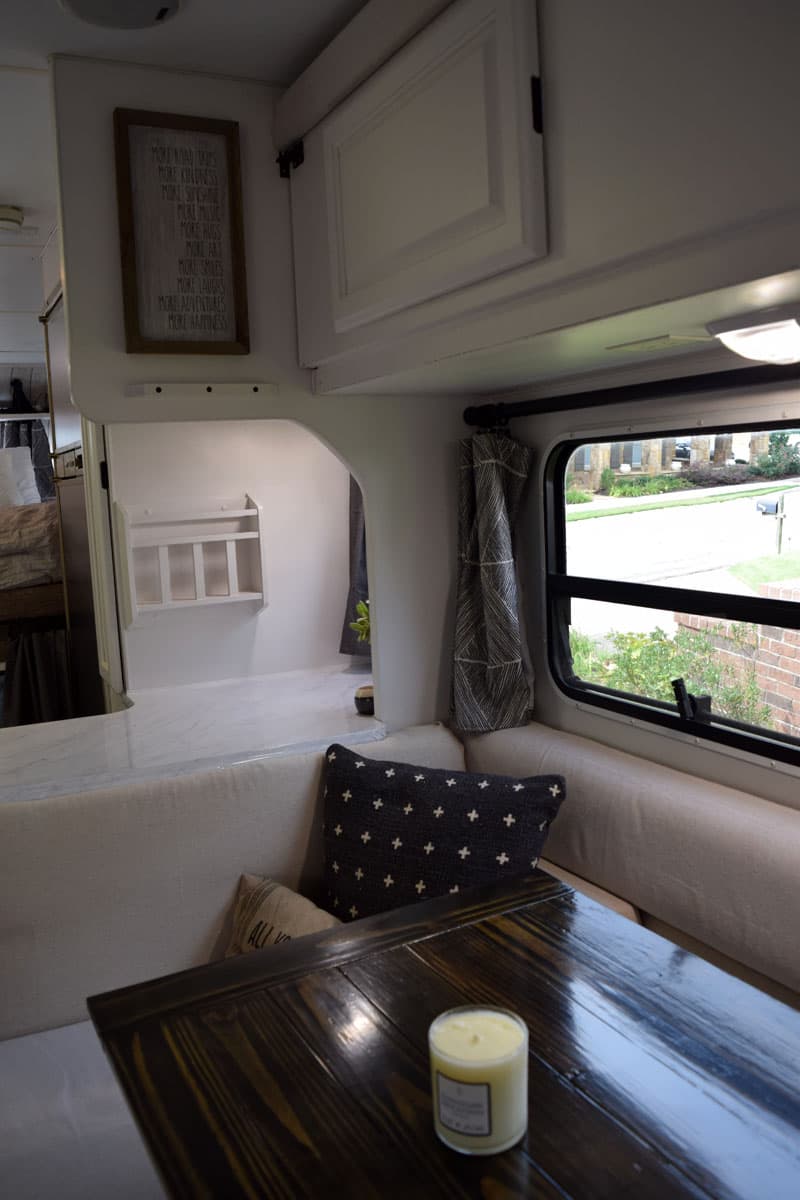 Because we needed to rebuild the wall we would call this modification hard, although the cosmetic modifications like painting, flooring and upholstery could be labeled medium.
We love the result.  The camper now feels like us and it also seems bigger.  The wallpaper over the bed started peeling after a few months, and we attribute that to humidity.  We have since replaced it with vinyl flooring.  One day, we plan to rebuild the wall completely again when we're able to do it in our driveway, away from the elements.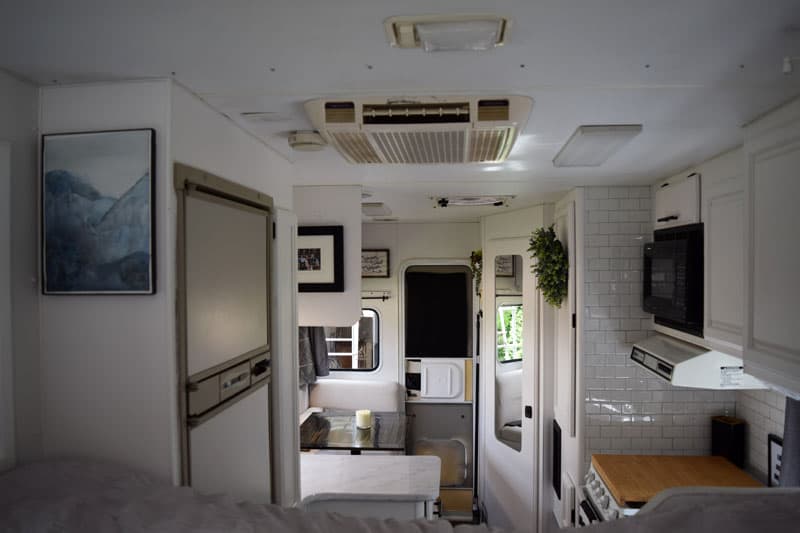 We bought the paint, flooring, and dinette fabric (it's drop cloth) at Home Depot.  The contact paper, drawer pulls, LED lights, and subway tile wallpaper were purchased on Amazon.  The curtains are from Target.
It took six-weeks to complete this modification and cost $900.  In my opinion, the skill level of this modification is medium to hard.
Disclaimer: The modifications above are submitted by Truck Camper Magazine readers. It is your responsibility to make sure that any do-it-yourself modification project you undertake is safe, effective, and legal for your situation.
Enter Your Mods Now!
If you'd like to enter a modification you've done on your truck camper, click here. You can enter as many mods as you want, at any time.  Good luck mod makers!