Welcome to the second entry in January's Medium Mod Contest.  One Medium Mod will be published in every Email Alert in January.  At the end of the month, we'll hold a reader vote to determine January's winner.  Click here for information about the 2022 Mod Contest, including how to enter.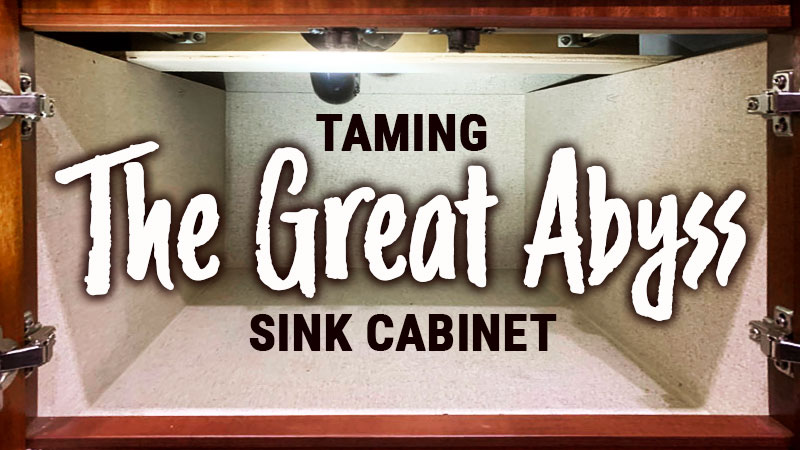 Philip Bogardus, Bothell, Washington
Taming "The Great Abyss" Sink Cabinet
2014 Ford F350
2018 Northern Lite 8-11 EXSE
The cabinet space under our camper's sink is huge and one of the best places for storing items we use in the kitchen.  The space is over two feet deep and any items stored in it would end up lost in what we called, "The Great Abyss."  Anything that went into the space would eventually disappear into a deep dark cavern.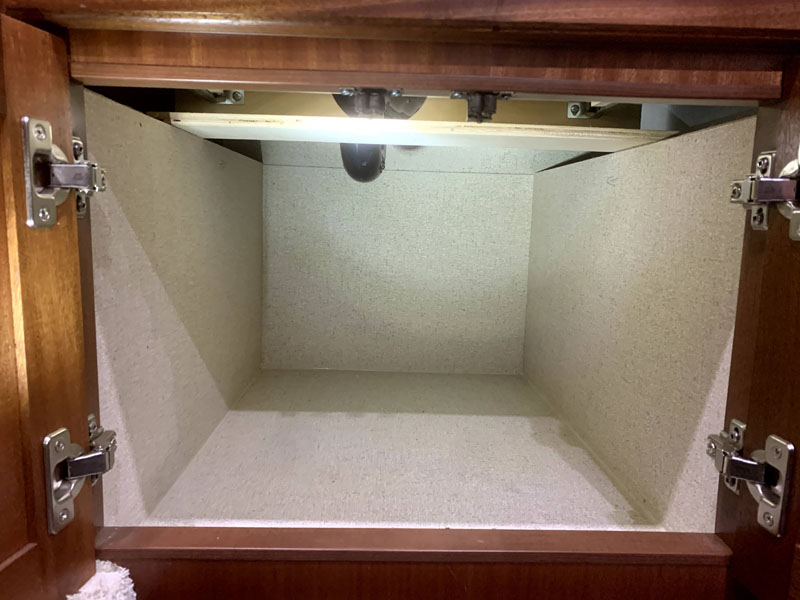 When we first got the camper we thought, "What a great storage area!"  We carefully arranged our stuff in the cabinet thinking, "That looks nice.  I'm a great organizer."
Then life happened.  We would take things out of the cabinet, move things around to reach items, and stuff things back in when we were done.  Then we would drive to the next camp spot and everything would move, fall and roll around.  When we arrived at our destination, the space looked like a bomb went off.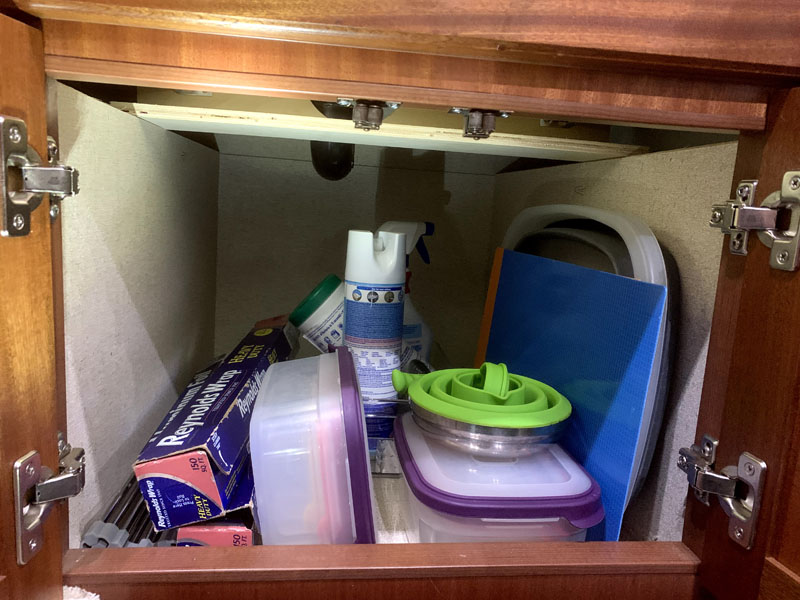 When we would look for something in, "The Giant Abyss" we could not find it.  It could be anywhere as things worked their way to the back of the deep space.  We would find ourselves on our hands and knees and reaching back trying to find things.  It became a never-ending loop of chaos.
I knew that there had to be a better way to organize the sink cabinet space and eliminate, "The Giant Abyss".  The solution I landed on was to build a drawer to organize everything.
Because the interior space is wider than the cabinet opening, I had to shim out the interior to allow for the drawer slides to clear the opening and allow the drawer to clear the door hinges.  To create the clearance, three U-shaped brackets were constructed out of ¾-inch plywood to match the width and height of the interior space.  The U-shaped brackets were screwed to the cabinet floor and walls.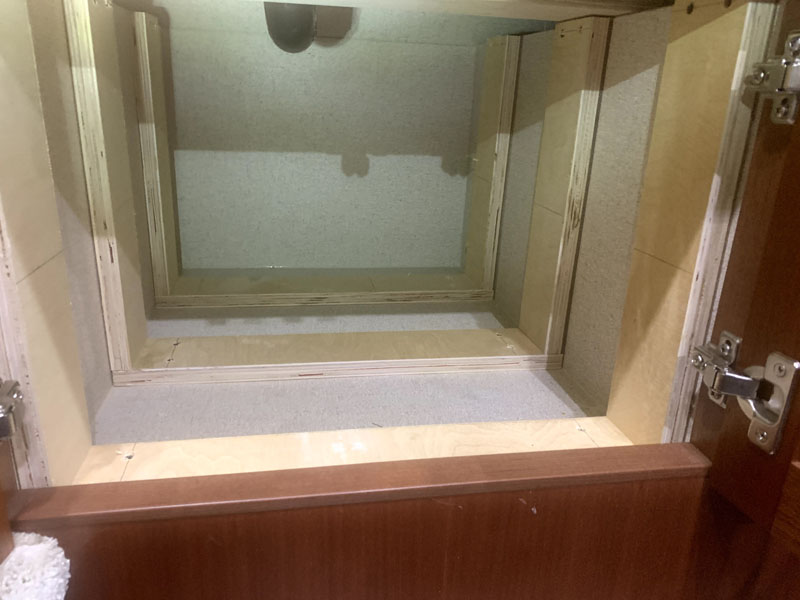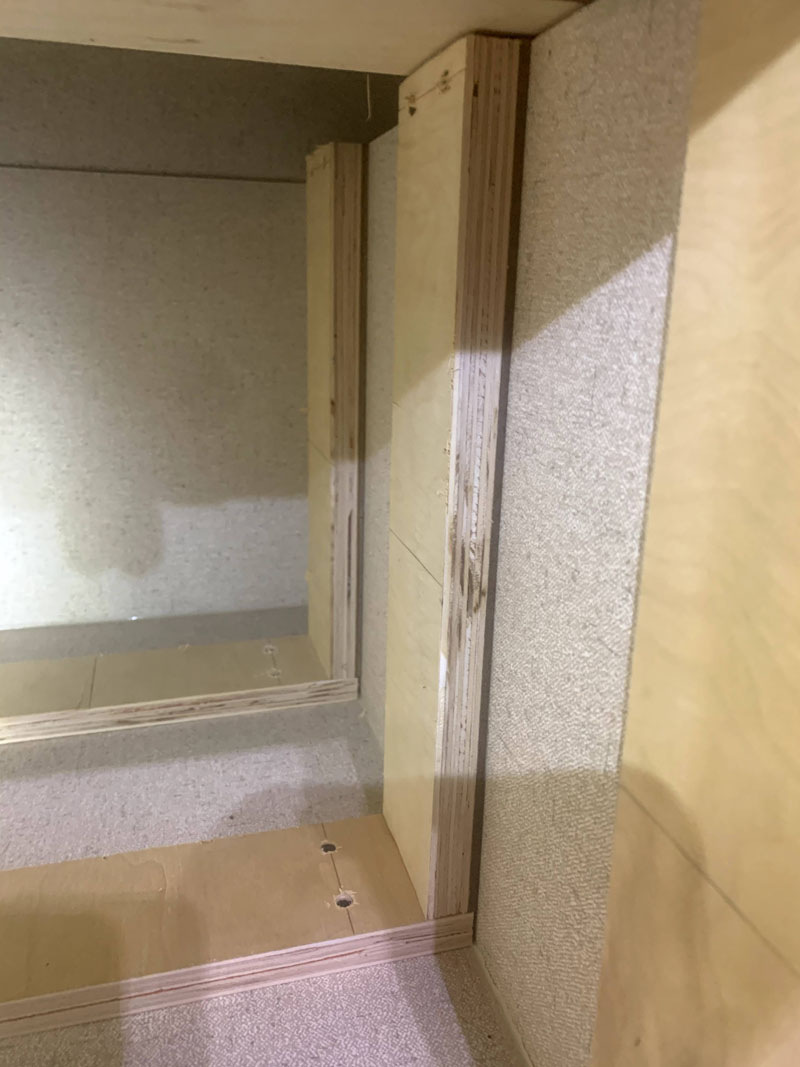 Then, 24-inch long RV drawer slides (KV8400 RV Full Extension 100-lb.  Drawer Slides with Stay Close Feature from Woodworker's Hardware) were then attached to the U-shaped brackets.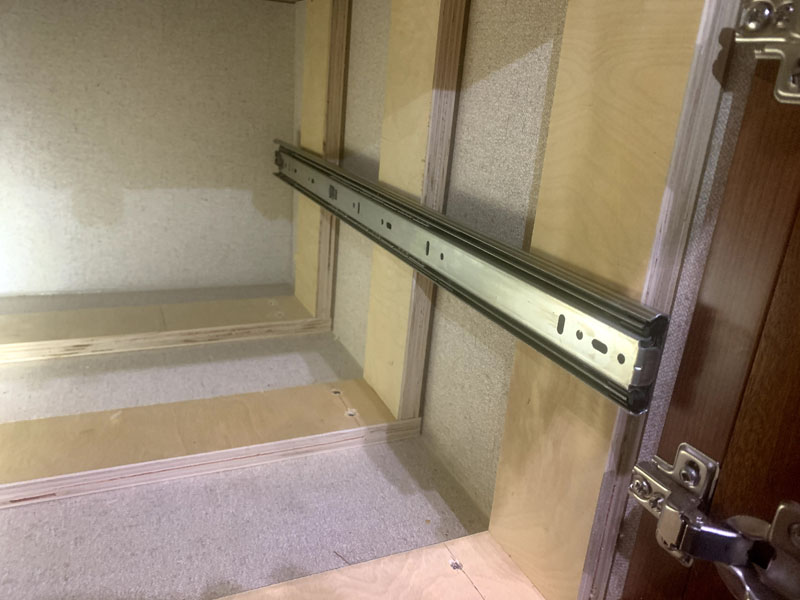 The drawer slides were placed so they cleared the cabinet door and did not interfere with the door hinges.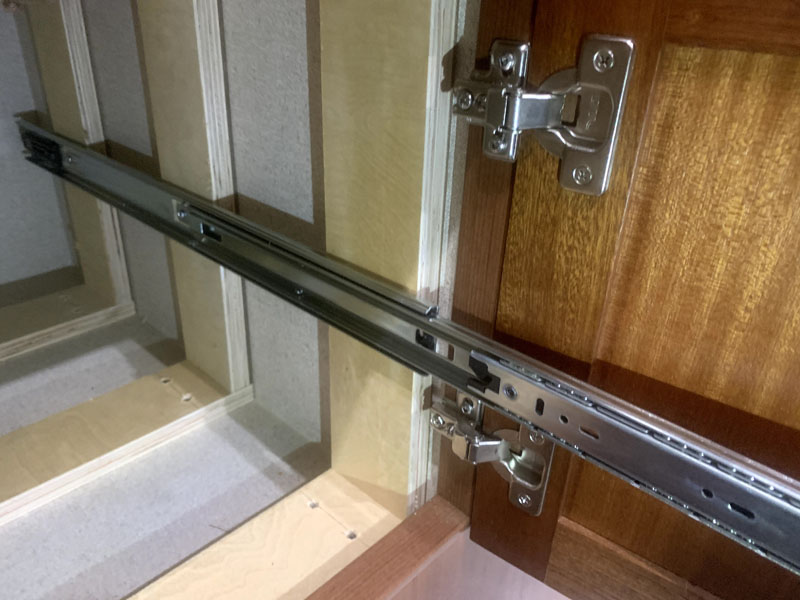 A drawer using ½-inch Baltic Birch plywood was built to fit the cabinet opening space.  The drawer exterior dimensions are 15-7/8-inches wide, 25-1/2-inches deep, and 9-1/2-inches high.  Three coats of clear Daly's Seafin Aquaspar were applied to protect the plywood.  The drawer was then installed into the space on the drawer slides.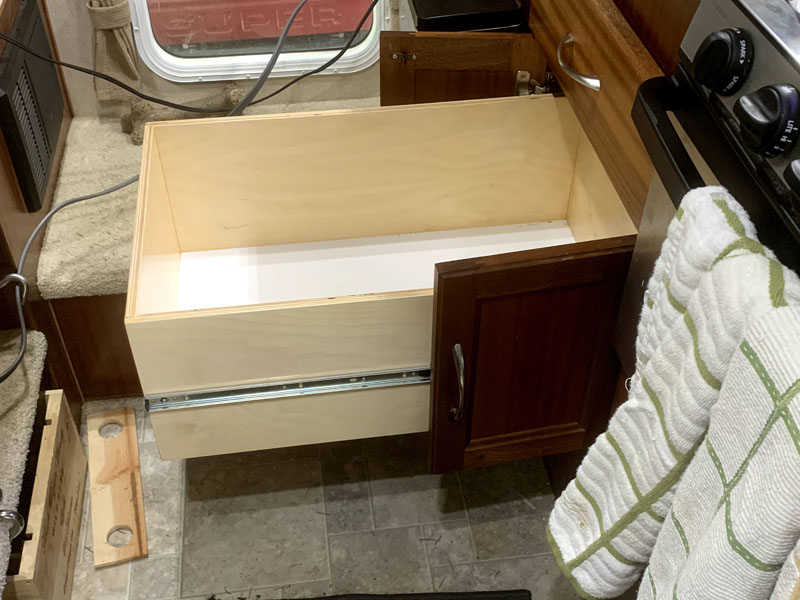 Now, this could be the end of the story, but I realized that the drawer needed something in it to keep things organized.  My queen (aka my wife) wanted to buy plastic bins for the space.  I knew that any organizers we bought would not fit the space efficiently and the items we wanted to store would not fit the bins.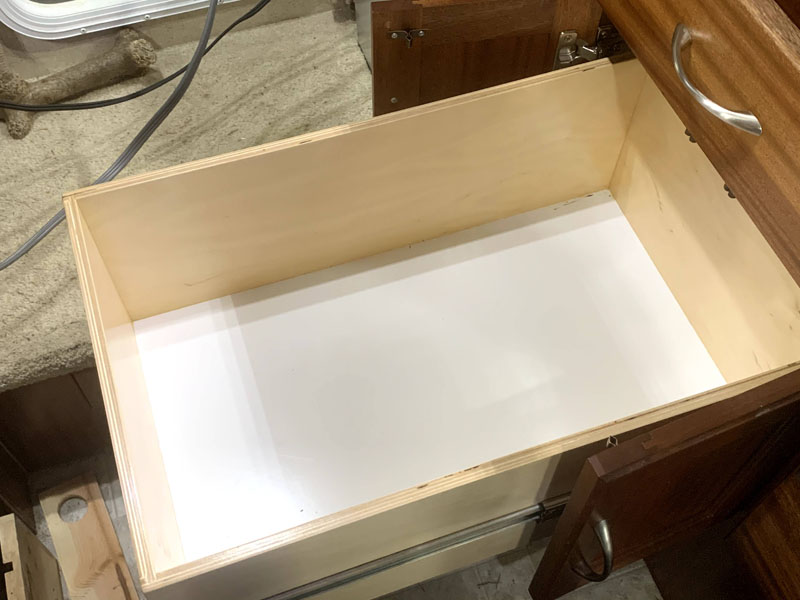 Since my queen pretty much knew what she wanted to store in the drawer, I decided to build organization dividers and bins out of acrylic plastic.  We laid out the items in the drawer for maximum space efficiency and custom-built a 6-1/2-inch high interior divider system from 1/8-inch acrylic plastic from Tap Plastics.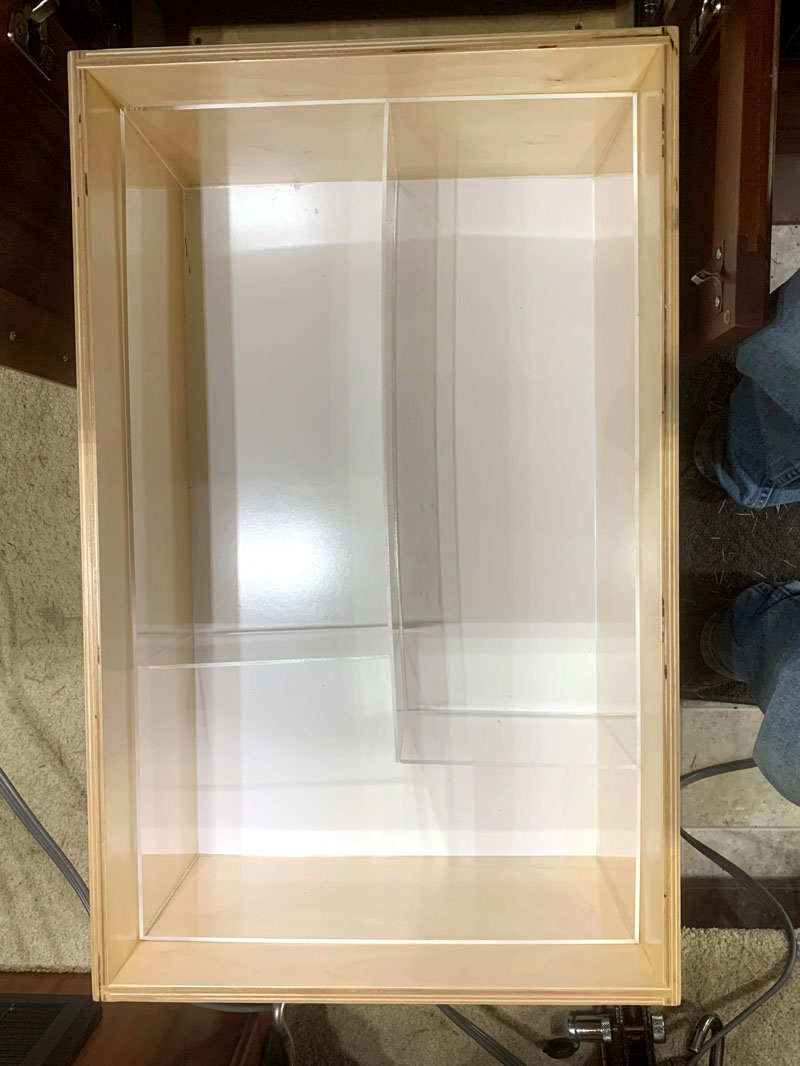 I also built a drawer insert that is 15-5/8-inches wide, 16-1/4-inches long, and 2-1/8-inches deep that would sit on top of the drawer to store cutting boards, a collapsible wash basin, and a few other things.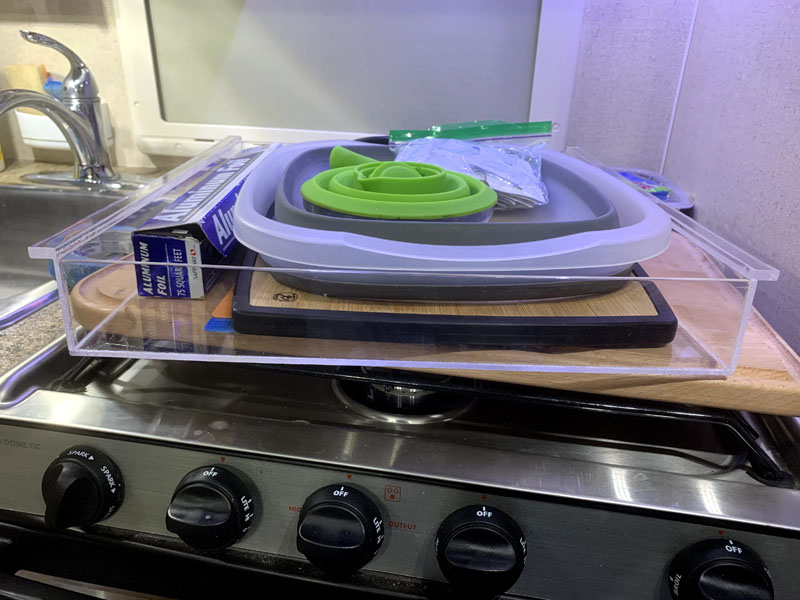 With the plastic dividers and drawer insert done all that was left was to organize everything in the drawer and shut the drawer on, "The Great Abyss".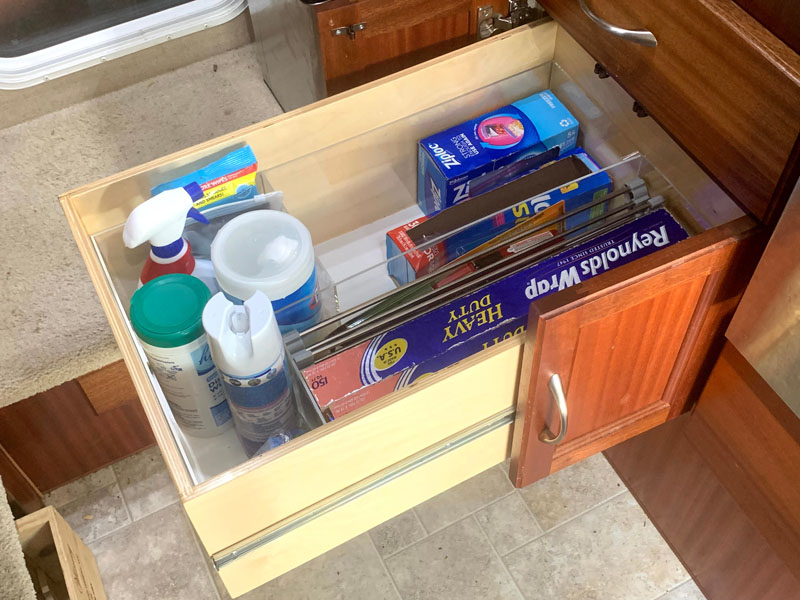 This mod has done everything it was intended to do which was to utilize the unorganized space efficiently.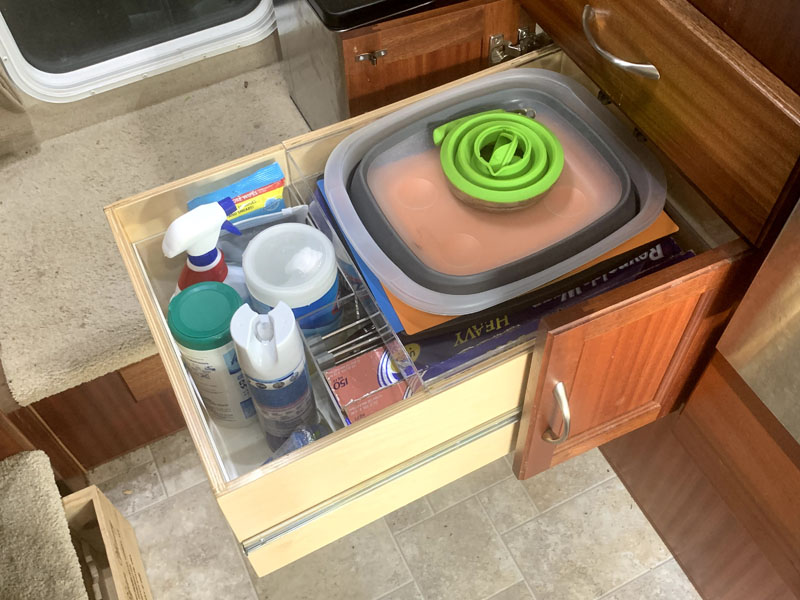 When we want something, we open the cabinet doors, slide out the drawer, locate what we want, and go.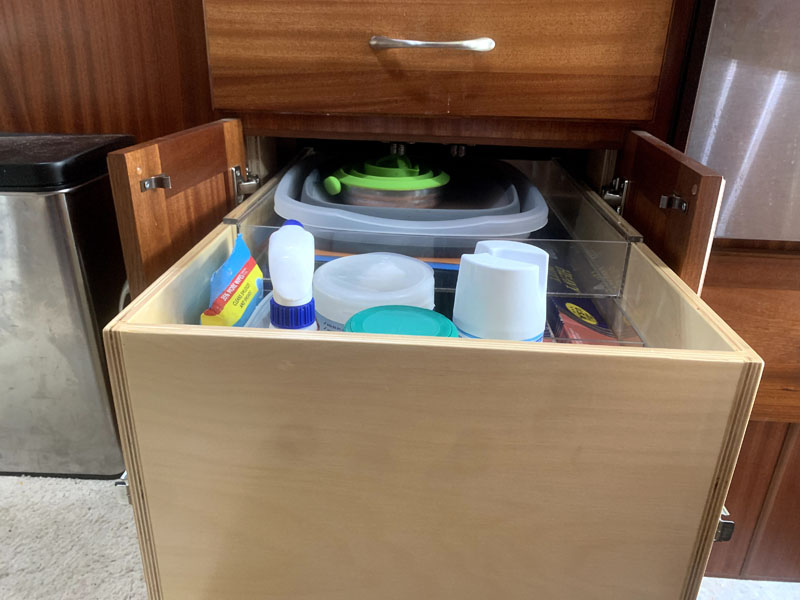 With the Stay Close feature on the slides, the drawer stays closed and the internal organizers keep everything in place when we are traveling.  We no longer need to get down on our hands and knees and dig all the way to the back of the cabinet.  The space is organized and it stays that way.  We love this drawer and what it does for us.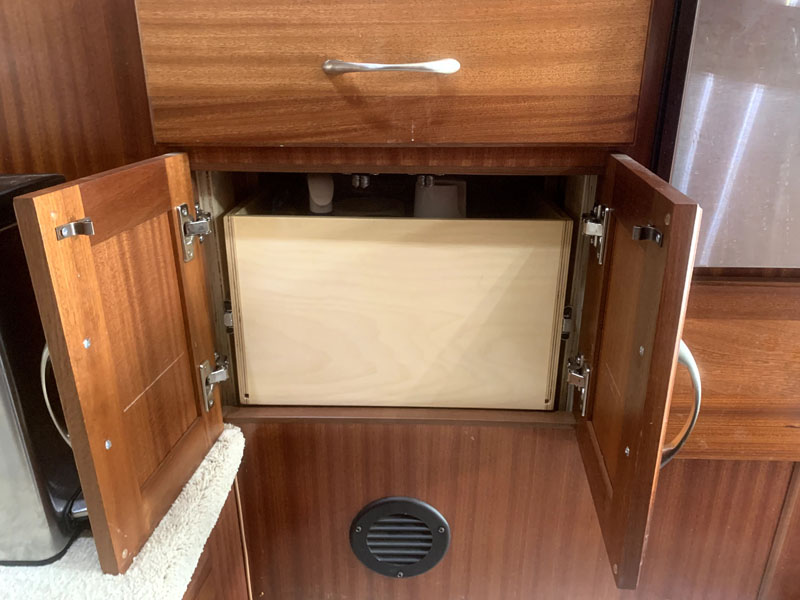 Materials Used:
1/2-inch" Baltic Birch Plywood 30-inch by 60-inch Sheet – $25 from Rockler Woodworking (rockler.com) – This size sheet is only available in Rockler Stores.  Note: Most higher-end lumber yards will also have this, but not the big box home stores.
KV8400 BRV24 RV Full Extension 100 lb. Drawer Slides with Stay Close Feature – $25 from Woodworker's Hardware (wwhardware.com)
1/8-inch Acrylic Plastic – Cost depends on how much you need for your divider/drawer layout. Approx. $5.40/SF (plus shipping if needed) from Tap Plastics (tapplastics.com)
It took me about 12-hours to complete this modification and cost me $50 for the Baltic Birch Plywood and RV Drawer Slides.  All of the other materials I had in my shop.
In my opinion, the skill level of this modification is medium to hard.  You need to know how to build drawers.  If you can build drawers, then working with plastic is easy.  If you don't have the tools or skills, a cabinet maker could build you the drawer and Tap Plastics can build any plastic dividers or bins to your specifications.
Disclaimer: The modifications above are submitted by Truck Camper Magazine readers. It is your responsibility to make sure that any do-it-yourself modification project you undertake is safe, effective, and legal for your situation.
Enter Your Mods Now!
If you'd like to enter a modification you've done on your truck camper, click here. You can enter as many mods as you want, at any time.  Good luck mod makers!