Welcome to the second entry in April's Medium Mod Contest.  One Medium Mod will be published in every Email Alert in April.  At the end of the month, we'll hold a reader vote to determine April's winner.  Click here for information about the 2022 Mod Contest, including how to enter.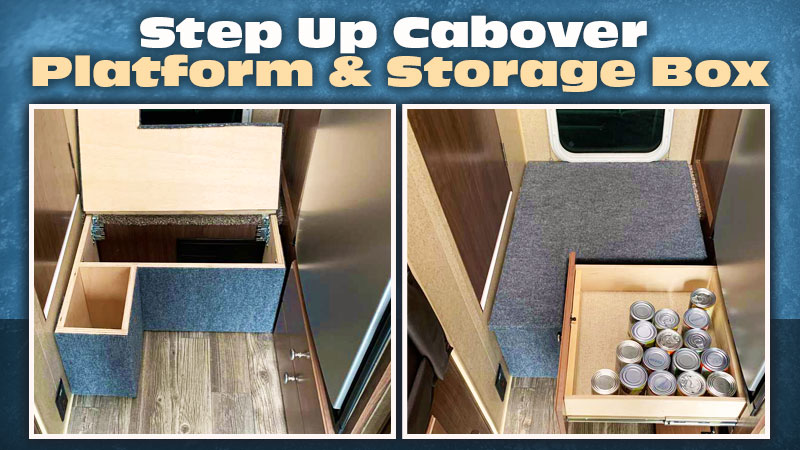 Brian C., Medford, Oregon
Step Up To Cabover Platform and Storage Box
2021 Chevy Silverado 3500
2019 Arctic Fox 865
Every square inch of storage in a camper is precious.  My wife and I really wanted a space for our shoes, sandals, and boots that wasn't in the way.  Additionally, getting in and out of the cabover was a little challenging and the small step to get into the wet bath was always a bit in the way.
My wife wanted all drawers to be easily accessible.
This led me to design an L-shaped box.  Additionally, she preferred that we didn't put any holes in our camper.  To meet this requirement, I planned on using non-skids on the bottom of the box.
There is nothing about me that even comes close to resembling a skilled wood craftsman.  I had to buy a jigsaw because I had no other power tools to cut wood.
I ended up buying a 4×8 sheet of plywood from Home Depot.  I had them cut it to make sure everything was as square as possible.  Then I used my jigsaw and a piece of wood that was straight to use as a guide for all other cutting.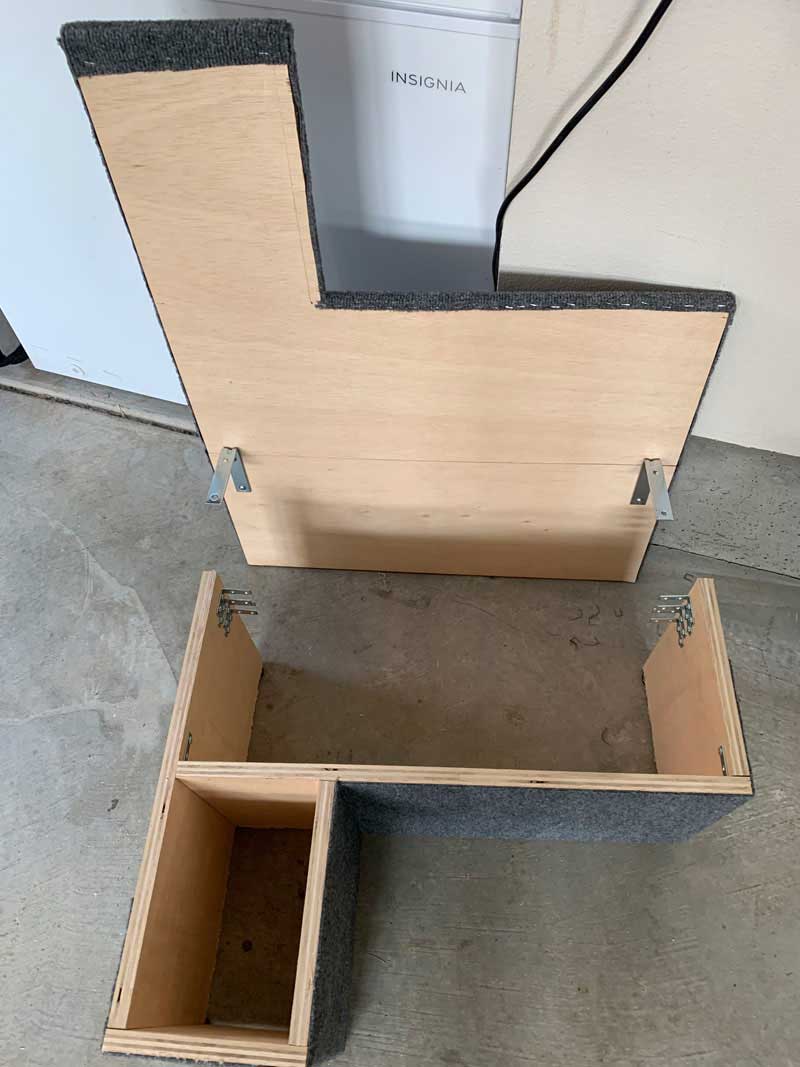 Due to the difficulty of getting the unit into the camper, I had to have the lid and the box as two separate units that attached to each other, which was rather challenging.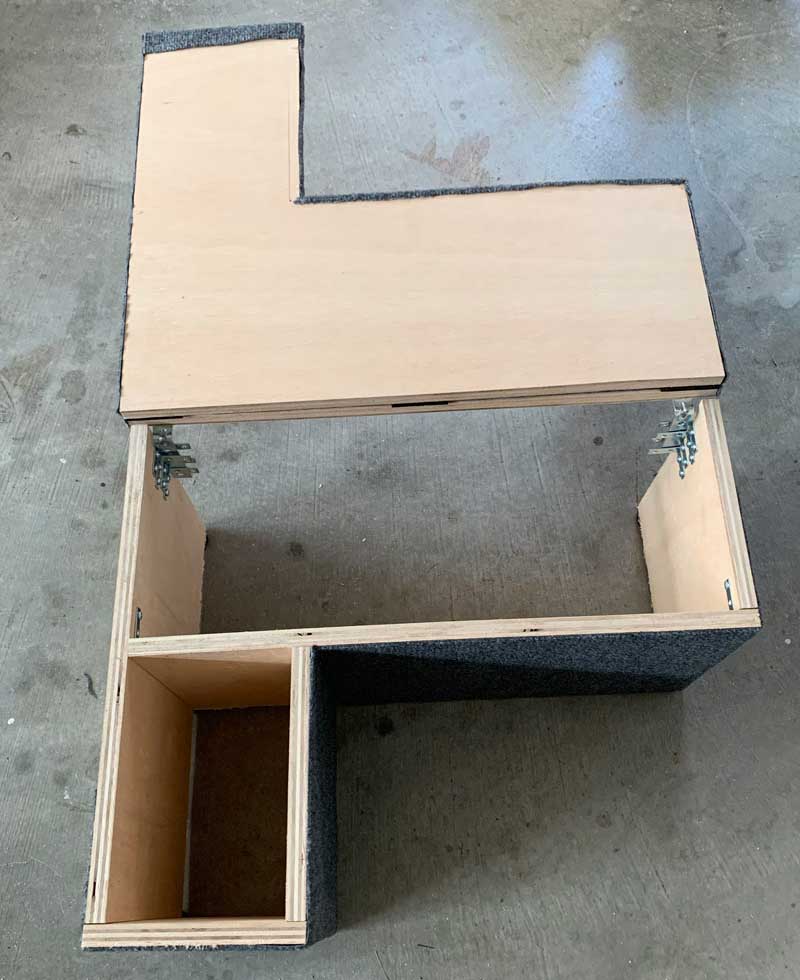 Because the box is a step, the top had to be stable and be able to support 200-plus pounds without issue.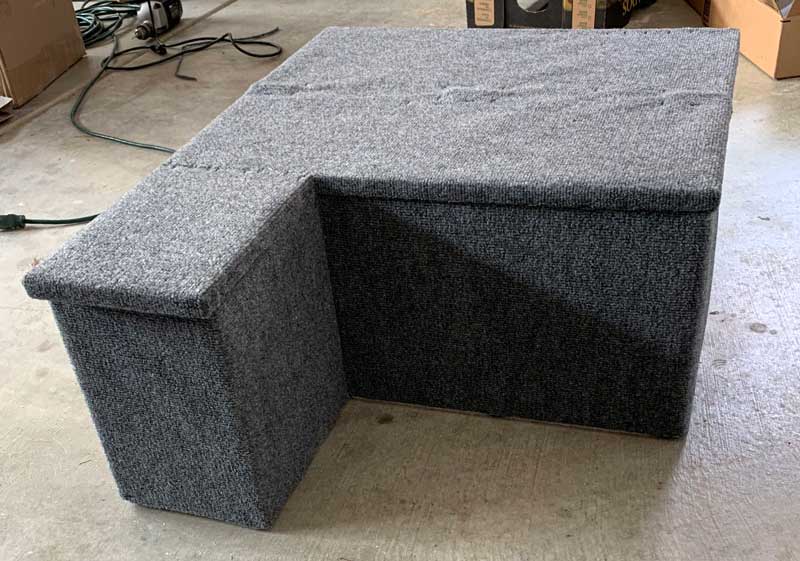 The storage step has been working great and all of our footwear is no longer on the floor to trip on.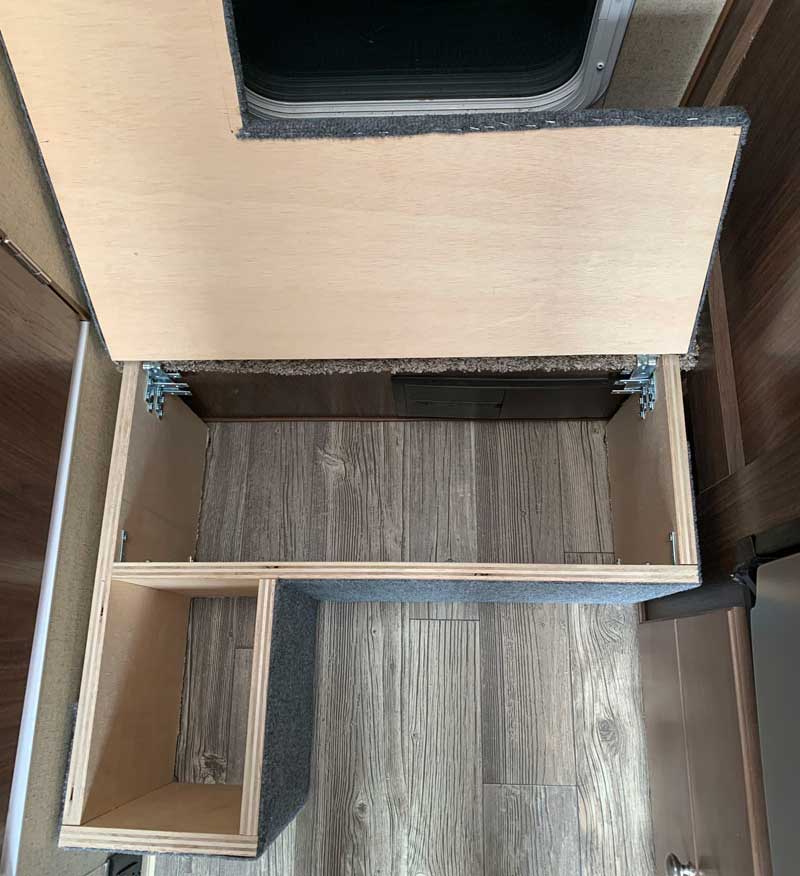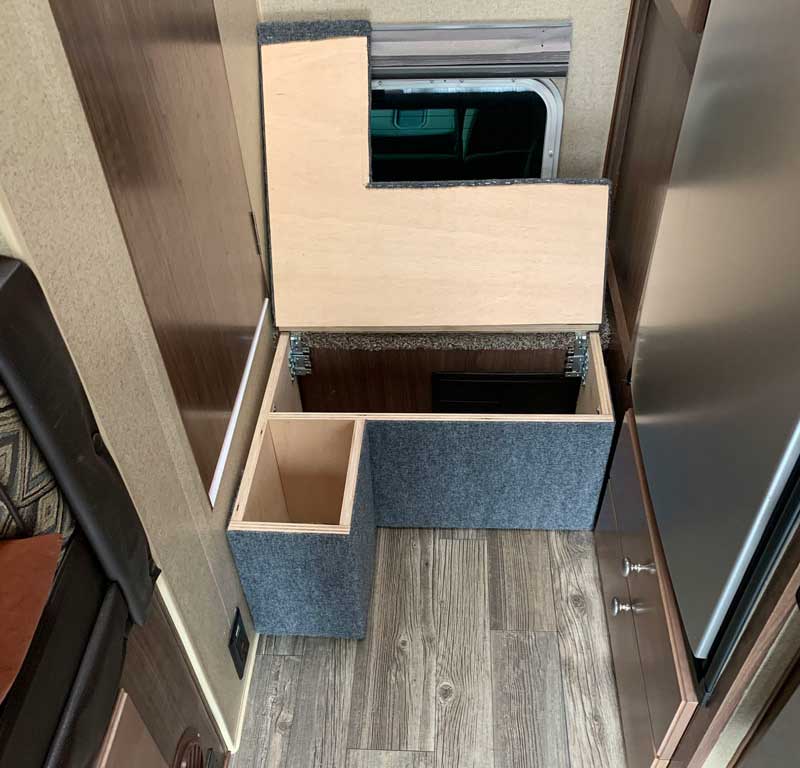 I purchased everything at Home Depot.  The 4×8 plywood piece was $70.  An indoor/outdoor 6×8 carpet remnant was $22.  A 20-pack of 1.5-inch corner brace was $10.  Three hinges were $15. T50 1/2-inch staples were $4.  Various screws were $10.  I also had to buy a jigsaw for $140, and a staple gun for $32.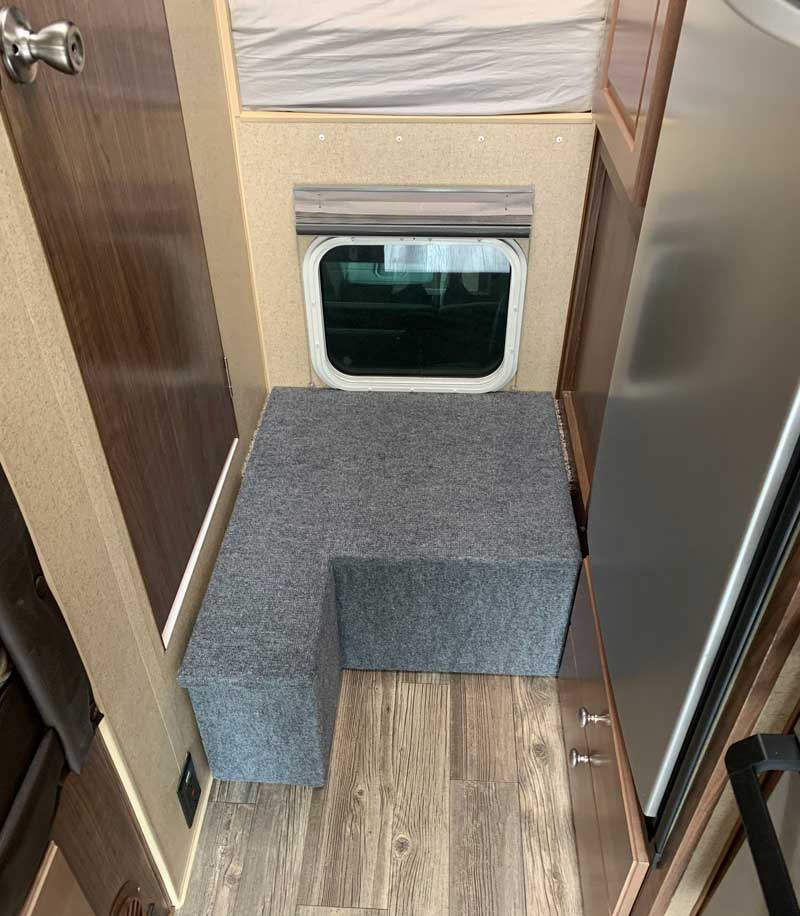 We went on a two-and-a-half-week trip which allowed us to try out the step. It worked really well, but we determined that the height of getting onto that step was a little higher than we preferred.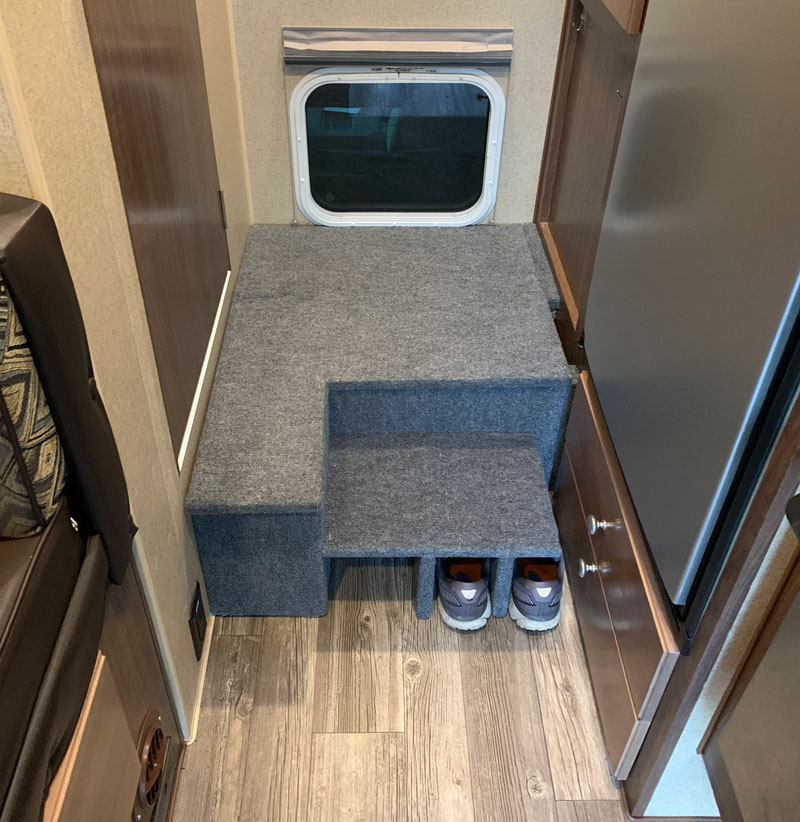 So, I added another step to the front of it which also can be used as a cubby to slide shoes into when we are too lazy to put them in the proper storage bin.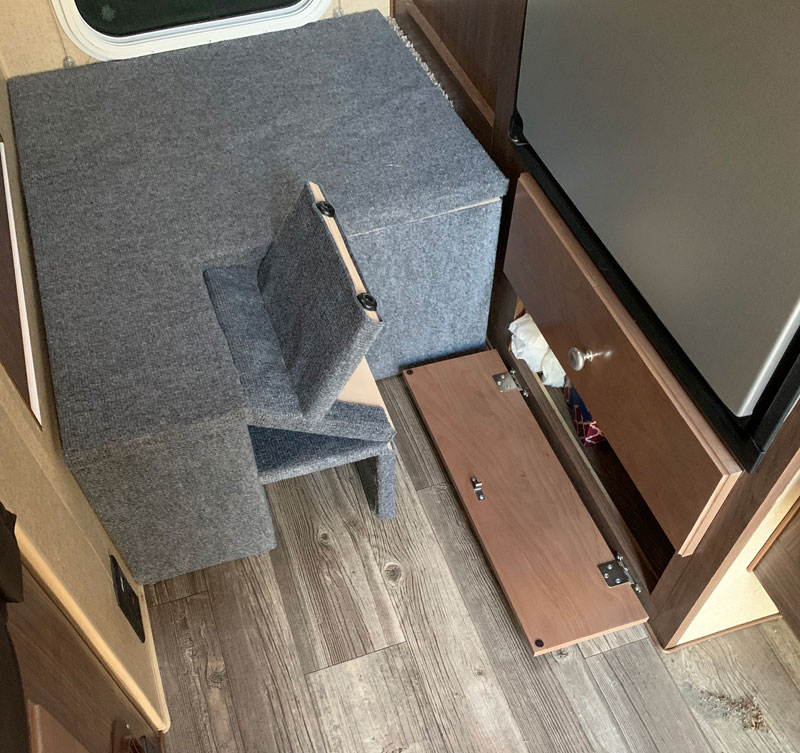 I had to add a hinge onto that step so we could access a flip-down cupboard.
We are very happy with how it has worked so far.  It took me five hours to design and then fifteen hours to build.  This modification cost me $131 for the materials and $172 for the tools.  In my opinion, the skill level of this modification is medium due to its challenging design and multipurpose function.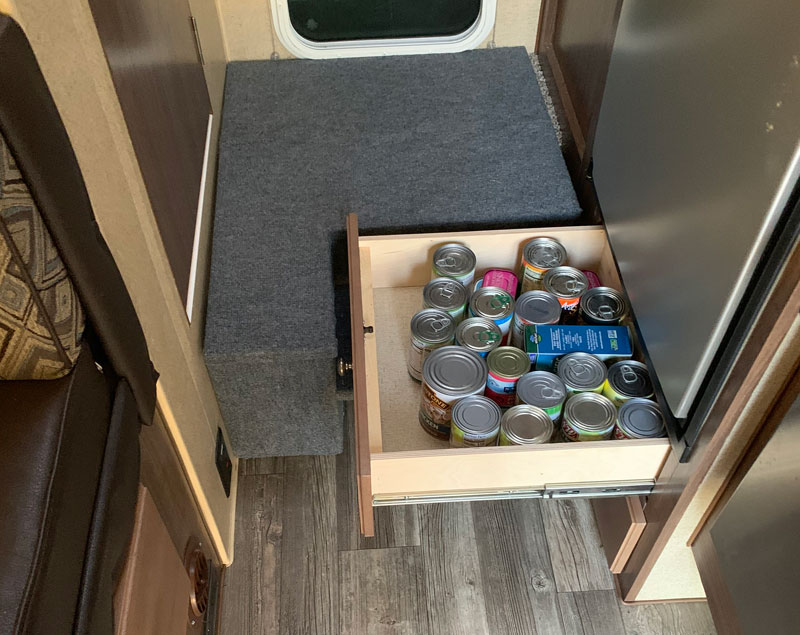 Disclaimer: The modifications above are submitted by Truck Camper Magazine readers. It is your responsibility to make sure that any do-it-yourself modification project you undertake is safe, effective, and legal for your situation.
Enter Your Mods Now!
If you'd like to enter a modification you've done on your truck camper, click here. You can enter as many mods as you want, at any time.  Good luck mod makers!