Welcome to the sixth entry in April's Mega Mod Contest.  One Mega Mod will be published in every Email Alert in April.  At the end of the month we'll hold a reader vote to determine April's winner.  Click here for information about the 2020 Mod Squad Contest, including how to enter.
Todd Beaudoin, Mesa, Arizona
Rear Entry Step System Using Xtend+Climb's Aluminum Folding Steps
2015 Ford F350
2010 Arctic Fox 992
I purchased a used 2010 Arctic Fox 992.  The step up into the camper off the bumper was approximately 14-inches.  The Fox Landing bumper wasn't an option in 2010.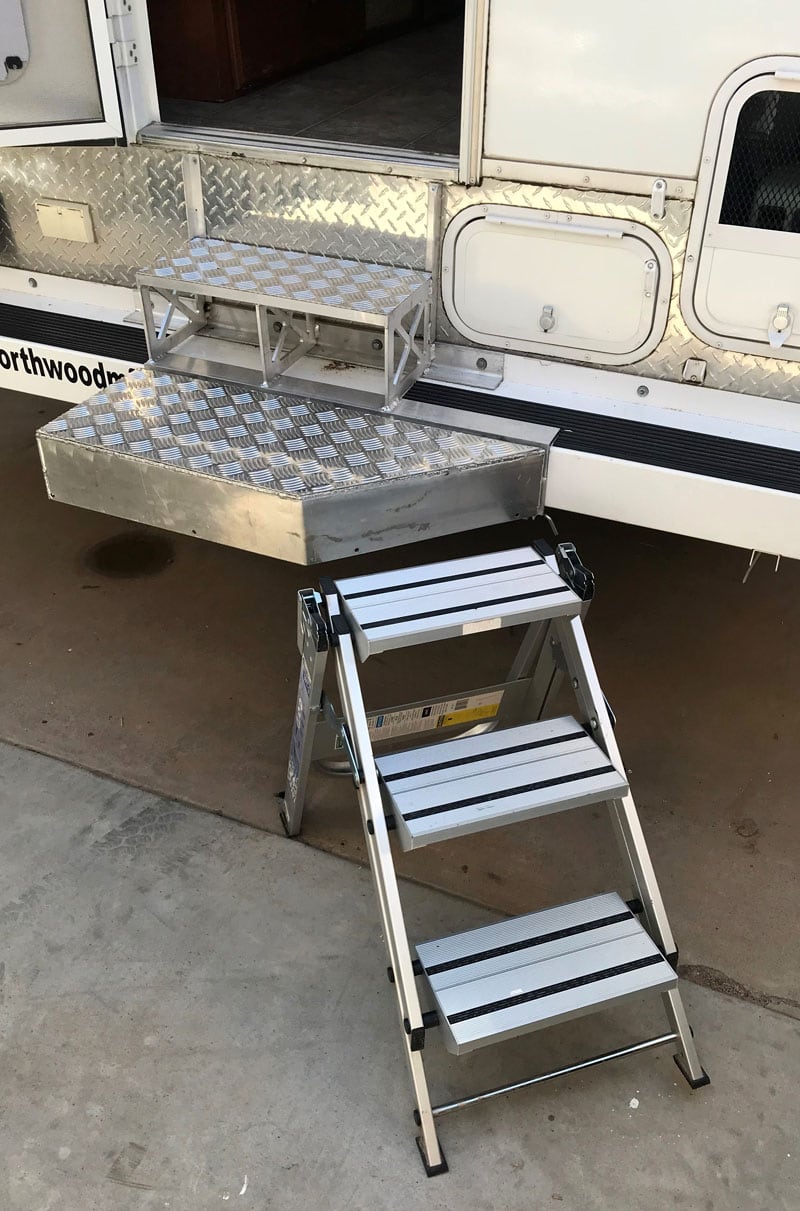 I designed and built a set of steps so I could get into the camper without lowering it.  I also needed to be able to use the steps with a trailer attached.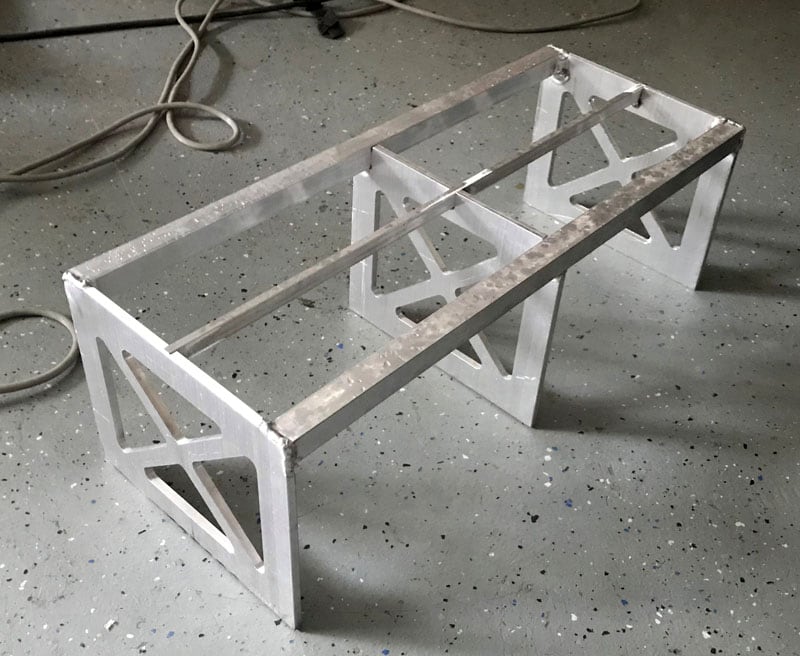 I used mostly scrap that I had around the shop.  In the past, I have built a couple CNC hobby machines so I put them to use.
I made the initial step down by CNC milling the brackets and welding it to the base.  The folding step was created out of a cable gutter that was scrap off a job.
I added a couple of bends, CNC plasma cut gussets, milled out hinges and welded a top to it.  The base wraps the bumper and is pinned to the original step mounts.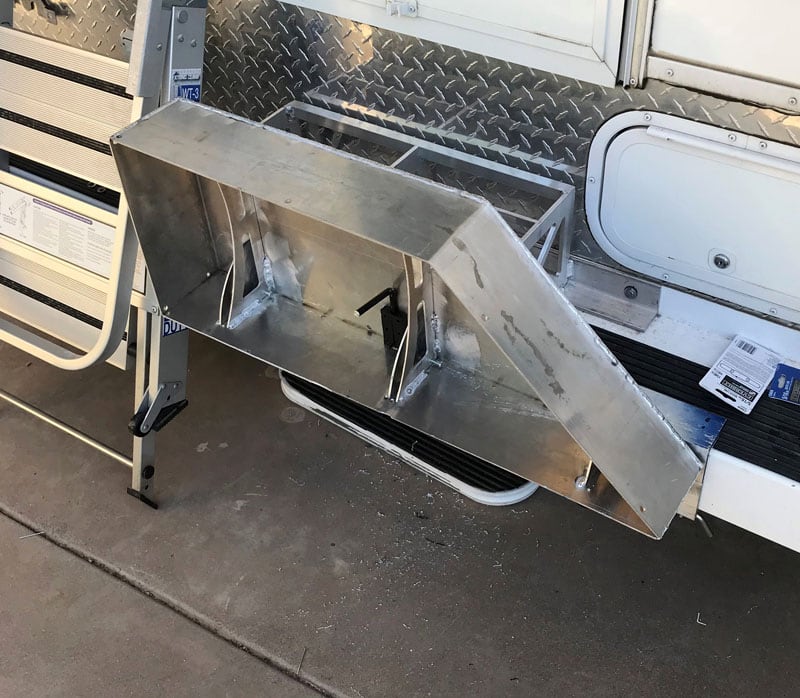 Additional braces run vertical and lag into the aluminum frame.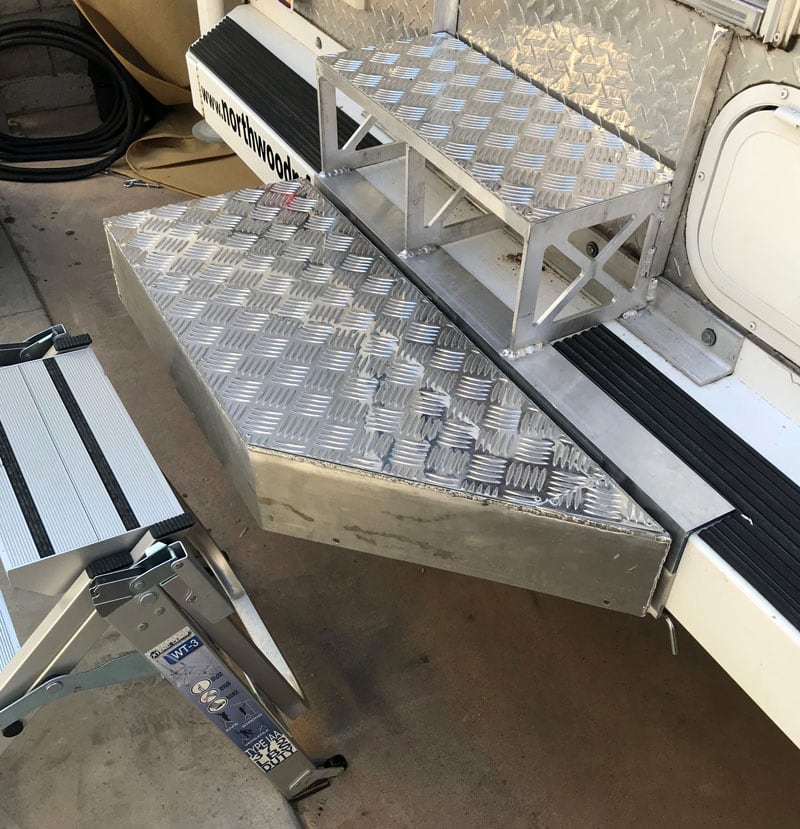 Both are topped off with thin tread plate.
I chose Xtend+Climb's three-step aluminum folding steps for a perfect height to get to the landing.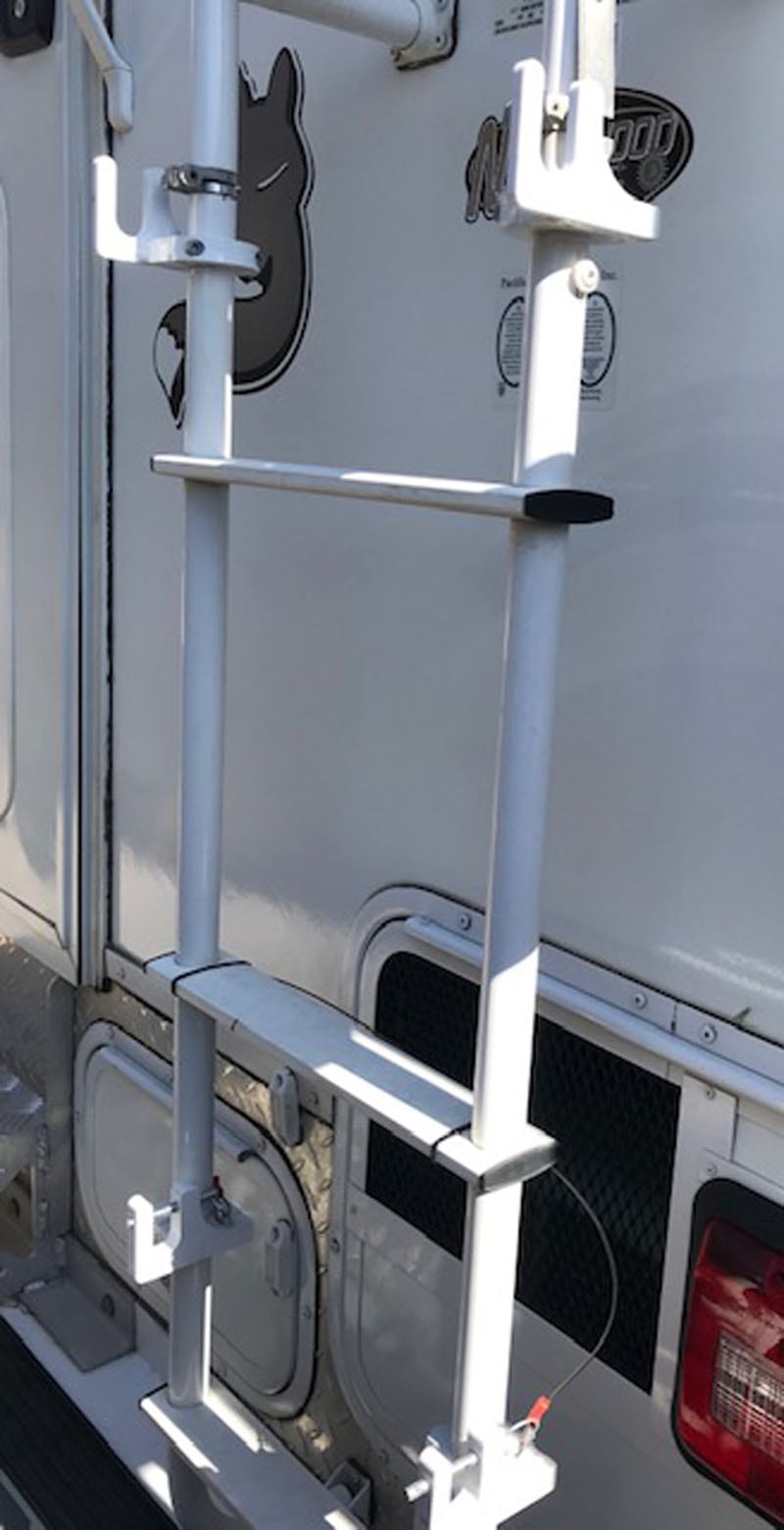 I then milled out brackets to hang them from the ladder for easy storage.  They are pinned in place for travel.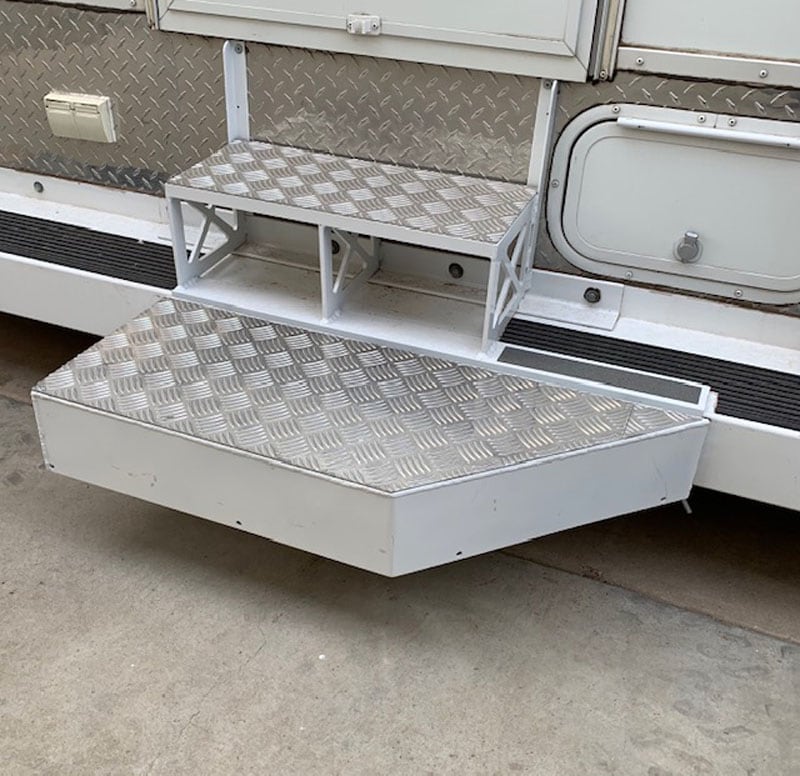 Lastly, I put on a polar white powder coat finish and a little anti-skid tape.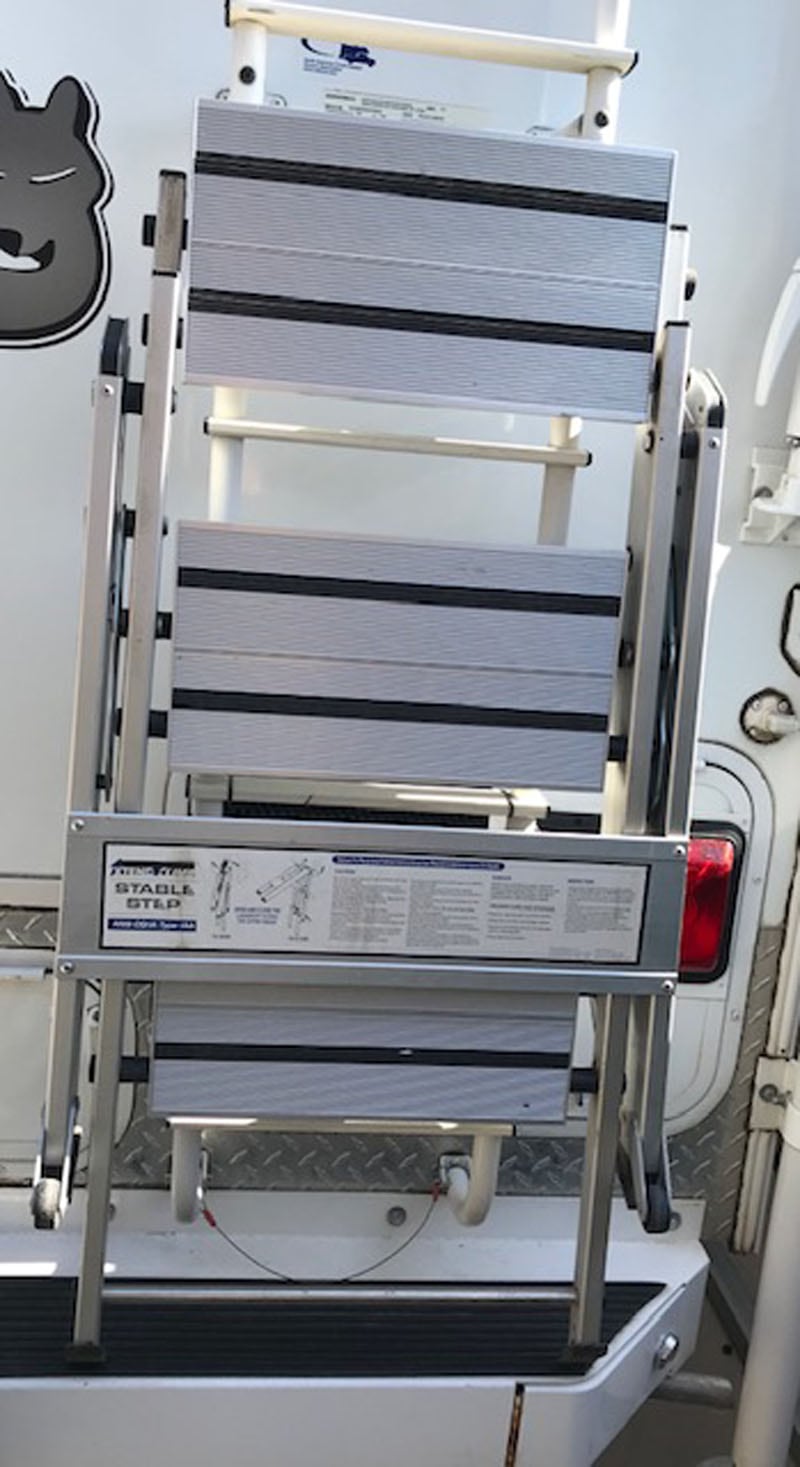 This has been a great addition.  The steps are even with a nice 7-inch rise.  The side entry clears my trailer's tongue and the roof ladder doubles as a hand rail.
The steps are deployed quickly and stored in seconds.  They have been very useful for other tasks while camping such as adding water to the rig manually.
It took me 10 to 15-hours to complete this modification and cost me $200.  In my opinion, the skill level of this modification is hard.
Disclaimer: The modifications above are submitted by Truck Camper Magazine readers. It is your responsibility to make sure that any do-it-yourself modification project you undertake is safe, effective, and legal for your situation.
Enter Your Mods Now!
If you'd like to enter a modification you've done on your truck camper, click here. You can enter as many mods as you want, at any time.  Good luck mod makers!