Welcome to the seventh entry in July's Mini Mod Contest.  One Mini Mod will be published in every Email Alert in July.  At the end of the month, we'll hold a reader vote to determine July's winner.  Click here for information about the 2021 Mod Contest, including how to enter.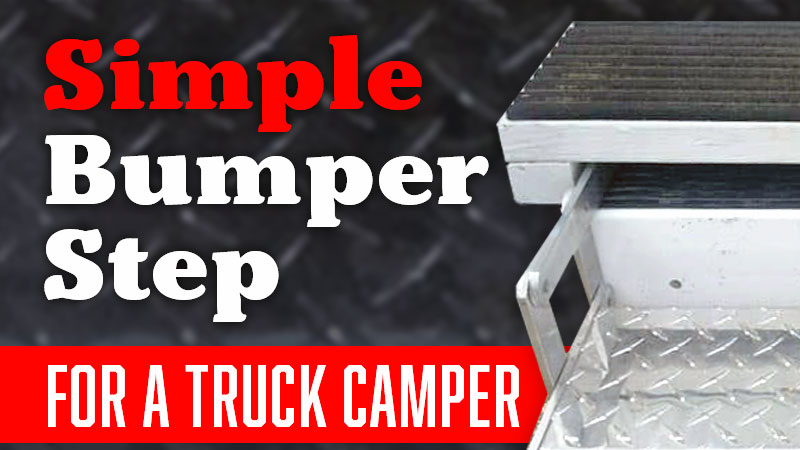 Steve Nadeau, Boise, Idaho
Simple Bumper Step For A Camper
2020 Ford F-350
2020 Wolf Creek 840
I could not find a simple manufactured step solution to use with a camper bumper that didn't interfere with towing. Also, the installed step drop was too great to be comfortable or safe for my wife and dog.
A simple mod to a Brophy scissor step made a secure and safe adaptation for our bumper. The scissor step is designed to anchor under the camper's door and bolt into the camper's frame. But it doesn't work with a camper's bumper.
I noticed that the scissor top sits nicely on top of the bumper, but isn't secure. I used a scrap 2×12 piece of pine and measured and cut small ends to set the pine step on.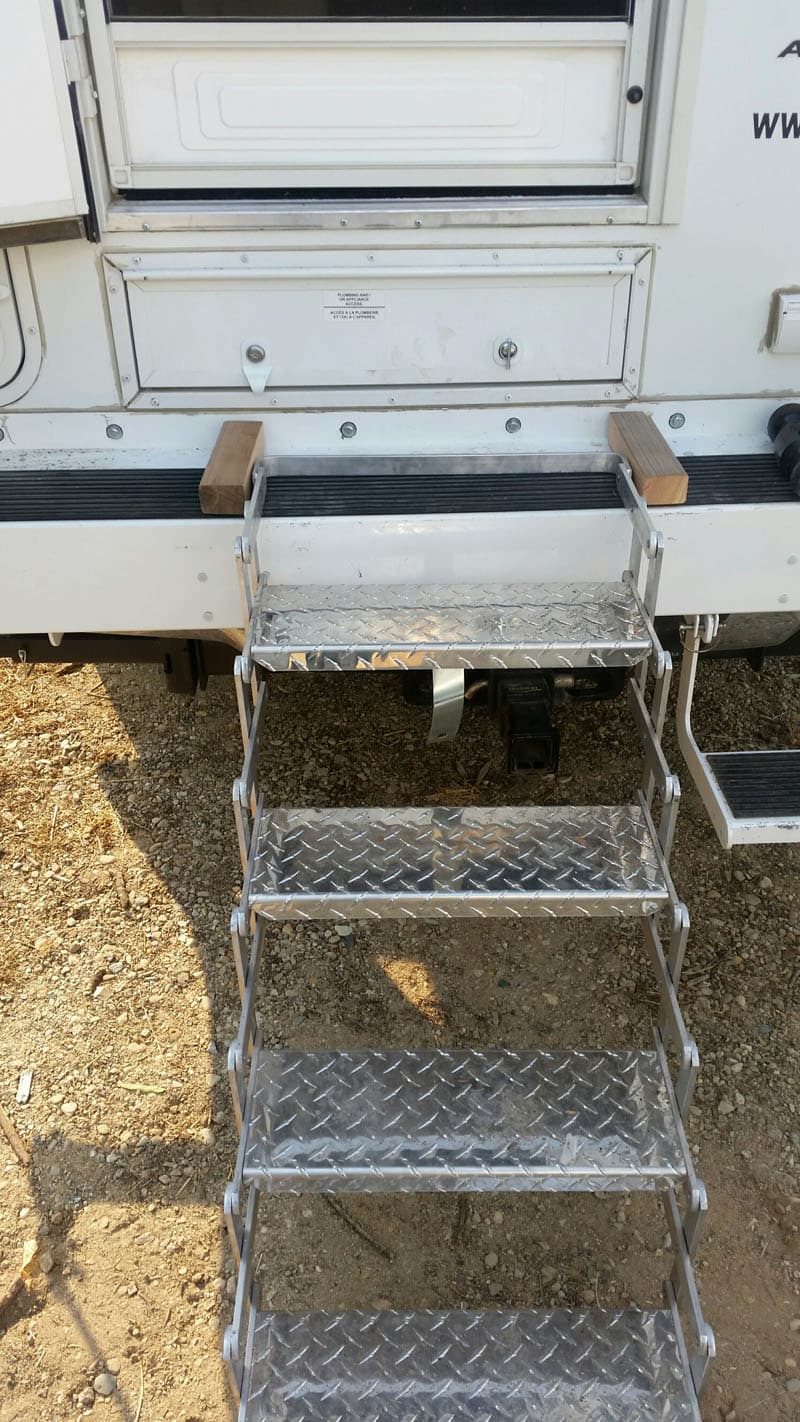 I cut the step to fit perfectly on top of the end pieces so that the stairs fit snuggly under the pine step. I then screwed the pine step into the end pieces and painted the step to match the camper.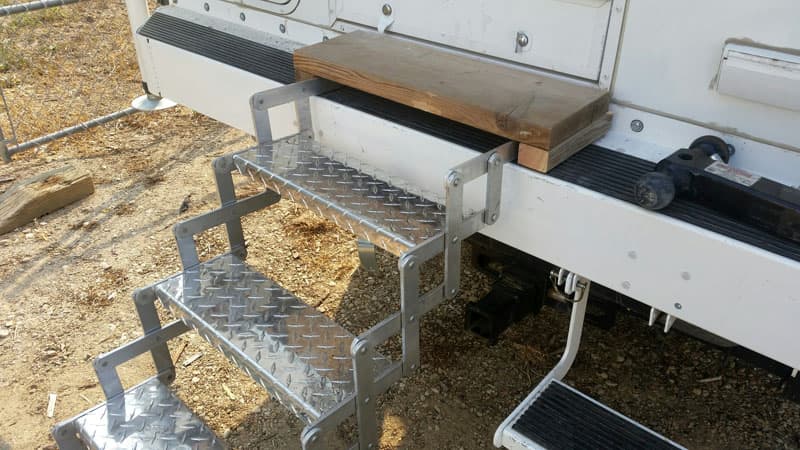 I found an old rubber mat and cut it to fit the step, and then glued and screwed it into place. It sits nicely on top of the bumper and over the scissor step.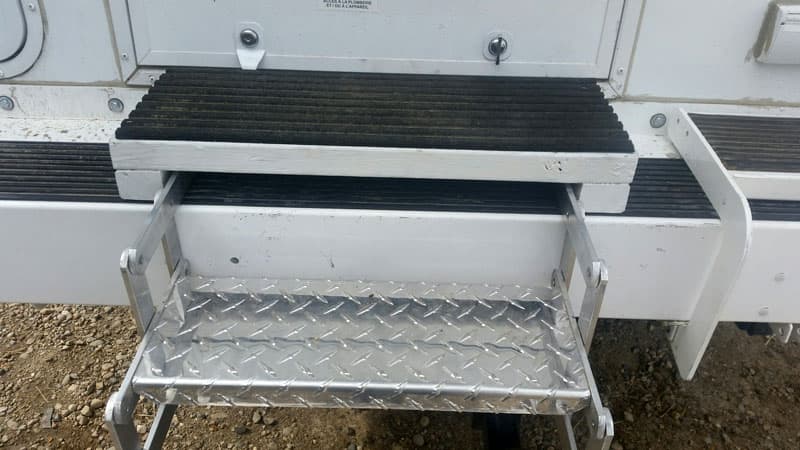 It is secured in the back by the finger latch on the basement hatch, but it seems to be secure without that. I can bolt it in to make it more permanent or just leave it loose to remove when stairs are not needed. Sometimes my horse trailer is attached and I still want the step on the side.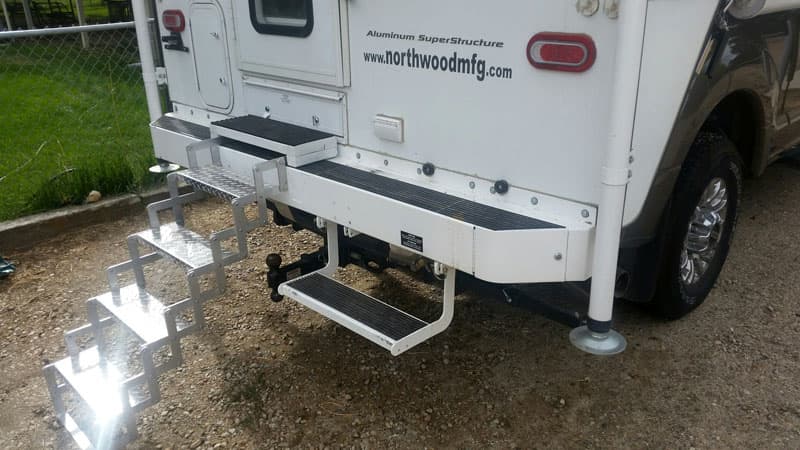 My wife and dog love it! It's an easy step and it looks like it's part of the camper.
I used scrap 2×12 lumber, but a 2×10 would work or even 2x4s. I used primer exterior paint, super glue, a few screws, and an old rubber mat. If you bought everything new it would cost under $20. The Brophy steps can be bought for around $275.
It took me about one hour to complete and cost me under $300 including the steps.  In my opinion, the skill level of this modification is easy.
Disclaimer: The modifications above are submitted by Truck Camper Magazine readers. It is your responsibility to make sure that any do-it-yourself modification project you undertake is safe, effective, and legal for your situation.
Enter Your Mods Now!
If you'd like to enter a modification you've done on your truck camper, click here. You can enter as many mods as you want, at any time.  Good luck mod makers!