Welcome to the fourth entry in January's Mega Mod Contest.  One Mega Mod will be published in every Email Alert in January.  At the end of the month we'll hold a reader vote to determine January's winner.  Click here for information about the 2021 Mod Contest, including how to enter.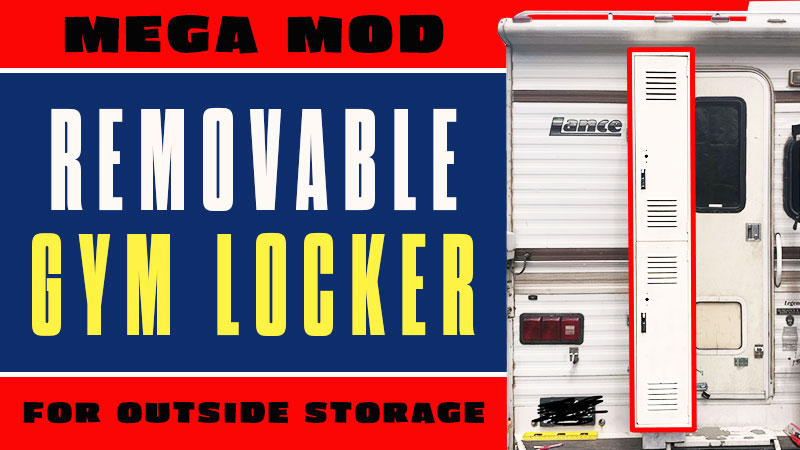 Peter Korslund, Broomfield, Colorado
Removable Gym Locker For Outside Storage
2008 Ford F250
1998 Lance Legend 11'3″
Camper storage is always in short supply and often inconveniently placed in a truck camper. In particular, ski storage is awkward with a camper. It's easy to have a rooftop box, which I also have, accessing it is a pain.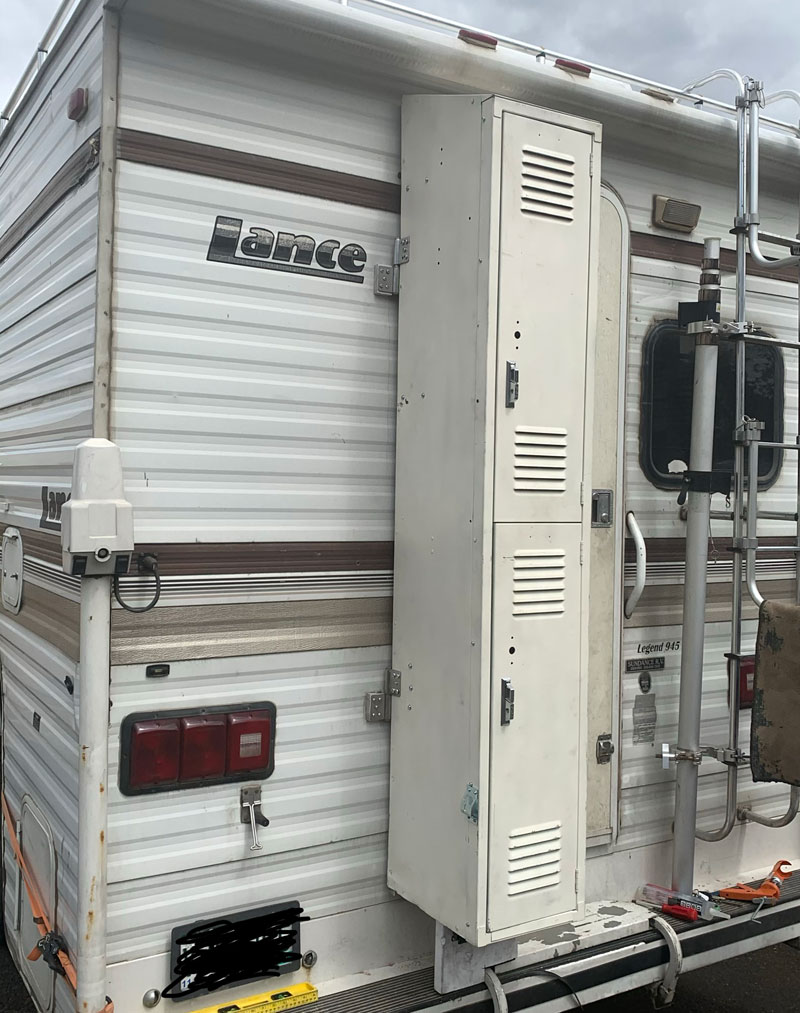 Then I had the crazy idea to buy a used gym locker and place it on the outside. I found a 6-foot high gym locker on Craigslist and bought it.
I did not want it on the camper's sides because that would add to my width. I also did not want it too far to either side on the back.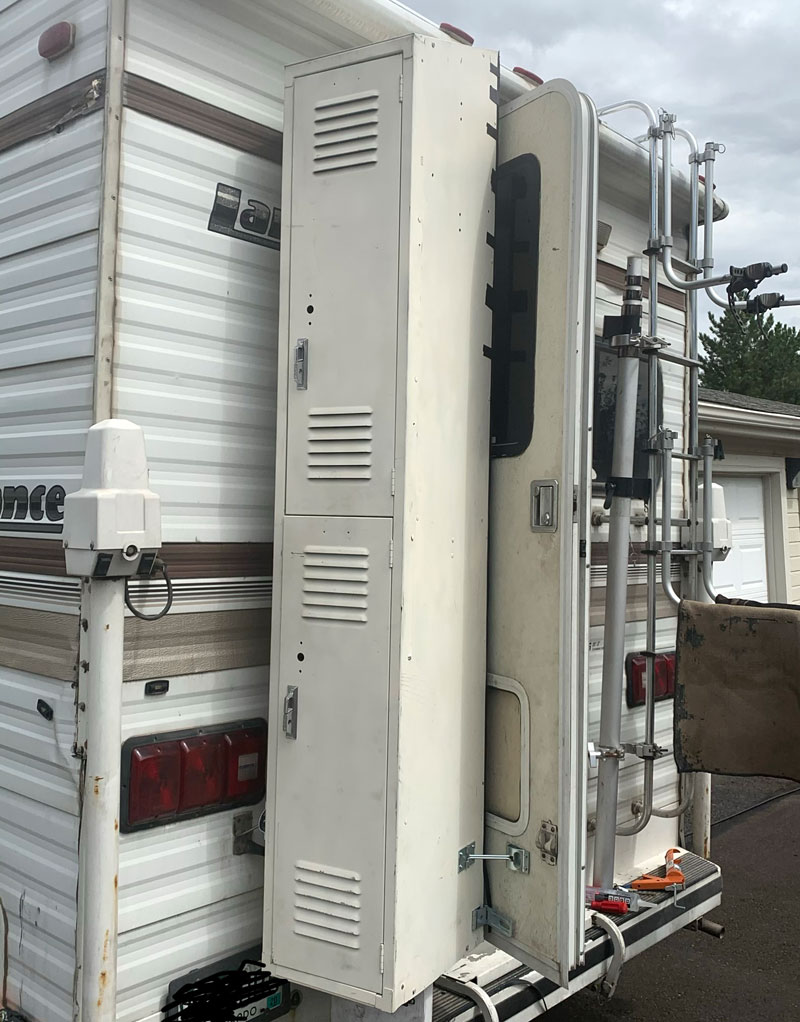 So I decided to put it on heavy-duty 'free-bolt' door hinges. These hinges needed to be attached in a rock solid way, so I drilled entirely through the rear outside wall and used 3 1/2″ bolts, nylon-locking nuts, and custom cut metal plates that are visible in the bathroom.
As a result, the locker sits more in the middle and is also removable. It has a weight-bearing base on the bottom consisting of 2×8 wood and quarter-inch high impact rubber. When traveling, the locker is secured to the door. I have additional metal door hooks to keep the camper's door open when idle.
While I had initial concerns about structural integrity, everything has been bombproof.
It pivots just right. The friction of the rubber on the bottom requires only a little push while ensuring the locker stays in place where ever you swing it.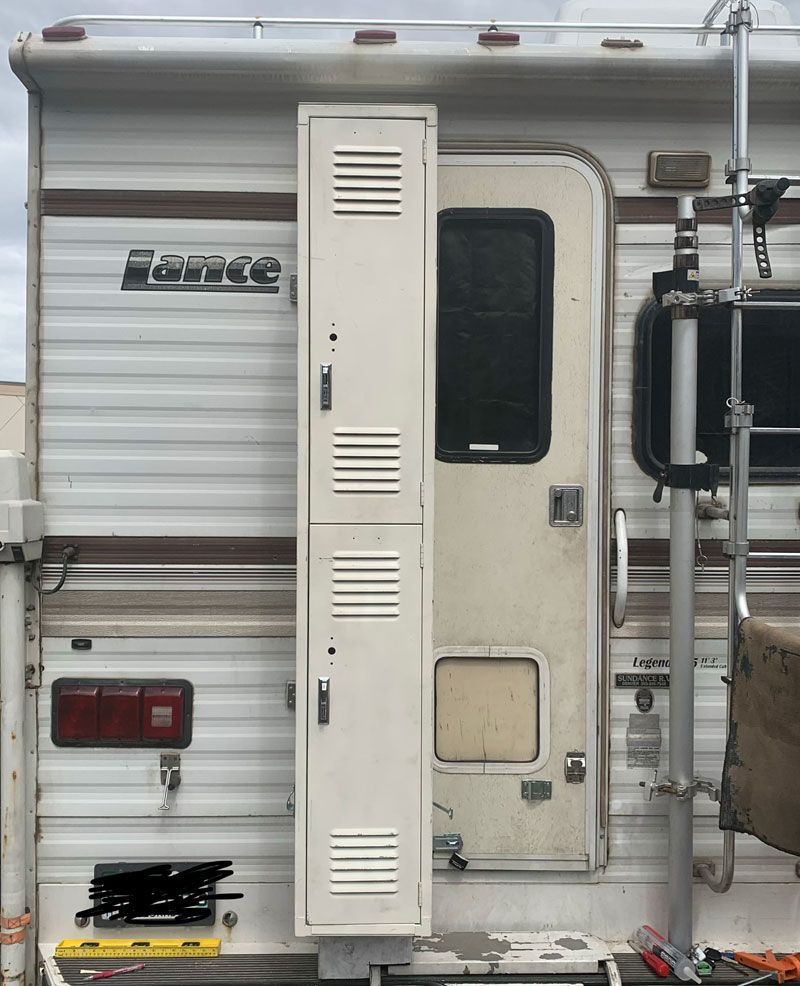 There has been no indication of structural stress after a few trips involving washboard dirt roads. I used two hinges, but will likely add a third to make it even more bombproof.
I look forward to using the locker in the winter for downhill ski transport/storage. I plan to enhance the inside with removable wall panels that have different hooks and easy release straps. These panels will be season-specific. One for three-season and one for ski-season.
It took me more than eight hours to complete this modification and cost me $150.  In my opinion, the skill level of this modification is medium.
Disclaimer: The modifications above are submitted by Truck Camper Magazine readers. It is your responsibility to make sure that any do-it-yourself modification project you undertake is safe, effective, and legal for your situation.
Enter Your Mods Now!
If you'd like to enter a modification you've done on your truck camper, click here. You can enter as many mods as you want, at any time.  Good luck mod makers!