Welcome to the sixth entry in February's Mega Mod Contest.  One Mega Mod will be published in every Email Alert in February.  At the end of the month, we'll hold a reader vote to determine February's winner.  Click here for information about the 2022 Mod Contest, including how to enter.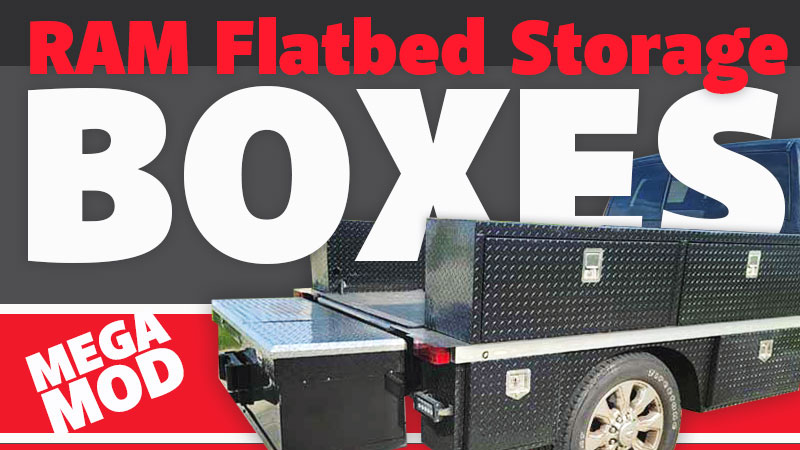 Greg Gabert, Seminole, Florida
Ram Flatbed Storage Boxes
2019 Ram 3500
2017 Palomino SS-1200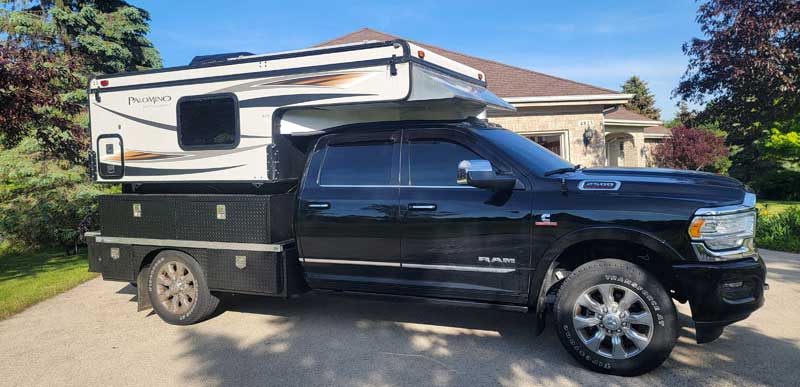 This mod was done because of the lack of storage for prolonged travel.
Planning for this project is essential.  Hopefully, the following will help you in your endeavor.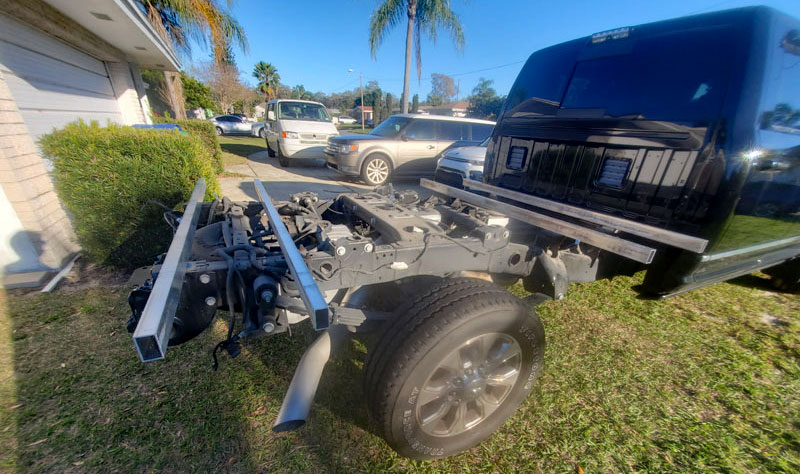 As you will soon see, this is a budget-minded build utilizing aluminum prime and remnant stock, repurposing used and salvaged materials, and a fuel tank from a boat.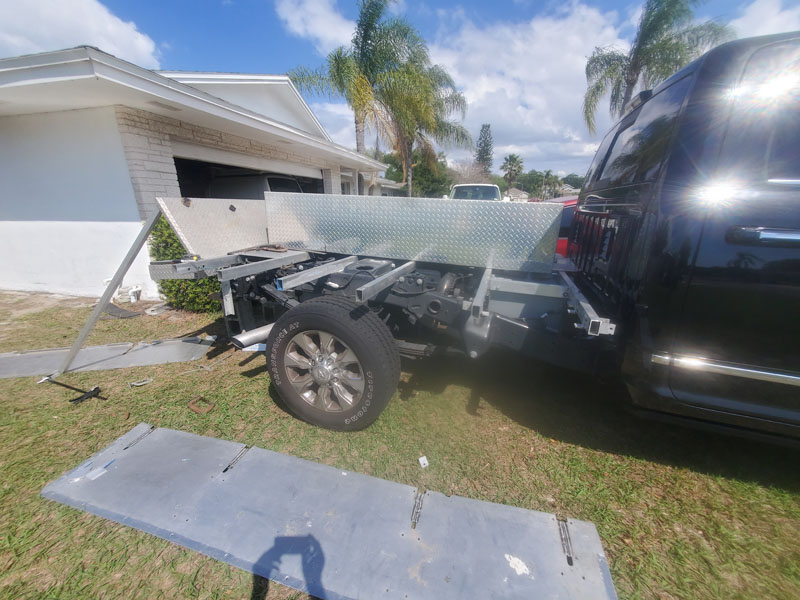 The cross rails are six 1/8-inch wall 1-1/2-inch by 2-1/2-inch by 72-inch T-6061 aluminum tubes with 1/4-inch brackets welded for mounting the tube covering the cross rail ends and the upper and lower boxes.  The cross rails are bolted to the truck frame with 1/2-inch by 4-inch carriage bolts.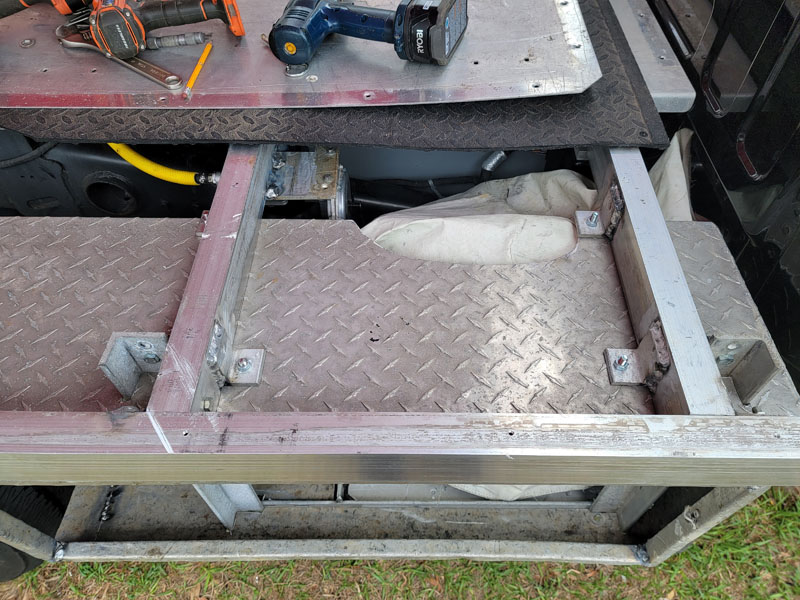 The 35-gallon aluminum diesel boat tank was reworked to fit in the frame rails and reduced to 22-gallons.  A hole was drilled through the tank mounting brackets for fill and vent hoses.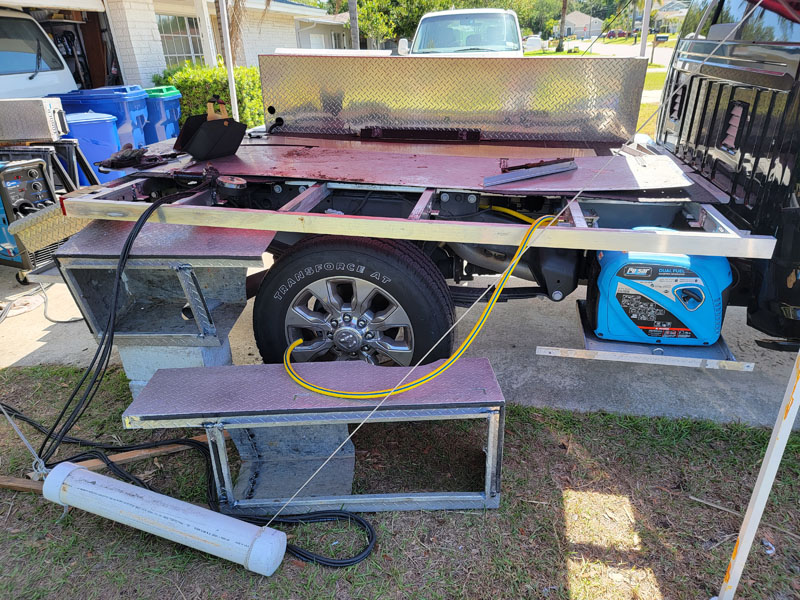 The flat deck is made from six shelves from a FedEx delivery truck.  They are pop-riveted to the cross rails.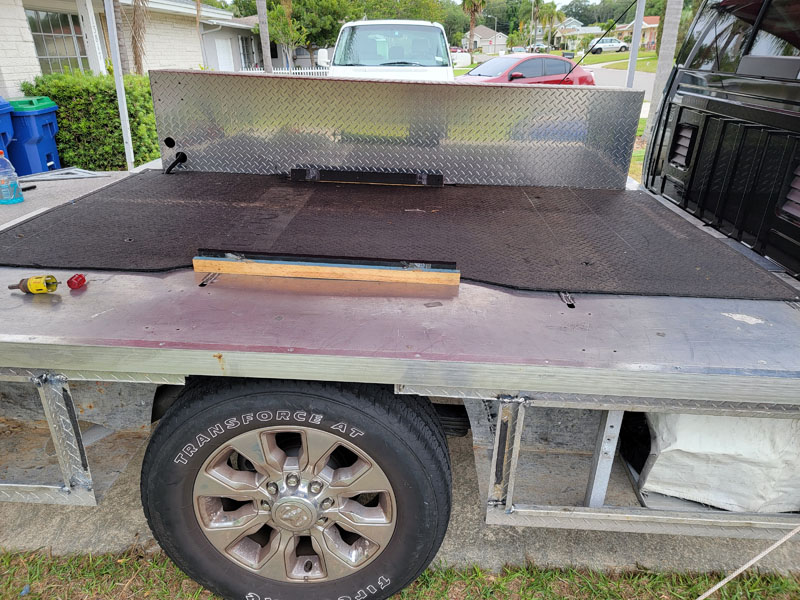 I made a nest to locate the camper on the deck from tapered 2x2x24-inch wood.  Once the camper was in position, I used a 36-inch 1/4-inch pilot drill from under the truck and drilled up through the cross rails and through the floor of the camper.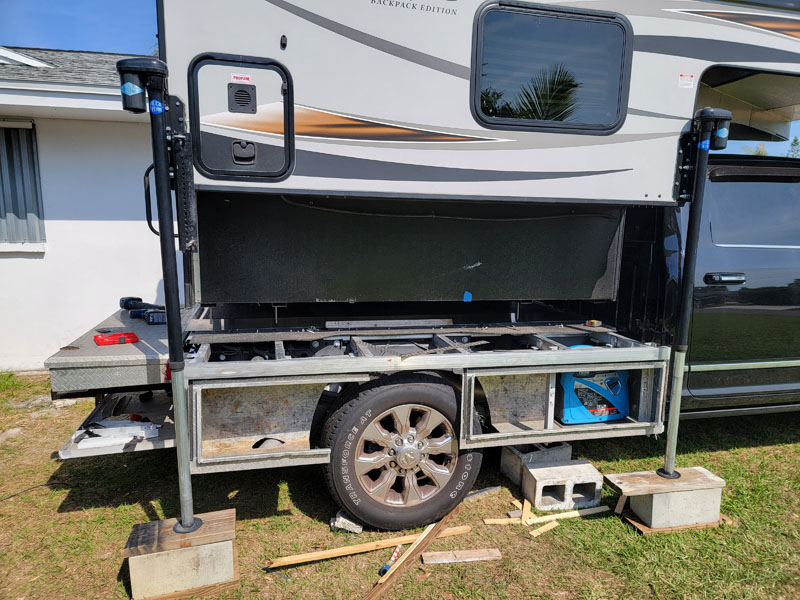 Note: You will spend a lot of time determining where to position the mounting holes including where to start them, where they will wind up inside the camper, and finally still have access to the fastening nuts on the bottom side of the vehicle.
I used 1/2-inch by 8-inch carriage bolts with 3×3 1/4-inch washers on the camper floor.  I had called Palomino for a layout drawing of the position of their cross rails.  They called me back and recommended I use the provided tie-down locations.  No issues thus far after 5,000-miles.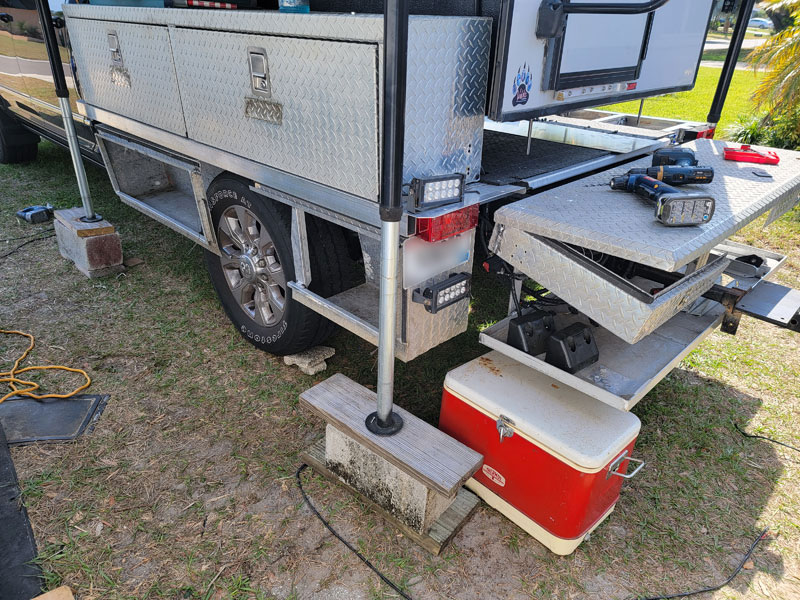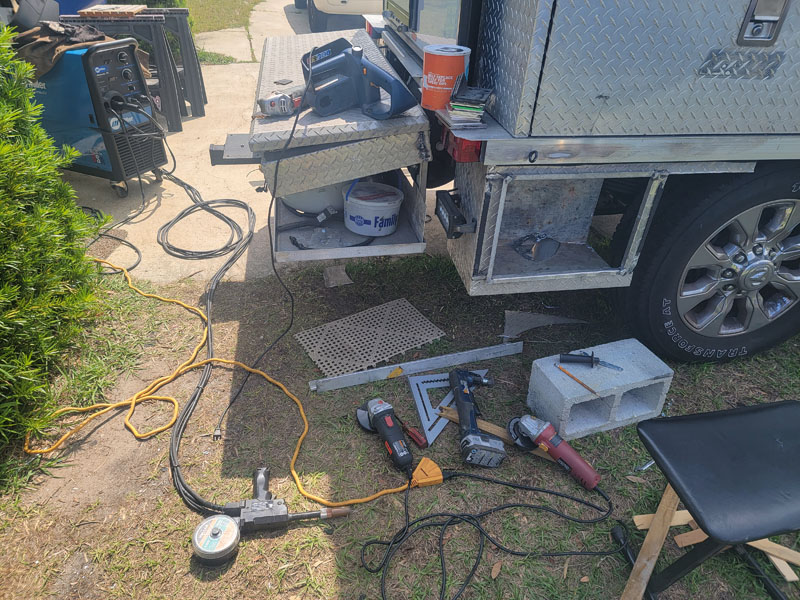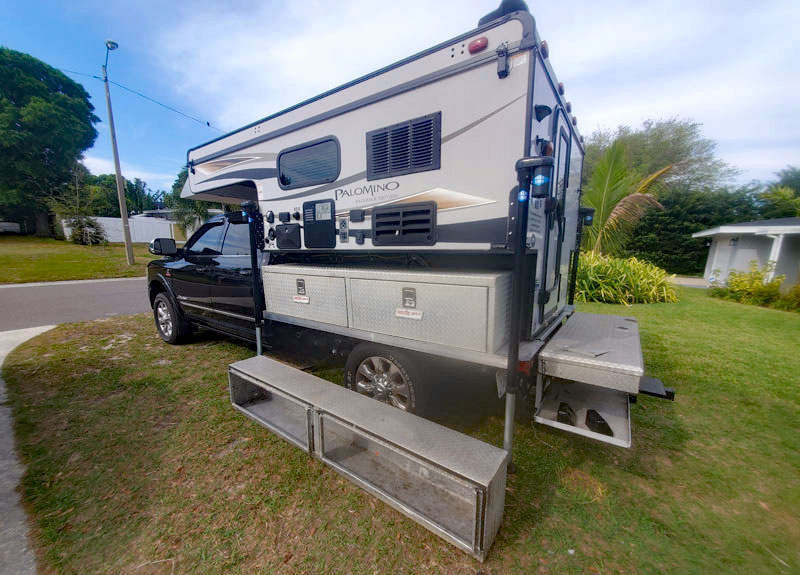 I used 8-foot upper boxes that are 16-inches wide.  The lowers are 12-inch to clear emergency brake cables and allow room for the generator.  These boxes were greatly modified.  I utilized a neighbor's sheet metal brake to reform the doors.  Again, a lot of forethought went into this mod.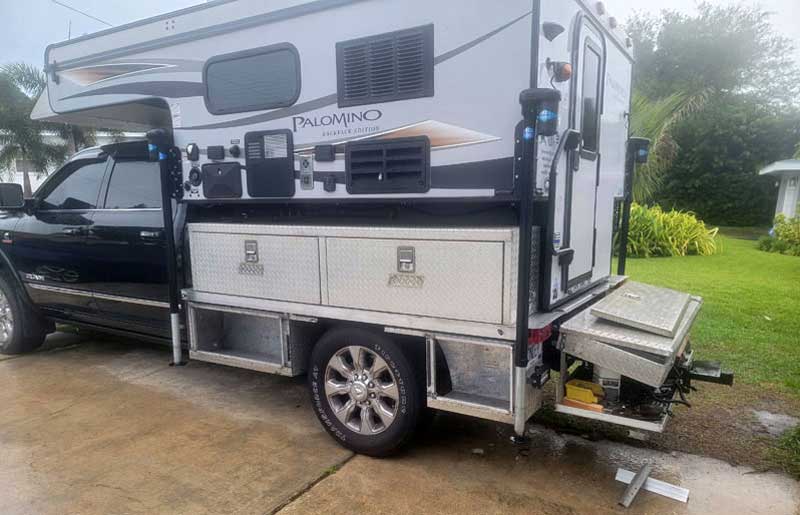 I used boat trailer LED taillights and LED backup lights.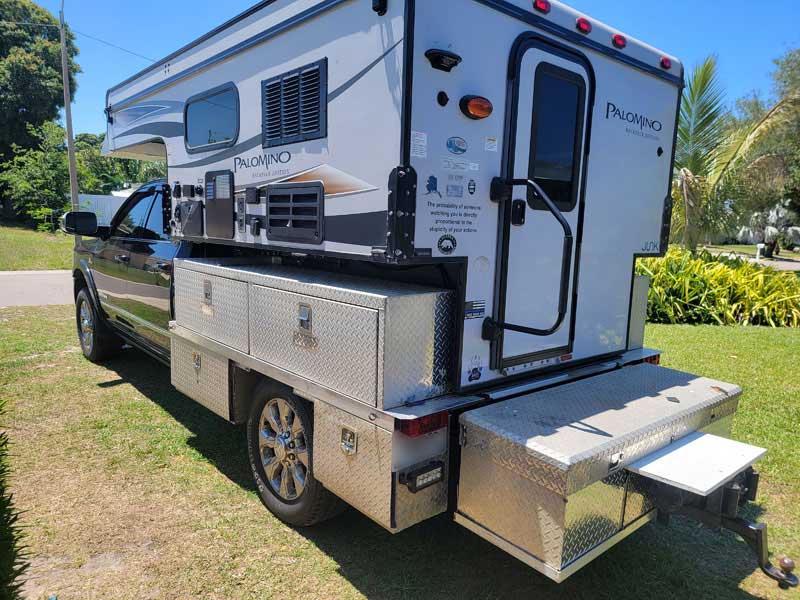 It has turned out absolutely fantastic!  I now have room for my inflatable kayak, compressor, generator, bike supplies, handyman tools, and the camper lifts.  I actually still have a couple of empty boxes and it eliminated the back seat storage in my truck.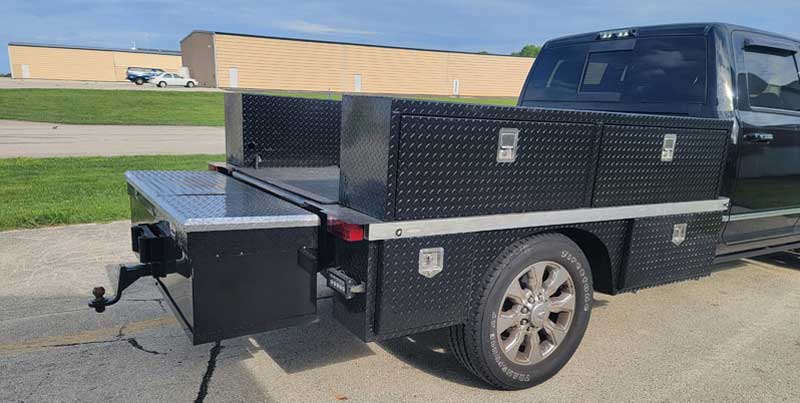 Materials Used:
Cross rails and cap tubes (ALRO prime stock) – $368
Boat fuel tank (gift from a friend)
Flat deck aluminum (salvaged from FedEx delivery truck) – $75
Upper boxes (Craigslist) – $650
Lower boxes (Craigslist) – $140
LED tail lights (Harbor Freight) – $40
LED back up lights (Amazon) – $100
The mod took me three months part-time and cost me $1,400.  In my opinion, the skill level of this modification is hard.  It is not really difficult with proper planning.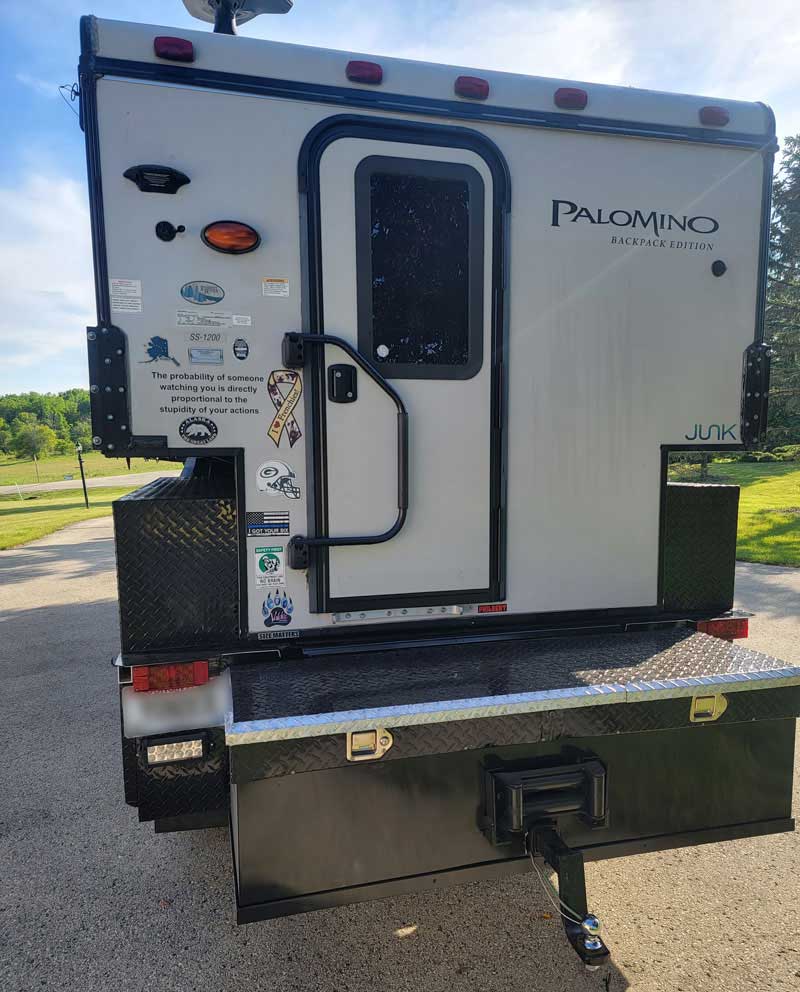 Disclaimer: The modifications above are submitted by Truck Camper Magazine readers. It is your responsibility to make sure that any do-it-yourself modification project you undertake is safe, effective, and legal for your situation.
Enter Your Mods Now!
If you'd like to enter a modification you've done on your truck camper, click here. You can enter as many mods as you want, at any time.  Good luck mod makers!